The 2017 racing season had come to a close and it was now that dreaded long calendar watch until the 2018 season would start turning some wheels again. For your average racer it is probably the most depressing time of year, as there are absolutely no motors being fired up in any format across the globe. But to be honest, this year I was actually looking forward to December, as the 'Ducati Family Fun Day' was just around the corner. Any opportunity to ride my Italian Stallion around the world class Kyalami Circuit, as it's an absolute honour and a privilege to ride there. The invite finally hit my inbox and within minutes I had been signed up and entered onto the guest list.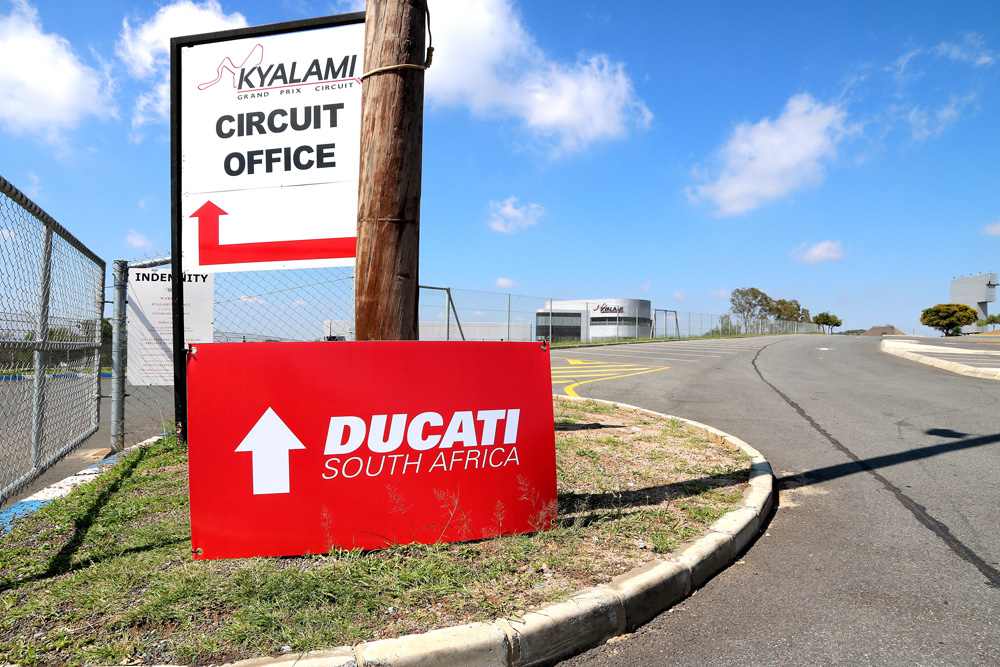 Ducati South Africa traditionally holds their 'Ducati Family Fun Day' in December, where they invite all their customers who have bought a beautiful Ducati (across their range) in the last 4 years. It is the Ducati way of giving back to their loyal customers as well as welcoming new customers to the 'Italian Family'. Whether you have a Panigale, Diavel, Hypermotard, Multistrada or Retro looking Scrambler in your garage, load up your gear, bring your bike and just come out and 'run what you brung' around South Africa's premium circuit.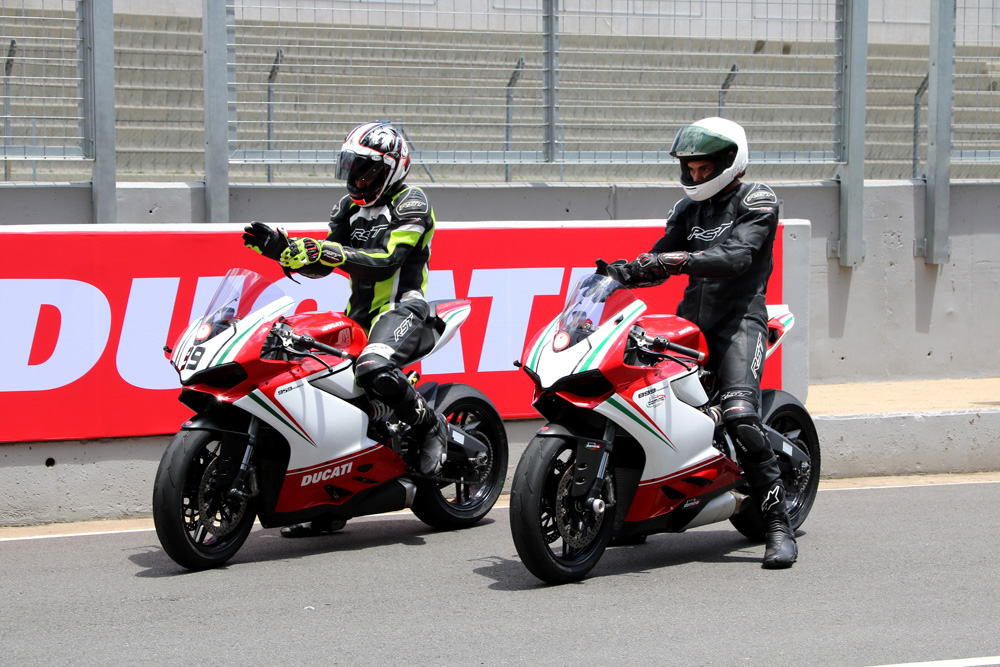 Saturday the 9th was finally D-day (Ducati Day), I won't lie, I watched the weather rain forecast like a hawk the whole week building up to Saturday, and I even prayed for no rain, to which thankfully the weather finally decided to play ball. Pit lane was painted red with an Italian flare, as Ducati riders arrived at a sunny Kyalami Circuit. The variety of bikes on display was absolutely jaw dropping, with old 999's, Desmo's and even a brand new 1299 Final Edition coming out to play. Arriving at the Circuit, we were made to feel a bit like  MotoGP stars, as when we signed in at registration, we were greeted by the Ducati team with friendly smiles and some complimentary Ducati Merchandise attached to the day's track schedule. Full hearty and healthy breakfasts with scrumptious cappuccinos (to wake up the mind) were on offer, to ensure the body was fueled up and ready for a full days riding.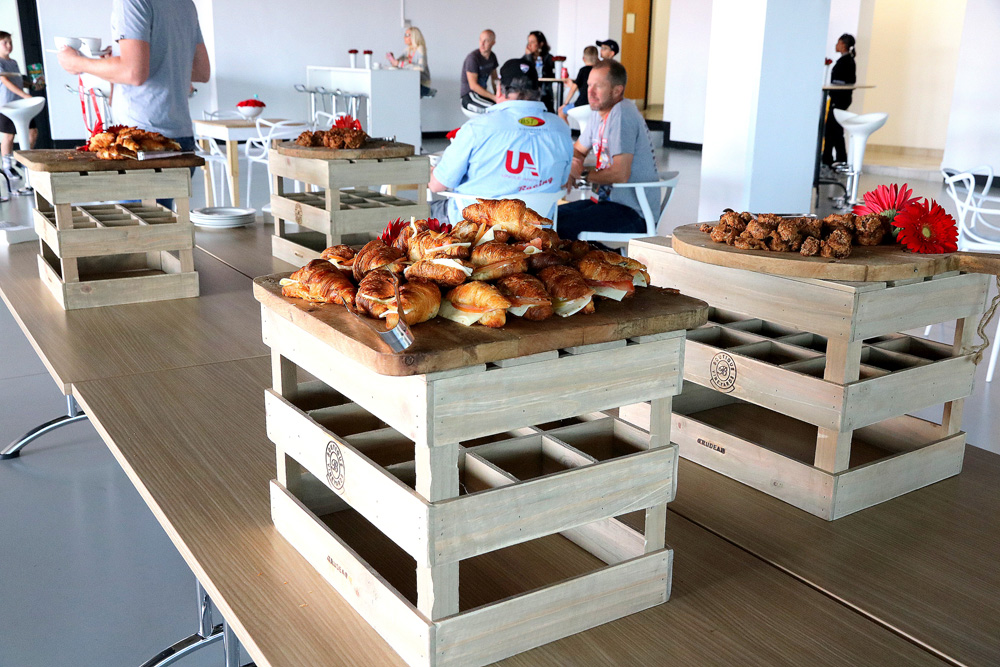 After a warm welcoming at the riders briefing from Ducati South Africa's big boss, Johnny Araujo and his team, we were given a quick safety and flag briefing as well as the run down on the day's proceedings. It was now finally time to fire up those V-Twins and roll down pit lane for the first session of the morning. To ensure maximum safety out on the circuit the Ducatisti guest list was divided into four categories (A,B,C and D) to keep riders of similar speeds and confidence riding together, ensuring that the track environment is as safe as possible (as being dive bombed is never fun). Category A was aimed at your faster track day rider or aspiring racer, which then ran down to Category D for the rider just looking to cruise around the circuit and take in the sights. The main emphasis of the day was just to have fun out on the track. The Battle of the Twin racers were on hand again to marshal, instruct and just help out a fellow Ducatisti, that was looking to shave off a few seconds or, to find new lines around the circuit.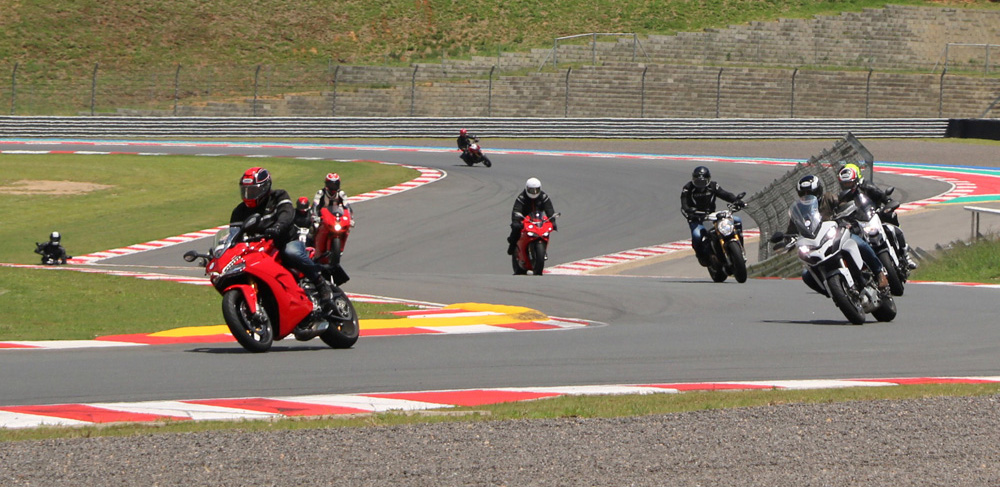 At exactly 9 o' clock, Kyalami came alive with the sound of Italian engineering. It doesn't matter how often I hear that unique V-twin drone, it will still gives me goose bumps when hearing those Italian engines being opened up down the long main straight at Kyalami. The B and C classes got into the swing of things quickly, and the noise levels increased with every session. At one stage I even witnessed a few sparks coming from the foot pegs of Diavels and Scramblers in the tight and twisty parts of the first sector, just before getting onto the back straight. After every category got their four 15 minute sessions in, it was time for to fill up and stretch out our leathers, as we broke for lunch. A fantastic selection of pasta's were the order of the day, and man was it fresh! This gave everyone a chance to load up, catch up, touch base on the day's events, and just recharge the batteries before hitting the track again.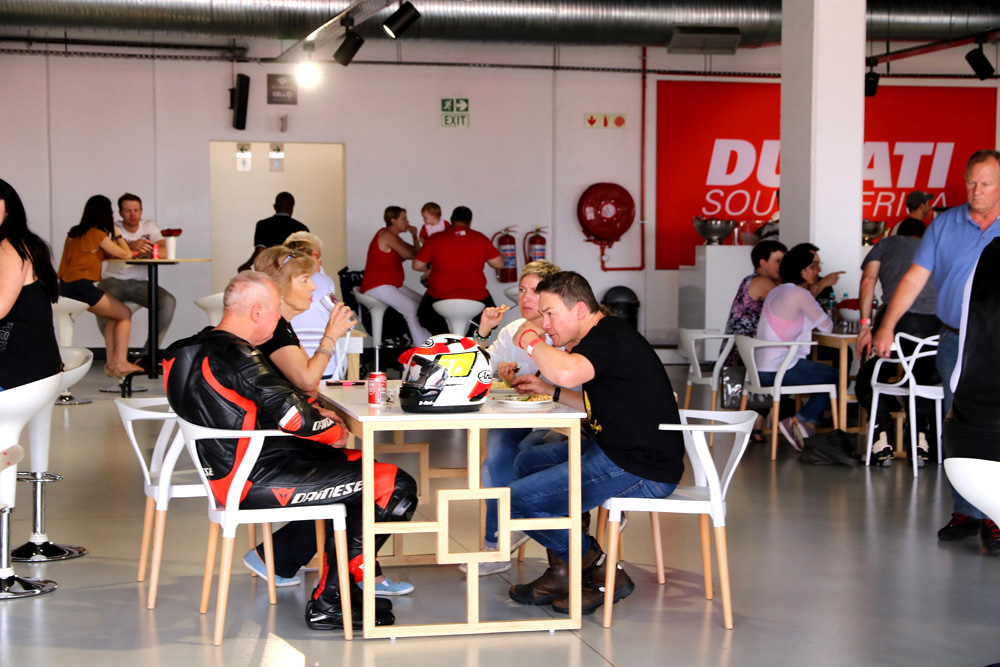 After lunch everyone remounted their iron horses, for a chilled parade lap around the circuit. This was followed by the annual Ducati family photo which was snapped up by Jessica Araujo (Johnny's daughter), who also did a fantastic job of catching some snap shots on-and-off the track. The twin cylinders grumbled around the 4.522km circuit, with the wind in our hair, before lining up on the grid for the 2017 'La Familia' photo. Everyone looked sharp, posing with their 'Pride & Joy'. Looking at the photo, it is great to see that the family is growing.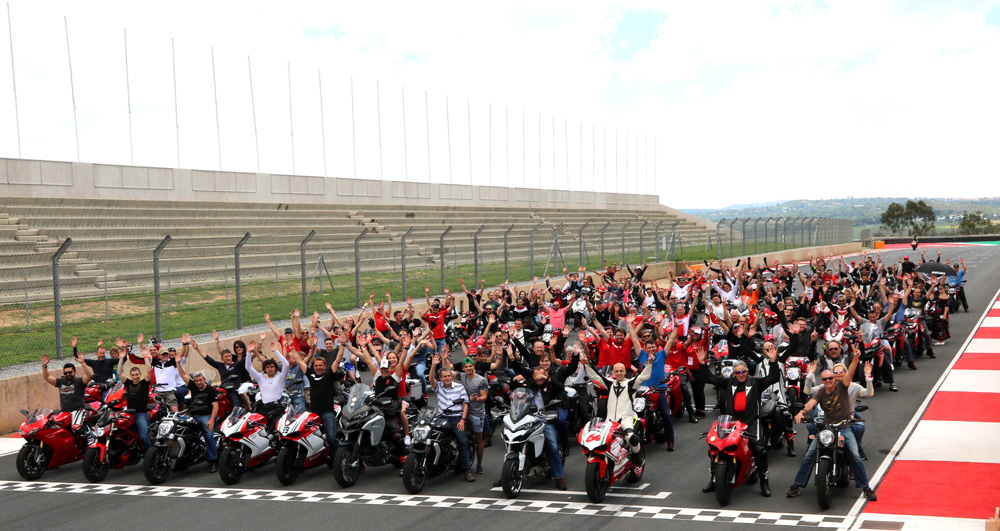 After perfecting the duck face pout, it was back to the track. There were still two sessions for each category before the chequered flag was waved for the day. The day ended with big smiles all-round, as the 2017 Ducati family day came to a close (incident free, I might add), with all bikes being loaded onto trailers, or ridden home in one piece. This even included the mini bikes in the kiddies play area for the little ones looking to follow in mommy and daddy's footsteps.
In closing, when buying an Italian bike you don't just buy a bike with Ducati red paintwork, you buy the whole Italian lifestyle, and you are welcomed to the family with open arms.  Not only is this family passionate and fiery, it also has 95 octane pumping through its veins. So CIAO FOR NOW and I look forward to seeing you all again next year for the 'Annual Family Portrait' and welcoming our good-looking V4 nephew to the family.