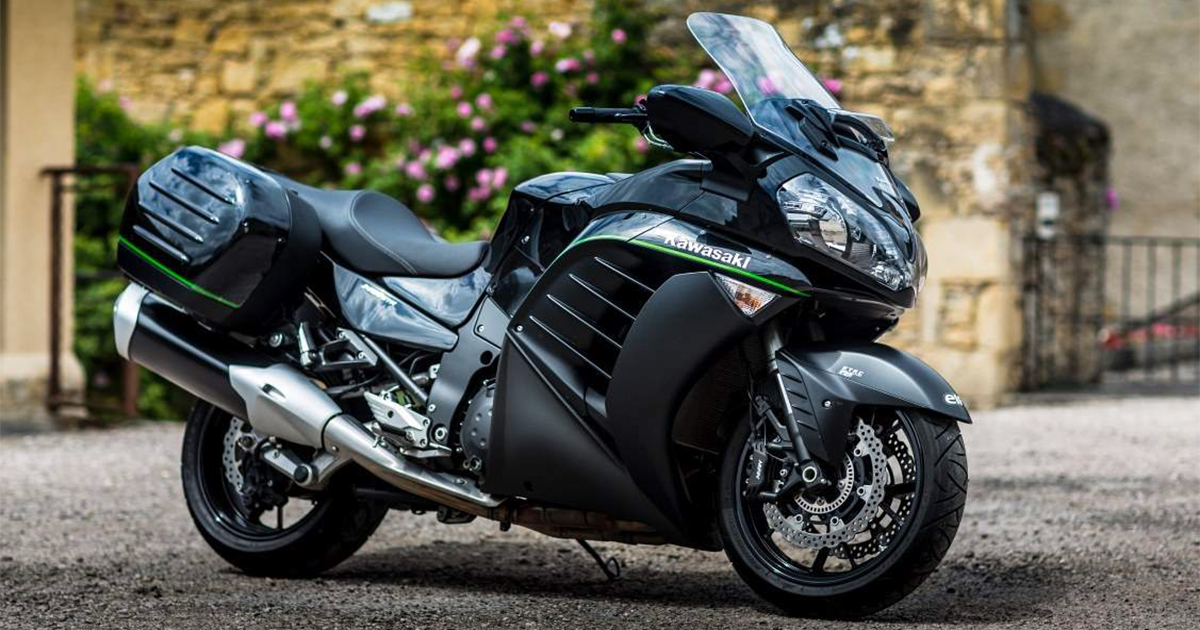 I like touring bikes. I like the fact that you are getting a lot of bike for your money. I like all the bells and whistles that you always get; I like the practicality, the long-distance comfort, the performance that invariably is part of the package. I even like them aesthetically.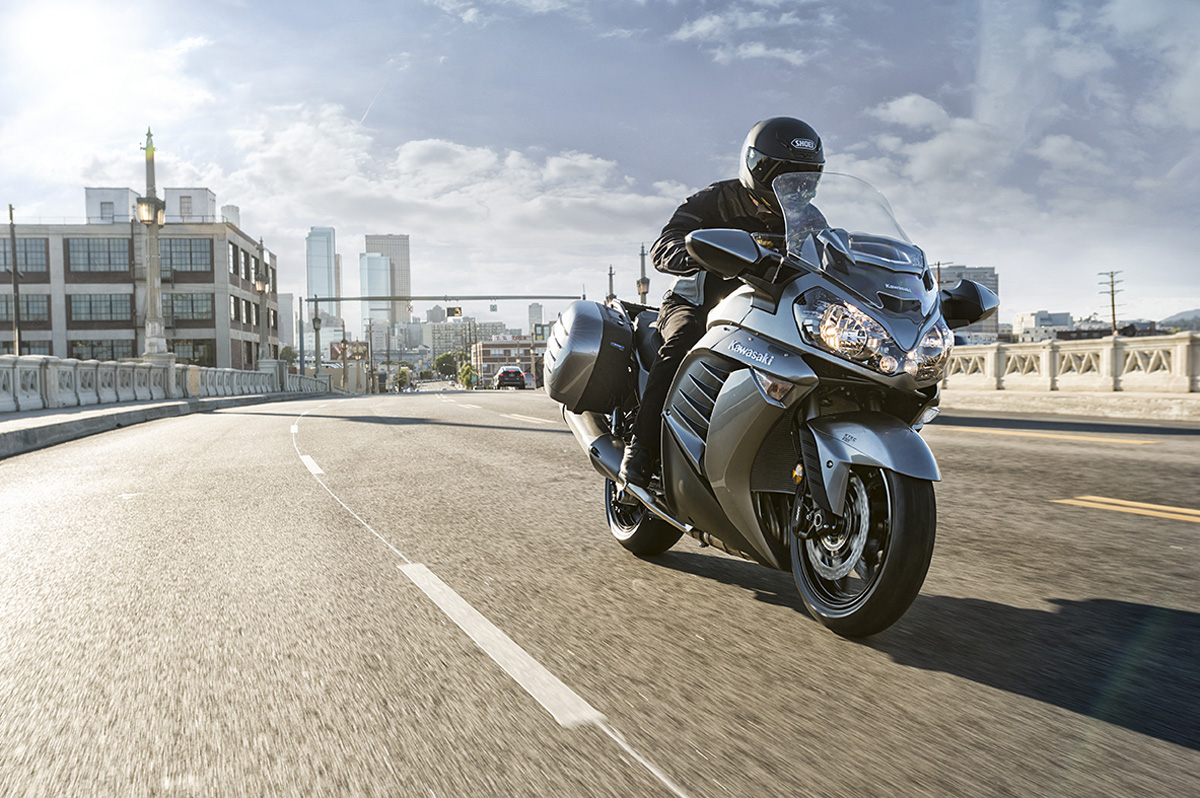 However, their position as the best bikes for touring has come under pressure in recent years. Adventure bikes are just as good at eating up the miles in comfort and have the added benefit of being able to leave the tar and head for the hills on the road less travelled. Then there are the adventure-styled bikes that possess no off-road capability but share the love of the open road no less than the proper adventure bikes.
Yes, the touring bike has stronger competition than it ever did, but that's not to say that the manufacturers are abandoning the class. Far from it. BMW has always been a strong adherent to the category and, with the R1200RT and the K1600 models, they build some of the best. Triumph, similarly, have a great bike in the Trophy. Harley Davidson; yes. Indian; yes. Moto Guzzi; yes.
But there's a trend staring us in the face here. Where are the Japanese? There's the Honda Goldwing, of course, but that isn't really a bike that everyone can handle, given its size, nor can it compete in terms of riding dynamics with the best that Europe has to offer.
And then there is the Kawasaki GTR1400. For many years, Kawasaki has fielded the GTR1400 as its touring bike offering. With the announcement of the new supercharged H2 SX SE model, the GTR is likely to be phased out but for now, you can buy it new and it is well worth a look.
What you have here is one of the last big, beefy, four-cylinder Japanese touring bikes. Smooth, turbine-like power – and lots of it – capable chassis, good comfort, fantastic build-quality, bullet-proof reliability and traditional good looks.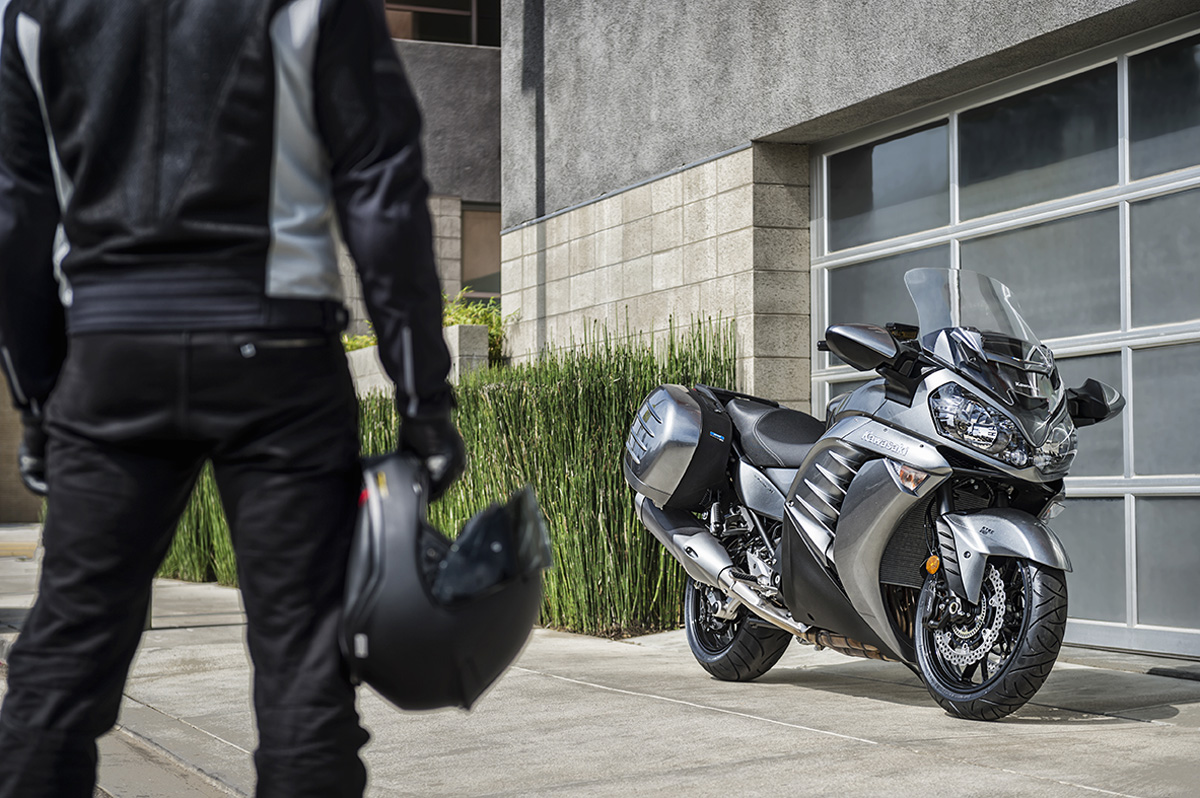 What you don't get is a full suite of electronic trickery; no ride modes, no electronic suspension, no lean-sensitive traction control, no hill-start assist, no quickshifter, no Bluetooth capability or GPS preparation, no central locking for the panniers. You don't even get cruise control! Now, I can live without the other baubles but to not have cruise control on a touring bike is just careless.
As for all the other trinkets, well, not having them might not be the end of the world; after all, we haven't had them for very long so we've not forgotten how to ride without them but, when all your rivals are pushing the boat out, not having them could be a mark against you.
What you do get, however, is a bike of great ability in the role for which it was designed. The engine is monumental in the way that only a large-capacity Japanese four can be. Bags of power in any gear and a willingness to rev that is most un-touring like; it encourages you to be a bit of a hooligan and the chassis has the poise to cope with it.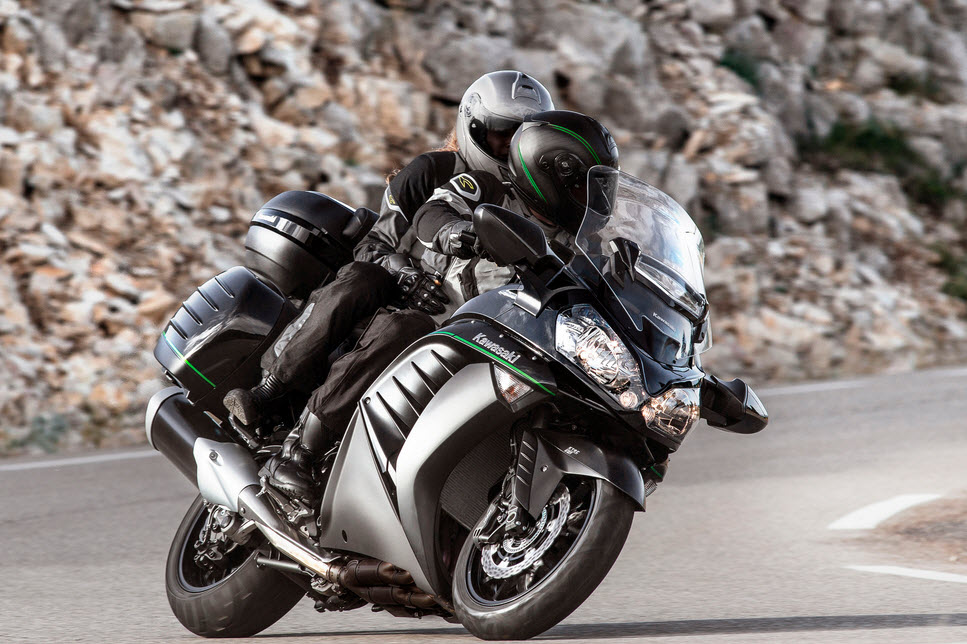 In fact, the chassis is unusual in that it requires quite a lot of muscle to hustle it through the bends. In a straight line it is dead stable but the pay-off for this is a need to consciously counter steer to get it to turn into a bend. It doesn't have that 'think-about-it-and-it-goes-round' quality of some bikes but that's not a mark against it; just something that is noticeable if you jump from bike to bike as we do. Get used to it and it seems perfectly natural and it does imbue the bike with a feeling of solidity and being planted to the road, helped by a glue-like front end.
Often on shaft-driven bikes, the gearbox can be terribly clunky but somehow Kawasaki has managed to give the GTR a gearchange as switch-like as any sports bike. In part this is due to what Kawasaki are calling Tetra-Lever rear swing arm layout. In effect, it moves the pivot point of the swing arm much further forward to the front of the bike, which has the added benefit of preventing that rising and falling motion that shaft drive bikes can suffer under acceleration and braking. It seems to work well.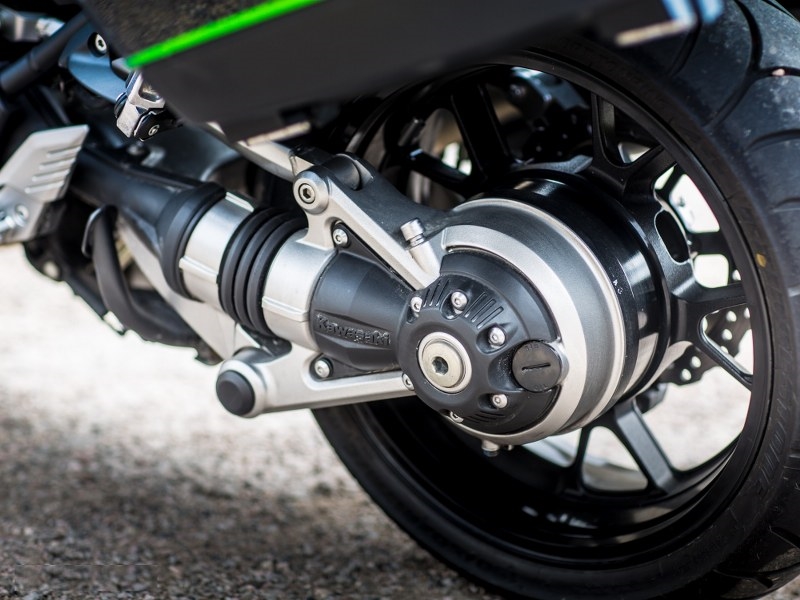 Sitting on the bike, comfort is very good with a riding position that is slightly on the side of sporty as you lean forward to the bars, but it is not excessive and proves comfortable over long distances. There is an electrically adjustable screen which I struggled to find a good compromise position for; it neither went low enough to prevent buffeting nor high enough to get my head completely out of the airstream.
Instrumentation is, again, fairly old school, with large analogue speedometer and rev counter with an LCD display between them. If one did want to fit a GPS unit, there isn't really anywhere convenient to fit one.
Braking is well up to the mark, both front and rear brakes being powerful and progressive. There is an option to link front and rear brakes via the rear brake lever but in practice, I found that with it engaged, via a button on the handlebars, it brought in the front brake too abruptly after starting by applying the rear brake, leading to a lurch as the front brake came in. As it is likely that one would be touring two-up and that using the back brake is a good way of preventing the pillion from being flung forward, this wasn't its most endearing trait. But, as I said, it can be turned off so the problem disappears.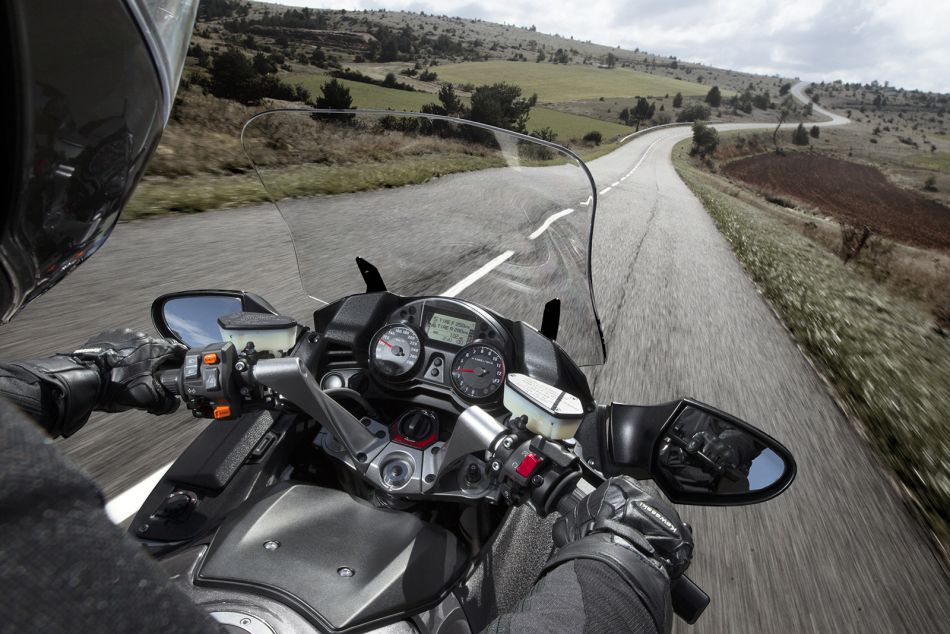 In reality, all these criticisms can be completely ignored. The GTR1400 is still, after all these years, a fantastic, well made, comfortable, fast, safe handling, practical and good looking machine that only starts to show its age when compared with more modern designs from Europe.
It is a shame that we can be so blinkered when it comes to technology – or the lack thereof – on modern bikes. Yes, they have transformed motorcycling safety but that's not to say that not having them makes a bike dangerous.
After all, we have ridden without them for a lot longer than we have ridden with them and we are still here! But it is human nature to compare and contrast and it is inevitable that the Kawasaki will be measured against its rivals on equipment levels and, in this case, the Kawasaki just can't compete, no matter how well it rides.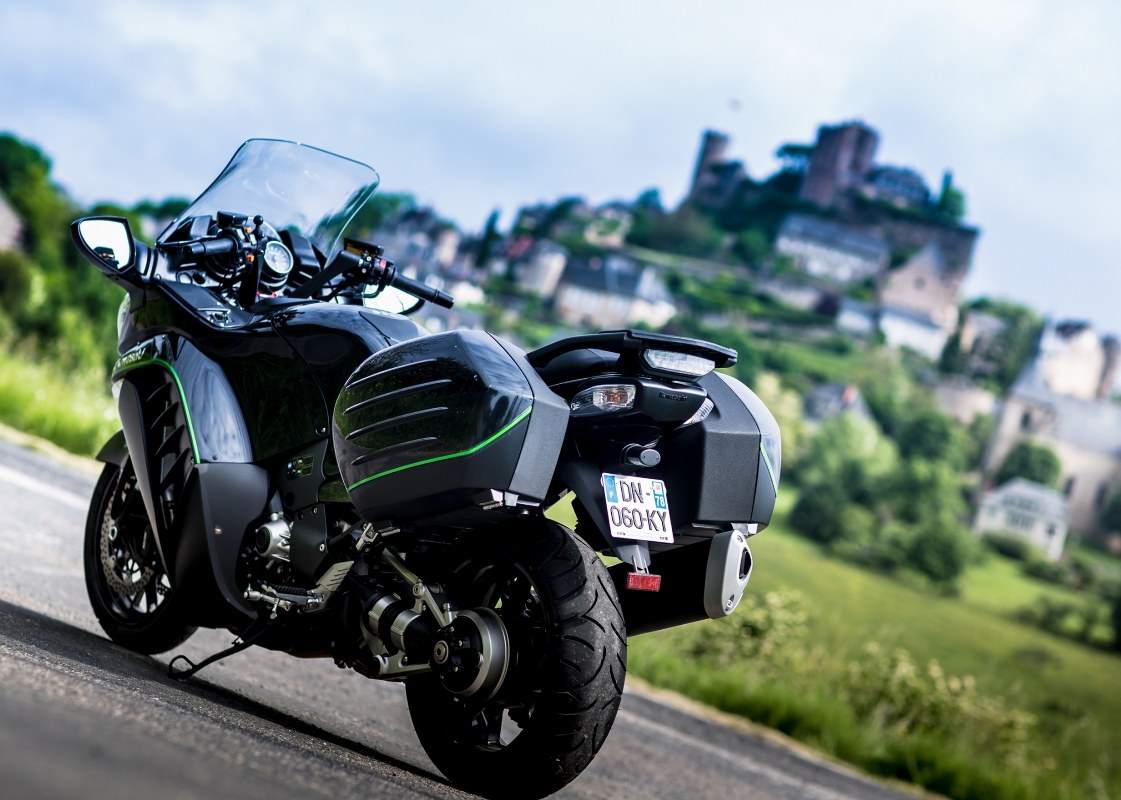 Selling for R229,995, the Kawasaki goes head-to-head with the BMW R1200RT and, while it can't match the BMW for electronic sophistication, it is more than a match on the road.
For more information visit: www.kawasaki.co.za