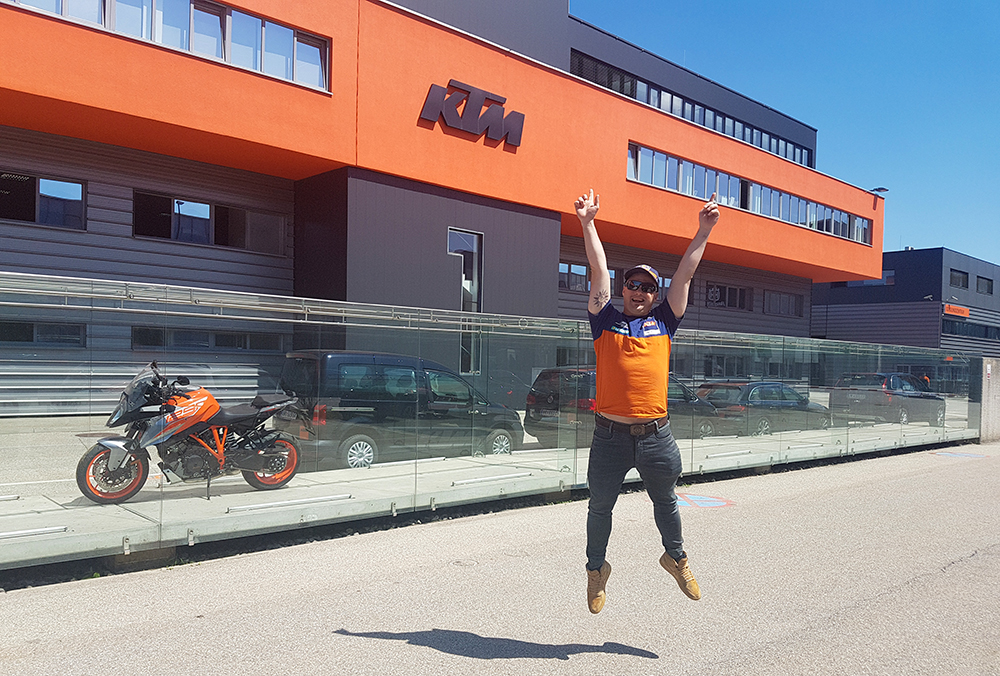 For those of you that don't know – my name is Andy Styling, otherwise known as Styling, Boss or Mr KTM. I started a group called KTM FANATICS 14 months ago.
It might come as a surprise, but I've only been riding for just under 10 years of my 37 years of life! I'm by no means the best rider, but by all means one of the most passionate.
When I started KTM FANATICS in April 2017, the aim was to share my love and passion for a brand that changed my life for the better. I knew that there were others out there like me, so I added all my friends and trolled Facebook for other KTM riders and invited them to join.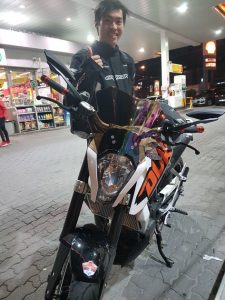 I bought some prizes with my own money and started running competitions to promote the group. It wasn't long until KTM South Africa caught wind of what I was up to and offered to give me some guidance. I was sent two huge boxes of apparel to help make the competitions and promotions that much more exciting, and before I knew it I had 19,000 members! I put loads of hours into this platform on a daily basis, and really enjoy getting to connect with an entire community of (quite simply) like-minded, KTM FANATICS.
Something extremely exciting happened on the group one day. Shaun, one of the members, suggested that if each member chips in 10 rand, they'd be able to send me and my Girlfriend Hanrie to KTM Factory in Austria. I approved the post without thinking too much of it, and in just two weeks there was enough money for for our tickets and visa applications!
All that was left to organise was our accommodation, car hire and food before we set off on 25 May 2018.
A 10 hour layover in Istanbul allowed Hanrie and me to check out the city – nice place, but I'm in no hurry to go back! And soon we was in Austria, and I couldn't believe how beautiful this place was.
KTM South Africa organised a 2018 1290 Super Adventure S for us to get around with – what a rad way to explore this place!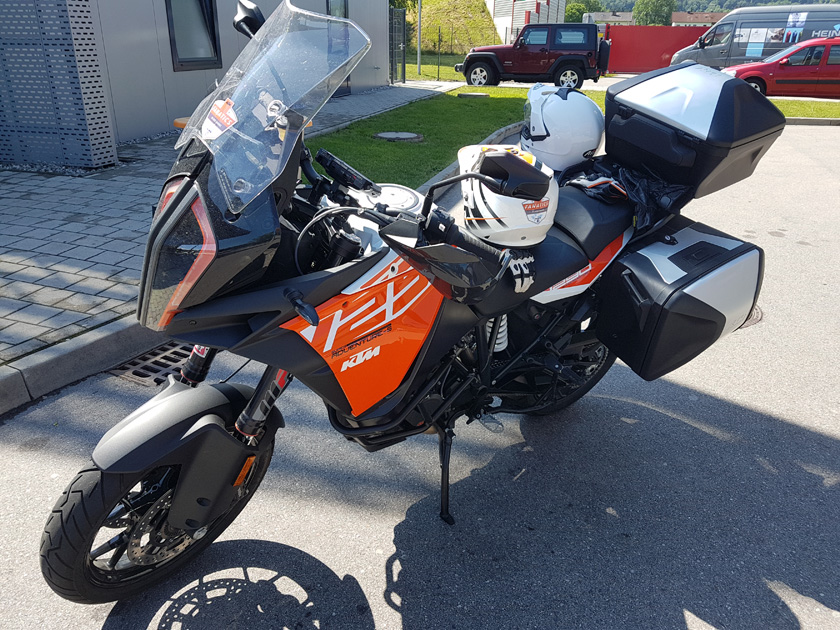 Our first mission was to find the famous Austrian chicken schnitzel, and as we walked the streets I tagged as many orange machines as I could with the world famous KTM FANATICS stickers.
The following day we went to KISKA Designs and met with three expats – Lauren, Shane and Jason, who took the time to share the history and the mission of KISKA. This was very informative, and I quickly discovered the massive role they play in the design of all things KTM.
Our next outing was to Red Bull Hangar-7 museum – Petrol Head Heaven! The two KTM bikes parked inside were obviously the highlight here.
And then the big day arrived – our KTM Factory tour! Despite tours being cancelled because of renovations, KTM South Africa made our tour happen. We met Adriaan Sinke at reception, who took two hours out of his day to show us around, and share the history and core purpose of KTM.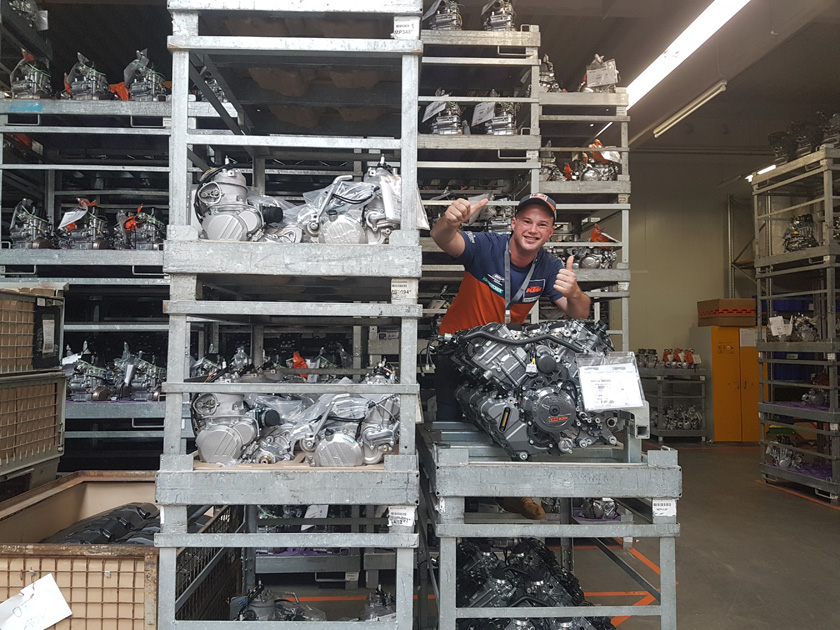 We also met the man in charge of producing the orange engine – if you knew how much time went into building the bike (including the prototype and R&D), then you would actually think these machines are under-priced considering the work that goes into them!
Going to the Factory was an absolute eye-opener and made me appreciate the brand that much more.
Certainly one of the very best parts of this trip came last – Erzbergrodeo! I couldn't believe the extent that KTM South Africa went to here to make this event enjoyable. We was given media passes and full access to the KTM Factory riders.
Imagine this – shaking hands with Jonny Walker, Nathan Watson, Cody Webb, Manual Lettenbichler, Laia Sanz and many more while being treated to a VIP breakie and lunch!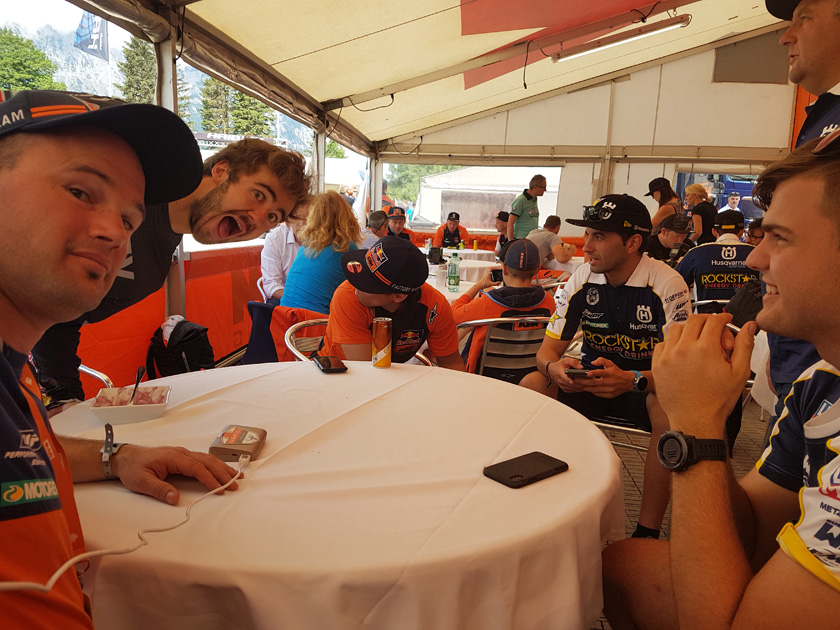 Cody, Nathan and Letti were by far my favourite guys to chat with and were all very easy going. I couldn't banter with them for too long though, I had a job to do – feed the fans some action videos and photos!
We made our way to a popular spot called Dynamite, and captured some epic glimpses of what was happening. With our media passes we was able to access areas that the general public could not, so it was an incredible experience to witness first-hand just how much the orange brand dominated this iconic event. Out of the 2,000 odd entries, a large majority of the bikes were KTM!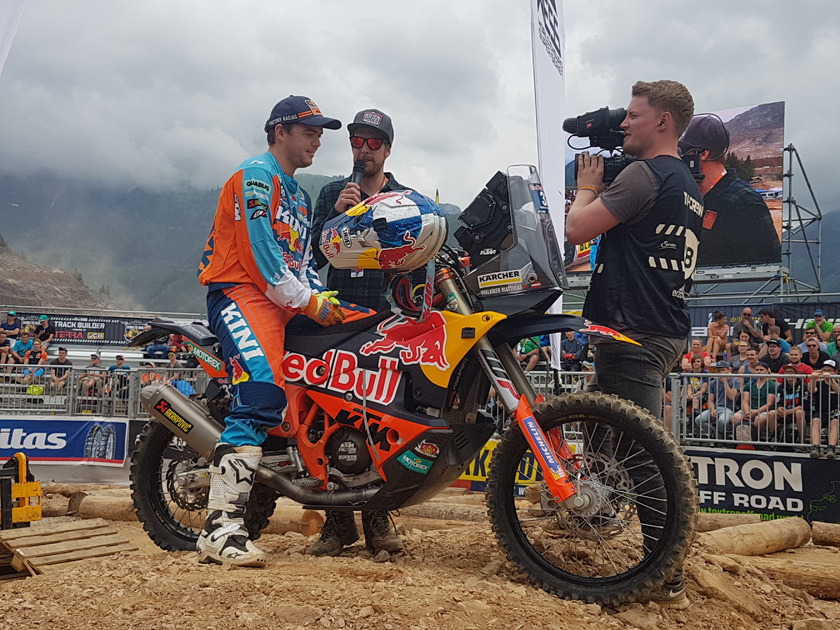 I was very surprised to discover how many strangers knew my face because of the KTM FANATICS group! We spent some time with Alfie Cox who took us around, and give us a Erzberg history lesson. I quickly developed a huge respect for the guys who attempt and finish this race!
As the day drew to a close, We had a three hour ride back to the KTM Factory. With thousands of people leaving the venue at the same time, I felt very chuffed to zip right past the crowds on my KTM 1290 Super Adventure S!
To say we had the time of my life wouldn't even do it justice… I would like to thank everyone who made this overwhelming trip happen. Life is great in the colour orange, and I believe that KTM FANATICS hasn't seen anything yet!