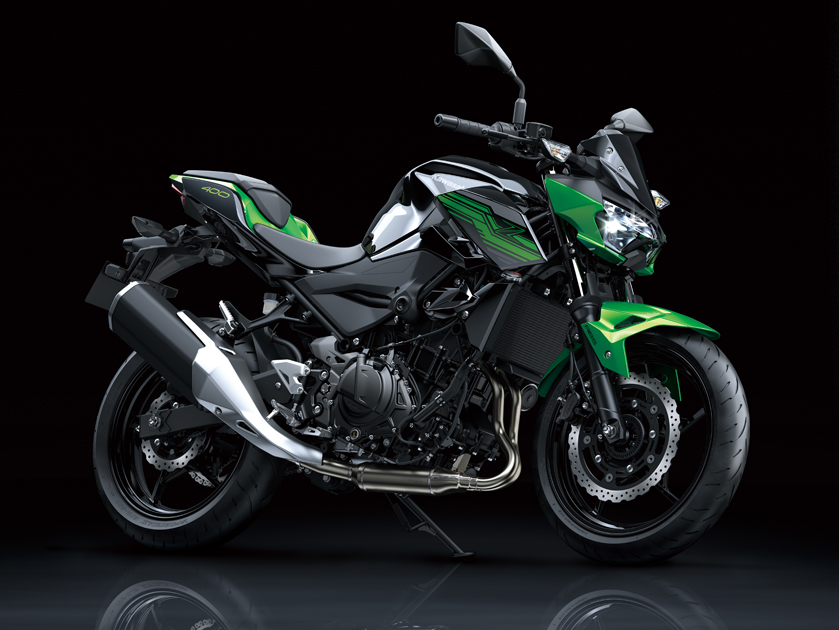 Developed in parallel with the 2018 Ninja 400, like its Ninja counterpart the new Z400 offers significantly improved performance care of all-new high-performance engine and chassis. Keeping sugomi* performance in mind, both engine and chassis tuning were optimised for a Supernaked package. Compared to the Z300, the new Z400 offers lighter handling and stronger low-end feeling – a rider friendly combination ideal for fun, nimble street riding.
Matching its exciting performance, the Z400 is clad in aggressive new styling. Inspired by the sugomi styling of the flagship Z models, all-new bodywork blends the designs of the Z650 and Z300 to deliver an aggressive, agile, masculine impression.
Whether deftly navigating the urban jungle or parked strikingly on a street corner, this lightweight, powerful Supernaked is sure to turn heads.
*Sugomi describes core performance and styling elements found in Kawasaki's Z supernaked models. Imbued with sugomi, their performance excites; a ride on a Z supernaked is a visceral experience that stimulates the senses; engine and chassis tuning deliver a high level of control. Sugomi is also evident in their sharp styling, dynamic crouching form, and distinct silhouette.
NEW ENGINE: HIGH PERFORMANCE & HIGH CONTROLLABILITY
The Z400 all-new 399 cm3 engine delivers a balance of performance and controllability. The new engine offers increased performance at all rpm compared to its predecessor, with good power feeling. Smooth, predictable response contributes to an easy-to-control engine character.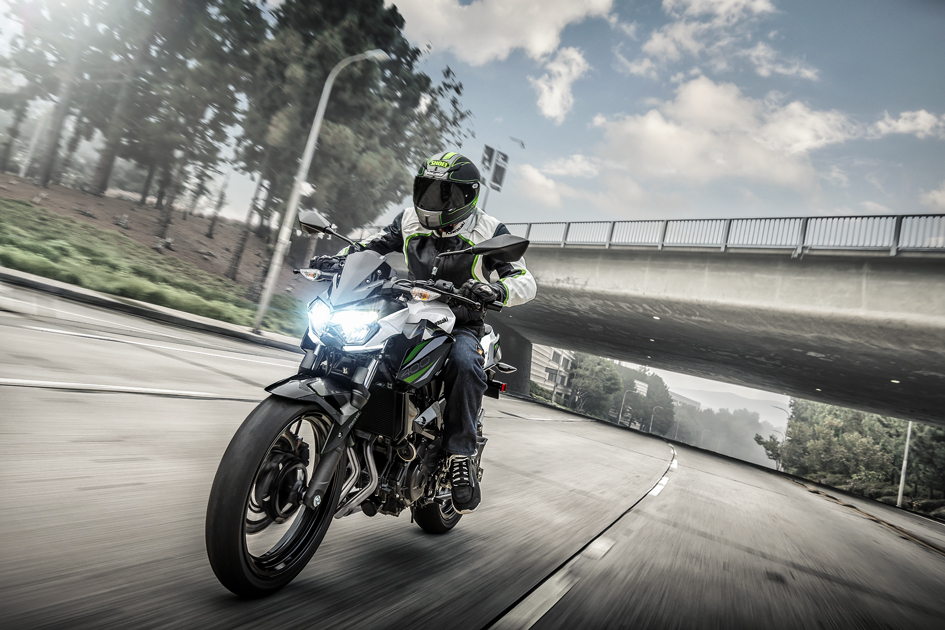 Powerful, Rider-Friendly Parallel Twin
Displacing 399 cm3, the new engine delivers significantly increased performance compared to its predecessor: 33.4 kW for the Z400 (+4.4 kW vs the 2018 Z300); 27.5 kW. The higher performance can largely be credited to the new downdraft intake, which is accompanied by a larger airbox offering increased intake efficiency. The increased performance is complemented by a rider-friendly character; the smooth response and abundant low-end torque facilitate throttle control for new and experienced riders alike.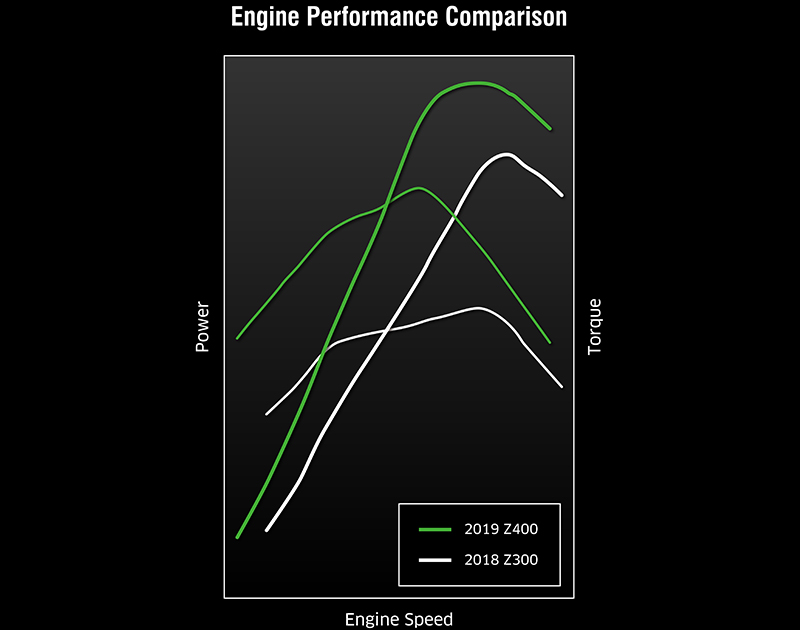 Compact, Lightweight & Efficient
Designing the engine from scratch allowed the engine layout to be optimised for size, weight and efficiency. The new unit is comparable in size to that of the 2013-2018 Z250 – the new Z400 engine is almost identical in size to that of its Z250 counterpart. Numerous weight reduction efforts keep weight to a minimum – despite a larger displacement (in the case of the Z400). The clean design, trimmed of any unnecessary items, and the revamped layout enable a slim engine and a cooling system with minimised external piping.
New Assist & Slipper Clutch
More compact clutch (ø139 mm >> ø125 mm) with less rigid operating plates offers a 20% lighter lever pull. Complementing the extremely light feel at the lever, the new clutch has a wider engagement range, facilitating control.
NEW CHASSIS: LIGHTWEIGHT, STABLE & MANOEUVRABLE
Offering considerable weight savings compared to its predecessor, the new chassis delivers a balance of stability and light, easy manoeuvrability. Its slim design facilitates both control and ease of riding, making the Z400 an easy choice for both new and experienced riders. The Z400 features a trellis frame similar in design to that of the Ninja H2. Kawasaki's advanced dynamic rigidity analysis was used to ensure optimum rigidity with light weight. The engine is rigid-mounted and used as a stressed member. The new frame design contributes significantly to the bike's low curb mass.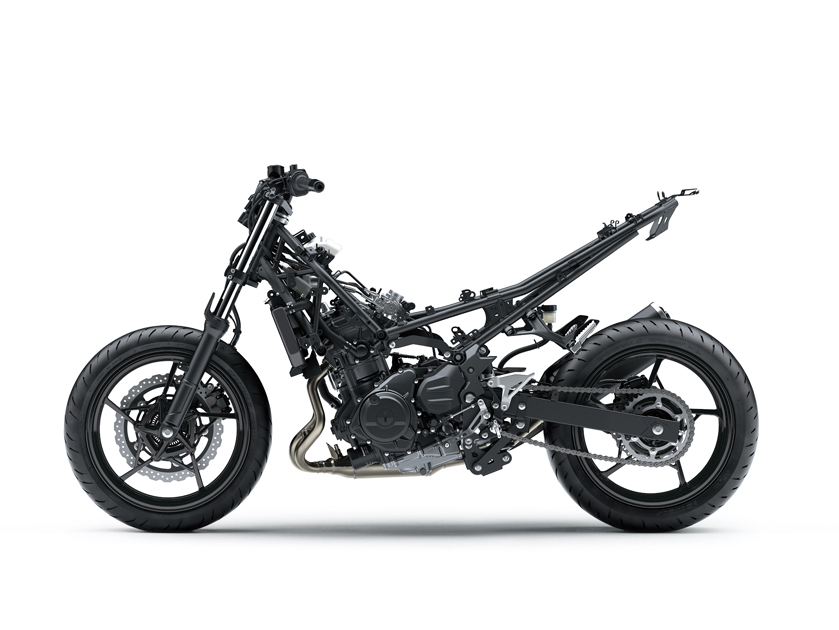 Light, Predictable Handling
With both the engine and frame being new, engine placement could also be optimised. The new chassis features a short-wheelbase/long-swingarm design, complemented by a steep caster angle that delivers light, natural handling. The bike's light weight also contributes to its easy handling and facilitates manoeuvring when off the bike.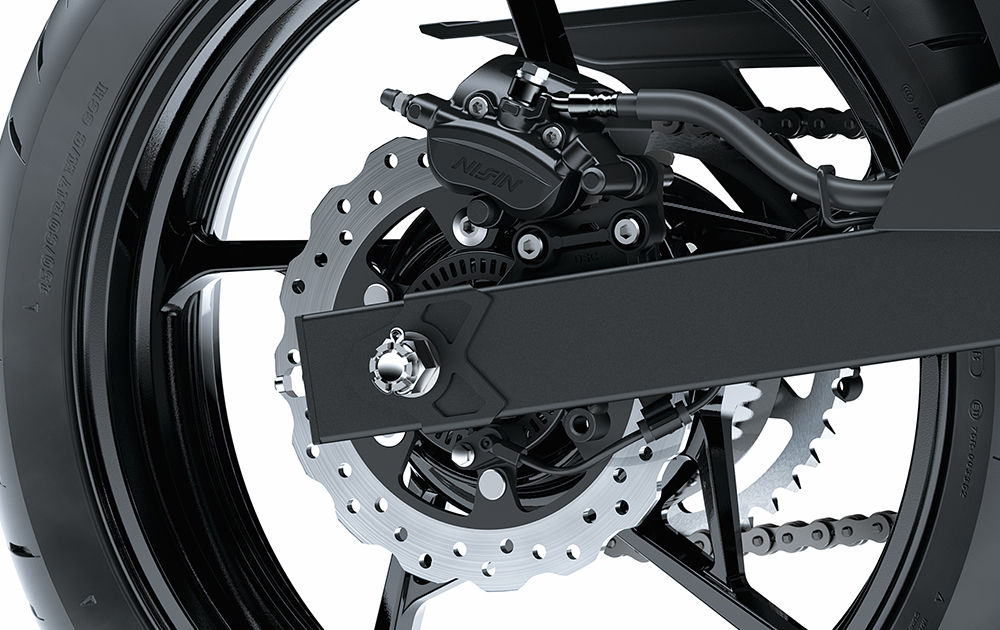 More Rigid Front Fork
More rigid ø41 mm telescopic fork delivers better suspension action. The front wheel feels really planted, direction changes are made easily (even when the bike is fairly upright – handy when navigating traffic jams), and overall the suspension offers the plushness of a larger displacement bike.
Large-Diameter Front Brake Disc
Measuring ø310 mm (the same size as those of the Z1000), the Z400's semi-floating front disc offers sure stopping power. A rigid new front brake master cylinder helps eliminate ineffective (idle) stroke, contributing to controllability, while carefully selected brake hose dimensions and material contribute to brake touch. All models are equipped with ABS and feature the latest ABS unit from Nissin, the most compact and lightweight available.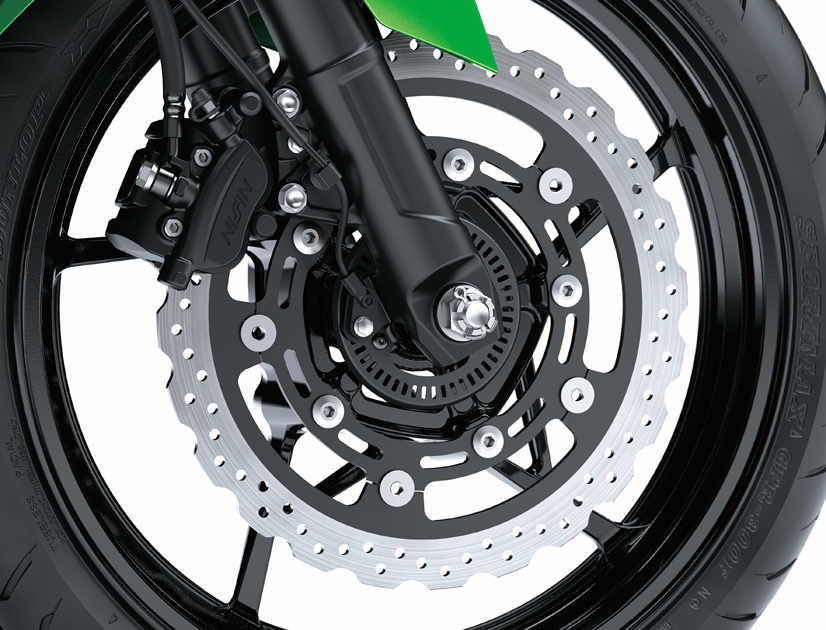 Ergonomics for Active Control
Relaxed rider triangle accommodates a wide range of rider sizes and riding situations, contributing to its rider-friendly character. The relatively upright riding position and wider handlebar put the rider in the ideal position for active control, facilitating dynamic, sporty riding.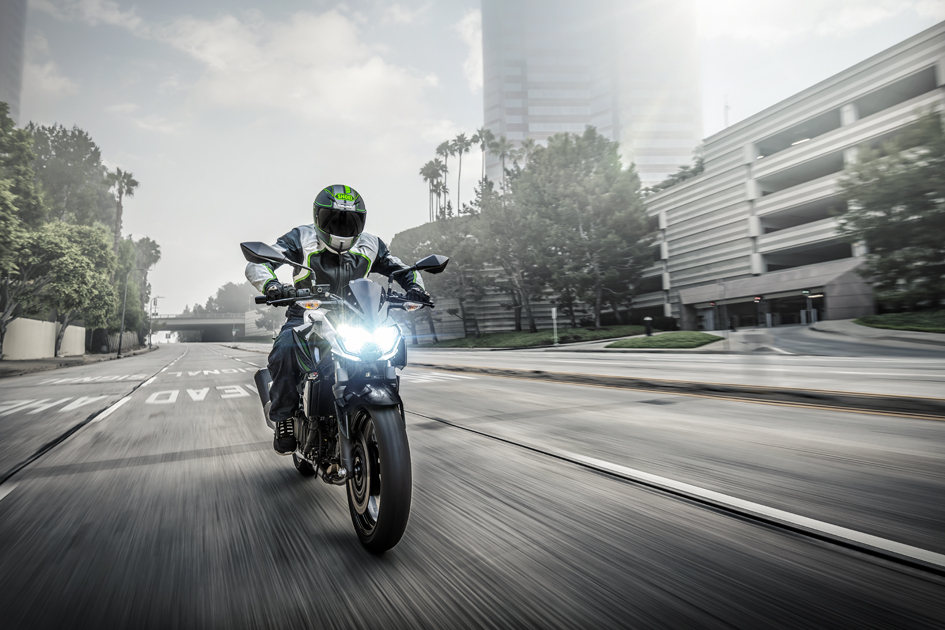 Easy Reach to the Ground
While seat height is 785 mm (when radial tyres are fitted), the slim design of both the seat (30 mm narrower) and the rear of the engine gives riders an unobstructed line for their feet to reach the ground.
Compact Multi-Function Instrumentation
The Z400 is equipped with the same stacked instrument cluster as the Z650. Offering an easy-to-read layout, the analogue-style tachometer features a gear position indicator at its centre and sits atop a multi-function LCD screen.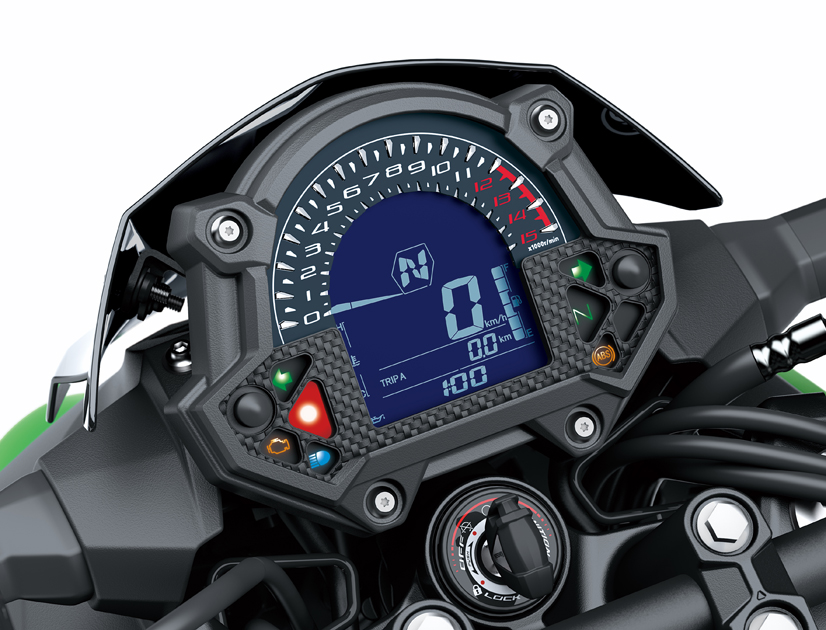 LED Headlamp
In addition to contributing to the Z400 sharp looks, the newly designed LED headlamp is highly visible and offers significantly increased brightness and a wider illuminated path.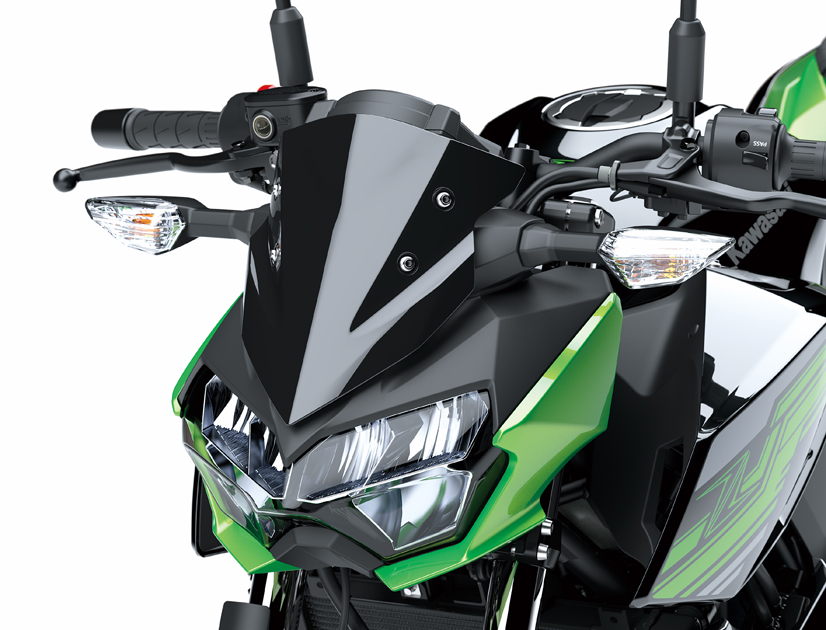 Compact Multi-Function Instrumentation
The Z400 is equipped with the same stacked instrument cluster as the Z650. Offering an easy-to-read layout, the analogue-style tachometer features a gear position indicator at its centre and sits atop a multi-function LCD screen.
AVAILABILITY
Availability and pricing of the Kawasaki Z400 into South Africa is yet to be confirmed, as soon as we get confirmation from Kawasaki South Africa, we will update you.