Developed from KTM's offroad race DNA, the 790 ADVENTURE R is a serious offroad motorcycle equipped for extreme terrain. With the hardcore adventurer in mind, it balances the power of a twin, with the lightness and agility of a single-cylinder offroad bike, to open up new riding possibilities. It offers an impressive fuel range without compromising agility, feeding a powerful yet compact, smooth and reliable engine. Access more extreme and distant offroad terrain thanks to easy-to-use rider aids and practical ergonomics.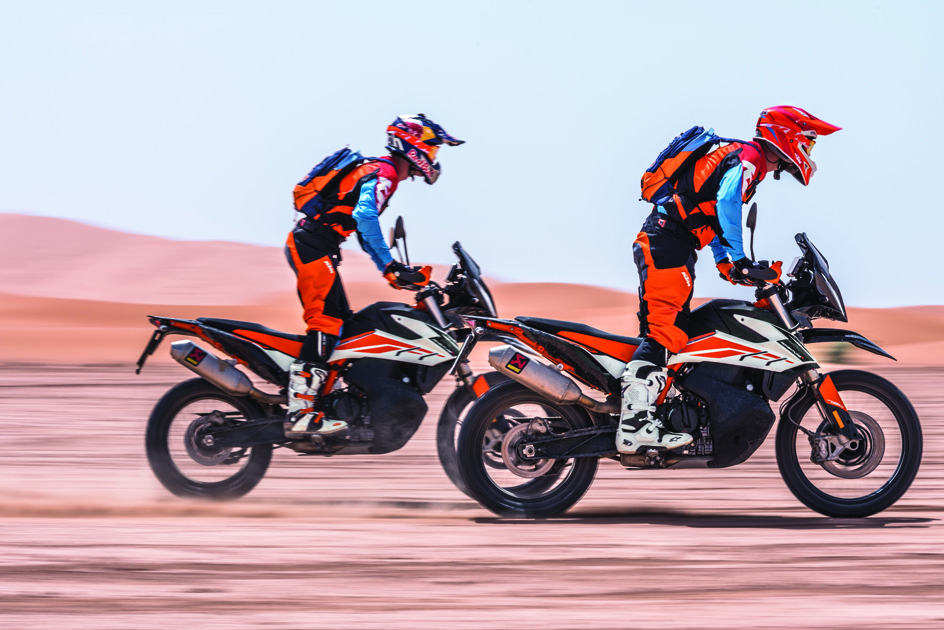 ENGINE & EXHAUST
The LC8c is the most compact performance engine on the market, and the 790 ADVENTURE R's version was specifically adapted to the needs of serious offroad adventure riding: minimal vibration thanks to two balancer shafts, a 6-speed sequential gearbox, and advanced engineering for weight optimisation. The exhaust is made from stainless steel, as is the muffler, which has been designed to be as small and light as possible to aid mass centralisation. This compact muffler is positioned as high as possible for better ground clearance.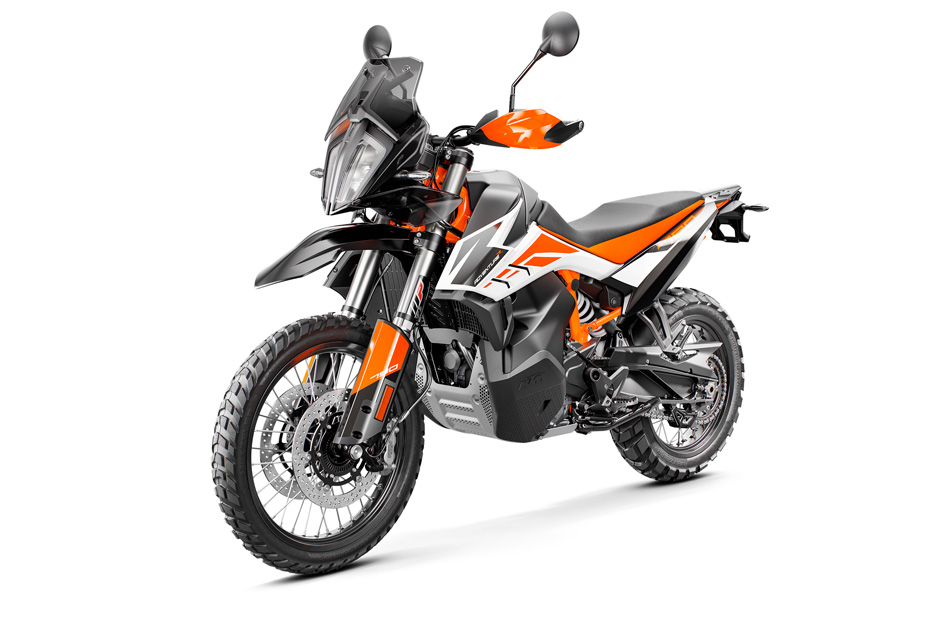 ENGINE
The LC8c is the most compact performance engine on the market. Pumping out 95 hp (70 kW), combined with modern electronics and a 6-speed sequential gearbox, and with an estimated 400 km fuel range, it is the perfect combination for extreme offroad exploration. On transport stages a smooth ride is assured thanks to two balancer shafts, which keep vibration to a minimum, and, with long service intervals of 15,000 km, you can ride for days on end without a worry.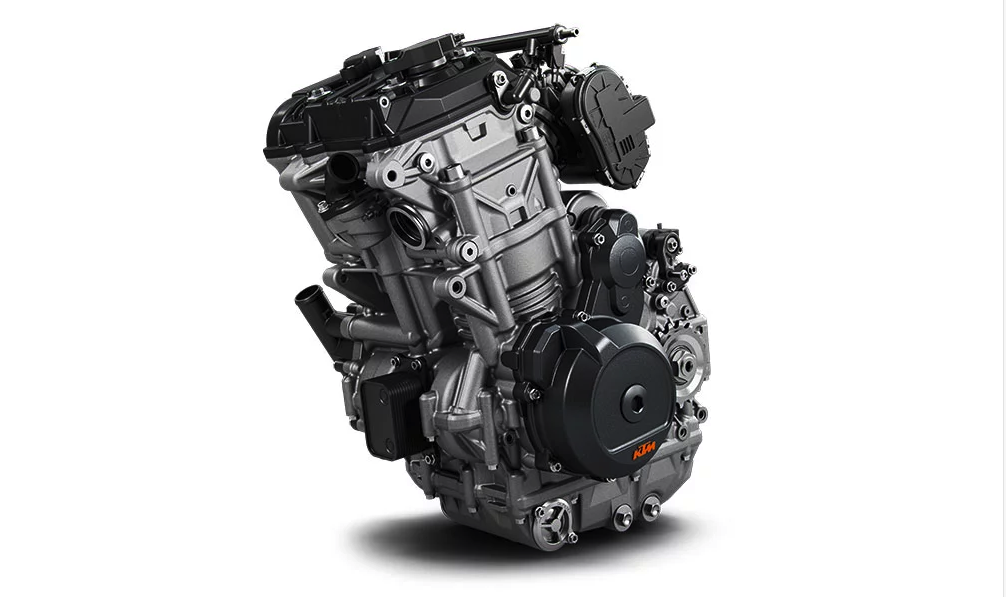 CYLINDER HEAD
The 8 valve DOHC cylinder head contains twin chain-driven camshafts and two spark plugs (one per cylinder). The camshafts are assembled, making them lighter than forged camshafts, while the cam profile has been developed to create an especially torquey engine. The steel valves are opened by DLC-coated finger followers, and a hydraulic chain tensioner tensions the camchain.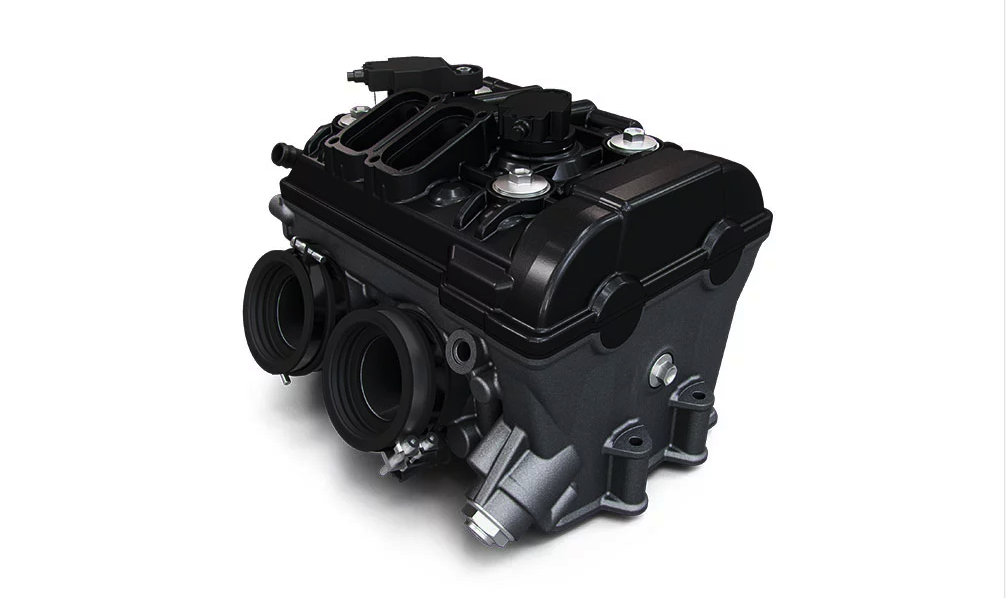 BALANCER SHAFT
When punching out those big long days in the saddle – exploring remote locations across a variety of terrain – engine vibrations are kept to a minimum thanks to two balancer shafts, one in front of the crankshaft and the other in the cylinder head between the two camshafts.
CYLINDER
The nicasil-coated aluminum cylinders are an integral part of the sleeveless engine casing. The open deck cylinder construction allows for optimal cooling, improved production tolerances, and reduces the potential for cylinder warpage during production.
PISTONS
Forged pistons with three piston rings connected by a plain conrod bearing, combine with a DLC-coated piston pin for reduced piston weight and thus less reciprocating mass. This results in a faster revving engine and allows for a lighter crankshaft, with reduced rotating masses and improved handling.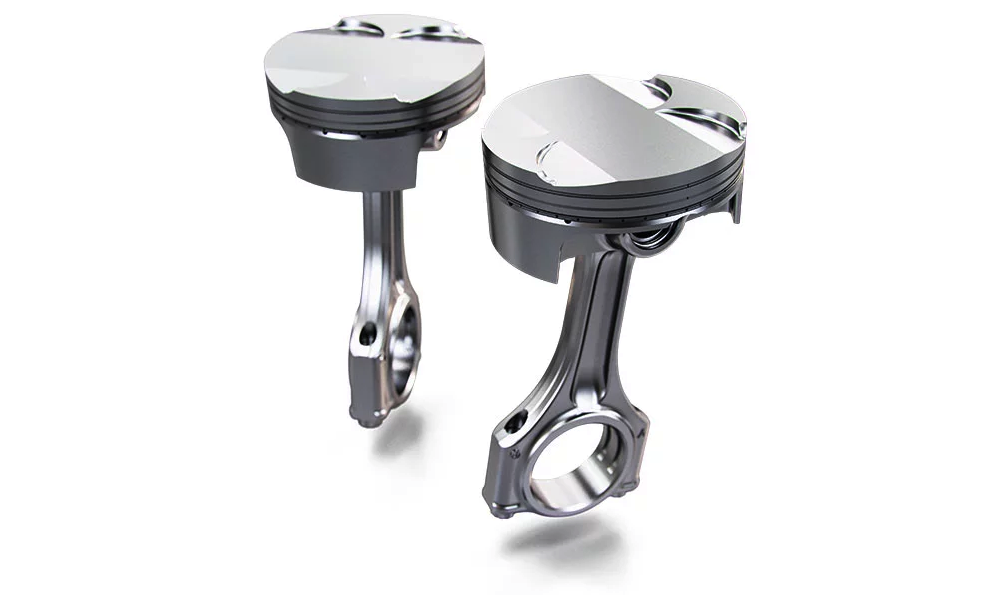 CONRODS
High quality pistons are connected to the crankshaft by a forged and cracked conrod, which is carried by plain bearings.
CRANKSHAFT
A forged one-piece crankshaft is held firmly in place by plain bearings with a 75-degree offset. The 435-degree firing order produces a sound similar to that of the larger LC8 engine, which makes the KTM 790 ADVENTURE R feel like one of its V-twin adventure brothers when cracking the throttle open.
CRANKCASE
The horizontally split crankcases are an aluminum high-pressure cast. This allows for reduced wall thickness for weight savings, and optimized surfaces, which allowed the engine designers more freedom in their design. The open-deck cylinders are integrated into the crankcase.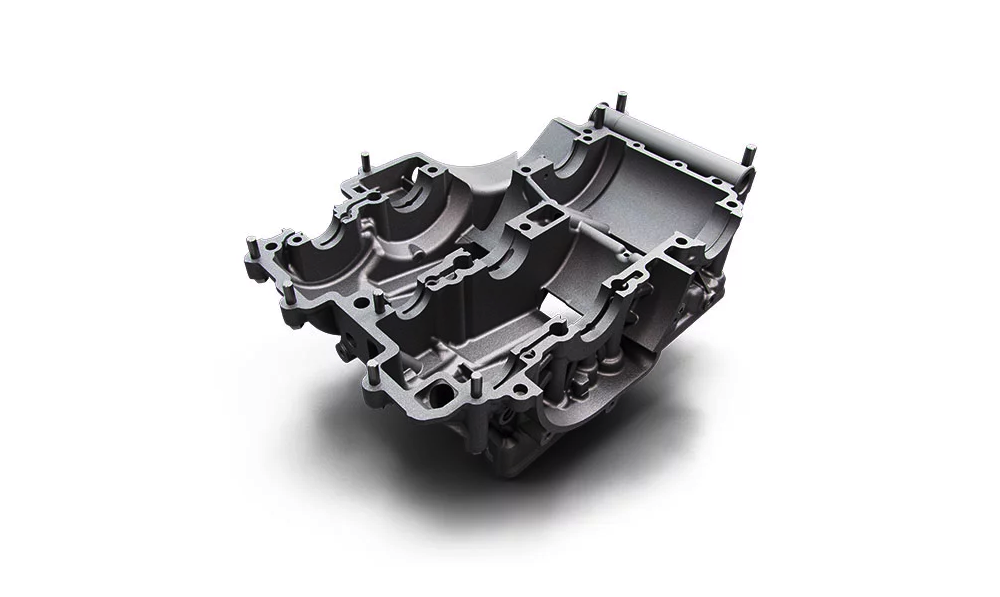 OIL CIRCULATIONS
Oil circulation is based on a compact semi-dry sump system to minimize friction losses. The oil is actively pumped out of the crankcase, clutch housing and gearbox, which ensures that oil does not unnecessarily flow through the engine. The oil sump is integrated into the oil pump housing, together with two pumps (one scavenge, one pressure) and a pressure regulation valve. To cool down the oil, the engine is equipped with an oil cooler similar to the larger LC8 V-twin engines.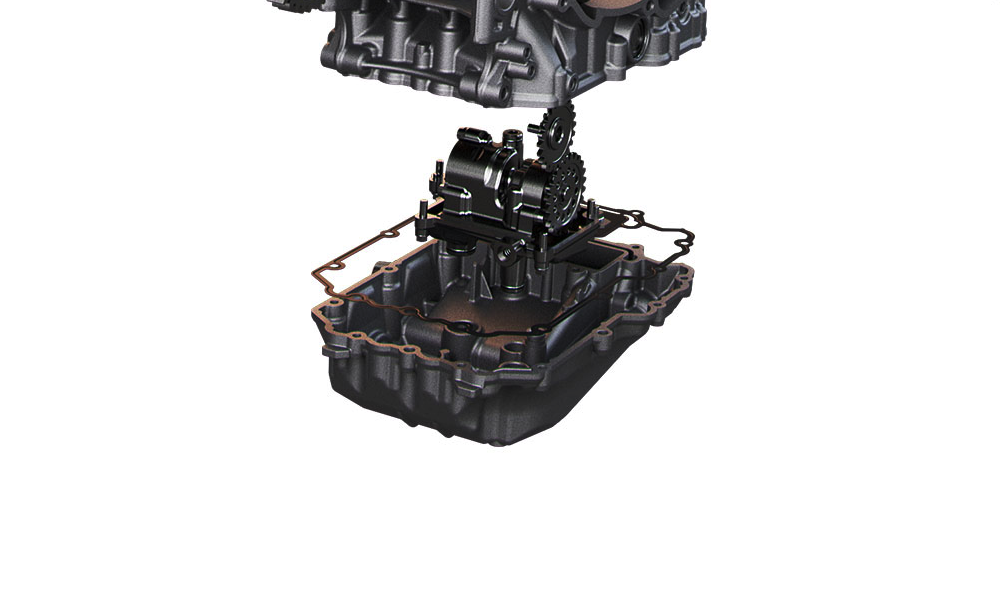 PASC CLUTCH
The PASC (Power Assist Clutch) requires minimal rider input to operate it due to less engine torque transferring to the clutch plates. The slipper clutch on the LC8c is similar to that on the LC8, but more compact and therefore lighter. It prevents destabilizing rear wheel chatter when braking sharply or decelerating. It also reduces the hand force required for changing gears, allowing the clutch to be controlled with one finger – saving you energy when riding.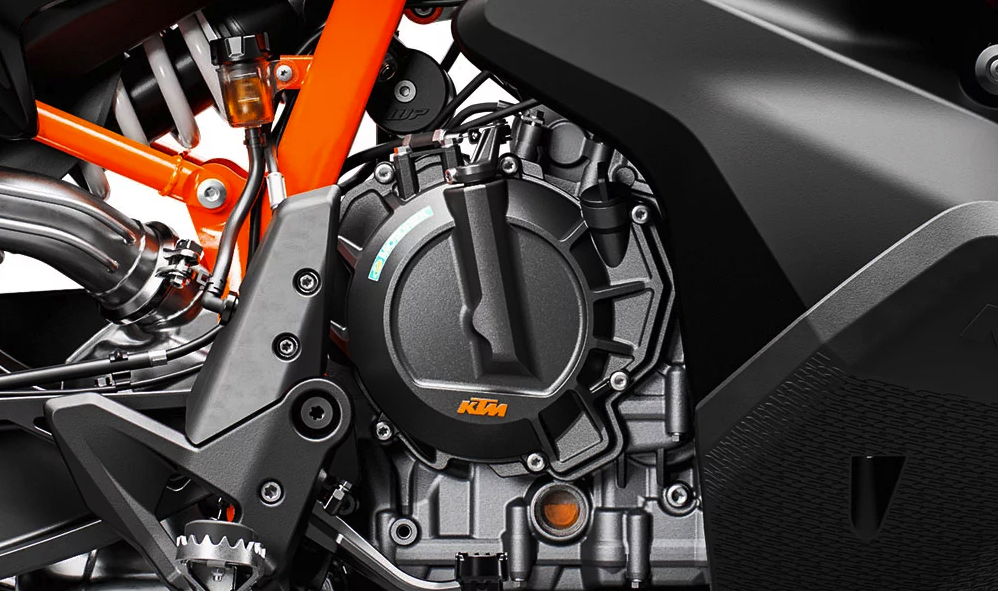 GEARBOX
The 6-speed sequential gearbox's stacked configuration reduces engine length, which enables it to be more compact. Gear shifting is very smooth, and by using the optional Quickshifter+, clutchless up and downshifts can be performed effortlessly.
RIDE-BY-WIRE
KTM's ride-by-wire system electronically translates the throttle commands of the rider into optimum throttle valve positions for the specific riding situation.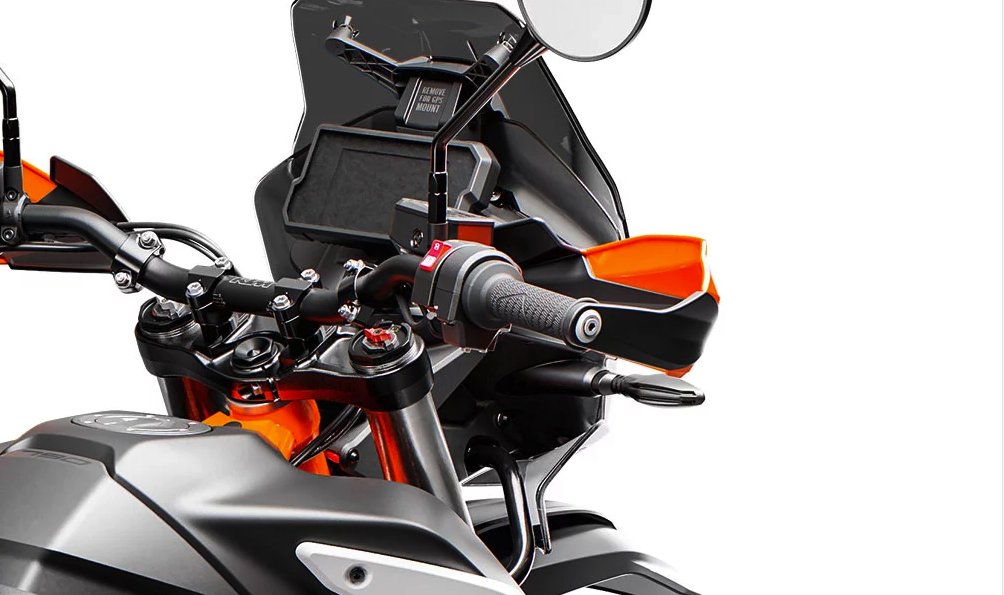 AIRFILTER
When designing the KTM 790 ADVENTURE R a special effort was made to have the airfilter easily accessible for cleaning and servicing while on a ride. The airbox is located under the seat with the intake at the rear of the bike to aid in the overall packaging of the motorcycle. This means that in addition to easy airfilter access, the seat and tank could be kept low and the bike could be made narrower where it counts: in the leg area. It has also allowed for a central positioning of the electronics to keep mass centralized.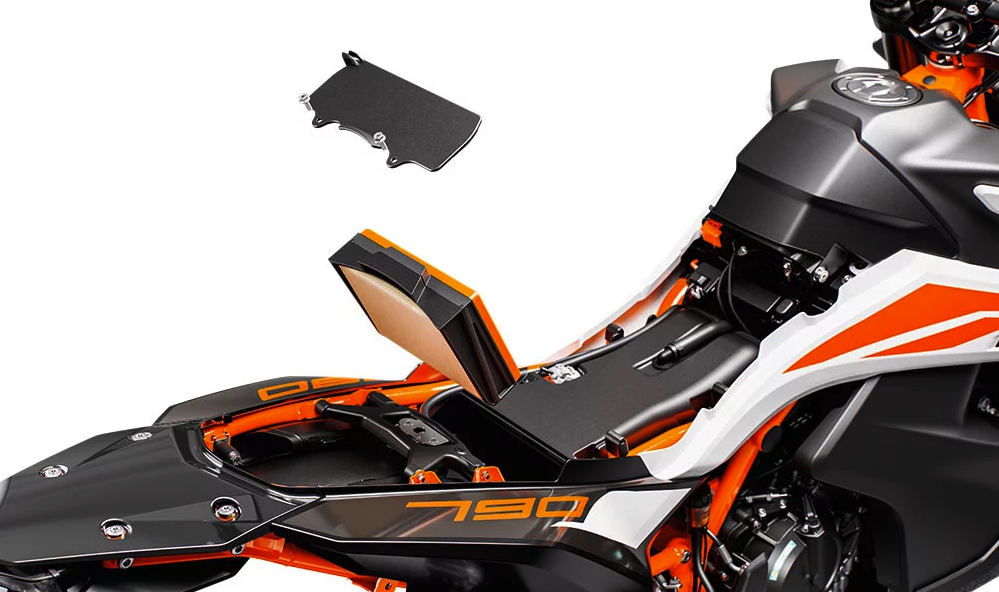 COOLING
During extreme offroad exploration, it's important the LC8c engine keeps its cool to ensure its advanced power and performance are maintained. Thanks to the KTM 790 ADVENTURE R's design and advanced cooling technology, riding for hours in hot conditions is possible.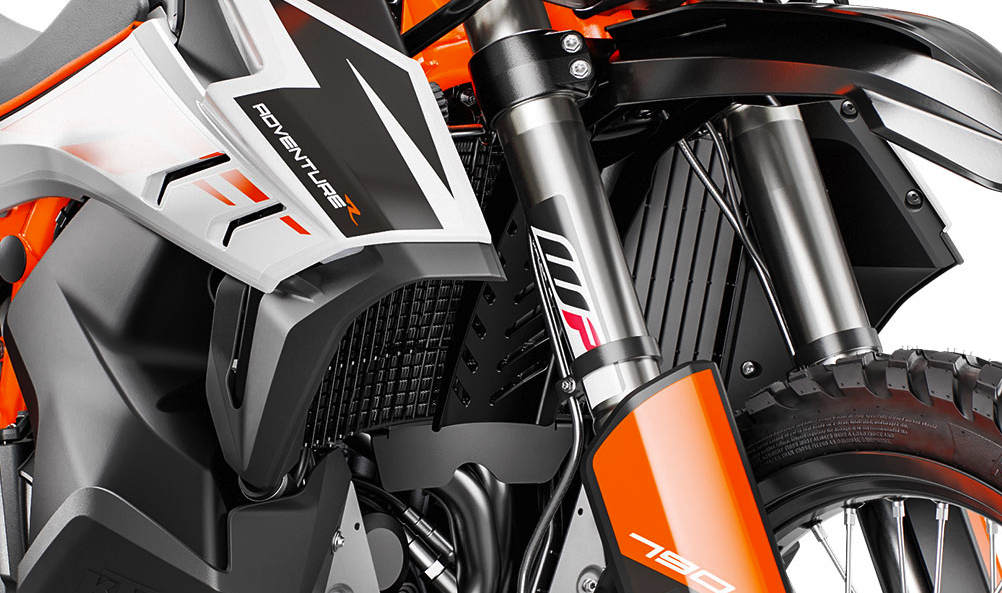 EXHAUST
A redesigned stainless-steel exhaust system utilizes a mid-exhaust sound damper to centralize mass, which allows for a relatively small muffler, thereby maximizing the exhaust system's ground clearance. The sound – ready for extreme adventure!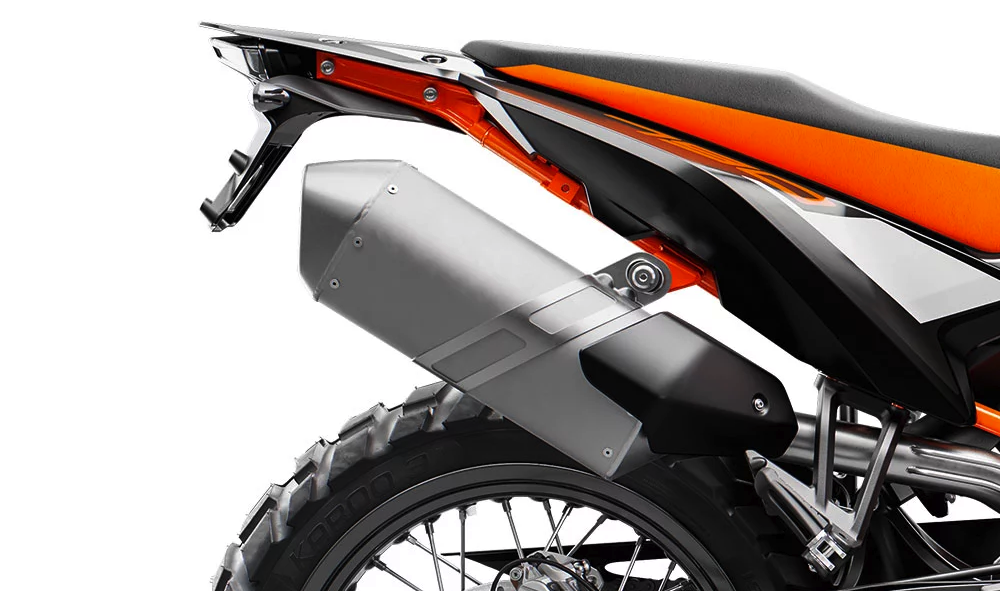 CHASSIS 
The KTM 790 ADVENTURE R is ready to conquer all extremes. Its tubular CroMo steel frame and lightweight steel trellis subframe are engineered to be compact but strong, to handle harsh conditions. A steering damper aids stability, while the heavy-duty spoked 21-inch front and 18-inch rear wheels with METZELER Karoo 3 tyres are specifically developed for offroad riding performance.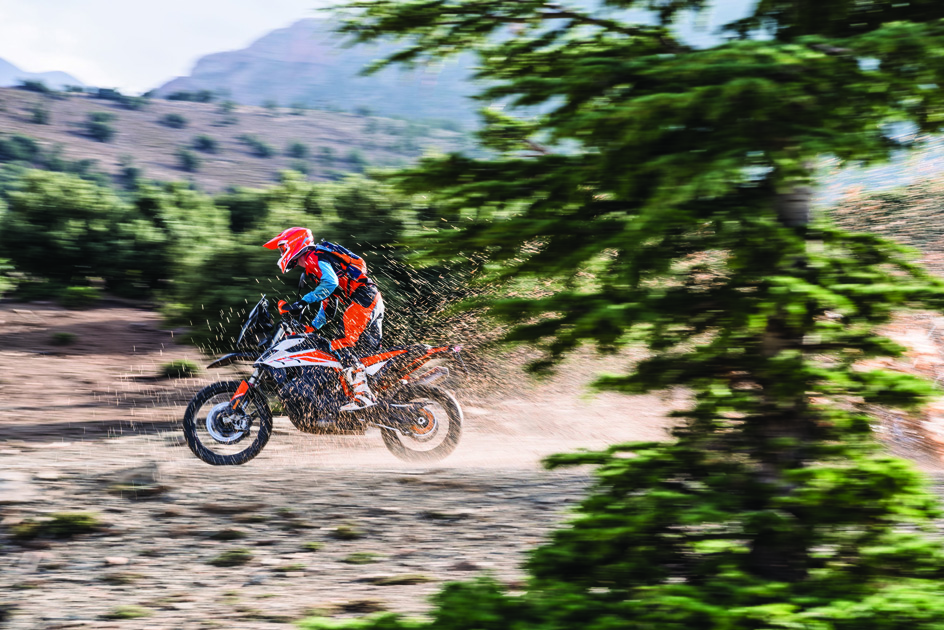 SUSPENSION
When setting off for an adventure ride, there are so many variables with bike setup that can influence the bike's performance: rider weight, extra luggage, fuel – it all has to be taken into account before heading offroad. The KTM 790 ADVENTURE R comes with high-performance WP suspension perfectly suited to venturing farther off the beaten track, which means, no matter the type of terrain, it can be adjusted to suit most riders' personal preference and riding conditions.
STEERING DAMPER
To aid stability, a steering damper is fitted for those times when you're pushing hard on the tarmac or powering across rough surfaces on route to your destination. Don't worry; it doesn't interfere with serious offroad riding.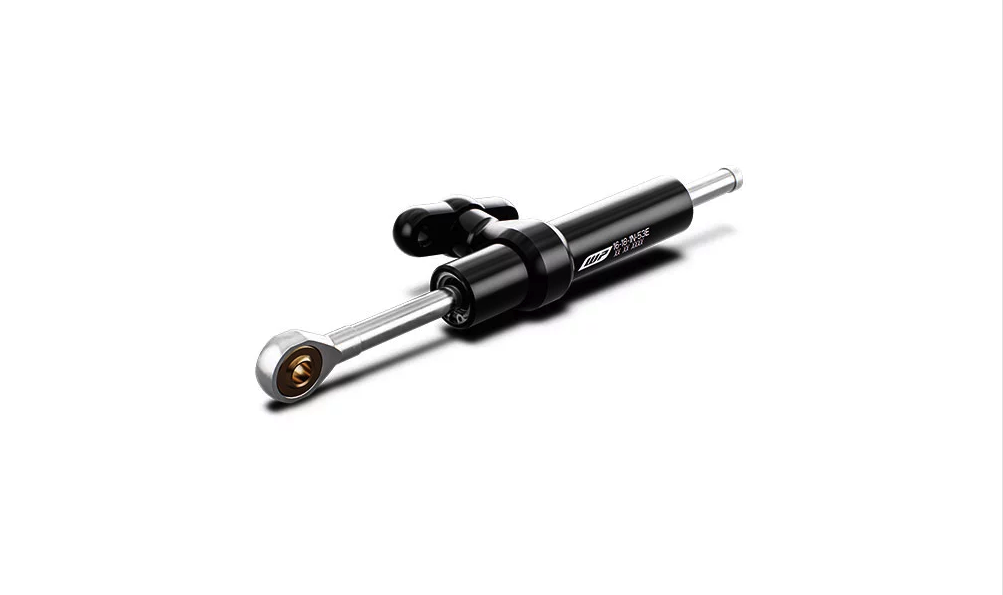 TRIPLE CLAMPS
The alloy lightweight triple clamps are strong and stiff for stability, with the right amount of flex to feel what the chassis is doing. They also offer a good range of adjustability for handlebar positioning.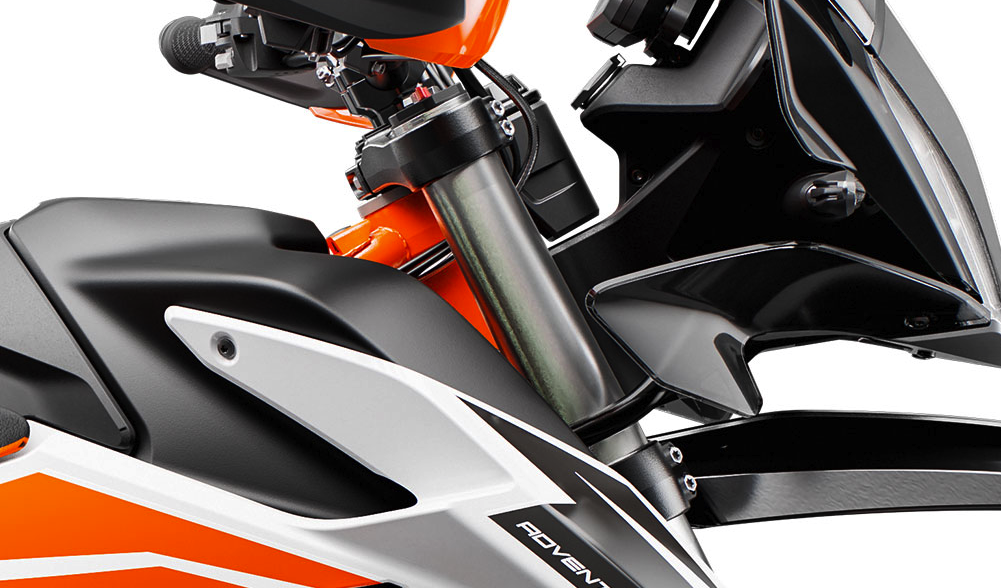 FRONT FORK
The WP XPLOR 48 mm fork, with 240 mm of travel, has outstanding response and damping characteristics for extreme offroad use. They are fitted with a spring on both sides but feature a separate function for each fork leg: compression damping on the left, rebound on the right. This enables the forks to be easily adjusted on the fly with the twist of a dial on the top of the forks to suit a variety of off-road riding conditions. In addition, a sealed hydro-stop guarantees excellent resistance to bottoming-out.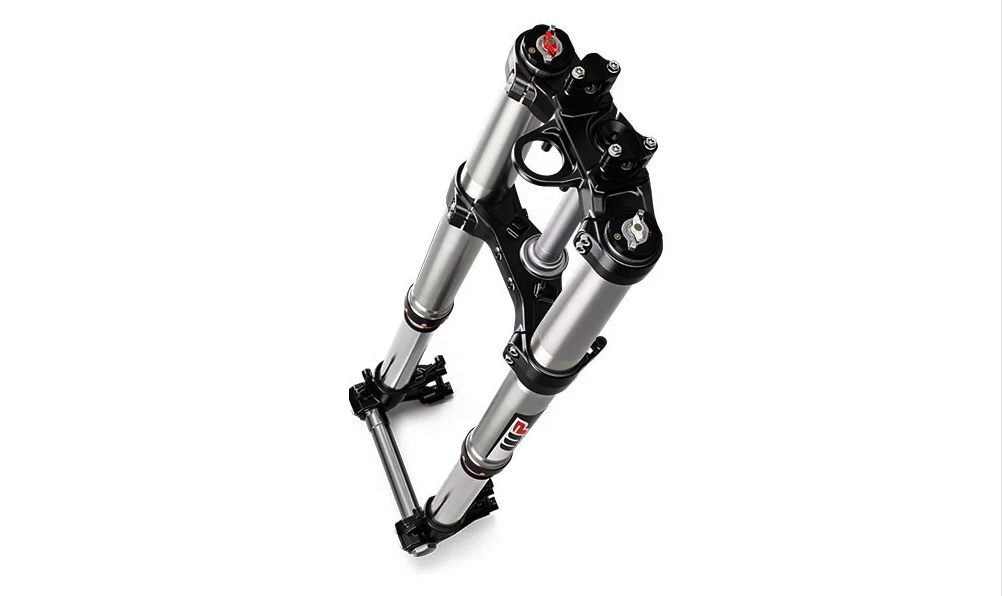 REAR SHOCK
On the rear end sits the WP XPLOR shock with 240 mm of travel for the most extreme offroad conditions. Suspension can be individually setup for pre-load, (high and low speed) compression and rebound. The WP XPLOR PDS rear shock uses KTM's trademark progressive damping system, which allows progressive damping without using a linkage system. Bottoming resistance is provided by a second piston, which works together with a closed cup (instead of a needle) towards the end of the stroke and is supported by a progressive shock spring.
WHEELS & TYRES
The spoked 21-inch front and 18-inch rear wheels are specifically developed to handle hardcore offroad exploration – heavy-duty, lightweight and long-lasting – they are definitely up to the task. They are fitted with METZELER Karoo 3 adventure tires to maximize offroad performance.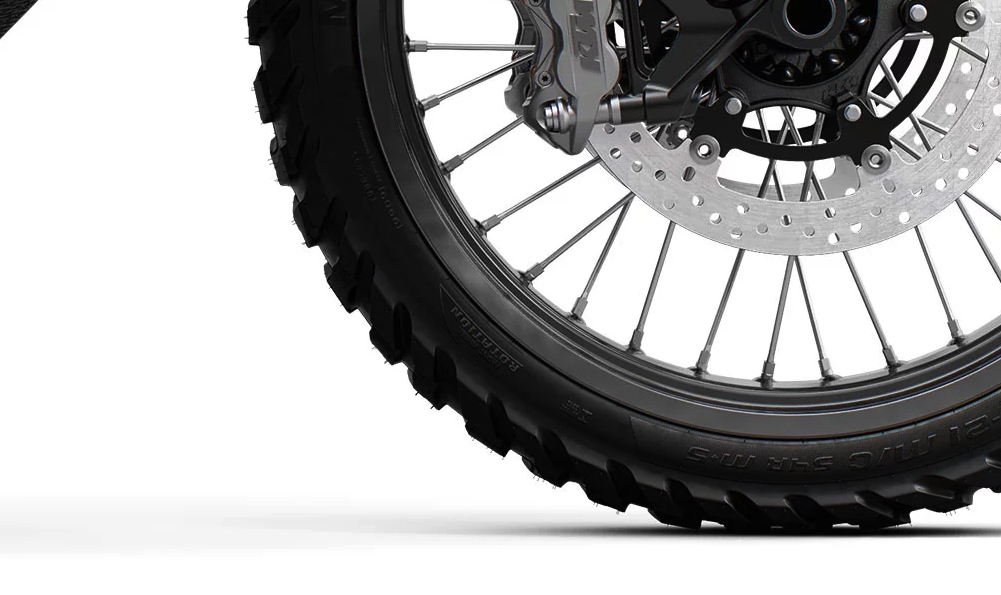 FRAME
The overall geometry of the KTM 790 ADVENTURE R was developed for light handling, and comfort on long distance exploration missions – with unchallenged offroad capability. Strength was a big consideration in the design, so a tubular CroMo steel frame is used with the engine acting as a stressed member to reduce weight and overall size. All design and engineering innovations are focused on being compact and light.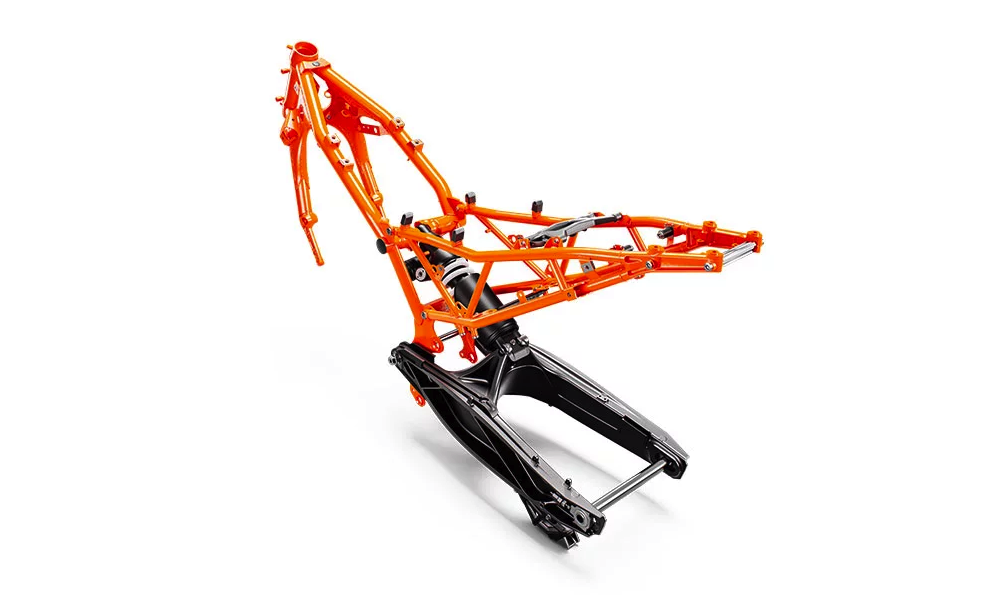 SUBFRAME
When fully loaded for adventure the bike underneath you needs to be built to last. The steel trellis subframe was developed to be compact, lightweight and also strong enough to carry a full load under the hard conditions that can be expected when extreme adventure riding.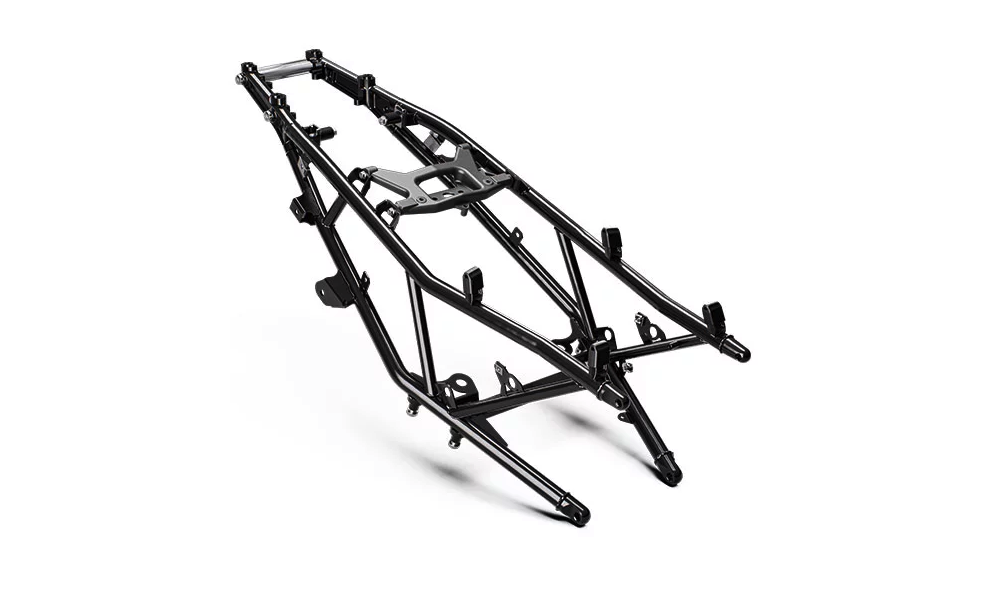 SWINGARM
The signature die-cast, open-lattice swingarm is precisely manufactured and has been optimized for stiffness and stability while still offering excellent flex characteristics. By using a direct link for the rear shock, complexity and parts are reduced. The relatively long swingarm aids in traction, stability and suspension setup.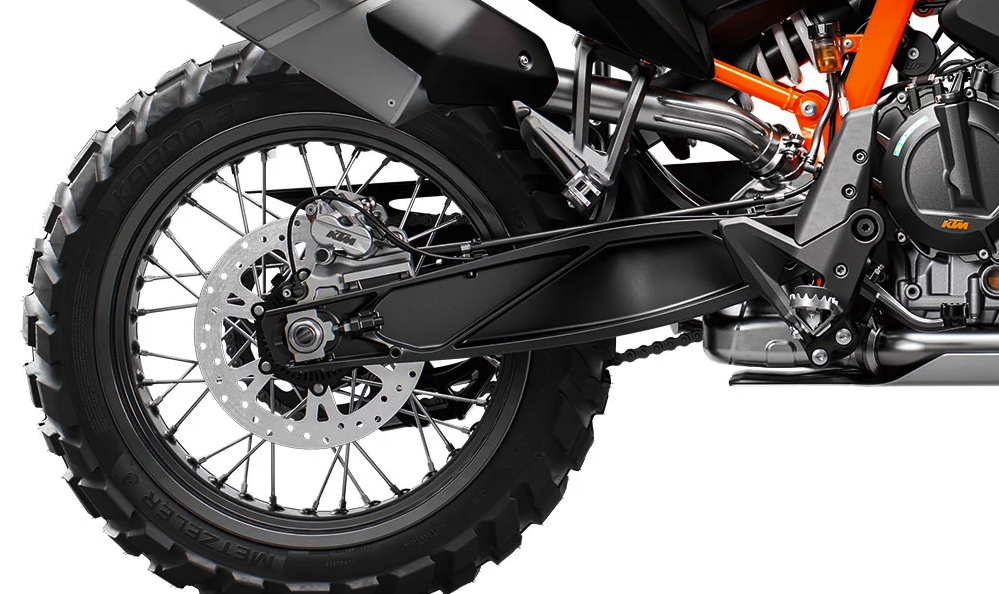 BRAKES
Pulling up the mighty 790 ADVENTURE R on any terrain is easy thanks to twin 320 mm diameter brake discs with 4-piston, radially mounted calipers up front, and a 260 mm diameter brake disc actuated by a double piston floating caliper in the rear. The front and rear brake combination provides an ideal mix of control and stopping power in all riding conditions.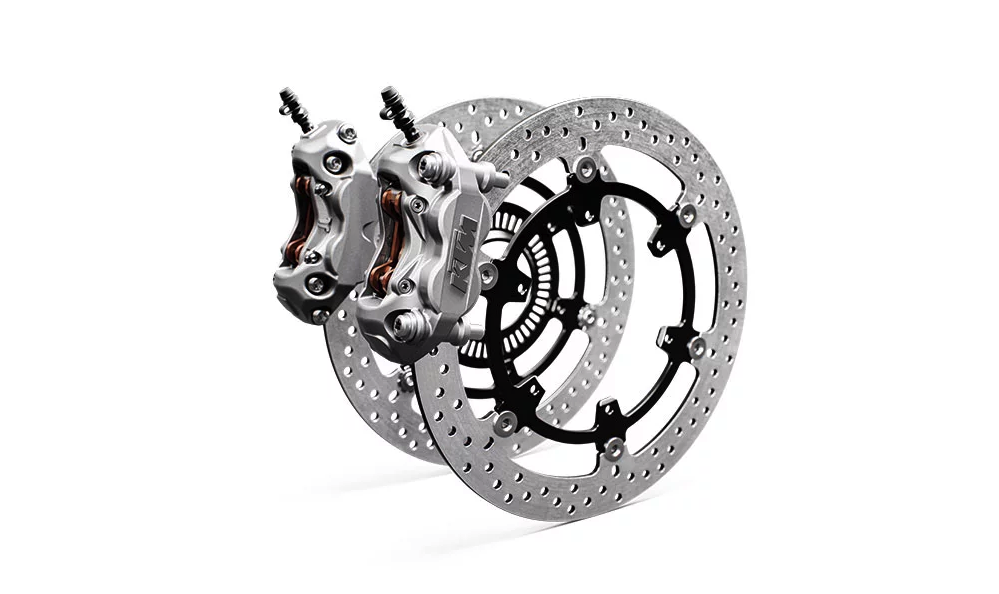 FUEL TANK
The 20 liter fuel tank is central to this new bike's design innovation. The main tank volume is placed as low as possible for various reasons including: lowering the center of gravity for improved handling; the bike is narrow in the knee area when standing up, adding a lot of control when riding off-road; it allows for a straighter and lower seat, giving the rider more freedom to move and aiding better accessibility; and provides an exceptional fuel range of approximately 450 km on the open road which is a big advantage on longer adventure tours.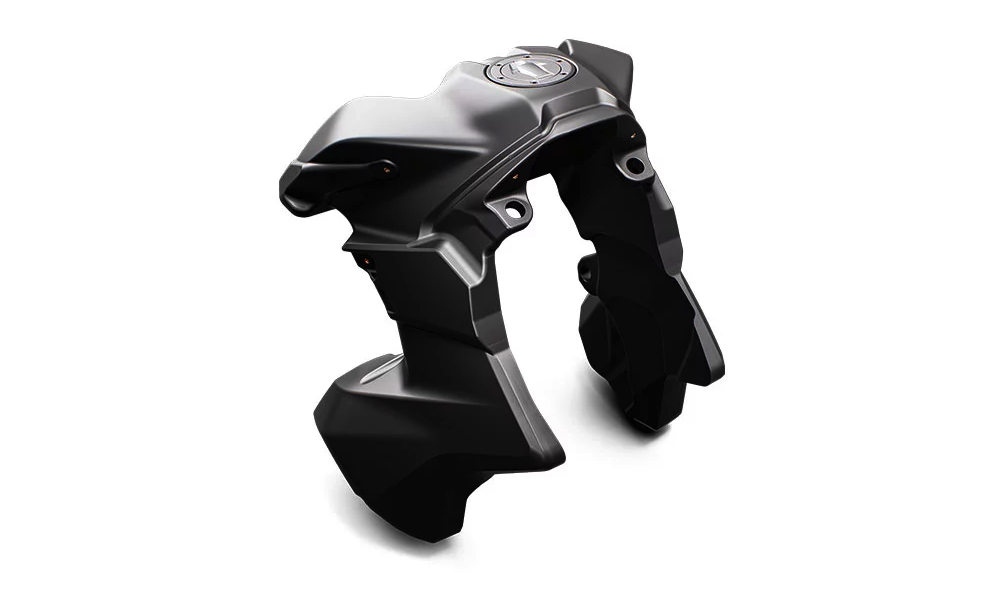 ERGONOMICS & COMFORT
The KTM 790 ADVENTURE R has several adjustable features to enhance rider comfort, including a higher or lower seat option, and six handlebar mount positions. A low-slung fuel tank, which lowers the centre of gravity, improves handling, and allows the rider to move around more freely. Its long-distance race ergonomics are designed for extreme riding, and the easy-to-access air filter makes it simple to change on the trail.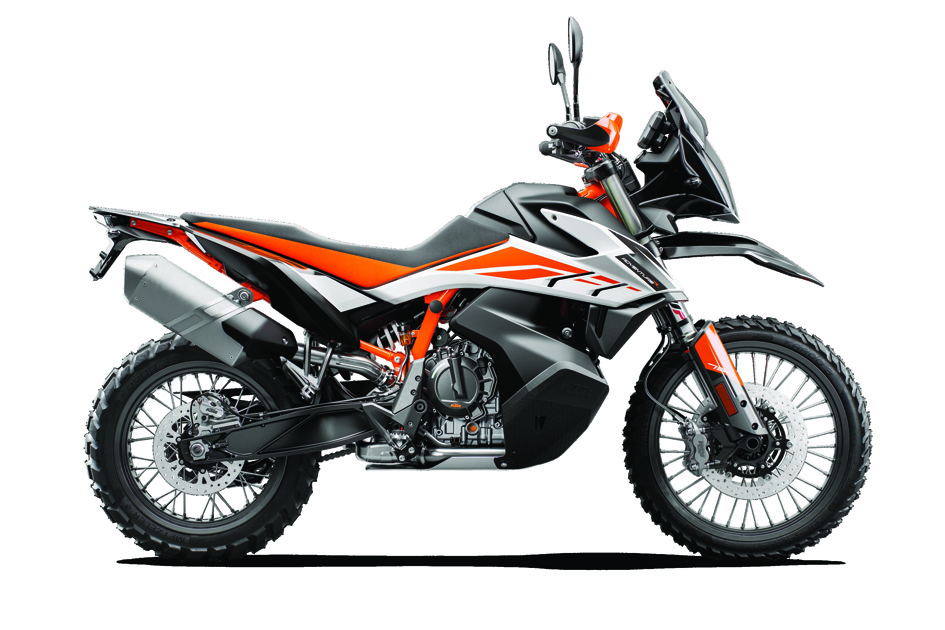 HANDLEBAR
An aluminum-tapered handlebar allows maximum control while offering a comfortable riding position. The handlebar can be mounted in six different positions, which results in 30 mm of adjustment range, allowing for a personal fit.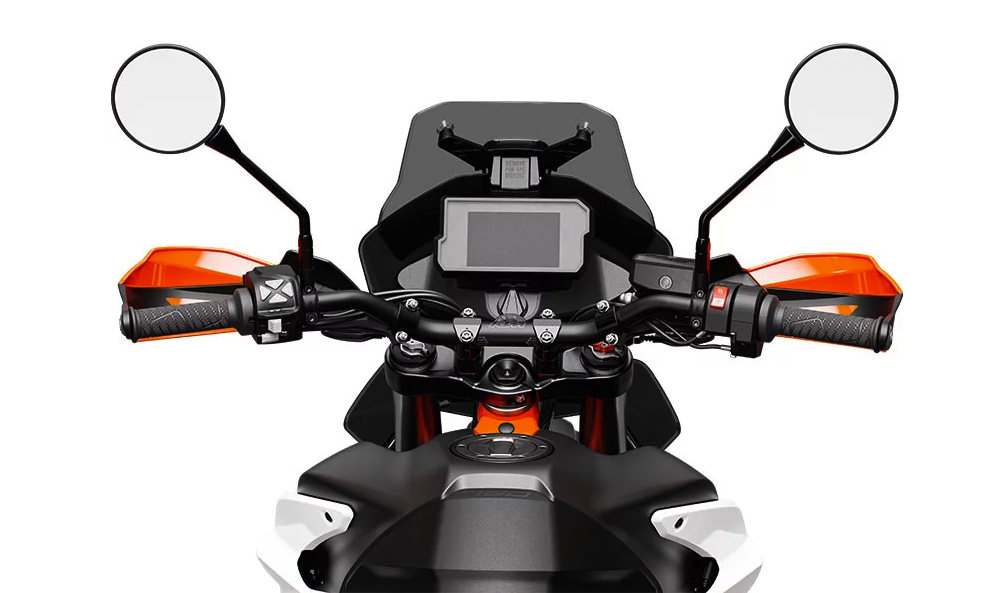 FOOTPEGS
Whether it's all-day riding while standing or sitting, the KTM 790 ADVENTURE R's strong footpegs have been developed for superior ergonomics and to accommodate street or off-road boots in a wide range of conditions. The footpegs have rubber inserts, which can be removed.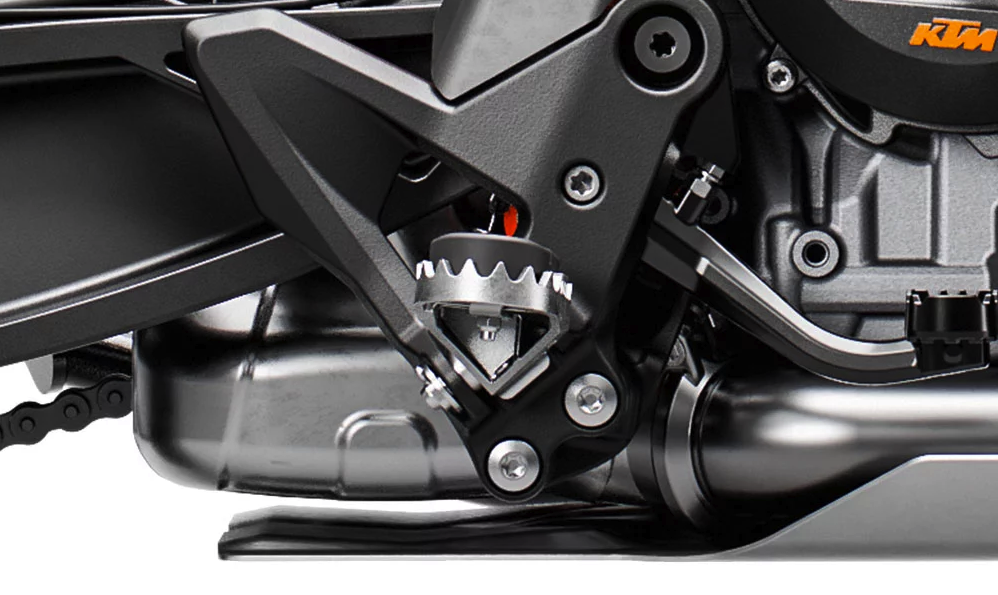 SEATS
The single piece, offroad style seat was developed to allow maximum freedom of movement, plenty of grip and still offer the comfort needed for long days in the saddle. The two-part seat of the KTM 790 ADVENTURE also fits the KTM 790 ADVENTURE R.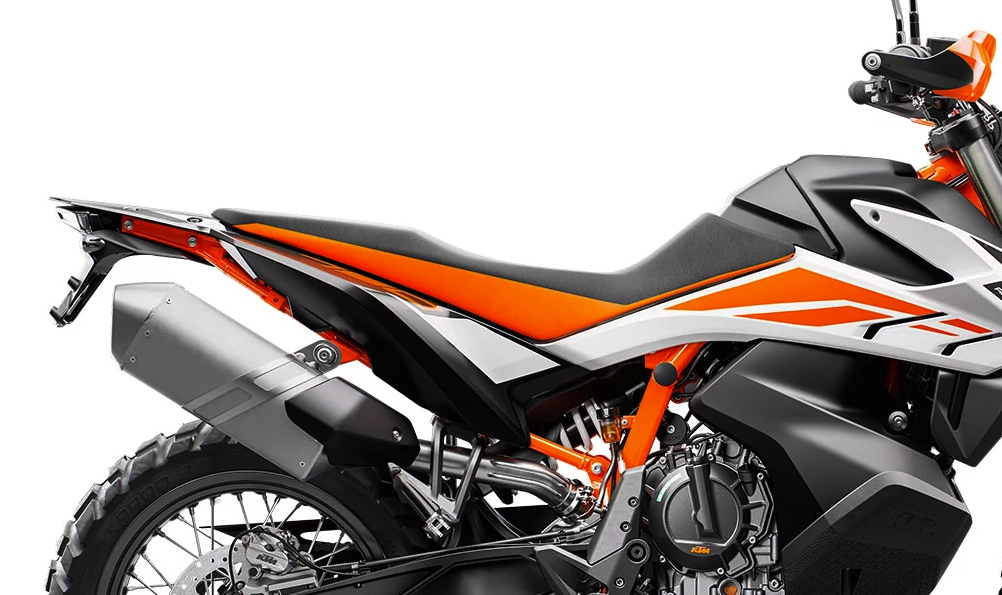 WINDSHIELD
The KTM 790 ADVENTURE R has a low-profile windshield, which enables the rider to move around the bike freely when standing and offers an unobstructed view directly in front of the bike, even when the screen is covered in dirt. The higher 790 ADVENTURE windshield can be used on the 790 ADVENTURE R.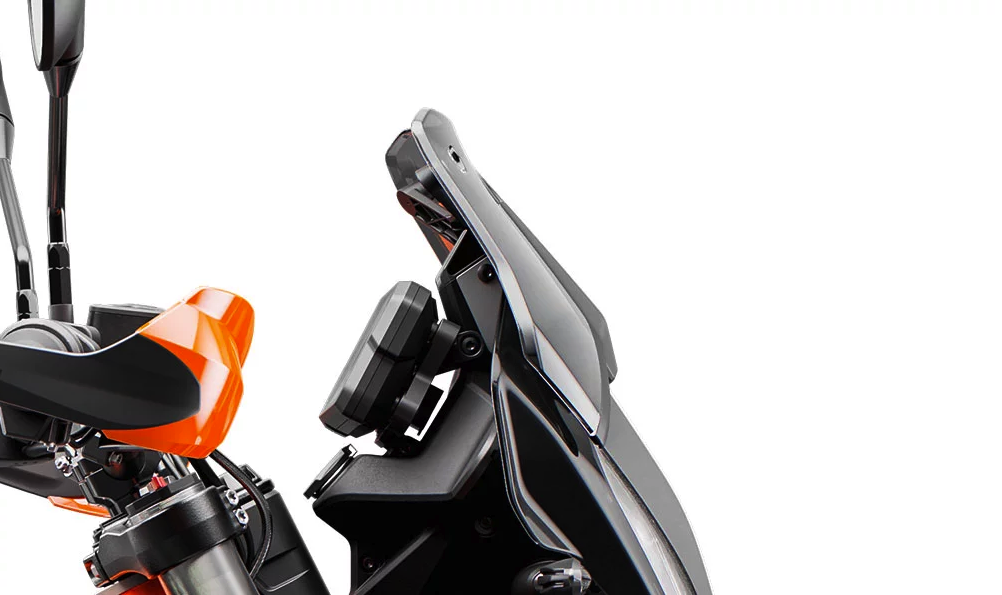 BODYWORK & GRAPHICS
This all-new travel enduro concept is built around a lightweight and compact enduro-oriented chassis, and continues with sleek but impact-resistant bodywork, which not only offers protection for the motorcycle, but also reduces the overall weight of the 790 ADVENTURE R so it can be easily ridden further offroad. Its bold and agressive KTM design has been developed in parallel with the new Factory Racing rally bike.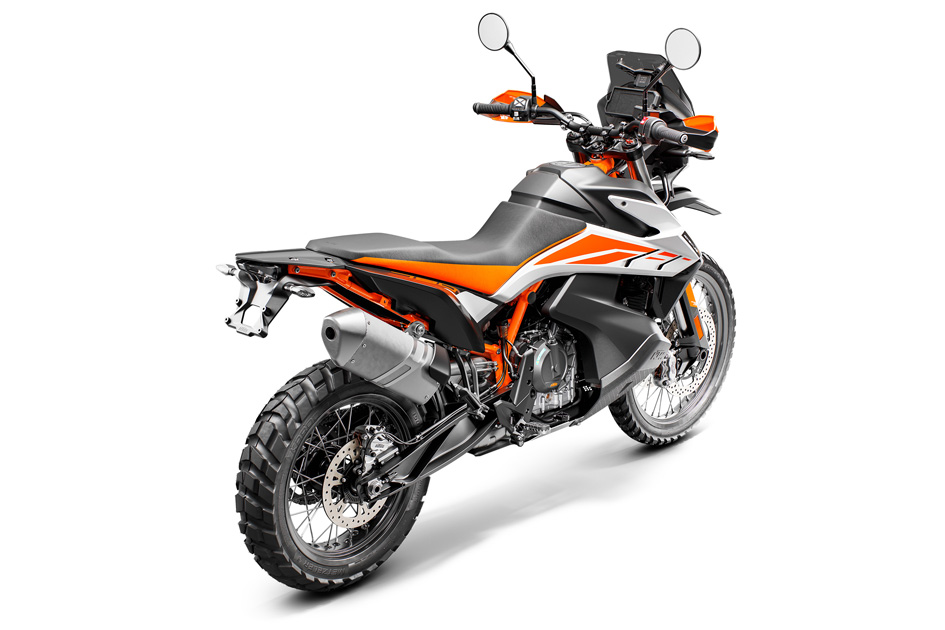 LED LIGHTS
LED lights are used on the KTM 790 ADVENTURE R as the main headlight, taillight and indicators. LED lights offer great illumination and visibility. They are compact, so they help reduce the overall volume of the motorcycle.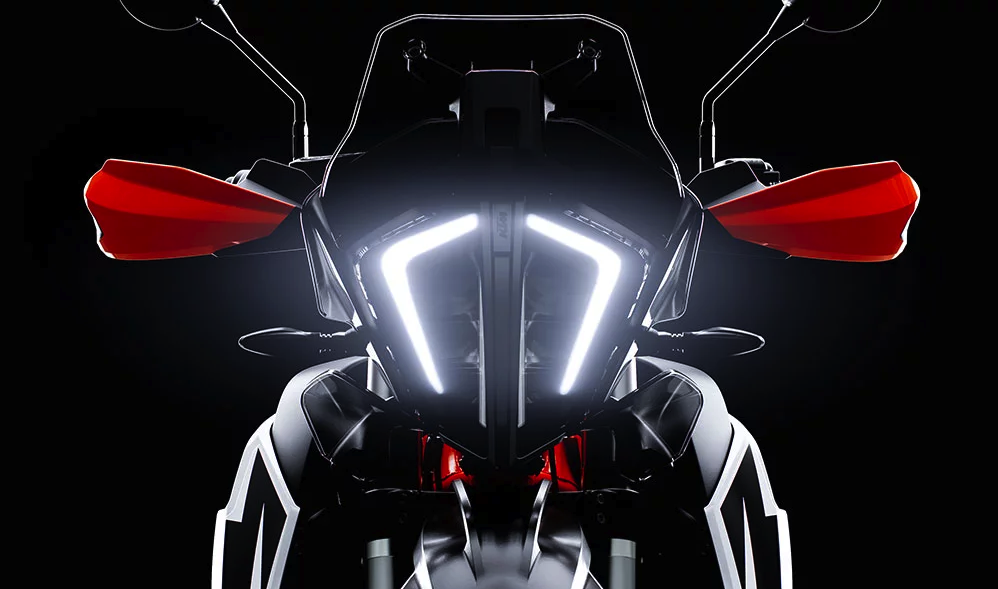 SOFTWARE & ELECTRONICS
When you find yourself in a tricky situation, ABS, MTC and ride modes are there to assist in a variety of conditions. MTC (Motorcycle Traction Control) is KTM's lean angle sensitive traction control system that reacts immediately if the rotational speed of the rear wheel is disproportionate to the riding situation. Rally mode allows a more direct control over the various functions, allowing the rider to determine the character of the bike more freely. The rider can more precisely fine-tune the slip adjust to match the condition of the surface, the skill level of the rider and the requirements of the ride. The Ride-By-Wire system electronically translates the throttle commands of the rider into optimum throttle valve positions for the current riding situation. The Ride-By-Wire system electronically translates the throttle commands of the rider into optimum throttle valve positions for the current riding situation.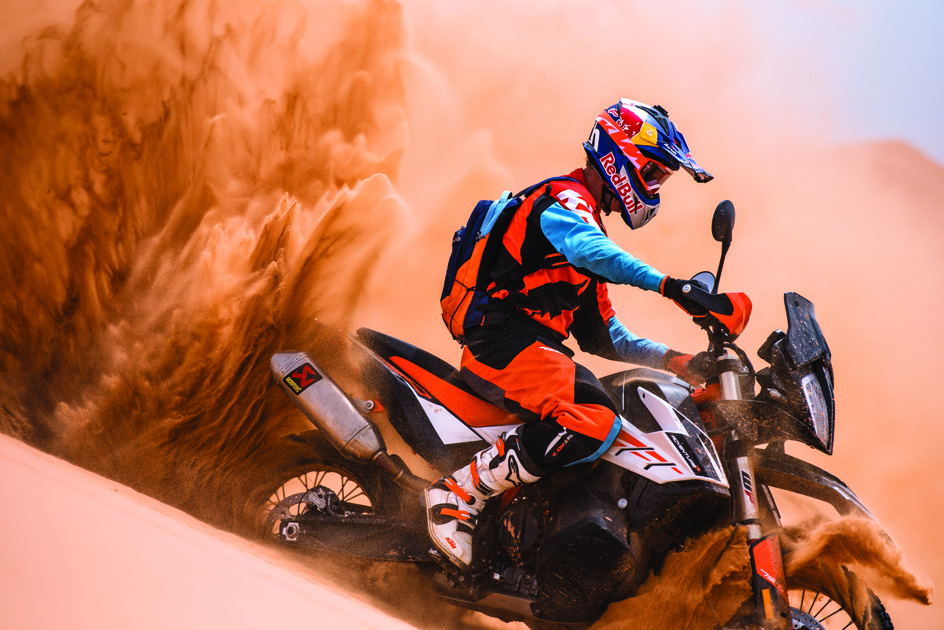 OFFROAD ABS
By selecting offroad ABS, ABS is deactivated on the rear wheel, while front wheel ABS intervention is reduced and data from the lean angle sensor is not considered. This allows riders to lock up the rear wheel, which can be used to steer into corners. It reduces the tendency of the ABS on the front wheel to regulate on loose surfaces, thus balancing decent stopping power with secure braking in the dirt. The settings were developed for maximum braking power with minimal electronic intervention in all scenarios.
RALLY MODE
In the more advanced 'Rally mode' the rider can adapt the character of the bike more freely. Slip adjust can be changed in 9 levels, varying from an intervention level 9 (comparable to rain mode) to hardly any intervention at level 1, with 7 steps in between. With these settings the slip adjust can be very precisely matched to the condition of the surface, the skill level of the rider and the requirements of the ride. Reducing slip can also help to conserve tires when riding longer.
OFFROAD RIDE MODE
'Offroad ride mode' has a smooth throttle response and allows a fair amount of slip before it intervenes. On low grip surfaces, a certain amount of wheel slip is needed to ensure forward motion. Secondly, it allows riders to break traction so they can steer with the rear wheel. Anti-wheelie is not used in this mode, so riders can easily lift the front wheel over obstacles. 'Offroad ride mode' is not lean angle sensitive, so traction control does not intervene when a rider uses a berm to turn.
CORNERING ABS
KTM's cornering ABS system allows riders to always use the full power of their brakes while the system adjusts brake pressure to match the lean angle of the motorcycle, for safer and more predictable braking across a wider range of conditions and scenarios. It can be turned off for offroad conditions.
MTC (MOTORCYCLE TRACTION CONTROL)
The MTC (Motorcycle Traction Control) is a lean-angle sensitive traction control system that reacts immediately the instant rear wheel rotation speed becomes disproportionate to the riding situation. In mere milliseconds, MTC reduces engine output with an extremely smooth, barely perceptible intervention at the throttle valves until slippage is reduced to optimum proportions for the selected ride mode and current angle of lean. For particularly ambitious riders, the traction control can also be switched off.
KTM MY RIDE
With the KTM MY RIDE system, a smartphone can be connected to the bike, which gives the rider the option of receiving or making phone calls, listening to music, and using the optional app for navigation.
ACCESSORIES & LUGGAGE
The KTM 790 ADVENTURE R is ready to rumble straight off the showroom floor, but when you need to set it up to suit your individual needs KTM PowerParts boast a wide range of accessories to enhance your riding experience. All KTM PowerParts are developed specifically for their chosen machine, guaranteeing KTM riders only get parts that perfectly complement their ride and provide that important 'factory fit' straight from the dealer.
| | | |
| --- | --- | --- |
| | TECHNICAL DETAILS | |
| | | |
| ENGINE | DESIGN | 2-cylinder, 4-stroke, parallel twin |
| | DISPLACEMENT | 799 cm³ |
| | BORE | 88 mm |
| | STROKE | 65.7 mm |
| | POWER IN KW | 70 kW |
| | STARTER | Electric starter |
| | LUBRICATION | Forced oil lubrication with 2 oil pumps |
| | TRANSMISSION | 6-speed |
| | COOLING | Liquid cooled |
| | CLUTCH | PASC™ antihopping clutch, mechanically operated |
| | EMS | Bosch EMS with RBW |
| | | |
| CHASSIS | FRAME DESIGN | Chromium-Molybdenum-Steel frame using the engine as stressed element, powder coated |
| | FRONT SUSPENSION | WP USD Ø 48 mm |
| | REAR SUSPENSION | WP-PDS Monoshock |
| | SUSPENSION TRAVEL (FRONT) | 240 mm |
| | SUSPENSION TRAVEL (REAR) | 240 mm |
| | FRONT BRAKE | 2x radially mounted 4 piston caliper |
| | REAR BRAKE | 2 piston floating caliper |
| | FRONT BRAKE DISC DIAMETER | 320 mm |
| | REAR BRAKE DISC DIAMETER | 260 mm |
| | ABS | Bosch 9.1 MP (incl. Cornering-ABS and offroad mode, disengageable) |
| | CHAIN | X-Ring 5/8 x 1/4″ |
| | STEERING HEAD ANGLE | 63.7 ° |
| | GROUND CLEARANCE | 263 mm |
| | SEAT HEIGHT | 880 mm |
| | TANK CAPACITY (APPROX.) | 20 l |
| | DRY WEIGHT | 189 kg |
AVAILABILITY
Availability and pricing of the KTM 790 Adventure R into South Africa is yet to be confirmed, as soon as we get confirmation from KTM South Africa, we will update you.