For the seventeenth year in a row the flat, curling and short Ricardo Tormo Circuit hosted the Grand Prix de la Comunitat Valenciana in eastern Spain and the last round of MotoGP. The climate presented difficulties across the weekend with continual showers and thunderstorms ensuring all sessions – aside from a respite for Qualification on Saturday afternoon – were wet and slick. Red Bull KTM bade farewell to Bradley Smith in what was his final outing for the team since being the first rider to join the MotoGP project early in 2016. The Grand Prix will go down in the annals of KTM's decorated racing history for the results achieved against the odds.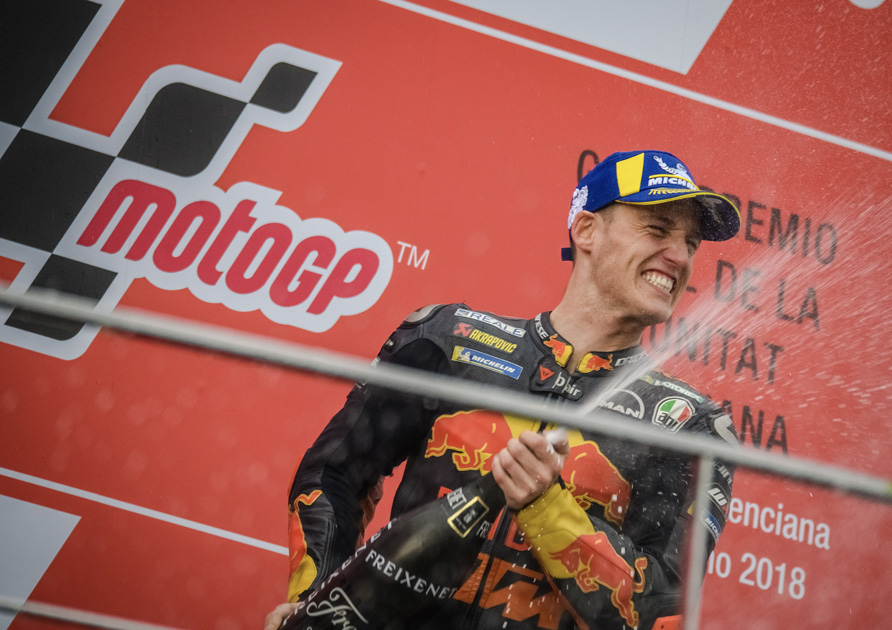 MotoGP
Pol Espargaro revelled in his best qualification run of the season on Saturday and occupied a strong 6th position (the second row) on the grid. The Spaniard had looked fast and competitive through the soaked track as well as damp and then eventually dry conditions. He immediately launched into a top five position in the opening exchanges of the wettest race of the year. The 27 year old fought with Marc Marquez and was holding 4th spot until he crashed at Turn 2 and remounted. With a damaged RC16 Pol persisted to reach 8th when the race was red-flagged due to track conditions and partial flooding. The grid waited and then resembled in the same ranking at the time of the stoppage – for 14 laps – and from that point Espargaro attacked again, running in fourth he was promoted another position courtesy of Valentino Rossi's fall. He then deflected the pressure from Dani Pedrosa to grab 3rd place: his first podium appearance after five seasons in the premier class and the first for the RC16 at the site of the bike's maiden race as a wild-card in 2016 and after just 38 Grands Prix.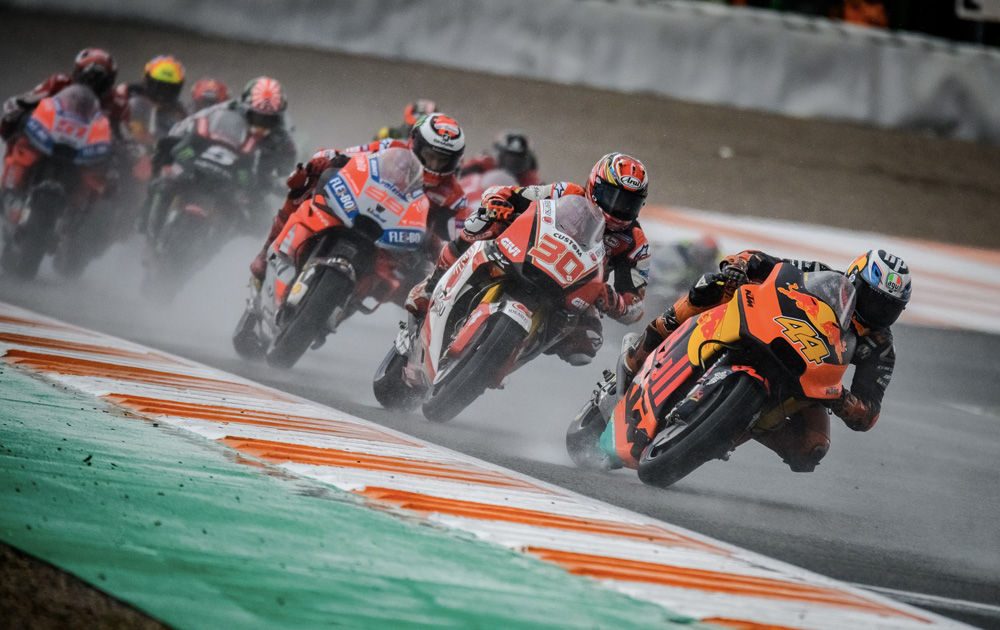 Smith had to plough through from the last row after a technical issue restricted his potential in Q1 on Saturday. The Brit was typically astute and reached 6th place in the rain until an untimely crash at Turn 13. Smith's determination not to end his KTM stint with a 'DNF' meant he pushed his racebike back to the pitlane and was lucky to arrive back within the five-minute window of the red flag being shown. He was able to restart in 16th on his second machine and then arrived to 8th: his highest classification after two years of hard work and perseverance with the RC16.
Espargaro ends 2018 14th in the MotoGP standings with nine points-scoring finishes and having suffered two injury problems. Smith classified 18th.
Espargaro: "It's unreal. I felt good all weekend in wet and dry conditions. I was playing around all weekend with a few Yamahas and I was fast; I could do good lap-times. To always be in the top eight was building my confidence up. It was wild out there. The red flag was like a 'message' because the bike was still working after that big crash and I said to myself 'man, this is your opportunity, take it'. I just pushed and Valentino was so fast, super-fast. I stayed in that position and was safe, then I fought with Dani but could finally finish in third position. After this year it is unbelievable for me, for my team, wife and all the crew around me. Finally we are super-happy with the results for KTM today. You don't know how much effort and investment they are putting in the project and for them to finish the year in those positions was amazing."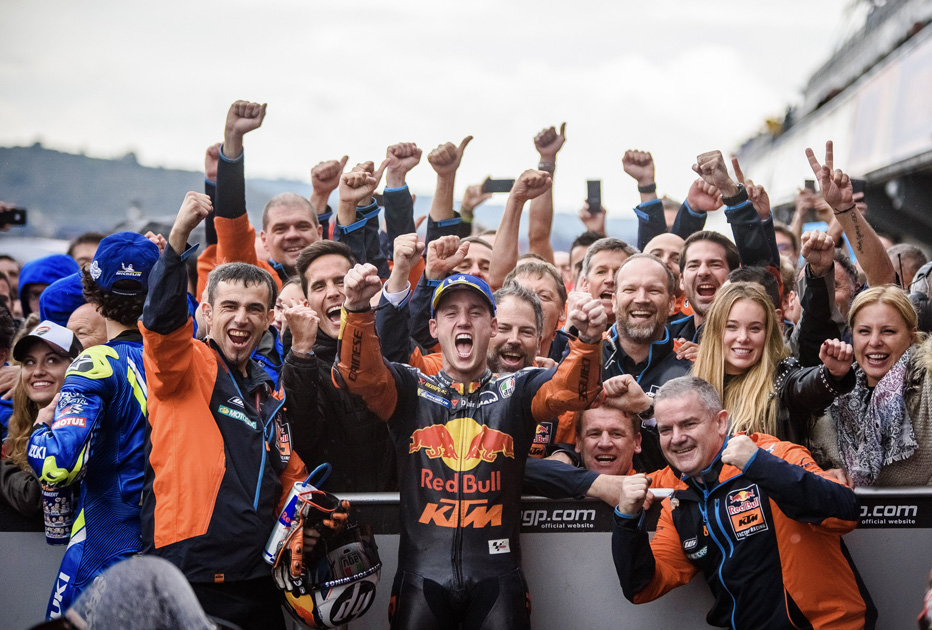 Smith: "Some things are just meant to be. I was pushing back to get to bike No.2 just to finish the race because there was only fifteen guys at that point. I did not want to 'go out' like that, with a crash and thinking 'what could have been': that's not what I'm about. I was running inside the top ten and my ambition this weekend was to get six points so I might be able to beat Pol in the championship. I got eight but he did a fantastic job today. It was obviously great to see and great for the team and all the boys. I'm happy I go out on my 'high' this was my best result. I cannot ask for much more."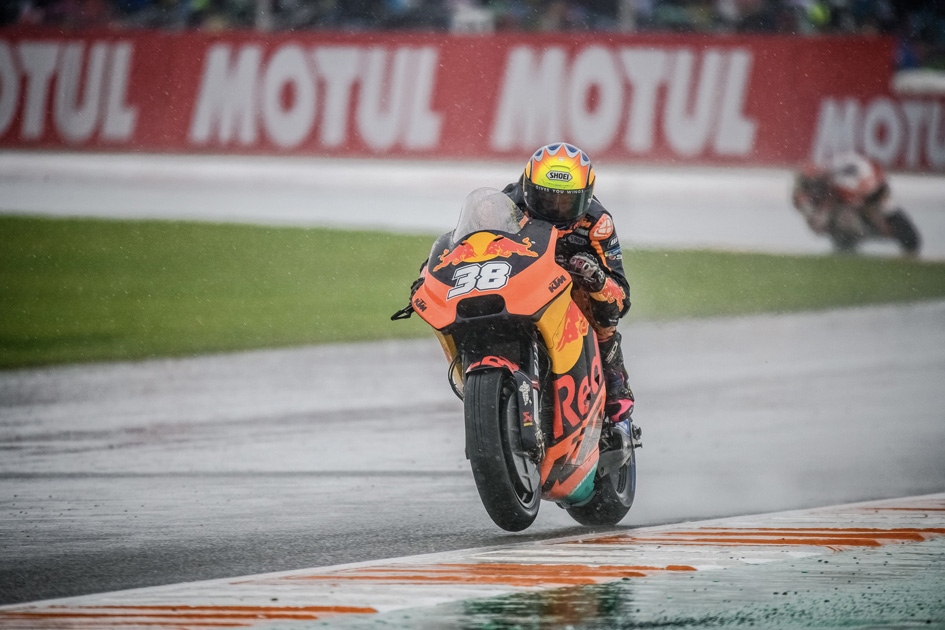 Mike Leitner (Team Manager): "For the whole KTM group and Red Bull this was a fantastic day. We knew a result like this would be possible because we were 'there' in dry and wet conditions, especially with Pol but Bradley was there as well. To finish the season with a podium and eighth position for Bradley is very nice. It is great that he leaves in that way and we wish him all the best with his future. I don't think we expected this podium but it was super-crazy and for Pol to recover from a crash, come in and focus again and perform again to make the podium is a wonderful story that I don't think anybody would have believed this morning!"
Pit Beirer (KTM Motorsport Director): "I said all year that we are better than we could prove on paper because we had injured riders and we were not so lucky. We fell into a big hole in Sachsenring at a time when we were first in warm-up with a new bike and we thought 'now we'll make progress' but Pol injured himself at the next race. Everything went wrong. There was a critical moment two months ago when we looked at the new bike and elements like the chassis and, together with strong people at the factory, we decided to stick to the plan because we were sure we were on the right way. It was important not to lose the direction and today was the first big payback. We had Pol completely free of pain and with a good feeling. In this sport you need super-fit riders to compete on this level. This is a big payback for the whole company. I think every single department in KTM was somehow integrated to make this project work and the whole race team and everybody else put in so many hours. Third place is perhaps more than we expected today but this is the best way to give something back to racing people: a result. It means so much and it is difficult to find the right words how I feel."
Moto2 & Moto3
Red Bull KTM Ajo's Miguel Oliveira and Brad Binder had already confirmed 2nd and 3rd positions in the 2018 Moto2 FIM World Championship standings and had only their personal podium tallies to work towards in Valencia. For Oliveira it was the last Grand Prix in Moto2 before his switch to the MotoGP class and the Portuguese rode maturely and confidently to record his third triumph of the year. Miguel pursued Alex Marquez and gratefully inherited the lead when the Spaniard tumbled on the last corner. Brad Binder was one of many fallers but KTM enjoyed a 1-2 with Iker Lecuona scaling the podium for the first time in second place. Red Bull KTM Ajo also secured the Team's crown.
Oliveira: "Alex made a mistake and I was able to cruise until the last lap. It was definitely hard to keep focus. I was trying to control the pace and the advantage. I'm glad we finished the season on a high. It is definitely a nice goodbye to the category and the guys on the team deserve this title because they worked non-stop through race weekends, tests and at the factory. I'm glad for these last three seasons and I want to thank them all. Moving onto KTM and MotoGP I feel ready, I just need time and then we'll see what happens."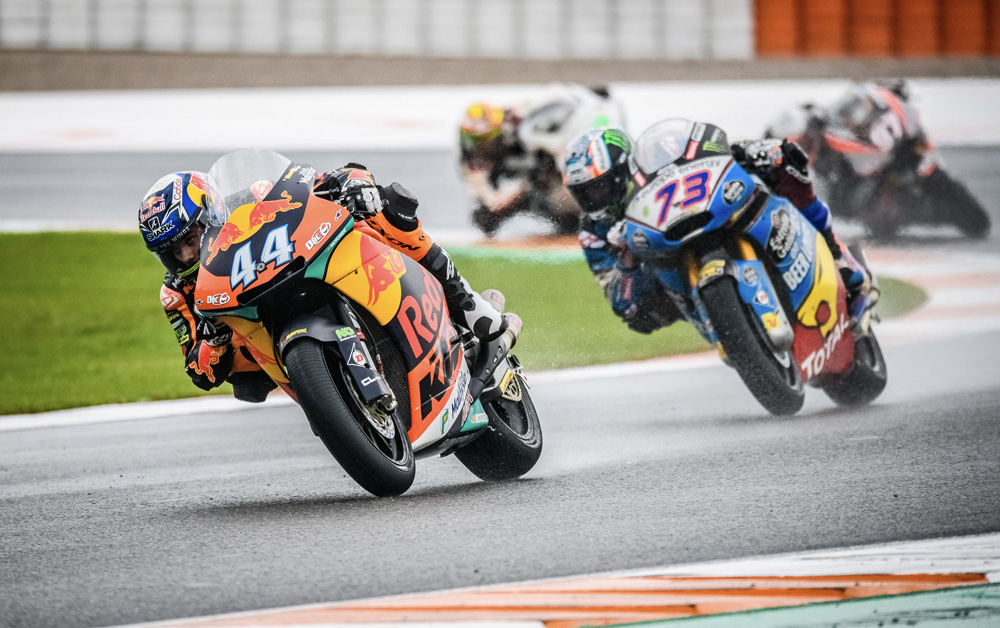 As usual Moto3 opened the Sunday schedule with the first wet race of the day. In a 23 lap affair in which there was a high rate of attrition with just 20 finishers debutant and rookie Can Oncu made history by taking his KTM RS250 GP to the chequered flag on his very first attempt. Oncu rode consistently and smartly through the rain to become the youngest ever race winner, the first from Turkey and the first to triumph on his maiden GP outing in 27 years. He was joined on the podium by John McPhee, who took his KTM to third position.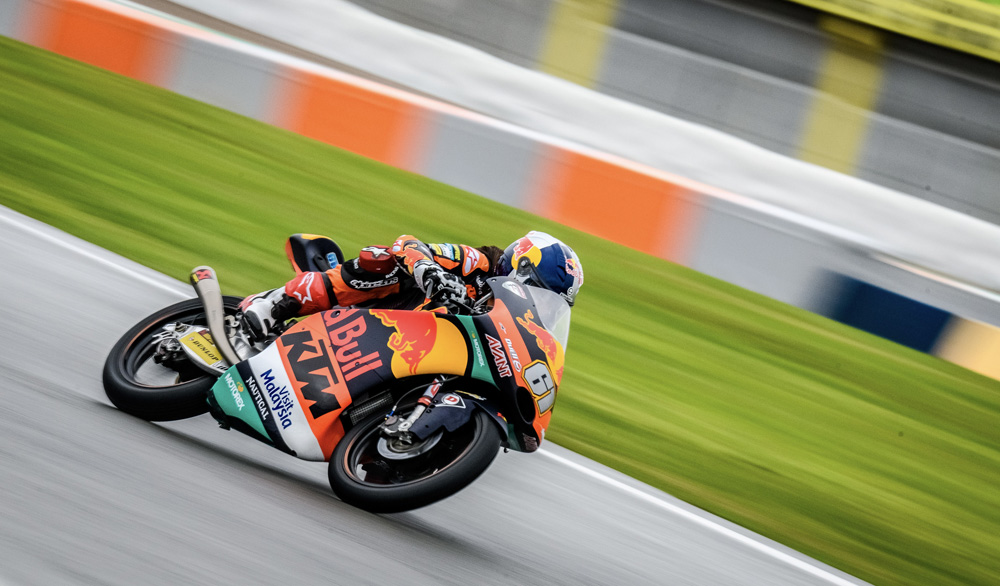 Oncu: "I was not taking much risk. I was riding normal. It's a really nice feeling to write a new story as the youngest rider ever [to win] and to finish on the podium means I am two-times happy! In the Rookies I learned how to fight and to ride the KTM, as well as manage the races and not to crash. To be here was my dream and there are some incredible riders, incredibly fast. I'm ready to see how we will be next year."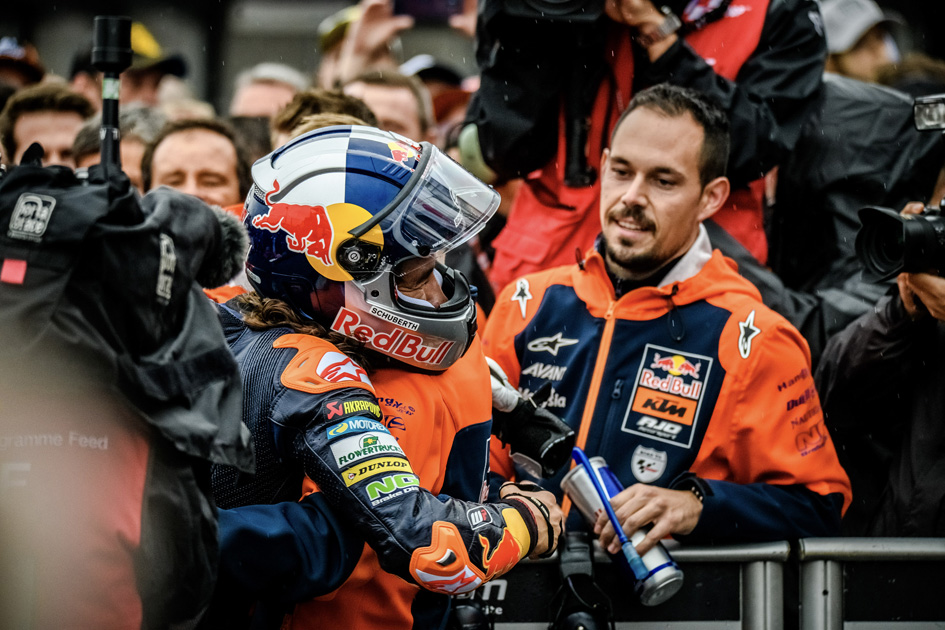 2018 has finished, but '2019' is only hours away. Red Bull KTM will unpack their 2019 RC16 on Monday for Espargaro and debutant Johann Zarco to take their first laps with a view to next season on Tuesday and Wednesday in Valencia.