The 5th annual Sabie Bubble Run is brought to you by Bonafide Moto Co in partnership with Triumph Motorcycles South Africa, The House Of Machines, Bell Powersports, Rev'it, delicious beer from Devil's Peak and whiskey by Bulleit.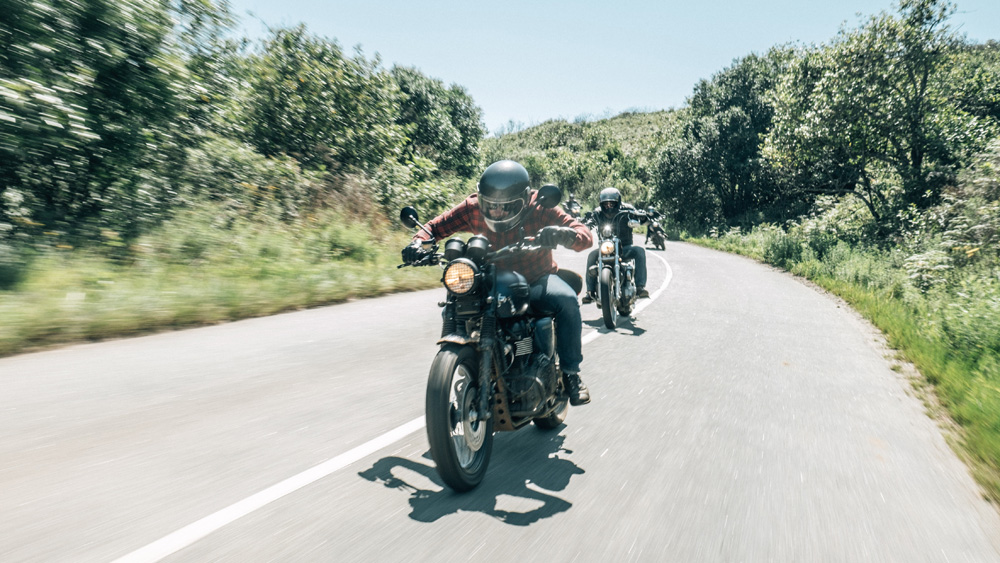 If you've never joined us for the Sabie Bubble Run, here's the gist of it. It's categorized as a traditional motorcycle run, which means you bring everything with you on your motorcycle that you need for the weekend; camping gear included. We camp at one spot (Sabie River Camp) for 4 nights and are honored to spend the days riding on some of the best roads in Africa; Mpumalanga. In the evenings, dinner is catered for at the campsite, so you'll have peace of mind knowing that when you're done riding for the day, you can kick off your boots, go jump into the river (or pool), grab yourself some beers and enjoy the rest of the night safely at camp.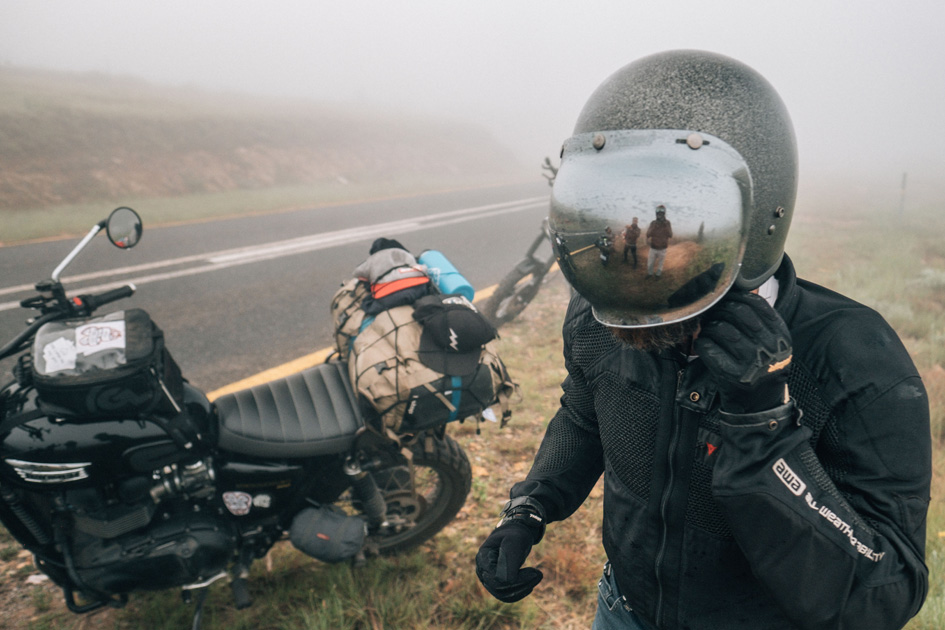 Format for this years run
We'll leave Johannesburg on the morning of the 13th, have lunch in Dullstroom and be in Sabie well before dark to set up camp. The days following will be filled with lots of riding around Mpumulanga, dinner at camp each night and good times together. We'll head back to Johannesburg Monday morning nice and early.
A full itinerary of what to expect on the run will be sent out to those who have signed up and paid to reserve their spot.
This Years Poster
Each year we've designed a poster we do our best to capture the essence of the Sabie Bubble Run and it's usually inspired by something that may have stood out to us or other riders and something that left a lasting impression on us that will last a lifetime from our adventures.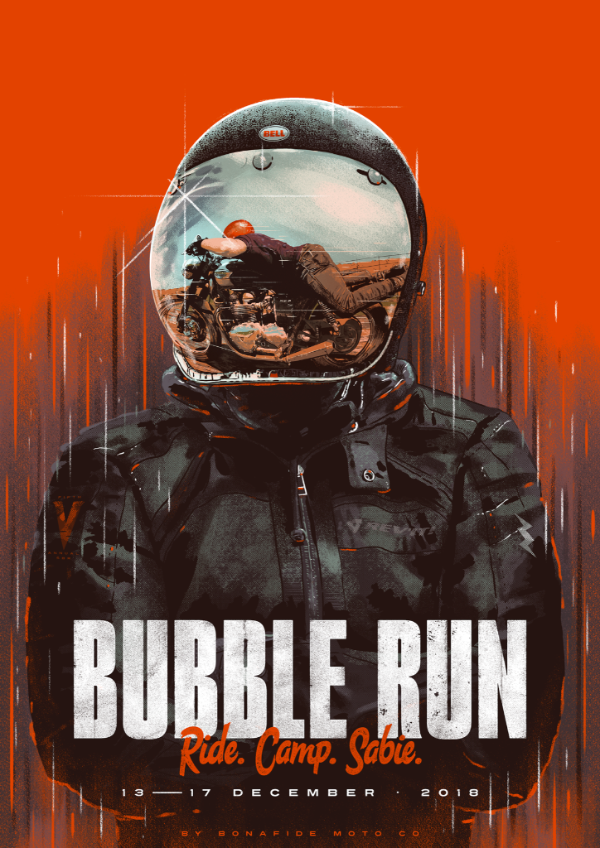 This years poster is in honor of our friend Matthew Pape. Matt joined us for several of these runs and it was something that he truly enjoyed. Hell he loved it so much that he skipped out on his other halfs birthday for it last year! For those that have attended and those that know Matt will know that the run won't be the same without him. He was always there to lend a hand, he was the first one to go and do whatever he wanted, was one hell of a rider, and he could pull off one heck of a superman while riding, all with a giant smile. We lost Matt this year but we will never forget him. We hope that this poster can honor Matt in the most beautiful way possible and being a symbol of the run. We miss you buddy!
Accommodation
Camping:
This year we are putting together a "Camping Village." The first 15 people to sign up for camping don't have to worry about bringing tents! We'll have waterproof tents set up for you already when you get there! No need to worry about setting up or carrying extra stuff with you on your bike. Just arrive, unload, and throw your shit in your tent! We highly encourage everyone to camp as it is the essence of the run.
PRICE: R1800
Chalets:
We understand that camping is not everyone's cup of tea and for those that are more into glamping, it's ok. We're accommodating you as well. We've reserved a select number of chalets with bunk beds in them should you choose to rather go that method. Each chalet holds 5 people and sleeping arrangements will be organised through us. Should you have a preference of your cuddle buddy, please let us know.
PRICE: R2300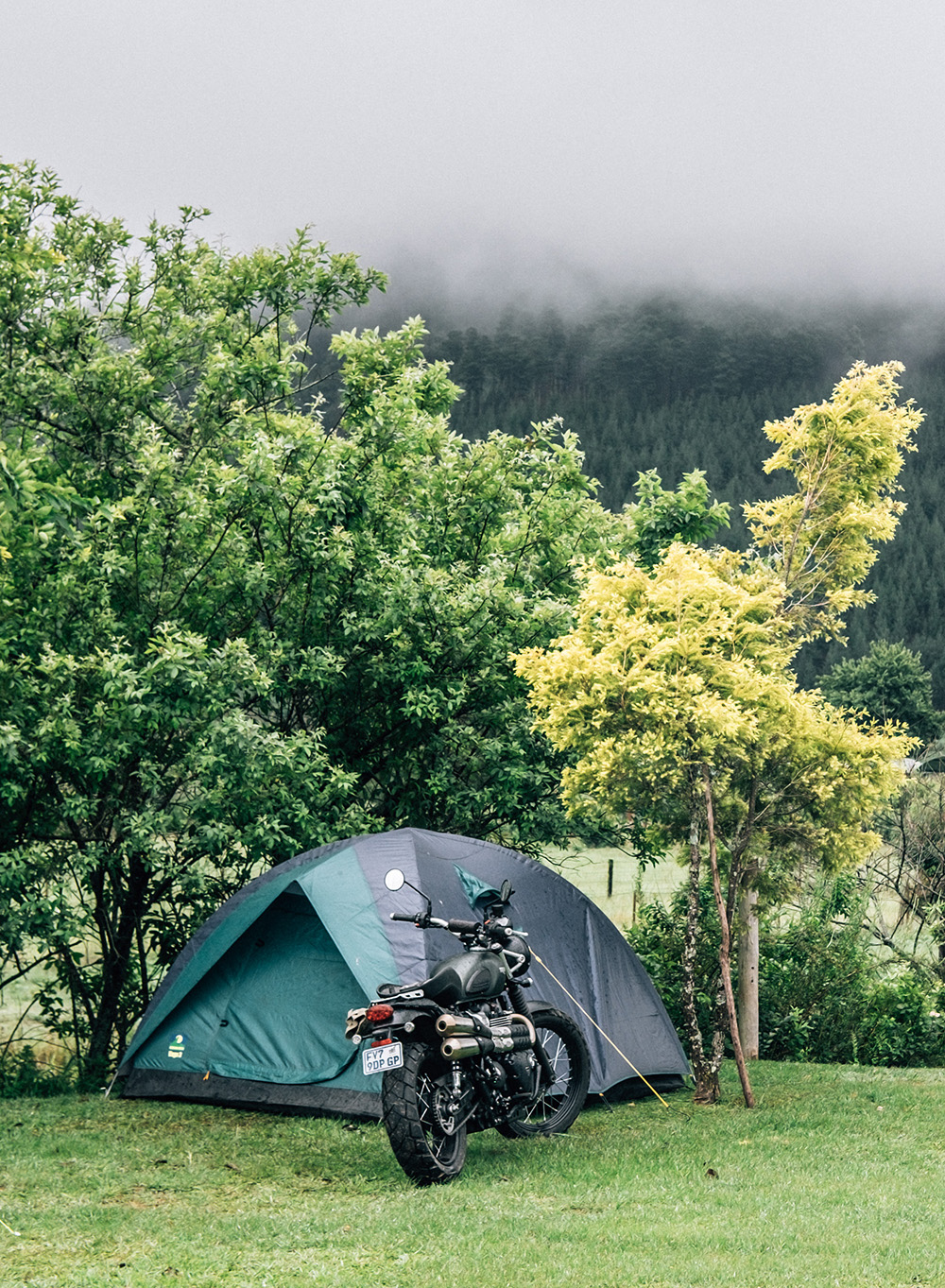 Other
Payment Includes:
>> 4 Nights accommodation at Sabie River Camp
>> 4 Dinners catered by Sabie River Camp
>> Bonafide gift bags with goods from our partners
>> Coffee all weekend from Urban Grind
>> Both alcoholic and non-alcoholic beer for the weekend by Devil's Peak
>> Whiskey by Bulleit
>> Guaranteed laughs
>> Rain. You'll definitely get rain.
>> An experience of a lifetime
House Keeping:
We've broken our event down to just one rule, and it covers everything.
DON'T BE A DICK!!!!
The owners of the property are very good to us, because we are very good to them. We treat them (and all other people we meet on the weekend) with the same amount of respect we deserve to be treated with. If you don't think you can abide by this rule, this run is not for you.
Sign up for the 2018 Bubble Run… HERE <<
Sabie Bubble Run Flash Tattoo and Braai at Fallen Heroes Black this Saturday. 
Join us this Saturday from 10-2pm for our lead up event to the 5th Annual Sabie Bubble Run which is just 3 weeks away. Munky has put together some Bubble Run themed flash tattoos that will be up for grabs on the day. No other tattoos will be done on the day other than the flash tattoos. Bookings can be made by clicking the button below that will go to Mel at Fallen Heroes.
We'll have some tunes and a braai going outside so come hungry and ready to hang out. We'll be available to answer any questions you might have for the Bubble Run as well. 

Tattoos are R500 and bookings are essential to make sure you've got a spot on the day!
Interested in getting inked? Contact: [email protected]