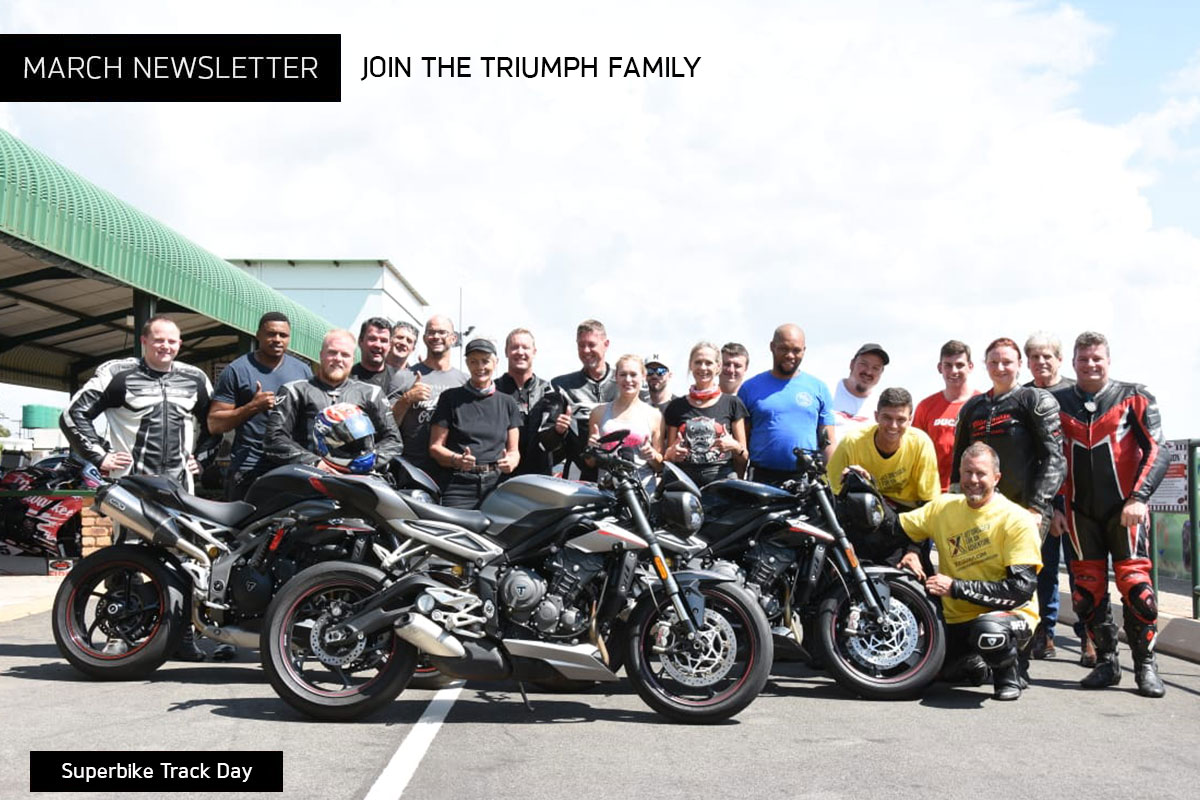 FROM BRUCE'S DESK – Focused on Client Service!
At Triumph Motorcycles, we strive for service excellence that builds long-lasting relationships with our clients. Being the only Approved Triumph Service Centre in Gauteng that can value your warranty, we have taken extra steps to ensure your experience with us exceeds all expectations.
We have had many delighted clients who have complimented our Service Department, which goes the extra mile to help you have a seamless experience. From fetching your motorcycle and delivering it back to you, or ensuring you arrive at your next destination safely should you choose to bring it in yourself, customer service is our priority. Our unmatchable service rates are due to our direct import of Triumph parts which allows us to give our clients a world-class service at the most competitive prices.
So please contact us for your major or minor service on: 011 444 4441 or email us at [email protected]
Bruce Allen | FOR THE RIDE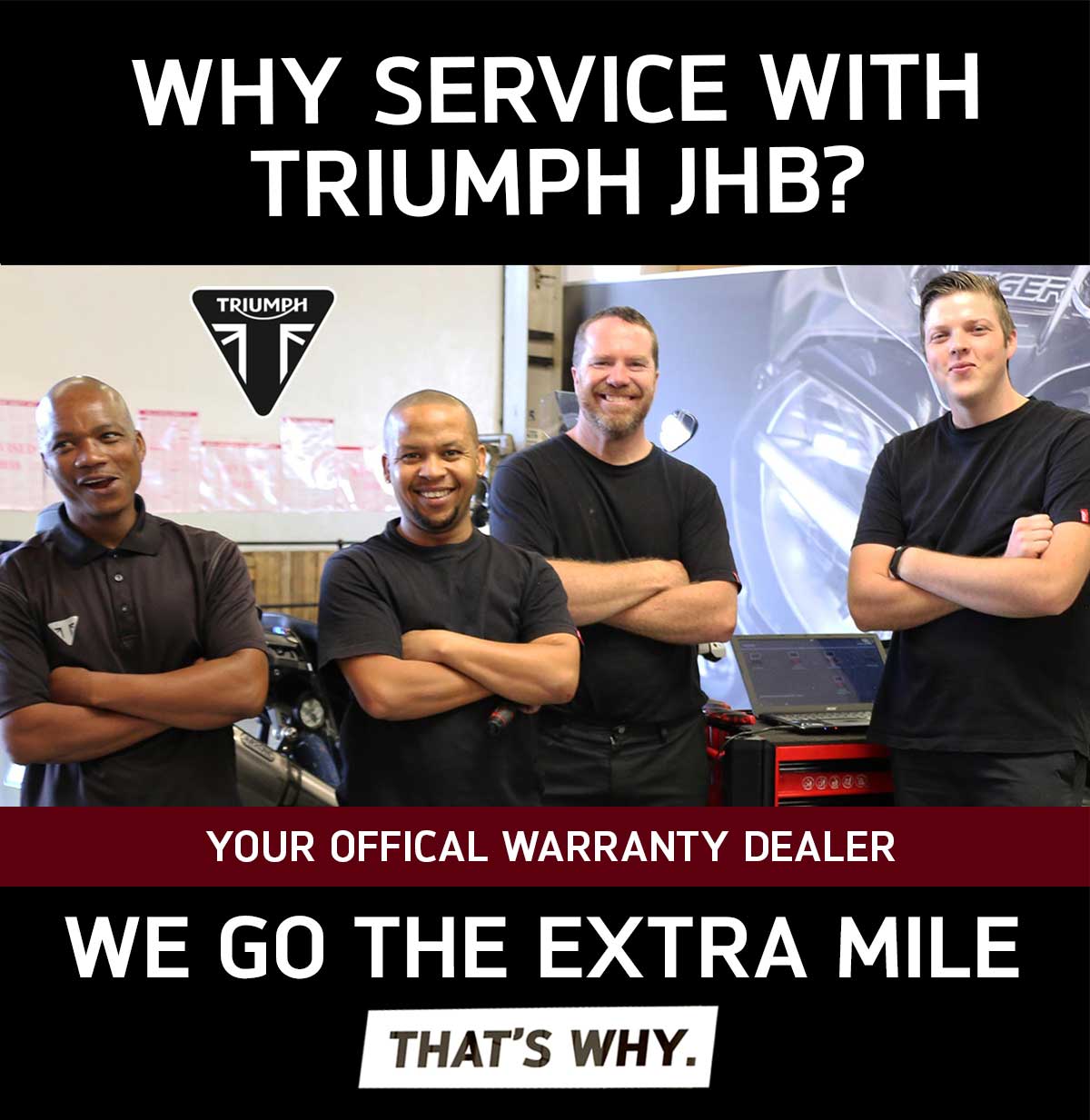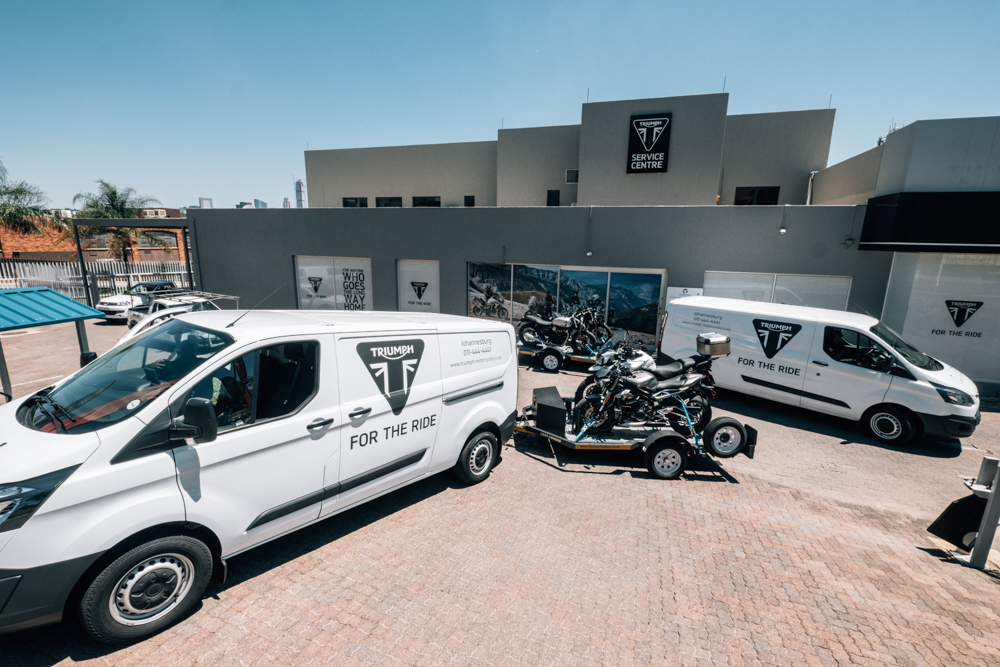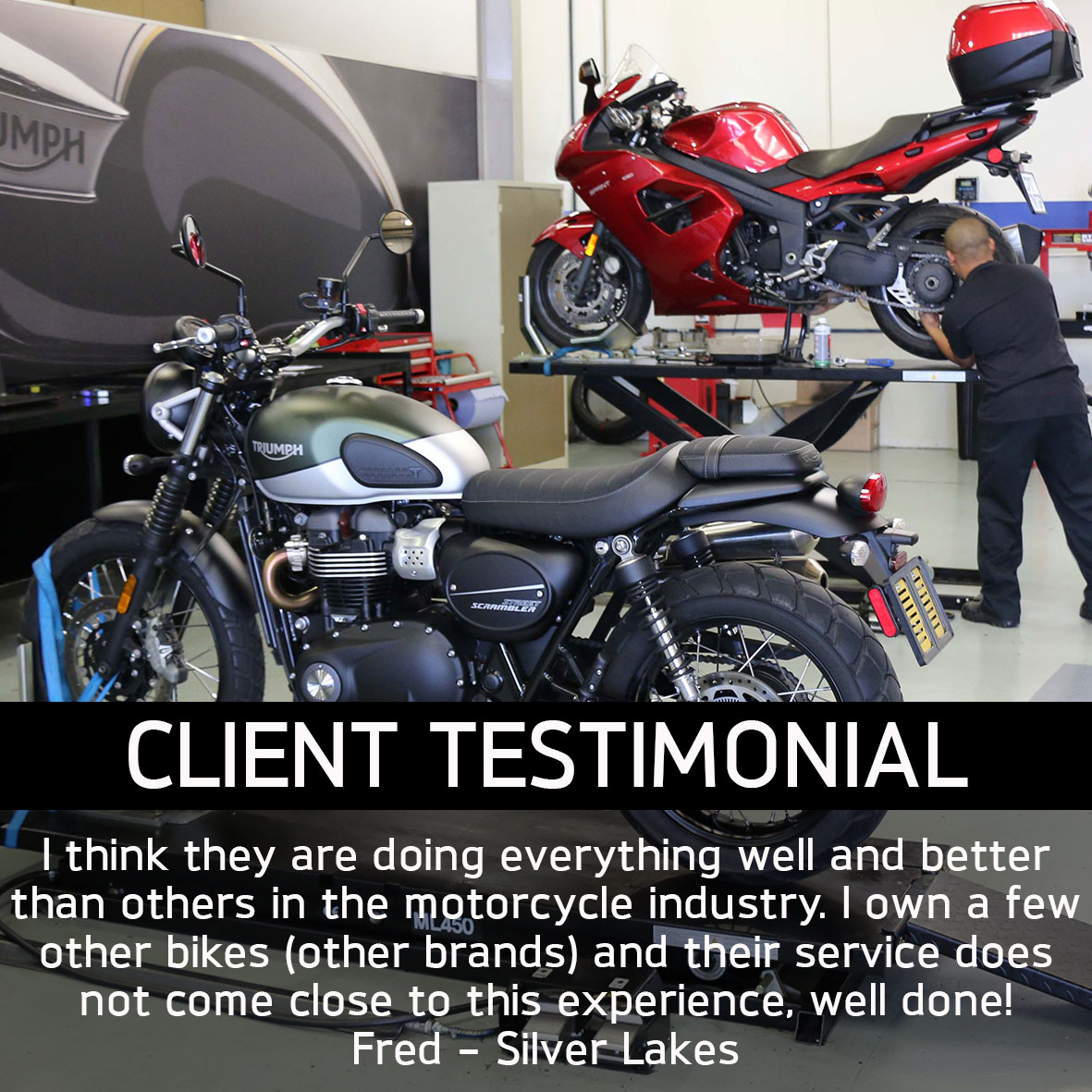 FEBRUARY EVENT HIGHLIGHTS
FANTASTIC MORNING OF LADIES RIDER TRAINING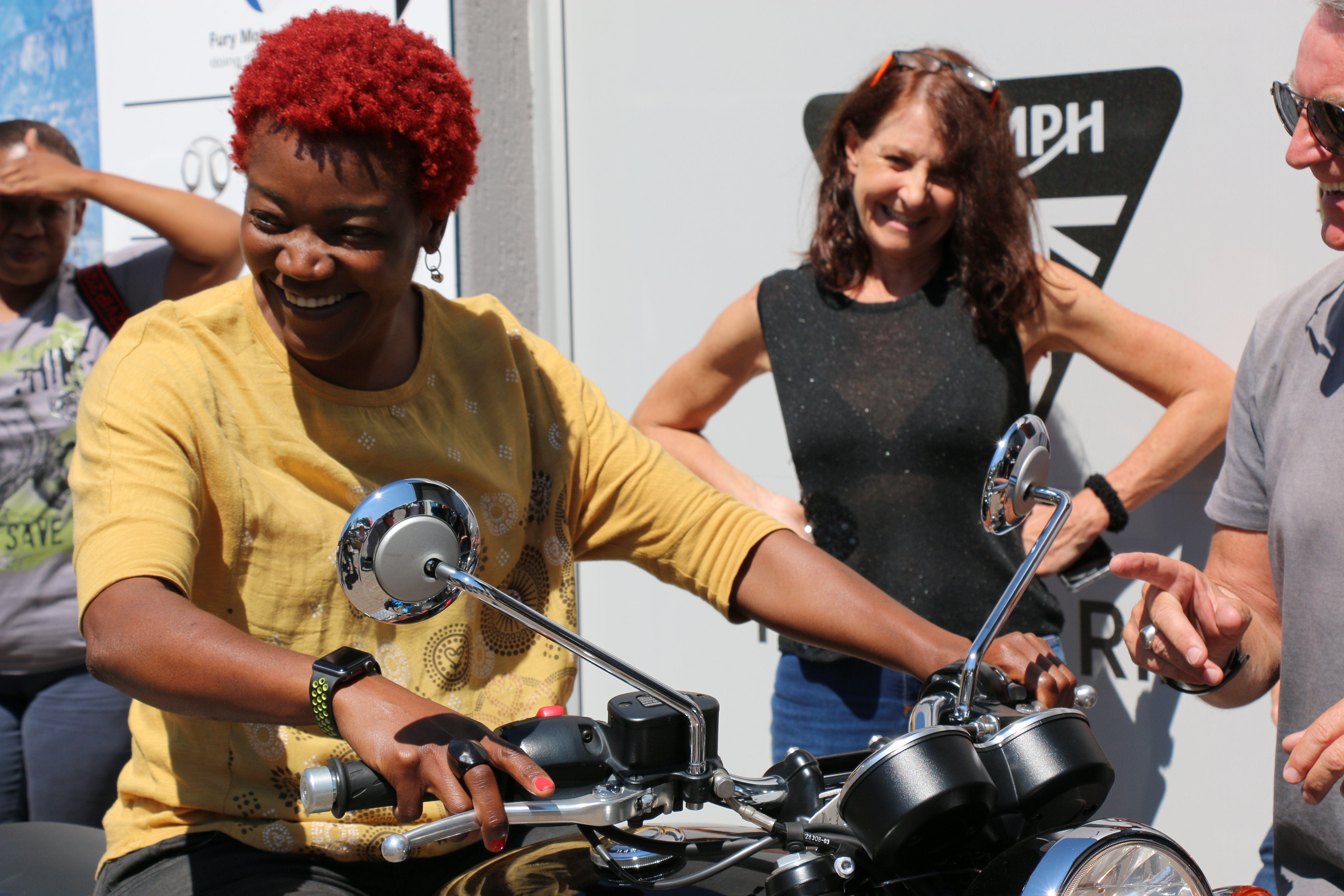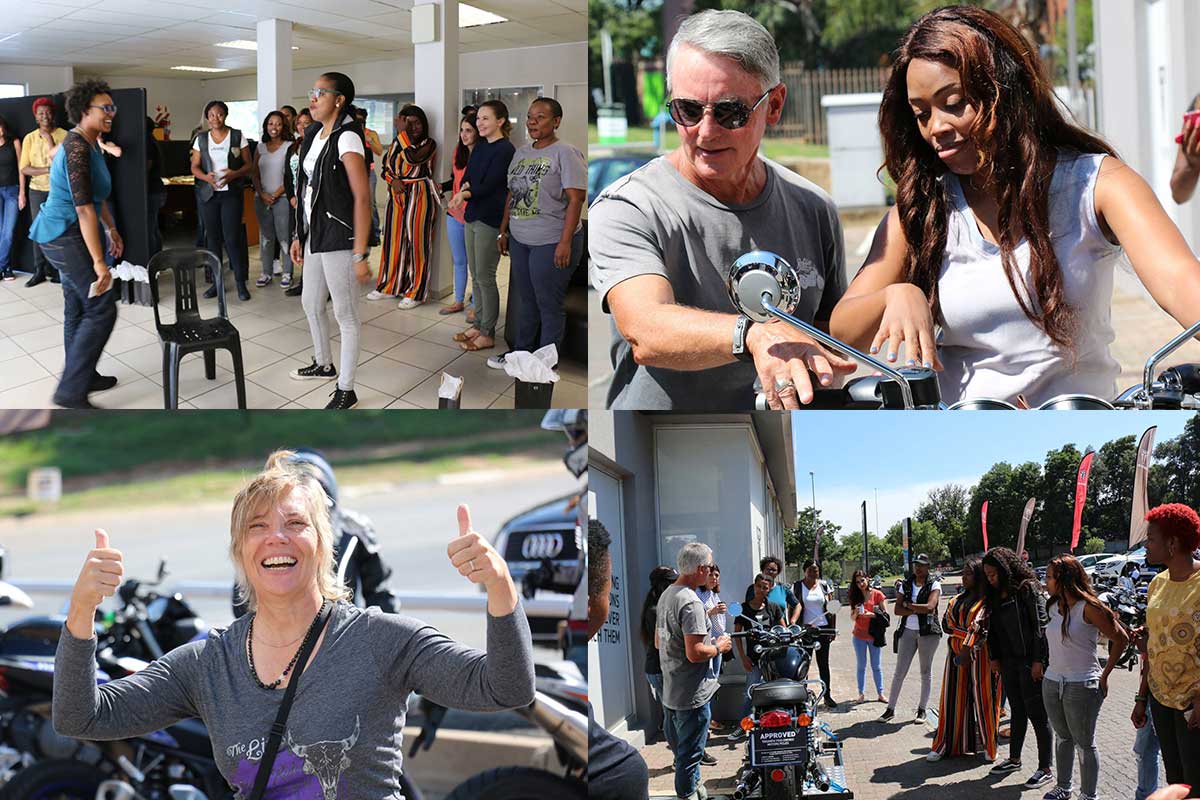 Highlights from our Ladies Learn to Ride Event this past weekend!
A special Thank you to Rialette van Niekerk, Nikki Stein, Roxanne Holman, and Malcolm from Biker Bravado for talking at this memorable event.
AN EXCITING SUPERBIKE TRACK DAY!
Triumph SA and Superbike Training Academy teamed up with Clinton Pienaar to offer a training day at Red Star Track Day riding on the following motorcycles:  Street Triple, Speed Triple and the Thruxton R.
MARCH EVENTS TO DIARISE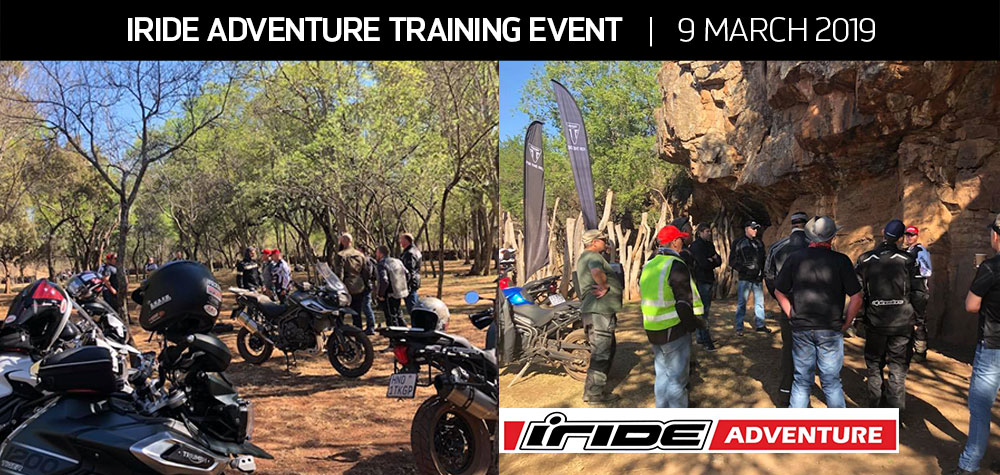 Bring your new adventure motorcycle and join Triumph Motorcycles South Africa for this incredible Adventure Training Day in partnership with iRide Adventure.
Date: 9 March
Time: 08h00 – 15h00
 Venue: iRide Academy, Leeuwenkloof, Cradle of Humankind 
Lunch and refreshments will be supplied.
Please email [email protected] to BOOK your spot now!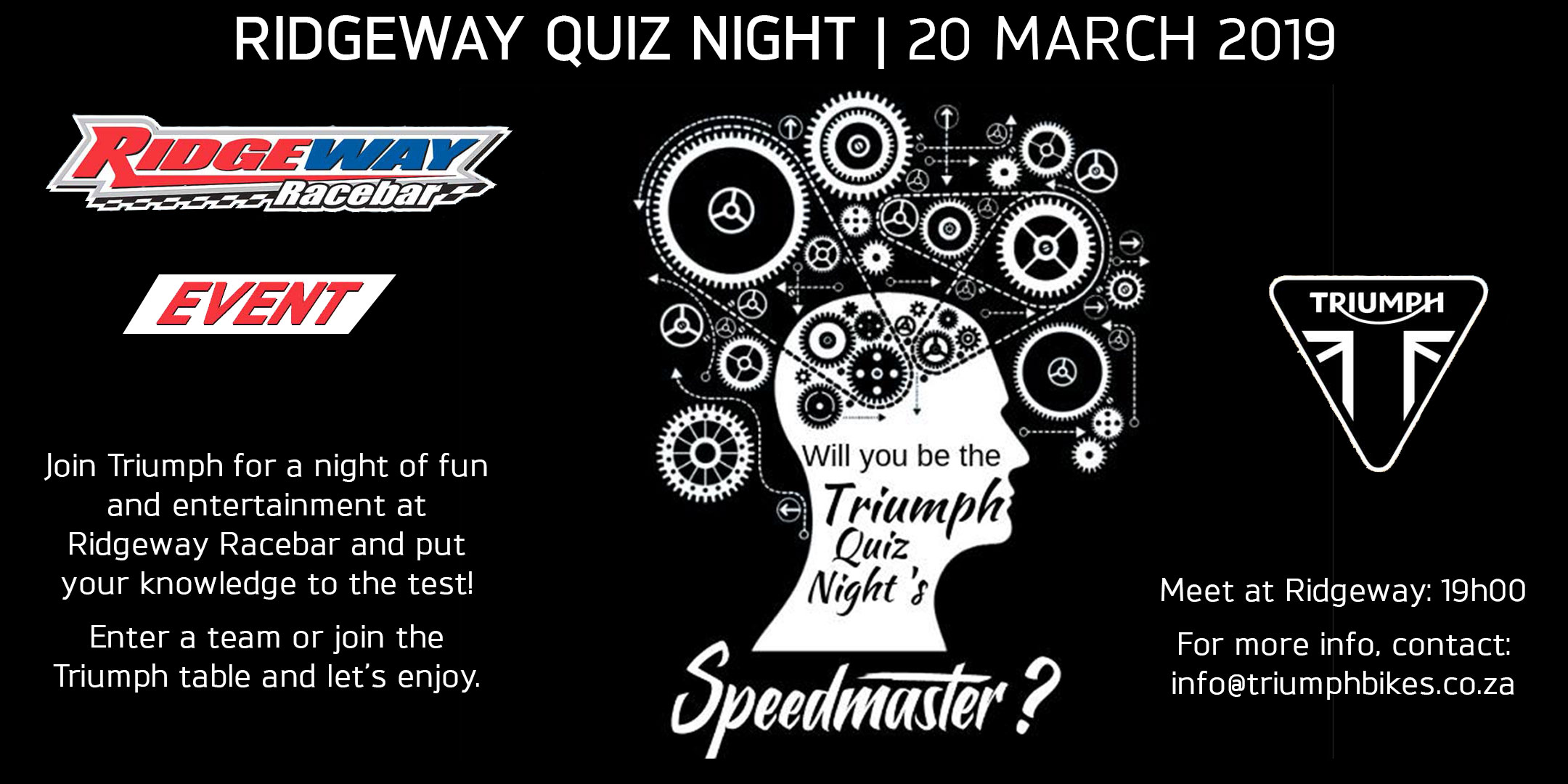 Ride or drive, meet us at Ridgeway at 19H00 for a night of fun and entertainment.
Fantastic prizes to be won.  Enter your own team or join the Triumph table.
Date: 20 February
Time: 19h00 at Ridgeway Racebar
For more information, contact: [email protected]
SEE YOU THERE!
CAPE TOWN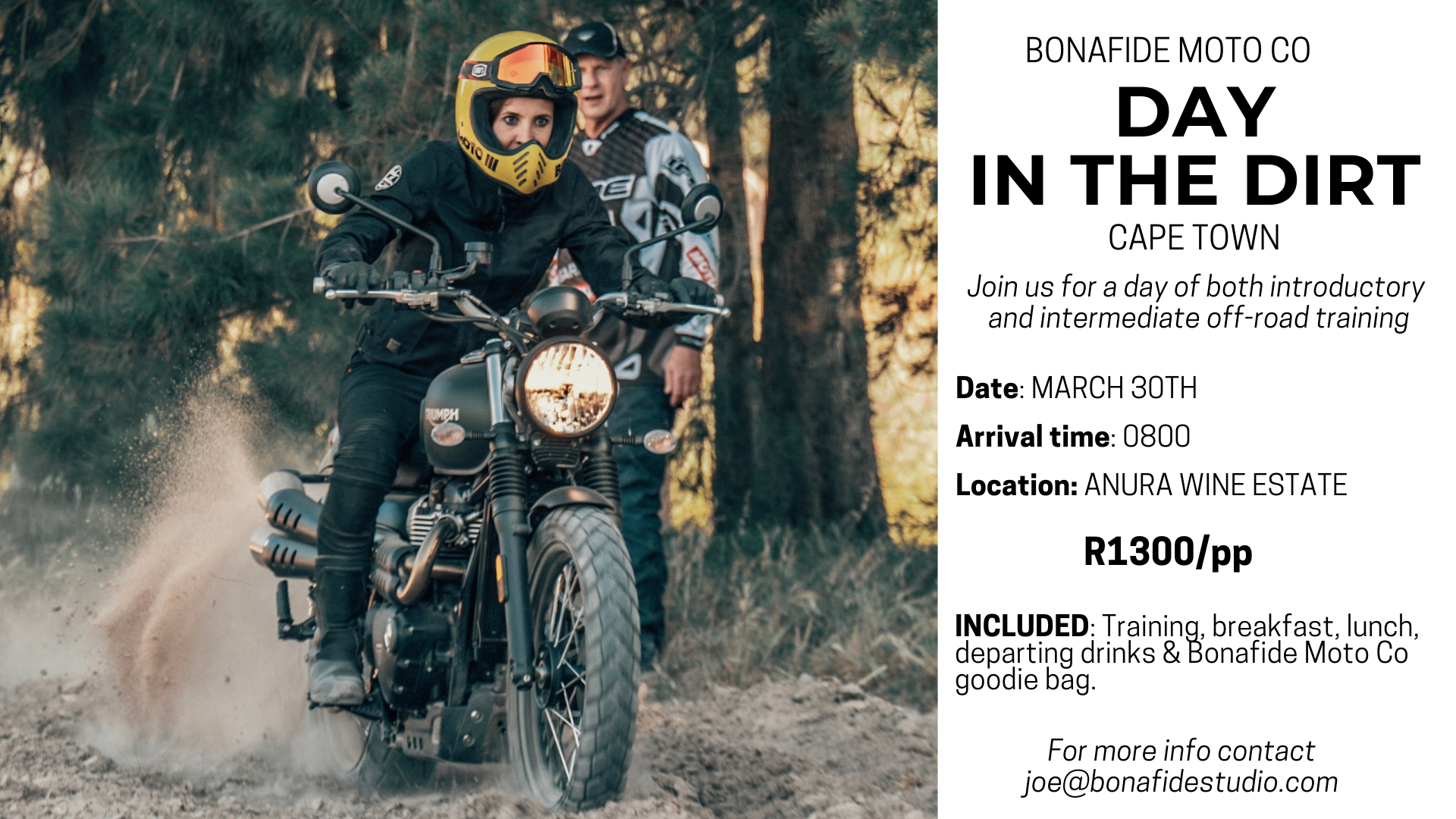 This will be a day-long event at the Anura Wine Estate in Stellenbosch for adventure bikes, dual purpose and modern classics. The course caters to those individuals who are looking to increase their confidence when making the transition from tar to dirt. Whether you've been riding for 20 years or not even a month you'd be surprised what principles and fundamentals you can learn on this course to help you become a better rider.
Date: 30th March 2019
Venue: Anura Wine Estate
Price Per Person: R1300
Keen to find out more?
Email [email protected] for more info and to RSVP.
JOHANNESBURG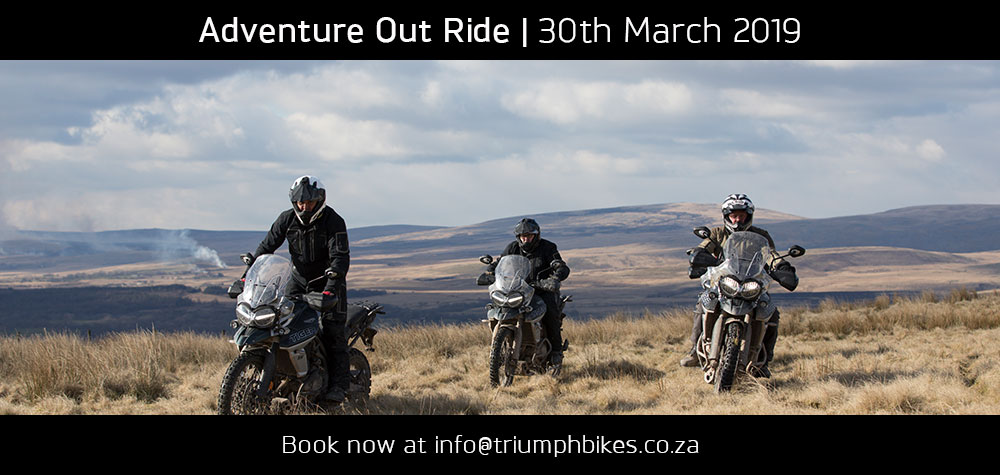 Join Triumph for the perfect Out Ride catered to those with a taste for adventure! The course will cater to all rider levels so bring your game face.
Meet at Triumph Johannesburg to ride out at 11h00 – be home by sunset.
Contact [email protected] for more information
MAY EVENTS TO DIARISE
4th MAY is INTERNATIONAL WOMAN RIDERS' DAY!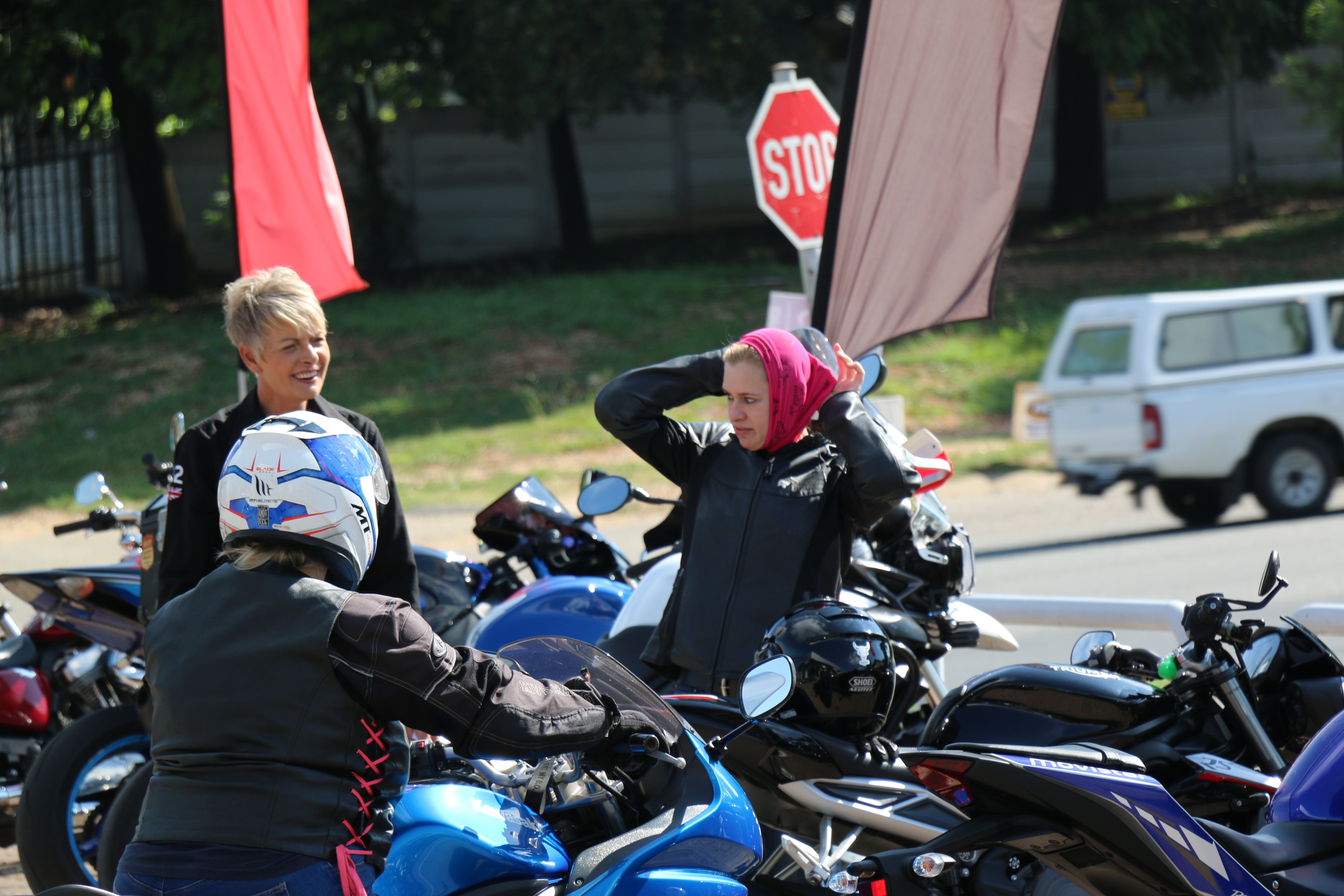 Keep a lookout for our celebration of this special day in our newsletters and social media pages!
JUNE EVENTS TO DIARISE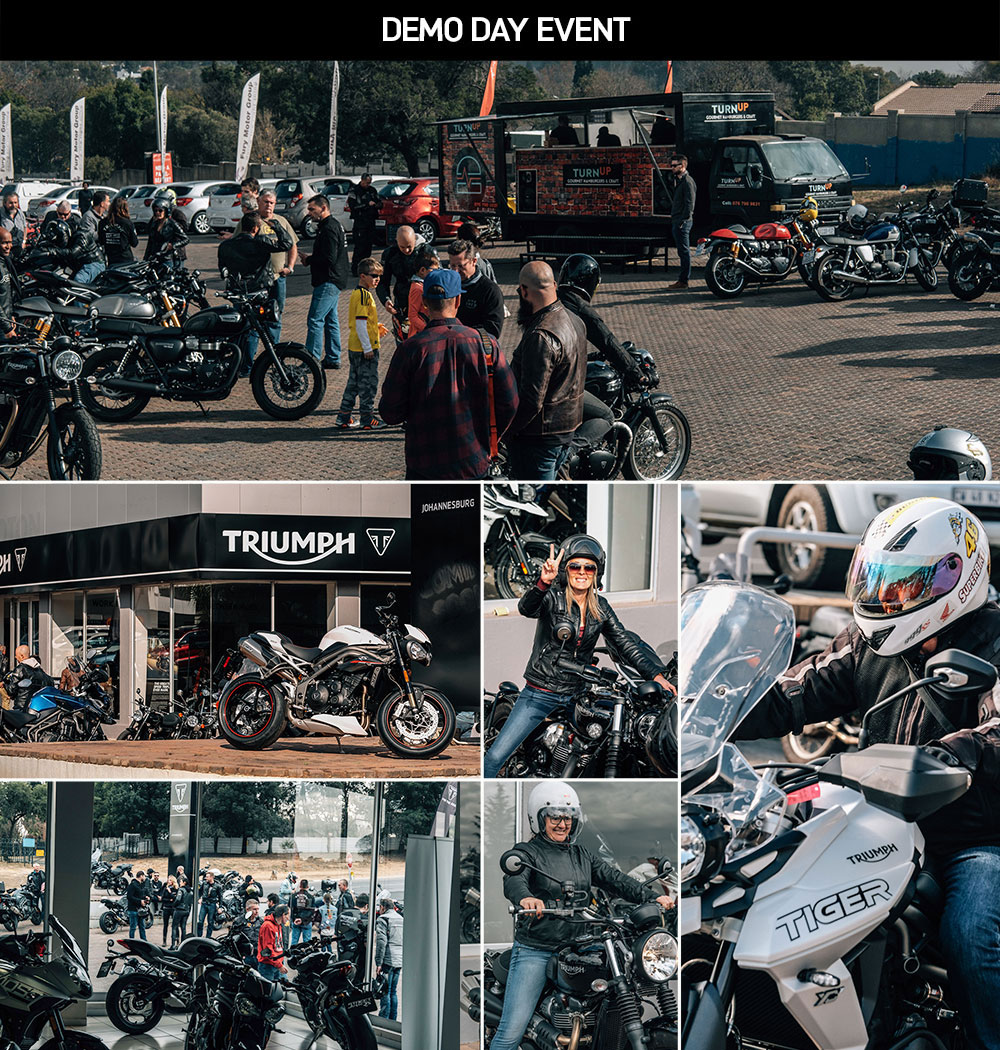 8 JUNE 2019 – Saturday Morning
Join us for an extra special Triumph Demo Day – we invite all to join us in welcoming the brand new Scrambler 1200 XE and the all-new Speed Twin to our floor!
Keep a lookout for our next Newsletter and follow our social media pages for more details!
For more information visit: www.triumph-motorcycles.co.za