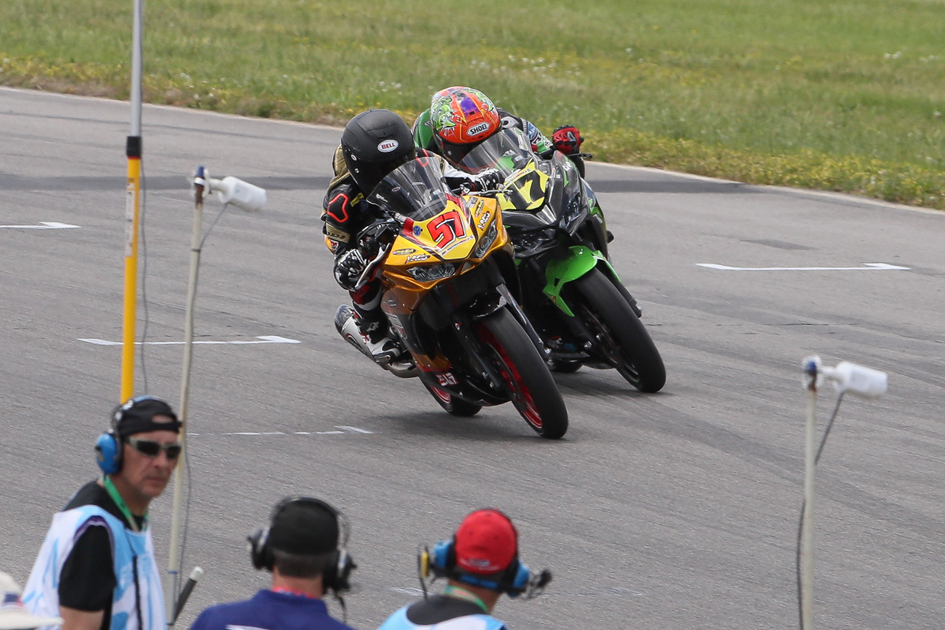 It was an up-and-down Saturday for the two-rider Westby Racing team at the MotoAmerica Championship of Virginia, the two-day event taking place at VIRginia International Speedway.
On the upside, the team's new rider Sam Lochoff, who competes aboard the #57 Yamaha YZF-R3 in MotoAmerica's Junior Cup class, took top honors for the tuning-fork brand when he finished a solid fourth and just off the podium in Saturday's race one. Sam qualified in sixth position earlier in the day, and he was able to improve two spots at the end of the 12-lap race.
"I had an extremely good start to the race," Sam said. "On the first lap, I was in third place, and then, we were battling left and right throughout the whole race. On the third corner, my foot slipped off the footpeg, and I lost the tow from the rider in front of me, so I focused on riding the pace of the riders from fifth to eighth. The rider in third then crashed out, so I began battling for third again. Rocco (Landers, the race winner) came past all of us and I tried to stay in his draft, but I couldn't, so I maintained my pace and stayed in fourth till the finish line."
On the downside, Mathew Scholtz, pilot of the #11 Westby Racing Yamaha YZF-R1, slid off the track on just the second lap of the afternoon's Superbike race. Earlier in the day, Mathew had qualified third-fastest in Superpole, giving him a front-row start in the race. The grid position served him well as he rocketed off the line and immediately into the lead.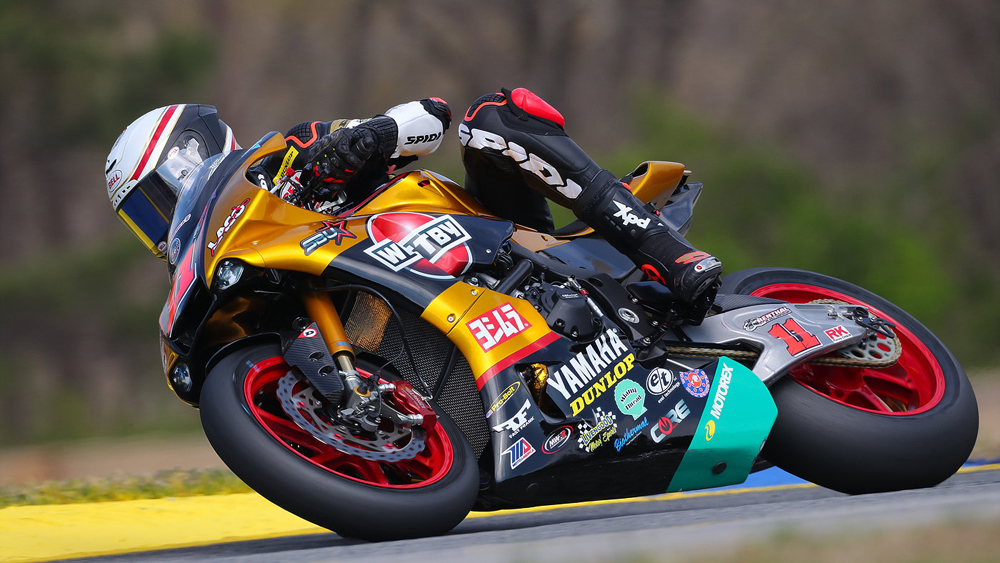 Despite crashing out of the lead, however, Mathew was encouraged by the fact that he was able to lead a dry race, which is a milestone in the 2018 MotoAmerica Rookie of the Year's still-developing career.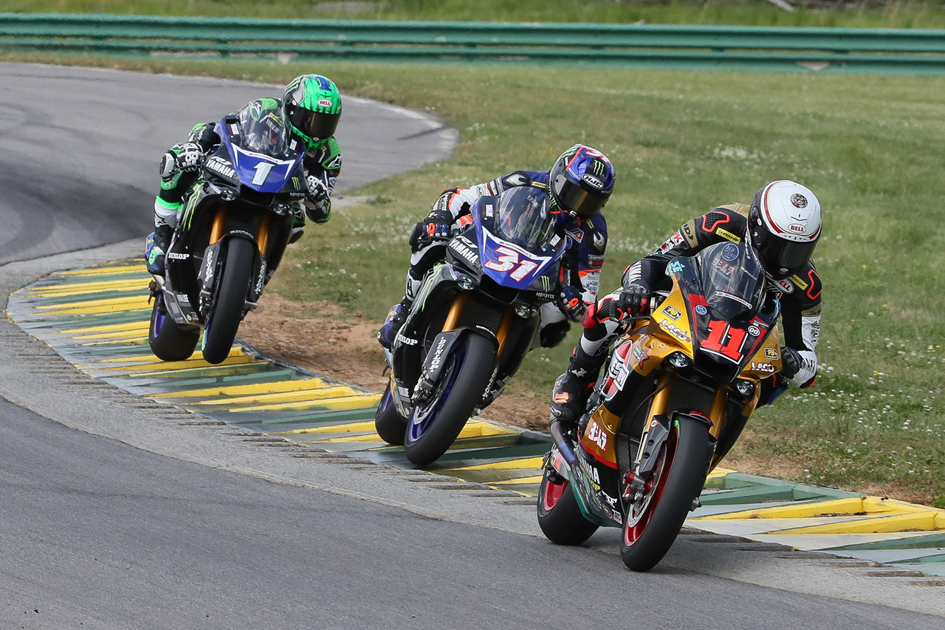 This was the first race event that MotoAmerica has had a two-day schedule, so today was really busy," Mathew said. "In the first practice, we made a swingarm-angle change. Ever since we switched to the taller rear Dunlop tire (last year beginning at Road America), we've been struggling with getting the bike to turn. The swingarm-angle change made a huge difference in the feel of the bike, and the handling improved a lot similar to the way it felt before we switched to the taller rear tire. So, that was a big, big step forward for us. Our race pace was really good, consistent and fast, and I was happy to qualify on the front row in Superpole.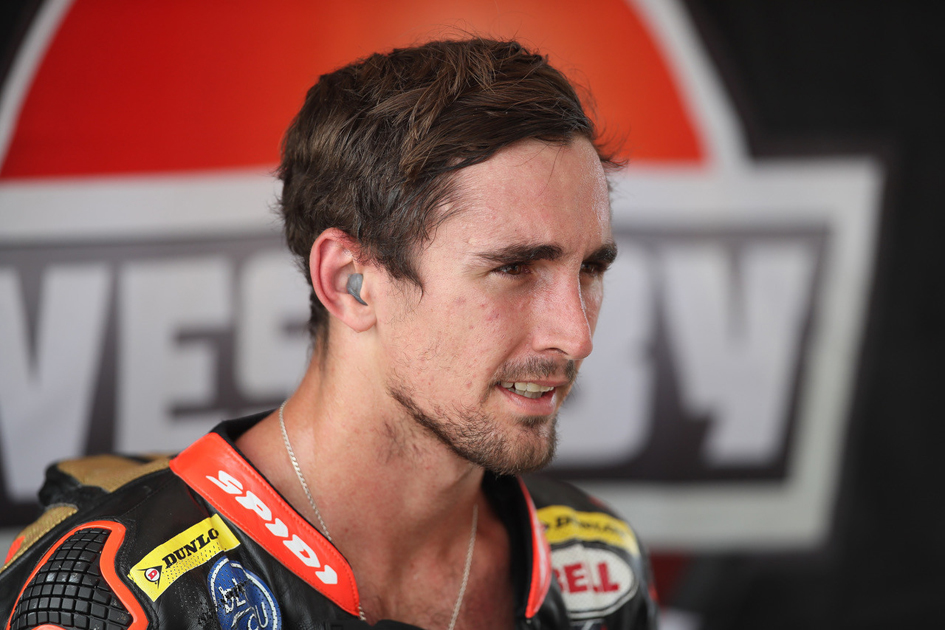 "In the race, I got the best start of my life, and I passed (polesitter Garrett Gerloff) going into the first turn. Then, it was 'ride for your life, Charlie Brown.' I came around the first lap in the lead, and I had pulled a gap of almost half a second at the front. But, unfortunately, I crashed at the top of the hill. It was good to actually lead a fully dry Superbike race. Until today, every time I've led a race, it's been because we were racing in wet conditions. So, today was the first time I've led a full Superbike field in the dry. And, even though I crashed out, it gives me a lot of confidence for tomorrow. It kind of shows that we are now a force to be reckoned with for race wins."