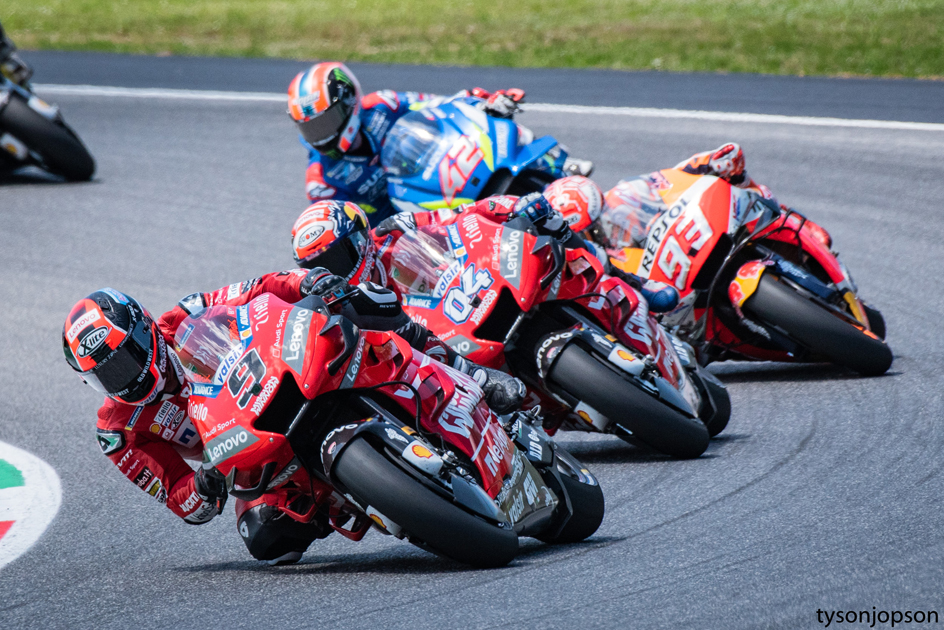 For one particular Italian, yesterday's MotoGP at Mugello was a day to remember. For another, it was one to forget. As Danilo Petrucci clinched his first-ever premier class win in a nail-biting last-lap battle with Marc Marquez and Andrea Dovizioso, Valentino Rossi found himself in the kitty litter twice. The first came after tangling with Joan Mir in the early stages of the race with both riders running on at turn four. Rossi rejoined the race in last and struggled to make any inroads on the pack before losing the front at turn 9, the notoriously fast Arrabiata 2.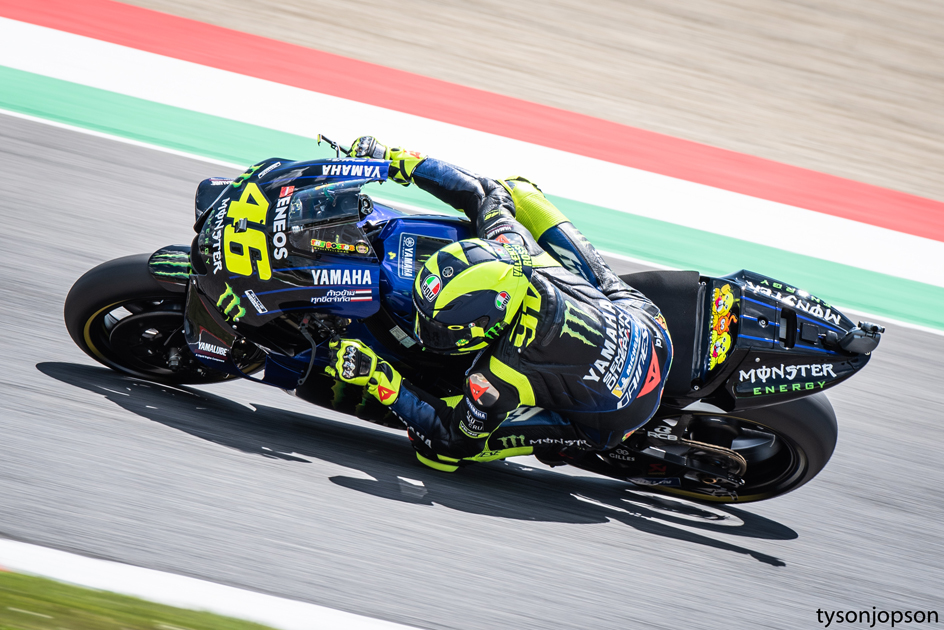 Aside from Petrucci's well-deserved (and certainly long-awaited) win, the next impressive rider was Takaaki Nakagami, who took his best finish in MotoGP yet, securing fifth place and top independent rider for the day, with a solid ride on the LCR Honda.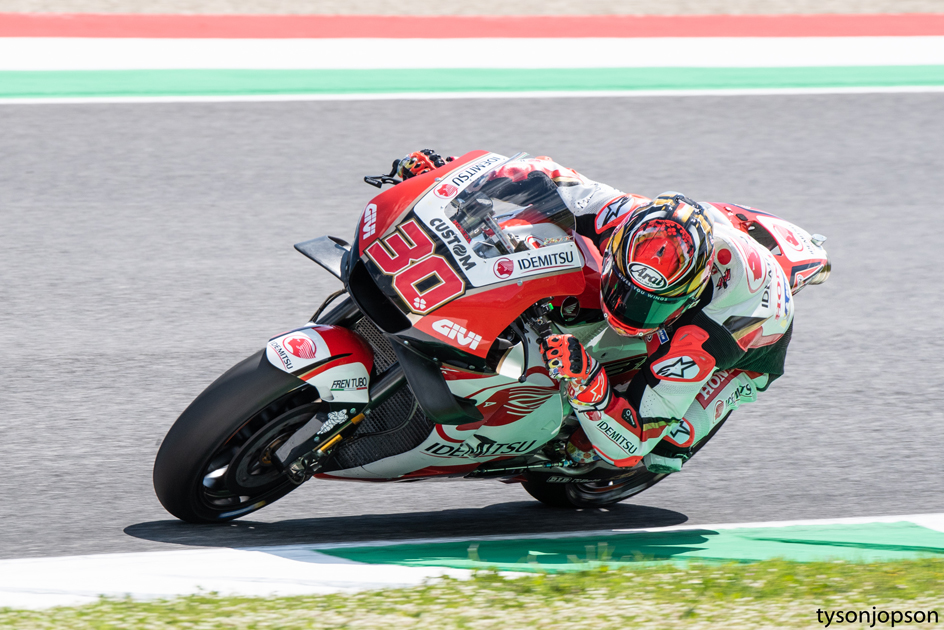 Another solid performance came from the man in ninth place, Pol Espargaro. While perhaps not matching the highs of his sixth place in LeMans, it's another top 10 finish in the bag for the Red Bull KTM factory team and at one of their most difficult tracks on the calendar.
"I am happy overall,' said Pol in his post-race interview, 'We knew that this race would be hard… for the tyres; for the crashes; and our position was more or less this. Unfortunately, the gap at the front was not what we were expecting, we wanted it to be less."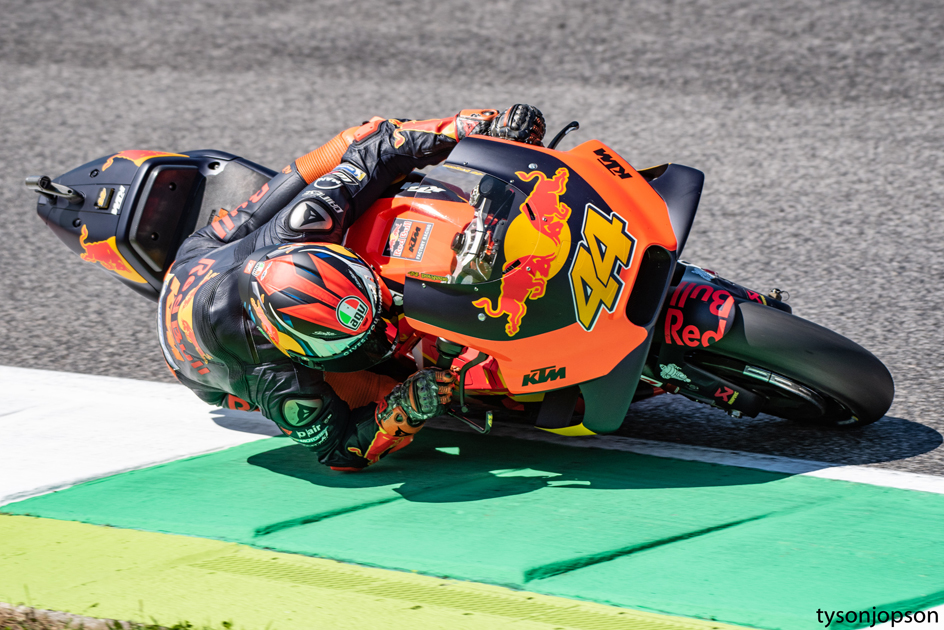 (Speaking to Pol before the race, he said he was aiming to be within 10 seconds of the first-place finisher. However, the factory KTM rider crossed the line 16.5 seconds adrift of Petrucci.)
"For sure we want more after what happened in LeMans but we must be happy with a decent result where we are weak. Maybe in Barcelona, we will still struggle, but as I said, we are finishing races and we are scoring points, even if not so much."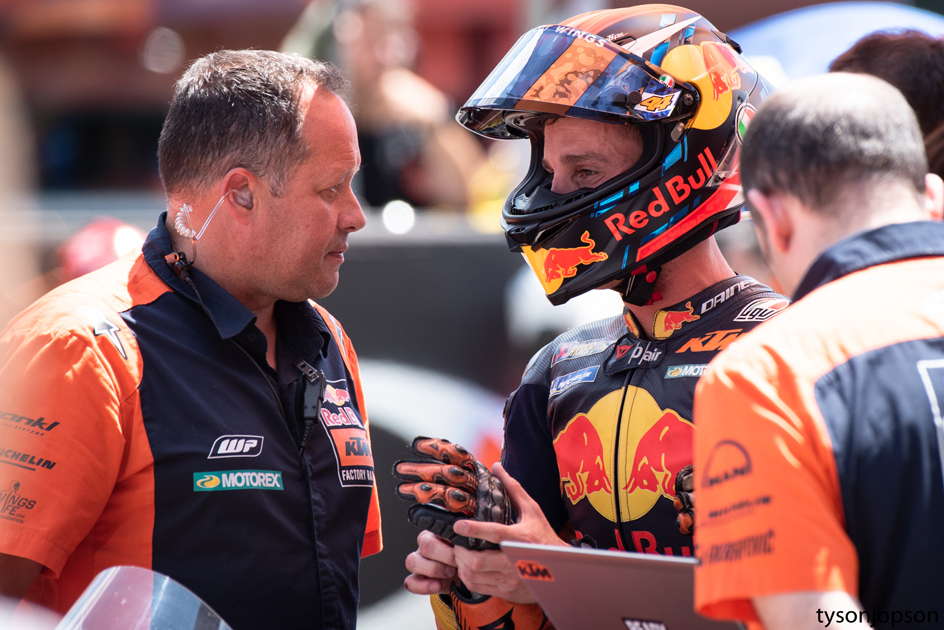 It's all about perspective for the newest team in MotoGP but looking back at the results from the 2018 Mugello race, a clearer picture emerges. Lorenzo won the race in 2018 with a total race time of 41'43.230. Pol was the top KTM, 20.2 seconds behind him. This year the race pace was almost 10 seconds quicker (Petrucci crossed the line in 41'33.794) and while Espargaro's 16.5 second deficit puts his race time 14 seconds ahead of his race time in 2018, everyone else went quicker too. And that's probably the most challenging part of getting up to speed in MotoGP – nobody is waiting around for you.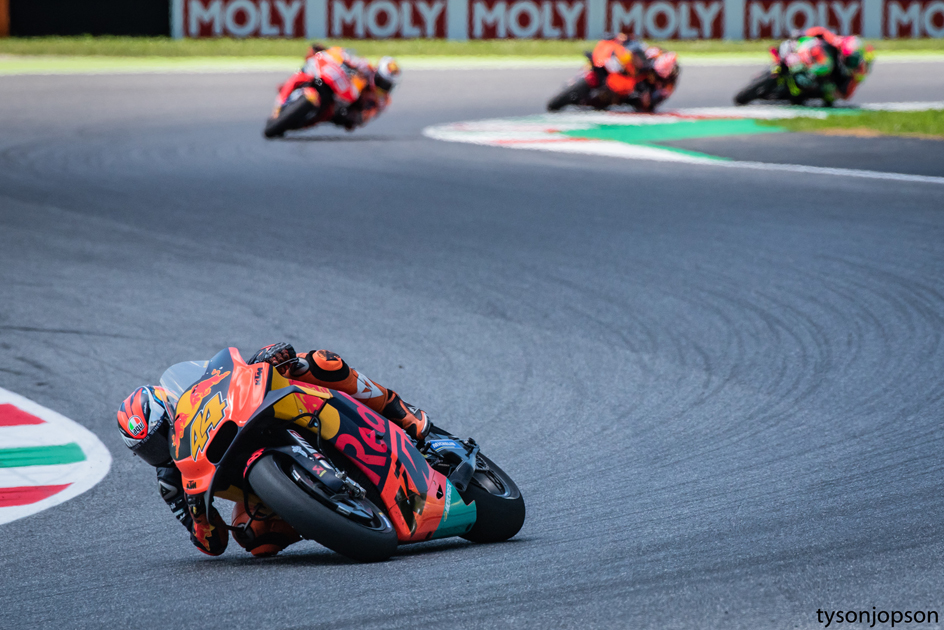 I wanted to get some more perspective on what progress looks like from the inside of the KTM MotoGP effort, so I spent some time chatting to some of the engineers and riders.
Edward Henry (KTM Factory Racing / Tech 3 engineer)
South African born, Henry is no stranger to developing race bikes from the ground up and has been through development cycles before. Namely with the likes of Kawasaki in the 600cc World Supersport Series – winning the championship with Andrew Pitt in 2001.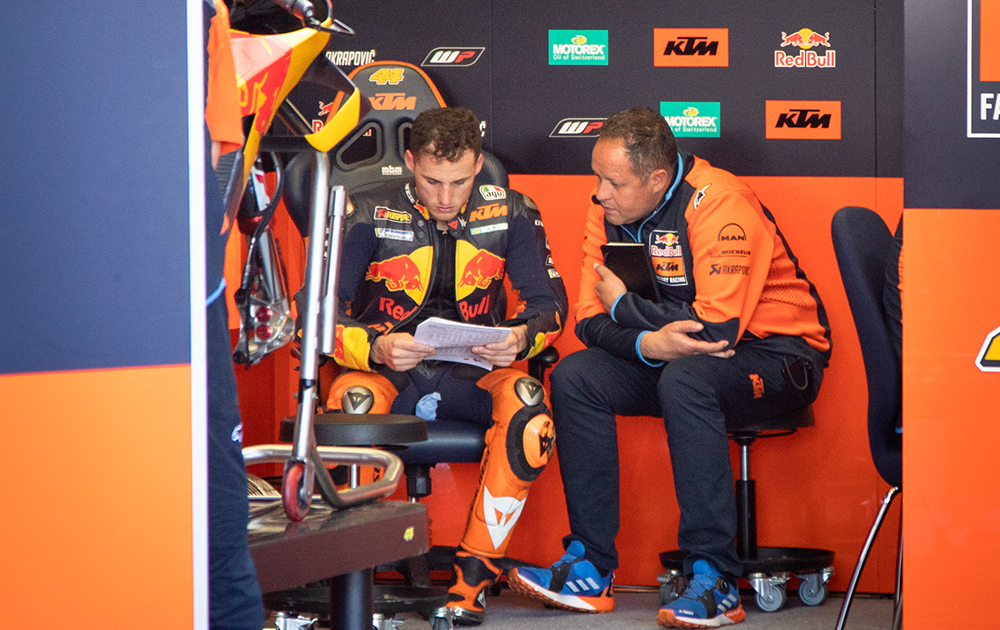 "When I joined the team there was nothing… some drawings and a few parts. This is our fourth year in MotoGP and at first, we made leaps and bounds and then got quite a shock when we realised the others had also made leaps and bounds. The closer you get to the top, the smaller the gains are. Added to that, our frame and suspension are unique (KTM is the only one using a steel trellis frame and their own in-house WP suspension), so we came in without being able to access the large pool of information – we have to do this ourselves. It's a really big ask. But when I look back at where we've come from and our current results, we've come a long way."
Asked why it was so important for the factory to keep their own rolling chassis setup…
"KTM wants to own every tech that we use and develop and it to be part of the DNA. We don't want to leave anything to anyone else. Being part of this development process is what really gets me excited. The factory's ability to make decisions on the spot, pick a direction and see it through, it's the ability to react, it makes it seem like anything is possible. It's KTM in MotoGP; by far the most exciting development program I've worked on."
Asked about the development of the bike going forward…
"We've definitely shifted towards the refining stages of the bike, although there are still more big parts to come. But yeah, since LeMans (the team tried a new carbon fibre swingarm and updated their engine mapping), we have more or less the most complete package since we started and we need to focus on refining it. Having our first satellite team [Tech 3] in the paddock will also help boost the development."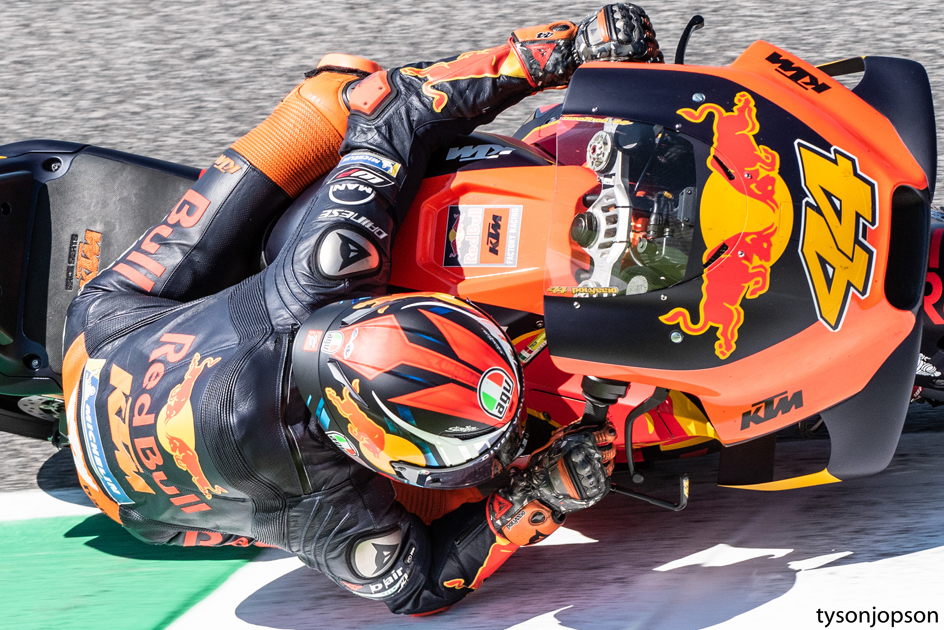 I asked Henry when he thinks race wins (and legitimate championship contention) might be attainable…
"Realistically, I think competing for the championship could be within our grasp in five years. Then it'll be down to the rider because riders win championships, not bikes. A few years ago if you were half a second off you could be in the top 5. Now if you're half a second off, you're down in 12th."
(Edward is not wrong there – it's becoming commonplace to see most of the grid within a second during practice sessions. You had to look all the way down to Joan Mir in 19th in FP1 at Mugello for the first gap over a second, for example.)
"I don't think we quite yet have a race-winning pace but you can never take anything out of the hands of a rider. When you find someone who relates to the bike, all of a sudden you realise the package isn't quite as far behind as people might think, and anything is possible."
Edward is, of course, referring to Pol Espargaro, who has been putting in some solid rides and is outperforming his teammate Johann Zarco and the KTM Tech 3 riders by some margin.
"To be fast on the KTM he's changed the way he approaches stuff. He thinks differently. He went to ask the engineers, "Maybe I need to think differently. What should I change?" It makes things easier for us."
So what kind of bike has KTM built? I spoke to Pol Espargaro to find out…
Pol Espargaro
"It takes time to get to know the KTM and you need to ride this bike aggressively. You need to be always on the limit. As soon as you rest a little you will lose a lot of time. You need to know the limits because you play a lot with it."
Quizzed on whether the updates to the bike at LeMans (a new carbon fibre swingarm and updated engine mapping) were the main reason for the top 6 finish…
"The swingarm gives us a lot more grip and stability, and it's where we were losing a lot of time during the previous races. We have smoother maps, improved traction control, more power."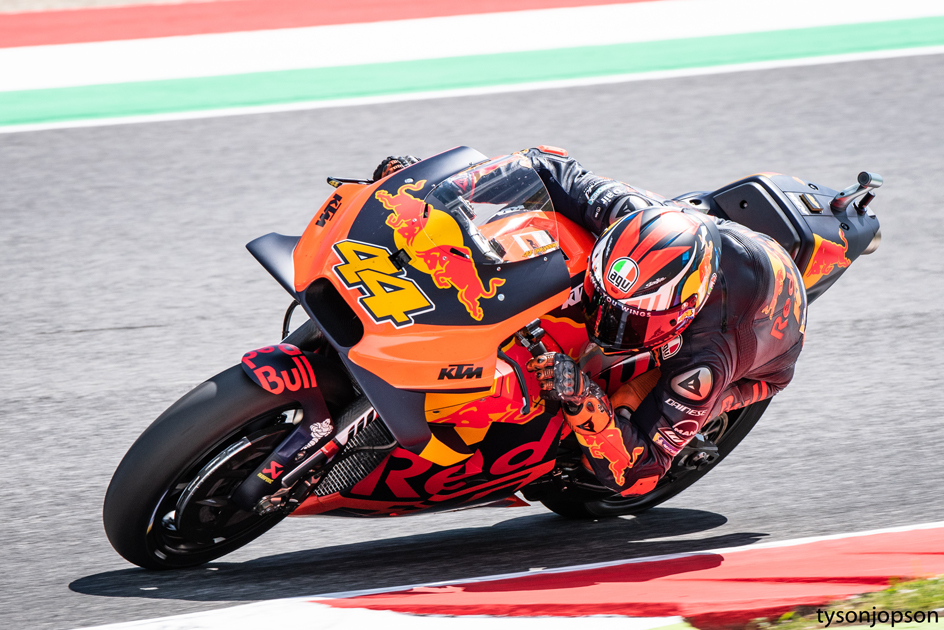 I asked Pol if more carbon parts might be the answer to providing extra rigidity to KTM's steel frame, which has significantly more flex than the aluminium box frames of its competitors…
"It's difficult, with carbon you can go with it a little way but then it becomes a lot more sensitive."
Asked why Pol is so far ahead of the other KTM riders…
"It's mainly because of experience, the way of riding this bike is different: smashing on the brakes, entering into the corners. You need to be aggressive to make time but also you can lose a lot, more than the others when you make a mistake. I've been with the bike the longest and so I feel more the improvement of the bike and where I can be faster than the others. The more they ride, the easier it is going to be for them. The bike has its own character, this character will not change, you need to adapt to it."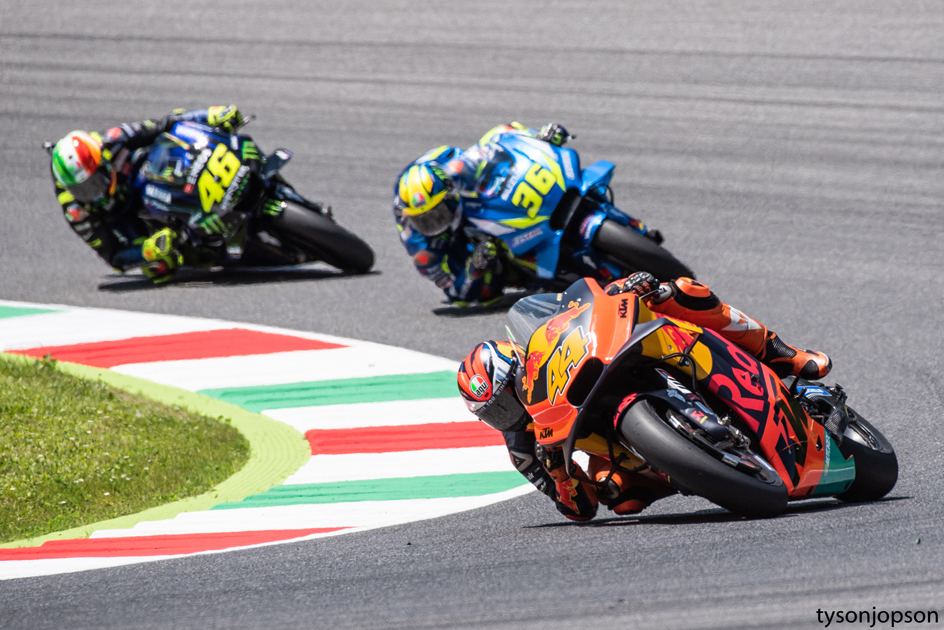 On the future…
"It's difficult. In the beginning, we are doing big steps but the progression is not the same when you arrive at a point, then it gets flatter. The steps are shorter, not as big. Now is when it starts to get difficult and we need to work hard. To improve one-tenth is a huge amount of work. But I think hopefully race wins are not so far."
The paddock moves to Barcelona in two weeks time, another difficult track for KTM. If they can carry the momentum from the last few rounds into some of its more challenging battlegrounds and over into the next few seasons, we could see another manufacturer in the hunt for top honours in the not-too-distant future. An exciting prospect in what is indisputably the most competitive era in MotoGP.