The story of Frank Ndzhukula captured South African hearts this week. Ndzhukula started his career at KTM in the wash bay. After 26 years, he defied the odds and qualified as an Orange Technician – the highest level that a technician can reach in KTM.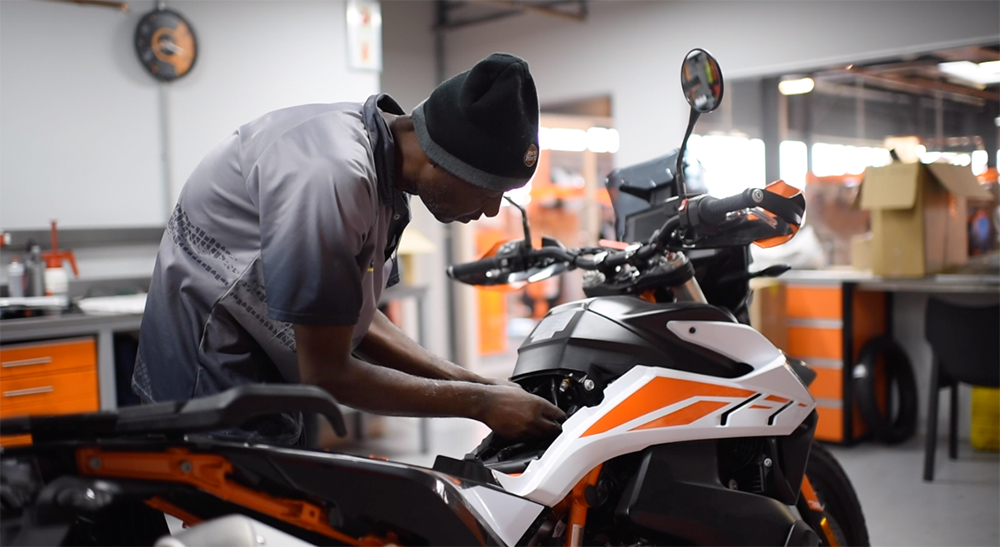 He is quick to mention that he "started from nowhere and knew nothing". His manager at the time, Ralph Pitchford, encouraged him to expand his knowledge and began teaching him to fix motorcycles.
While the process was overwhelming at first, Ndzhukula came up with a little mantra for himself and pushed through his struggles: "I told myself that I'm a human being if someone else can do it why can't I?"  he said.
There are three levels for technicians to get through at KTM. Each level teaching more advanced skills than the next. The starting level is Bronze, the next up is Silver, and the final level is Orange.
"To become an Orange Technician is by far the most difficult course to pass. It's a four-day course, and Frank was the only one who took all his training material home each night to go over it. He even asked me for extra stuff. This is a massive achievement for him personally," said Stephan Marais, KTM South Africa's Customer Service Manager.
Ndzhukula passed his bronze and silver courses but was hesitant to commit to Orange. Marais, who handles the Orange course at KTM headquarters, encouraged Ndzhukula to try it for years.
After 26 years with the company, Ndzhukula passed the course. It's a massive milestone for any technician. He is currently employed at Raceworx KTM – a dealership in Gauteng. All the other workers are in awe of what he has achieved and say that they hope to reach the same milestone as him.
Ndzhukula is not only held in high regard by his colleagues, but South Africa's top KTM athletes have great respect for him too. Louwrens Mahoney, a multiple South African Enduro and Cross Country champion mentioned that Ndzhukula used to work on his bike when he started his racing career.
Watch Ndzhukula's inspiring story below.