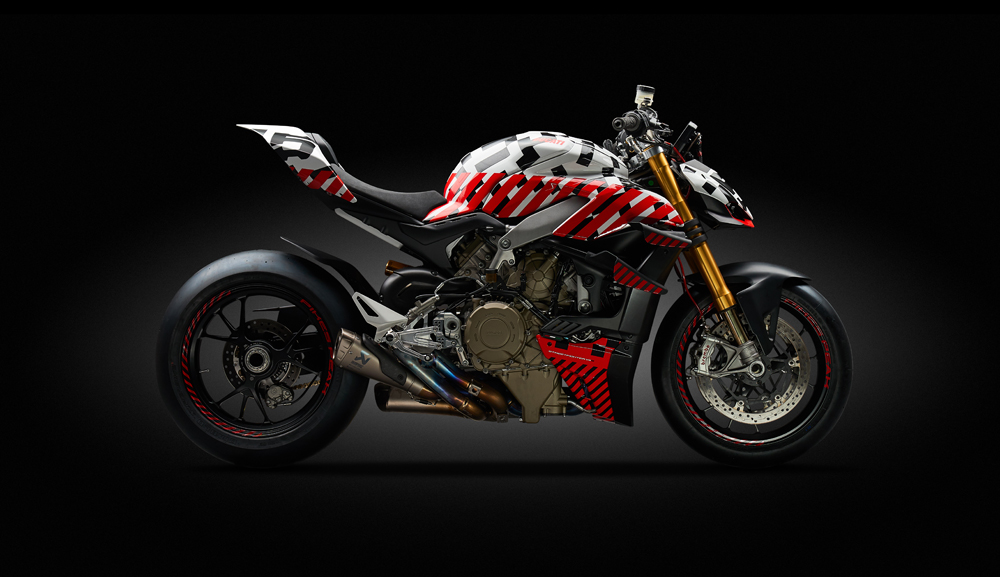 The long-rumoured Ducati Streetfighter V4 has finally broken cover—and it's going racing. Ducati will be fielding a prototype of the upcoming Streetfighter V4 in the Pikes Peak International Hill Climb, in Colorado, USA, later this month.
Ducati are saying precious little about the Streetfighter V4, other than that it's a Panigale V4 without fairings, and with a set of high and wide handlebars. (So, basically, it's a naked Panigale.) They also haven't confirmed how close the prototype is to the final production version.
The Panigale V4 is a thoroughbred superbike. Its 1,100 cc V4 Desmosedici Stradale motor pumps out a mighty 214 hp and 124 Nm, and it weighs a paltry 175 kg. The thought of that motor crammed into a stripped-down package, that's probably been lightened further for race use, is downright terrifying.
We're sure Ducati will be running unique engine maps for both the race and the final production model. And we wouldn't be surprised if the Streetfighter V4 ends up being a little down on power from its fully-faired sibling.
Ducati also didn't just simply bin the Panigale fairings to get here. They say the Streetfighter V4 prototype has its own aerodynamics package—the most obvious components being the dual wings on either side, which are unique to this model. The race bike's also wrapped in a radical 'pixelated' livery, that we're wishing ends up as a special edition paint job later.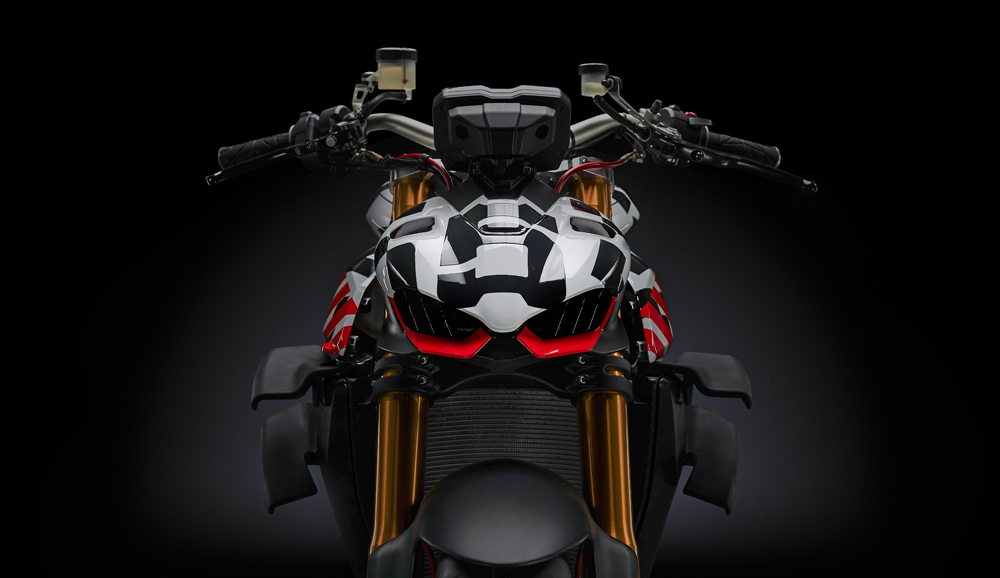 Ducati CEO, Claudio Domenicali, had this to say: "The Streetfighter V4 will be one of the stars of the Ducati World Premiere 2020. Streetfighter V4 is the Panigale for road riding; so there was no better stage than the Broadmoor Pikes Peak International Hill Climb for what will be the highest performance Streetfighter ever put into production."
Piloting the Streetfighter V4 through Pikes Peak's 156 turns and 20 km will be last year's motorcycle 'Heavyweight' class winner, Carlin Dunne. Dunne took the checkered flag last year aboard the Ducati Multistrada 1260, with his teammate, Codie Vahsholtz, coming in third.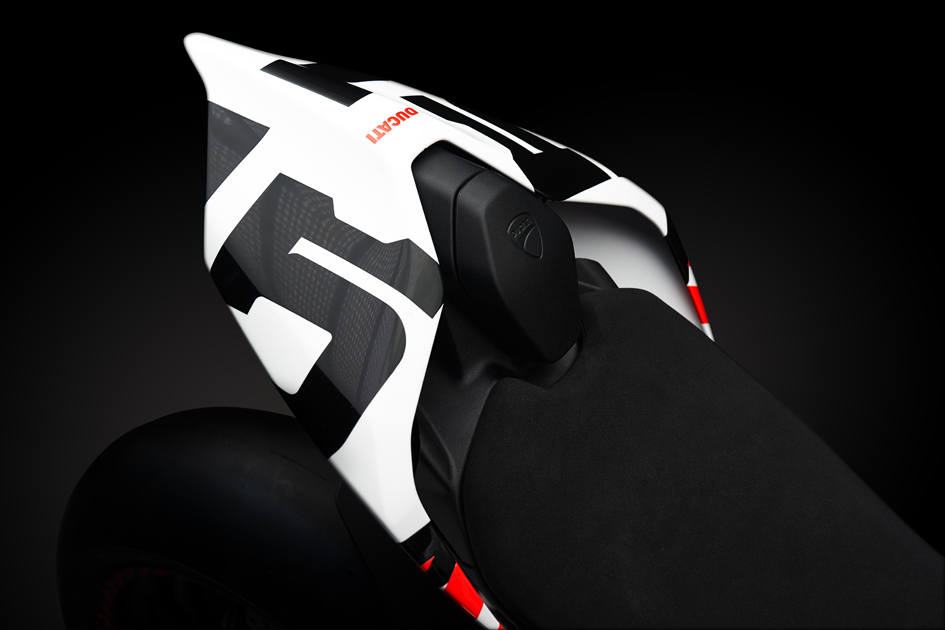 Vahsholtz will be running a Multistrada in the Heavyweight class again this year, but Dunne will be entering the Streetfighter V4 in the 'Exhibition Powersport' class. It's a class especially reserved for prototypes, concepts, and custom motorcycles—and that fact that Dunne is racing in it is sure to be keeping the competition up at night.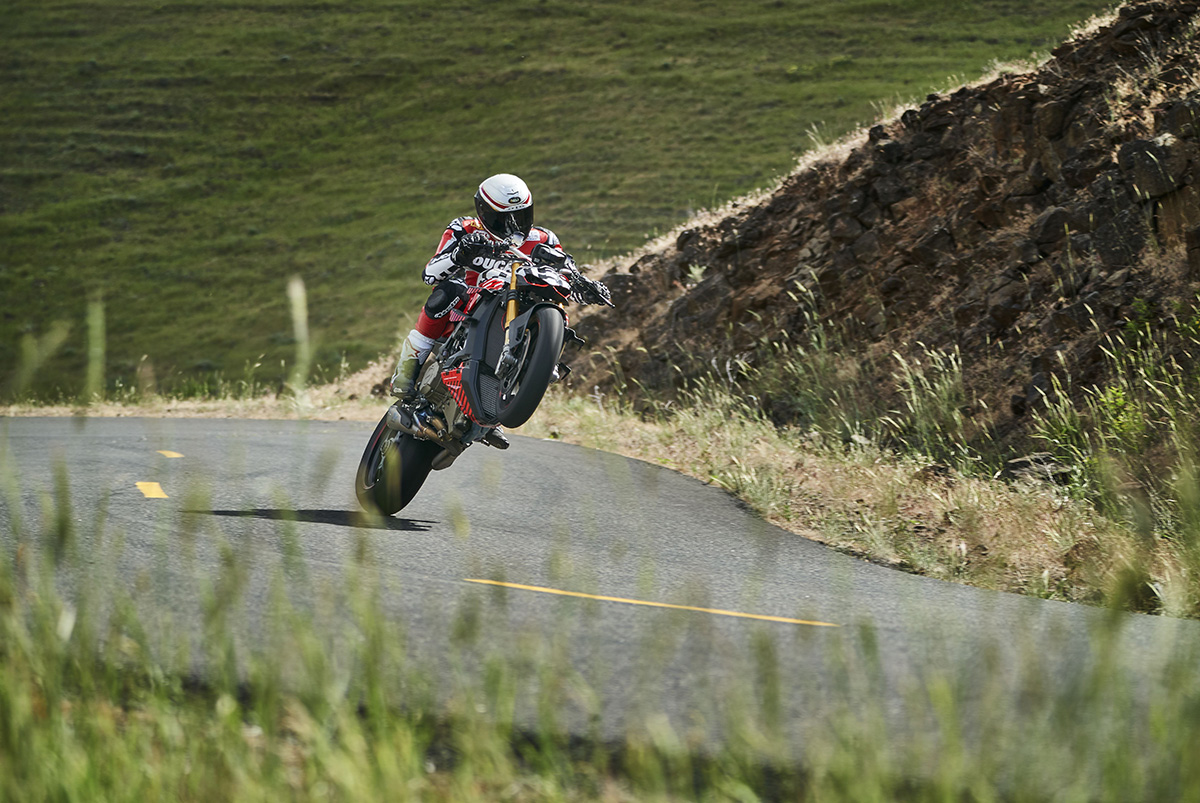 The production-ready Streetfighter V4 is set to debut at EICMA this year and should hit dealers in March next year. We're counting the days…