Just the other day, Triumph teased illustrations of the new and very limited edition Daytona Moto2 765. This past weekend, they officially threw the wraps off it at the Silverstone GP—ending speculation about its looks, and finally giving us a solid spec sheet to sink our teeth into.
Triumph promised us a race-derived machine with the most powerful road-going version of their 765 motor yet. We guessed that horsepower would sit somewhere between the 121 hp of the Street Triple RS, and the 138 hp that Triumph's Moto2 race-spec motor kicks out. And we weren't too far off.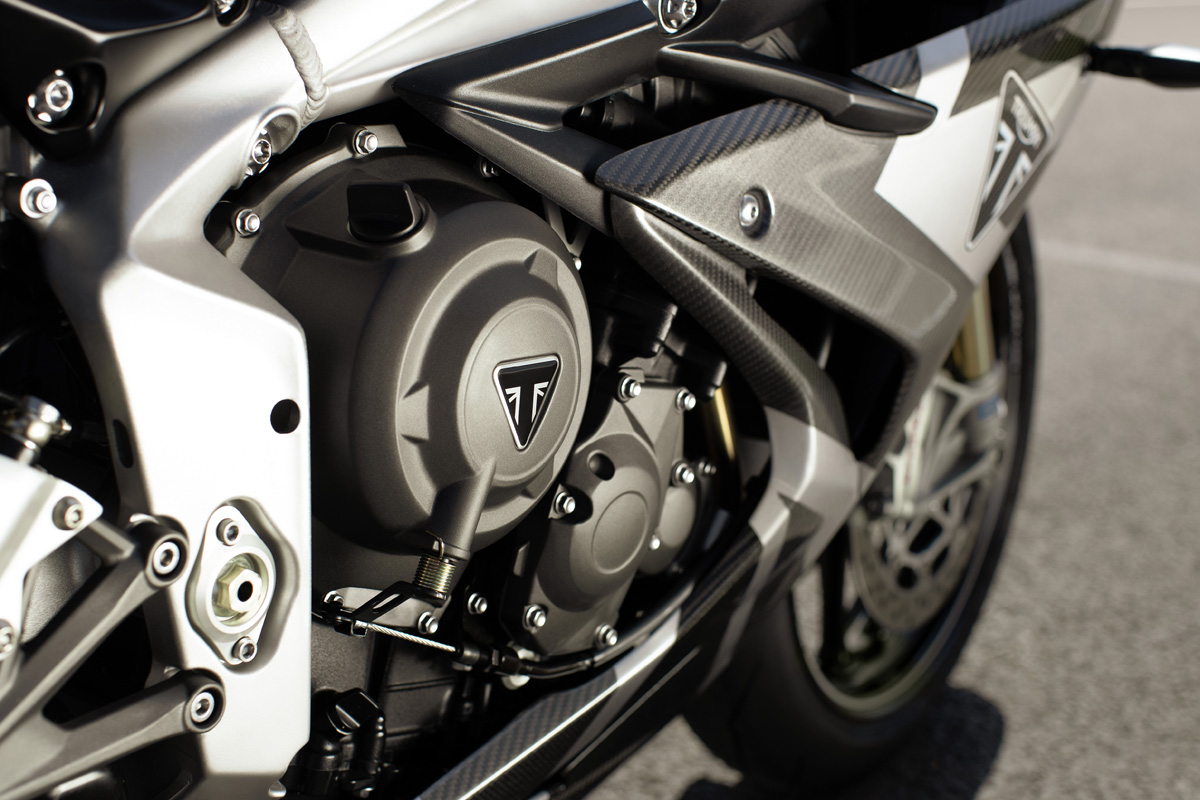 The Daytona Moto2 765 will make 130 PS (around 128 hp) at 12,250 rpm, 80 Nm of torque at 9,750 rpm. The motor was developed by the same team as the race engine, so it has a few trick bits inside it too. The upgrades include titanium inlet valves, stronger pistons, DLC-coated gudgeon pins, revised cam profiles, new intake trumpets, modified con rods, a new intake port, crank and barrels, and an increased compression ratio.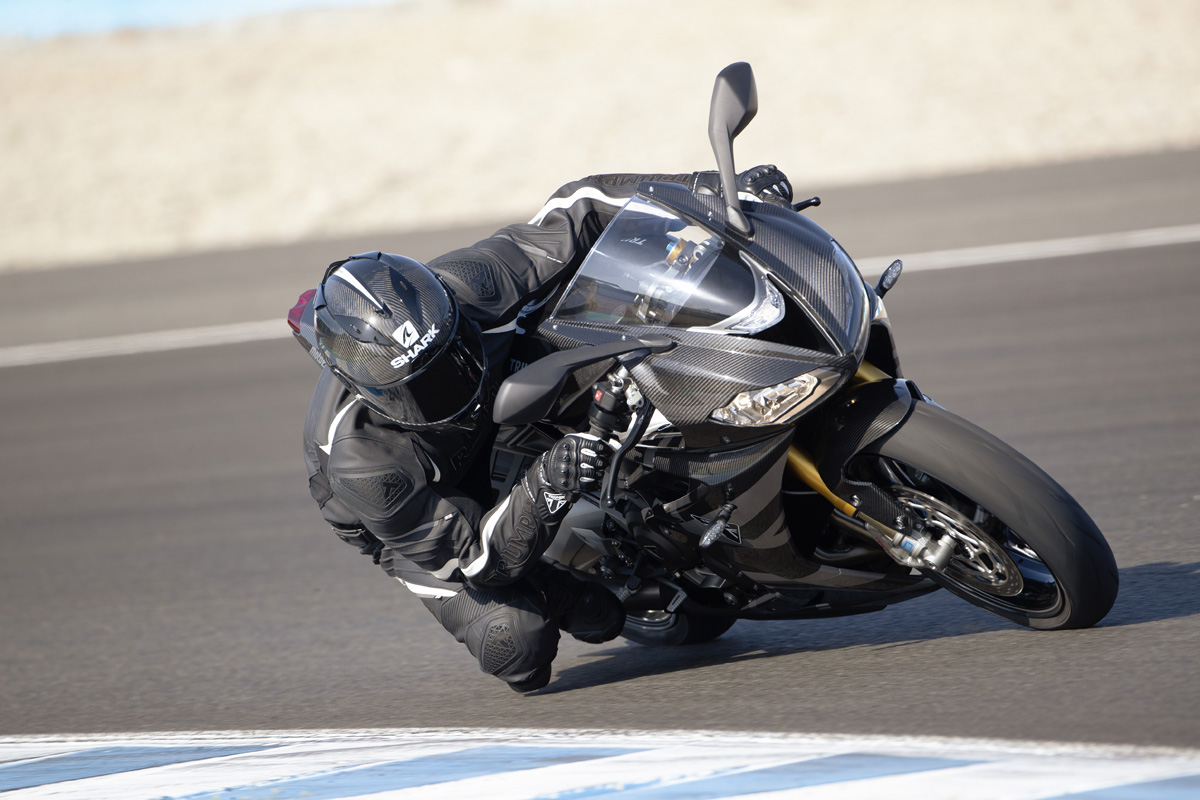 It uses the same ECU as the Street Triple RS, but with its own tune. It revs higher too, with the red line sitting at 13,250 rpm, and features an all-new gearbox too.
We also predicted a no-brainer combo of Öhlins, Brembo and Arrow parts, and Triumph have delivered. The Daytona Moto2 765 comes with a high-performance titanium race muffler from Arrow, along with fully adjustable Öhlins suspension at both ends, and Brembo's new Styleema brakes. The tyres are Pirelli's grippy Diablo Supercorsa SPs.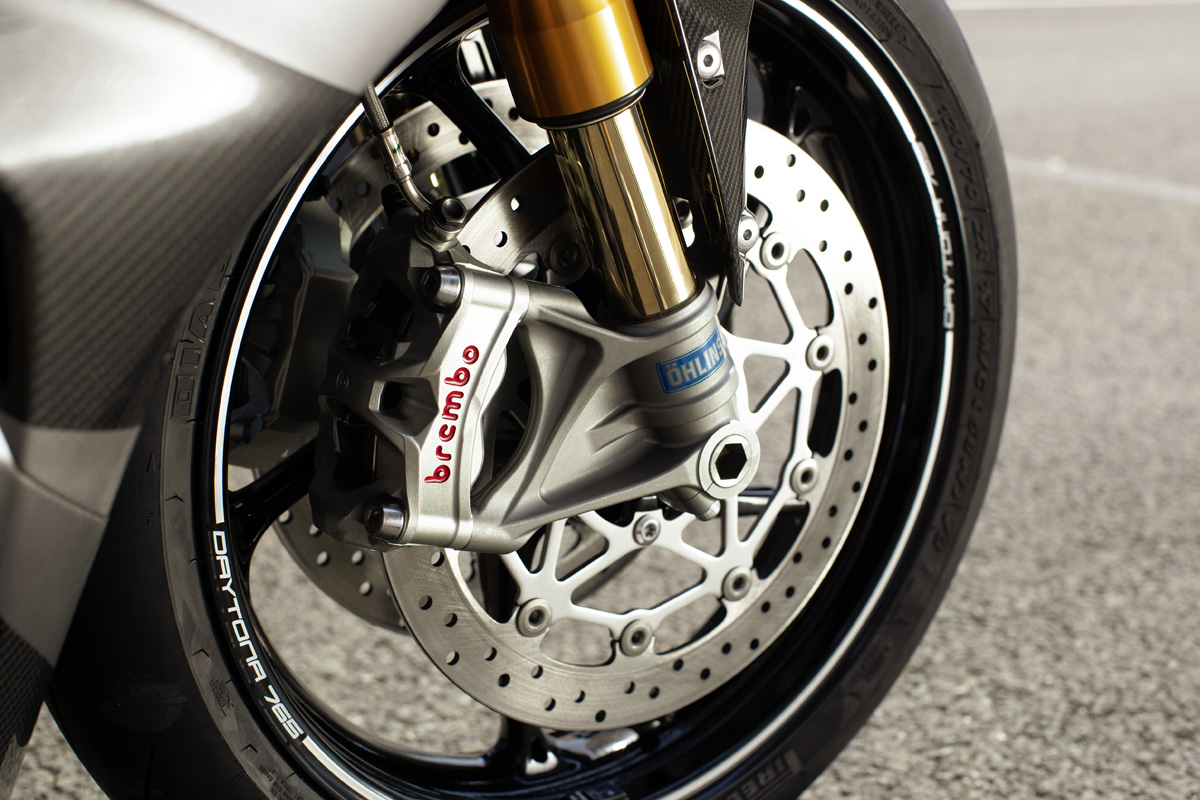 You also get a TFT display, five riding modes (with traction control and ABS, naturally) and a quick-shifter. (We've sampled these throughout the rest of Triumph's range and love them.)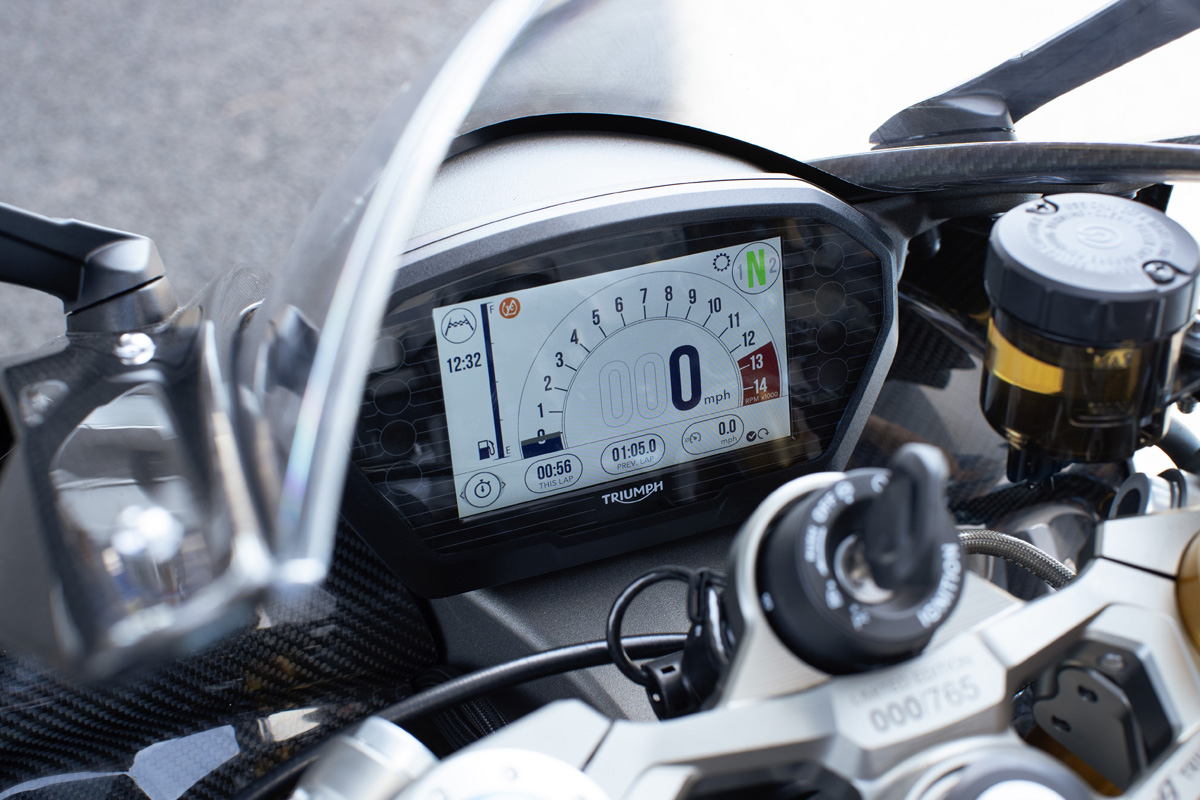 As for the chassis, it's been taken from the prototype bike Triumph built when they originally developed the Moto2 motor. Triumph reckon it's the best-handling Daytona yet—and given that the Daytona's never been a slouch, it should make for an engaging ride.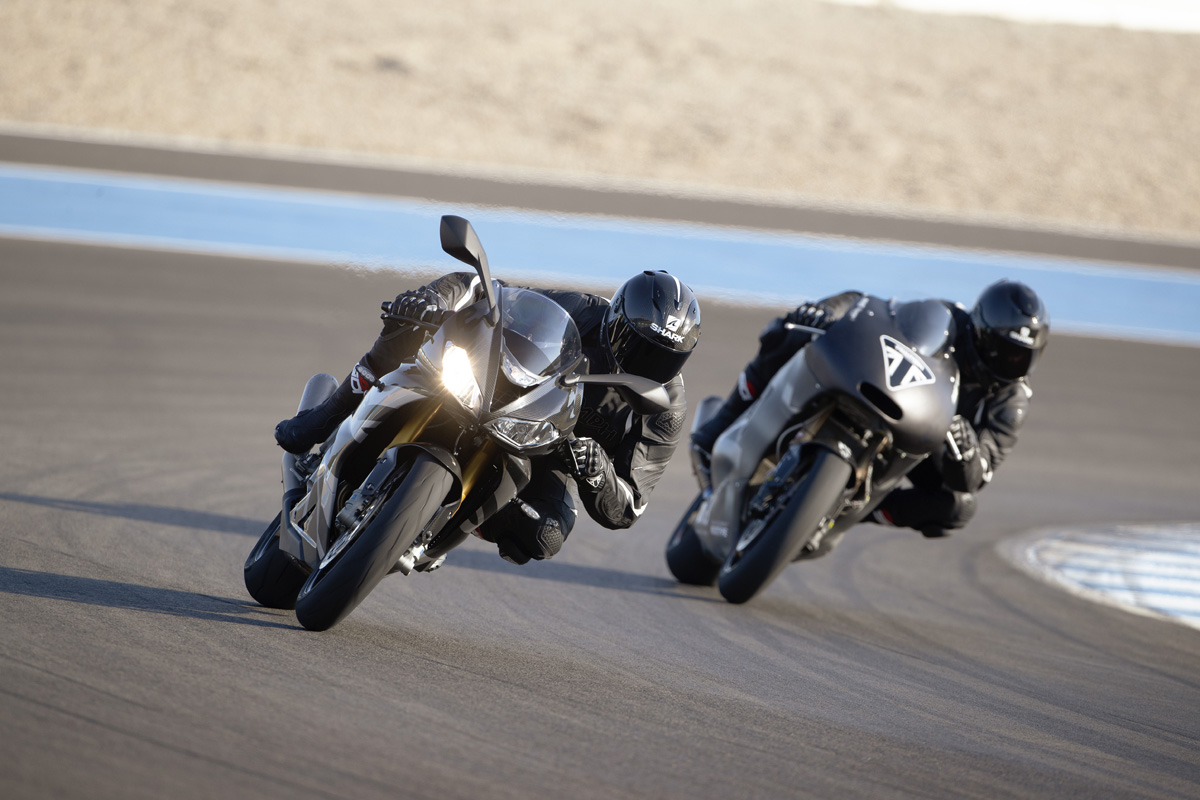 The Daytona Moto2 765 is rather attractive too. Triumph have wrapped it in full carbon fibre bodywork, with a monochrome Union Jack livery inspired by the Moto2 prototype bike, and the BSB championship-winning and multiple Isle of Man TT Supersports winning Daytona R. There's clear anodising on the frame and swing-arm and, as if to drive the race concept home, there's only one seat.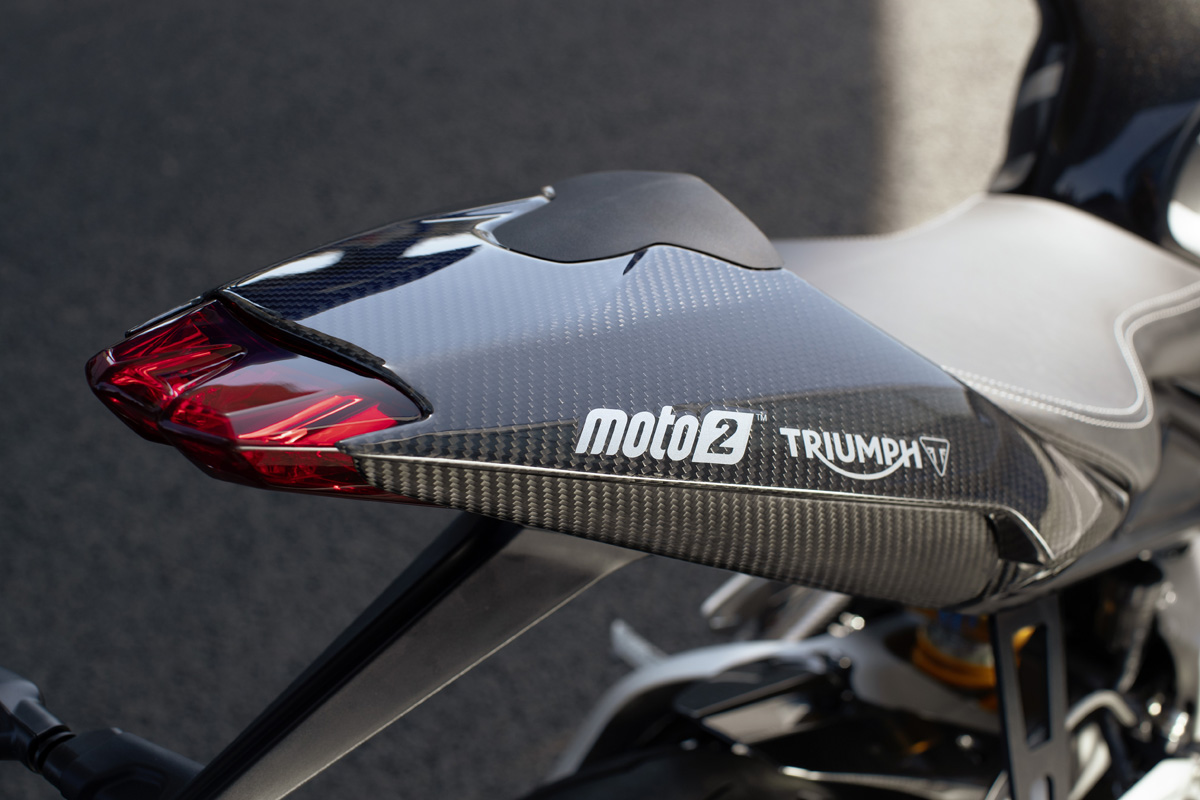 Triumph are only making 1 530 of these—765 for the North American market, and 765 for everyone else. Each one will have its number laser-etched into the bike's stunning machined aluminium top triple clamp. But here's what we don't know: how much it weighs, and how much it costs.
And considering how few are being made, and that the answer to that last question is probably 'a whole lot,' the real question is when will the mass production Daytona 765 hit the market? And how close to this will it be, specs-wise? We wait in eager anticipation.