On the 26–27th October 2019 Yamaha South Africa invited us to a weekend of activities with [the four-time supercross and three-time motocross champion from Poulsbo, Washington] Ryan Villopoto.
Having spent his full professional racing career with Kawasaki, it was a real treat to see Ryan Villopoto [back in early 2018] climb upon Yamaha's finest, providing Ryan with some pretty breathtaking opportunities [post retirement].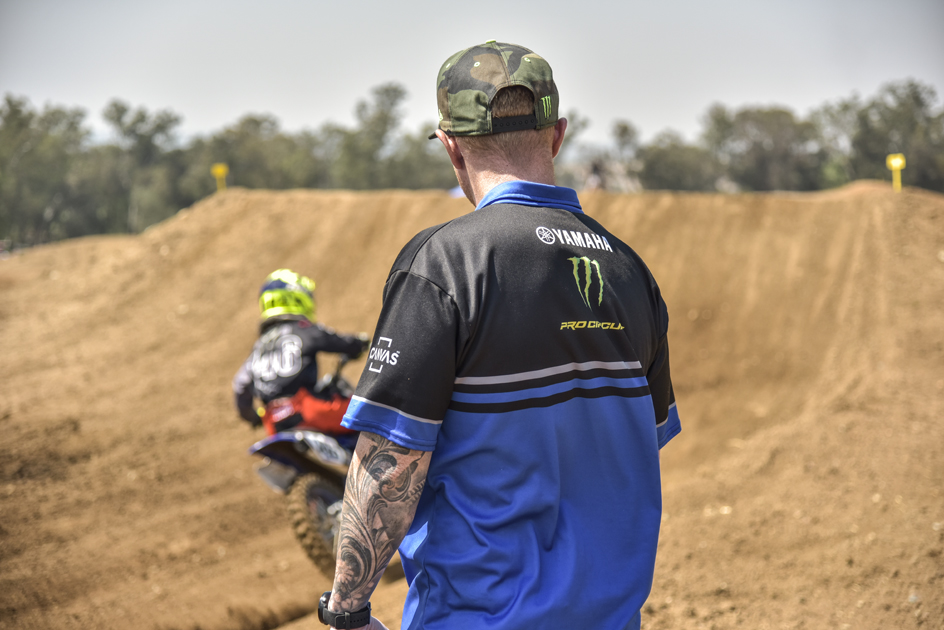 Saturday, October 26th: Being a big fanboy myself, I decided to pack my Ryan Villopoto, Thor, Monster, Quadrant helmet and head to Terra Topia [for the MX Nationals Finale] to meet the legend in the flesh.
They say you should never meet your heroes, well I'm glad I did. Ryan is a super down to earth character, who is open to conversation with like-minded people and is willing to share his story. Here are a few brief questions ZA Bikers had lined up for Ryan.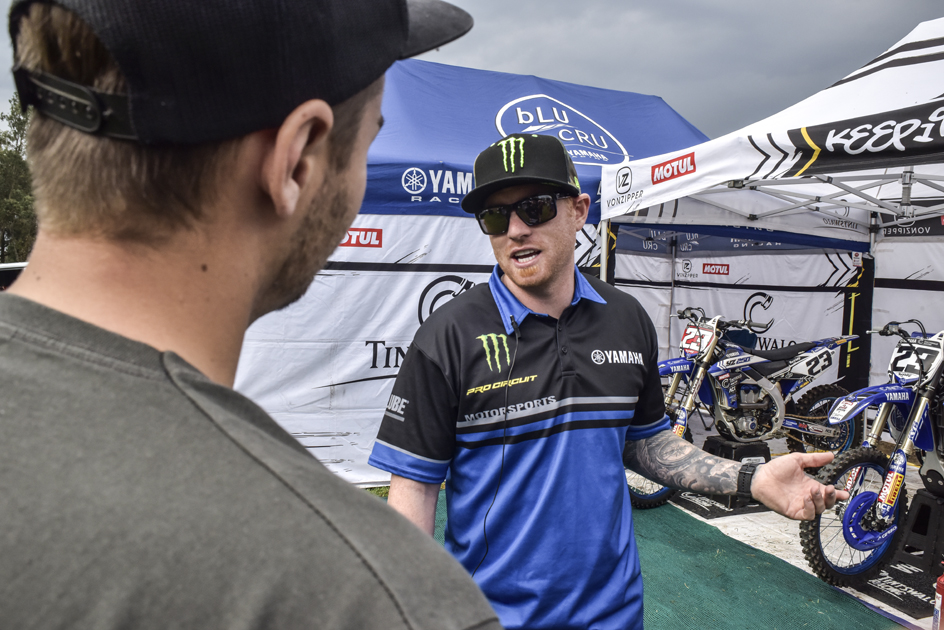 Is this your first time in South Africa?
Ryan: "I came here when I was just seventeen so around twelve years ago with my cousin and this time with my wife"
What are your impressions of South Africa?
Ryan: "Yeah, so I've come before and obviously this trip was a little different. I got hooked up with Ivan Carter and myself and my wife travelled to Zimbabwe, Victoria Falls, Cape Town and now back here to Johannesburg for this. It has been a really good stay and we've seen a lot of cool stuff – it's been awesome".
Since your retirement, you've taken part in a few one-off races – are you still as competitive as before?
Ryan: "Yeah sure, I wanna win but for instance, I won Hangtown and then at Pala, I got second, which was one hell of a race, with some kid who was 14 or 15 years old. Coming second at Pala was actually better for the fans as they got to see me race and they got to witness one hell of a battle.
For me I don't have to win, the fans just want to see me out on track so it's a 'win-win' for both, I can keep doing what I 'love' and the fans still get to see me ride. It's way more enjoyable, much more fun and easier not having any pressure".
On April Fools this year you announced that you would be filling in as a rider for the "Monster Energy Yamaha Factory Team". With all the hopes and expectations in the air – can we expect any comeback?
Ryan: "No, no, no! I mean, I'm pretty busy with my wife and two boys and the stuff I do with Yamaha keeps me really busy. As a whole I'm busy and it's also pretty cool for me that, I'm able to extend not just with Yamaha in the States but put together a pretty cool thing here in South Africa".
Are there any particular moments in your career that stand out?
Ryan: "During my career I've had some real highs and some real lows, however looking back, I would say that there is not one particular moment that stands out, but rather my 'consistency' during my entire racing career.
The guys that are racing nowadays are pretty inconsistent, for example, Eli hasn't won a championship in Supercross for three years now. Back in the day if I did not win then it would be Dungey – that's how close the racing was".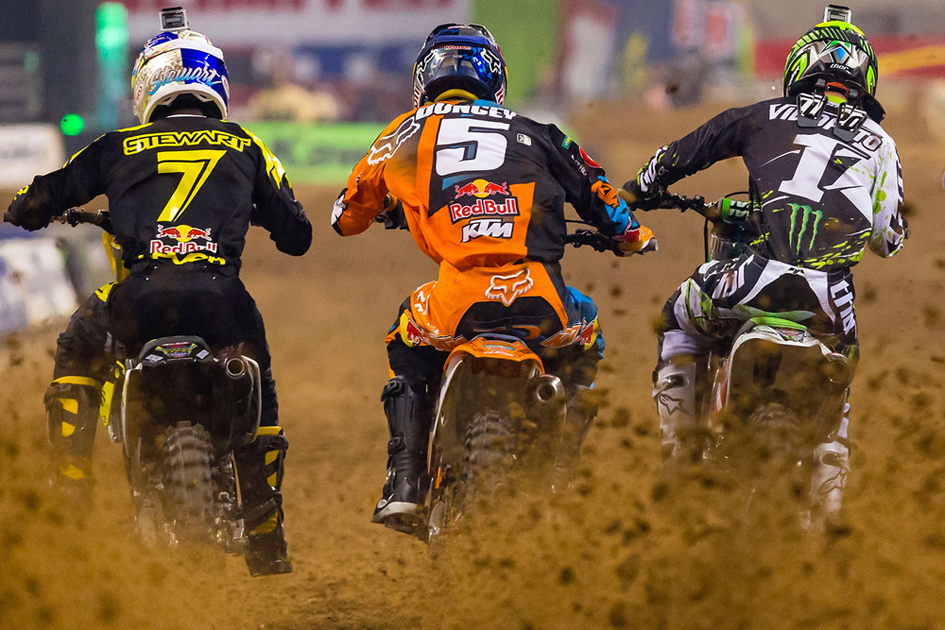 The Master Class
Sunday, October 27th: Before I knew it Sunday had arrived, Yamaha South Africa had organised an awesome day ahead for the riders and the spectators. We were all pumped up for the day's proceedings and we were promised a special bLU cRU day, with the launch of the new fire breathing YZ450F, demo rides [on the entire MX range] and a master class training session hosted by Ryan Villopoto himself.
Robin van Rensburg [Managing Director of Tuning Fork (Pty) Ltd], welcomed us all and gave us a brief introduction of what was to take place before handing over to Ryan Villopoto, who began with the riders briefing.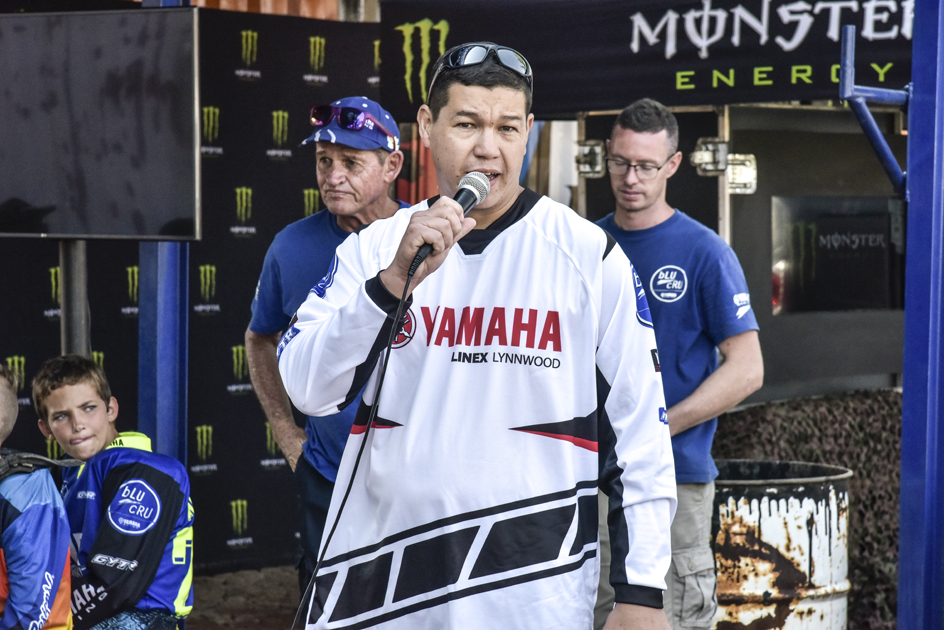 Ryan's master class training was split into two groups and that being juniors riders and then senior riders. The hands-on training on the circuit would cover inside lines, braking, body position, and starting.
Juniors Riders
2 stroke was in the air with the circuit being dominated by 65cc and 85cc YZ's, the odd 4 stroke YZ250F Braap was barely noticeable. The passion and excitement were ever so present on the faces of these junior riders, with every tip and bit of advice getting a nod back. After training, the bees were released and boy did they take off with Ryan's voice playing in the back of their brains, stand on the balls of your feet, keep that ass out of that seat and look ahead. Ryan Villopoto cleverly placed himself on different sections of the track that tests different riding techniques.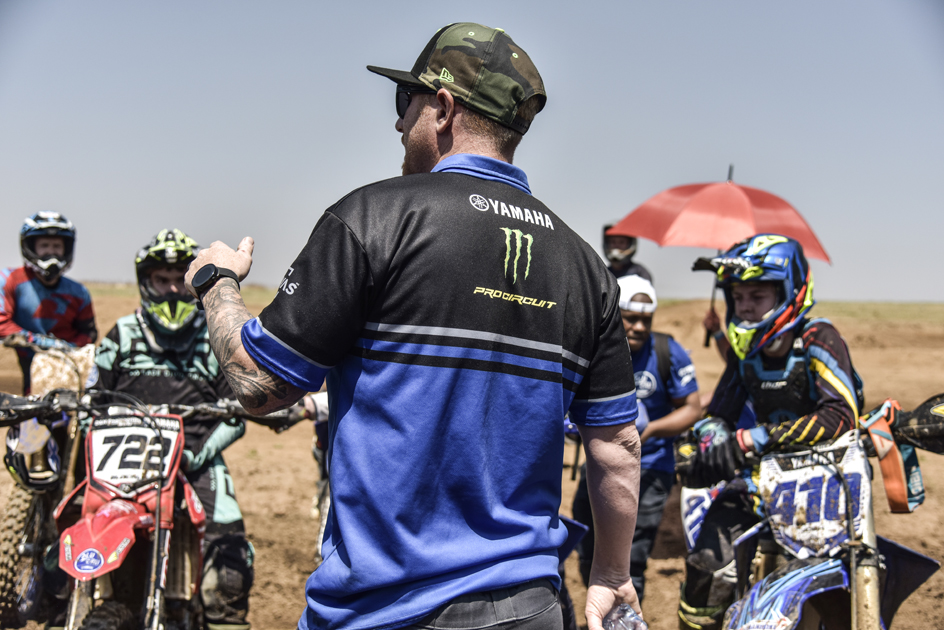 He soon saw that there was some advice that a few students needed in order to improve on certain sections as well as their riding style. He hung the red flag out and the bees returned to the hive. A few words were said and nods returned with an overwhelming smile piercing through their lips as their hero tells them how good they really are. The Juniors headed out for their last run before the senior riders were to have their session with Ryan.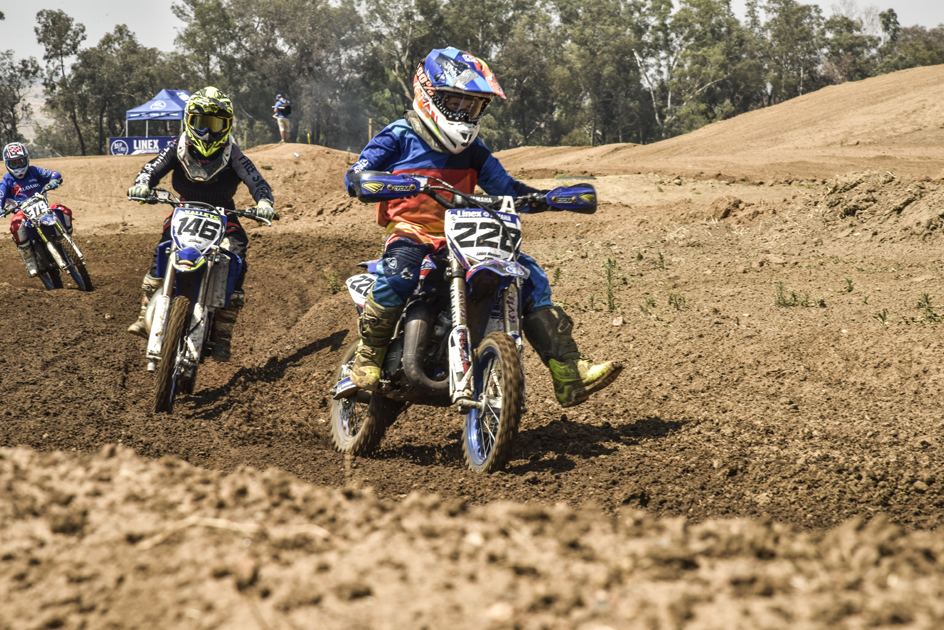 Senior Riders
The senior riders were to go through much of the same procedures, but in much more detail than with the juniors. Ryan would be on standby for the more technical questions when asked. The seniors approached the bench, with riders already trying to impress Ryan on their way to him with some flamboyant wheelies and pivot turns. Ryan went through the ropes and gave a few pointers before the seniors were to head out on their sighting laps. Ryan positioned himself on a tricky part of the track knowing that it would be more challenging on the heavier bikes.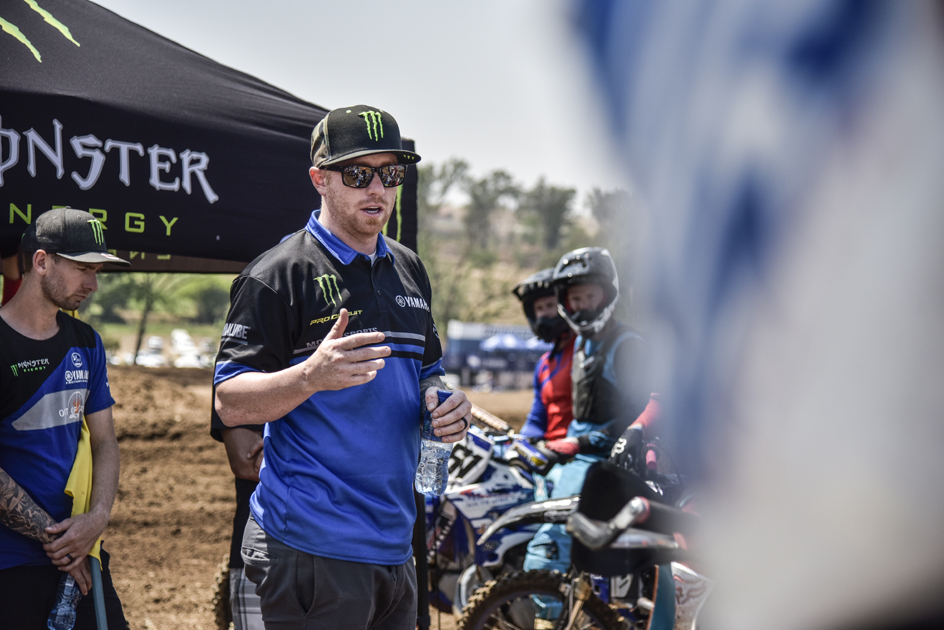 Gates down and out of those starting blocks they went. Lap after lap, gestures and on the fly advice was given by Ryan as the first session was drawing to a close. The first session was over and boy were some of these guys fighting some arm pump. Ryan noticed a common occurrence and that was the same line being used throughout each corner, early entry and late-exit. What he wanted the guys to do was to maximise their corner/exit speed. Ryan explained that by turning in too early meant slowing down way too much, resulting in slow exit speeds on certain corners. Improvements were definitely made after Ryan's input was given.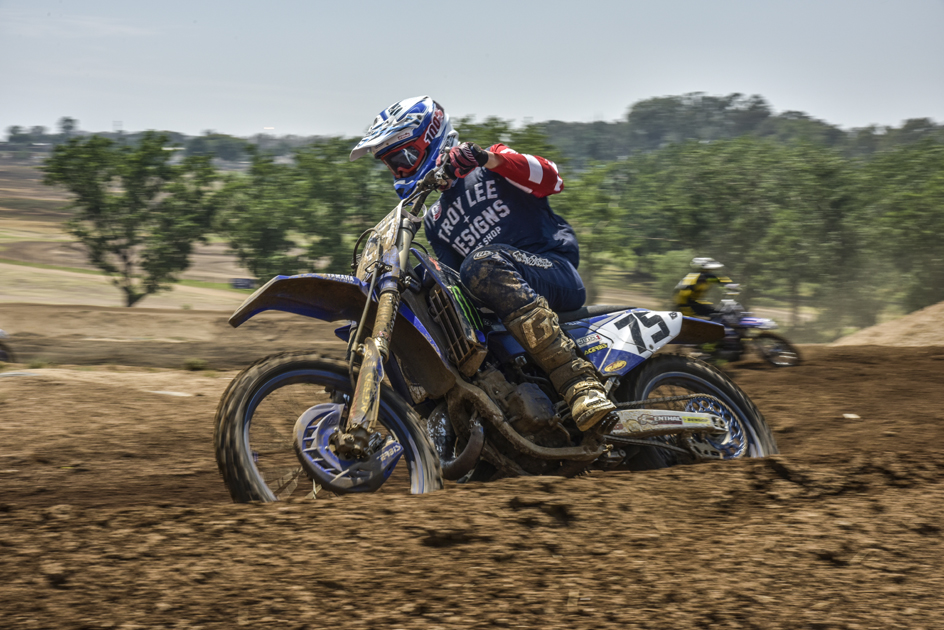 After session two came to an end, the demo rides were lining up.
Demo Rides
The signing up for demo rides was hectic and Yamaha ran out of forms in no time at all. The demo rides consisted of this year's full range of YZ's, starting from YZ65 and upwards and then the 2020 YZ450F was also available for a two lapper. The 2020 YZ450F was the stand out bike with people sharing opinions and gnarly experiences. Smile after smile, Yamaha has a killer line up of MX bikes and man doesn't it just rev my heart.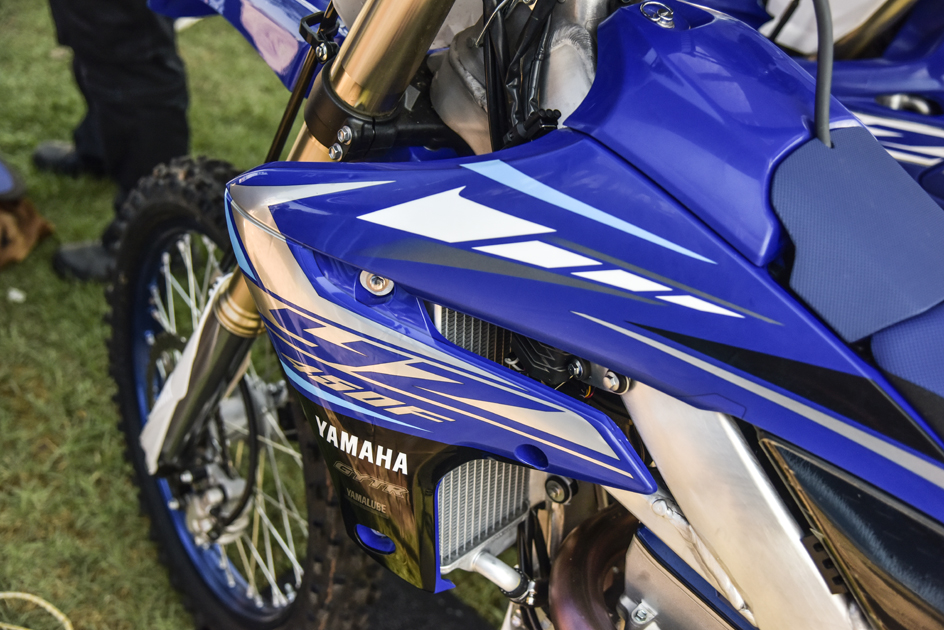 After the demo rides, Ryan Villopoto headed onto the course for an exhibition lap. Watching Ryan from trackside or should I say corner side since I was probably no more than two meters away, was one of those never to forget moments. I wasn't the only one who was enjoying it though, the crowds were cheering and the junior riders struggled to get their eyes and mouths shut as if they had lockjaw.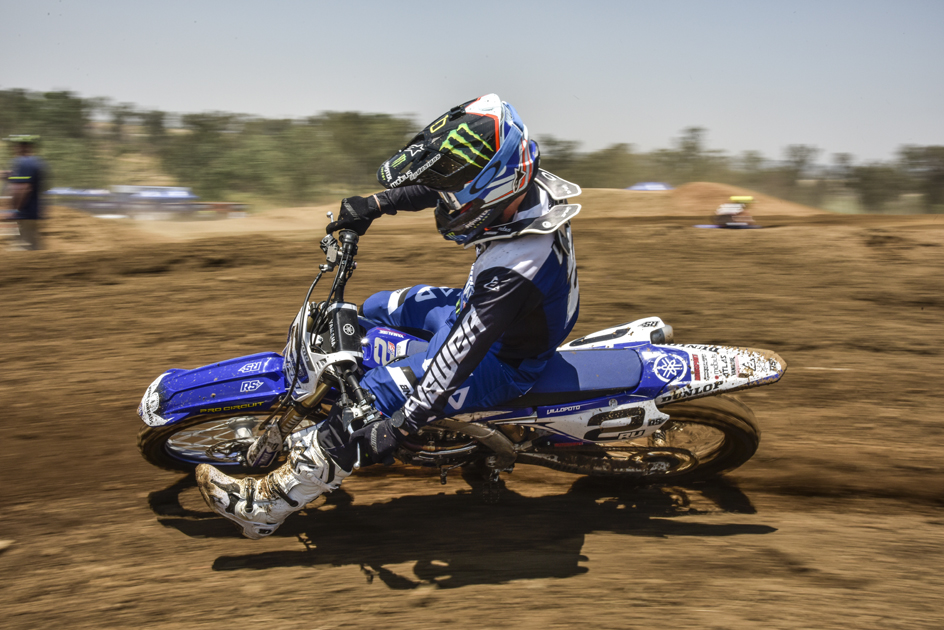 After the exhibition laps, the day pretty much drew to a happy yet cheerful close with Ryan signing a few prized possessions as well as taking the odd selfie with his fans.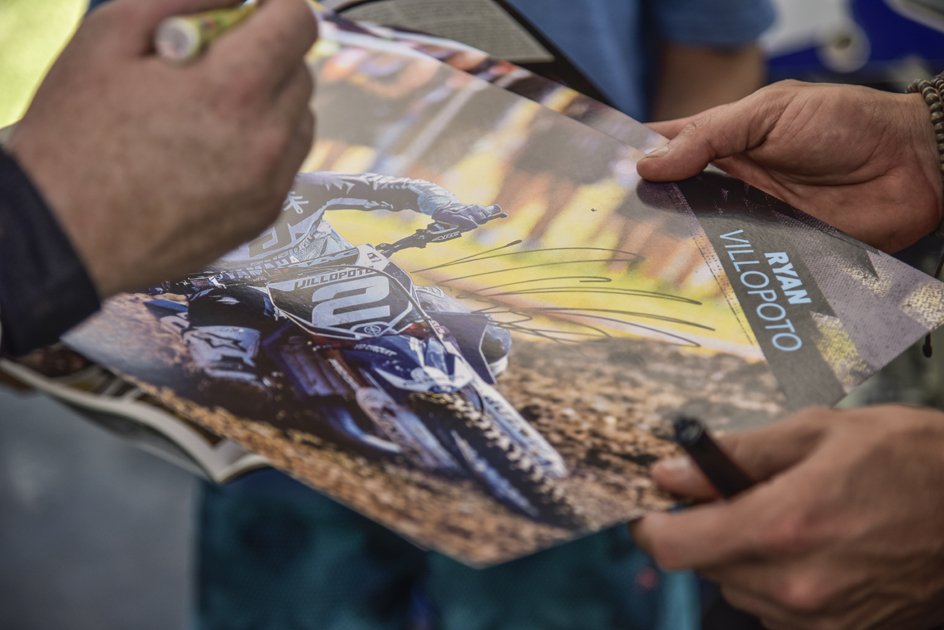 Thumbs up to Yamaha South Africa and all the people that were involved in really making this whole experience worth every Braap!