Yamaha have just thrown the wraps off their 2020 range at the annual EICMA motorcycle show in Milan, Italy. Most of the Japanese marque's news revolves around updates to existing models, but there are two bikes that have caught our eye: the Tracer 700 and TMAX560.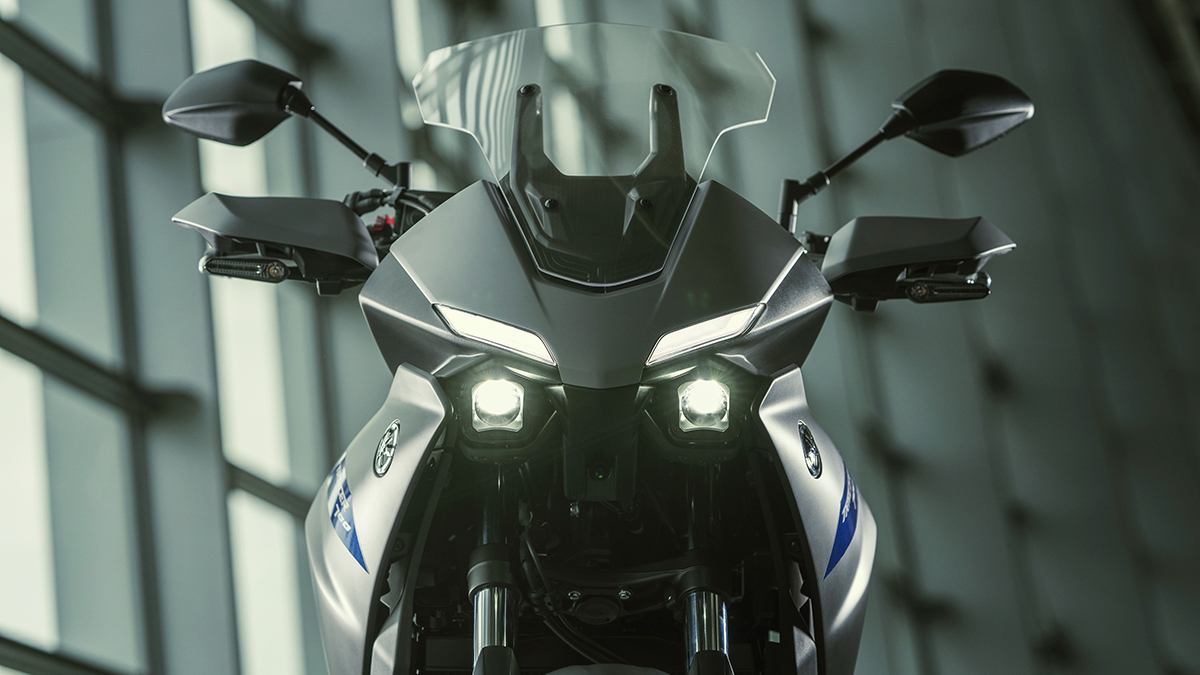 Yamaha Tracer 700
Previously known as the MT-07 Tracer, the Tracer 700 is more of a refresh than a total overhaul. And that's perfectly fine—it's a cracking package already, and Yamaha's changes should make it pretty much perfect as a middleweight sport-tourer.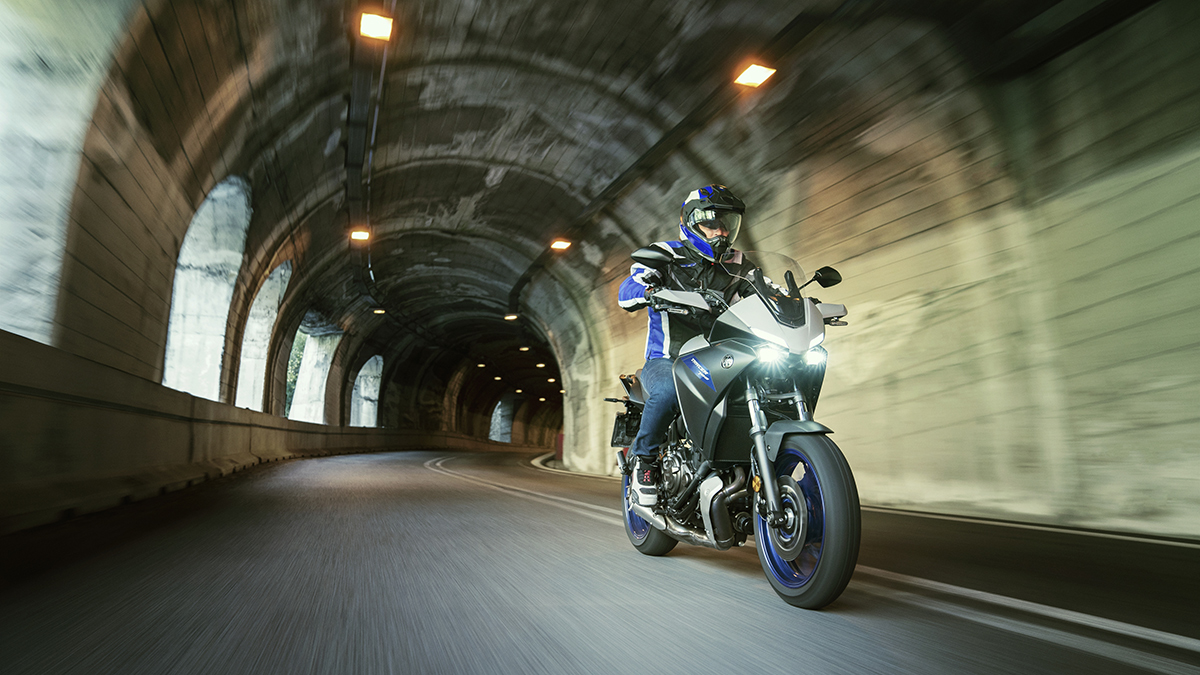 A big part of the Tracer 700's appeal is Yamaha's 689 cc 'crossplane' mill. It's one of the best twin cylinder motors on the market today (all of us here that have sampled it, love it), with a power and torque delivery well-suited to this style of bike.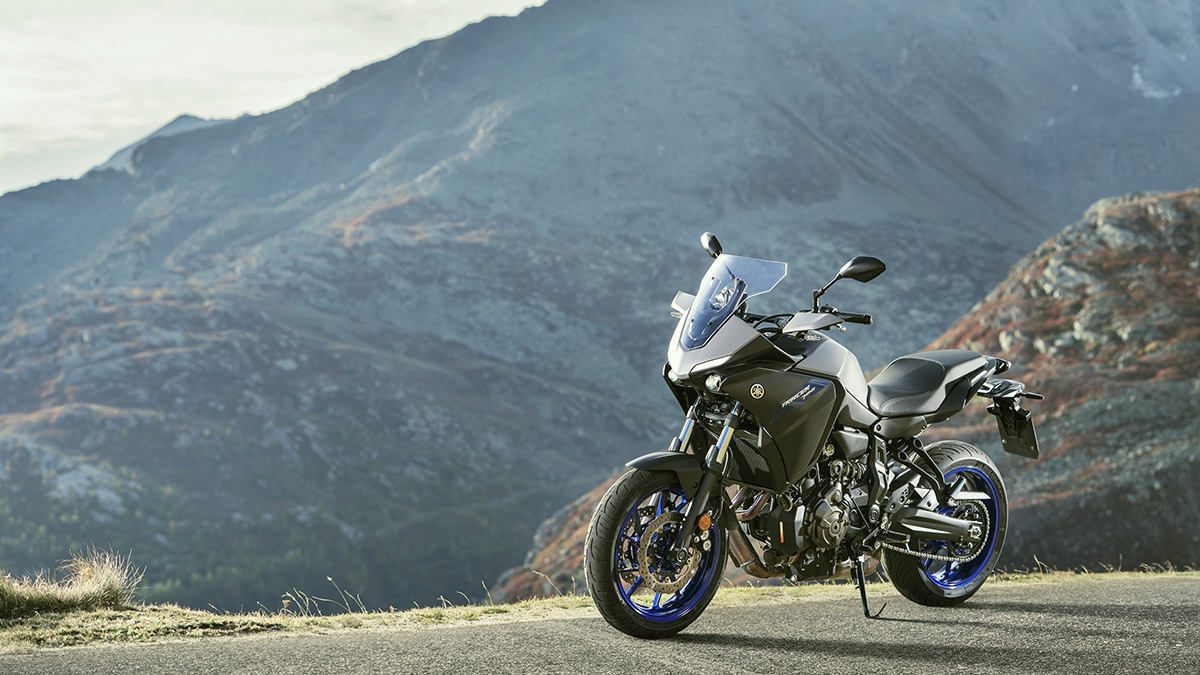 The motor's seen a few small improvements for 2020. It's Euro5 compliant now, and also features updates to its fuel injection and ignition settings, a revised air intake and a modified exhaust system. The gear ratios have been tweaked too.
Between the tubular frame and aluminium swingarm, the Tracer's wet weight is a paltry 196 kg. Yamaha claims that that's the best power to weight ratio in its class—but even if it isn't, it should make for extremely nimble handling. There's upgraded suspension too, with 41 mm front forks and a new rear shock, both adjustable for preload and rebound damping.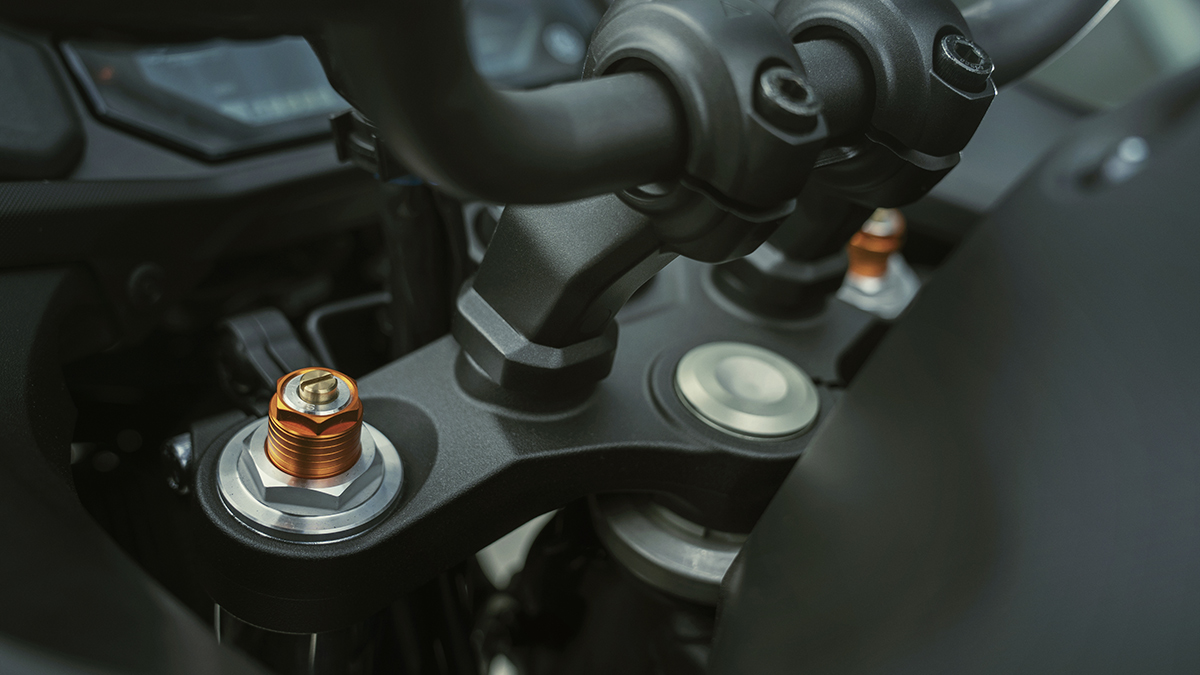 The Tracer's undergone a major facelift, and now has a much sharper look that's more in line with new models, like the T7 Tenere and R1. The new fairing design houses two pairs of LED lights and a new adjustable windscreen. A new 'negative LCD' dash sits behind it.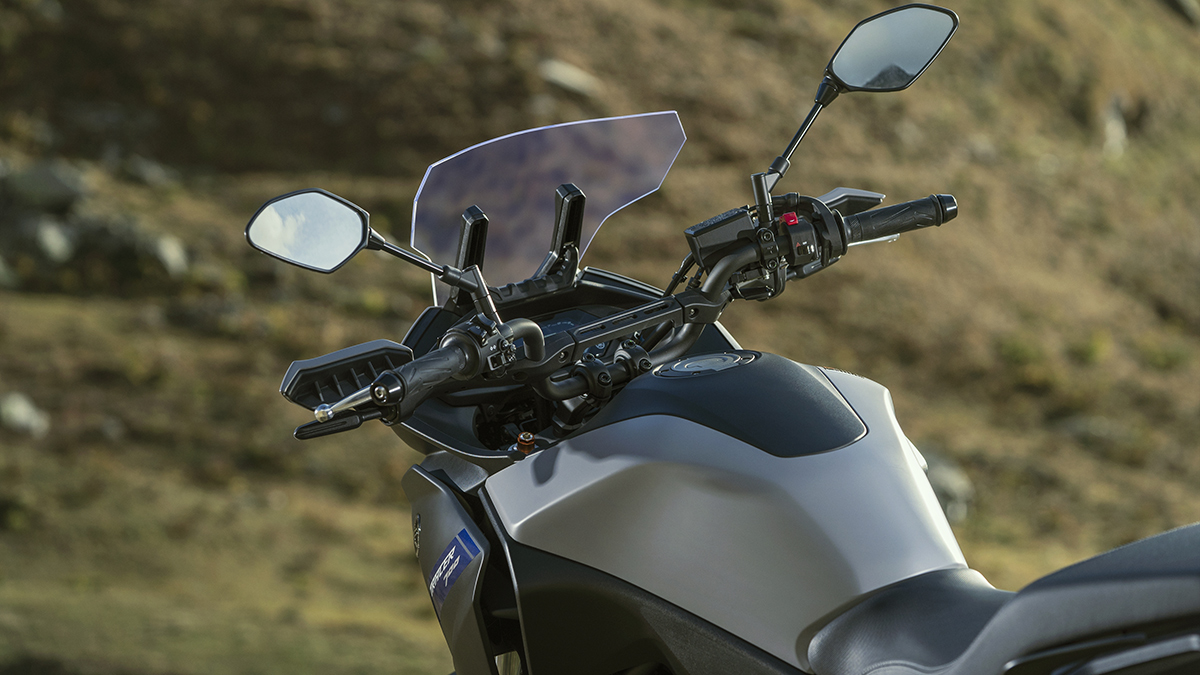 Yamaha have also revised the Tracer 700's ergonomics. The bars are 34 mm wider, and both the rider and passenger seats have been redesigned. The fuel tank only holds 17 l, but given how frugal the motor is, that should get you far enough.
There are a few smaller details too—like a new front fender, and hand guards with integrated LED indicators. Colours on offer are 'Icon Grey,' 'Sonic Grey' and 'Phantom Blue.'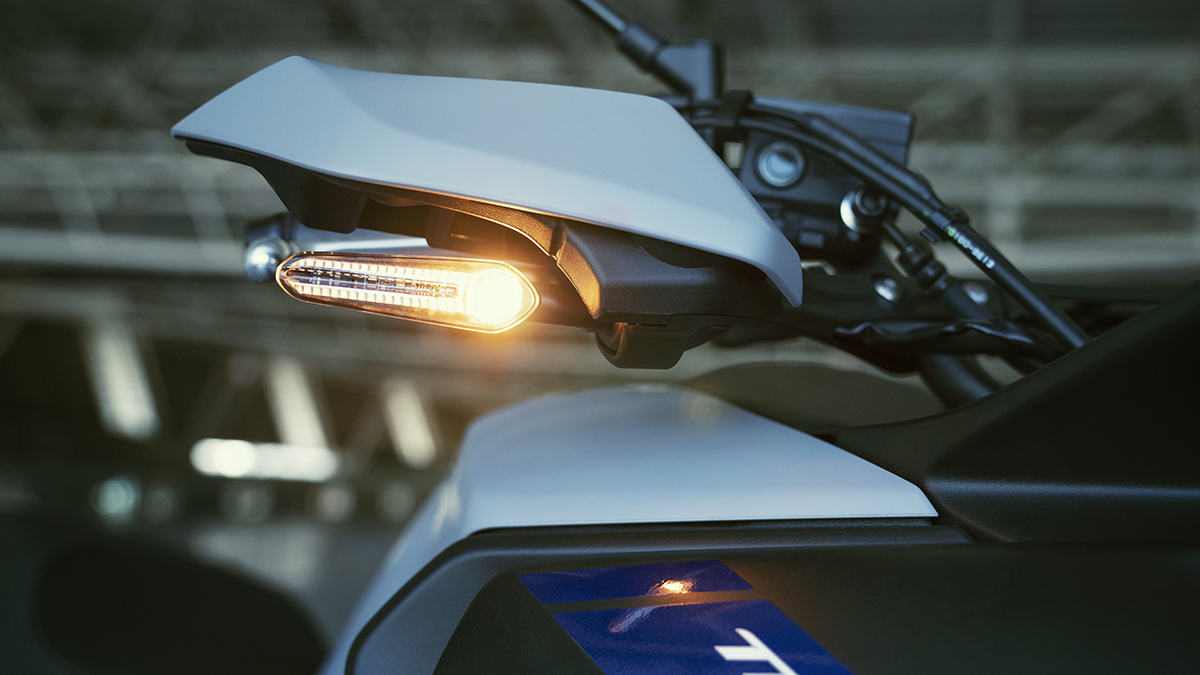 There's no word on local pricing yet, but like many of Yamaha's bikes, we're expecting major bang for our buck. And with the above changes in play, the Tracer 700 should hit the sweet spot for most riders.
Yamaha TMAX 560
Yamaha's TMAX maxi-scooter has been a big hit for them, and it's getting a major update. The 2020 TMAX 560 is now powered by a new 562 cc twin-cylinder motor, pushing out 3.5 % more power (35 kW) and 6 % more torque (55.7 Nm) than before.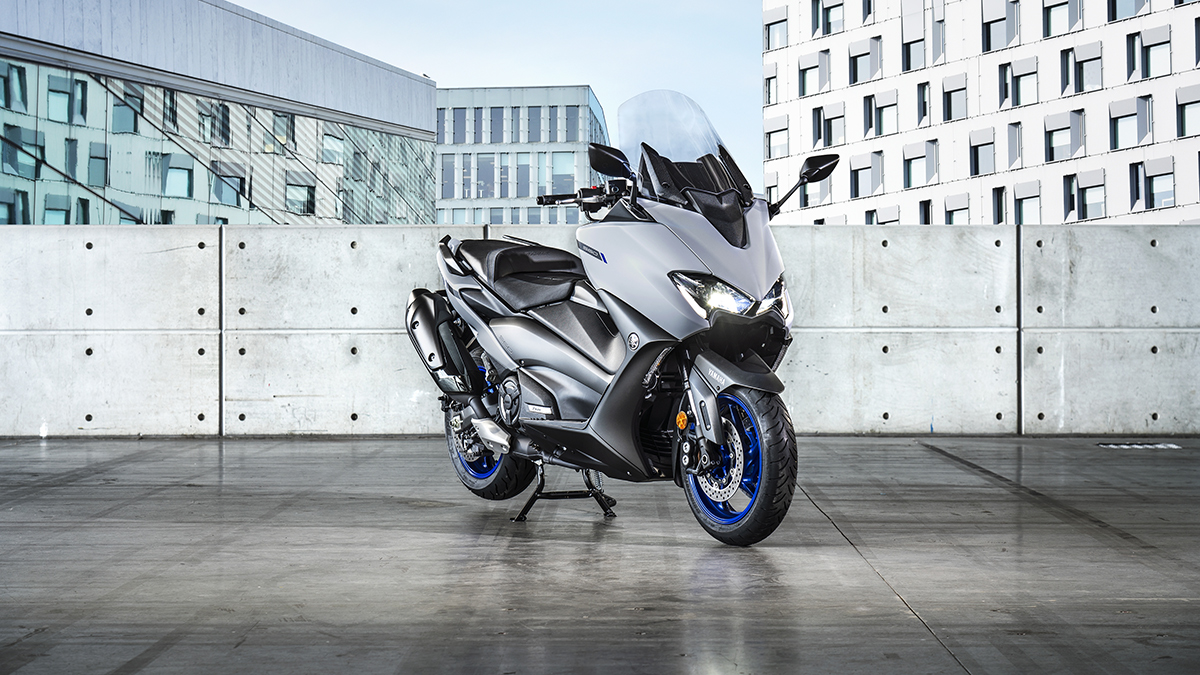 Inside the engine are lightweight aluminium forged pistons and new con rods. So even though the capacity's been boosted, the engine's moving parts only weigh 1 % more than the previous model's. The motor's also Euro5 compliant, with changes to the combustion chamber, intake and exhaust valve timing and catalytic convertors. Yamaha have even gone so far as to 'tune' the sound of the motor and exhaust.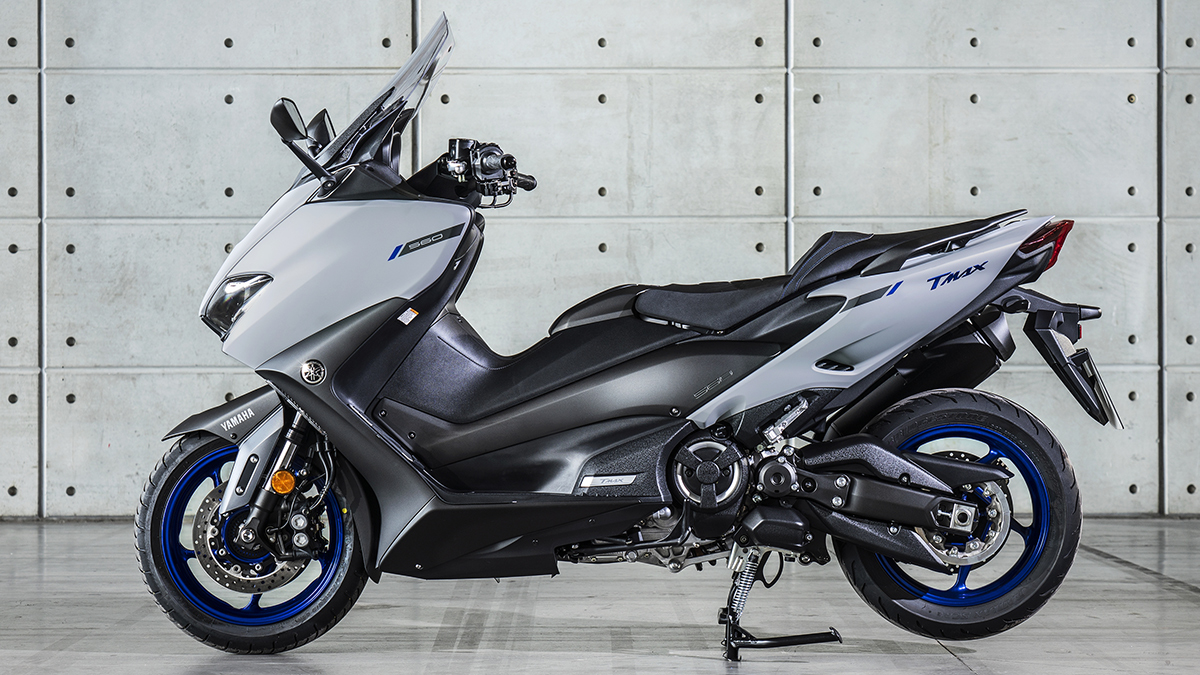 Ride response is enhanced further with a new CVT transmission belt. With changes to the reduction ratio and automatic shifting behaviour, the TMAX now gives the feeling of a higher gear at any given RPM, making for a smoother overall ride.
On the tech side, the TMAX also features two different switchable rider modes, TFT instruments and a keyless ignition.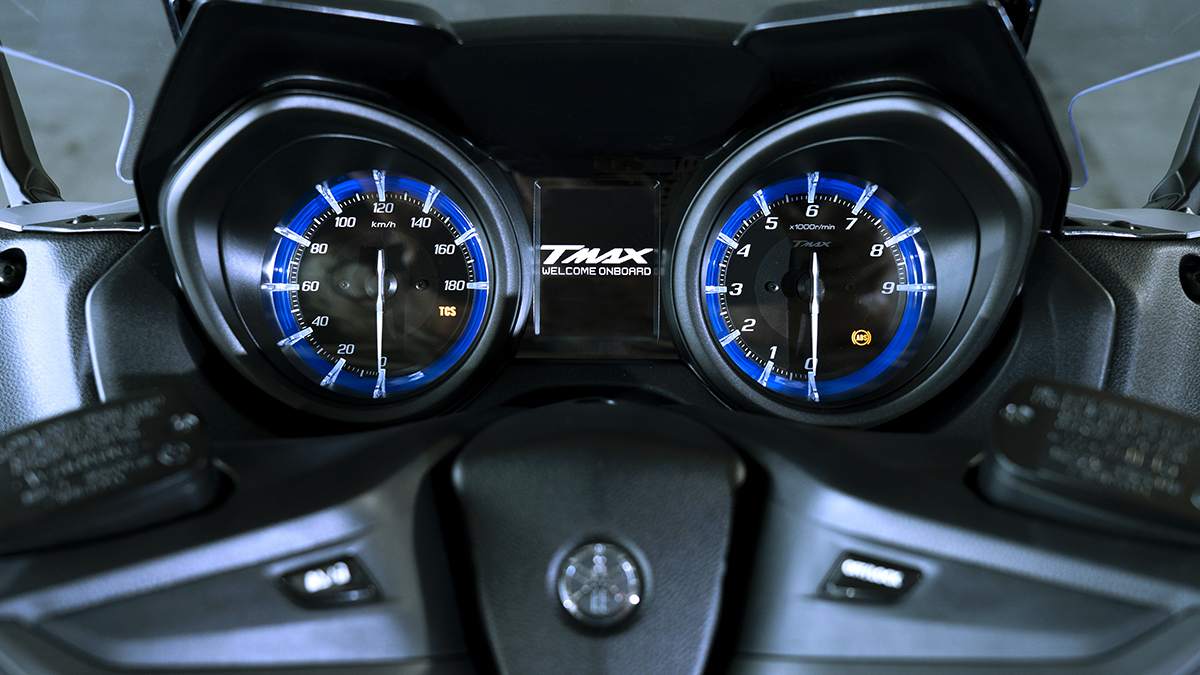 Yamaha have redesigned the TMAX's bodywork too, slimming it down for a sportier look. They've even refined the passenger area, trimming it down and improving footpeg accessibility, so that it's easier for passengers to get on and off.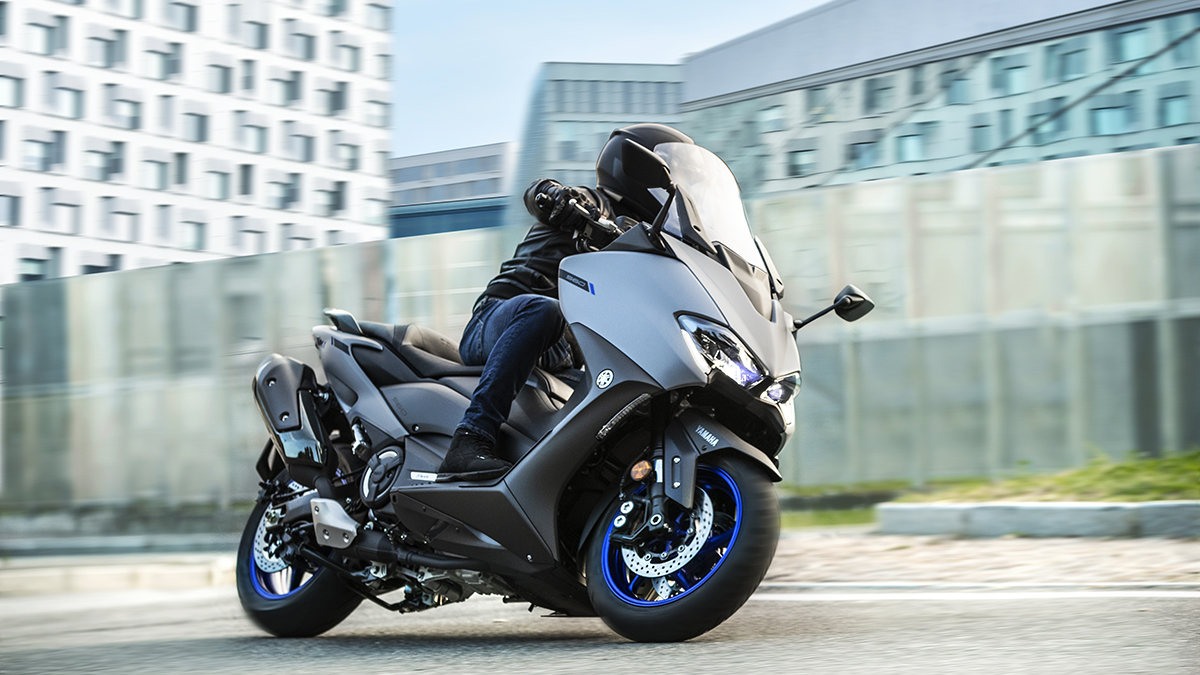 There's updated LED lighting and a generous storage space that can take either one full face or two open face helmets.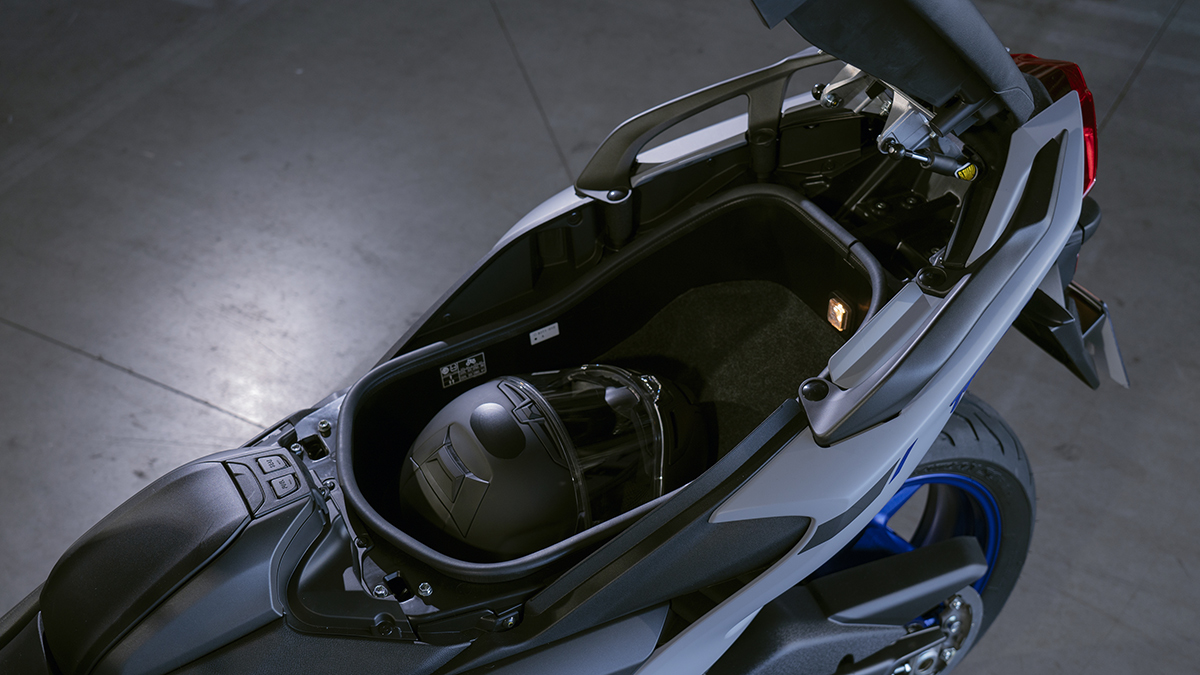 Two versions are coming: The TMAX and TMAX Tech MAX. The Tech MAX basically adds a whole bunch of comfort upgrades: an electronically-adjustable screen, cruise control, heated grips and seat, and adjustable rear suspension. And it comes with MyTMAX Connect—a mobile app that links to the scooter, and offers features like GPS tracking, speed alerts, indicator functions and a low battery alert.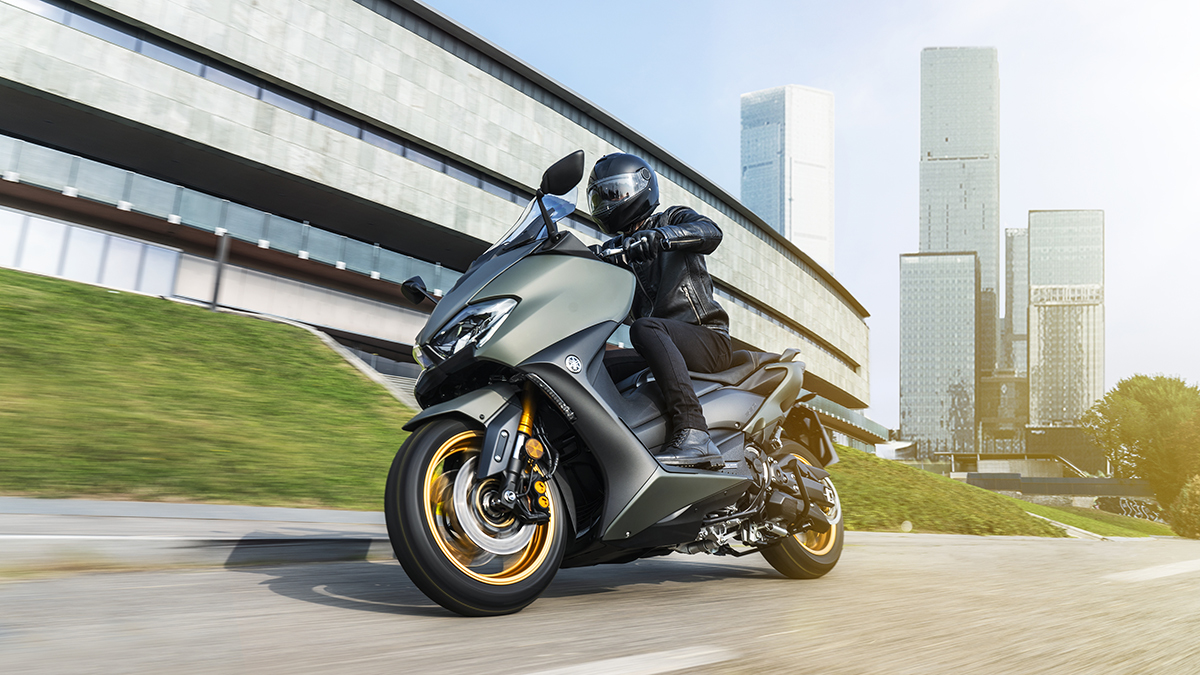 Both versions of the TMAX are available in 'Sword Grey,' but the Tech MAX also comes in 'Tech Kamo,' with a gold finish on the forks.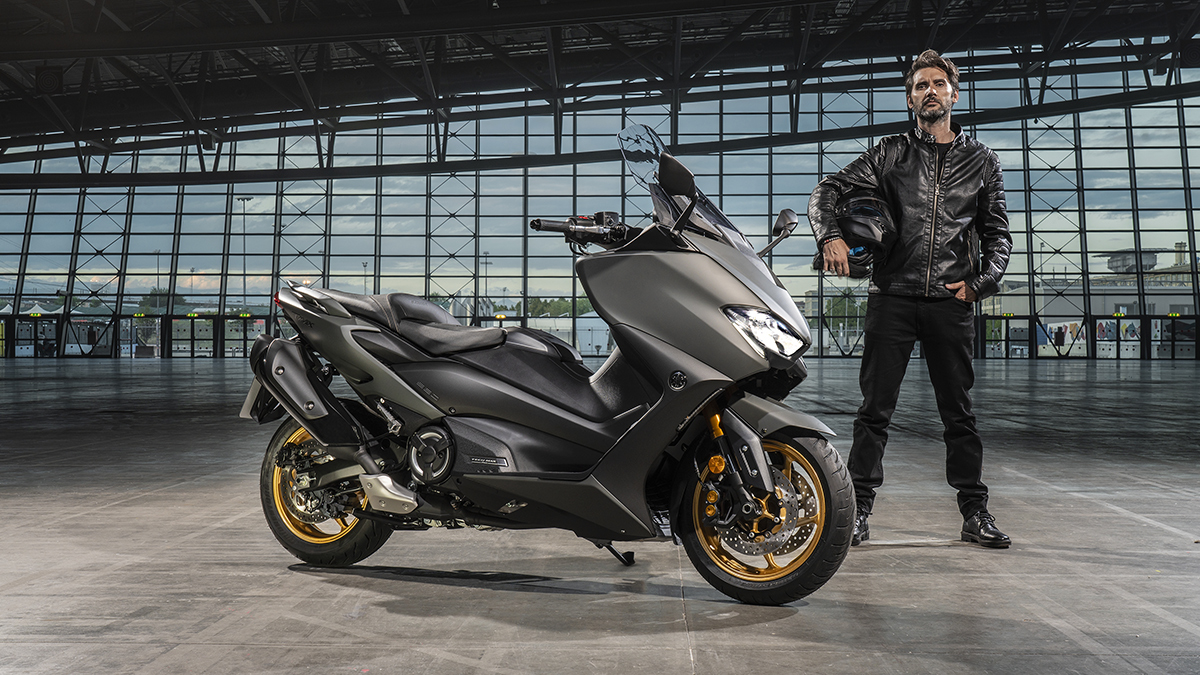 Again, we're not quite sure on SA pricing and availability just yet, but we're keen to put the new TMAX through its paces. Even though maxi-scooters are still a niche market here, this boosted sports scoot looks like bags of fun.