On the 14th July we attended the 2018 Bikers for Mandela Day Ride, which was organised by Alfred Matamela (King Donut), from Soweto Motorbike...
The Monster Energy Company and Yamaha strengthen their global alliance by signing a multi-year agreement, elevating Monster Energy to the Title Sponsor position within...
South African motorcyclists have been invited to discover the true meaning of adventure in Swaziland next month. The annual KTM ADVENTURE RALLY gives like-minded...
Triumph Motorcycles, have a select few pre-owned motorcycles available for sale at their branch in Johannesburg - see details below. 2017 THRUXTON 1200 R Matt Black,...
On Saturday the 7th July Jacob Kruger (who lost his sight 12 years ago), made history by riding successfully around Red Star Raceway on...
Bike Buyers a division of Fire It Up! were thrilled to hand over the first of the monthly R20 000.00 giveaway to Mr. Le Roux...
I recently had the opportunity to visit the Xkulcha factory in Johannesburg. Xkulcha is a...
I recently told you about the trip we did a while back around Botswana on...
Meeting the local importer of Zontes, I cannot help but get excited about its introduction...
The Chieftain Dark Horse is Indian's player in the Bagger space. As you can deduct...
Ducati clinched yet another victory at the hotly contested Pikes Peak International Hill Climb, just...
In many ways this has been my most challenging review to date. The 790 Duke...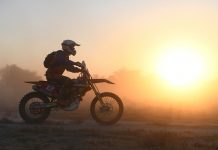 The 2018 Toyota Kalahari Botswana 1000 Desert Race - an event that the Brother Leader Tread KTM family won't soon forget. With the truly African...
If Assen served up a whole pile of uncertainty until near the end of what was an unbelievable race, then the Sachsenring was a...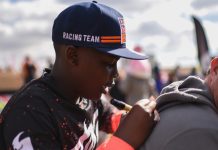 The National Motocross Championship has just passed the halfway mark and the chase for championship titles is hotter than ever. Race fans were not...
"You be you and I be me To live to live tempestuously As each wave breaks at the edge of the sea You be you then I'll...
The break had been long but we were finally racing again and after a disastrous last round at Phakisa Raceway, I was looking forward...
When we planned this recent adventure we had these crazy ideas and high hopes to summit Sani Pass in the middle of winter with...
One of the biggest advantages of a Vespa is the way that it can zip through traffic, thanks to an upright seating position, low...