The purpose of testing bikes at ZA Bikers is to give you, our readers, an accurate assessment of what the bikes we test are like to ride and more importantly own. Sometimes we are blown away by sheer performance of a bike that we overlook the "warts". Once you become accustomed to the performance, more importantly, what is the bike like to live with? The bottom line is that a great one night stand may not be the ideal girl to marry! So, what is the Triumph Trophy SE like to have and to hold? Thanks to Arnold Olivier at Triumph, I got to find out over a six day period, four days of which included the Easter long weekend.
The Trophy SE is the luxury tourer of the Triumph range, unashamedly aimed at what has been the segment bench mark; the BMW 1200 RT. This segment, unlike bikes such as Honda's Goldwing, has some sporting prowess whilst still having the ability to cover long distances fast and in comfort.
At the heart of the beast is Triumphs 1215cc three cylinder, in-line engine. Generating 132 bhp and 118 Nm of torque, there is no shortage of shove. The Triumph is not fast in a sport bike sense but never feels underpowered in any way. 80% of the maximum torque is available from 2,500 rpm, and the Trophy accelerates out of the corners and overtakes slower traffic with a mere twist of the wrist. The abundance of torque, allied to decent horsepower allows a long sixth gear, resulting in really relaxed cruising. At 4,000 rpm the bike achieves the highway limit. 150 kph at only 5000 rpm, with another 5000 rpm to the redline! Lovely! Decent fuel economy is another spinoff of gearing and engine characteristics. I achieved 19,56 kpl over 400 kms of two up riding, including at least 100 kms of town and around. A 25 litre tank allows a 500km range at 130 kph. Obviously consumption rises with speed, but the Triumph will consistently surprise with good consumption.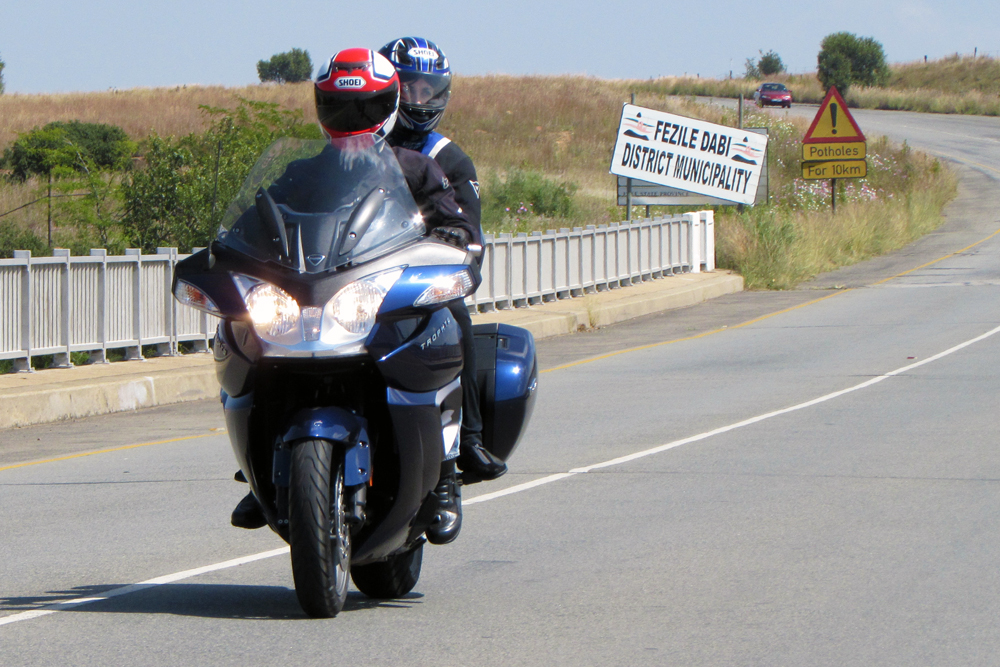 The engine has a lot of character. Under hard acceleration it makes a noise not unlike that of a jet turbine spooling up, albeit in a muted way. It really is intoxicating. At cruising speed it is more of a "grum" (what you get when you mix a growl and a hum). It's really pleasant without being intrusive. Twincam Triumph triples are really iconic motorcycle engines – smooth and torquey with oodles of soul. To mimic the BMW, I can confirm that the Trophy, like the R1200RT, has a top speed of "over 200 kph". Interestingly, the Triumph handbook recommends fuel of 91 octane or above. The SE runs beautifully on 93 with nary a stutter or hiccup. This will definitely lighten the fuel budget.
The SE is the top of the range model and as such, it's spec is very comprehensive. Standard features include an excellent crystal clear radio (audible at 130 kph!); electrically programmed and adjusted suspension; power screen adjustment with memory which reverts to your chosen screen position when you switch on the ignition; wonderfully working cruise control via easily set buttons on the right switch assembly; panniers of equal size, easily able take a full face helmet with lots of room to spare. The headlight beam can also be electronically adjusted for load or suspension setting. The rider portion of the seat is height adjustable for those somewhat vertically challenged. There is a compartment in the right upper fairing which locks automatically when the ignition is switched off – an excellent place for a wallet and cell phone that's easily accessible to the rider. In total there are four power outlets on the bike!
The Trophy has perhaps the most comprehensive dash info in all of motorcycledom. Analog speedo and rev counter bracket a digital display that tells the time, what gear you are in as well as ambient temperature. Scrolling up and down, via a thumb operated switch on the left handlebar, allows access to Trip1 and 2, elapsed riding time, odometer, average speed, average fuel consumption, current fuel consumption, distance to empty, litres used, tyre pressure for back and front tyres, engine mode and suspension setting. Brilliant!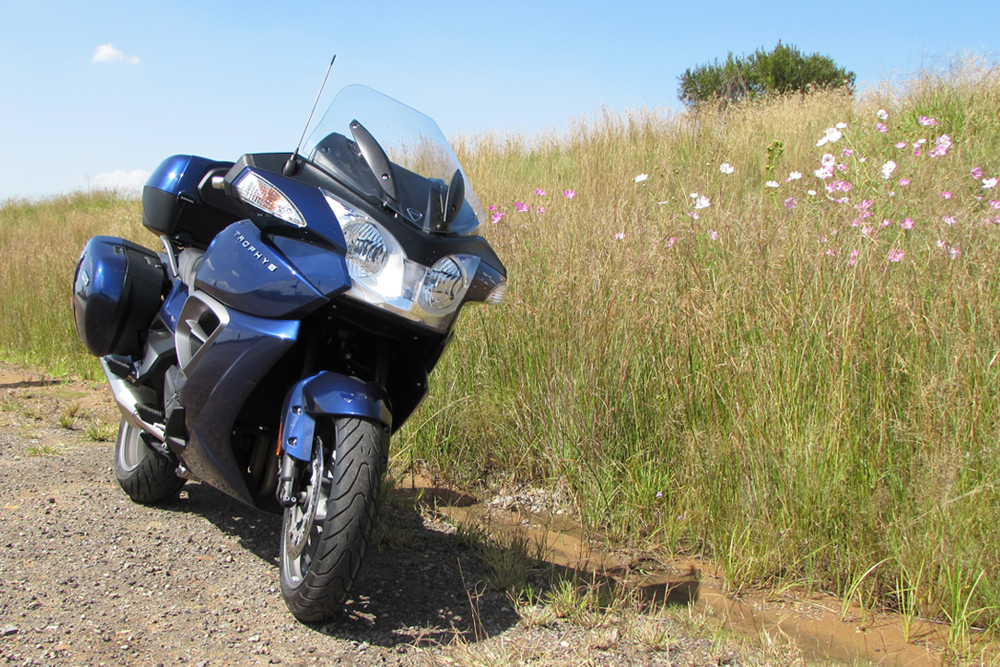 The engine power modes are "normal", "power" and "sport". The suspension adjusts electronically for rider, rider plus luggage or rider plus passenger. Even for someone as electronically challenged as myself, the settings are simple to achieve. Engine modes are adjustable on the fly, whereas suspension adjustment must be done at a standstill. After trying various combinations, take it from me, keep it simple. Engine on sport and suspension on rider plus pillion is sublime! Set up like this, the bike is responsive, rapid and it steers with absolute precision and accuracy! In recent years Triumph has earned a reputation for building good handling bikes. The SE is no exception!
Set up as described, one up or with a pillion, the bike steers neutrally and with pinpoint accuracy at all speeds. Once rolling, the SE feels 50 kg's lighter than it's 301 kg weight. It flicks from side to side with amazing ease. Not once did the bikes suspension feel harsh – not even in patched and potholed roads. The Trophy delivers a composed and compliant quality ride at all speed, on all surfaces. Hats off to the suspension engineers at Hinckley! The "Sport" engine mode is responsive without being abrupt. So much so, that I could do a feet up u-turn, two up, by simply feathering the superbly smooth clutch and applying the merest whiff of throttle. There is also absolutely no driveline snatch or slop in the drive train. The gearbox is sweet shifting and the shaft drive is faultless.
The seat, oh the seat! In 43 years of motorcycling rarely have I come across such a fine "cush for the tush" This bike should be banned from Iron Butt rides. All day comfort makes them no big deal!
When you first ride a comprehensively faired bike like the Trophy or BMW RT, it is a bit disconcerting. You are so accustomed to wind resistance that hole being punched in the air almost feels as if you are rushing into a vacuum. You become aware of wind on your back as air rushes forward to fill the void created by the passing of the bike. I could actually ride with my visor up, yet feel cold on the back of my neck. Playing with the screen height as you ride allows you to get the best setup, after which you relax and boogie on down the road. This bike makes highways bearable and back roads a blast. Your passenger too is cosseted in comfort and plenty of space to move around. Despite it bulk the ergonomics on the SE are excellent.
The SE does not come standard with heated grips or seat as does the RT. However, the fairing is so effective that despite thirteen degrees early morning temperature and airflow gloves, my hands were not at all cold. The test bike was fitted with the optimal heated grips, but I did not use them at all. The test bike was also fitted with a 50 litre colour coded top box which comes equipped with a power socket. The socket picks up power through the mounting plate and requires no wires to be connected or plugged in. Neat! Charge your laptop or camera safe and sound in the top box while you ride.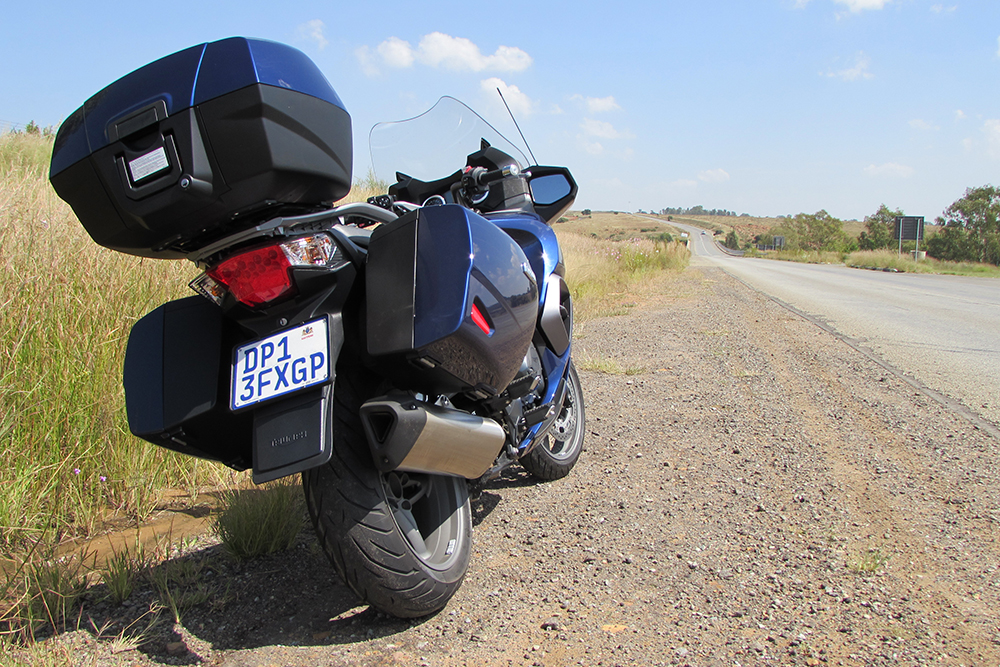 The bike was painted "Pacific Blue"; a deep metallic blue reminiscent of a colour popular on Rolls Royce cars. The front of the mudguard, panniers and the recesses for your knees in the tank, are all protected by a clear plastic film. The overall fit and finish is top class. There is absolutely no doubt what so ever that the Triumph Trophy SE is a formidable contender in it's class. With 16,000 km service intervals, and a current price of R179,500, it is an incredible value proposition. Even with heated grips (R3,155) and the 50 litre top box (R7,995), the Trophy at R190,650 is a good R14,000 less than a metallic painted RT without a top box. Serious food for thought!
You will like travelling long distance at speed and in comfort, with that significant other on the pillion? All your kit stashed out of harms way in the panniers and top box, not a bungee in sight. Riding through Botswana, Namibia and the wide open spaces or vistas of the Northern Cape or the Karoo, should be magnificent. We are blessed in Southern Africa with an incredible network of tar roads on which to unleash a cruise missile like the Trophy and I am sure that more of us are going to experience it.
Oh yes, and as for warts? Genuinely, there aren't any! What you get is a handsome, refined bike that is as unflustered commuting as it is traversing the country. What more could you want?
For more information on the Trophy SE visit: www.triumphmotorcycles.co.za