Husqvarna South Africa has recently unpacked their 2016 MX range of dirt weapons! The new bikes have been completely redesigned and their objectives have been achieved. Major factors behind the significant improvements include, weight reduction, improved performance and improved ride-ability. At a recent launch held at the Kloofzicht lodge, Fred Fensham, Brand Manager of Husqvarna South Africa was keen to highlight the changes that will give his talented team of riders, the opportunity of standing on the top step of the 2016 championship podium.
The list of upgrades and improvements is long and there is no doubt that the Husqvarna designers and engineers have explored all avenues, to turn out the best possible race machines. It is quite clear that they have shaved off every bit of weight available, almost every single component on the motorcycles went under the knife, without any compromise to the structural integrity and reliability of the finished product. The frame, sub-frame and swing-arm were all completely redesigned. The WP front fork also had major upgrades with improved function and revised set up in order to compliment the new chassis. The rear shock is lighter, more compact and has improved damping characteristics. The bodywork has been redesigned to offer the best ergonomic feel and a new seat cover offers more grip.
On the performance side there have also been massive leaps forward throughout the range. The gains in Horse Power and Torque are astronomical, especially when one might think that maximum power levels for appropriate size engines should have been found years ago. Somehow they just keep finding more and more ponies. It comes down to improvements in all areas, including optimised airflow through the air box, improved exhaust systems and just about everything in between.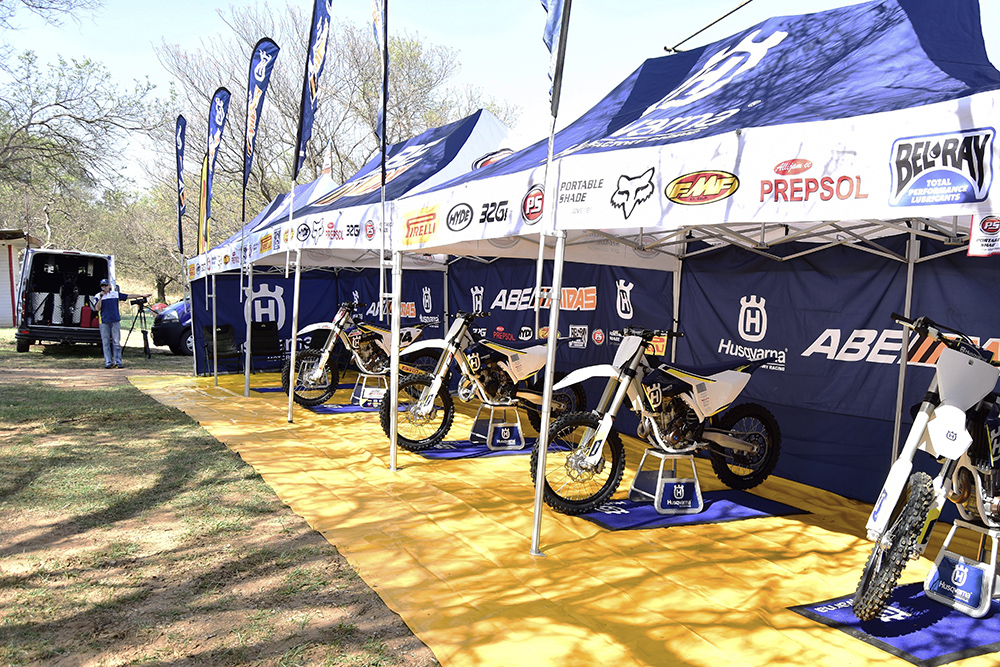 The good news for us is that we were not only going to be told about the new bikes for 2016, but we would also get to ride them ourselves. Our very experienced test rider, Riaan Neveling put the latest TC125, FC250, FC350 and FC450 through their paces at the Syringa Motocross track. Interestingly Riaan also attended the world press launch for Husqvarna off-road motorcycles back in 2006, which took place in Varese, Italy. He even got to ride a full factory spec bike, so we were very keen to see how much has changed since then.
The bikes at the launch had all recently been un-crated. The settings were standard with room still left for riders to find the perfect set-up. Motors were also not entirely run-in but this did not hamper their potential in anyway. This is what Riaan had to say..
The "Little Screamer" TC 125 2T
As a slightly heavier rider, than one that would usually do battle on a 2-stroke 125cc, I found that I had to work really hard to keep the bike in the power band. Once it was there however it went like a bomb, I was really impressed with the machines capabilities. Power output has increased by 2 HP for 2016, taking it to an impressive 40 HP! Ridden by the correct sized rider, it will be a rocket!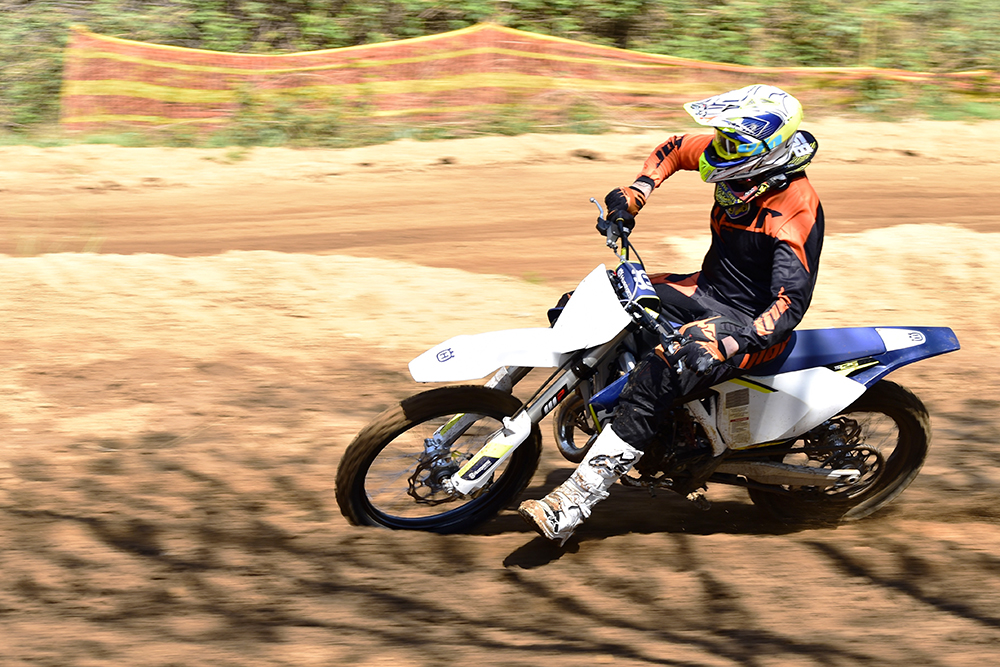 The TC125 is very easy to steer and handles incredibly well, the new model is only 89kg, with a weight saving of 3.2kg over the old model. This makes the bike exceptionally easy to handle, changing direction is effortless, I feel that rider fatigue will also be minimised as a result of much lighter package.
The Brembo braking system has amazing stopping power, brakes are responsive and offer excellent feedback.
In the right hands, I have no doubt that this will be a championship winning bike!
Husqvarna FC 250 4T
Next in line for me was the FC 250 and this is where my mind got stuck, I generally do not like 250 4-strokes as it always seems like you have to ride them "balls to the wall", without making any real progress. This has always been my thoughts based on my riding style and physical build. However I must admit that the FC 250 was able to change my perception.
I found the bike easy to ride and it seemed to make power all through the rev range, regardless of the gear that I found myself in. Something that I have never experienced on a 250 4-stroke and while I am not as fit as I should be, this was the bike that made me the least tired.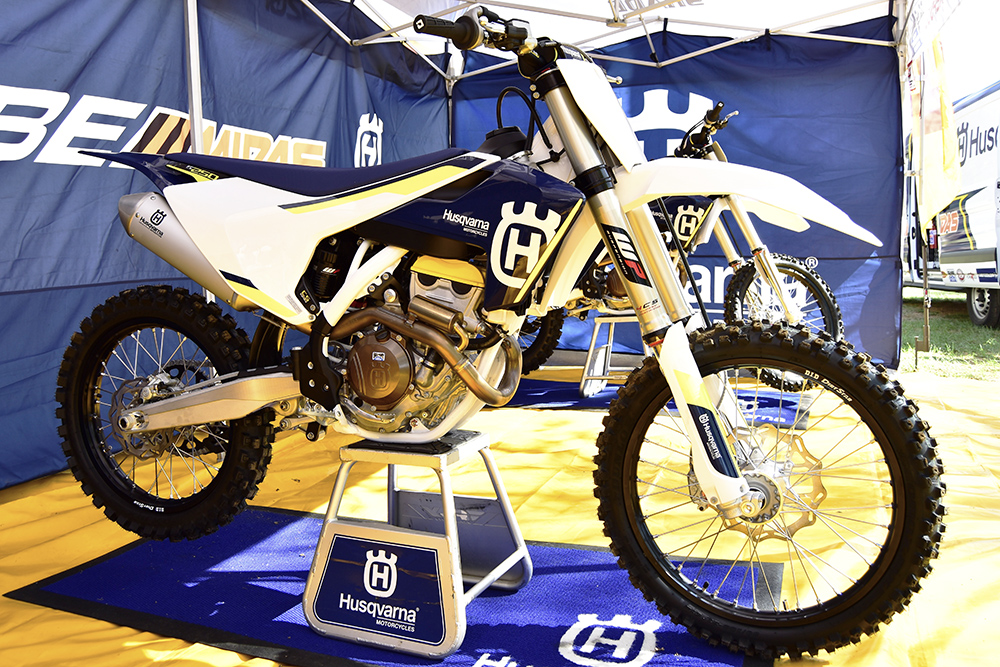 The FC 250 has also benefited from a dramatic weight loss saving of 4kg for 2016 and tipping the scale at 100kg with 46 HP on tap, it's easy to understand what makes it a competitive package straight out of the crate.
This is the bike within the Husqvarna MX range that will suite riders of all capabilities and is also the most likely to make anyone look talented.
Husqvarna FC 350 4T
The Husqvarna FC 350 is so close to the 450cc it is scary, but without the overwhelming punch up the backside. It does not lack in the power department though, at 58HP its sure to put a grin on anyone's face!
It is slightly lighter than its big brother, weighing in at a mere 101kg, thus making it easier to man handle. The suspension works extremely well and the handling is awesome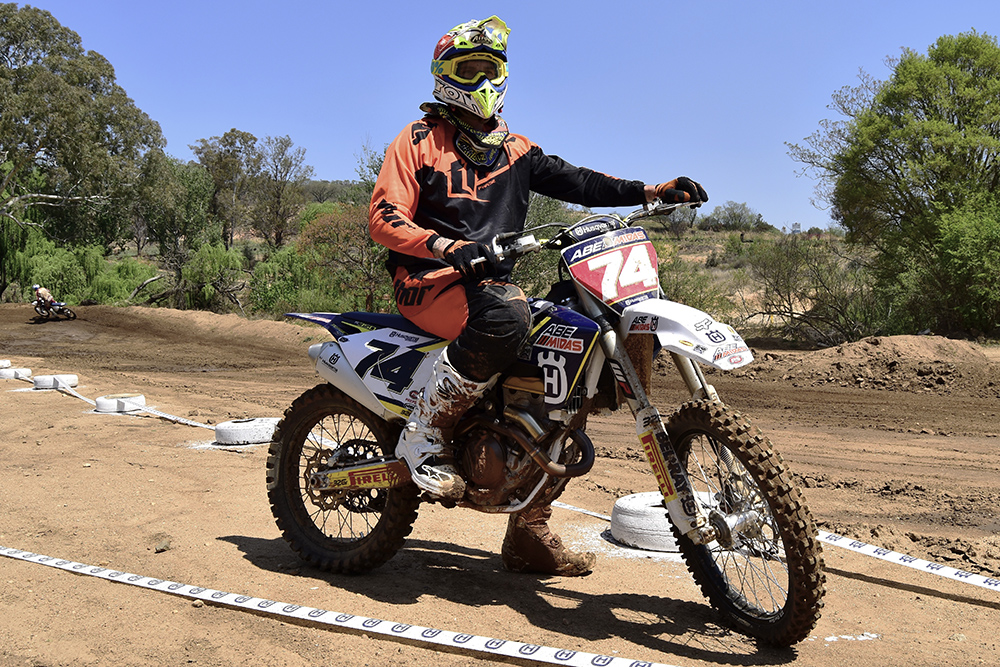 The Brembo brakes are just excellent and work well on every model, they are responsive and confidence inspiring.
As an all-round package for someone looking for a competitive edge, I would say this is the bike to go for within the Husqvarna range!
Husqvarna FC 450 4T
Although there is loads of power, 63 HP to be exact, The FC 450 distributes it smoothly all over the huge rev range, I found myself using a gear or sometimes even two gears higher as it meant I could use its torque and carry way more corner speed.
In the handling department, the bike is easy to change direction mid-corner and tracks well under acceleration. It's great in deep ruts but also inspires confidence on flat slippery surfaces. I found the front forks to be on the stiff side but this can be adjusted to suit rider preferences.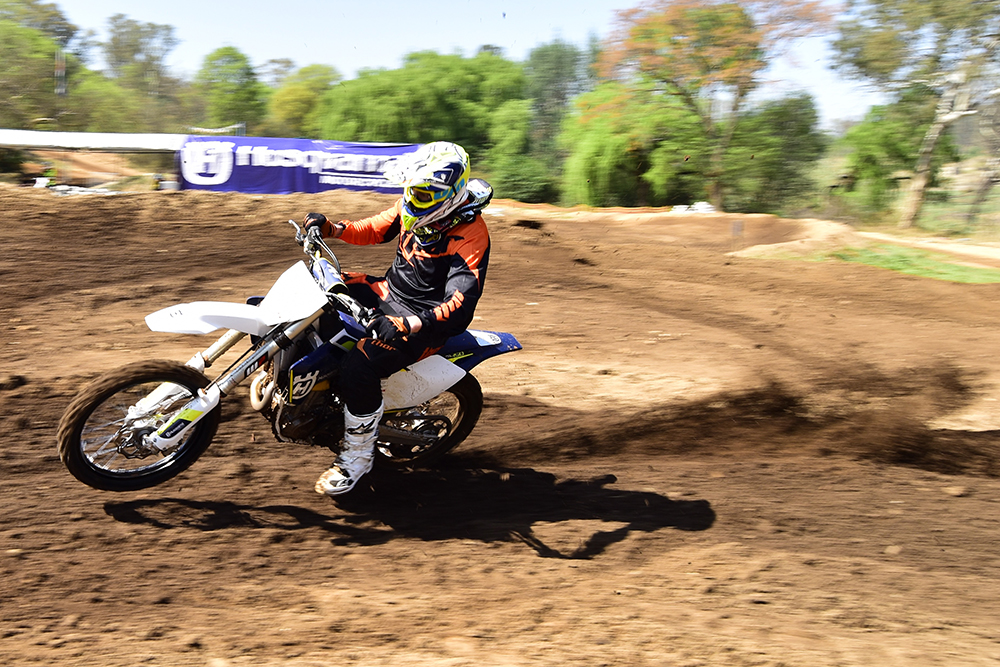 Husqvarna have given the new models less flex and made the chasis stiffer by adding additional engine mounts, so it would explain the direct steering and pointy feel. As a trade-off it does send some engine vibration to you, the rider and in my opinion could lead to rider fatigue. This vibration is of course me just nit picking and I only really noticed it on the 450cc, as it has the biggest bore and stroke of all the bikes.
The FC 450 does not feel like a 450cc in the weight division but more like its younger brother the 250, with a total weight saving of 5.2 Kg over the 2015 model, the 2016 now only 102.4kg, this largely has to do with the carbon composite sub frame, smaller engine and frame technology.
I believe if one can get the suspension dialled in, coupled with its awesome power delivery then this will be a very competitive package.
Wrapping up
There is a bike for every skill level rider in the 2016 Husqvarna range. I have personally seen technology used on factory bikes, now filter through to the showroom floor, giving all riders access to a highly competitive package straight out of the crate. Don't be surprised to see no. 1 plates on a few of these Husqvarna's come end of the year. They have an all-round fantastic line up and great improvements throughout their range.
Video: New generation Motocross 2016

For more information on the 2016 MX range visit: www.husqvarna-motorcycles.com/za