You see it's like this. You typically start riding a small, moderate or even a low powered bike. As your skill and confidence grows you lust after the big dogs. High powered in stature, these motorcycles demand your full attention. If you drop your guard for just a second, they can dish you up a "can of whip ass". Whilst big on excitement and adrenaline, their sheer presence sometimes dampens the downright, unadulterated, fun of riding.
Hop on the latest evolution of Suzuki's venerable V-Strom 650 and the joy of motorcycling comes flooding back! A bit like Baby bears porridge I suppose – the middleweight message is just right.
215kgs of bike punted along by a smooth, ultra reliable, free revving gem of a V-twin engine, allied to a sweet 6 speed gearbox and you have fun with a capital "F". 68 horses at 8800 rpm and torque of 44 foot pounds at 6400 is never intimidating but always entertaining.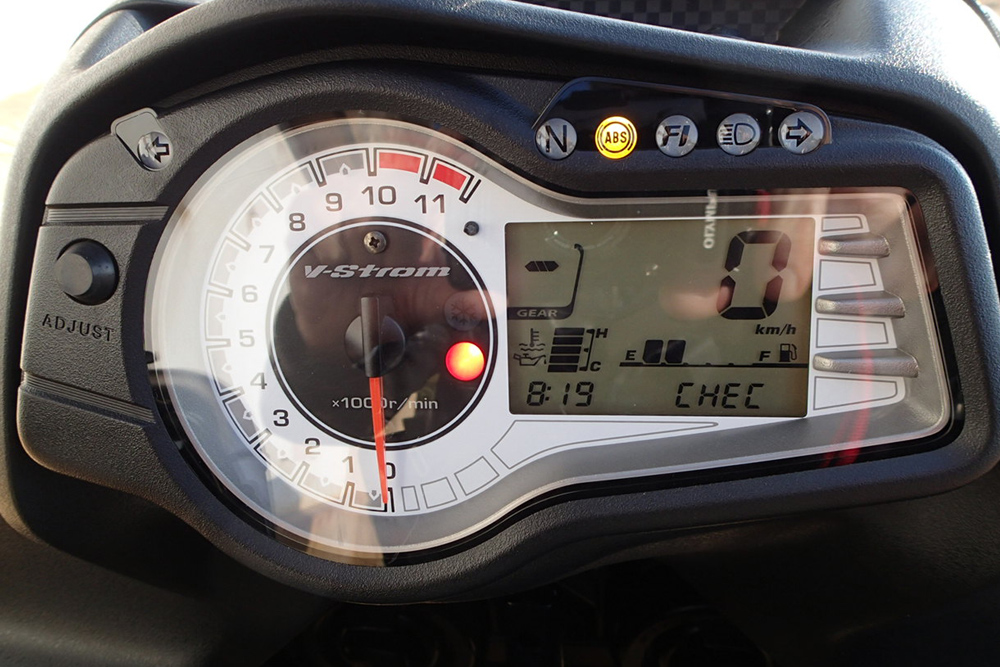 The latest V-Strom boasts reasonable suspension travel, which is firm and well damped. The Suzuki is composed and accurate at all sane speeds on pretty much all surfaces. Twin 310mm front discs allied to a single, smaller rear disc and ABS supplies excellent braking power and control. Cast wheels have given way to black tubeless spoked wheels, with a 17inch rear and a 19inch front. This move certainly enhances the Suzy's adventure credentials. Sadly lacking is a bash plate, although good aftermarket items are available. This is an essential mod if you want to exploit the bikes dirt road potential. The oil filter cartridge, whilst easy to access from a service perspective, is very vulnerable as it is located on the front of the sump, behind the front wheel.
The styling has become leaner and rounder. A familiar adventure beak adorns the front. A good adjustable screen provides decent wind protection. The seat is narrower up front, making it easier to get flat-footed at traffic lights. This has not compromised comfort. One up or two up, the V-Strom is perhaps the most comfortable middleweight around. 20 litres of fuel will see you 350k's down the road before you start stressing about fuel.
Suzuki's middleweight doesn't necessarily excel at any one thing. It's allure and charm is that it combines talents into a superb package. It has no real faults and as such, is really easy to live with. It sports comprehensive instrumentation – twin trip meters, temp and gear indicators, fuel, speed and revs – you've got it all!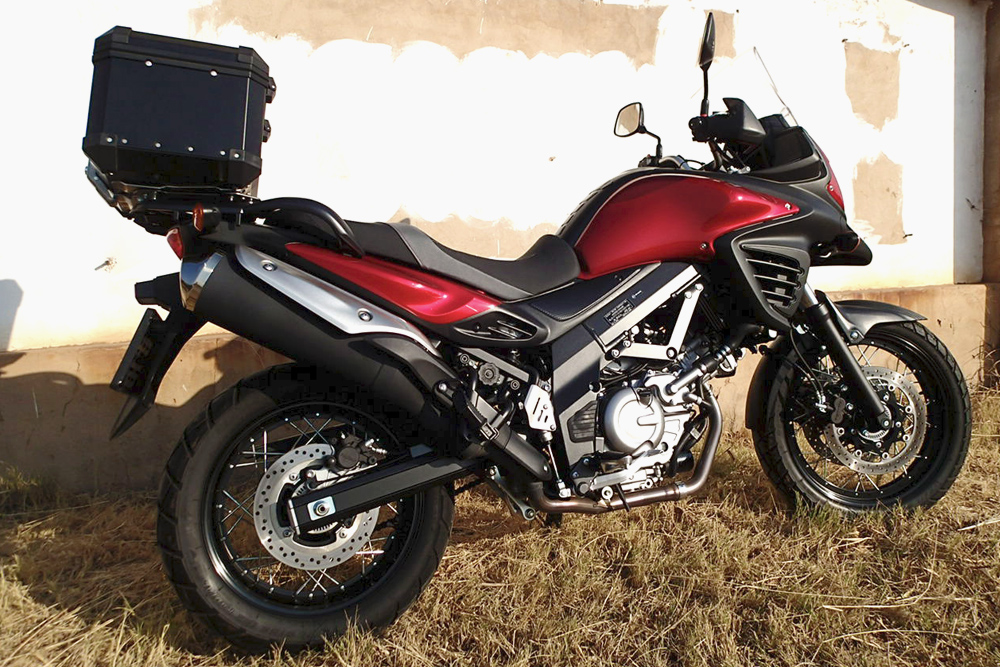 The factory top box looked good in black and matching style panniers are available (ex-factory). The handlebars have a comfortable bend and come with plastic hand shields. The bars are somewhat low when standing in the rough stuff but nothing that a set of risers wouldn't fix.
Priced in the mid 90's, the Suzuki V-Strom 650 XT ABS offers a lot of bike for your money. No one who buys this bike will be disappointed. It will be a faithful companion that, with very little modification, will take you wherever you fancy and back again! With its peppy engine and overall competence, it will remind you why you love riding motorcycles.
For more information on the V-Strom 650 XT visit: www.suzukimotorcycle.co.za