I have had almost a lifelong respect and fascination with Ducati sport bikes. Most certainly for my motorcycling lifetime spanning 45 odd years. Cast your minds back to the iconic 900 Desmo super sport of the late seventies. Smooth torquey power with the desmodromic valve gear allowing the motor to generate decent top end whack. The finish of Ducatis in those days was somewhat "iffy", but at least you knew that the fly cast into the fibreglass bodywork was a genuine Italian fly!
Ducatis have always been renowned for their superb handling. Even more so in the seventies when Jap bikes handling was "sphincter tightening" at best. What the Ducatis lacked in sheer pace they made up for with usable power, torque, handling and superlative braking performance. Despite a hefty price tag, Ducatis enjoyed a dedicated following of enthusiasts who wanted a Ducati and nothing else. Passionate bikes built for passionate, discerning riders.
Fast forward 45 years and we see that Ducati sport bikes have evolved into modern, state of the art weapons of track and road. The profile of the riders of these exquisite bikes, to my mind remains unchanged. Despite eye watering prices, the modern day Ducatisti will settle for nothing less. Passion aside, Panigale buyers are not in any way compromised on specifications. The 1299S develops a whopping 205 horsepower and massive torque pretty much across the whole rev range. Couple this with a weight of only 169 odd kilo's and you have a power to weight ratio second to none!
A tiny chassis has you sitting in, rather than on the bike with everything in easy reach. The electronics package is state of the art for road legal motorcycles, offering three modes, namely Race, Sport and Wet. Track, by it's very definition is hard, sharp and for road use, uncompromising. Sport is my choice for road use, with Wet an option for treacherous road surfaces.
I was fortunate to ride the Panigale on the "22" in Mpumulanga during the Bike of the Year judging. I will be the first to admit that despite having throttled a fair range of sport bikes in my time, I am not up to extracting the best from a bike this fast and powerful. Having said that, the package is so competent that I could loft the front wheel whilst making a left to right transition getting on the power in third gear! What a bike!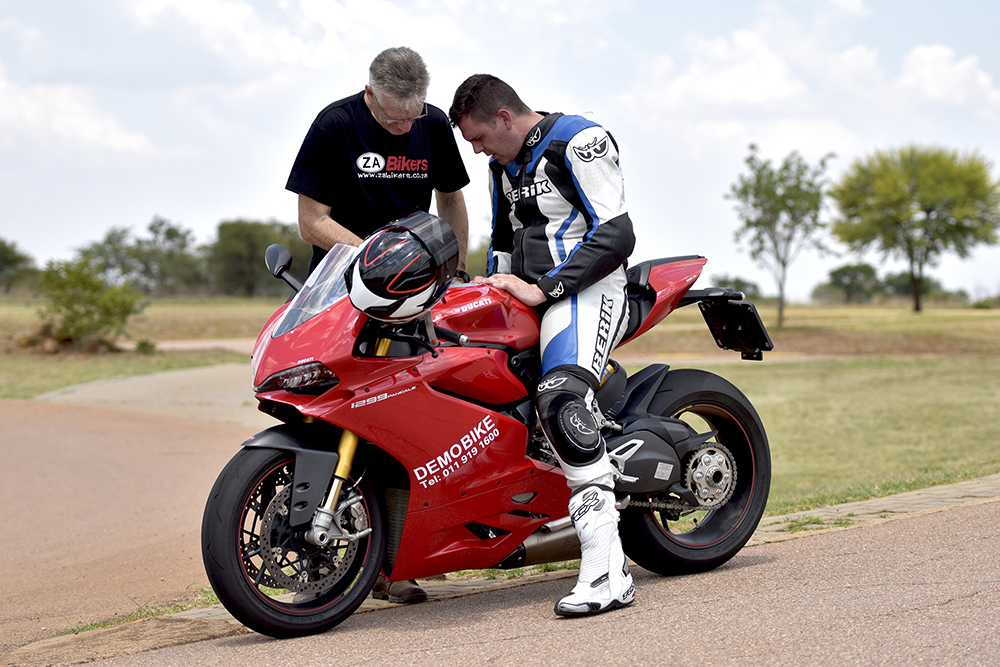 Given the opportunity to test the Panigale recently, we asked our good mate, and sickly talented rider, Riaan Neveling, to ride the bike and give us an objective opinion. Herewith his comments:
RIAAN NEVELING:
We were privileged to use the mighty Ducati Panigale 1299 for a week of testing. I was especially excited as I raced a KTM RC8R for a while in BOTTS (Battle of the Twins) and I was really keen to see how these two V- twins stack up.
On collection at Ducati, I couldn't help but take a few minutes and stare at this work of art. There is just something about Italian bikes that, well…..makes you want to swipe a card and do something irresponsible.
It's like Ducati have taken a World Superbike catalogue and gone crazy. Top of the range Ohlins suspension and Brembo brakes have the bike just oozing sexiness. Not to mention the blood red perfect paint job and typically awesome Italian styling.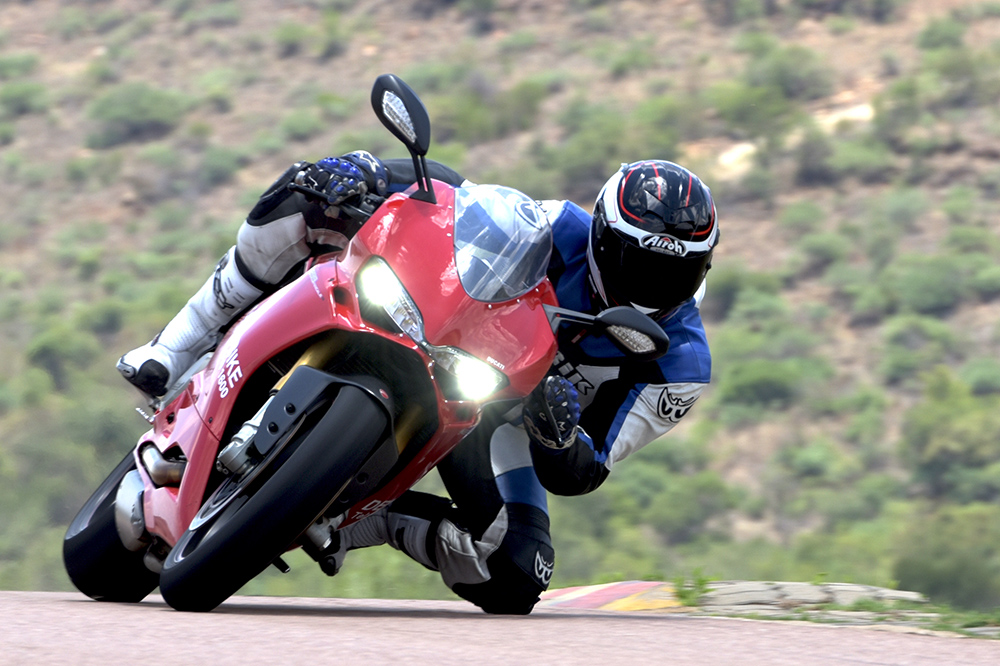 Johnny Araujo, bossman at Ducati, did his best to take me through the bikes' seemingly intricate electronics, but, if the truth be known, I didn't take much in as I was positively itching to fire the Panigale up and get going!
I used the Sport setting on my ride home. A full 205 hp on tap, but the electronic suspension is a bit softer and the ABS and wheelie control is more active. The quick shifter is by far the best I've ever experienced on any bike. It is smooth and also allows you to gear down on a closed throttle, electronically 'blipping" the throttle as you go. Yes, I was that guy shifting up through the traffic, timing my shifts to make a huge 'pop' into each gear! Intoxicating stuff! The shifter is so refined and quick that even shifting with the bike heeled over does not ruffle the chassis' composure.
I was so enjoying riding the nimble Duc that a massive thunder storm had me out in the downpour putting the wet mode to the test. With more sensitive ABS, Traction control and wheelie control, I was able to put the tamed power to the ground.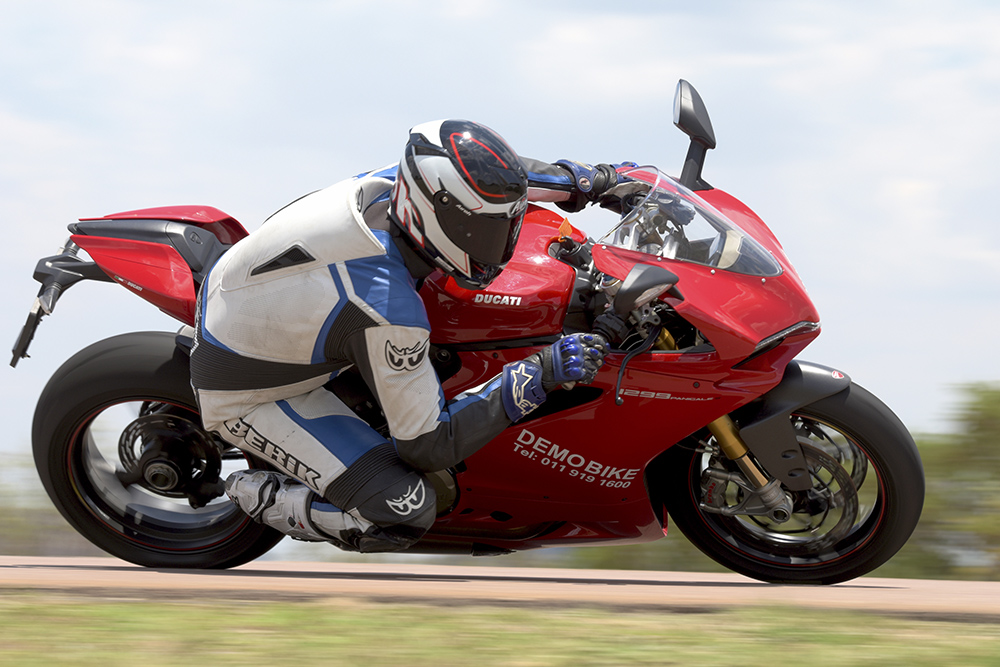 I commuted with the bike for the next three days. The guys at work, and a couple of the ladies too, were drooling with envy! As an everyday bike, despite it's hard, purpose built nature, it is reasonably comfortable as you sit 'in' the bike with less wrist pressure than on most other sport motorcycles.
A negative aspect of low speed traffic threading, and this is a malady suffered by most big V-twins, is the amount of heat radiating from the rear cylinder area. Especially noticeable when wearing jeans or your 'church' black pants. Not a big issue if you wisely regularly ride in leathers.
I called the guys at the Gerotek special vehicle testing facility outside Pretoria, who very kindly allowed us the use of their superb dynamic handling track. Designed to put vehicles through their paces with sweeps and corners and gradient changes, it was the perfect place to let the Panigale off it's leash. This is where the Duc came into it's own! A competent road bike indeed, but I was in awe of the Panigales' ability around the track. In Race mode the bike allowed me to spin up the back wheel, exiting corners without once feeling any need to back off the throttle, thereby inducing any tendency to high side. V-Twin torque, slipper clutch, superb brake power and feel, allied to stable and precise handling, make the Ducati a formidable weapon in competent hands.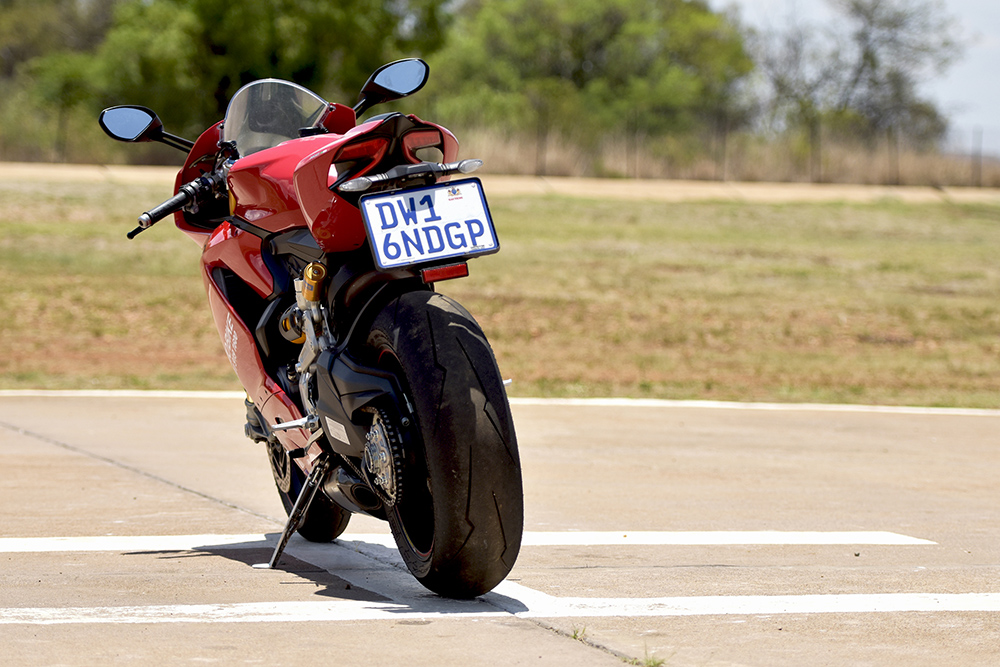 In summary I feel that the Panigale is an unbelievable package. I would go as far as saying that if I had raced this bike in BOTTS I would have dominated! This is not because the KTM is really lacking in any way, but rather that the 1299S has simply raised the bar with what is truly a superb motorcycle.