By now it is almost a cliché to say that this is the most anticipated new Honda in more than a decade. The original 1988 model, the XRV650RD03, had its roots in the NXR-750, a four time Paris Dakar winner in the 80's. It certainly had the rally bike look and was powered somewhat softly by a 650cc V-Twin engine. By 1990, it became a 750 and morphed into the RD07A by 1996. The final version rolled off the production line in 2003.
For 15 years, myriads of world travelers traversed the globe on various versions of the Africa Twin. In his Adventure Motorcycling Handbook, Chris Scott, who can perhaps be considered the doyen of latter day adventure motorcycling, says, " By far the most common praise for the Africa Twin is the mind numbing reliability". On the subject of adventure motorcycles he says this, " what sells in the name of adventure to affluent, middle aged road riders and what's actually used out there are, in most cases, different things". He speaks of manufacturers trying to out-power or out-gadget each other, whilst moving away from what a true adventure bike should be. Now, why do I tell you this?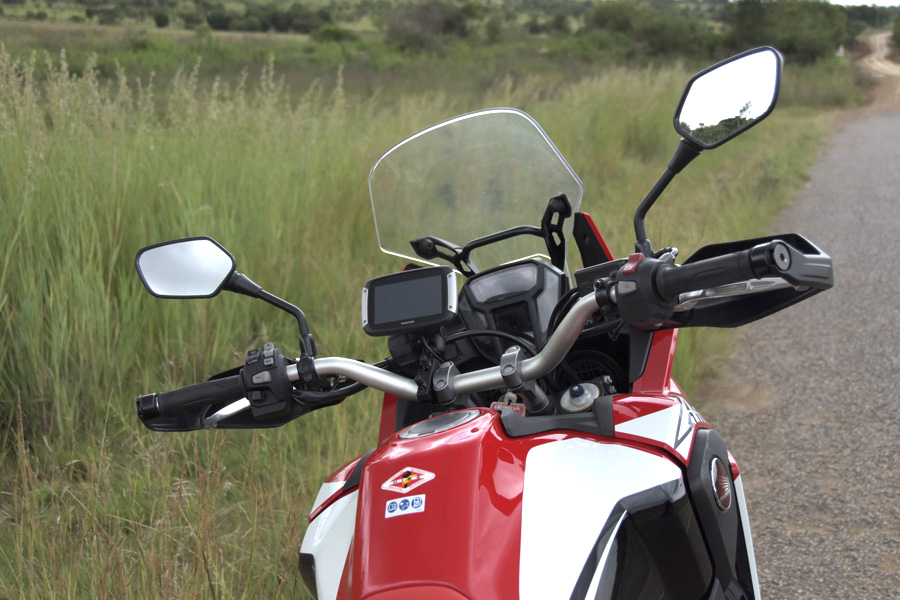 Honda introduced the new Africa Twin, still in pre-production form, as a "true adventure", with "go-anywhere" ability. Have they delivered on that claim? Well, the credentials are all there. Parallel twin 1000cc engine with traction enhancing 270' crank. Fully adjustable (compression, rebound and preload) long travel Showa shock and USD fork with 220mm and 230mm of stroke respectively. 21" front wheel speaks of serious off-road intent. Comfortable ergos and a wind tunnel designed screen. 18.8 litres fuel tank and good fuel consumption allow 350k plus range. All this hardware is packaged into CRF450 Rally inspired bodywork that is "Oh so right". How can you go wrong when you task an Italian with the styling?
Climb on the bike and you are immediately struck by how small and light it feels. Everything is perfectly spaced for my 6'3" frame. Despite huge ground clearance, I sit flat-footed at standstill. The Twin has a minute turning circle for a big Adventure bike, which is a boon when manoeuvring in technical terrain, or doing a U-turn on a narrow road. The balance of the bike is so good that you play footups at every robot and stop street. Great Fun!!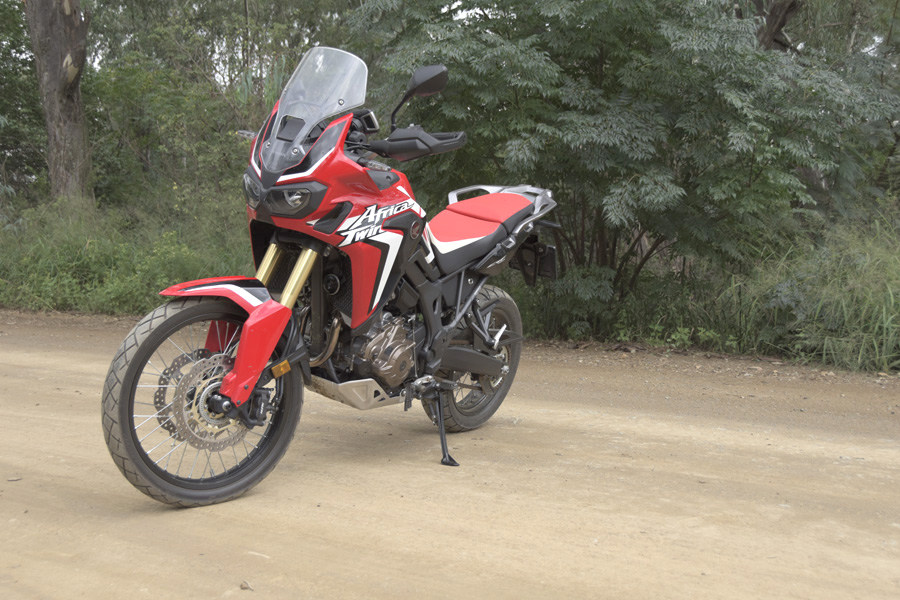 The engine is a gem. At idle it sounds uncannily like the old Africa Twin, thanks to the V intonation of the 270' crank. You surge off the line and drink from a deep well of seamless torque. Rev up to 8000 rpm redline and the bike is fast, as you would expect a 1000cc twin to be. The response is perfectly linear, with no sudden rush of power. The maximum power is just shy of 100 ps, which is mild by 1200 GS or especially KTM 1190 standards, yet allied to the friendly torque curve, you never feel lacking for shove. A good engine, fine suspension and decent brakes all add up to an excellent road bike, especially when you throw the amazing balance and overall comfort into the mix. The screen and front cowl deserve a special mention. The aerodynamics place you in a bubble of smooth air, making high speed cruising a real pleasure. An optional tall factory screen is available but honestly, unless you were born on a long weekend, the unadjustable, but well designed standard screen, is really excellent. The bike is comfy both for rider and pillion. My wife Irene, something of a fundi on back seats, praised this new Honda. She found herself bracing for road imperfections that never made it through the suspension. It passed the passenger tush test with flying colours whilst trolling through town and cruising at 170 plus.
But that my friends, is only half the story. If you buy a new Africa Twin to use as a general-purpose road bike, you will not be disappointed. The thing is, you would be ignoring its reason for being. Remember the "go anywhere" part of Honda's introduction? This bike absolutely rocks in the dirt – so much so, that this should be considered its natural habitat. Paradoxically, the Twin is stable and completely sure-footed yet quick steering – qualities that normally are mutually exclusive. Point and squirt, change your line with easy precision or rear wheel steer with rheostat throttle control.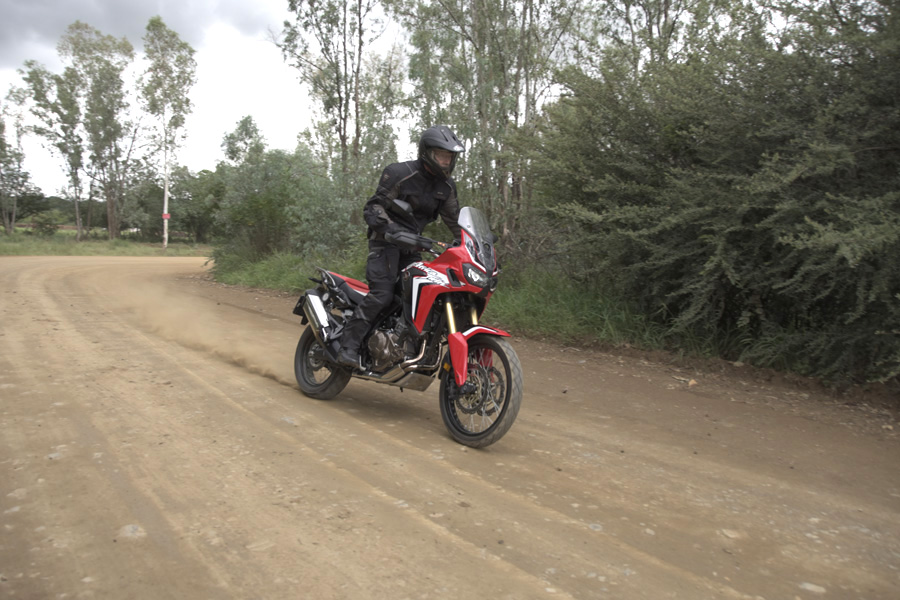 The model on test was the manual shift with full electronics. This means ABS and three level traction control. The power delivery is so precise that traction control is really redundant if there is any grip available. The switch for the traction control is brilliant. Located where the headlight flasher on any Honda normally lives, you simply pull the tiny trigger whilst riding. Default is full traction control but each pull on the trigger reduces t/c to minimal or, held in for a second, off completely. ABS can only be switched off at standstill by way of a right side dash mounted button. This leaves ABS on the front wheel but deactivates the rear brake, which is perfect for the dirt.
The new Honda Africa Twin is, in my considered opinion, the best big Adventure bike on the dirt, bar none. I promise you that is not new bike hype talking. I purposefully waited a week after riding the bike before writing this review.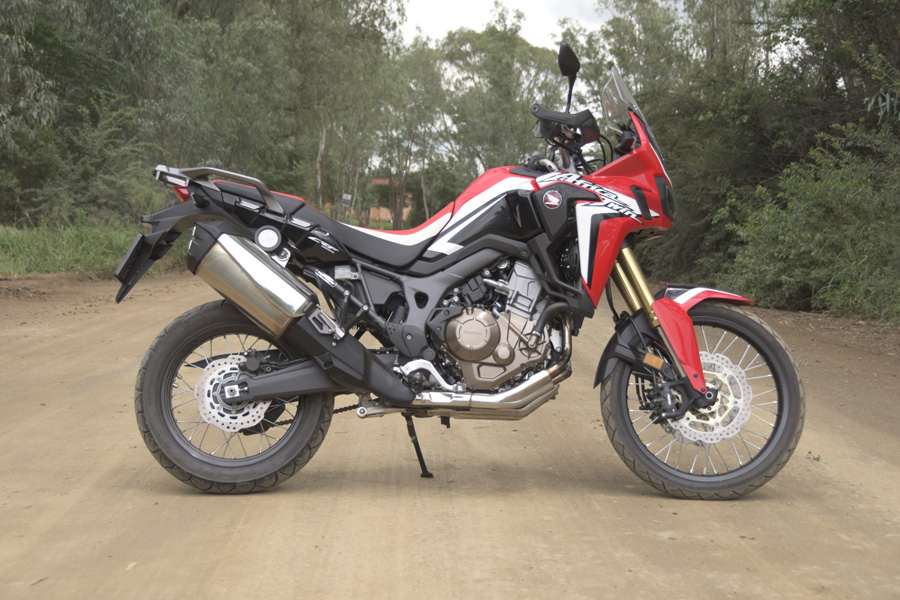 Hondas new Africa Twin, with its exceptional balance of abilities, hits that sweet spot better than any other. Its excellent engine, good suspension, amazing balance and off-road inspired ergonomics, make it easier to ride off-road than any other Adventure bike that I have ever ridden. It will be a willing accomplice to riders learning their off-road craft and a weapon in the hands of skilled off-roaders. Beware the slumbering giant; Big Red is back with a bang, or should that be a huge feetup slide?
The Africa Twin is available in three variants:
A basic model without ABS or electronics. Inexplicably, Honda delivers this model without a bashplate! To sell an Africa Twin without a bashplate is like riding a motorcycle without a helmet – Totally wrong! You will also pay extra for hand protection and a main stand.
One step up the spec ladder gives you ABS, Traction Control, LED flickers and thankfully a bashplate.
The last variant is the DCT (Auto) option. This is the full house, flagship model which, by all accounts, is even easier to ride, especially in technical off-road situations where you focus totally on where you want to go and the bike does the rest.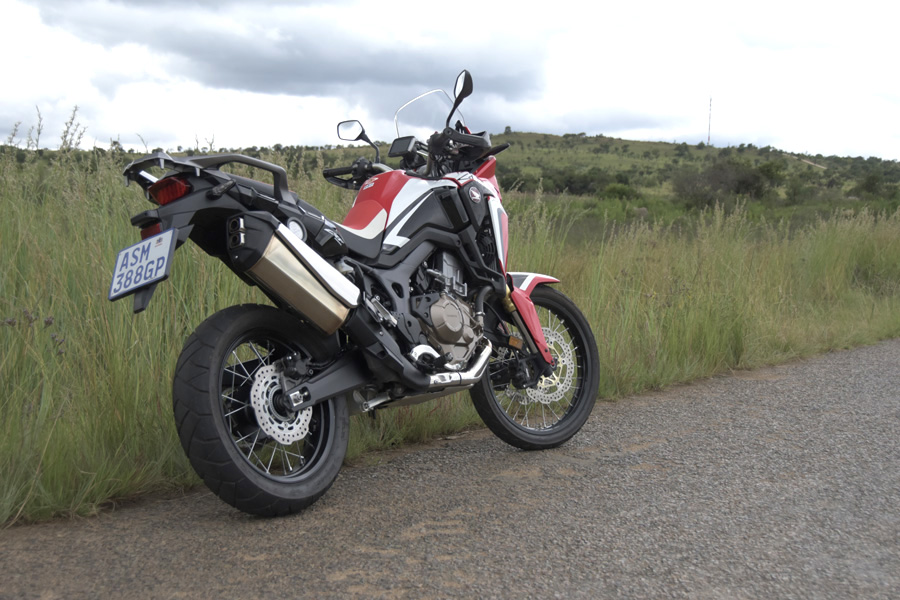 For all the great things that I see in this bike, I believe the advent of the Africa Twin brings a challenge to Honda. The original Africa Twin was much loved in South Africa and generated enormous passion and I feel this new reincarnation deserves a fresh dose of passion. Give us Africa Twin accessories on display in the dealerships. How about branded clothing? Where is the Helder Rodrigues replica rider apparel complete with HRC logos? You saw fit to reinvent the incredible Africa Twin brand – Now, continue with all your heart and help make this a true "classic"!
For more information on the CRF1000L Africa… Click Here!