It is said that there is no such thing as a "stock", or standard, Harley-Davidson. Since the advent of The Motor Company in Milwaukee, Wisconsin, 113 odd years ago, owners of these remarkable motorcycles have revelled in making their ride unique. The term "to customise" has over the years become synonymous with Harley-Davidson. No surprise then that Harley's latest endeavour is their "Dark Custom" range of bikes. ZA Bikers was privileged to attend the world media launch of the newest addition to this collection in the beautiful and renowned area of Provence in the South of France.
I was part of Group 4, which consisted of journalists from France, Russia, Poland, Czech Republic, Romania, Israel and me, representing South Africa (Yay). The bikes were presented at the Massilia Harley-Davidson dealership in Marseille.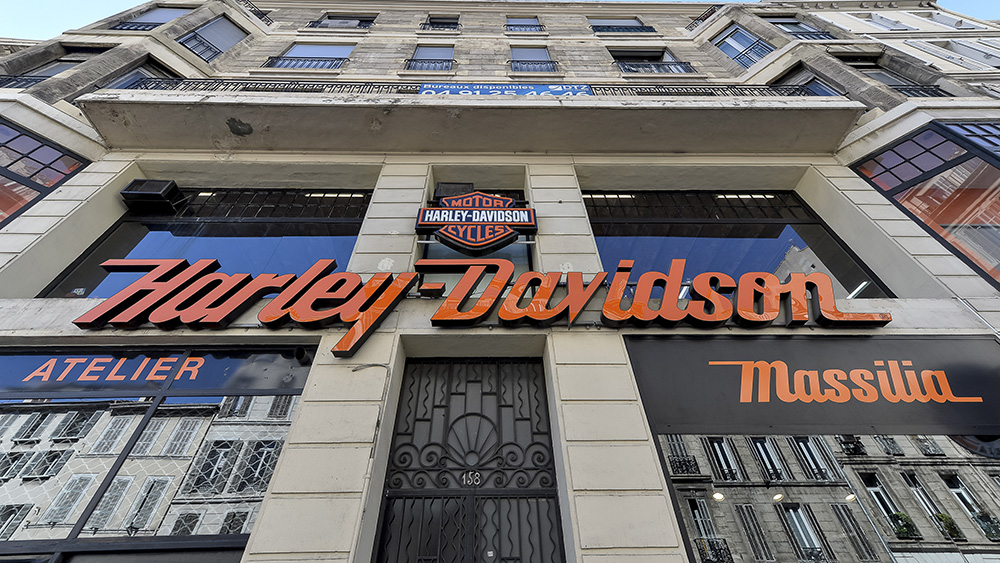 Also on display were an array of "Battle of the Kings" custom bikes. Predominantly street 750 and sportster based, the attention to detail on these creations was incredible.
The two launch models were displayed atop rough wooden crate tops emblazoned with "Dark Custom" logos. I recognised the dark sleek shape of the Dyna Low Rider S on the one stand, but the second bike was hidden under a black cover.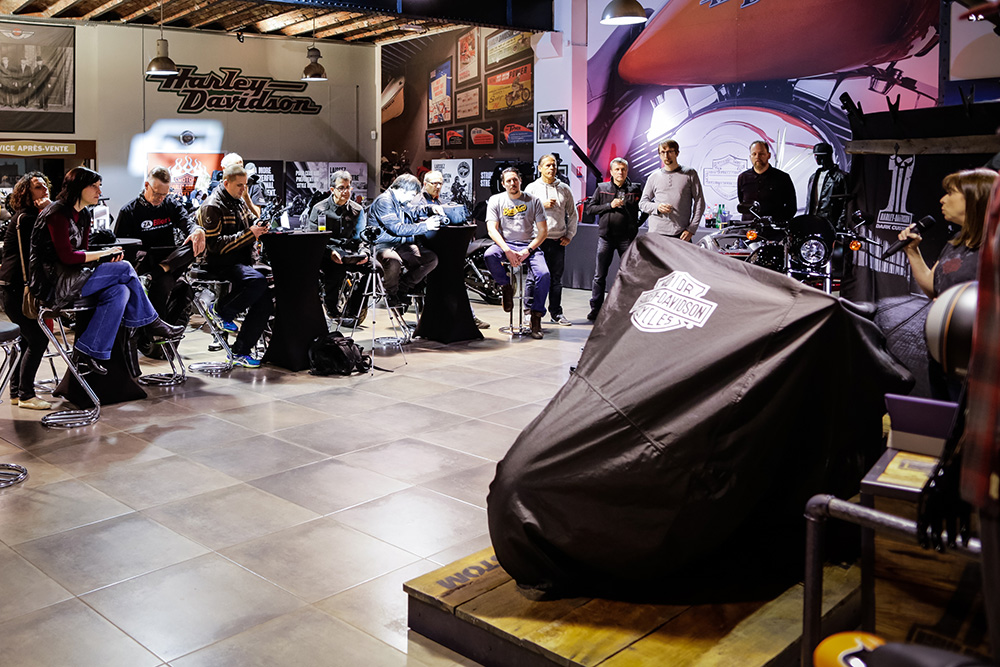 Jess Simpson, the Marketing Manager for H-D Europe, explained the background to the Dark Custom collection. The Motor Company have really embraced their rebellious "Screw it Let's Ride" mantra, and buoyed by the rampant success of the "Forty-Eight", a fat-tyred, minimalistic bad boy, they have embarked on the Dark Custom collection. These bikes beg to be customised. The process is made easy by a vast catalogue of factory built, quality accessories from Harley. Your bike becomes a blank canvas on which to create your own masterpiece. I find this refreshing and hugely appealing given the mass produced, clone type mentality of the world we live in.
Stepping up to unveil the second bike, Michael Carney (ex Zimbabwean, now resident in the UK), the PR Regional Manager for H-D was assisted by Matt King, H-D Global PR. Wow! What a sight for sore eyes! Enter H-D's Sportster Roadster. In the context of what Harley has set out to achieve with this bike the styling is truly exceptional. As the "Roadster" name implies this is a true "riders" Harley, pitched squarely at that point where form and function meet.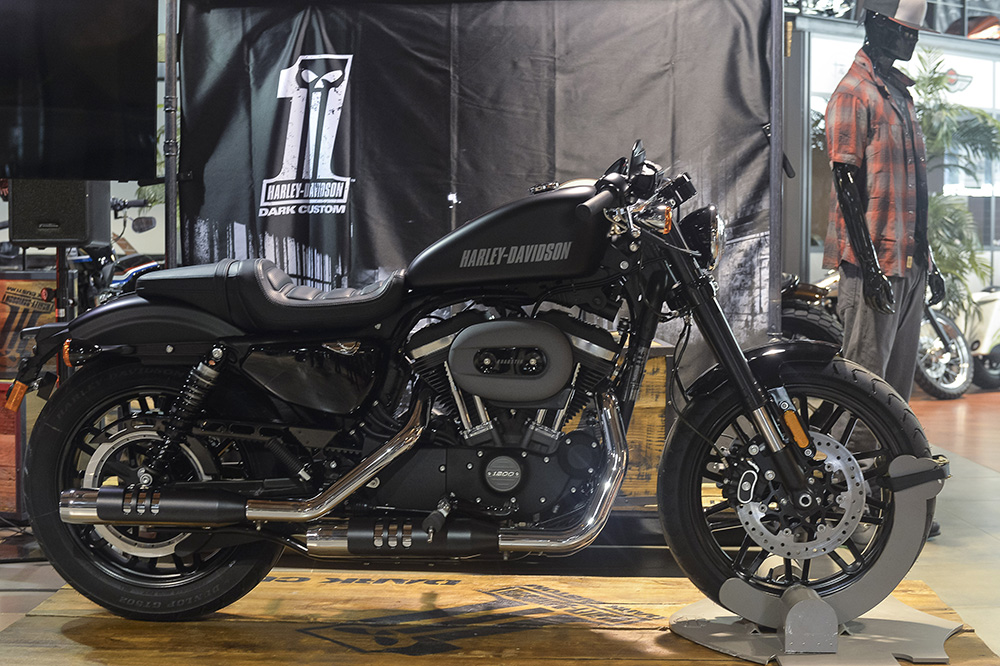 The Roadster has a 1200cc Evolution motor at its heart – torquey and bulletproof. Wheels are lightweight alloy, black and handsome. 43mm upside down cartridge forks and double discs – serious sporting hardware. The bobbed front mudguard is a thing of beauty. Longer than customary progressively sprung rear shocks take care of damping matters at the back. The gearing is lower overall than other 1200 sporty models. "Slammed" bars, as Harley calls them, are low, and look even lower due to the illusion created by the tank from the Forty-Eight. Shorty Chrome exhausts adorned with black heat shields look oh so right. A rucked and tucked seat only 30.9 inches off the tar adds to the low slung purposeful image. Matt grey airbox and blacked out motor. I love the look. A small combination speedo (digital) and analogue rev counter sit centrally over a small neat headlight. Keyless ignition means no key flapping around as you ride. All in weight 250 kgs.
Brad Richards (styling, creative & design director) told us that his inspiration came from the 1956 stripped down KR racing Harley's, as well as the 1977 Low Rider FXR. Brad becomes animated and his eyes sparkle when he talks about his creations – passion runs deep at the Motor Company. We were fortunate to have Matt, Brad and Paul James, Production Projects head and highly successful ex-racer, join us on our two day ride. These guys are not in any way just backroom boffins. They can seriously pedal these Harley's.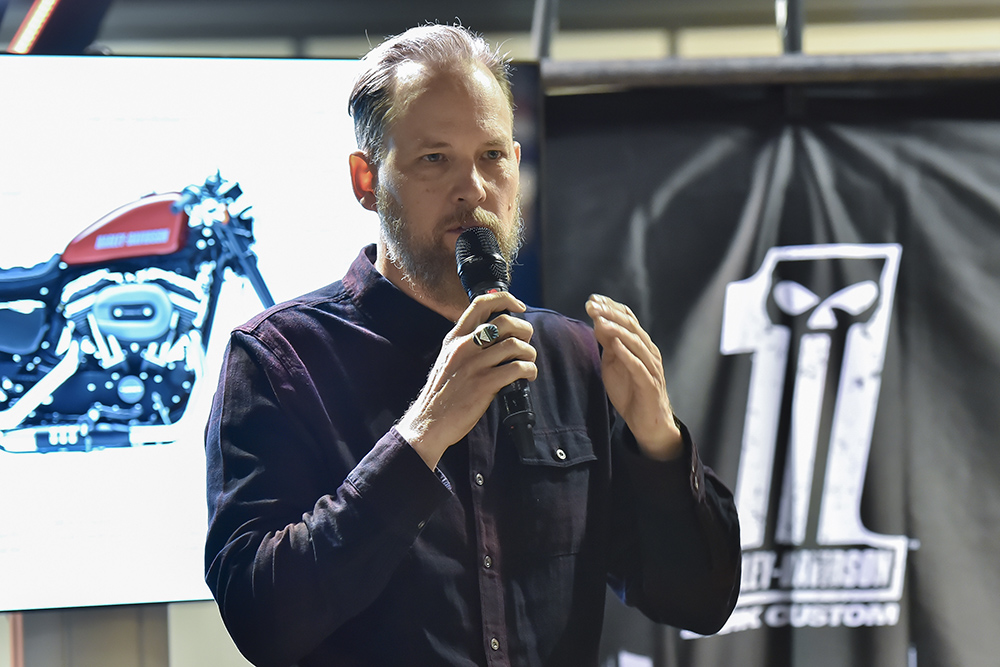 The next morning, in sunny but cold weather we were greeted by the sight of our Harley's lined up outside our hotel.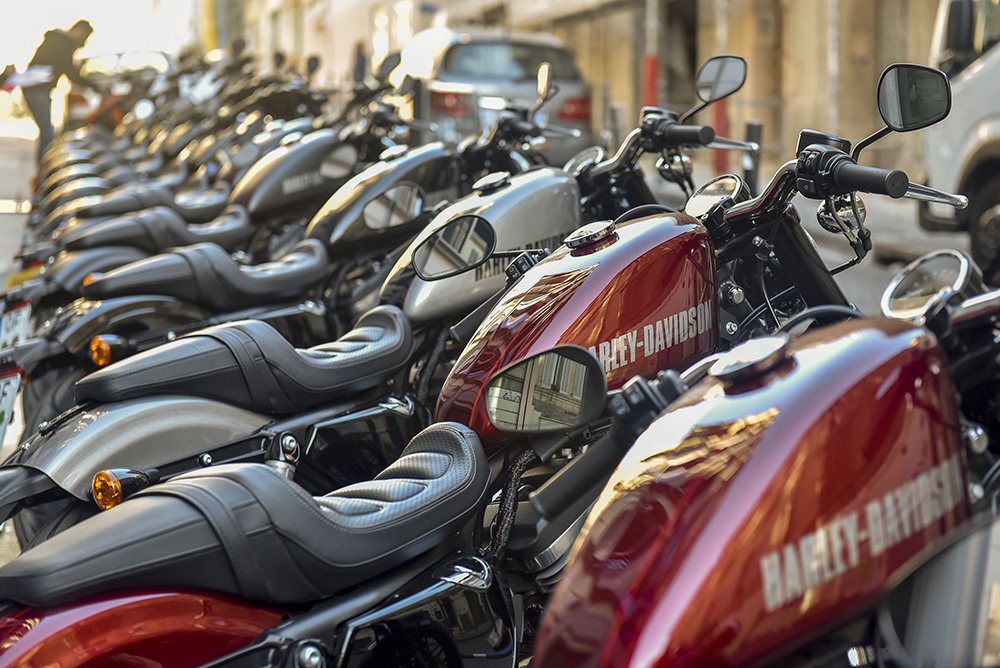 We then jumped on our allocated bikes and rode the mountains of Provence to our overnight destination, the playboy's paradise of St. Tropez. The Low Rider S and Roadster make good playmates. The huge grunt of the S's 1801cc Screaming Eagle motor is offset by the agility and greater ground clearance of the Roadster. Both bikes sport mid mounted pegs, making it a naturally more aggressive riding position.
Led and escorted by Dave, Alex and Josh, our Brit guides, we blasted through the mountains. We stopped mid-morning for photos and then coffee at a quaint village in the mountains. At this point, aided by a chilly wind, the temperature was around 8 degrees C. The Roadster I was riding immediately impressed. Punchy, smooth and impressively agile, the suspension coped admirably with the sometimes bumpy French country roads.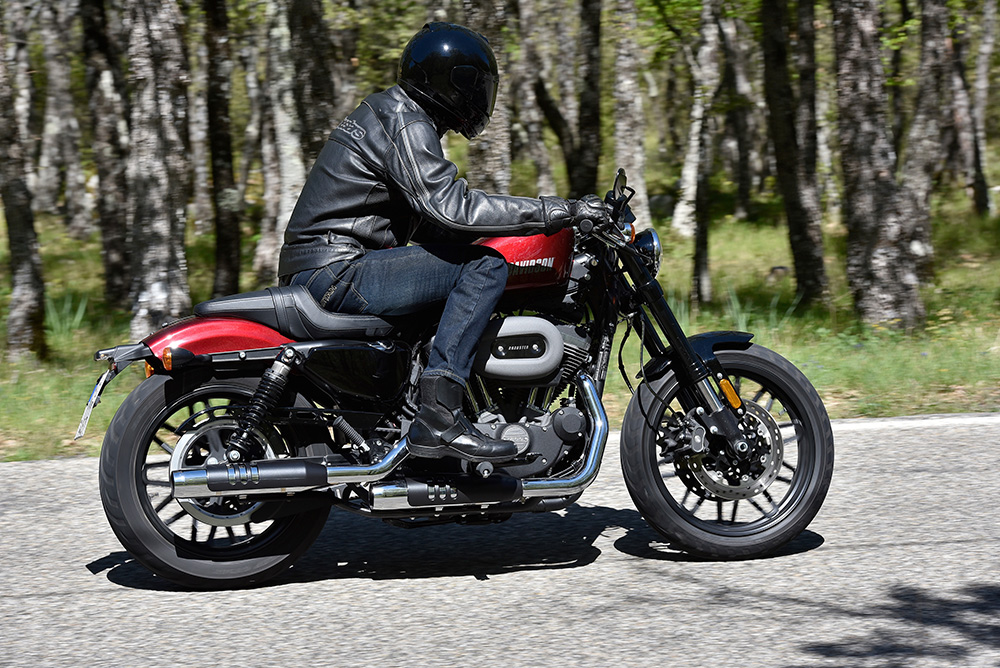 Corner carving is limited only by ground clearance. In typical Harley fashion the foot-pegs are slightly wider than the norm and despite the longer suspension, they touch down quite easily. I must add that this only happens when riding at a fair clip and when negotiating tight, decreasing radius bends. The bike remains stable and composed at all speeds. Certainly the most fun I have had on a Harley with the exception perhaps of the XR 1200. The overall impression of the Roadster is small, agile, fun and incredibly handsome. This bike will enjoy really wide appeal. More and more riders are moving from "appliance type" motorcycles, which, whilst functional and efficient, are really lacking in character and soul. Harley-Davidson's ooze these qualities. In fact it is their reason for being.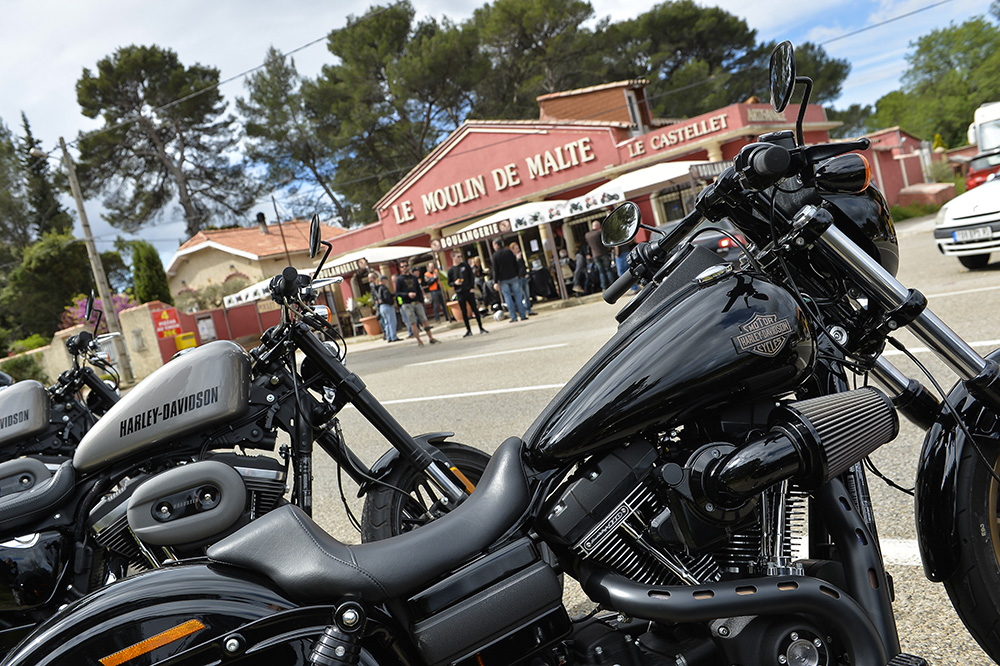 A great days riding, punctuated by scenic coffee, photography and lunch stops, saw us rolling into St. Tropez. After a shower and drink at our lovely hotel we were bussed to the yacht basin for a superb meal at a restaurant overlooking the multi million dollar yachts in the harbour.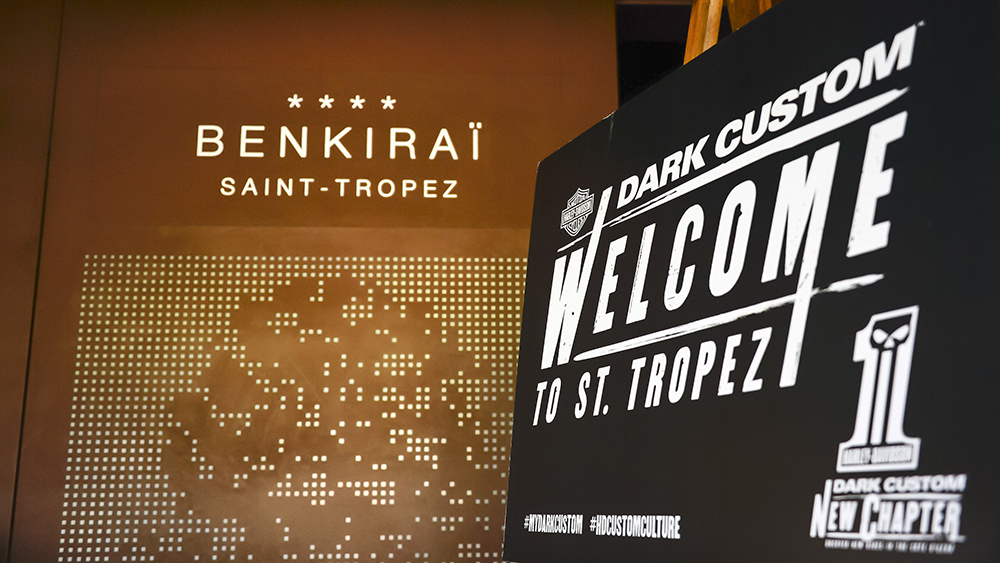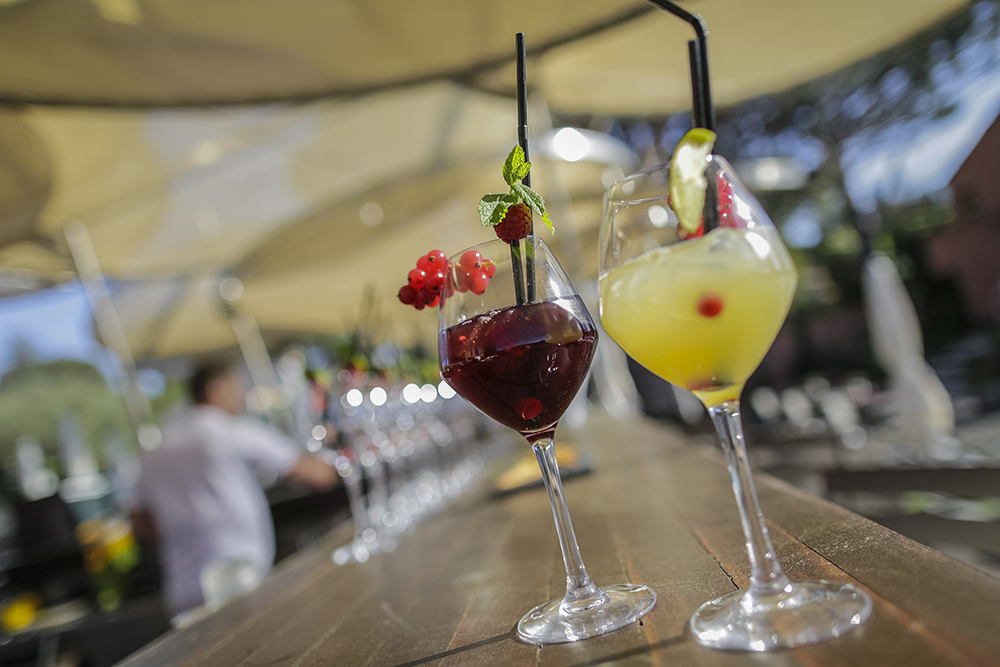 Day two of "the flight of the Thunder V" dawned sunny and crisp. My ride was the jet black Dyna Low Rider S. Sporting the most powerful of Harley's twin cam motors, and weighing in at 283 kg, the S has no shortage of shove. 5 spoke gold alloy cast wheels and adorned with double discs upfront and a single disc in the rear, offset the flawless glossy black paint and black motor and pipes. A big K+N type air filter on a black chrome manifold dominate the engine on the right hand side. A headlight cowl, meant to deflect air from the rider's torso, gives the bike a distinctly sporting look. Two fat stubby black shotgun style pipes add an air of menace. They sound really fruity too. The bars are drag style on risers and the instruments are tank mounted in traditional Harley fashion. The shapely, yet aggressive single seat, sets off the bobbed rear fender to perfection. The front forks have massive 48mm stanchions whilst the rear shocks are progressively sprung. As with the Roadster, the foot pegs are mid-mounted.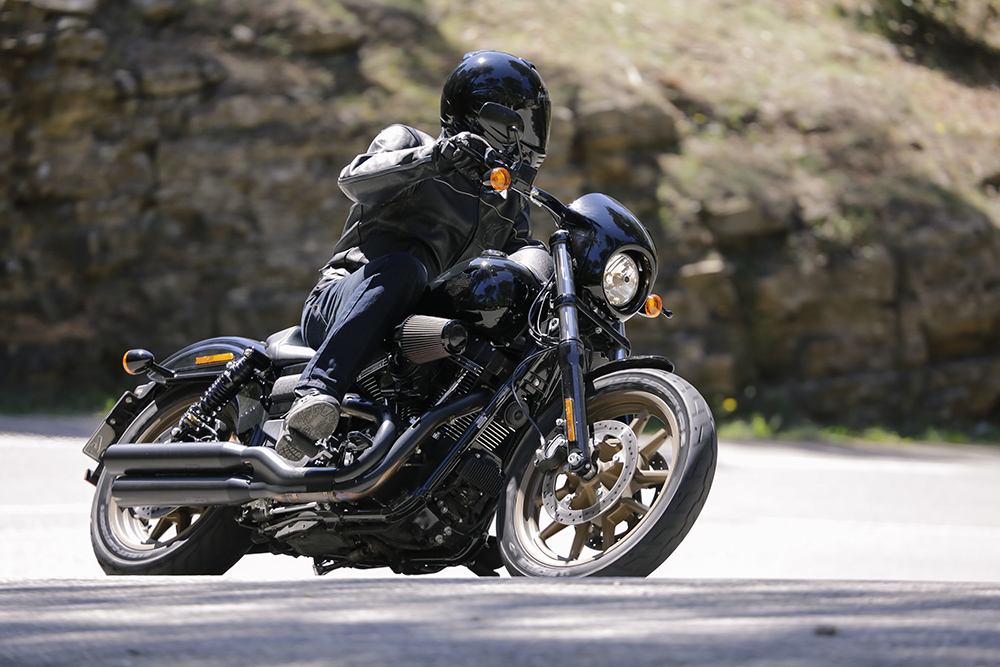 This bike is literally a blast to ride. Extremely stable, it compensates for its lower corner speed by huge point and squirt ability. Roll off the throttle, turn in, hold your line and then as you exit the bend you pull the trigger. 1801cc of Screaming Eagle torque catapult you down the straight. Hugely intoxicating! I was again reminded of the benefit of lowdown torque versus horsepower only accessible in the top third of the rev range. The gearing (there are six of them) is perfect, with the S feeling strong everywhere. Cruise control makes open road travel a doddle. It seems so right that Harley only makes this bike in black. Somehow I can't imagine it in any other colour. The fuelling, which is wireless, is flawless. Unless they told you, you would think it is by perfectly synched cables. Impressive.
The route took us to a beachside café for coffee and croissants and a lovely roadside diner for lunch. After lunch we rode smooth winding black top with sweeping curves back to Marseille. Both the Roadster and S thundered through the sweeps in a way that inspired rider confidence. All too soon we entered the congested urban sprawl of Marseille. Two days of magnificent French roads ridden on two fine motorcycles in the company of like minded people. It does not get better than that, period!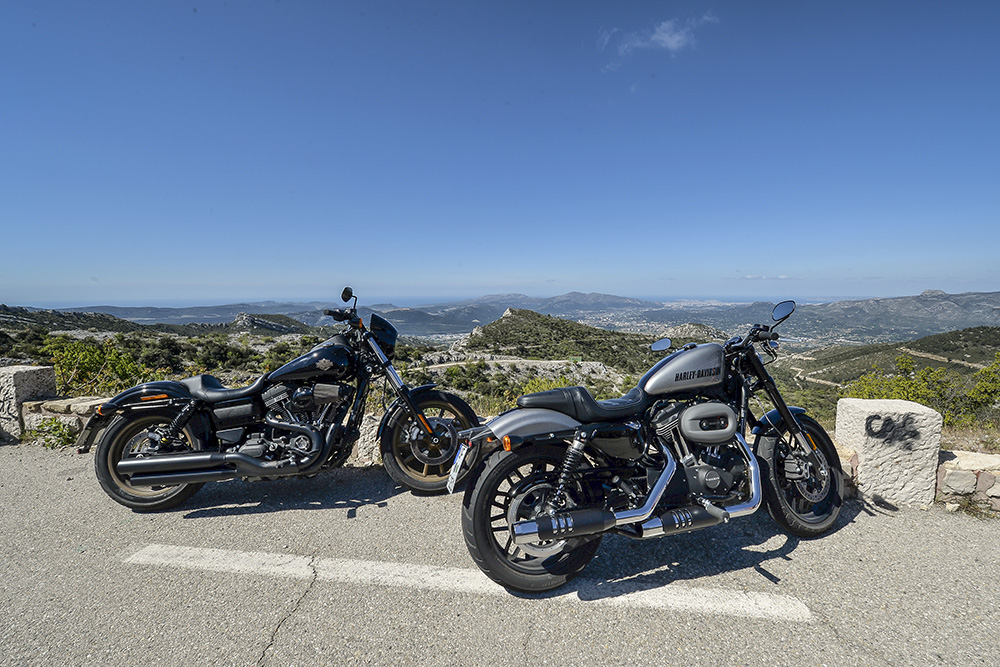 If you have ever contemplated the Harley lifestyle, even briefly, maybe even disparagingly, you owe it to yourself to experience these bikes. They are so much more than the sum of their parts. More than a century of passion, commitment and heritage is embodied in what is literally a living legend. Harley-Davidson's have a hewn from steel, timeless quality to them that I have never experienced with any other make of motorcycle in all my years of motorcycling.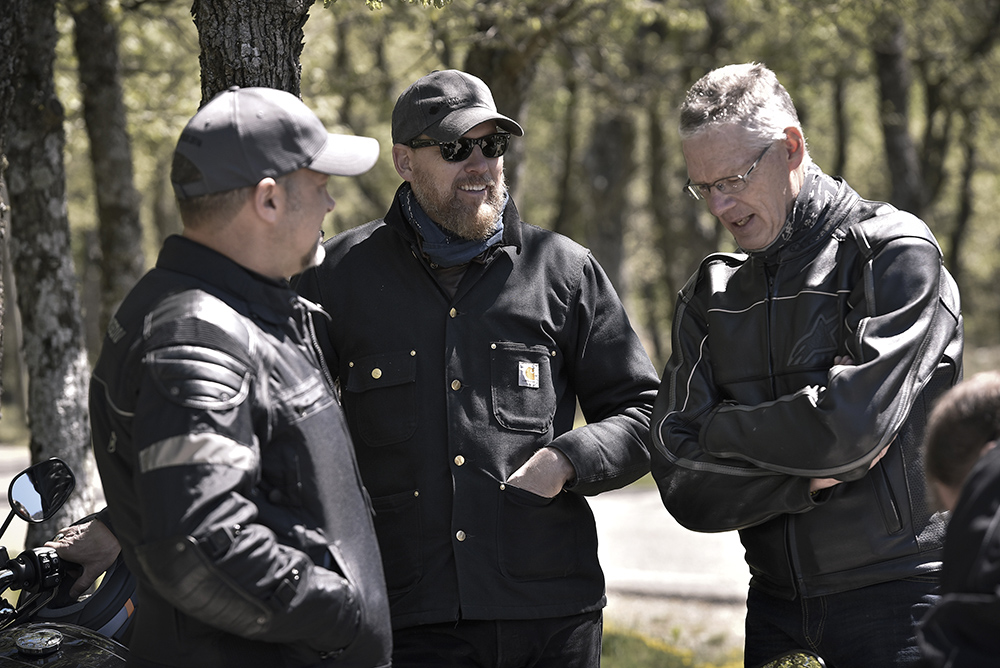 Finally, to Michael Carney, Claire, Jess and the modern day "Wrecking Crew" of Brad Richards, Matt King and Paul James, thank you so much for your generous hospitality as well as the opportunity afforded me to ride your soulful bikes. I consider myself truly blessed.
For more information on the ALL-NEW Roadster… CLICK HERE >>