Enthusiasts are really spoiled for choice when it comes to performance motorcycles and no more so than the current crop of naked superbikes. In a way these are real world superbikes. Traffic volumes and dodgy road surfaces have relegated superbikes to racetracks as their ideal playground. Radical, aggressive riding positions make them a pain, literally, if used as commuters. Enter the naked's. Light, blisteringly fast, comfortable and agile. These bikes flex their muscles with aggressive styling that flaunts their top-notch hardware. Speaking of styling, absolutely no one does styling like the Italians. Enter Ducati's Monster 1200R.
The top of the range Monster absolutely drips with class. The front end is exquisite. A lightweight, black, handsome Marchesini alloy wheel is topped by a painted abbreviated carbon fibre front fender that in itself is a work of art. Add to this gold anodized upside down Ohlins fork sliders and gold Brembo monoblock brake calipers and you simply can't get better.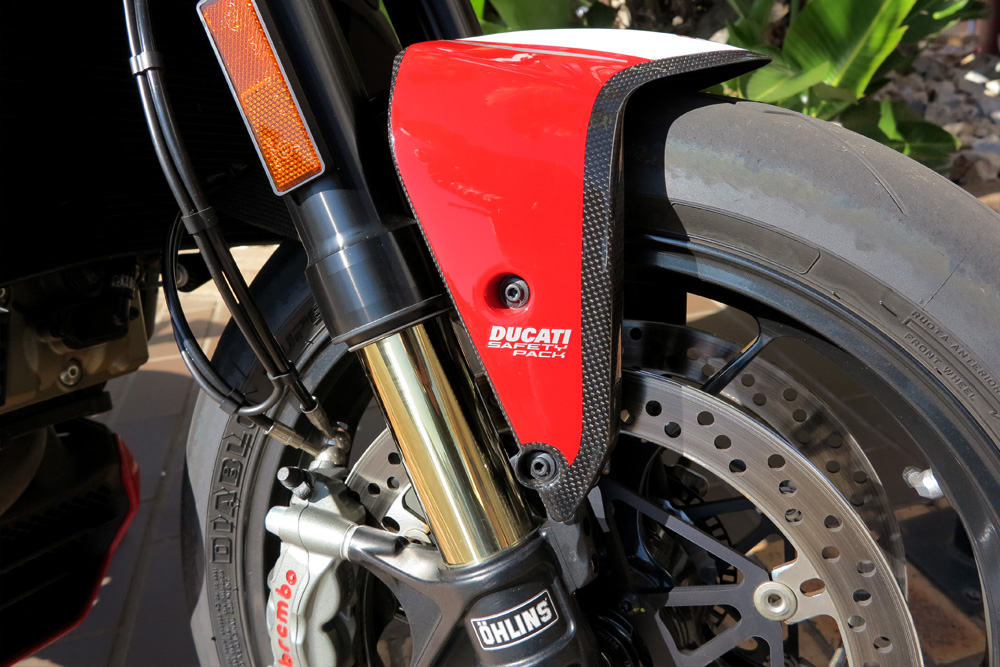 The 200 back wheel is accentuated by a single sided swing-arm, making it appear even bigger. Both wheels are 17 inch. The familiarly shaped Monster tank rides on top of the signature Trelliswork Ducati steel frame. Rear wheel suspension is Ohlins too. Yellow spring with a gold remote reservoir – stunning. Like God intended, the test unit was painted red. Bikini headlight cowl, front fender, frame, tank, tailpiece and tiny bellypan, all finished in flawless, glorious red paint with white highlights and subtle logos.
I know I am gushing but honestly, Ducati's often qualify as two wheeled fine art. You could buy one just to display it in your lounge as a conversation piece.
That would be a travesty, because this bike was built to ride! You sit "in" this bike. The seat is height adjustable (785mm to 810mm) firm, yet comfortable. Footpegs are perfectly located and your torso angles forward to wide, motard style bars. You're thighs grip the 17,4 litre tank, making you feel "settled" on the bike immediately. The fully adjustable Ohlins can be tuned for rider preference and application. Similarly, you can choose between Sport, Touring and Urban engine maps. The fuel injection is so sweet you can leave it on Sport and let you're wrist do the rest. Smaller throttle bodies (56mm), allied to 12,5 to 1 compression, result in fit bottom end power and a smooth torque curve. Wet weight is 216 kgs.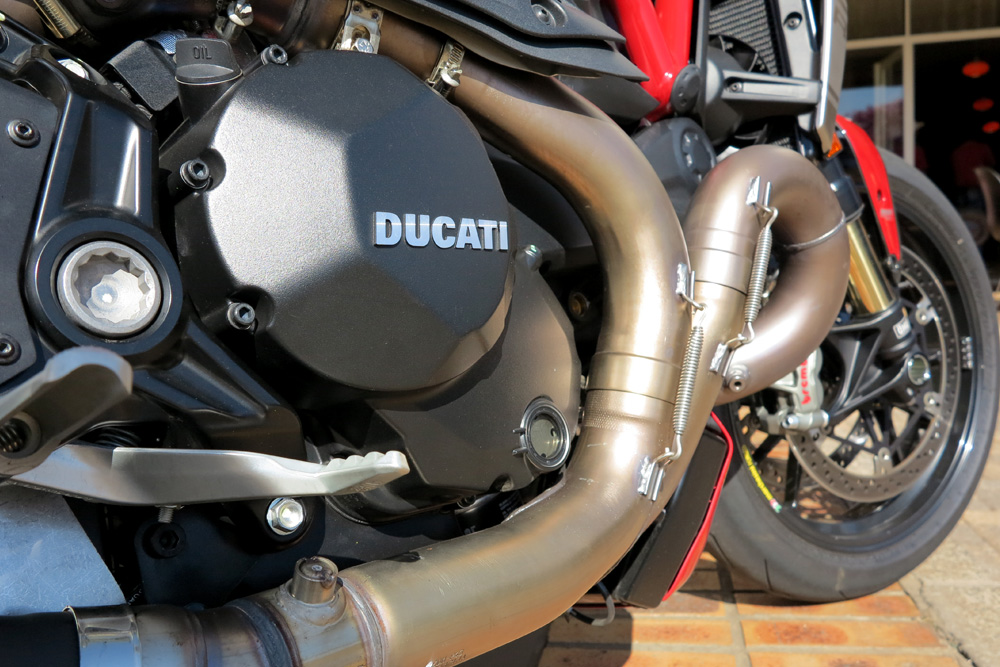 In my opinion, the 1200R is best used by experienced riders. I say this because it is at its brilliant best when you really wring its neck. This Monster is incredibly rewarding when you ride fast. The engine is powerful with excellent torque allied to the familiar Testastretta top end rush. The whole quality package is balanced and gives the rider a feeling of control. This is enhanced by an Ohlins steering damper which is mounted just behind the steering head. I never experienced any semblance of headshake. Perhaps the damper is reassurance for putting the wheel down badly from a wicked wheelie – something, the wheelie that is, that comes naturally to the Monster. If you have self-control to stay at the same speed of around 130kph, the 1200R will reward you with excellent (4,1L/100) fuel consumption. Good luck to you! The Monster feels sublime at 150 kph. The tiny cowl is an aerodynamic masterpiece. My 6'3" frame could maintain 150kph all day long in comfort. Function meeting form in perfect harmony.
Performance wise the Monster matches any other bike in its class (Aprilia Tuono, KTM1290 Super Duke, BMW1000R, etc) It achieves the ¼ mile in the low ten seconds bracket and competitive roll on and braking figures. ABS and adjustable tractions control are also standard and good.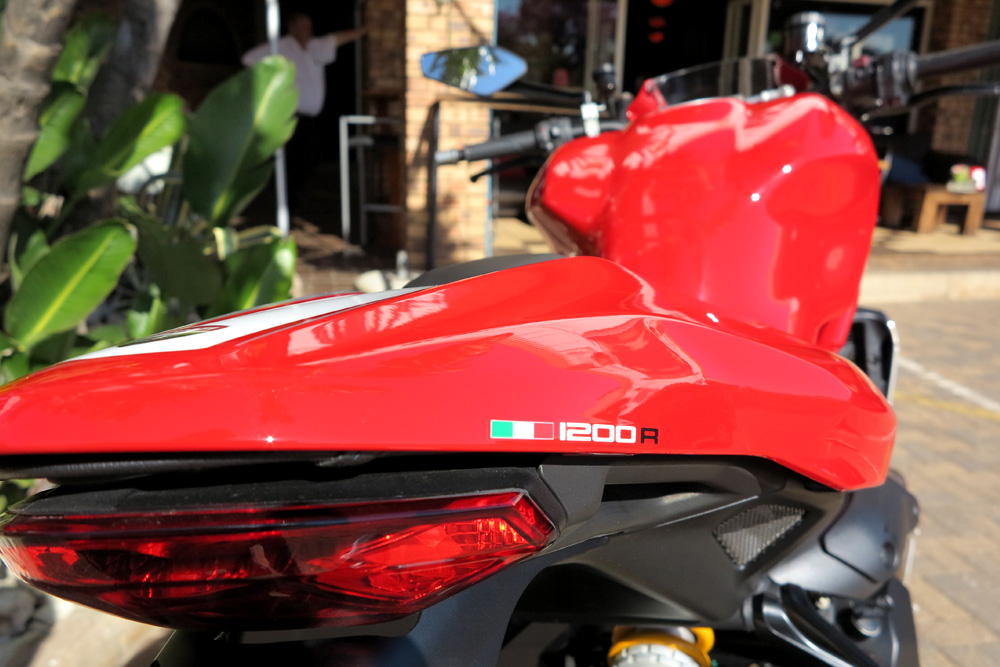 A couple of negatives are a rather abrupt clutch action, which you soon get used to and an instrument display that is often illegible in bright South Africa sunlight. This is an all too common malady with the new age LCD instrument clusters
So, how do you sum up the Ducati Monster 1200R? It's like that ridiculously good looking Italian buddy. He's loud and expressive, the life and soul of every party. A night on the town with him will never be boring. To top it all he is sickly talented and you just know you should never trust him alone with you're wife! Fact is, the world would be a poorer place without him! The nicest kind of Monster, he has an aura about him that frankly makes him unique.