Well, they certainly weren't kidding with the "SUPER" part. To review this bike properly, I took a ride to Port Elizabeth to spectate at the Ironman SA Triathlon. There was no better "Iron" on which to tackle the 1150 k's trip than KTM's top of the range Adventure Tourer. Sorry, make that 'Sports Tourer"!
This bike is dominated by its 1290 LC8 motor. It has a glut of power everywhere. From the moment the wonderfully smooth, light action hydraulic clutch is released, the big Katoom reels in the horizon with ridiculous ease. Once in sixth you can simply stay in top and roll on and off the throttle as required. Slowed down by an eighteen wheeler truck, you back off to around 95 kph and when appropriate, roll on in 6th gear. By the time you move back into your lane, you are doing 150+. Mind blowing. You never tire of the relentless, effortless, free revving nature of this motor. Massive torque and horsepower treat the national speed limit with a disdain only equaled by Zuma's regard for the constitution.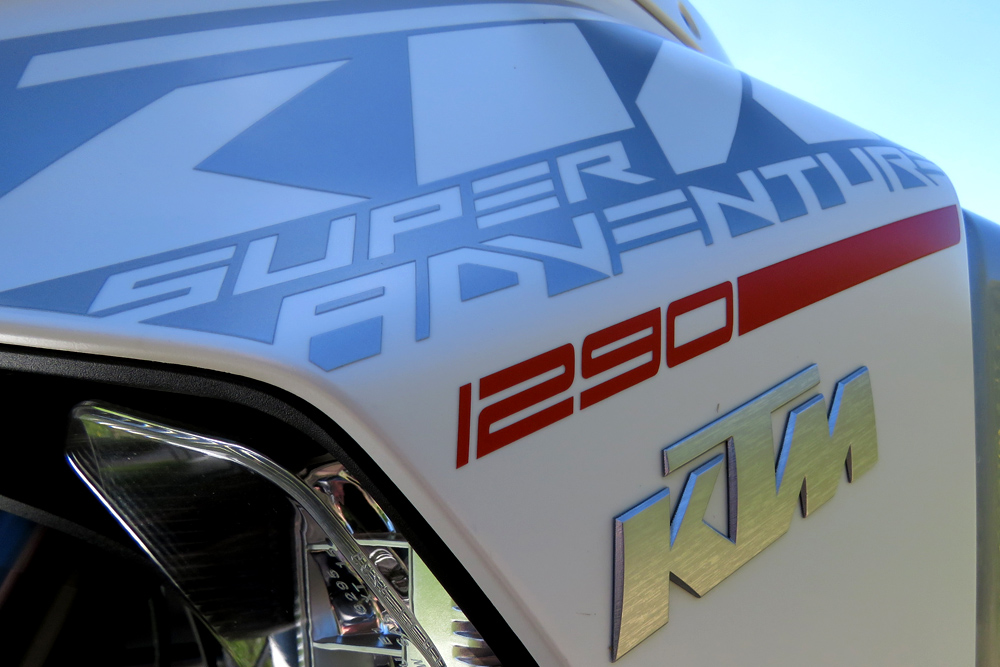 Sport touring is best done in comfort. The KTM delivers!! A firm yet supportive seat and decent ergonomics, allow 400k fill-ups, easily achieved cruising at 150 kph thanks to good fuel economy and a 30 liter tank. I left Pretoria around 4am, breakfasted in Bloemfontein and by 1:30 pm, I was enjoying the sea view from the pier in P.E. That, Laverne, is sports touring!
Features that enhance the experience are the advanced electronics on this bike. Select "Comfort" and the suspension becomes plush. Not wallowy, mind you, but just soaks up the bumps better. Get into the twisties and select "Sport" and everything firms up and you strafe sweeps and clip apexes with control and precision. "Street" gives you perhaps the best of both worlds. "Off-road" allows an optimum setup for gravel travel. All this is achieved whilst on the go, even by a BC (before computers) silver surfer like me.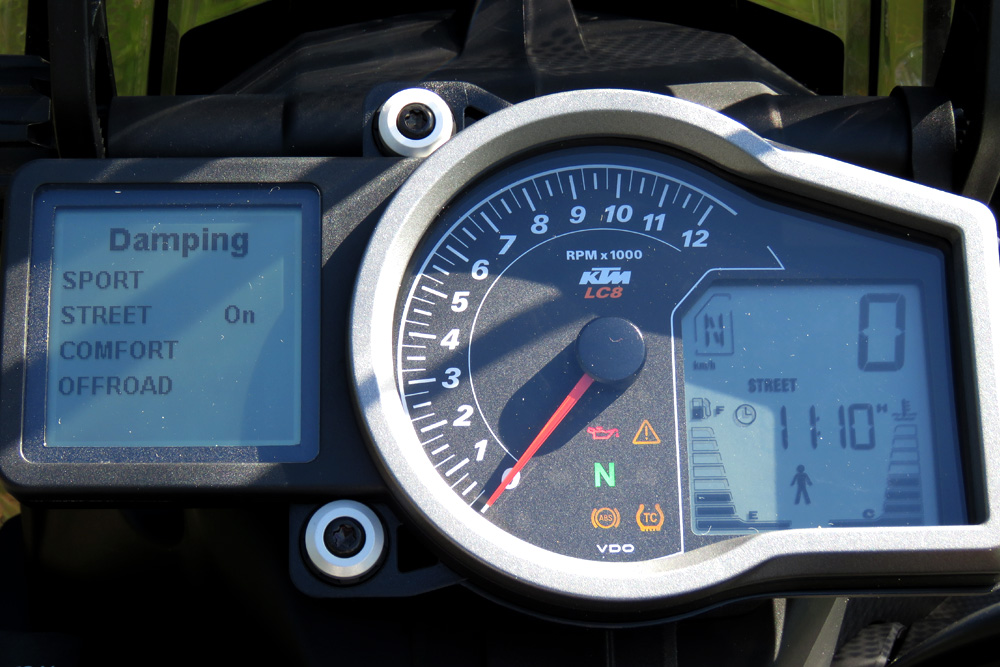 Similarly, engine power modes are easily accessed and selected. With this sort of power on tap "Rain" mode" makes sense. Power softens and traction control sharpens to keep the shiny side up. Dependent on the load the bike is carrying, electronic adjustment sets the suspension accordingly. Two up with luggage? Simply scroll to the appropriate screen, click on the two helmets and baggage icon and away you go.
The gearbox on the big 1290 deserves special mention. Why? Because quite simply, it is perfect. Light action, positive feel, no slop. Precise, accurate and perfect shifts whether going up or down in the box – Faultless!! In my opinion, the best shift action in all of motorcycledom.
Those familiar with KTM V-Twins, and especially the new generation 1190 LC8 engine, will recognise the distinctive nature of the engine. Up to 6,000 rpm they are wonderfully smooth. As you approach the red line, or should I say the red shift light in the case of the 1290, the motor exudes a metallic raspiness unique to KTM. You can feel the "built to race" mantra coming through – Very intoxicating. The engine has a distinct happy zone. Lug the motor out of a corner in too high a gear and chain slap or clatter soon tells you to drop a gear. No big deal on what is, like all the KTM's, a riders bike – Exciting and involving.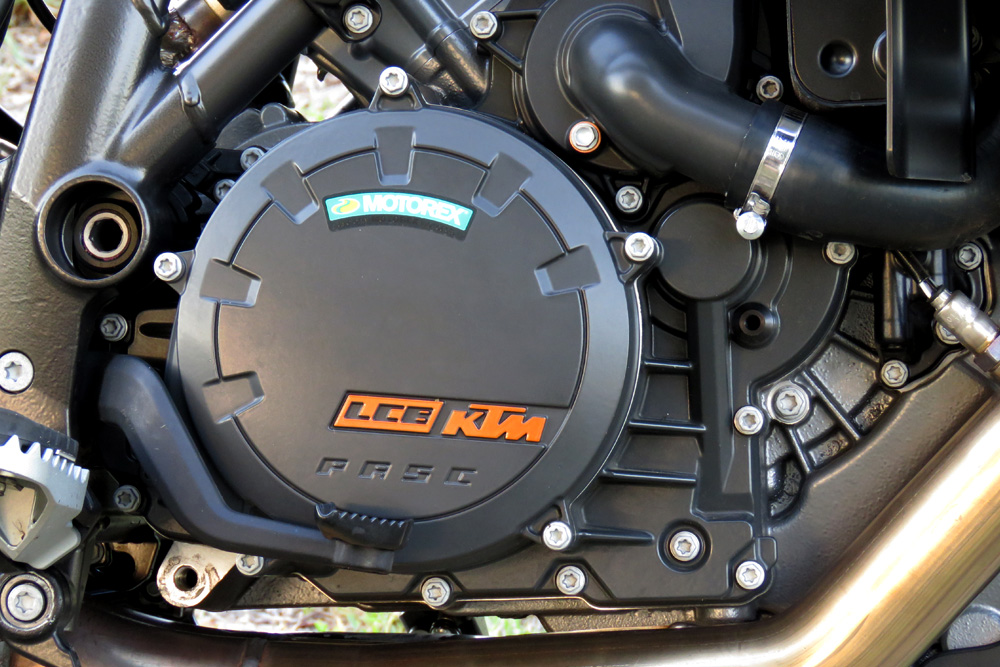 As befits a bike of this ilk, factory luggage is available with mounting points already integrated into the frame design. 'Touring" or "Trekker" cases are available depending on how far off the beaten track you choose to go. The "Trekker" cases being 1.5mm thick aluminium.
The KTM 1290 Super Adventure really is completely specced with every feature you can dream of and then some. In no particular order you get WP semi-active suspension, Bosch Motorcycle stability control utilizing traction control, Brembo brakes, ABS, lean angle sensors and even optional Hill hold control. Lean sensitive integrated cornering lights augment the excellent headlight to provide road following illumination. Cruise control, engine modes, slipper clutch, heated seats and handgrips , the works!! The footpegs are even adjustable through a 10mm range.
The screen has a range of vertical and tilt adjustment achieved by two knurled knobs inside the fairing. Easy to adjust but only when stationary as it requires both hands. The screen is effective with only the most determined suicide bugs making it onto your helmet visor. Buffeting is easy to eliminate by "turning" the windshield to suit. The only negative is that the edge of the screen can obscure cornering vision if set too high. That being the sides as they flair somewhat.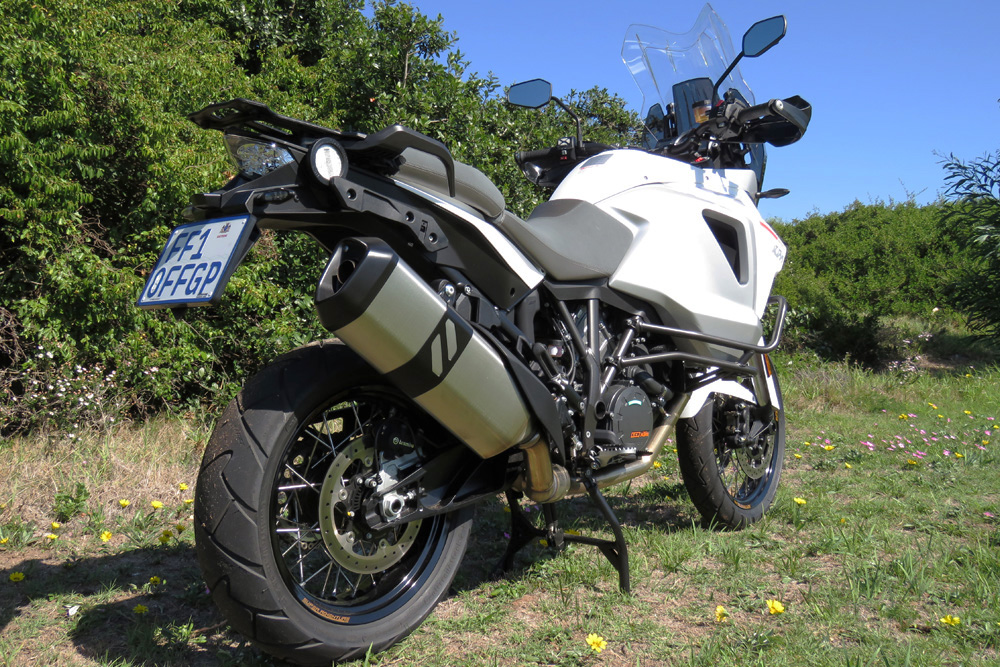 Integrated crashbars, or "cowling ornaments", as Honda euphemistically call them, as well as an "engine ornament" or bashplate, as we adventure bikers know them, protect vitals in case of the inevitable capsize. Speaking of which, despite the "Super Adventure" name, to me the 1290, with its 19 inch front wheel, should really be seen as a "go anywhere there is a road" sport tourer. Real dirt donks will opt for the 1190 Adventure R.
With 160 hp and 140Nm of torque allied to a wet weight north of 255kgs, this is not a bike for the faint hearted, or for that matter, the inexperienced. This is a bike for that discerning individual who wants absolute quality in a package that is without compromise. In car terms this would equate to a Porsche Cayenne Turbo S. I just don't think the Porsche could ever be such fun!