Of all the Japanese manufacturers, Yamaha, over the years, has built interesting, almost enigmatic bikes. Whilst catering to the mainstream motorcyclist, they have, with certain models, built bikes with rare appeal – the appeal of a home-built special but with factory quality and backup. Take the first bike of their MT range as an example – the brutal MT-01. Imagine stuffing a slightly hopped up 1700 cc V-twin cruiser engine, into a sporting chassis. Give it suspension, wheels and brakes that would not be out of place on a R1 and for good measure, toss in some wild styling such as two booming exhausts bracketing the seat. All a far cry from what has been termed "the universal Japanese motorcycle". It was almost reminiscent of something Vincent would build if they were still around! And so it has been with the rest of the MT range – Yamaha's with a unique appeal and character.
The subject of this review, the MT-07, is no different. The bike is compact and tidy. The humped, yet attractive tank is accentuated by flat bars and an instrument nacelle on the top triple clamp. The thoroughly modern shape headlight is recessed between the forks. The seat tapers to the back and gives the bike a prizefighter look – broad shoulders, narrow hips, if you get my drift. The bike is quite small making the 120/70-17 front wheel and 180/55-17 back wheel look fatter than they really are. The wheels are a mere 1400mm apart – once again accentuating the stubby, muscular look of what is a handsome beastie!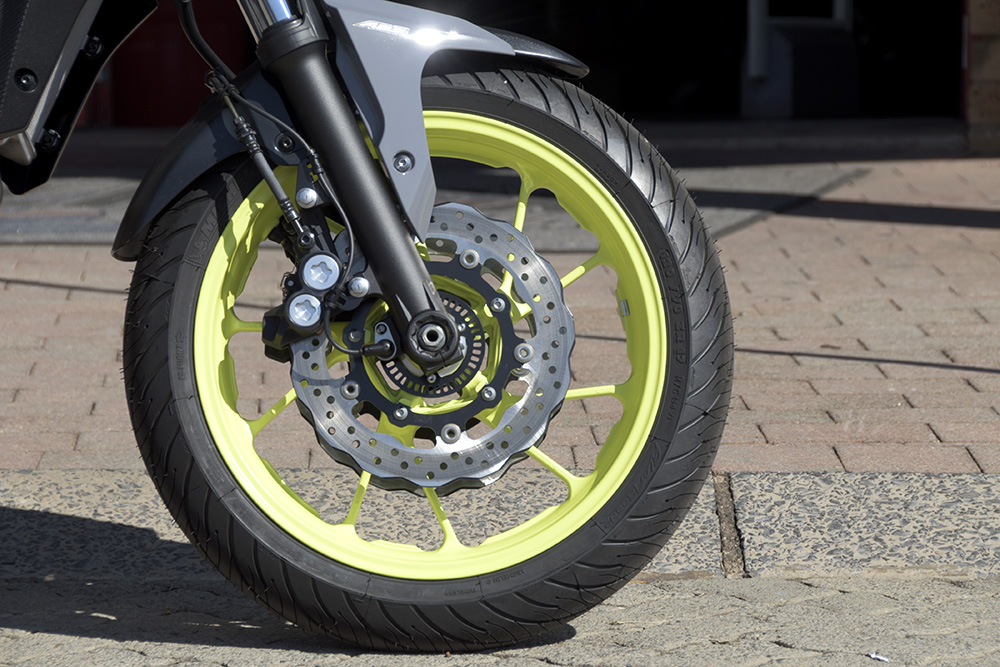 Yamaha have got the powerplant for this bike spot on. A 689cc, eight valve parallel twin with a 270 degree crank churns out 55 kw (75hp) at 9000 rpm. Anywhere between 3000 and 6500 rpm there is decent torque. Combine this with perfectly spaced gear ratios and an all-in weight of 182kg's and you have a motorcycling equivalent of a really muscular and fit Jack Russell! Wheely off the power at will and have decent shove when you crack the throttle. The MT-07 always entertains.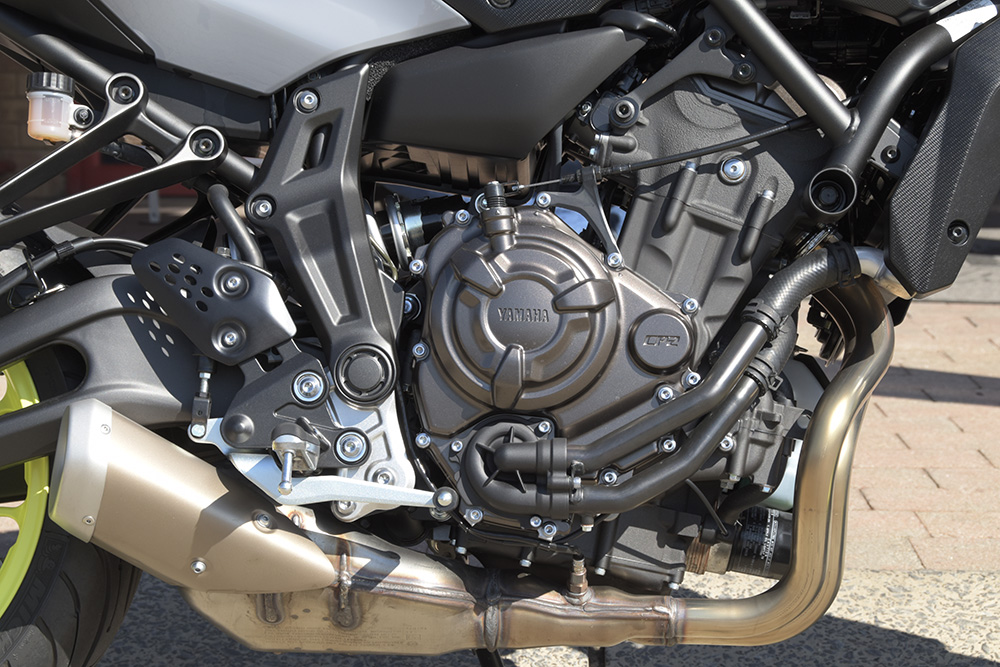 The seat height, at 806mm, makes the bike accessible to almost all riders. I found the riding position intuitive and comfortable. The seat is firm yet broad enough to "spread the load". Certainly comfortable enough for light touring and the daily commute. Speaking of commute, this bike slices and dices traffic with aplomb – narrow, light, agile and fast!
The instrument cluster provides all the usual info – bar graph, rev counter, digital speedo, fuel gauge, trips, odo and clock. Speaking fuel gauge, the 14 litre tank is good for around 260 to 280 k's. However, I reckon another 3 litres would have been more ideal.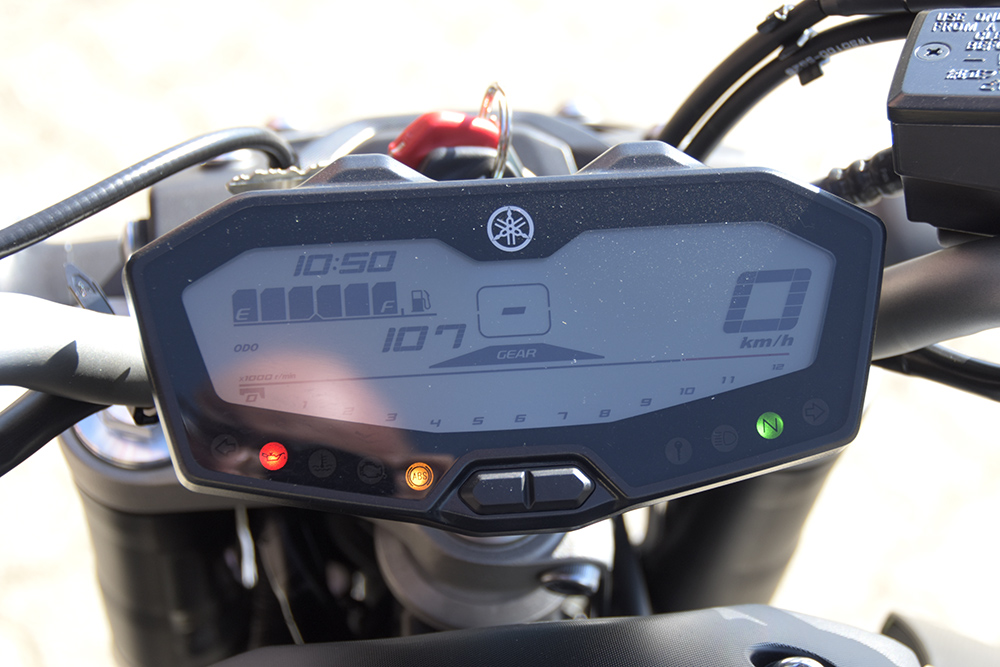 Having spent a few days riding the MT-07, I got to thinking how, from a motorcycling perspective, our ego's lead us up the garden path. We start off riding small light bikes because of affordability, practicality and personal skill-set. We get hooked on the fun and freedom that is motorcycling. Inevitably we start buying bigger, better, more complicated and yes, faster bikes. At some point the ego takes you across the rubicon and you now own a bike that is too big, too fast, too complicated and too expensive. The only boxes that are really ticked are the ego and bragging rights! [What am I saying?].
Go ride a MT-07 is what I am saying. Sure, it's not perfect – the suspension is a little under-damped; the brakes, whilst more than adequate, perhaps lack the bite and feel of those on a top flight sports bike but, here is the thing – you will always feel in control! Whenever you ride and wherever you ride, be it commuting, trackdays or general looning around, this bike delights! Ridden properly on the right roads, this little beast will give a tentatively ridden sportbike a torrid time. As a project it will be endlessly rewarding. Trick exhaust, braided hoses, aftermarket shock and some fork re-valving and you will have a giant killer of note!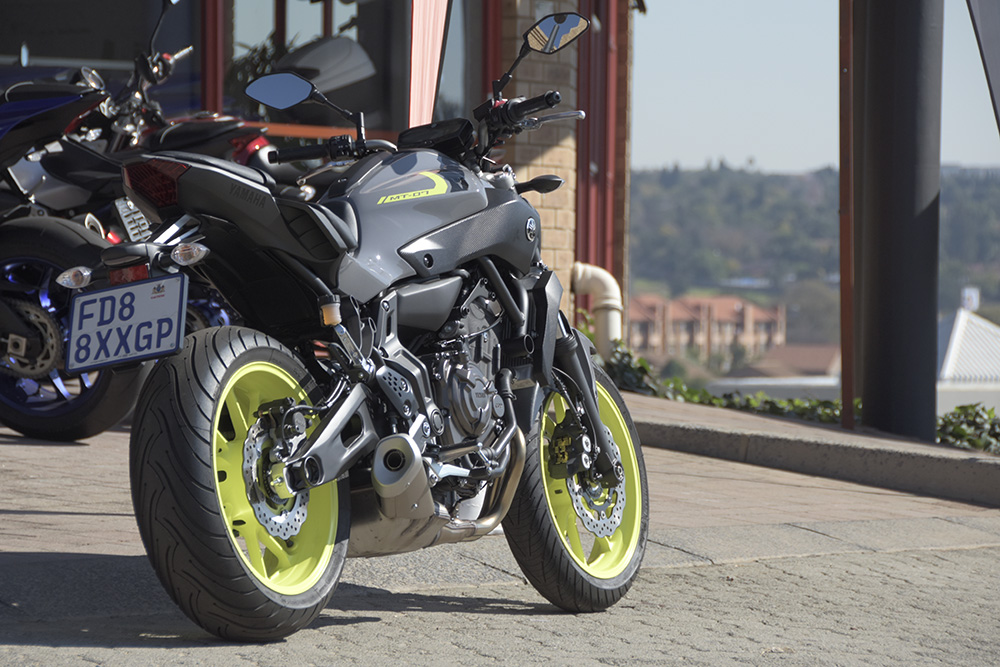 In the meantime, just ride it and enjoy it exactly the way it is. Dare to be different and put the real fun and enjoyment back in your biking.