Let's face it; South African's don't really have a love affair with the naked bike. Show them an adventure bike and they'll jump through hoops to buy one: show them a superbike and the bar-room bragger comes out in them.
But show them a naked bike and their indifference is deafening. And, frankly, this makes the average South African motorcycle buyer a bit of a fool because I'd like to bet that 70% of motorcyclists who buy adventure bikes or superbikes could actually own a naked bike and not notice the lack of go-anywhere practicality or miss the ability to go from 0 – 300km/h in the blink of an eye.
So, having insulted a large proportion of motorcyclists in SA, I will now introduce the latest entry into the naked sports bike class; Yamaha's MT-10.
Of the Big Four Japanese manufacturers, Yamaha have, of late, been the most prolific; there's the MT-09 (two versions) and MT-07, not to mention the astounding new R1 and this is most appropriate as the MT-10 joins the other two bikes in the MT range whilst being a naked version of the R1. Almost.
The MT-10 is actually a naked version of the R1S, a detuned version of the R1 not available outside of the US. Quite why only the US gets an R1 with less power is beyond me although one could look at who they are likely to elect as their next President and maybe things become a bit clearer.
Whichever way you look at it, however, 160bhp is still plenty of bang and, coupled with a chassis this good, it makes for a sensational ride. For those who think that a naked version of a superbike must be as just as hard core and uncompromising, you need to think again. The MT-10, in common with its super-naked rivals (think Aprilia Tuono, KTM 1290 Super Duke, Triumph Speed Triple, etc) is slightly softer all round, without sacrificing too much raw performance. If anything, losing that edge makes it a much more user-friendly bike; the suspension is a little more cossetting, the brakes have slightly more feel, if not being quite as powerful and, naturally, the riding position is much more comfortable. The average rider could probably get more out of the MT-10 than the R1.
At the heart of the bike is the four-cylinder, cross-plane crankshaft, 998cc motor found in the R1 but Yamaha have altered 40% of the internals, losing some of the exotic materials (cheaper) and re-tuning it for more torque lower down the rev range where you are more likely to use it in normal riding conditions. That doesn't mean the MT-10 doesn't get a move on. Accompanied by one of the great exhaust notes in motorcycling this is still a very fast motorbike, with more of the feel of a V-twin or V-four when punching out of corners. The noise of the engine, wonderful as it is, leads you to expect a lot of vibration but, in fact, it's uncannily smooth; it's all very Jekyll and Hyde.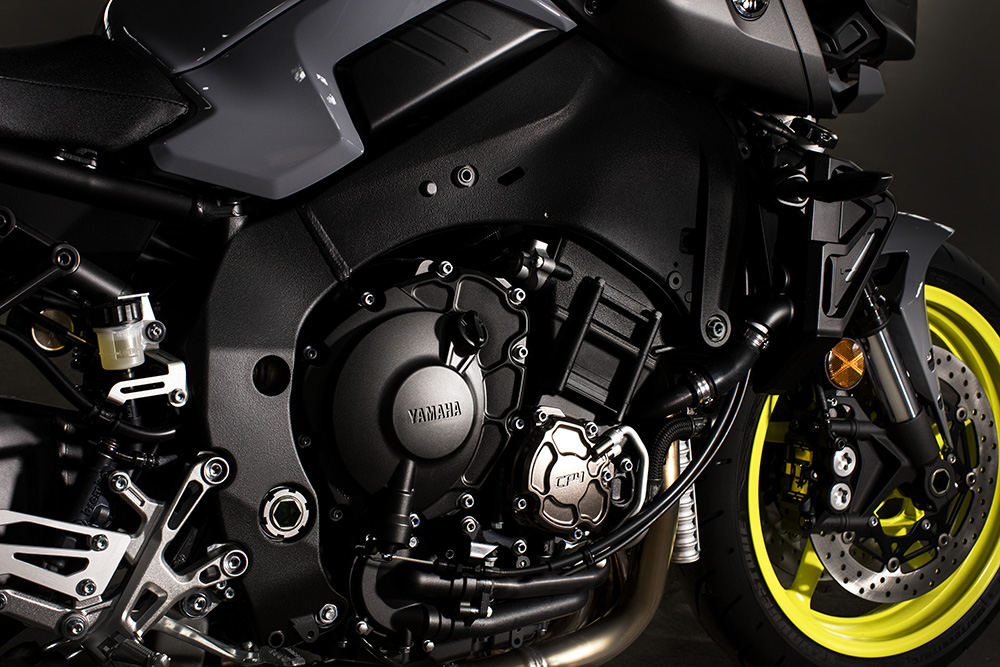 The R1 came out of the blocks with the all-singing, all-dancing six-axis gyro system for the traction control but, in all truth, unless you're going to be sliding your way out of corners on a race track, you simply don't need that kind of complexity. The MT-10's wheel-speed sensor-based system works just as well in real world situations and, unlike the 1290 Super Duke, will allow you to pull wheelies without turning it off. If that's your bag, of course.
The chassis is just as you find it on the R1, with KYB suspension front and back, although set up a little softer and, therefore, better on anything other than a billiard table-smooth race track.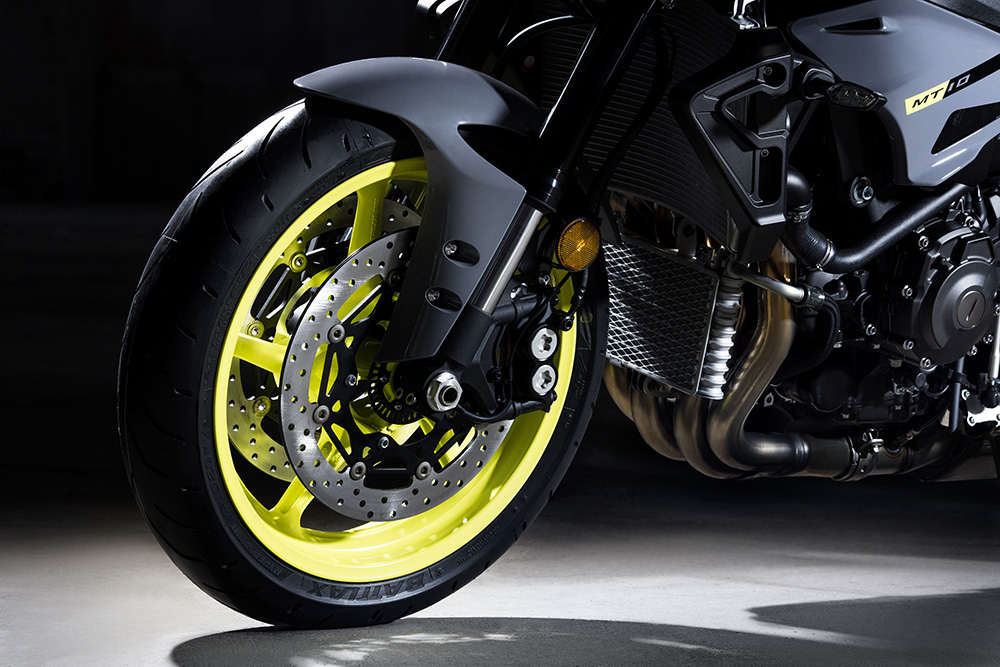 One aspect of the bike that will divide people are the looks. To be fair, the photos of the bike don't do it justice at all; it looks squat and pugnacious. In reality, it still has the appearance of a two-wheeled Transformer but the dimensions are perfect. It looks like what it is; a cutting edge design, that really stands out from the crowd. Perhaps the choice of colour scheme – primer grey bodywork with bright yellow wheels – could be too different but, give it a chance and have a look at one in the flesh. Such a bold design needs a bold colour scheme and, while it certainly divides opinions, this reviewer thinks it is brilliant; striking, different and matching the styling to perfection. Other, less flamboyant, colours are available but why go half-way?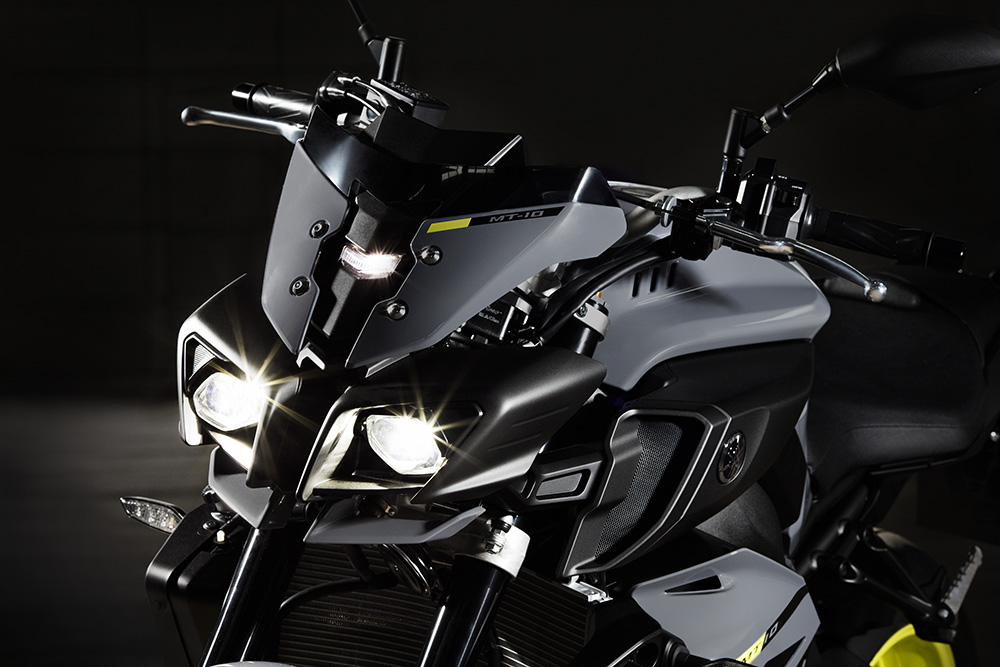 There are three riding modes for the throttle; Standard, A and B. In reality, Standard is perfectly fine; it doesn't actually cut any of the power, just softens the initial throttle response to a degree where you can make smooth progress. 'B' is the most aggressive mode and the difference in punch is remarkable, so much so, that going back to Standard feels a little tame. Let's face it; in any mode, it's still blisteringly fast.
Yamaha makes a big thing of the practicality of the MT-10. Woah! Hang on a minute, I hear you say; a naked sports bike; practical? This sounds a bit screwy. But hold on; I'm not finished.
First of all; cruise control (limited to a maximum of 183 km/h, naturally….). Secondly, catalogue options for panniers, touring screen and seat, and heated grips; Yamaha see a role for this bike that not many would see at first glance. Third; wind protection. As standard, there is no screen to speak of: rather a small lip that you take one glance at and go; 'oh well, there go the neck muscles after 100kms.' But no! Yamaha have performed some aerodynamic wizardry and that small lip actually deflects a lot of the airflow over your head. The riding position leans you slightly forward in a mild attack stance but it's fine for long rides, aided by a wide and generous seat.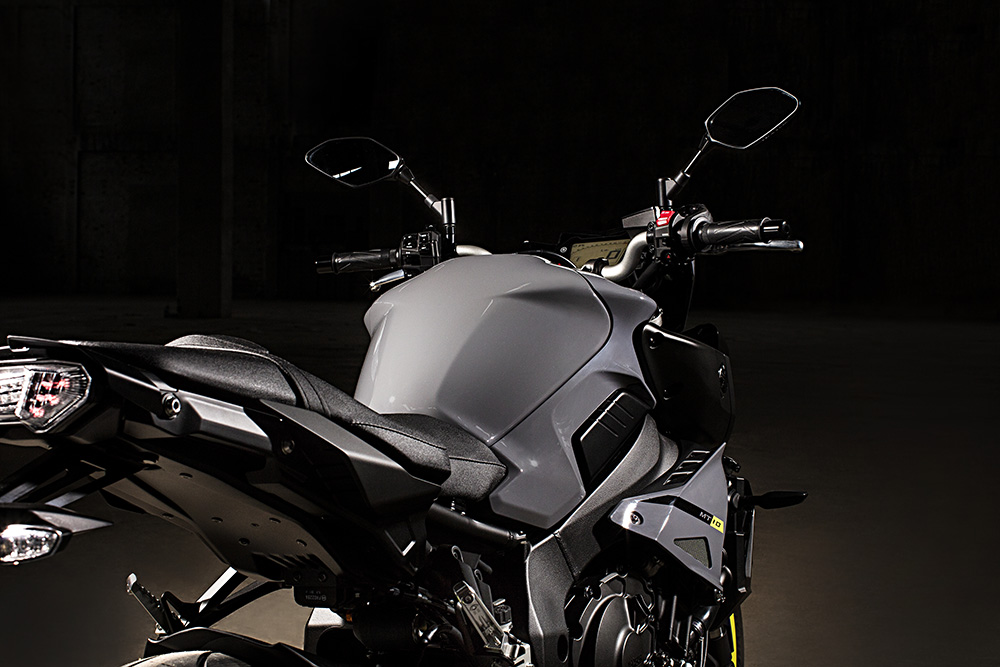 Problems? Build quality is excellent, as you'd expect from Yamaha but some of the plastic pointy add-on bits of the bodywork seem really flimsy and cheap; so much so that you almost want to snap them off. And, if practicality is something that Yamaha are pushing, then best you have a pillion passenger with no legs; the pillion pegs are mounted so high that the old saying, 'knees around your ears' really does seem a possibility.
But these are niggles that shouldn't detract from what is possibly, the new contender for King of the Naked Sports bikes. BMW have laid a strong claim to that title with the S1000R but, now, it seems there's a power struggle at the top and, really, it's down to the individual as to which bike wears it.