Simon Morton, ZA Bikers news editor recently accepted an invitation from Riaan Neveling (KTM SA Marketing Manager) to take part in the Redstar round Of the KTM RC390 Seniors race series. The event would take place in conjunction with the 5th round of the Super-GP Champions Trophy. For a first time racer he could not have asked for a bigger stage to make his debut, understandably he had some reservations but all turned out well. This is what he thought of the experience.
Having never raced before, my only other previous track experience was at the 2016 Triumph Track day, which was also held at Red Star raceway a month before. My lack of experience and expected huge crowds watching SA's finest National riders, made me a little hesitant with my decision to participate. However, I have always wanted to try my hand at racing and so eventually, I decided screw it – lets do it! Talk about throwing myself in the deep-end.
Although I consider myself a competent road rider, I felt that I would need to improve my skills for the track and decided that I needed some training before the race. So I booked myself a track school session with SA Biking Academy, which is run by Clinton Pienaar & Gareth Davidson from Superbike Magazine. Prior to my training, I was not sure what to expect but my mind was soon put at ease as the entire team at SA Biking Academy really made the effort to make me feel comfortable.
First we attended a rider's breifing where we would get some initial basic training and then we would go out on track for a 30 minute session followed by a 30 minute classroom session. During the classroom sessions Clinton would go through with each rider what they were doing wrong and how improvements can be made. He showed us photos taken from our previous session out on track. This was very good as one could get a clear idea of what you were doing wrong. During the day we did 5 Track and 5 Classroom sessions. Each session my confidence grew and my lap times improved.
Overall I really enjoyed the experience. Even if you have no intention of racing, I suggest that all motorcycle riders attend a course like this at some stage. I learnt things on the track that will improve my skills on the road. Do yourself a favour, get in touch with these guys. Its well worth it!
SA Biking Academy
011 791 4611 / 011 793 4255
[email protected]
www.superbikemag.co.za
The race weekend finally arrived. Luckily there were a few more newbies that had entered the race, so I had some competition at least, which was nice. We qualified at the same time as the Junior National boys on the Friday afternoon. These youngsters rode past me like I was looking for parking – quite scary at times!
Going into the 1st race on the Saturday morning and lining up on the grid, I was definitely feeling the nerves. But once the lights went out and we hurtled down the main straight, I soon got into the groove of things and started to really enjoy it!
Mike Glover (Red Cherry Adventures), who was also a track racing rookie on the day despite the fact that his forte is the dirt, was right behind me on the grid. He got the hole-shot on me and most of the field into the first corner with a bold move up the inside. Fortunately I was able to catch up and overtake him a few laps later, which was GREAT! The racing was intense, with dices throughout the field. It certainly got my adrenaline pumping. Addictive stuff.
The KTM RC390 really surprised me, it is an incredible bike with excellent handling and although I felt like I was out of my depth at times, I was nowhere near riding the bike to its full potential. The guys up front managed some ridiculous lap times, a true testament to the 390's capabilities
After the race I was buzzing – It was an amazing experience, one of my best days ever. I am really glad I threw myself in the deep end and was able to experience what its like to race on two wheels first hand. Highly recommended!!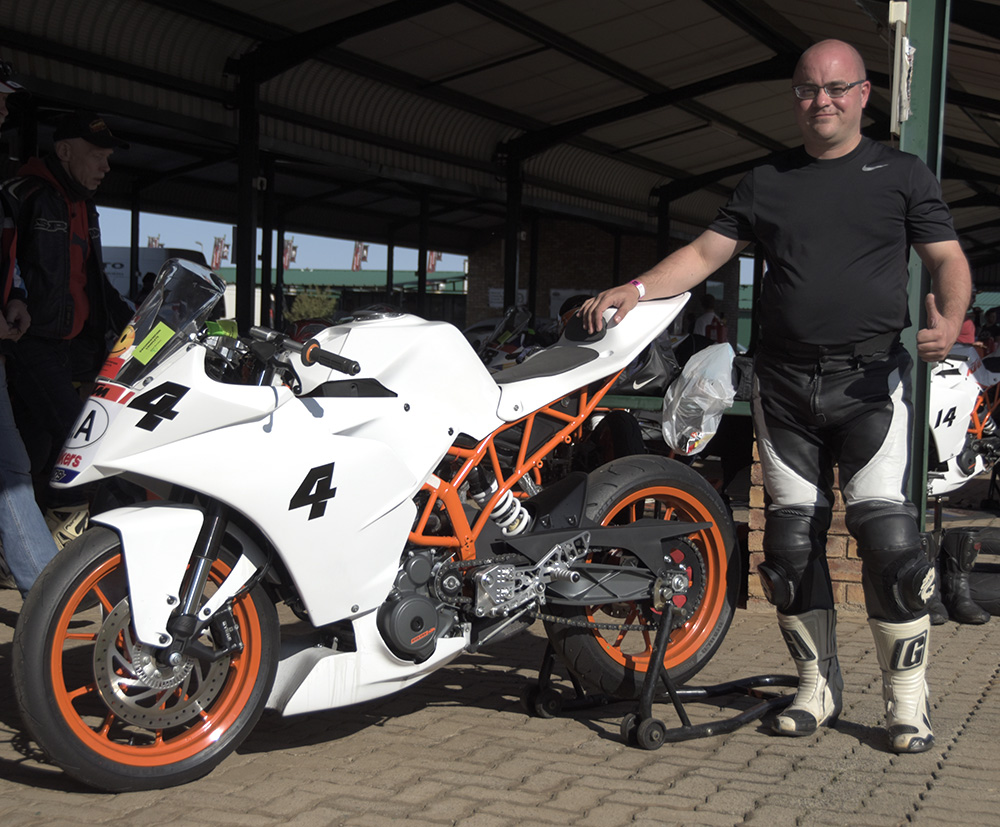 If you have ever thought about trying the racing thing yourself, but thought no chance, its way too expensive, then you might be interested in knowing that RAD Moto has a fleet of "Race Ready" rental RC390's available. What is nice about this option is that you just arrive at the track and ride. The bike is waiting for you, race prepared and ready to go. Speak to either Dave Griffin or Shaun Jubber at RAD Moto for more information. It's a lot more affordable than what you might think.
Give it a go – I don't think you'll be disappointed!!
RAD Moto
011 234 5007
[email protected]
www.radmoto.co.za