MV Agusta could never be accused of not getting their money's worth from a motorcycle platform. For example, take a look at this lot; Brutale 800, Rivale 800, Stradale 800 and the Dragster 800.
Now, the observant among you will notice one faintly common factor; they all use MV's fabulous 800cc triple cylinder engine which is, it must be said, a fantastic engine; at once powerful, snarling and full of blistering performance. Another pretty obvious observation is that they are all, more or less, naked sports bikes.
What isn't so obvious unless you have had the chance to ride them all, is that they are all totally uncompromising naked sports bikes which are great for a weekend blast or track day but utterly horrible for longer distances.
But, what were the chances of MV ever producing a touring bike? On previous form, one would have to say that it was pretty unlikely but it seems that the boffins at MV can think on more than one way and have stirred the 800cc pot once more and brought us this, the Turismo Veloce. As the name suggests, it's a sports touring bike but what are the chances of it being any good? After all, you wouldn't expect McLaren to make an SUV, would you?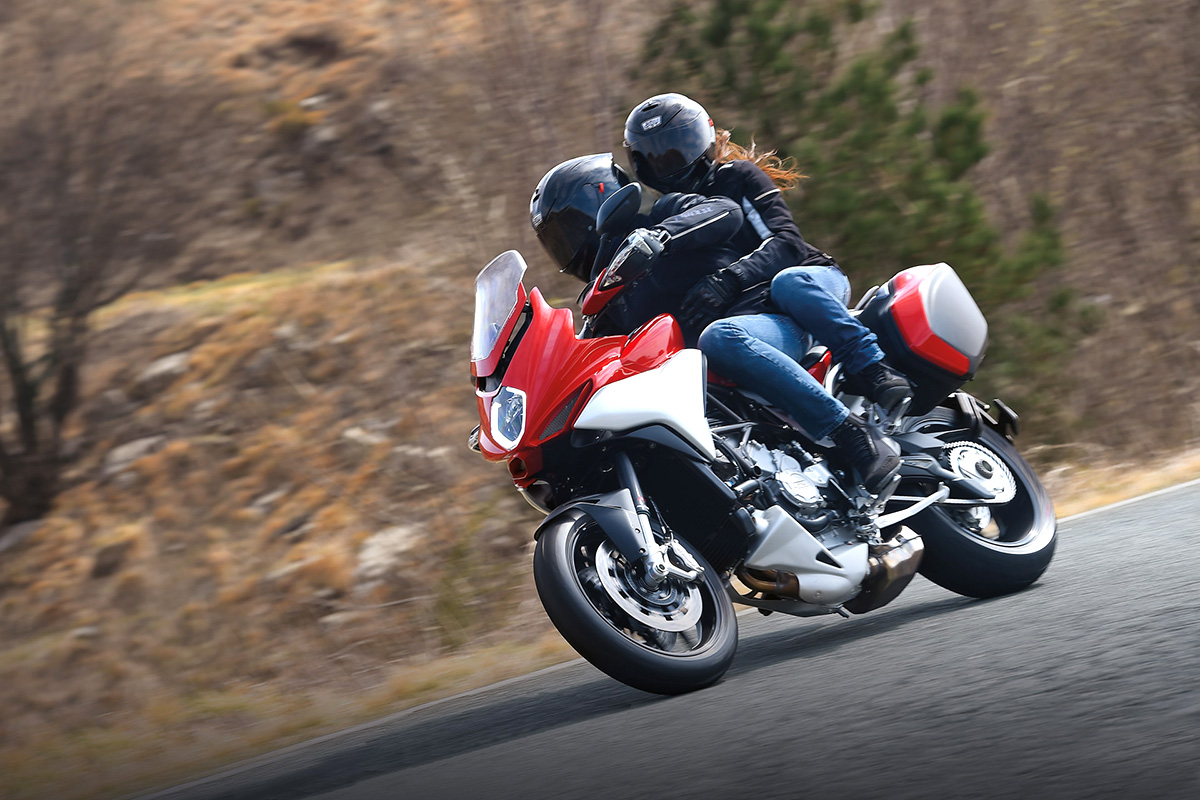 At first glance it's not completely convincing; they've taken the standard 800 theme and made it taller, added a fairing and a tall screen and provided for panniers to be fitted; pretty much the default setting for modern sports touring bikes; a kind of adventure bike without any pretence at off-road ability.
The engine is as found in the other models in the range, although completely re-mapped giving the lowest power rating of the group alongside the second highest torque reading; it's all been designed to make everything a little less frantic, which sort of takes away one of the great attractions of the 800cc range; that bonkers urgency that was always only a twist of the throttle away. It's still there, just a little more civilised.
Whilst it may have been tamed a little, there are certainly no shortage of toys; 4-level ABS, 8-way traction control with lean angle sensor, ride by wire throttle with four engine maps, two external power sockets, Brembo brake calipers front and back, Bluetooth connectivity, cruise control; it's very well equipped.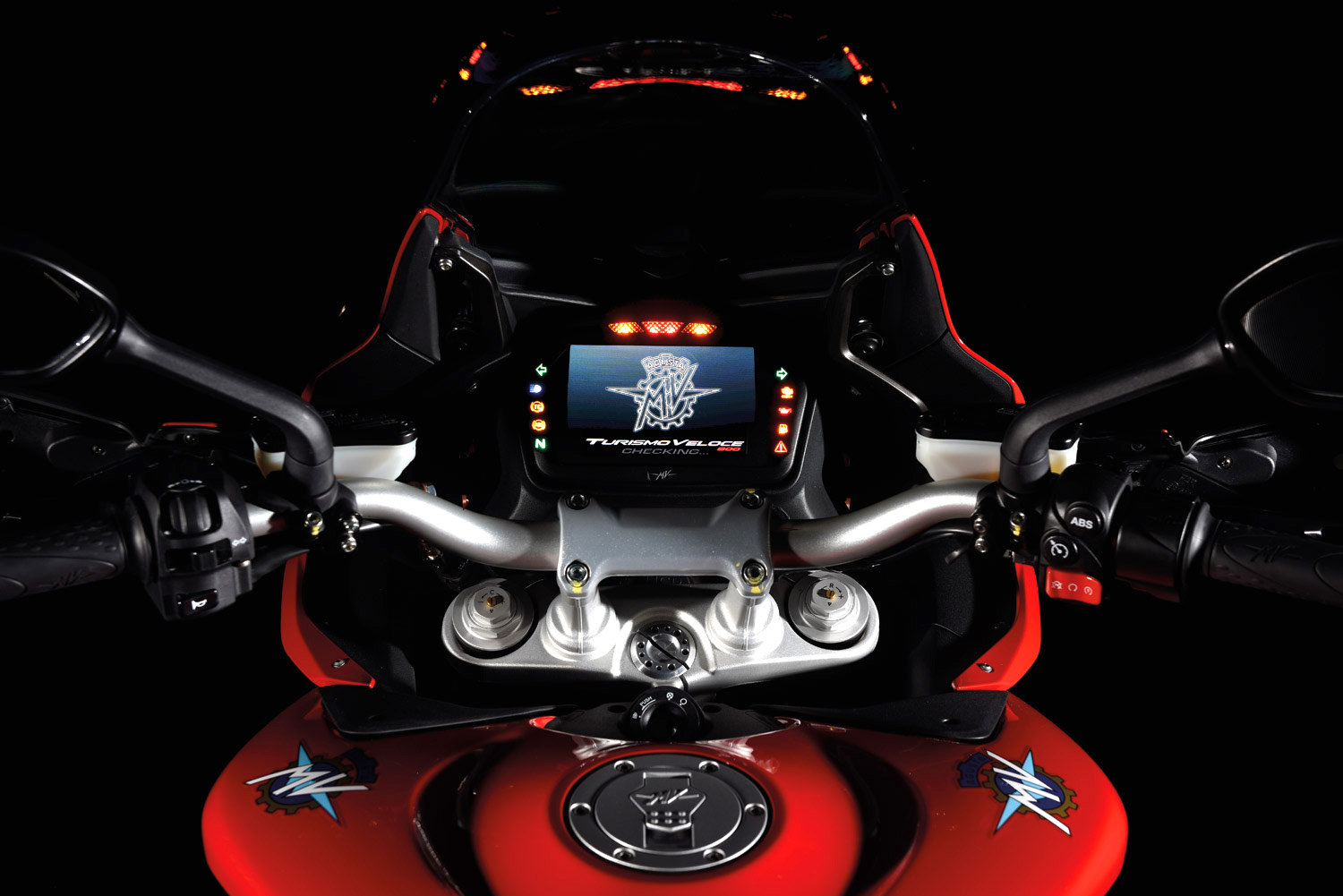 But – and there is a small but – look at it; where the naked MV sports bikes seem all of a whole, the Turismo Veloce is not very convincing at first. That short wheelbase that looks so purposeful and mean on the other 800s in the series looks a bit odd when the bike appears to be as tall as it is long. There aren't too many bikes that take a while to grow on you; you either love them straight off the bat or know you will always dislike them. But, it has to be said that, live with the Turismo Veloce for a while and it definitely gets easier on the eye, something that is helped once you ride it and realise how good it is on the road.
Fire it up and shoot it at the horizon and all is forgiven because, underneath the exterior styling, you still have one of the best engines and chassis in motorcycling today. The engine may have shed a few horses but the torque is there where you need it and this quick shifter that works down the gearbox as well as up, is just fantastic.
And here, for once, is an MV that just begs to be taken on the highway in order to explore far distant lands. Not only that, but the chassis, despite the vertigo inducing height, is still as taut and nimble as it always was, and perhaps more user friendly because of the more relaxed and roomy riding position that the higher bars permit. On the other models, your weight and body position are very much right over the top yoke which might be good for quick steering but can make things a bit twitchy. You feel like you're sitting 'in' this model, as opposed to 'on' the others; it's a lot more reassuring. Wind protection is pretty good from the adjustable screen and seat comfort, for the rider, at least, is good. I can't pass comment on the pillion seat but, to be frank, it doesn't look the most comfortable ever fitted to a bike.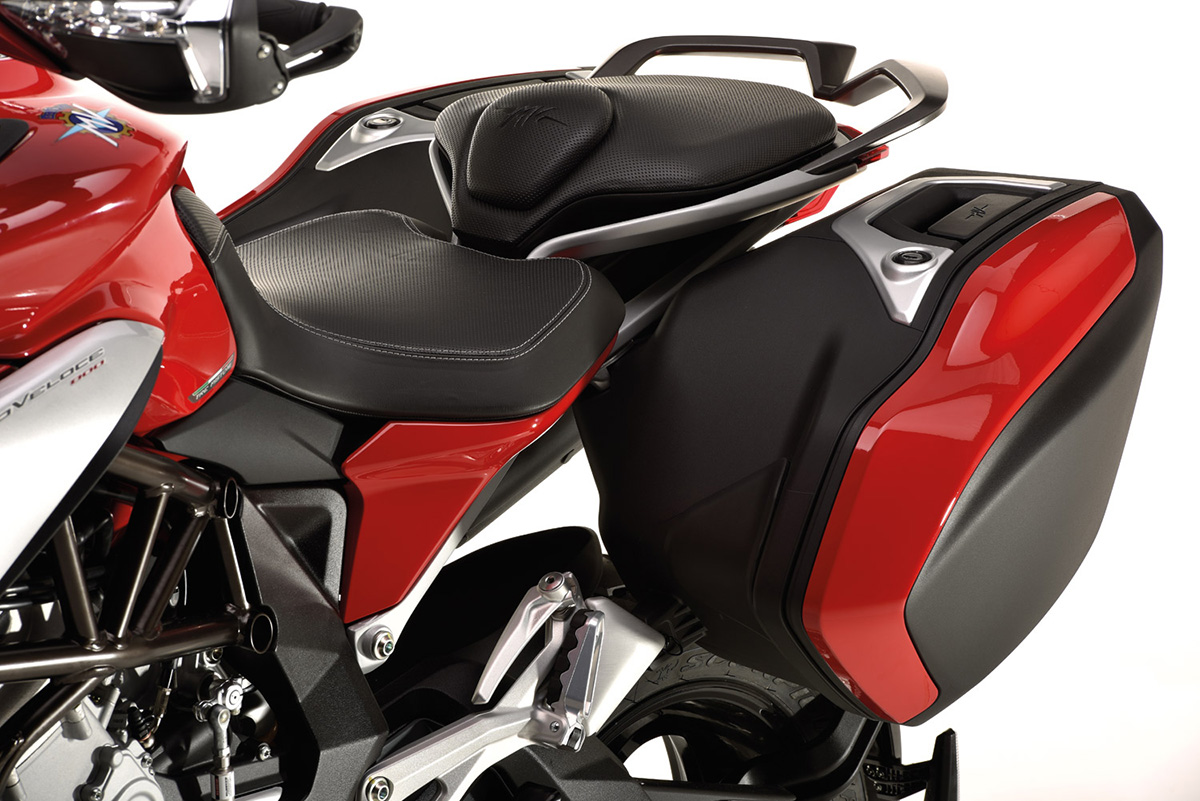 At R169,000, plus around R10,000 for the optional panniers, this bike isn't cheap although there are rivals in higher and lower price brackets. Ducati's Multistrada and BMW's S1000XR for example; just as exotic, perhaps better all-round but both larger, heavier and hugely more expensive. Cheaper than the MV, there is Triumph's recently upgraded Tiger 800 XRx or the Kawasaki Versys 650; both variations on the theme but both lacking the style and the Italian flair of the MV.
However, if you've always hankered after an exotic Italian thoroughbred but been put off by the overtly sporting nature of the bikes, the solution is now here; the most usable MV Agusta ever, the Turismo Veloce.
For more information visit: www.mvagusta.co.za