Triumphs Explorer has evolved into a very well rounded and balanced package. This was recognized by the countries foremost motorcycle journo's , when they voted the XCa version to third place overall in the 2016 Pirelli Bike of the Year competition. What is it then that impressed the judges?
Comprehensive Spec
The range topping Explorer XCa is extremely and comprehensively specced. Forgive me if I miss anything but the spec list is long! Semi active WP suspension, electrically adjusted windshield, heated grips and seats, five engine modes, traction control, A.B.S., self-cancelling indicators, cruise control, mainstand, handguards, spotlights, crashbars and a proper aluminium bashplate. There really is nothing you have to spend any more hard earned loot on, the XCa has it all and then some. There is even an immobilizer, should some son of a seafaring cockroach plan to pilfer your ride!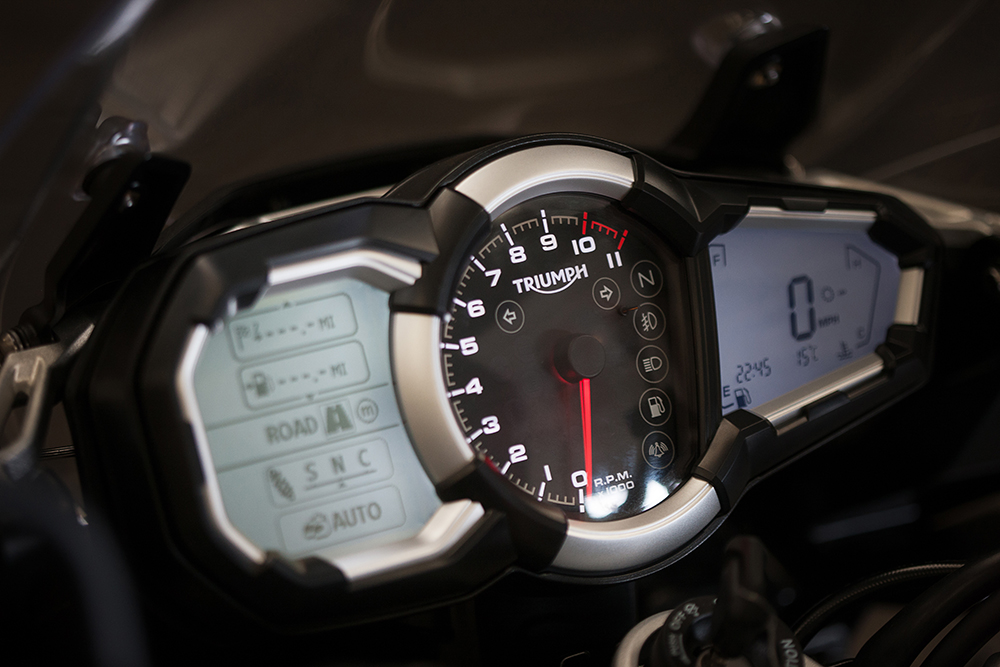 Engine and Chassis Upgrades
The Explorer was never ever described as underpowered! On the contrary, the three-pot turbine like mill has always impressed with its smooth, effortless power and torque. Triumph, in the course of constantly improving and fettling the Explorer, have upped the power (2 bhp) and torque (2 ft lbs). What's more, the torque curve is even flatter with 6% more at 5500 rpm. The fuel mapping is superb, allowing you to access the creamy power with nary a stutter or hiccup. Road, rain, off-road, sport and custom engine modes, allow you to set the bike up, to best compliment your riding ability and style. Despite more shove, the XCa has got 5% lighter on fuel, which gives extra range from the 20l fuel tank. Dry weight is a hefty 258 kg but bear in mind, that already includes carrying all the extras that you may still have to add to the weight of some opposition models, in the same class.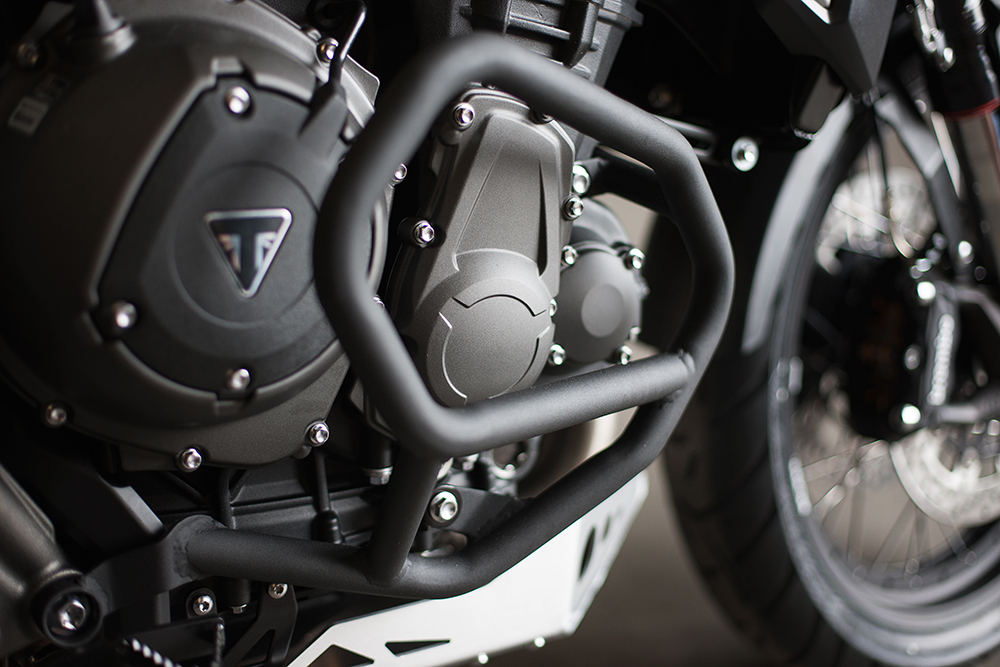 What do we mean by semi-active suspension? Well, here's how it works. The bike has an inertial measurement unit constantly measuring roll, yaw & pitch and acceleration on vertical, lateral and horizontal planes. The rear shock automatically levels the bike by increasing or decreasing the preload and by activating the torque-assisted clutch.
There is even a hill-hold function – overkill perhaps? Definitely not, when two up on a steep, loose incline!
The 305mm front brake rotors are clamped by upgraded, monobloc, 4 piston, radial Brembo calipers. A single 282 mm rear rotor and Nissin two-pot caliper, sorts out back wheel braking.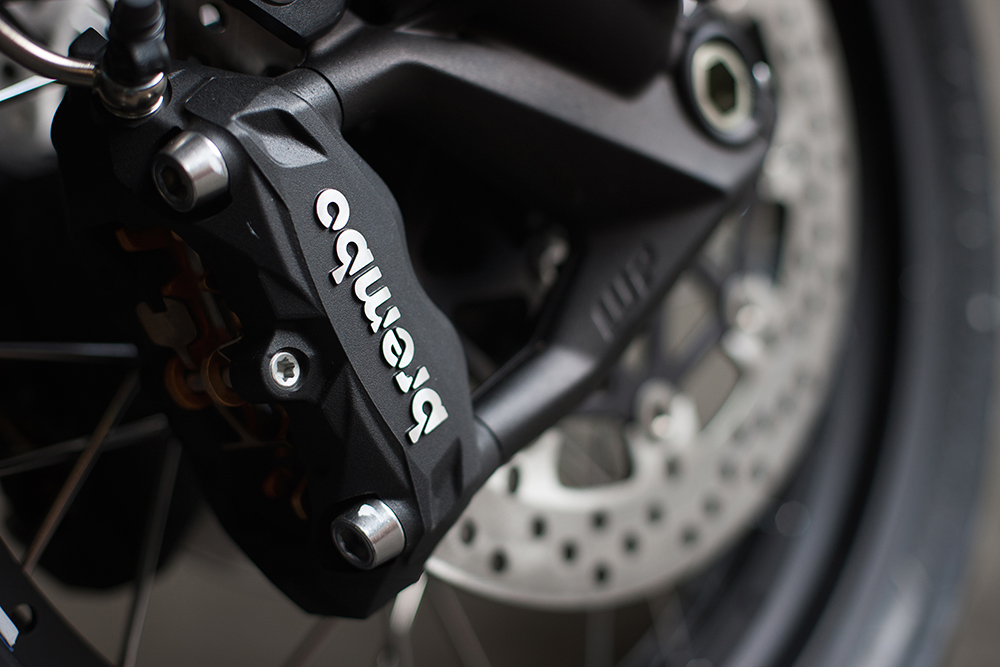 The XCa comes in some funky colours – crystal white, Lucerne blue and matt khaki green.
The riding position is subtley changed to increase comfort for a wider range of riders (I found the Triumph very comfortable for my 6'3" frame) and I suspect that some of the extra power is courtesy of a more free-flow exhaust. The soundtrack is akin to a jet turbine spooling up – very addictive and very intoxicating.
A 120/70 X 19 front tyre and 170/60 X 17 rear, give a decent footprint.
The Ride
So, what is the XCa like to ride? If I had to sum it up in one word, I would choose "competent". The bike always feels taut and solid. It has one of the least intrusive shaft drives out there. The gear change is accurate and good when measured against other shafties. Few bikes devour distance as competently as the big Trumpet. One up or two up and loaded, makes no difference. The ample, smooth power and torque, reels in the horizon with alacrity. The inherent comfort makes 1000k days a doddle. The overall quality and build integrity inspires huge confidence. You kinda just know you will get there and back with ease!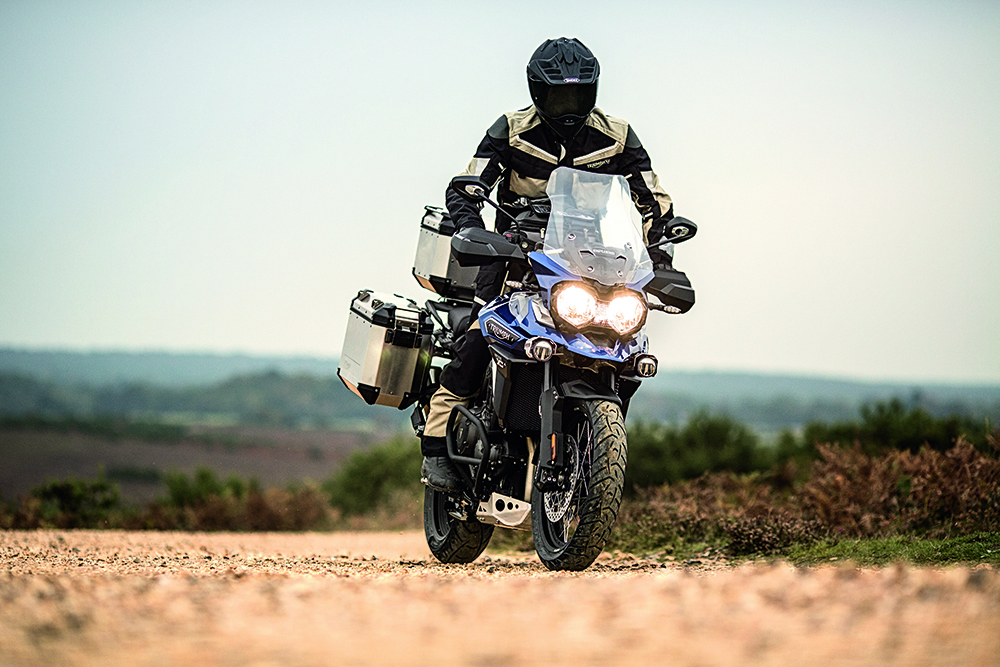 The XCa handles better than you would expect any big, dual purpose bike to handle. Whilst you are always aware that the Explorer is a lot of motorcycle, it turns easily and with accuracy. It inspires confidence and feels planted. The high levels of rider and passenger comfort take the sting out of highway droning.
The Triumph explorer in XCa guise with its tubeless, spoked wheels, shaft drive and comprehensive spec, is a truly fine motorcycle. The 16000 km service intervals and good fuel consumption, keeps costs down and encourage the owner to do what the XCa does best – haul long distance butt! Indulge yourself and enjoy!