We're all victims of fashion, really. And, before you take a sideways glance at your mate whose dress sense is questionable at the best of times, I'm not talking about fashion victims; although that is such a rich vein to tap into when talking about the dress sense of the male species of South Africa.
No, given that this is a motorcycling website, the topic of discussion today is, not surprisingly, motorcycles and right about now you're possibly wishing that you hadn't bothered starting to read this article but for those who have the stamina to push on a bit further, I am about to get to the point.
We have ceased to regard the motorcycle as a means of transport – which it undoubtedly is – and to rather view it as an object of desire. A motorcycle has become a symbol of status, middle age and success and less of a practical solution for shrinking horizons. We've lost sight of the true purpose of the machine although, to be fair, it has been replaced by seeing it as a means of recreation which might not be so noble a calling but is still justification enough for owning one.
Now, this is where the fashion bit comes in. The very word 'fashion' has come to mean something that is completely superfluous to everyday life; it is a frippery lying on the surface that clouds and obscures what is important underneath. And it is exactly the same when applied to adventure bikes.
At the bottom of it all is the fact that we're really a bunch of sheep; incapable of individual thought and fearing to be seen to be different to the rest of the crowd. 'He's got one so I have to have the same.'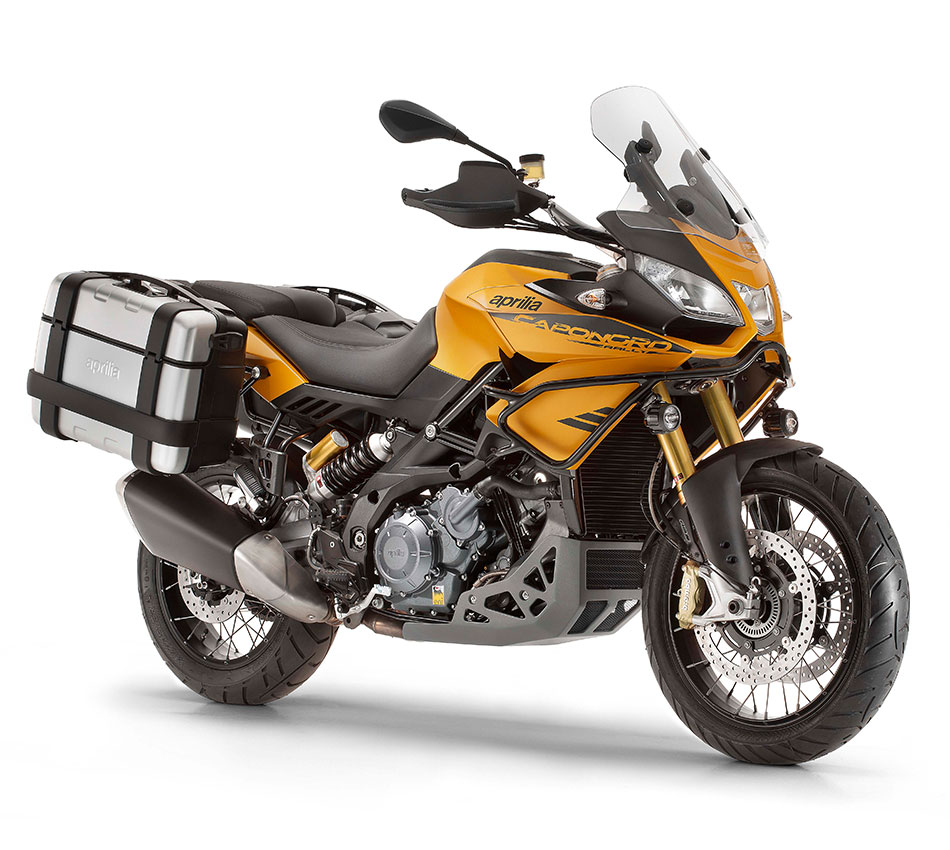 That's all very well, but it ignores the reason why he has one in the first place and the fact that while he might know what to do with it (and the chances are that he doesn't) the odds are even that you also do not.
I'm not about to decree that we should only be allowed the bike that we can get the most out of; 'Let's see, Sir; you signed up for a superbike, but in fact all you're good for is a scooter. Hard cheese, old boy.'
But a little bit of sense in choosing your mount is advisable because the chances are you're not only about to spend far too much money but also, in your haste to join the in-crowd, you might be overlooking a bike that is eminently more suitable for you and from which you will derive so much more pleasure. There won't be that nagging voice at the back of your mind saying 'you're not using this enough. Better get out there and try not to look like a fool when you drop your pride and joy off a cliff because you got in over your head.'
We're all convinced we need a BMW GS or a KTM 1190 Adventure R or a Yamaha Super Tenere and that we're going to conquer new territories way off the beaten trail every single weekend; befriending strange new civilisations, eating bugs and tree bark, fixing punctures by stuffing your finger – that you hacked off with a blunt knife – in the hole, arriving back at the office on Monday morning looking like a cross between Ranulph Fiennes after a 30-day trek across the Sahara and Action Man.
Er…no.
In reality, you're going to play it safe and stick to the tarmac on the one occasion you do venture further than the city limits and for the rest of the time, you may use it once or twice to get to the office until the boss frowns at you walking in looking crumpled after your suit has been re-pressed under your bike jacket for half an hour. And at weekends, you'll ride to the pub that's 400m down the road to watch the rugby with your mates.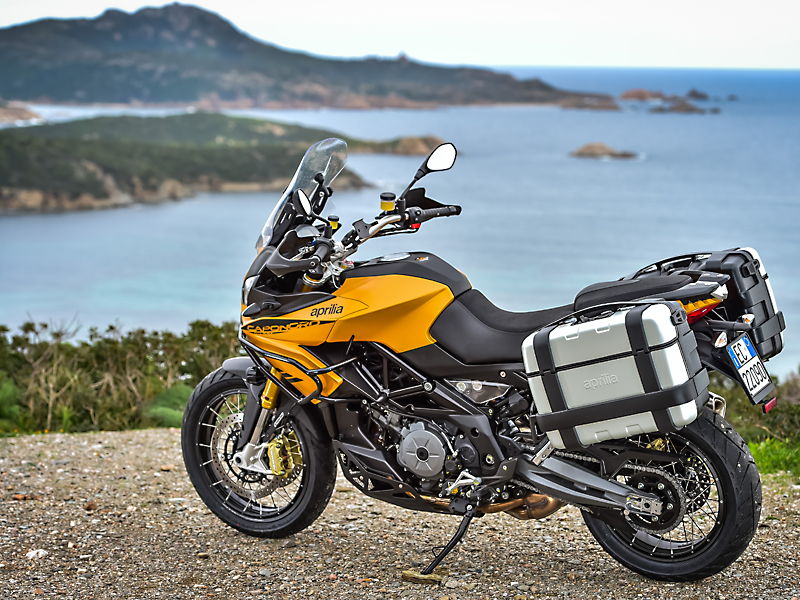 Let me ask you a question; what is adventure? Is it fighting a 250kg motorcycle through mud, rivers, thick African bush, over hills too steep to walk up, getting filthy, thirsty, possibly injured, stuck or exhausted from picking the bike up too many times? Or is it simply moving away from your everyday pattern and setting out to discover some new place, new people, new roads less travelled, and new experiences?
I love the first option, as much as my mediocre talent will permit, but I also love the second option. There is a time and place for everything and I think that the majority of riders will have more time for just getting on the bike and riding to somewhere new over unchallenging roads than planning and executing a journey that would make Hannibal and his elephants think twice.
So, to return to the theme at the top of this article, we are all victims of fashion; we'll buy something totally inappropriate for our needs and then try to convince ourselves that it was worth it.
The manufacturers have pandered to our every whim and given us what we think we want. Well, everyone except the Italians that is. Before now, if you wanted an Italian adventure bike with the ability of a GS, 1190, Tenere or Tiger, you were out of luck. If you wanted what the Americans call a Street Enduro – adventure bike styling with road-friendly wheels – the Italians made two of the best out there; Ducati's Multistrada and Aprilia's Caponord.
But now, Aprilia have thrown in the towel and produced the Caponord Rally, their attempt at a full-fat adventure bike. And, do you know what, it's not half bad.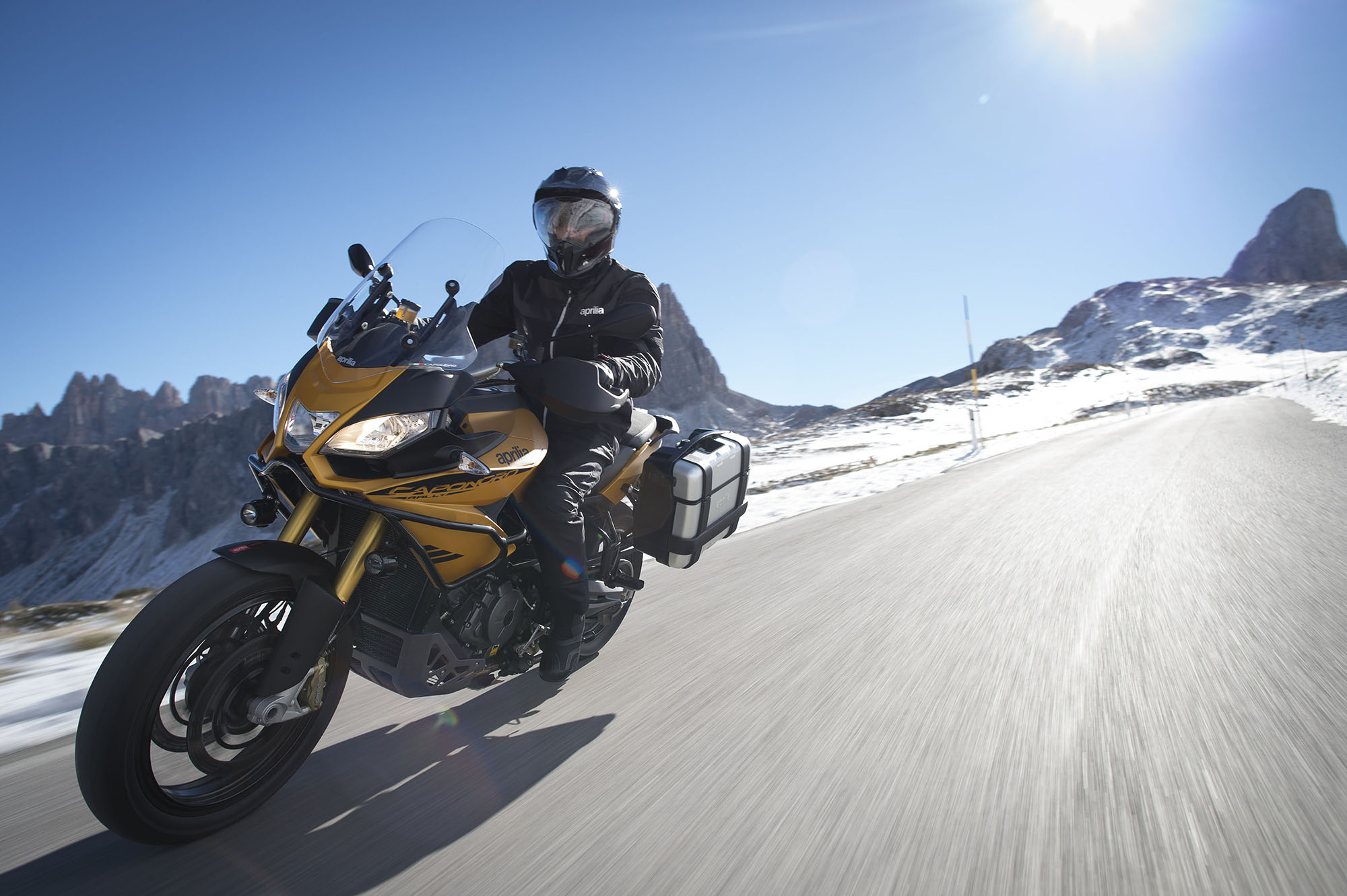 First off, it not only looks the part – tubeless-tyred spoked wheels, crash bars, LED Spotlights, sump guard, panniers – but it is also very beautiful in a way that only the Italians seem to be able to achieve. The electronics package incorporates Aprilia's active suspension damping system, along with the now ubiquitous ABS and traction control, both of which can be switched off. The ride-by-wire throttle allows for three riding modes and cruise control which is essential or those long highway miles that these bikes are so good at.
The real peach of this bike, however, is the engine or, to be more accurate, the noise the engine makes. It's an 1197cc, 90 degree, four-cam v-twin so nothing particularly different there, especially when it adheres to the v-twin manual and produces plenty of power and torque. But the Italians must work to a different set of noise emission standards to everyone else who is building motorcycles.
This engine howls. So much so that you find yourself slowing down solely in order to crack the throttle open and hear the racket all over again. It's fantastic and it's so Italian that it's addictive. Once you've experienced it, you don't really care if it's good off-road because all you want to do is go as fast as possible on tar. Luckily, the rest of the bike – the chassis, suspension, ergonomics, screen, seat and footpeg location – will allow you to do this because, as a road bike, the Capo Rally is a wonderful machine.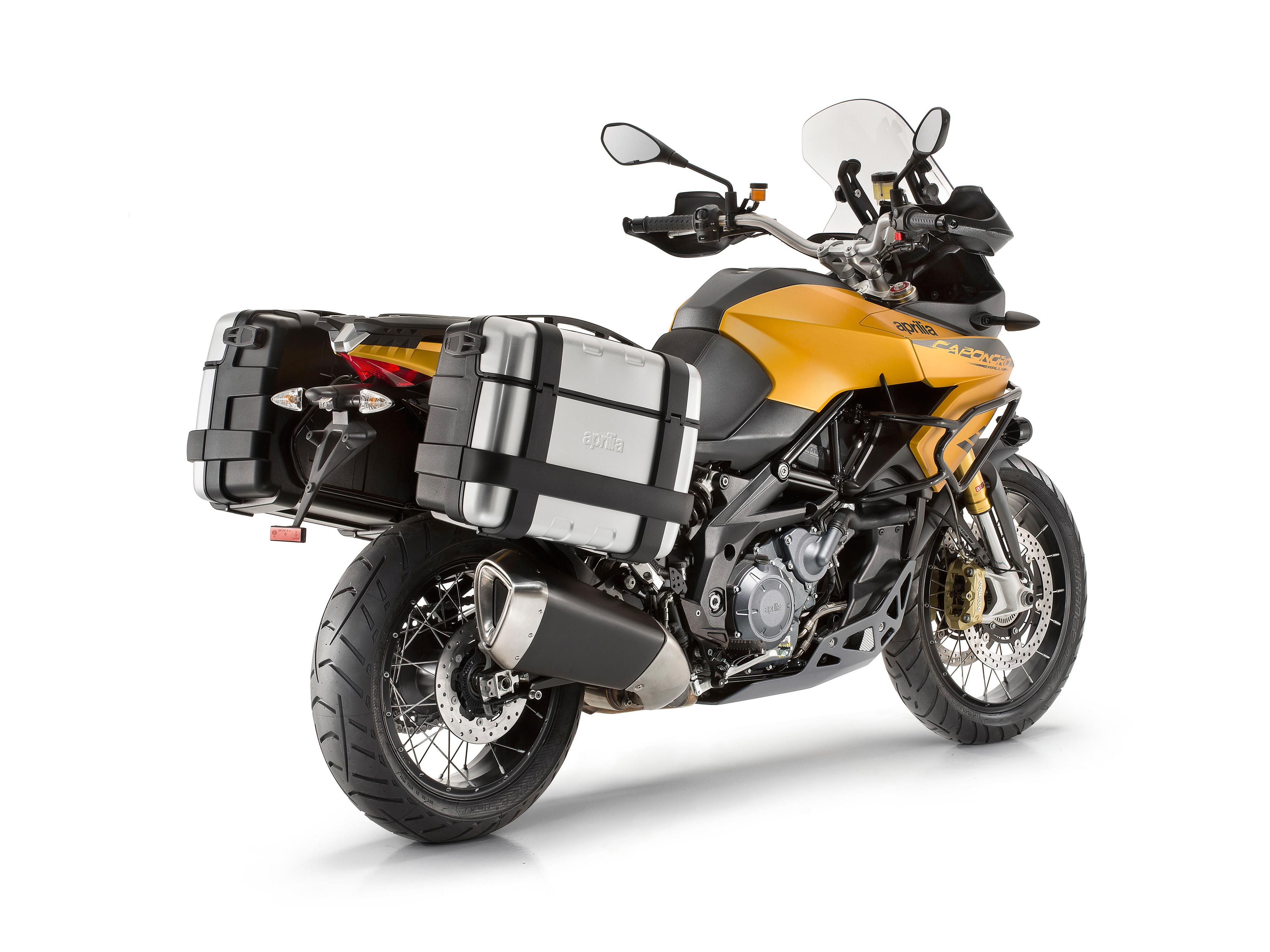 It's not too bad off-road, either. It would be unfair of me to comment extensively on its behaviour because I don't have the skill of a Darryl Curtis or Alfie Cox but that's all right because I suspect that many of you reading this also aren't that great off road and that is where the Capo Rally comes in handy. It brings me back to my initial argument; that we all buy above our talent level or practical requirements merely because of fashion.
If we get over the illusion that we are about to emulate Long Way Round (or Down, if you like) and admit that it is road manners that matter most in selecting a bike – even an adventure bike – then the Caponord Rally is a brilliant choice. Given that some ridiculous percentage of South African roads are not metalled, an ability to ride on smooth dirt roads without completely ruining your bike is a good thing and this the Aprilia has while not being the over-riding characteristic.
So, it's still an object of desire as opposed to a mere form of practical transport and, along with all its adventure rivals, it's not cheap, but, if you're looking in that price range, want something a bit different and you're content not to follow the herd, why on earth wouldn't you give the Caponord Rally a closer look?
Available from Cayenne: www.cayenne.co.za