With motorcycle tours the fun starts with the planning. We really wanted the Botswana Odyssey to be special. Our group of 11 included Bill and Tammy Snell from Orlando in the US and Arthur and Julieta, also from Orlando. Not only was this their first visit to Botswana, it was their first motorcycle trip in Africa.
The rest of the group comprised of Graham and Patsy, who carried our gear and camping equipment in the ZA Bikers van. ZA Bikers Simon and Chantel on a KTM 1050 Adventure, Gerry on his KTM 1190R, and my wife Irene and me on my CRF1000L Africa Twin. The American couples were on an KTM 1190 Adventure and a KTM 1290 Super Adventure.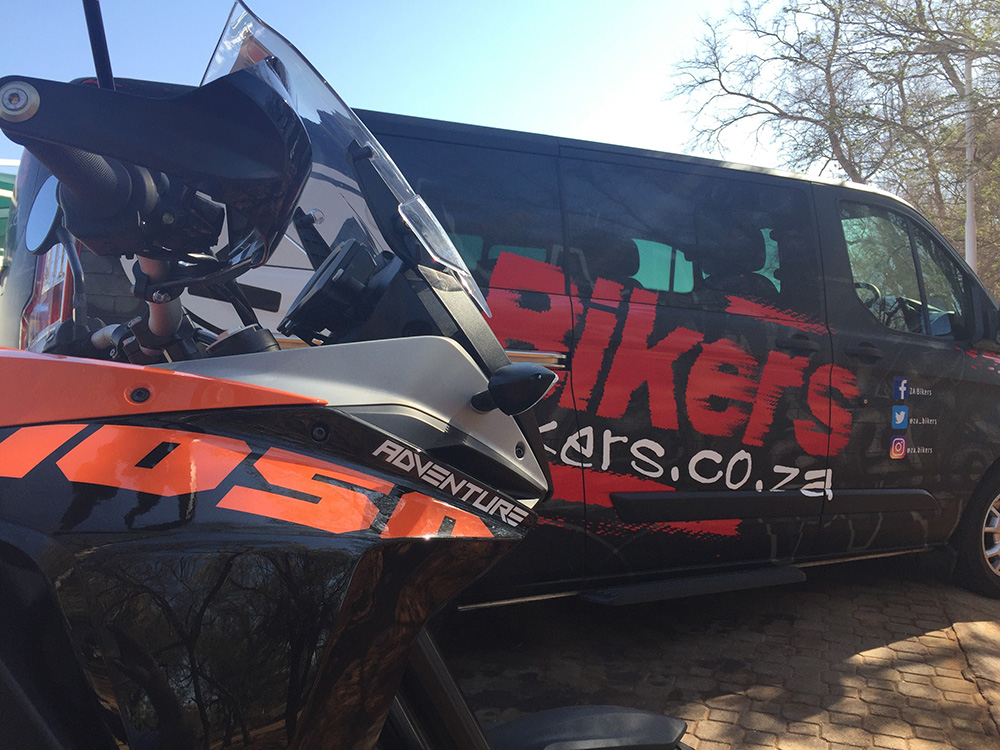 Early morning on the 7th of October saw us rolling north out of Pretoria. Fortified by a Wimpy breakfast we exited the freeway and revelled in riding through a hot, dry and dusty bushveld. The bikes ate up the distance effortlessly and by lunchtime we crossed the Groblers Bridge/Martins Drift border post to refuel both bikes and riders at the Kwa Nokeng filling station. Temperatures of 38 degrees saw us downing drinks and soaking T-shirts and buffs in water to cool off. The last 120k's to our overnight stop, the Itumela campsite in Palapye, was hard work in the serious heat. In no time our riding kit was off and we were in the pool or sipping on an ice cold St. Louis, the local Botswana beer. A great first day was capped by a good old boerewors and chops braai.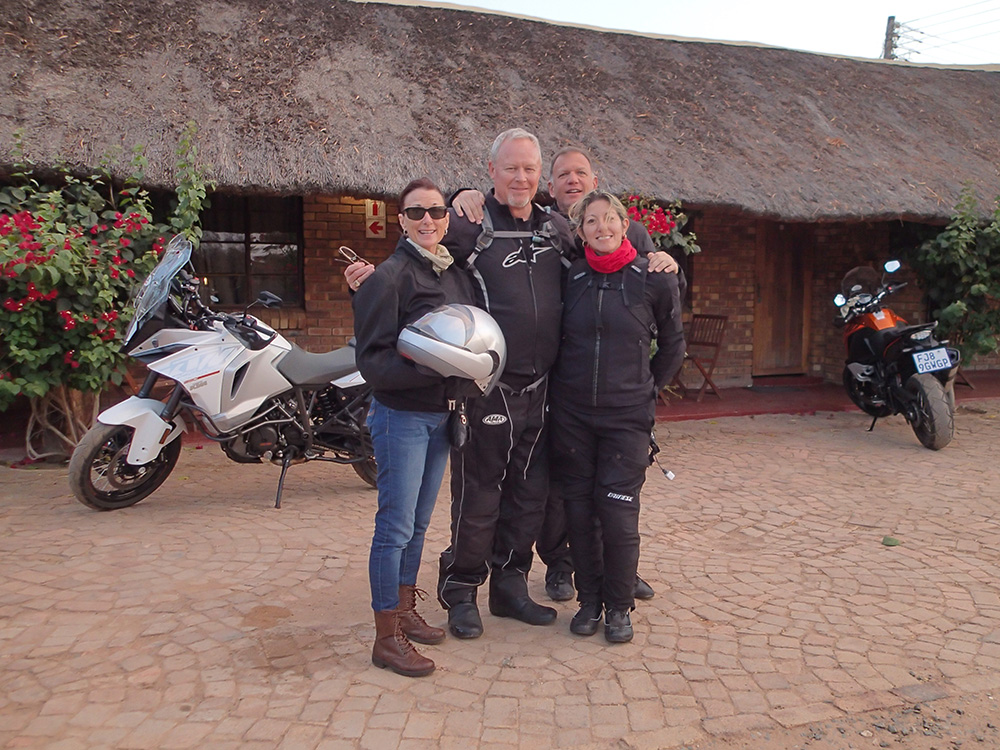 Up at first light we rolled out of Itumela at 6 am. The plan was to do some serious distance in the cool of the morning. The route took us to Serowe, and then past the Khama Rhino Sanctuary to Letlekhane. From there we passed below the Orapa diamond mine, through Rakops and north to T-junction on the Nata Maun road, hang a left and cruise to Maun and our Oasis for the night, Old Bridge backpackers. The first 220k's were despatched at speed. The KTM'S are fast, frugal and comfortable. Topping up in Letlekhane we rode northwest under a big sky and bracketed by the Makgadikgadi pans on the right and the endless expanse of the central Kalahari on our left. We stopped for photos with a typical Kalahari backdrop. Simon, having developed a case of "the backdoor trots", disappeared into the bushes with a roll of "wit goud" (or white gold for our American friends.) Needless to say this elicited more mirth than sympathy from his travel mates!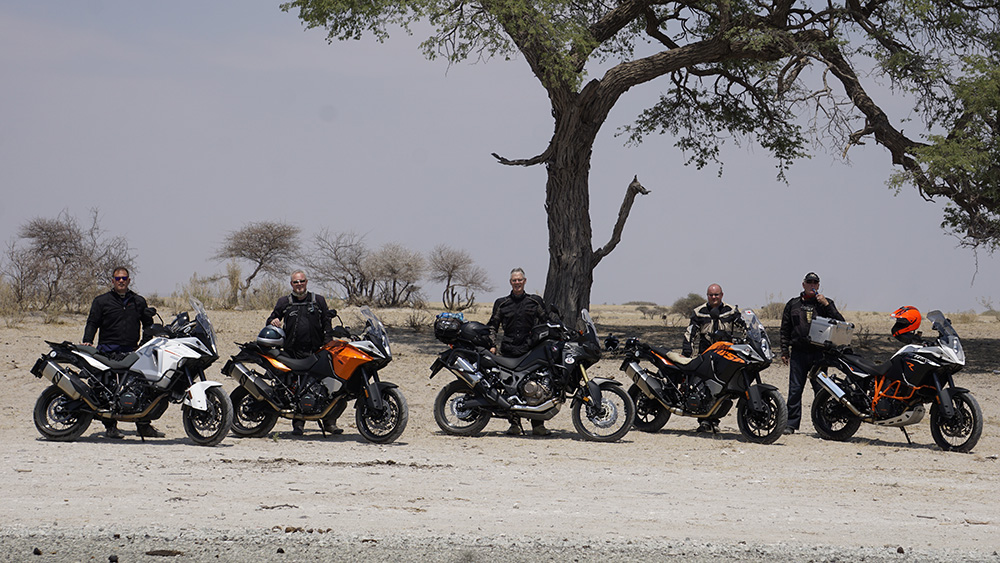 As we neared the Nata/Maun road we encountered a strong gusting crosswind. To make matters worse the gusting wind carried white choking dust which seriously limited visibility. This transpired in the dreaded sand monster claiming its first victim. We pulled in to a "Spaza shop" for a cold drink. Gerry, blinded by dust, misread the deep sandy area in front of the shop and capsized his Katoom, much to the amusement of the locals. Hard road tyre pressure and deep soft sand guarantee plenty of adrenalin riding a big tall heavy adventure bike. Forty minutes later, with over 620k's under the belt we rolled into Old Bridge for lunch.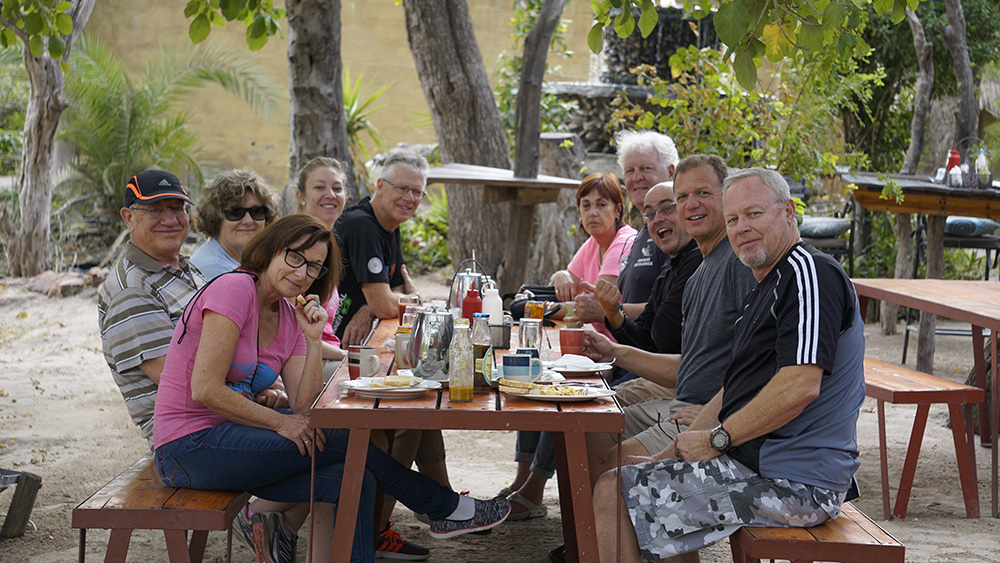 As the day drew to an end we experienced a magnificent sunset. The fading sunlight reflected off the cool delta water and bathed the old bridge in a surreal golden glow. Dinner, eaten under the huge strangler fig tree, was a wonderful affair. Our Americans had taken the worst that Africa could throw at them and triumphed. As the war stories got told I could sense old Africa once again working its magic. We were all falling under its magnificent, albeit harsh, spell. Cosy beds in permanent safari tents ensured a good night's sleep.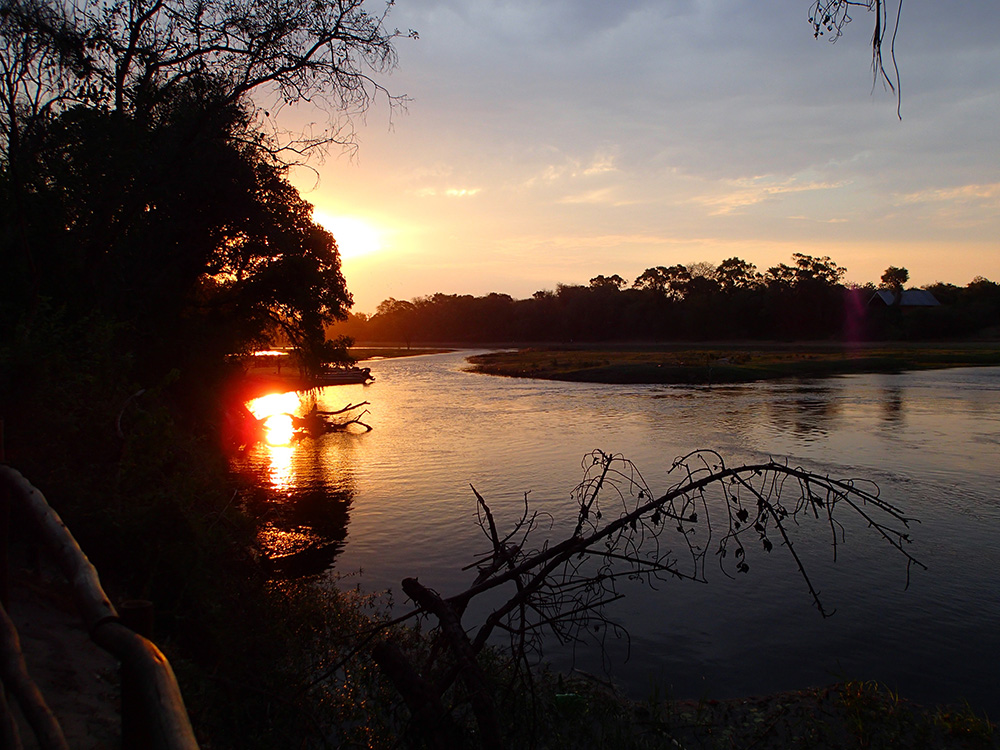 Day three was a mere 200k hop to planet Baobab at Gweta. "Planet Baobab Kalahari Surf Club" is a very, very cool place. It sports what is maybe the nicest pool and surrounds in Botswana. This was our first night camping. We lounged in the pool till the setting sun turned the Baobabs, which dominate the lodge, pink in the early dusk. Retiring to our campsite we got a blazing fire going and toasted a perfect African day. Dinner was salads, braai bread and incomparable Botswana fillet steak, bought earlier in the day at Shoprite in Maun for R70 per kg. That my friends is a mere $2.20 a pound!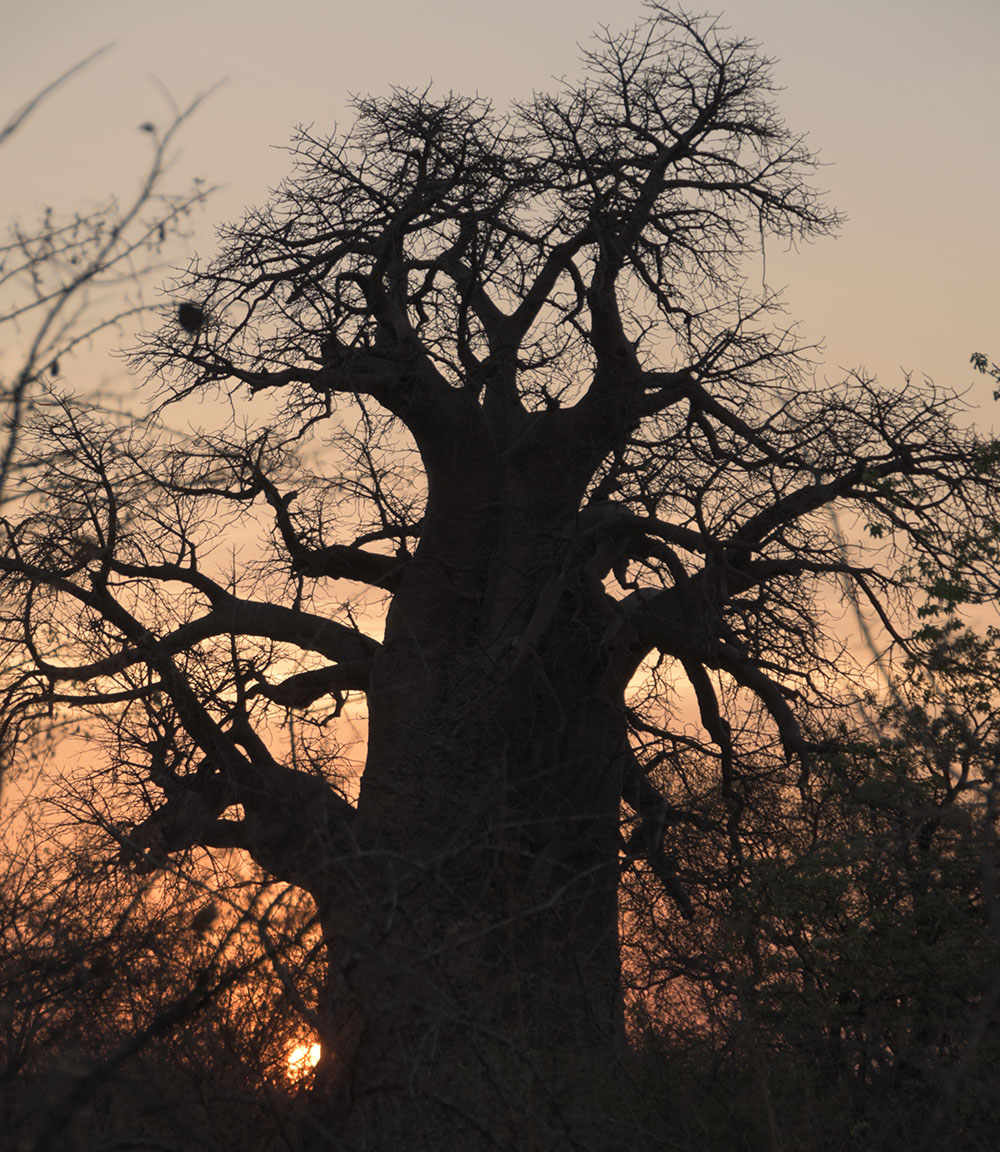 Early morning saw camp struck and a quick dash to Nata, where we refuelled, snacked and then rode to Nata Sanctuary for an off-road foray onto the legendary Makgadikgadi pans. Once on the pans proper we saw a few Springbok and a big herd of Wildebeest. We were all totally enthralled. There is still a large body of water with some flamingo and pelicans. This is a truly special place. Many photos and oohs and ahs later we rode back on the challenging, sandy, calcrete road and pulled into Nata Lodge for a much needed lunch and for some a swim. Our American friends were already saying that the trip had exceeded all their expectations, with each day surpassing the last in terms of amazing experiences. Little did we know that Botswana had saved her very best for last. Elephant Sands, 50 odd kays north of Nata was our destination and camp for the night.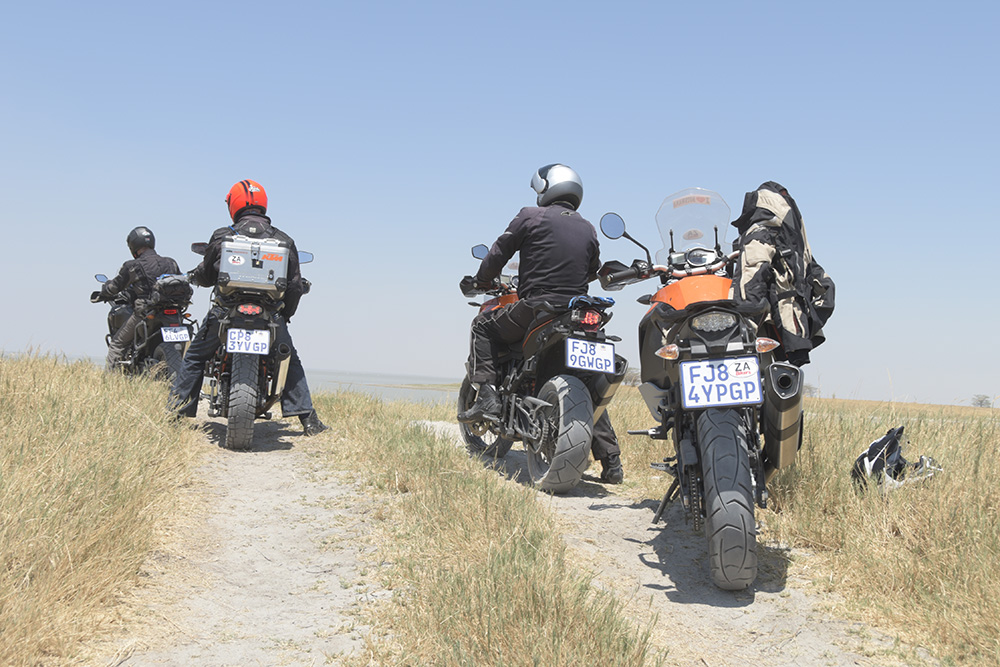 Those of you who are versed in riding deep sand will know that it is least challenging when ridden early in the day. Dew and cool makes the sand denser and thus easier to ride. By the afternoon it is plain hard work. And so it was when we turned onto the sand track from the tar road to the lodge. Within 500m we had four bikes lying in the sand with hot sweating exhausted riders panting in the 41 degree heat. Luckily deep soft sand damages egos rather than bikes and taking an elephant path detour on much firmer ground soon saw all the bikes safely in the Elephant Sands campsite.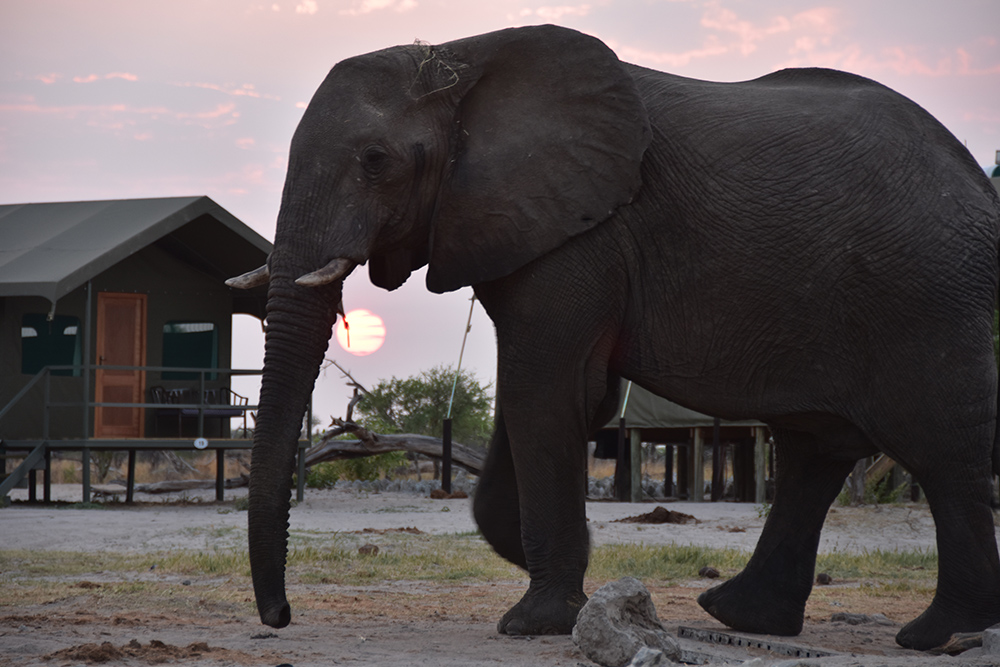 We soon settled into the indescribable vibe of Elephant Sands. Standing 5 metres from 20 odd wild African Elephants drinking at the trough is an incredible experience. Botswana is dry at the best of times, and given the current drought it is as bad as I have seen it. The elephants are desperate for water. Hundreds of these huge gentle creatures padded to and from the water trough during the course of our stay. Numerous ellies strolled past, and I mean within a metre or two from our tents in their quest for water. Ladies had elephants push their heads into the ablutions and reach out with their trunks to dripping shower heads. At no stage did we see any aggressive elephant behaviour. This experience blew our visitors away! In the early hours Arthur came literally face to face with a huge bull when he needed to offload a couple of St. Louis. He backed into his tent totally awestruck. Bill and Tammy had a similar experience with a group of ellies. How do you explain that experience to your friends at home?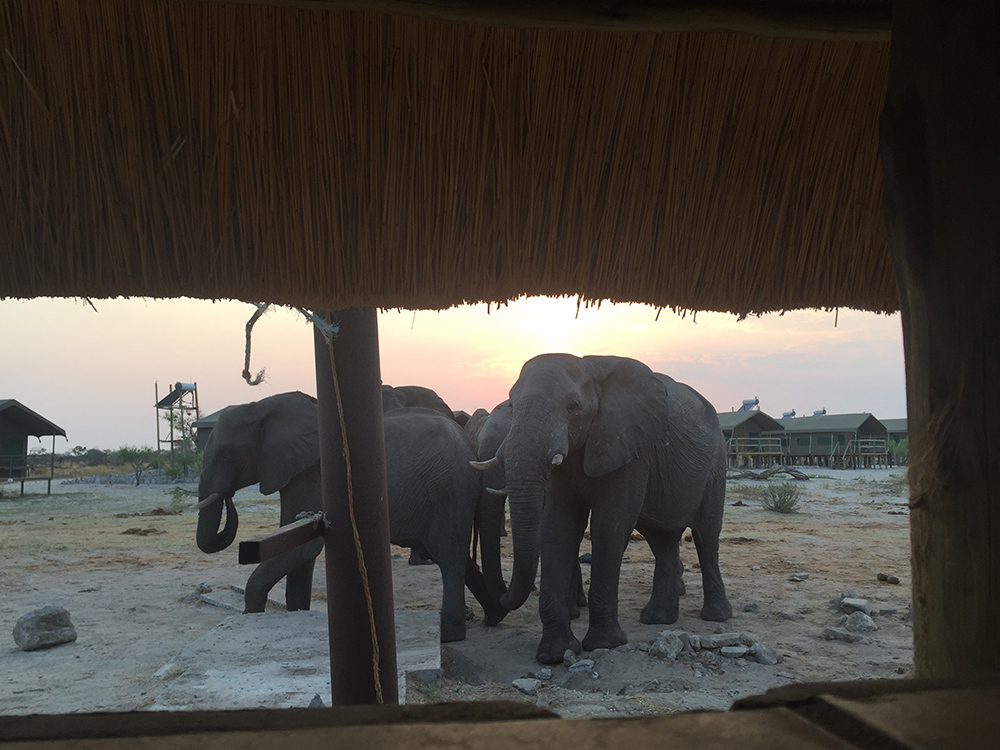 On the final day of our trip we reluctantly left Elephant Sands and rode south. Brunch in Francistown and then on to Kwa Nokeng Lodge. Sipping a sundowner accompanied by the grunt of hippo in the few remaining pools in the Limpopo, we mused on aspects of our amazing journey. Dinner on the deck under the stars was a fitting finish to a time of great experiences and reflection on new lifetime friendships forged.
Our ride back to Pretoria was very pleasant and punctuated by an excellent breakfast at the Zeederberg Centre in Vaalwater. Taking leave of our American friends at OR Tambo later in the day was really difficult. Our amazing African vibe coupled with bonding on some really fine motorcycles on an epic road trip resulted in another really special life experience.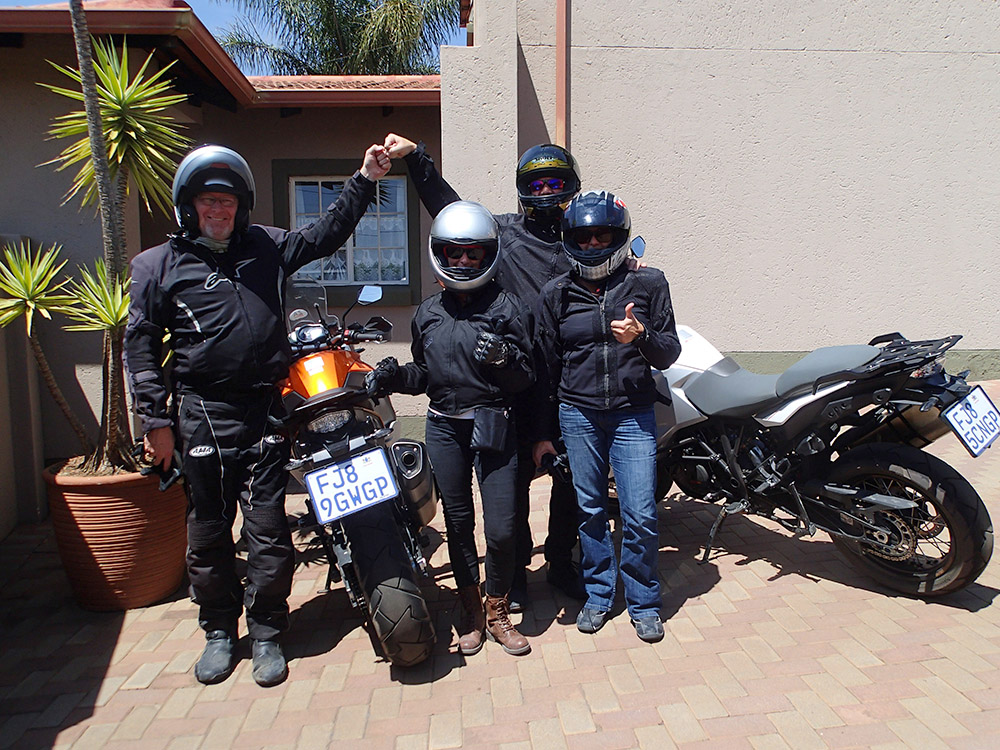 THE BIKES
The KTM's were the unsung heroes in this story. Despite Africa taking its best shot, heat, wind, dust or whatever, the KTM's were totally unfazed. Decent wind protection, ample almost excessive power, comfort, quality suspension and absolute reliability. The KTM's were all superb. Huge thanks to KTM SA for making these great bikes available to us.