If ever there was a company that didn't believe in change for change's sake, then that company would be Harley-Davidson. In fact, so adverse to change are they that, in its 113-year history, they have only ever made nine variations of their venerable large capacity V-twin engine. Nine! In 113 years? That's not exactly pushing the boundaries of technical excellence, is it?
It's not that they don't make efforts to keep up with the times; it's just that whenever they do catch up to a certain extent, they then sit still for the next 25 years or so.
And Harley-Davidson customers wouldn't have it any other way; they like the visual and engineering link to the past that exists in every one of their products and H-D are too savvy to mess with a good thing. They understand that to make too big a leap would rock the boat so they have to always back off a little on moving forward.
With the introduction of the new Milwaukee 8 engine, Harley has dragged itself kicking and screaming into the late 20th Century and debuted four-valve-per-cylinder technology. If we were talking about any other manufacturer, we would be less than impressed but, somehow, because it is Harley, we see it as a big step forward. And, you know what? It is.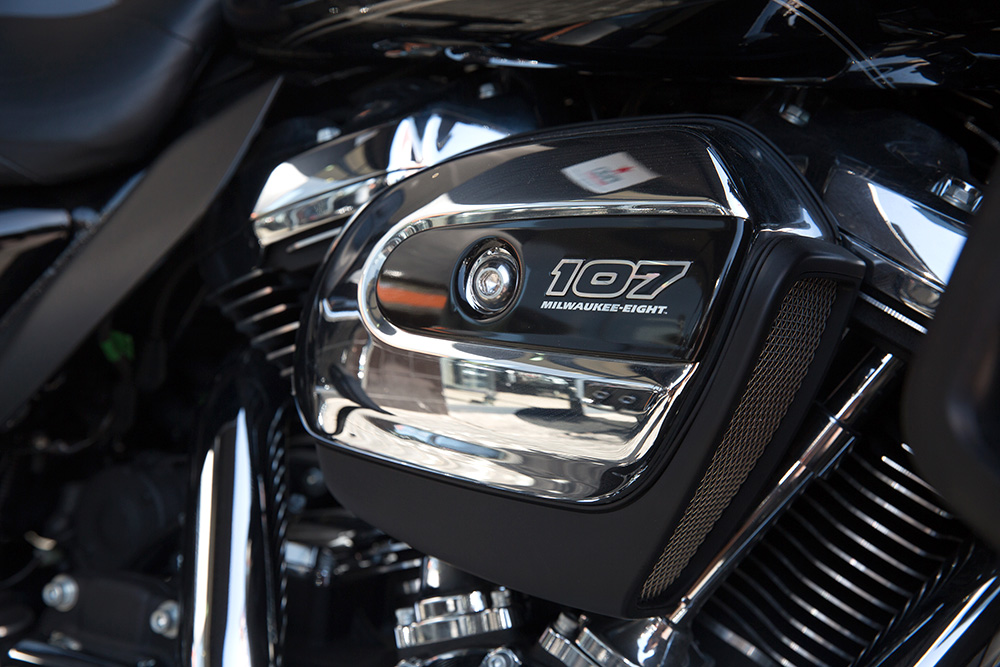 The engine is pretty much new from the sump plug upwards; new crank, new engine cases, new single chain-driven camshaft with hydraulic tensioner, new twin-plug, four-valve heads and a new high-output alternator to cope with the electrical demands of a fully-equipped touring Harley-Davidson.
For now, the 107 cu. in. motor will be found only on the touring models – Street Glide, Road King, Road Glide and Ultra – and the 114 cu. in. version on the CVO models. No doubt they will filter down to the rest of the big twin range in due course.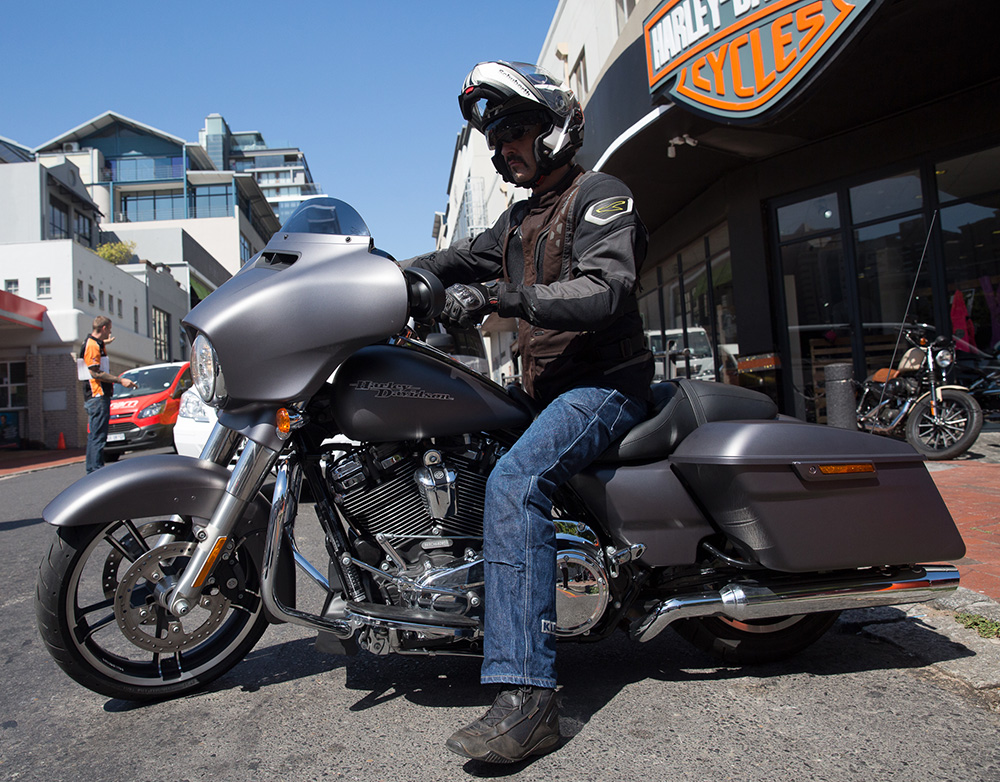 H-D went to enormous lengths to find out what their customers wanted and the answers that came back were clear; more power, more refinement – but not too much – and more comfort in terms of heat output. An early pre-production engine had 100% primary balance but that was deemed too smooth so it was knocked back to 75% and that's where it sits now. See what I meant about not rocking the boat too much?
Has it worked? In a word; yes. In fact, it is hard to convey just how good this new engine is; it has made a whole world of difference. Thumb the starter button and immediately you notice two things; a distinct lack of traditional Harley shake, rattle and roll at idle and an absence of mechanical noise that distinguished the Twin-Cam engine.
Pull off and the smoothness is uncanny, the engine noise firmly muted, the pull relentless and the sound unmistakably Harley-Davidson. The engineers have done an amazing job; you're definitely on a Harley but, then again, you're on something completely different; it's almost unsettling. The new engine also runs a lot cooler which makes for a big relief when crawling through congested urban areas as well as improving efficiency.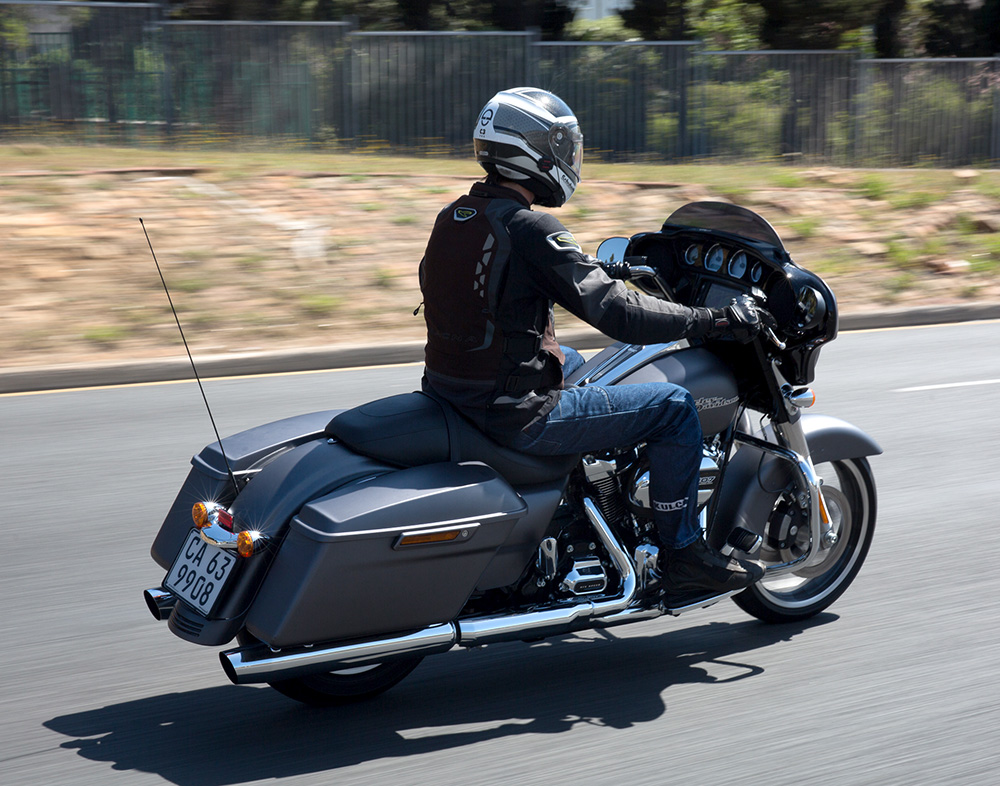 Previous generations of H-D touring models suffered from weak charging systems which, given the amount of accessories fitted to such bikes – stereo/radio, additional lighting, satnav – often saw the battery giving out at inopportune moments. The new engine has 50% more charging capacity which should see that problem licked.
As the miles flick past, there is a real joy to be had riding the new bike. In addition to the new engine, H-D has tweaked the suspension front and back and while we're not talking Ohlins or WP levels of sophistication, the front fork system was developed with the help of Showa and the improvement is very much noticeable; it contributes to the feeling that you really are on a new machine with significant updates rather than a warmed-over new-model-year bike with a new colour scheme.
Very often, differences can only be felt by directly comparing old with new and that is exactly what we were able to do on the launch. On the two day ride around the Western Cape, we had three of the previous-generation touring models and three of the new Milwaukee 8-engined bikes and the unanimous verdict of everyone present upon riding the new after the old was 'night and day'. Trust me; if hardened and cynical journalists have that reaction, then Harley is to be congratulated on a job very well done.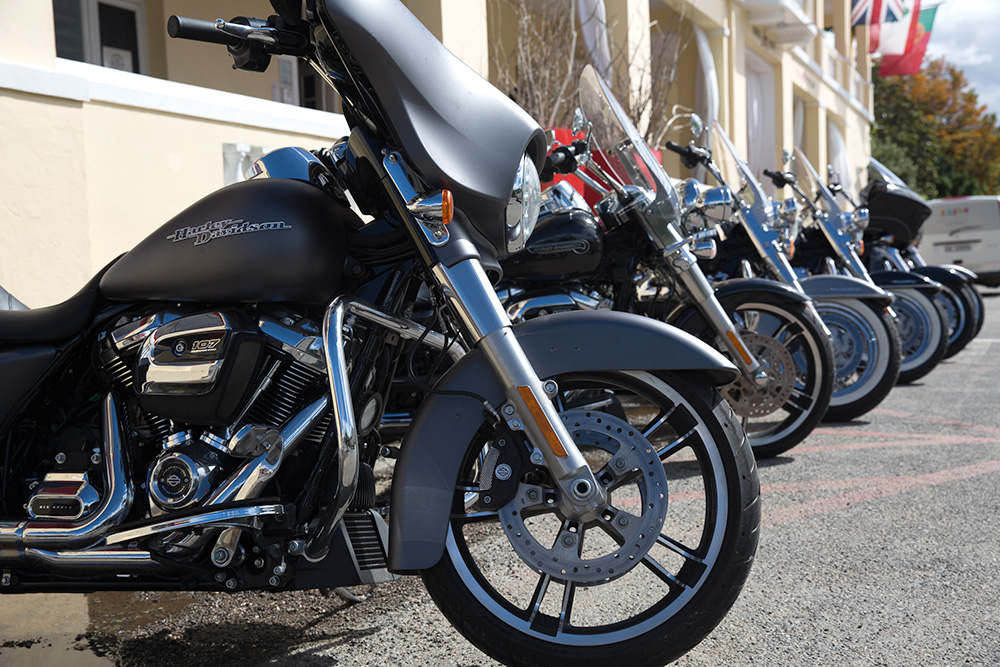 It's hard to believe that adopting technology that was new 40 years ago can have such an effect on a bike today, but it has. The changes to engine and chassis on the 2017 touring Harley-Davidson's have improved the bikes immeasurably and yet I would say that the real achievement of the H-D engineers is that they have made these changes while retaining the core essence that makes a Harley a Harley. It could almost be a case of 'the more things change, the more they stay the same.'
Are the 2017 Harley's perfect? No. The brakes still need more power and the lack of traction control is starting to seem negligent, especially with the torque levels available at the twist of a very light throttle. No matter how much more efficient the engine is, at 1,750cc it won't exactly sip at fuel and they can be daunting things to move through traffic or low-speed manoeuvring.
But, while there are compromises in owning and riding a Harley, with the new Milwaukee 8, the compromises have dwindled significantly and no longer are the bikes 'good….for a Harley'; they are now good bikes, full stop. New regulations affect every manufacturer but the best manage to stick to them without losing an ounce of personality. Luckily, that is something Harley-Davidson do rather well.
For more information visit: www.harley-davidson.com