The 2017 Ducati Multistrada 950 is NOW available in South Africa. Price starting from: R 176 000 – Contact: 011 919 1600 to BOOK a test ride.
I recently attended the International Media Launch for Ducati's new Multistrada 950, which was held at Fuerteventura in the Canary Islands.
My first time in the Canary Islands and I was excited by what lay ahead. The route that we rode was very interesting with some really nice twisties along the coastal roads. When we rode deeper into the mountains, it felt like I had left Planet Earth and was riding on the Moon! Fuerteventura certainly has a diverse combination of road conditions to test all facets of this new bike.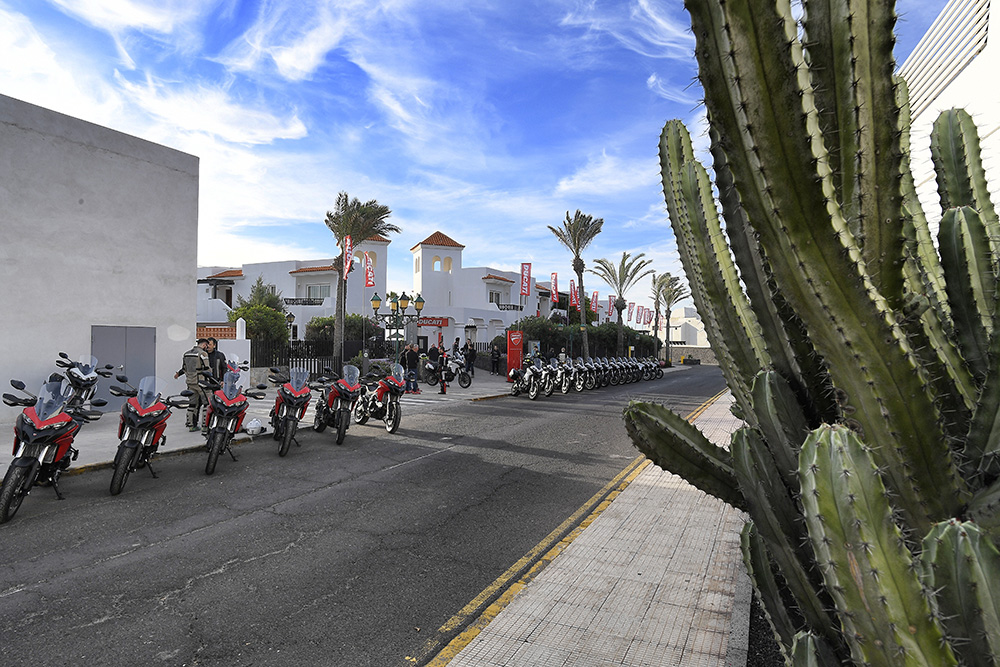 A picture of a Swiss army knife in the launch material makes the thinking behind this bike very clear. Ducati have taken a unique approach but the base bike gives you a typical, high quality, highly specified, Ducati.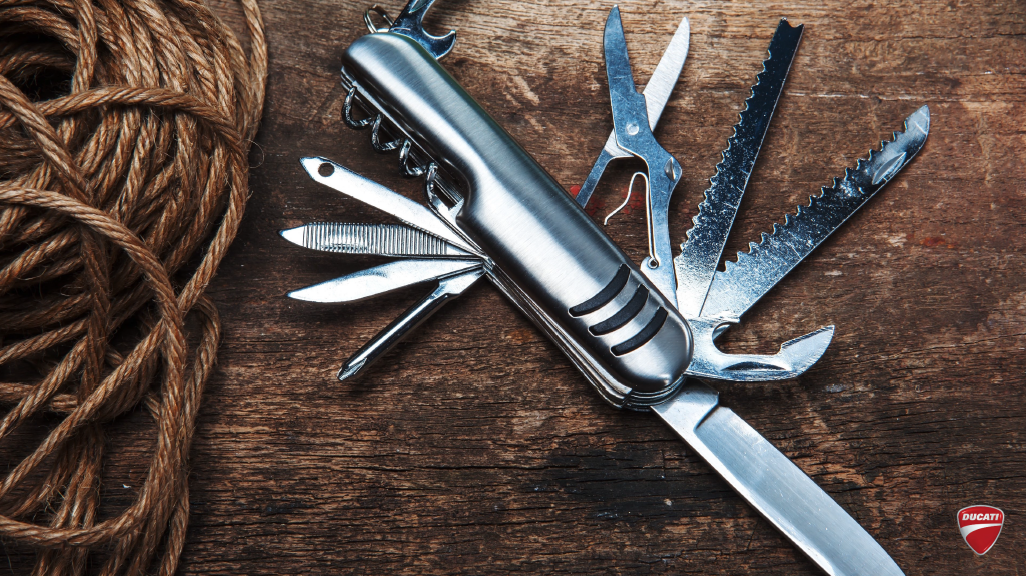 At the very heart of the bike is a 937cc, oversquare Testastretta V twin – 83.1kW (113 bhp) @ 9,000 rpm and 96.2 Nm @ 7,750, provides exhilarating thrust, delivered in a smooth linear way.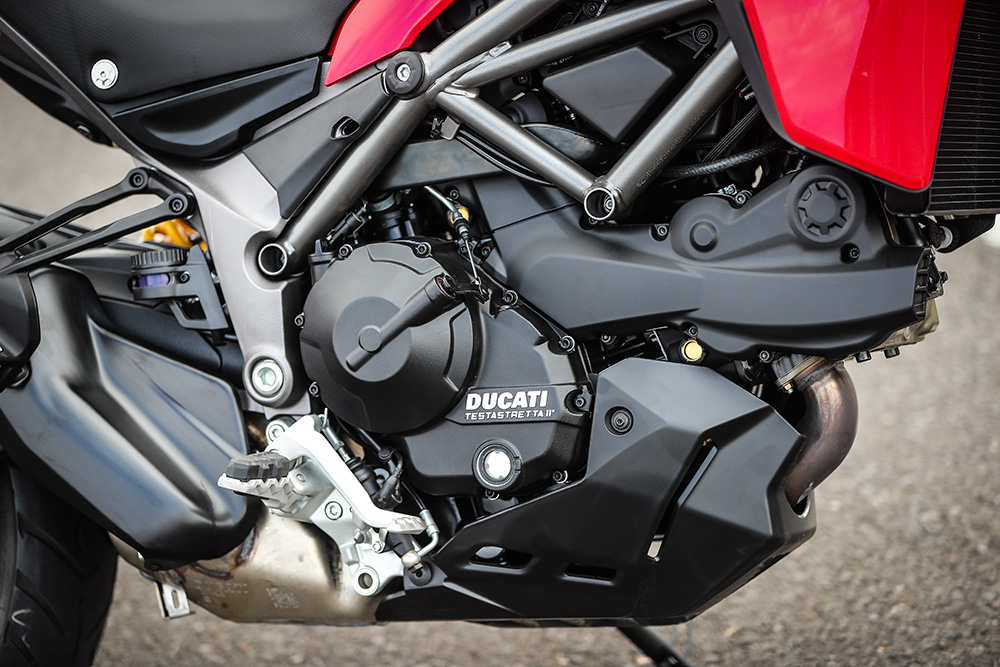 Fully adjustable suspension (KYB 48mm USD fork and Sachs shock) allows fettling the shocks for your intended purpose – adjustment is manual.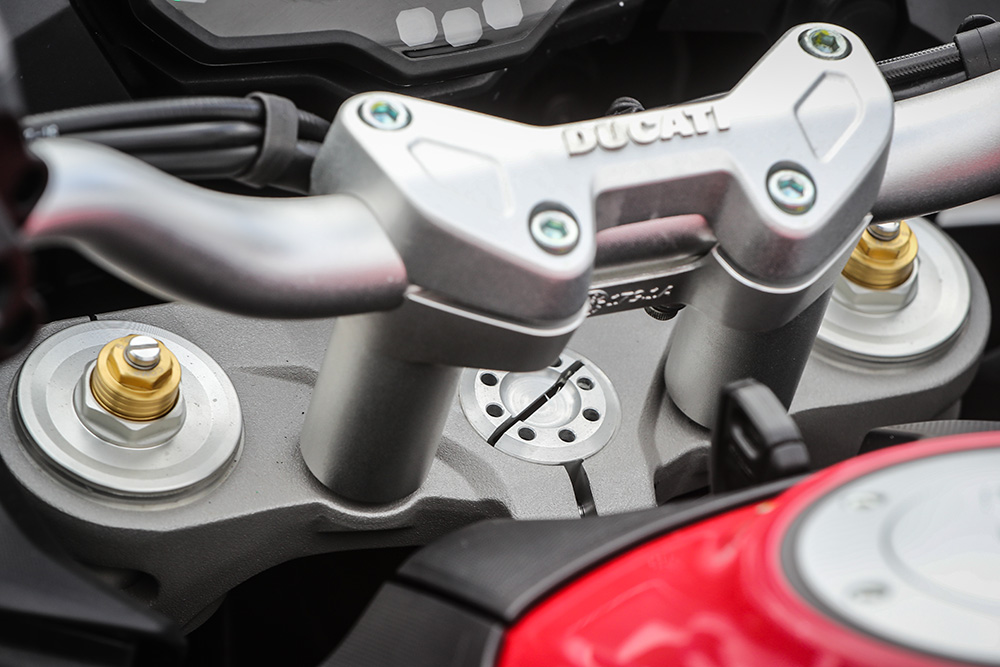 Brembo monobloc calipers on 320mm rotors upfront and a single 265mm on the back wheel, ensure typical excellent braking performance.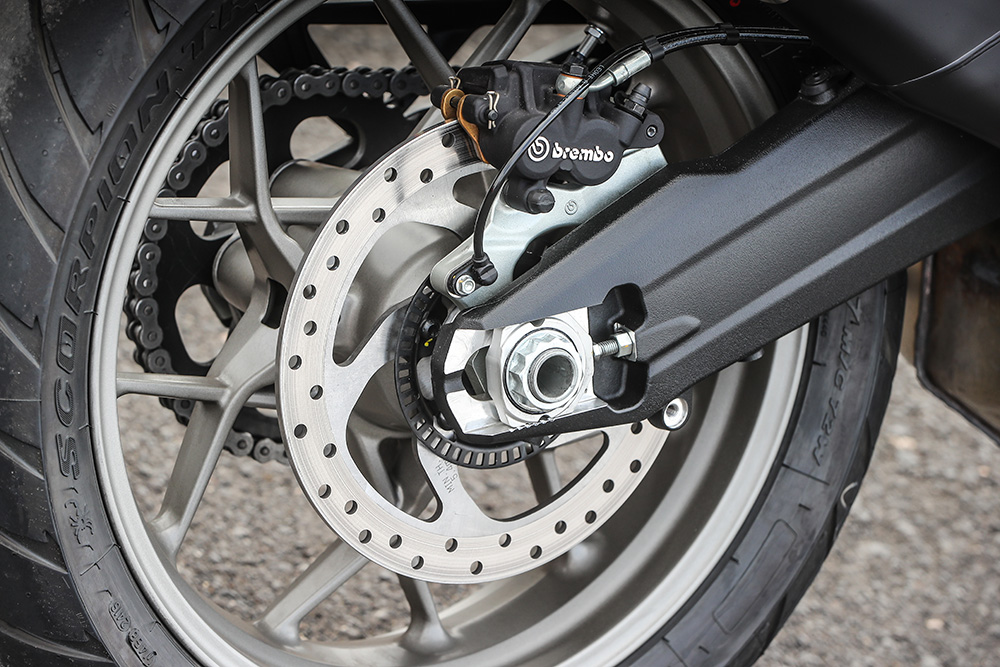 Pirelli Scorpion Trail 11 tyres, ride on a 120/70 x 19 front and a substantial 170/60 x 17 rear. The use of a 19" front clearly enhances gravel road ability. 170mm of quality suspension travel allow the bike to fulfill its intended roles. I say "roles" because, depending on your preferences, the '950' can be dressed for four distinct functions.
Touring Pack
A "touring" pack equips the bike with a center stand and a set of rigid side panniers.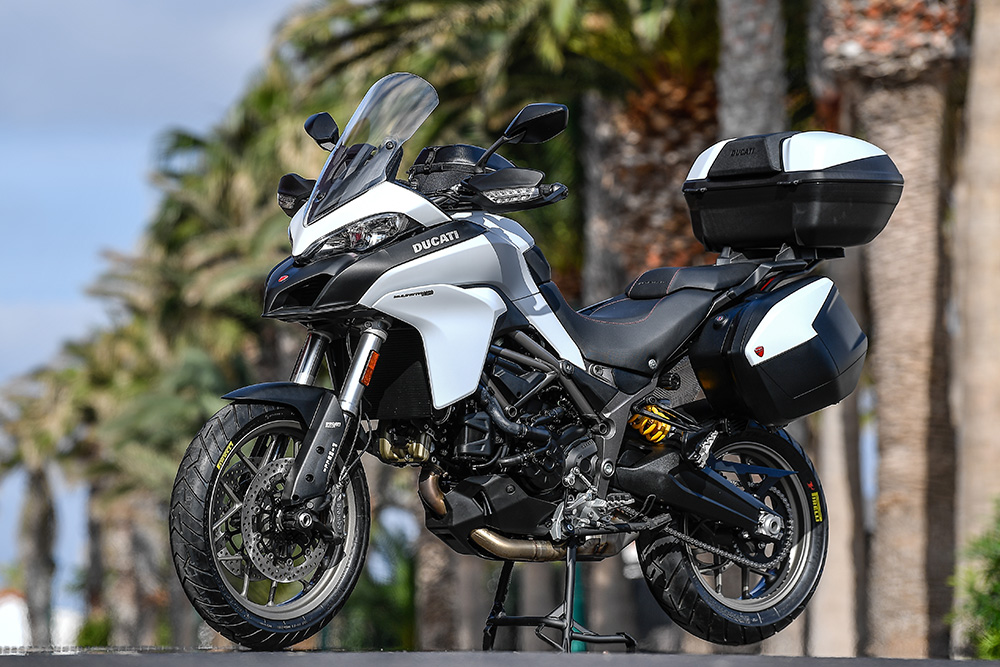 Sport Pack
A titanium Termignoni silencer lops off some weight and together with billet aluminum frame plugs and a brake fluid reservoir cover adds some sports flair.
Urban Pack
Commuting is enhanced by the addition of a top case kit, a tank pocket bag and a power extension cable with USB port.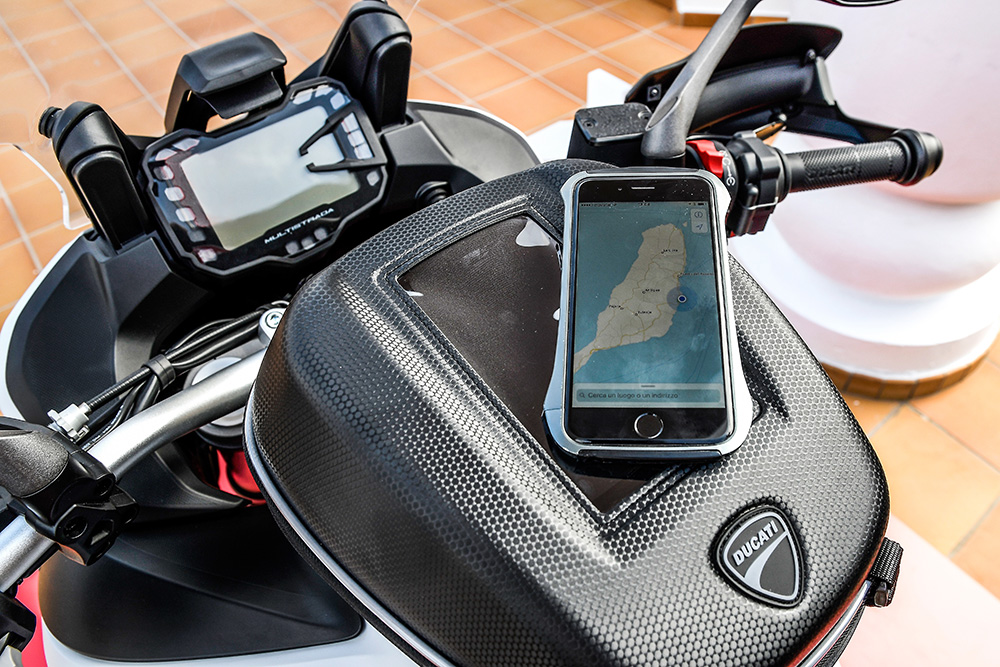 Enduro Pack
Bashplate, steel footpegs, side tank protectors, LED headlamps and protective radiator covers add an enduro look and function (spoked wheels are also available).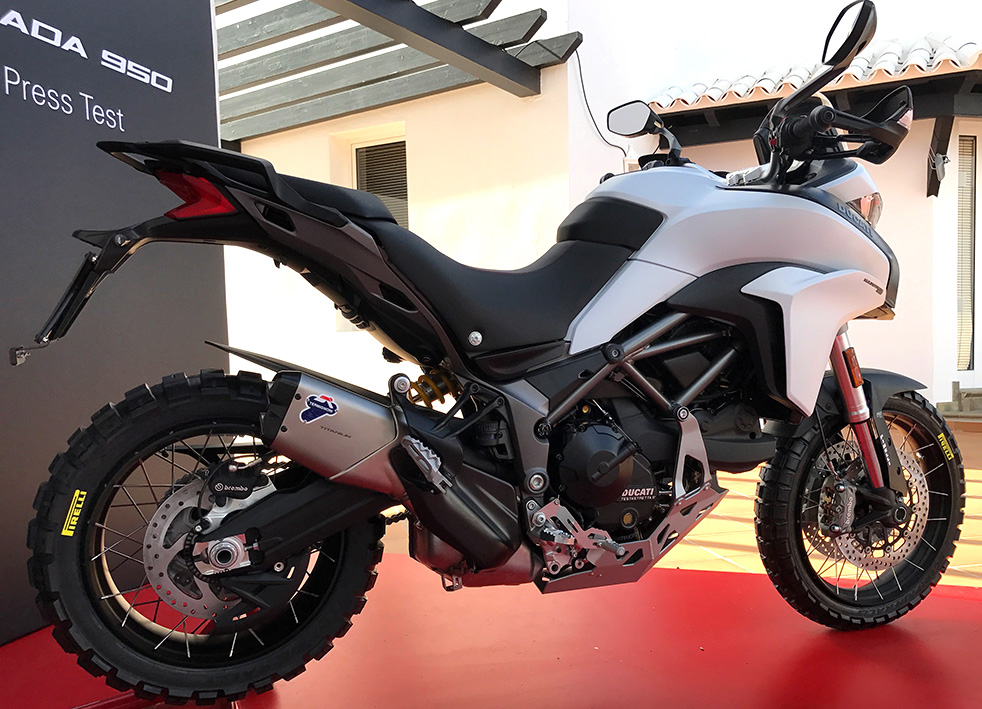 Whatever floats your boat, you can build your '950' from bits available from the various "packs". No matter how you dress it, the Multistrada oozes Italian flair. Black double-sided swingarm, black engines and exhausts sets off the Star White Silk or Ducati Red paintwork to perfection!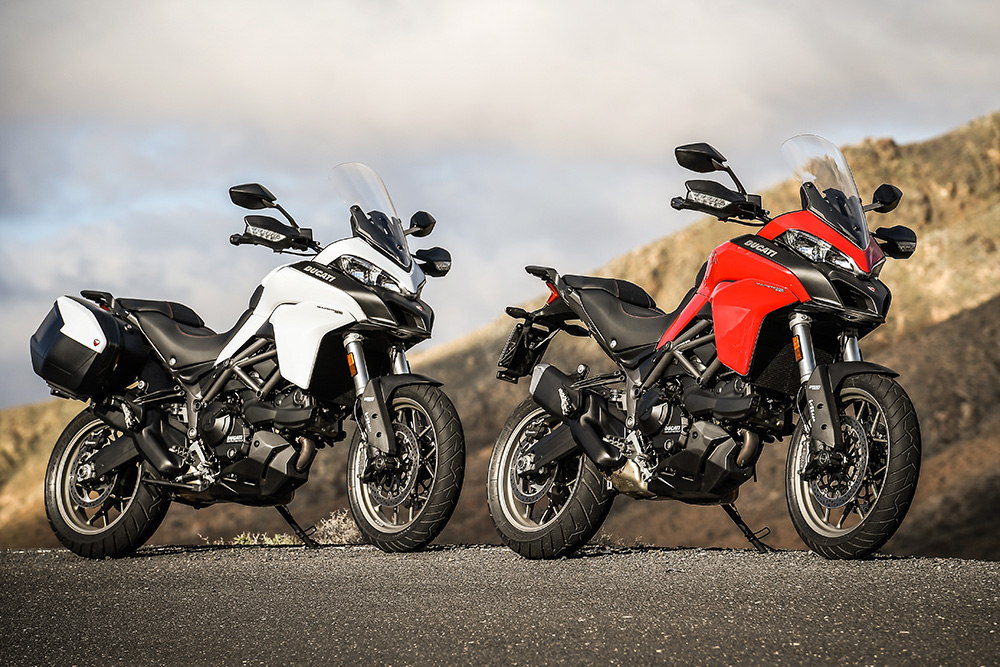 So what is it like to ride? Special, that's what! In no way does it feel inferior to the "big sisters" in the Multistrada family. On the contrary, the '950' has a "sweetness" about it which I think makes the smaller capacity motor smoother and more tractable, than its 1200 siblings. The Multistrada 950 delivers strong power and torque throughout it's rev range making it ideal for a smooth and flowing riding style.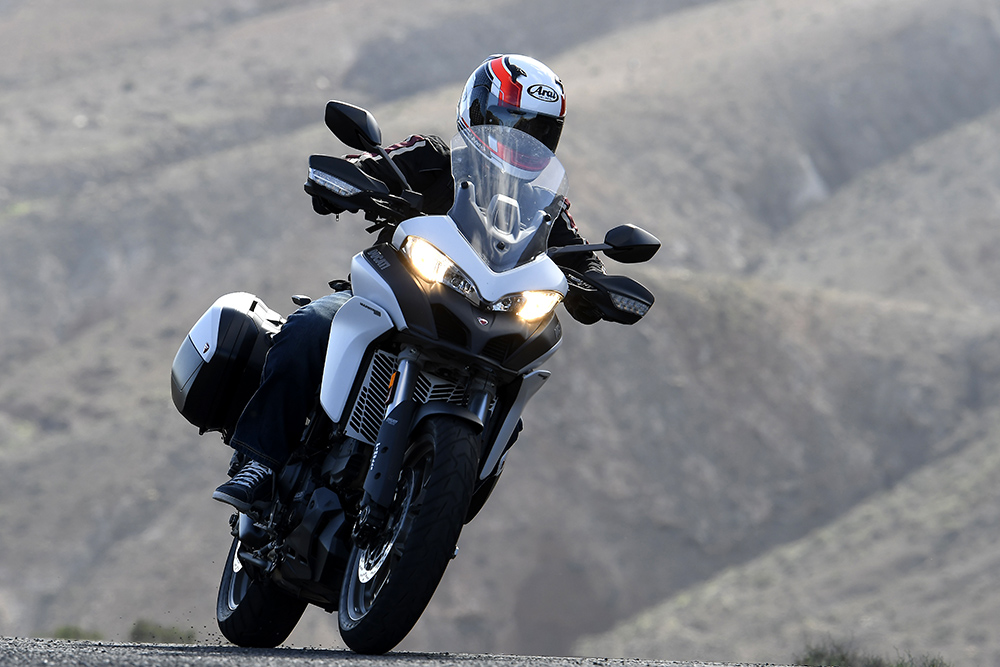 At 214 kg's fully fuelled, the '950' has a really taut, quality feel. A twenty litre fuel tank means prolonged riding enjoyment. The bike is very comfortable, with a "sit-in" feel. My bike was fitted with the low seat (820mm) allowing me to be flat-footed at standstill, despite my modest 5'8" frame. The standard seat height is (840mm) and for the taller rider an (860mm) option is available.
Electronics are simple to operate via handlebar switches and a LCD dash. Bosch ABS (3 level) and 8 level traction control, make up the Ducati Safety pack. Changing the different riding modes allows you to easily change the characteristics of the bike to suit either your riding style or road conditions.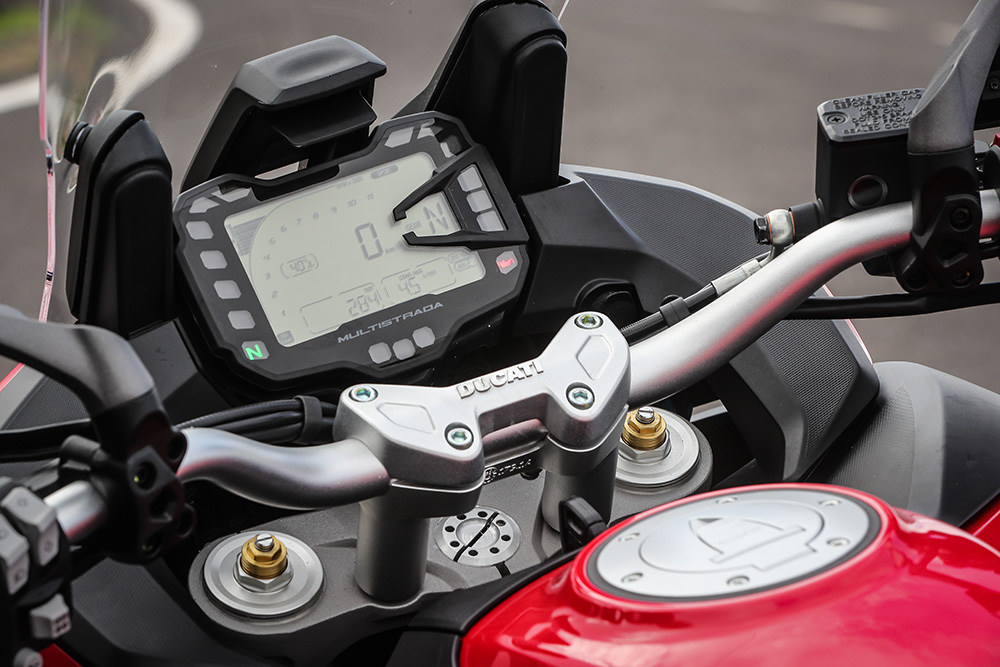 Touring
Touring Riding Mode delivers 113 hp with progressive Ride-by-Wire throttle twist response, DTC is set higher (level 5) as is the ABS (level 3), maximising both braking stability and wheel lift-up prevention.
Sport
Selecting Sport Riding Mode transforms the Multistrada 950 into an adrenalin-fuelled 113 hp machine. This Riding Mode is characterised by a direct Ride-by-Wire throttle twist response, a low DTC setting (level 4) and low ABS setting (level 2) with no rear wheel lift-up prevention.
Urban
Urban Riding Mode delivers a maximum power of 75 hp with progressive Ride-by-Wire throttle twist response; DTC is set to an even higher intervention level (level 6) and the ABS setting is at level 3, maximising braking stability and wheel lift-up prevention.
Enduro
Enduro Riding Mode gives the Multistrada 950 a maximum power of 75 hp with progressive Ride-by-Wire throttle twist response; DTC intervention is suitable (level 2) for off-road use and the ABS setting is low (level 1), deactivating rear wheel lift-up prevention.
Ducati made a big point in the presentation about this bike being a 'rational' rather than an 'emotional' purchase. This is due to the fact that the running costs are kept reasonable by 15,000 km service intervals, with valves only checked every 30,000 km's.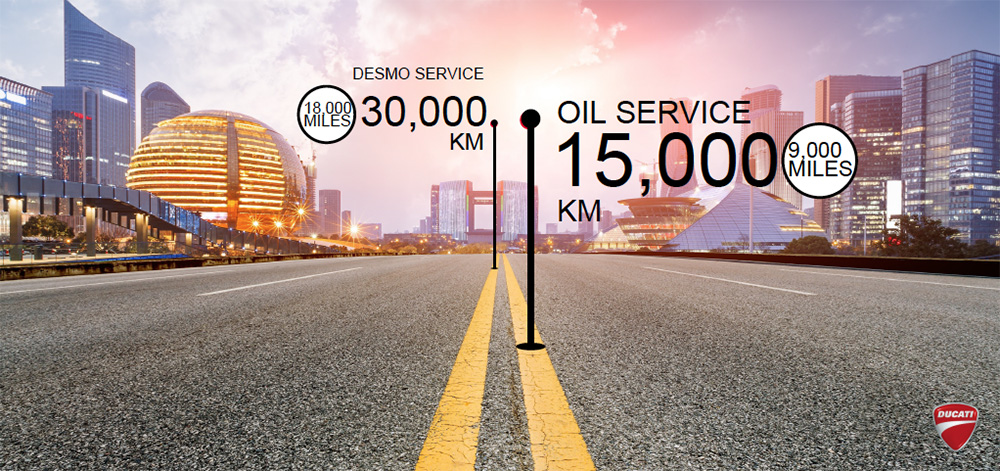 So how do you sum up this quality new Ducati? Is it, as they claim, a versatile and effective 'Swiss army knife' type motorcycle? Well, let's consider that in more detail:
As a tourer it is excellent – comfortable, smooth, good weather protection, progressive shock spring accommodating a load and lovely motor. Lightweight, agile and refined, the '950' is a great commuter! Add adjustable suspension and a responsive motor, allied to brilliant brakes and you can embarrass many sportbikes, especially on bumpy "B" roads. That ticks the sport box too. That leaves us with Enduro. All the pack hardware, provides protection. The sweet motor response helps on loose surfaces. The wide bars and lightweight and decent turning circle, inspire confidence – 186mm ground clearance and 170mm suspension travel, are the limiting factors. South Africa has thousands of kilometers of good gravel roads that this bike would devour.
To my mind that ticks all the Swiss army boxes. Pricing will play a big part, but the bike will not disappoint. The unique mix of talents infused with Italian design flair and passion, result in a really versatile and exciting offering… Well done Ducati!
Check out action footage from the Ducati International Media Launch below:
Download Tech Specs… HERE <<
Ducati Multistrada 950
For more information on the bike that we tested in this article, click on the link below…