Purists will tell you that a true bobber needs to be a custom machine—preferably vintage—stripped of all non-essentials, hard-tailed and hot-rodded. And they're not entirely wrong.
After all, that's what the first bobbers were, back in the 40s: single-seat, purpose-built machines that were light, quick in a straight line—and a little sketchy to ride.
But this isn't the 40s, and not everyone has the time, skill or cash flow to build a puritan bobber. Most people just want a motorcycle that starts every time, rides well and looks damn good doing it.
And that is—pretty much—the Triumph Bonneville Bobber.
Design Development on the Bobber started three years ago, with a very specific set of goals. The bike had to have the T120's DNA, top-shelf finishes, a more exciting power delivery and exhaust tone, and the right ergonomics and ride feel. It also needed that all-important, minimalist bobber vibe, and had to be ripe for customization.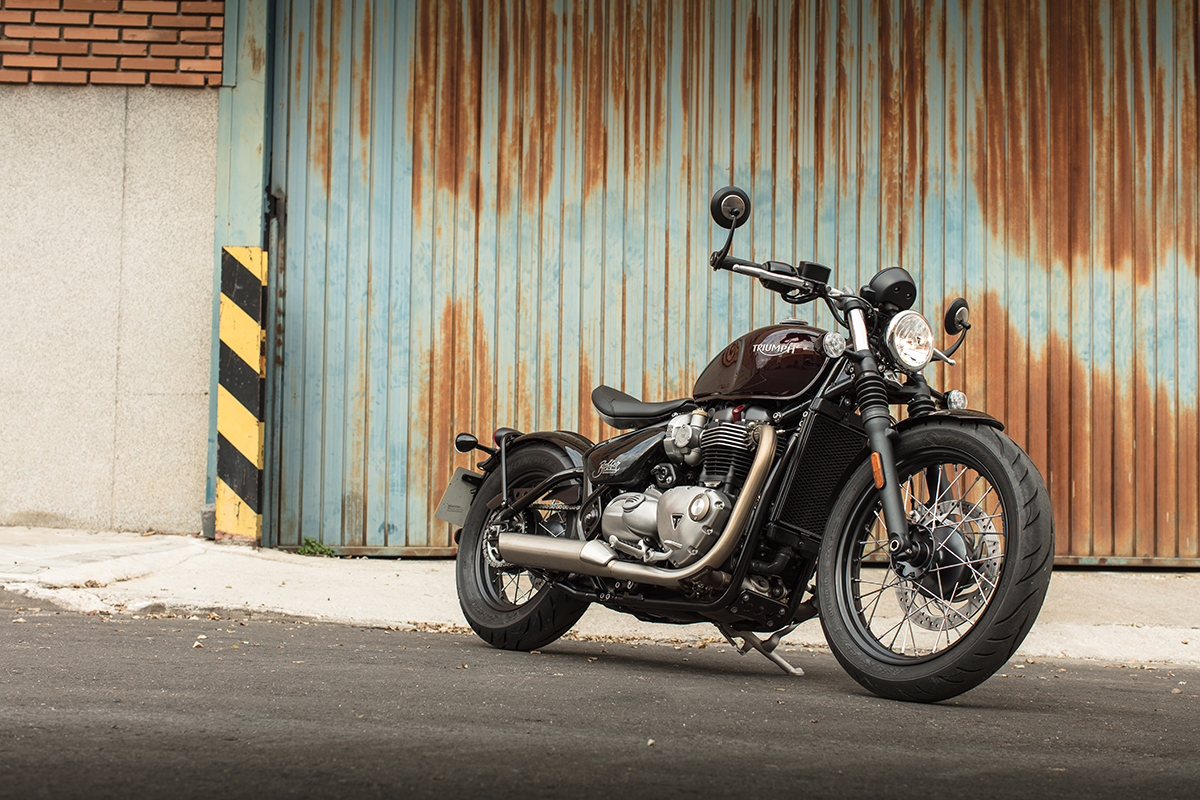 Has Triumph pulled it off? Yes, spectacularly. Parked, the Bobber is a visual treat—from any angle—and you're bound to kill a significant amount of time just taking it all in.
The stance is low and lean, with one of the cleanest 'fake' hardtail rear ends out there. The 'cage' style swing-arm is a thing of beauty, hooked up to a single shock via a beautifully machined linkage. You'll only see it if you hunch down and look really, really closely.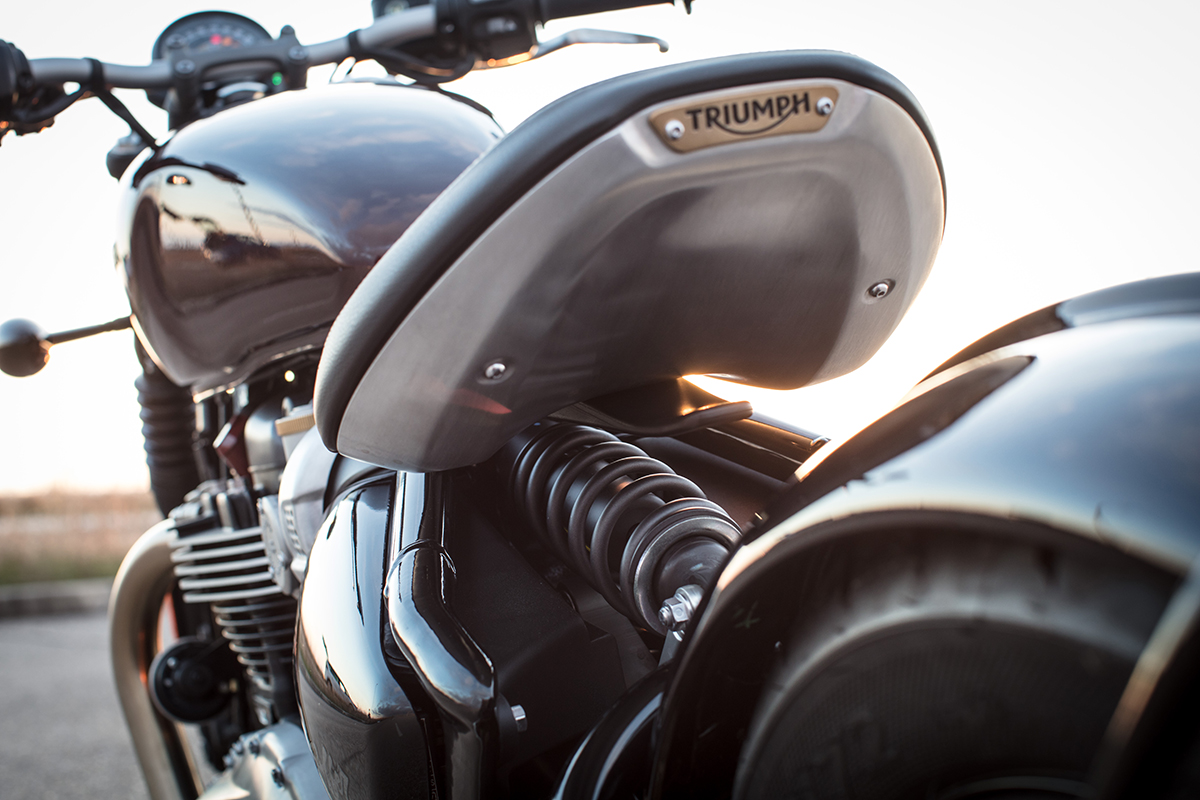 The shock itself is tucked away between dual air boxes, hidden behind side covers. The wheels are a 16" at the back and a 19" up front, both wrapped in specially made Avon Cobra rubber. There are ribbed steel fenders at both ends too, with a throwback looped fender strut on the rear.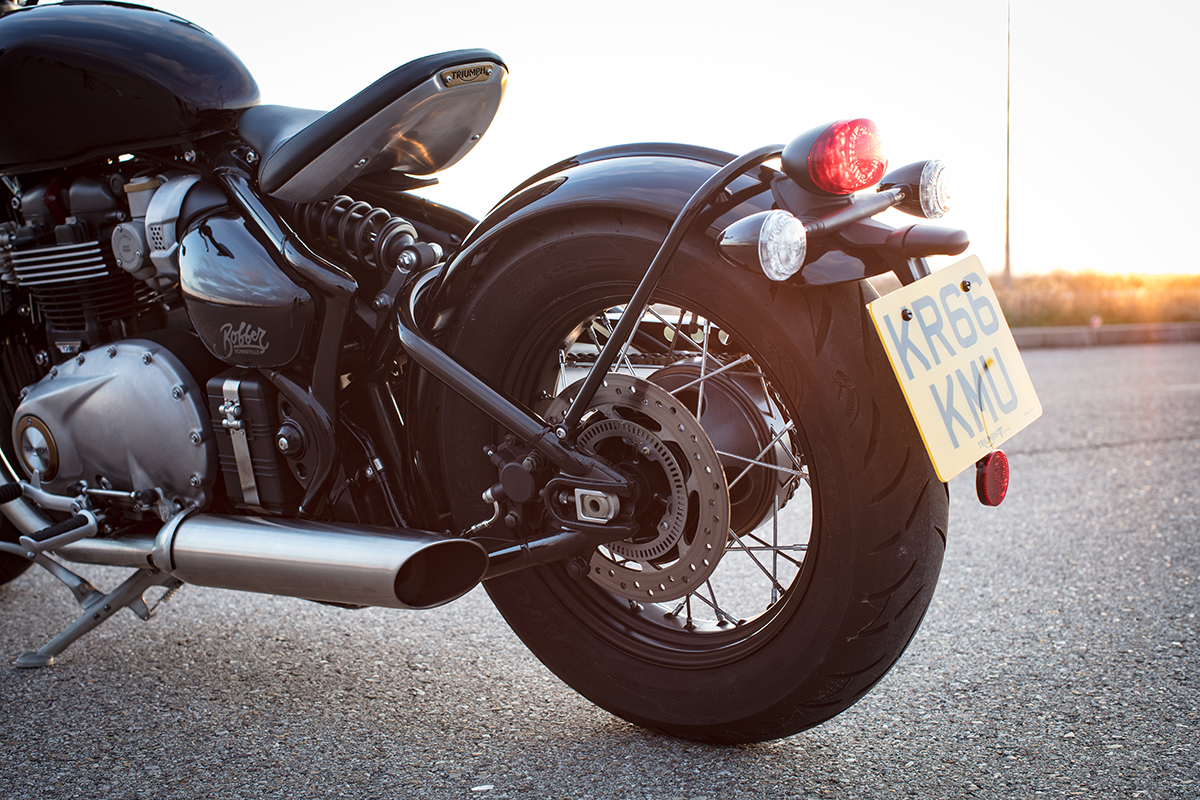 Up top is a cantilevered solo seat, molded on a brushed aluminum plate, and capped off at the back with a stylish brass Triumph badge. The seat can slide between two positions: up and forward for roadster-biased ergonomics, and back and down for a more laid back, cruiser feel.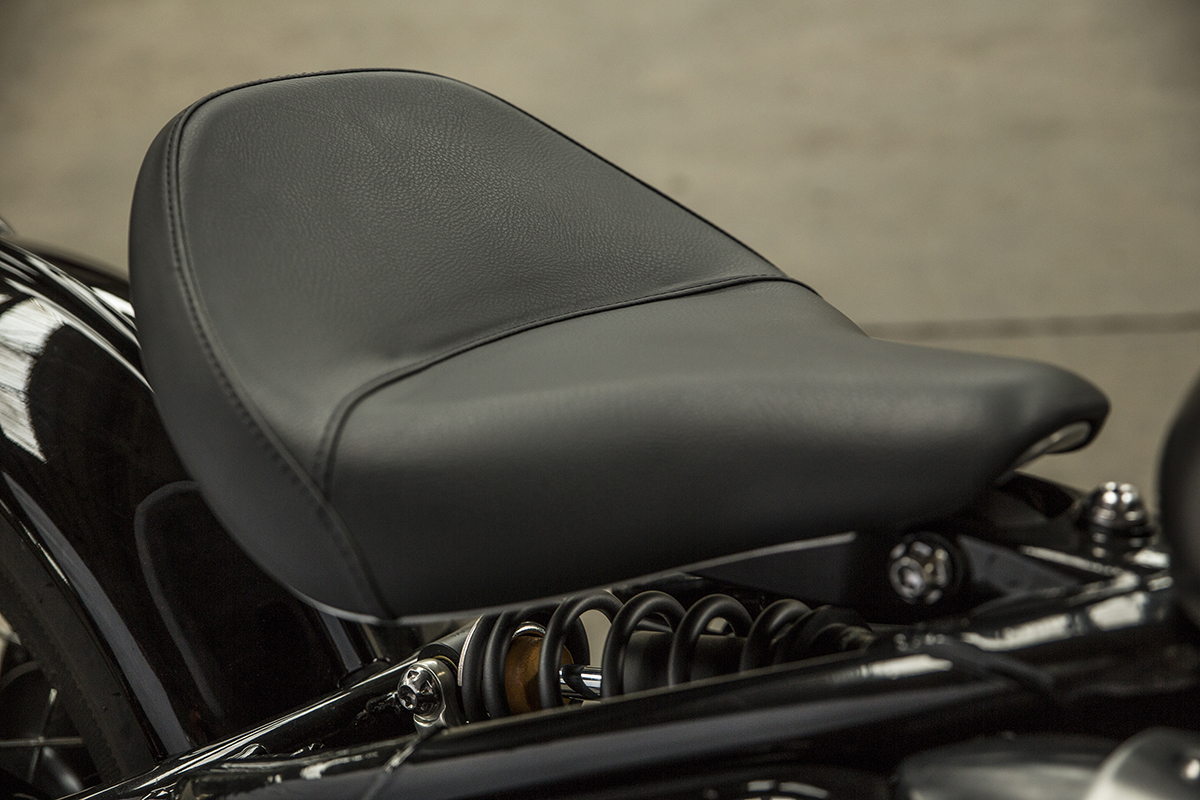 Slightly forward-mounted foot controls, and a curved, chunky 1" drag bar round out the control package. The tank is a similar shape to the T120's, but smaller (9 litres). And the ignition's been moved to the right side of the bike.
And no, there's no passenger seat option. We asked Triumph why: They said it was a one-track-minded bike, which allowed them to engineer every detail to work together in harmony.
You also get wire-spoked wheels, fork gaiters and a new side cover and sprocket cover, with a removable cap. The clocks, switches, taillight and turn signal are chunky—because OEM. But the headlight is surprisingly compact, and the standard-issue bar end mirrors are a nice touch.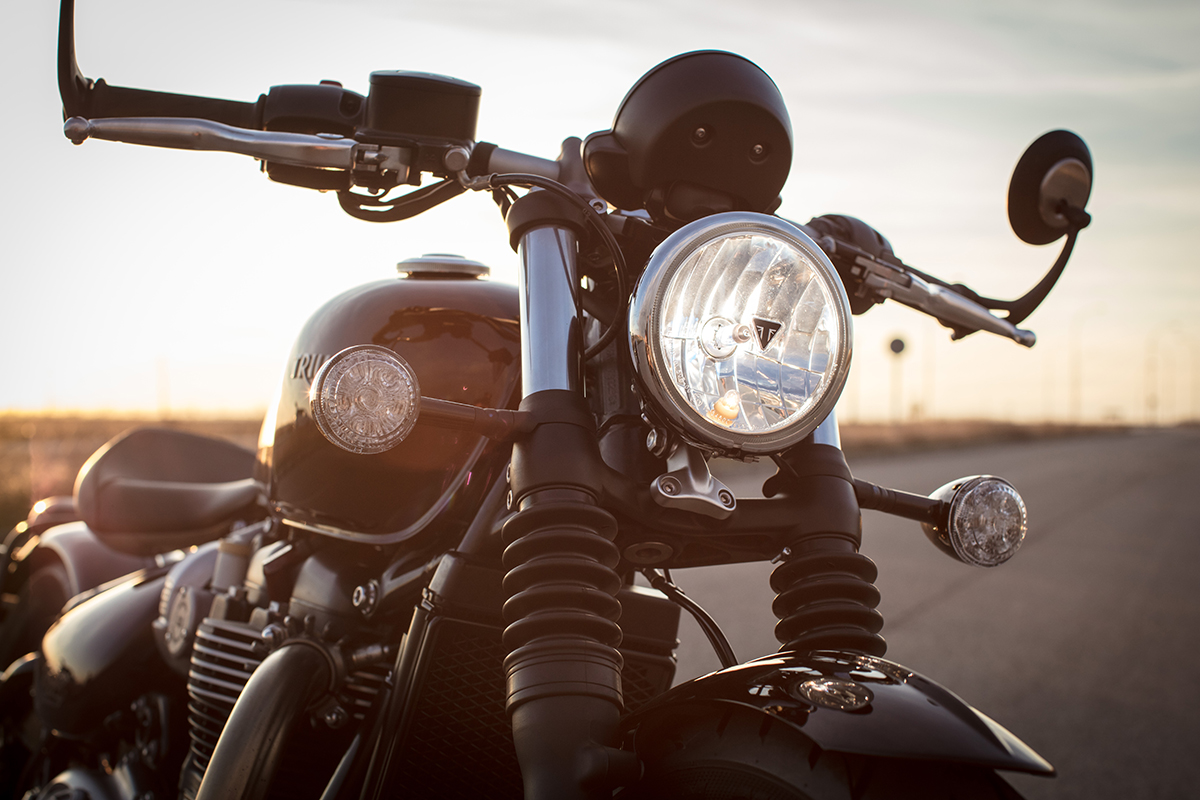 The speedo is good to look at, and a decent size. It uses its real estate wisely, displaying a fuel gauge and gear position indicator as well as your velocity. You can also cycle between various bits of info, including fuel range. You can adjust its angle via a little quick release lever, which is a neat feature if you want it perfectly in your line of sight—or just want a different style.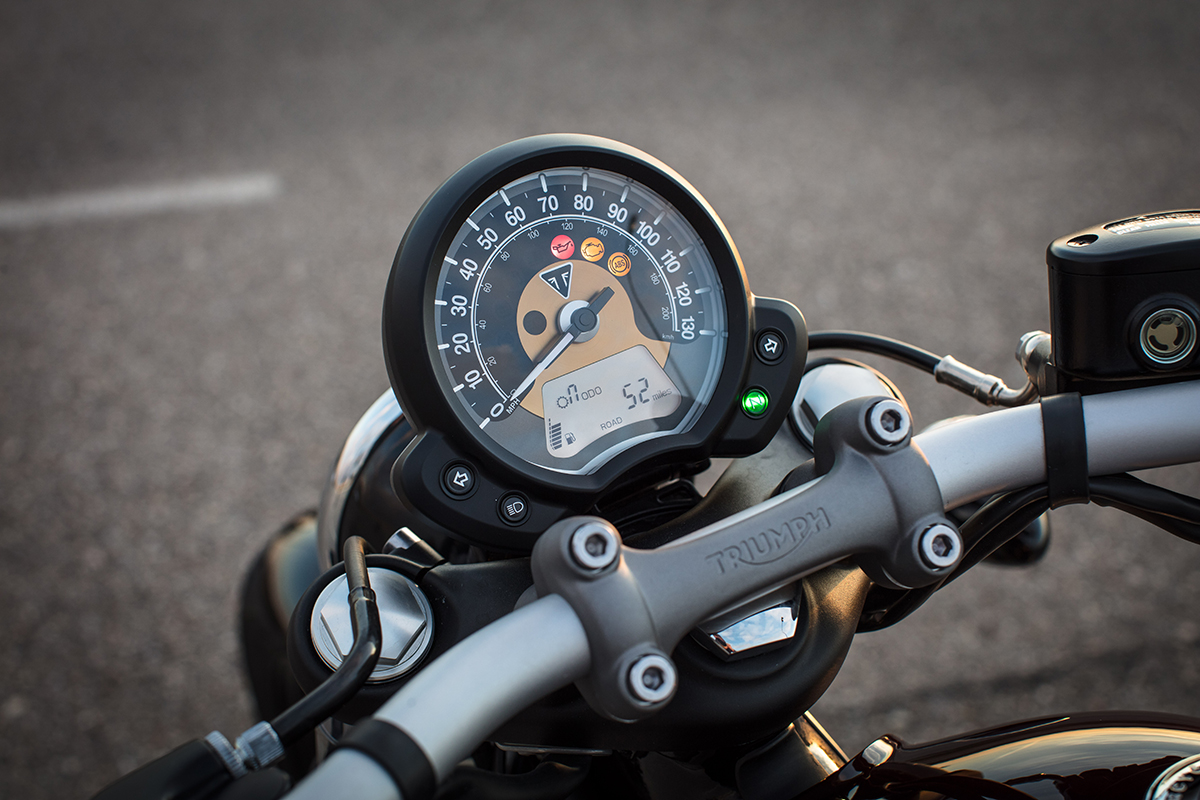 Most importantly, the detailing on the Bobber is absolutely sublime. We love the battery box with its stainless steel strap, and the brushed engine covers and their bronze badges. Nothing has gone untouched.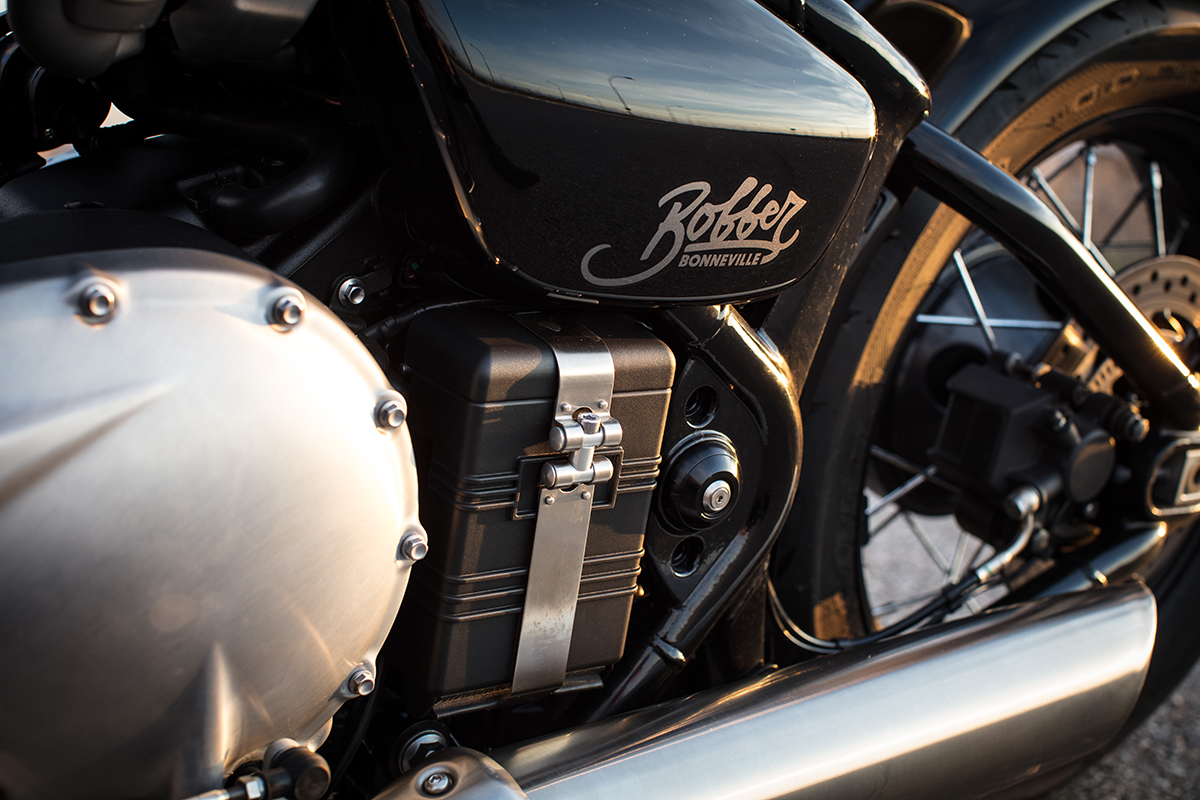 Even the faux carbs—a detail I normally dislike—are irresistible, with bronze tops and weathered casings. In fact, the whole bike is loaded with heritage touches that belie just how modern a machine it is.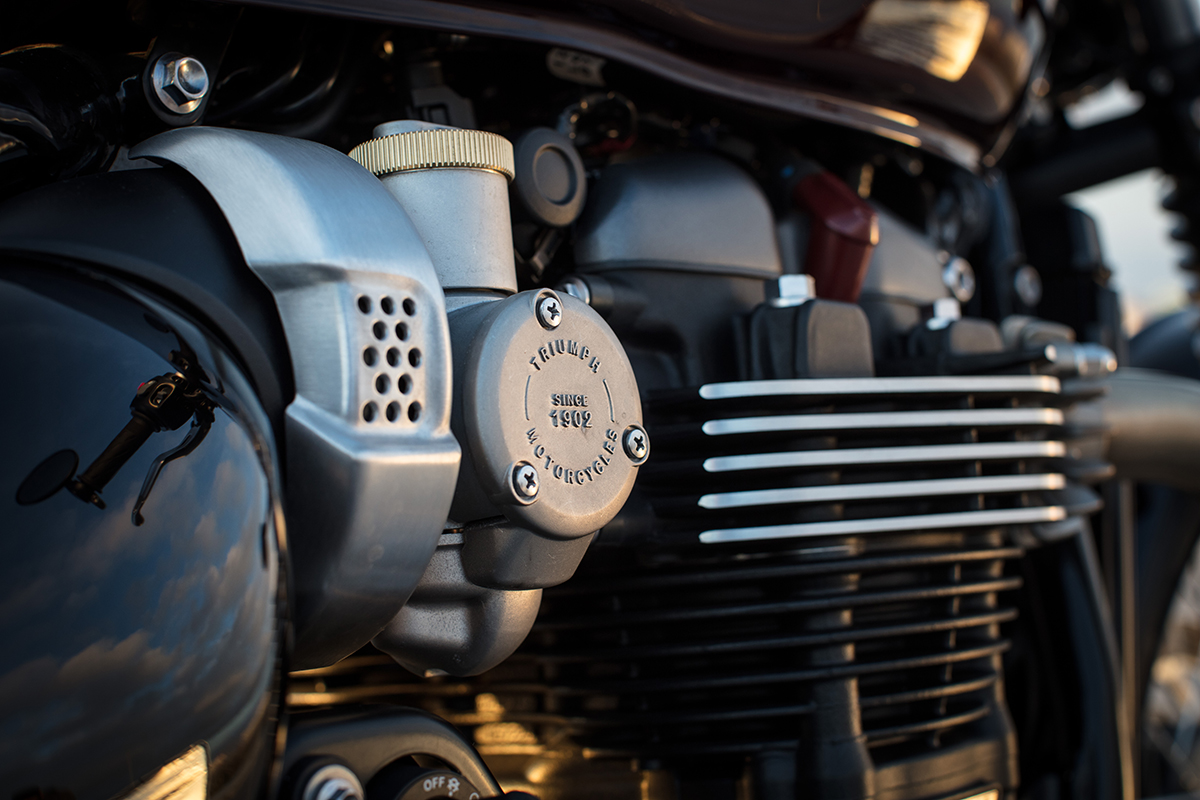 Engine and vital stats The engine and six-speed gearbox come straight from the T120. So we've got Triumph's new 'high torque' 1200cc mill, complete with liquid cooling and a 270-degree firing interval.
Except the Bobber has a unique intake and exhaust system, and a different engine tune—so it makes its numbers lower: 106 Nm at 4,000 rpm, and 77 horsepower at 6,100 rpm. All told, it's a ten percent horsepower and torque gain at 4,500 rpm over the T120.
This pretty serious grunt is delivered via a ride-by-wire throttle, with two switchable riding modes: 'Rain' and 'Road.' Neither cut the bike's overall power; they simply deliver it differently. ABS and traction control are standard (the latter is apparently switchable, but I didn't see a button anywhere).
But what really impresses is the Tetris-style wizardry that hides the modern tech completely out of sight. The Bobber's packing all of the baggage associated with Euro 4 compliance and an immobilizer system—but you'd never guess to look it at.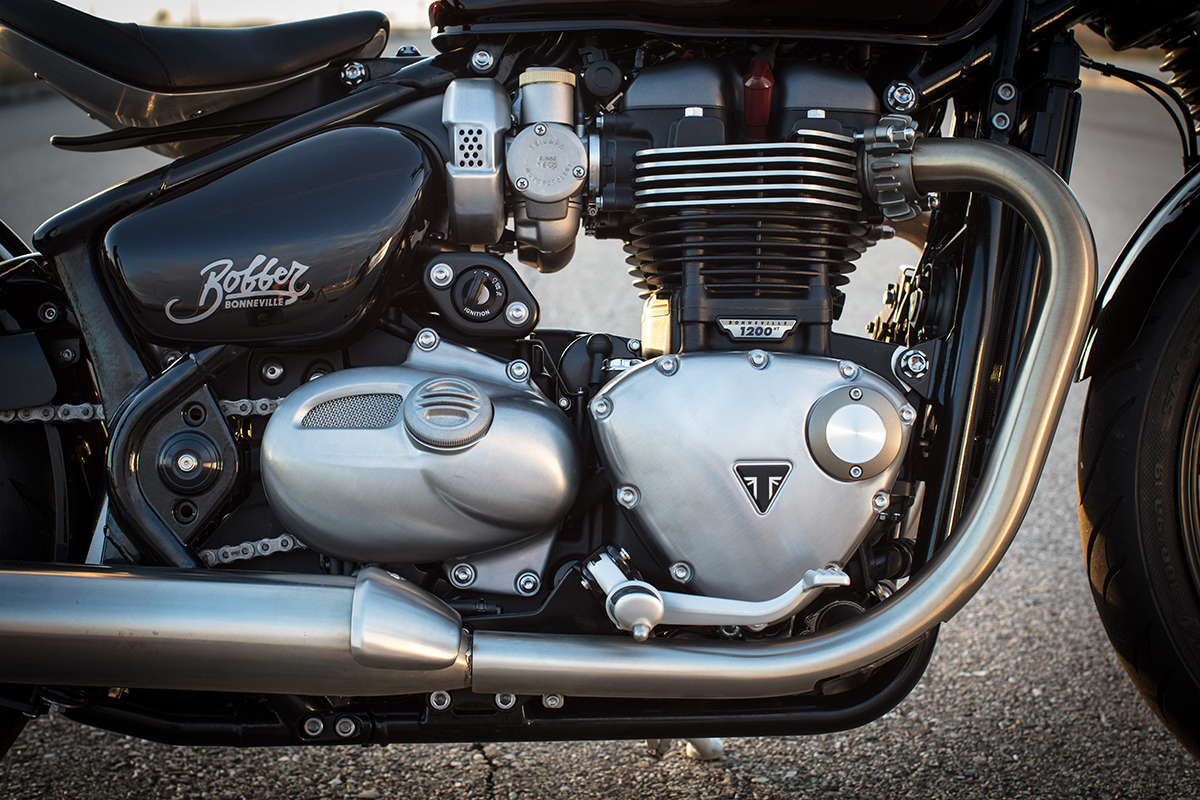 Even the twin stainless steel exhausts maintain that classic Triumph straight-line feel. But they're actually dual-walled units that divert gasses through a catalytic converter, tucked out of view under the engine.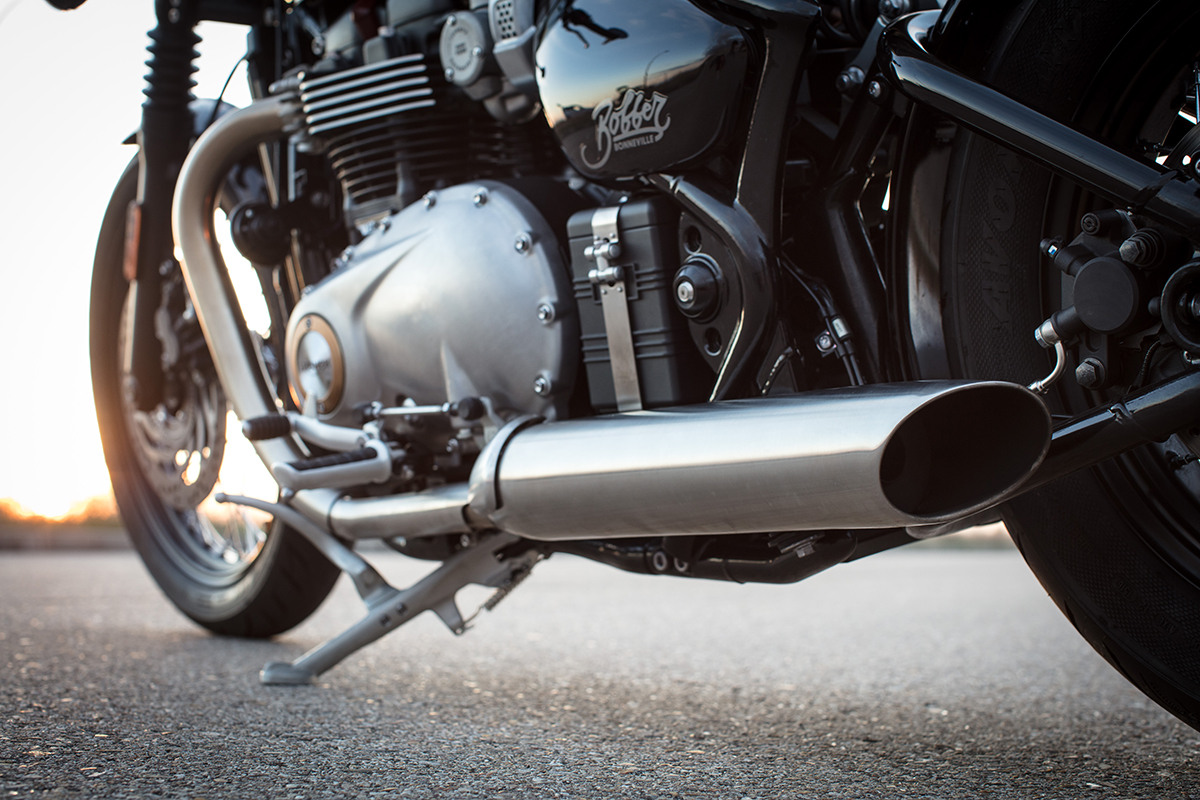 Ergonomics Before getting on the Bobber, I suspected it would be one of those bikes that look cool in photos, but feel crap in the real world. I was wrong.
Even for a 113kg, six-foot-tall, biltong-eating South African like myself, the Bobber is surprisingly comfortable. The foot pegs are far enough forward to be comfortable, but not so far that you lose control. They don't get in the way when your feet are on the ground. And the sturdy, wide 1" drag bars have just enough bend to stop you feeling over-extended.
The seat works fine too. It locks you in, but it's contoured and padded well—and stays compliant for longer than you'd think. I tried both adjustable positions, but found the up-and-forward setting to be far superior—it gives you more control. For me, the lower position just feels too stretched out.
Once you're tucked in, you also realize just how compact the Bobber really is. I was expecting it to be rather porky, but it feels a lot like, well, a bobber. (Triumph list the dry weight as 228kg).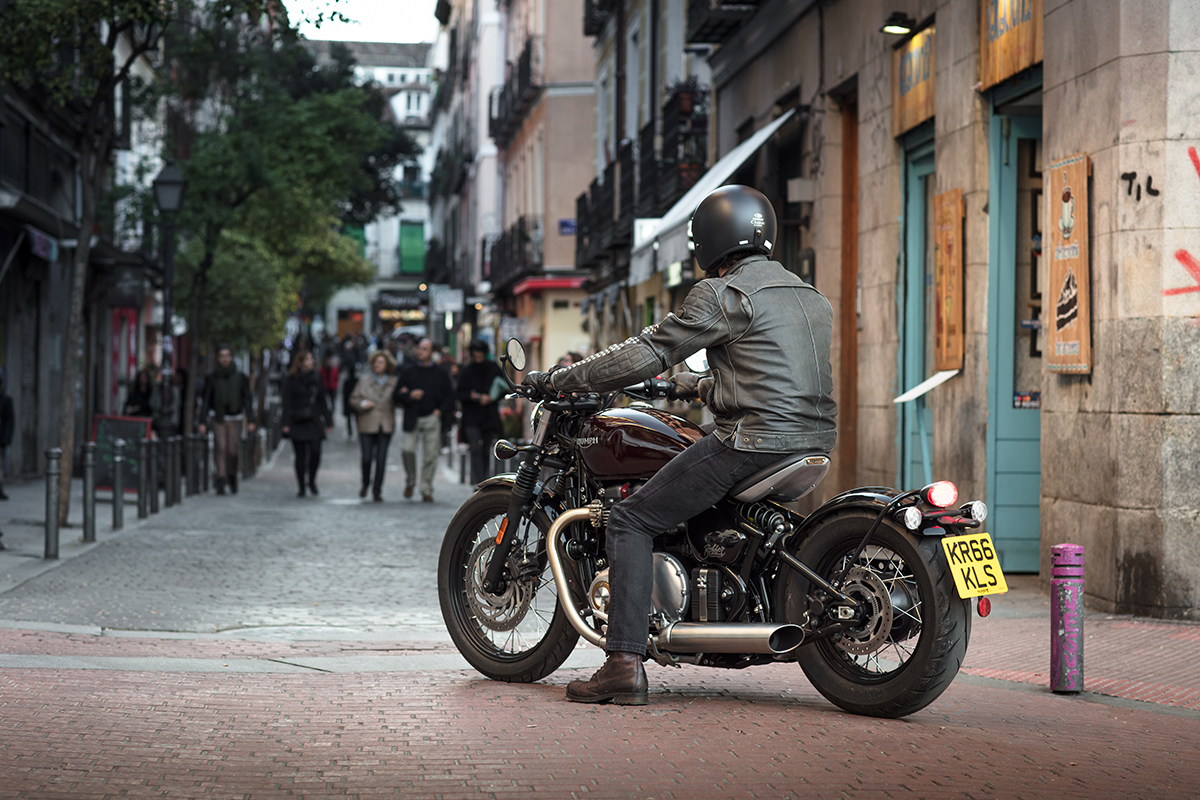 Ride So it looks cool and feels cool—but how does it ride? Damn well, as it turns out. Triumph's sweepers led us out of Madrid for some urban and highway riding, and took us through twisty mountain roads out in the Spanish countryside. Winter temperatures and all.
I was smiling the second I fired it up and heard the exhaust's deep rumble. There's quality over volume; rather than being loud and tinny, the twin, slash-cut cans pump out a deep, throaty hum.
The fueling, transmission and torque-assisted clutch are buttery smooth—almost to a fault. I say almost, because Triumph have managed to make the Bobber smooth without making it too vanilla—mostly thanks to the 270 degree crank, and that revised tune.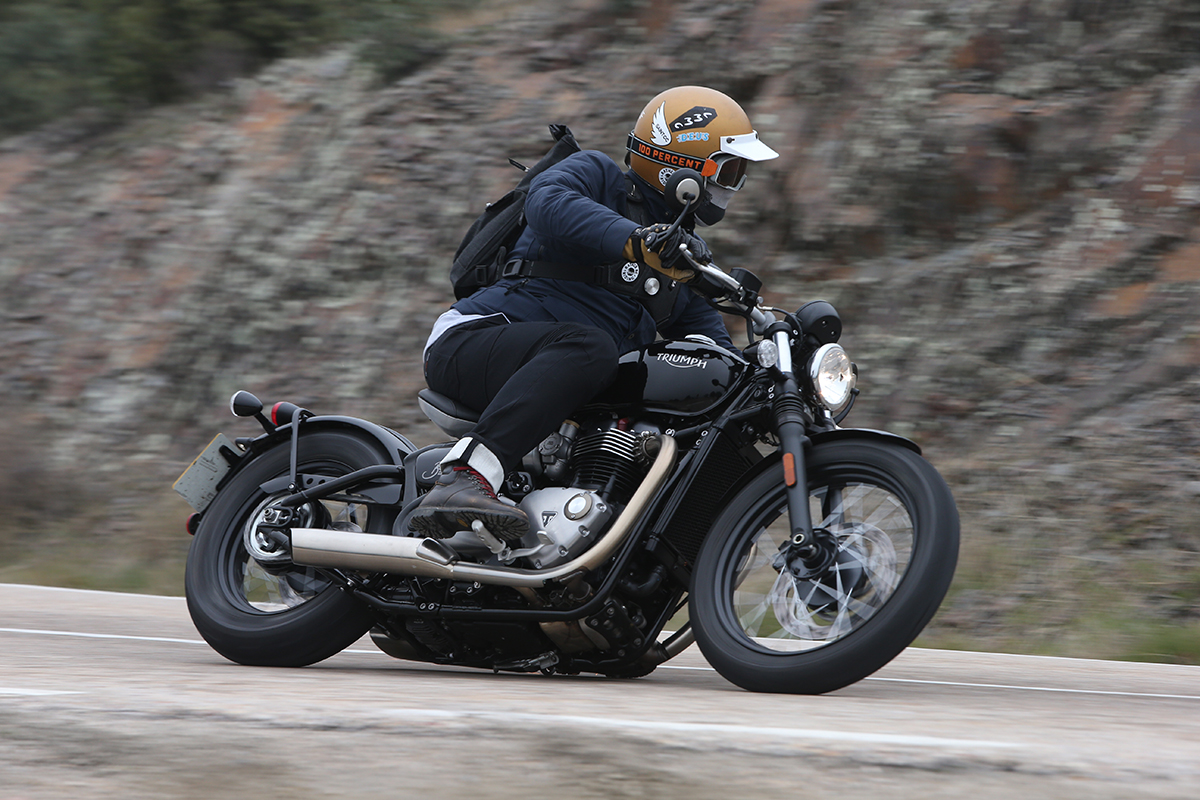 Putting most of the oompf down low was an inspired decision. Pulling away is a gas, and rolling on the throttle out of a corner is pure joy as the bike surges forward, bolstered by the drone of the exhaust.
The ABS and traction control are unobtrusive, but I didn't notice a massive difference between the 'Rain' and 'Road' modes.
There's no adjustment on either the front or rear suspension—and only three inches of rear travel—but it copes just fine. Daily annoyances like speed humps and potholes are no hassle. The only time I managed to make the rear bottom out was when I hopped the bike off a curb with all of my weight.
The one thing the Bobber doesn't have, though, is ample ground clearance. You can toss it around a lot harder than you'd imagine—but then your foot pegs (or the side of your boot) will hit the asphalt.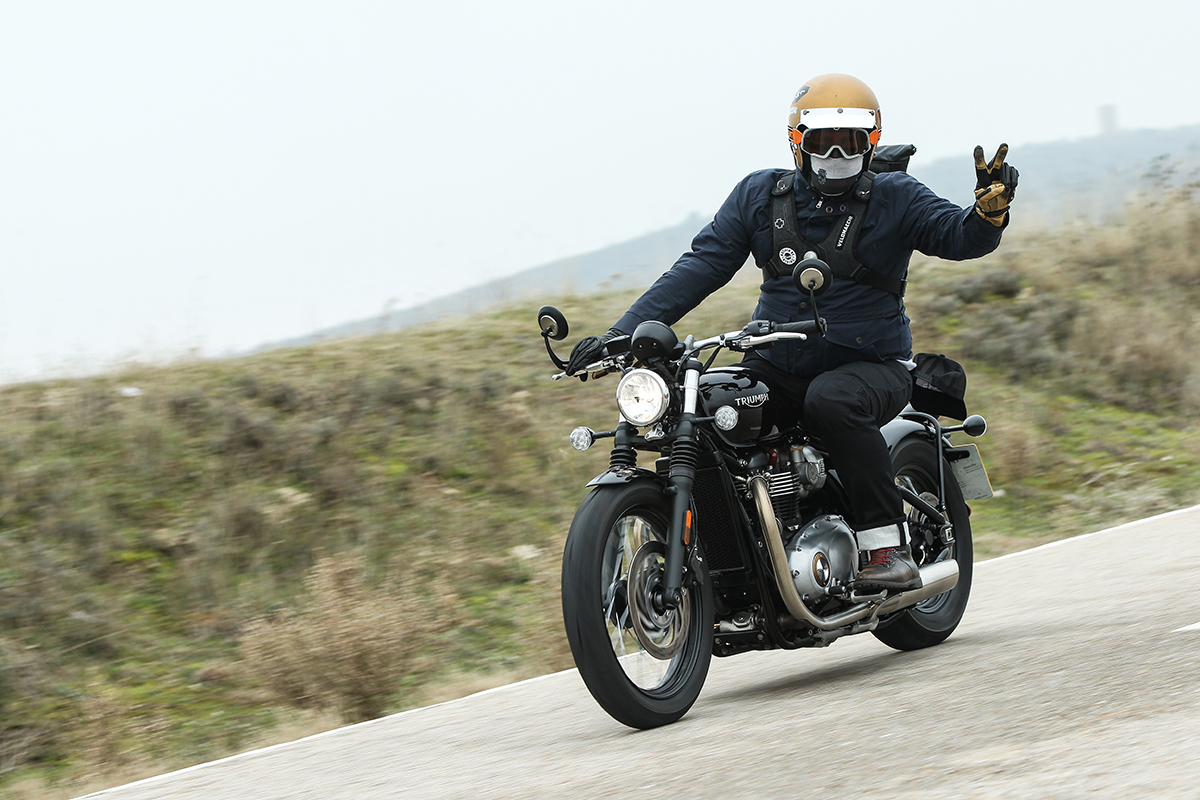 That's par for the course, really. You wouldn't pick a bobber for its ride height any more than you'd pick a café racer for its long distance comfort. Except this bobber can corner hard—it's just going to make a noise and send sparks flying while doing so.
Even the big difference between front and back wheel sizes doesn't seem to hinder it. According to Triumph's chassis engineer, the frame is all-new, so the geometry is fully optimized.
Bottom line: the Bobber rides much better than it has any business to. A little more braking power would be nice here and there (I found myself squeezing the adjustable lever hard a couple of times), but that's all I can fault it on.
Customizing Once the riding was done, my mind immediately drifted back to how good the Bobber looks. Specifically, how Triumph have given owners room to fettle their bikes. It took less than a minute for my mind to fill up with ideas.
Triumph already have 150 aftermarket parts available—ranging from various covers in different finishes, to handlebar options, and even a full LED headlight.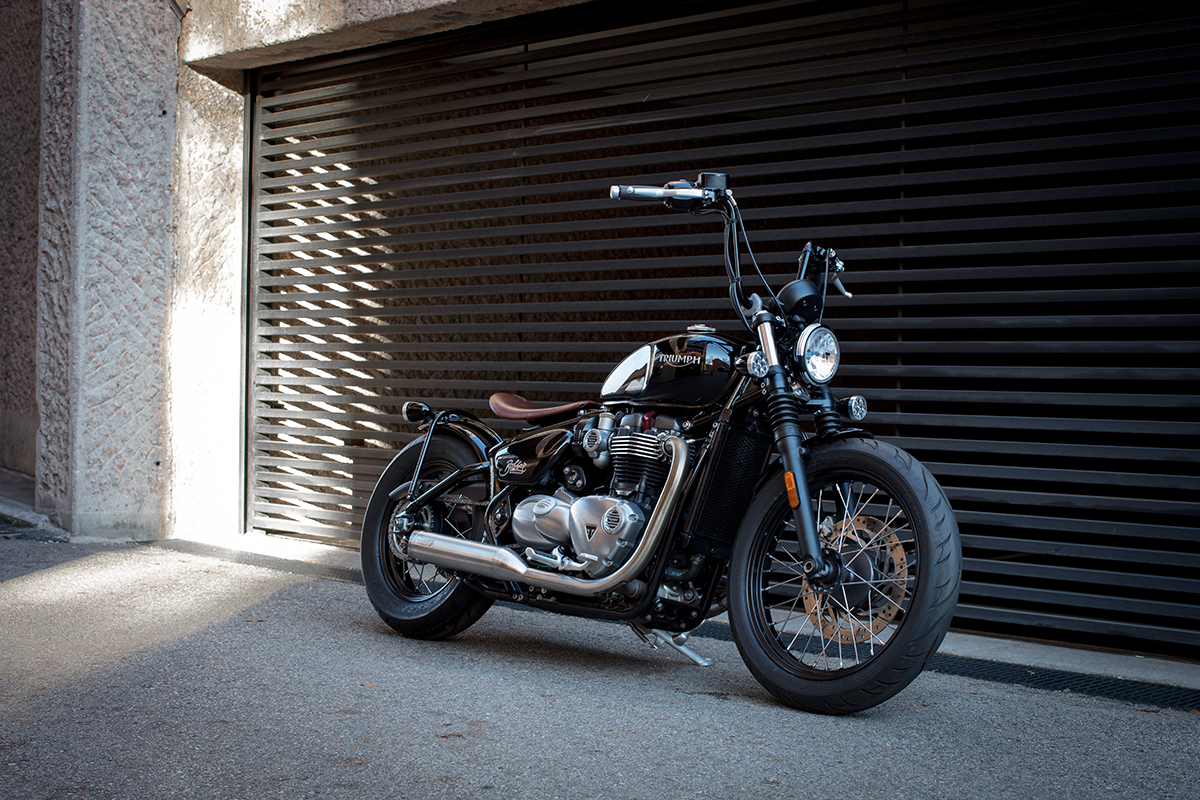 On the performance side, they've got a couple of Vance & Hines exhaust options, and an adjustable rear shock from Fox. You can fit heated grips (which our test bikes thankfully, had) and cruise control. And both of those accessories interface with the speedo display after installation.
They've got two inspiration kits too: Triumph-speak for complementary parts that can be bought as a set. There's the 'Old School Bobber' featuring rather, um, radical ape hangers, and the 'Quarter Mile Bobber' with clip-ons for a drag bike aesthetic.
We could see ourselves customizing the Bobber with a mix of Triumph, third party and hand-made bits. Down & Out's custom Bobber was on display too, and is a testament to how much fun can be had, and quickly. (They built their bike in less than three weeks).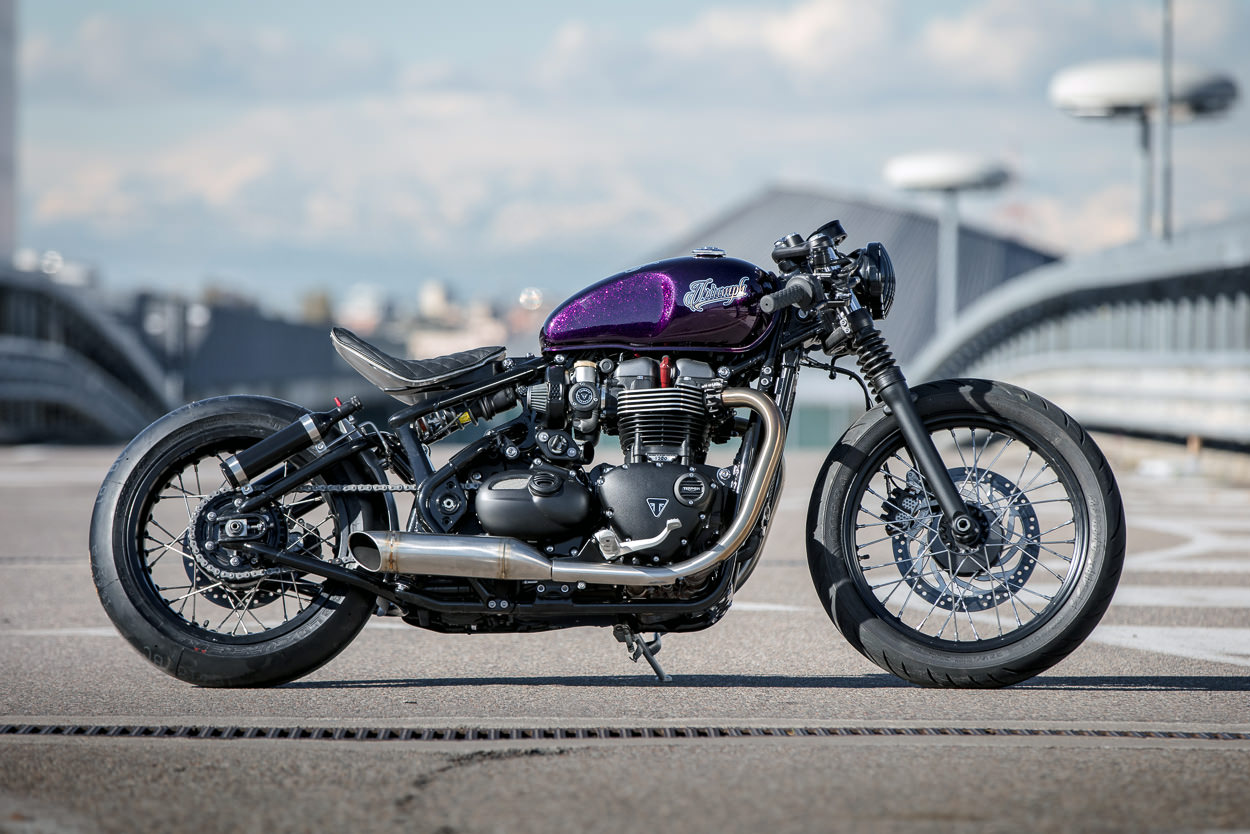 Choosing colors is easier: You can get the Bobber in Morello Red, Ironstone, Jet Black, or a fetching heritage-themed Competition Green and Frozen Silver.
Who's it for? Triumph have produced a yet another machine that feels modern but looks classic. And it's resonating with the general public: We're told that pre-order numbers have already exceeded those of the Thruxton R.
But it's hard to pigeonhole the Bobber. In some ways, it goes head-to-head with every other modern classic on the market. In others, it's competition for Harley's Forty-Eight, or Yamaha's XV950 Bolt. But we reckon the scene's gone beyond the point where comparisons matter.
Our conclusion? At the end of the day, don't get drawn into over-thinking the Bobber. It's a really cool, well-engineered and single-minded bike—and it's a total blast to ride.
The biggest downside? I eventually had to get off.
This article first appeared on Bike EXIF. Reproduced with permission.