As the old saying goes, "Time flies when you're having fun". Well, I've been having plenty of that this week testing the Yamaha FJR 1300. It is hard to believe that the FJR is now 15 yrs old. Some reviews suggest that it is too long in the tooth and should be replaced by a totally new FJR model – (Funny they don't say that about BMW's ubiquitous GS). However, it seems that Yamaha have sensibly decided that "if it ain't broke, don't fix it" and what has happened over the years, is a refinement process which has resulted in the latest model FJR evolving into a very fine motorcycle.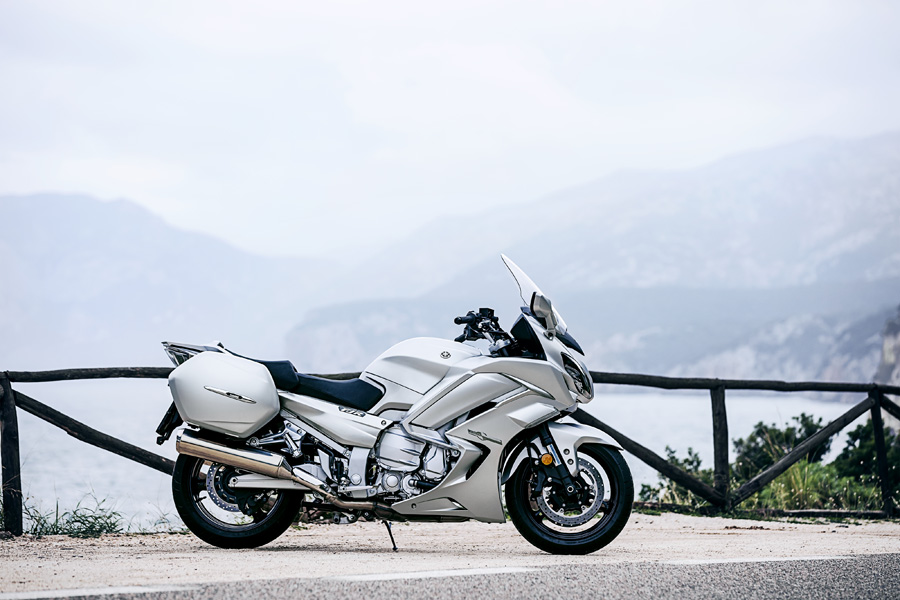 Big news is a 6 speed gearbox. Not only have they added a sixth gear, they have also reshuffled the ratios. The gearbox now employs helical rather than straight cut gears, thereby creating space for the extra gear. A redesigned slipper clutch has a lighter pull and the fly-by-wire throttle raises engine revs slightly on pull-away, easing engagement. The final drive is significantly longer, which results in relaxed high speed cruising. This big Yamaha cruises serenely at the 'ton' (old speak) with only 4500 revs showing on the analogue rev counter. Another benefit of this long gearing is good fuel consumption and a longer range between fill ups on the 25ltr tank.
The FJR, fully fueled, weighs 296 kg, however, riding the bike you would swear that it is 100kg lighter. This is partly due to not being over tyred, with a 180/17 rear and 120/17 front. The steering is light and completely neutral yet the bike is stable on all surfaces and at all speeds. The ergonomics are perfect for my 6'3" frame. The seat was set at its higher 825mm height, with the option of dropping to 805mm. The electrically adjusted windshield allows you to sit in a bubble of still air without creating a vacuum that pulls you forward like on some competitor models. The seat is nicely contoured and all-day comfortable for both rider and passenger.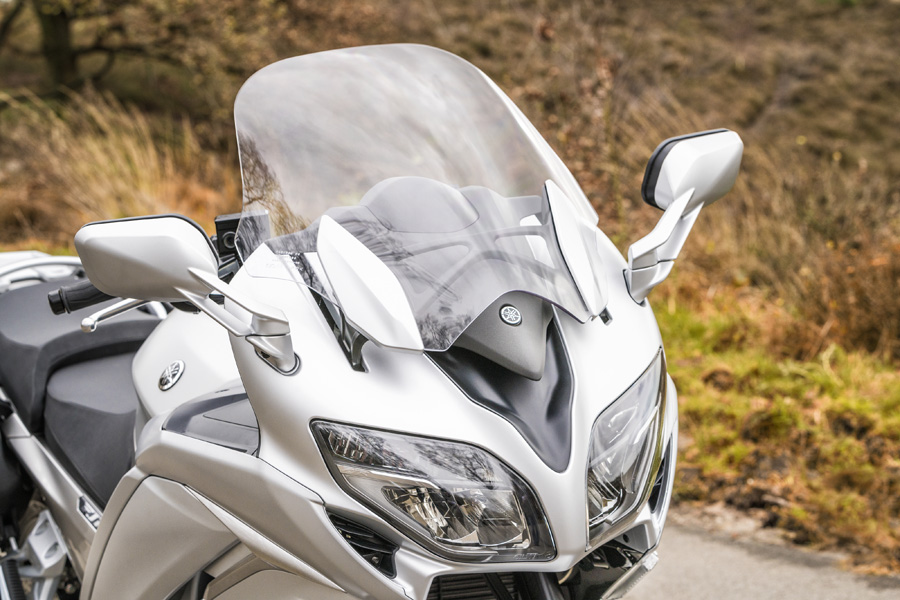 107.5kW (146.2 PS) of power at 8000 rpm and 138 Nm of torque at 7000rpm ensures that the big Yammie is not short of GO! Ask and it delivers without fuss. The four-cylinder in-line 1298cc powerplant is smoother than previous models, courtesy of the revised gearbox. There is absolutely no driveline lash from engine, gearbox or shaft, which makes for effortless commuting through heavy traffic. The fueling is as good, if not the best, of any fuel injected motorcycle I have ever ridden.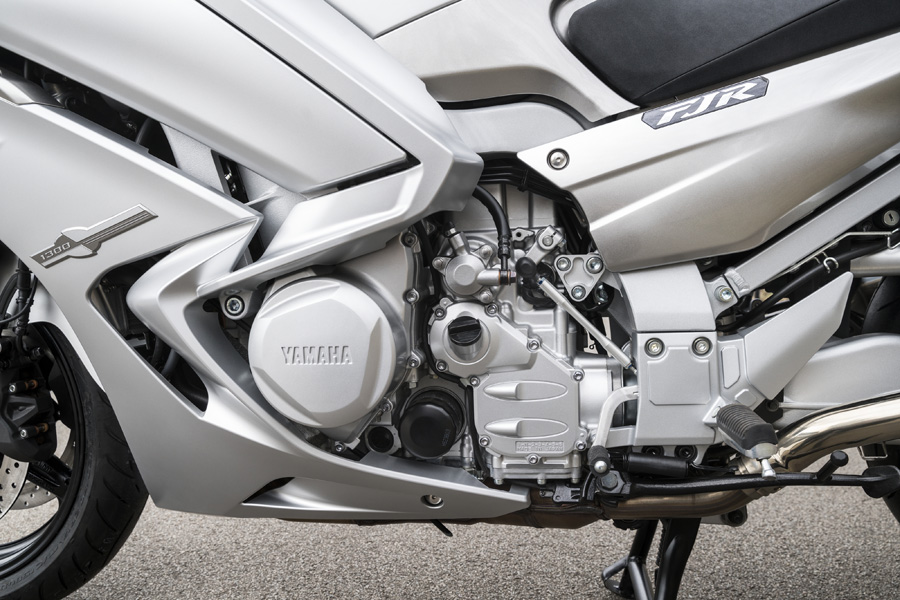 The FJR comes comprehensively equipped with an intuitive electronics package: linked brakes with ABS (really good), cruise control, equal sized panniers thanks to the low exhaust pipes, front forks adjustable for preload and damping adjustment on the right fork leg. The rear shock rebound damping is via a knurled adjuster on the bottom of the shock, easily accessed whilst on the mainstand. Preloading the rear shock is as easy as pulling the lever located below the sidecover of the bike, from 'soft' to 'hard' – Brilliant!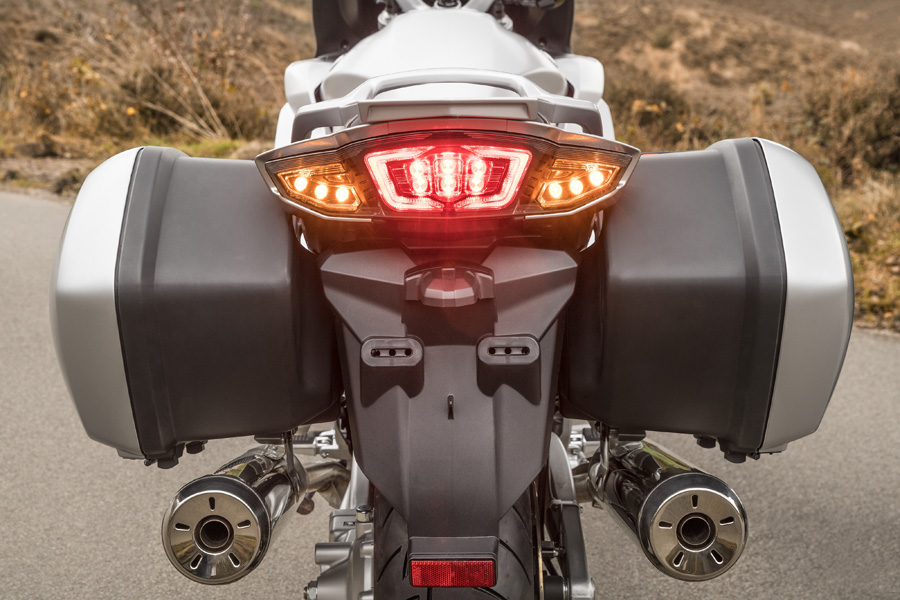 The test bike was painted in a combination of matt and gloss silver paint. As can be seen in the photos, the FJR boasts a handsome look in a sports touring package. Twin headlights cut a swathe through the dark.
At around R225000, the Yamaha, in my opinion, offers fair value for money. What you get is a well equipped, refined and really good sports tourer which has proven utter reliability. I honestly cannot think of anything about the bike that would irritate a long-term owner. On the contrary, the FJR is a really willing and able companion – most definitely a Keeper!
Yamaha FJR 1300
For more information on the bike that we tested in this article, click on the link below…