The superbike wars are upon us once again and this is something we should all rejoice, not because all of us are ever going to want to or be able to afford to own and ride a superbike but because it marks a resurgence of a previously declining class – in terms of sales – one that reflects the pinnacle of the motorcycle-building art.
The latest contender to throw its hat into the ring is Suzuki with its updated GSX-R1000. Suzuki is the last manufacturer to fully update their superbike and, as such, they are really under the gun to bring it up to the level of all the others.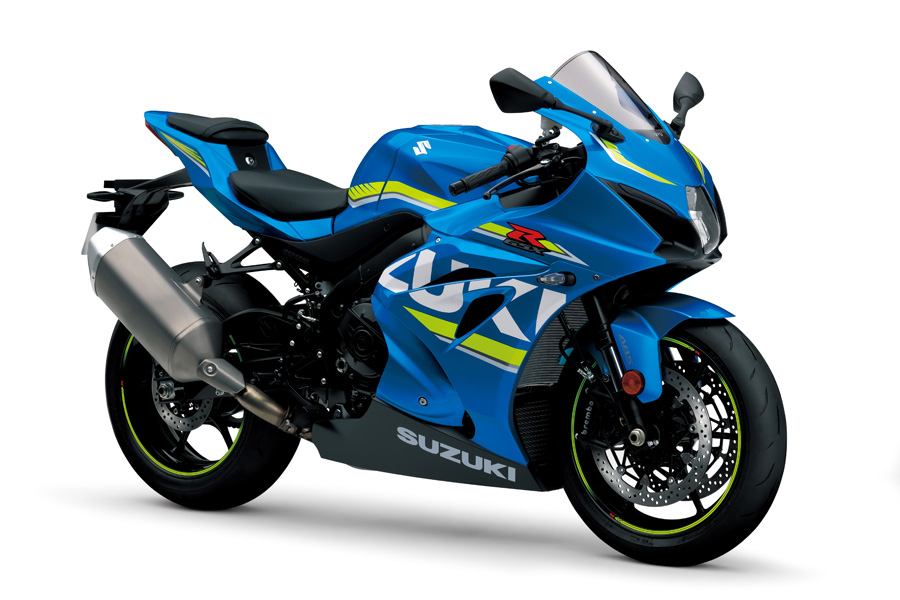 The name of the game in 2017 is electronics and no superbike worth its salt can hope to keep up with the rest without a full suite of fancy gizmos. There are those who bemoan the fact that so much on these bikes is reined in by electronics; where can the rider make a difference, they argue? Maybe they have a point but the simple fact of the matter is that the sophisticated systems allow many more riders to get more out of the bikes than ever before without planting themselves into the scenery.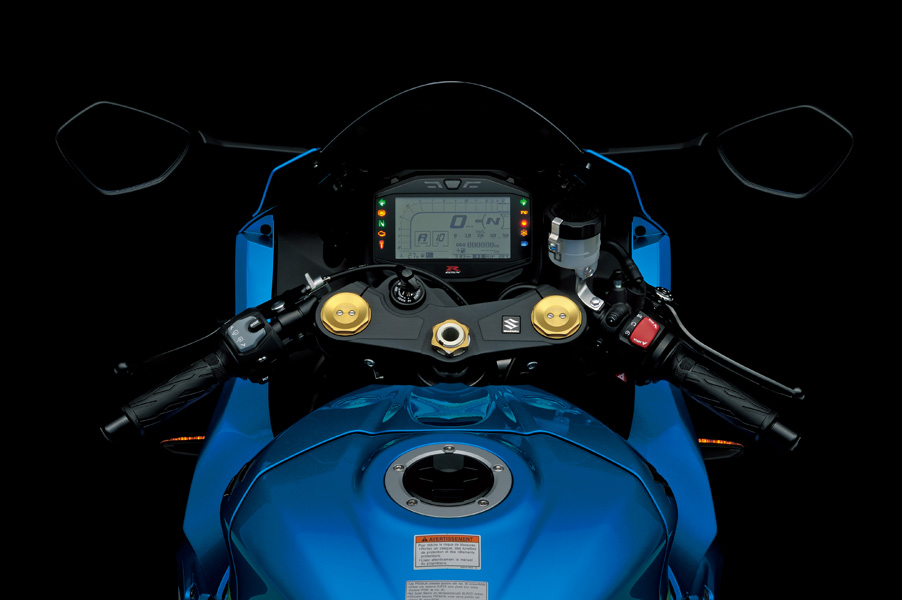 Naturally the engine is the heart of the machine but with a superbike, the chassis plays an important, if not equal, part. This really is an overall package scenario. So, where does the Suzuki sit in relation to all its rivals?
The bike hasn't been officially launched yet in SA, although dealers are taking orders, but ZABikers.co.za was allowed a sneak preview of the new GSX-R1000 for a few too-short laps of Red Star Raceway.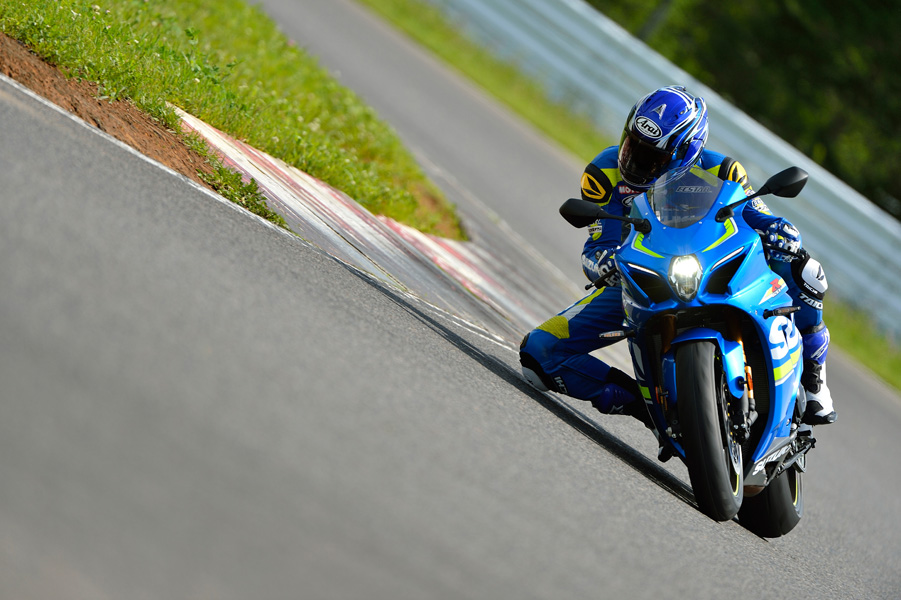 First impressions are good. The bike looks neat and small and resplendent in its MotoGP-inspired livery. Some of the design details could possibly have been subject to a little more modernity of thought; the headlight, for example, is about ten years out of date in its design. Overall quality of plastics, fit and finish and paintwork is good but only time will tell if it is built to last. Only one note jarred and that was the enormous silencer fitted. While other manufacturers have managed to reduce this appendage significantly, Suzuki seems to have gone the other way. If you can afford a superbike in this day and age, maybe the prospect of a further R20,000 on an after-market silencer won't faze you, but is it really necessary?
Superbikes are made for riding, however, and here the Suzuki shines. The engine is a work of art, giving a fantastically linear spread of power, helped in no small part but its mechanical variable valve timing that adjusts the timing as the revs rise, helping not only with mid-range but also top-end.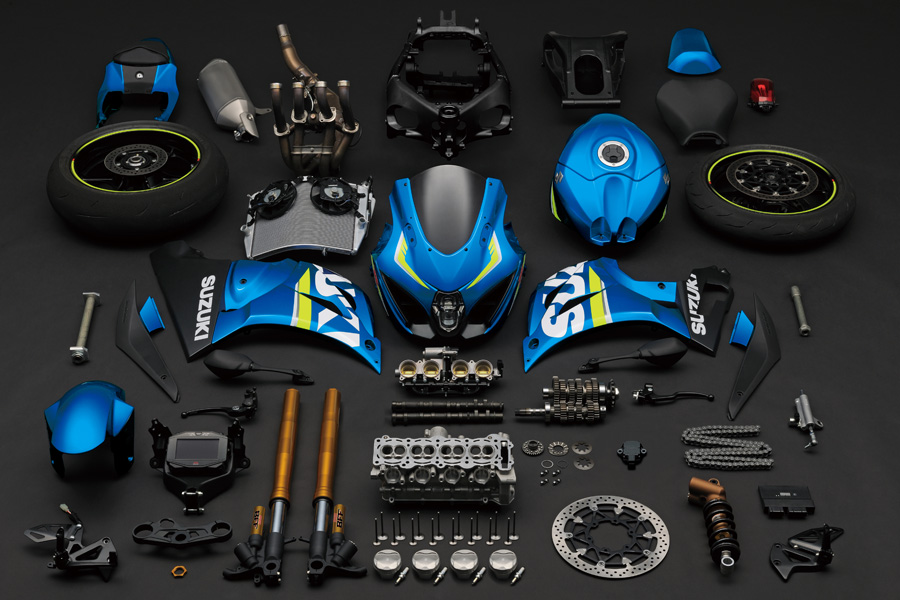 Opposite other variable valve timing systems, Suzuki's setup has steel balls that work on the intake cam and move via centrifugal force to rotate the intake cam at high rpm, thus retarding the intake cam timing and allowing for more valve overlap, for more top-end power. It's smooth and seamless.
In addition to its variable valve timing system, the GSX-R1000 engine also uses new servo-operated Suzuki Exhaust Tuning-Alpha (SET-A) butterfly valves in the header balance tubes to offer both better mid-range power and improved top-end performance.
Officially, the GSX-R1000 puts out as close to 200bhp as you'd care to argue about but we all know that official figures can be a bit misleading. However, an independent UK workshop put the Suzuki on the dyno alongside an R1 and a ZX10R and measured the Suzuki at 195bhp, the R1 at 184bhp and the ZX-10R at 181bhp. The Suzuki also had 7Nm more torque than the other two. With these figures, the Suzuki should have the upper hand.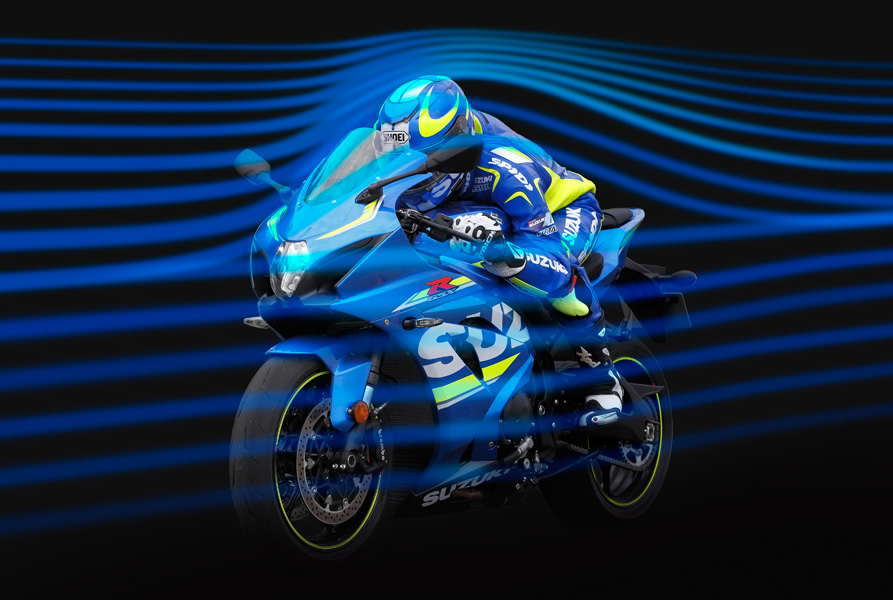 Without putting every superbike head-to-head in a group test, it would be useless to draw too many conclusions when riding only the Suzuki at the track but, in the short time we had, it certainly felt monstrously fast, with a seemingly unending surge of power. However, it is a smooth surge, what Suzuki calls its 'Broad Power System', which is another way of saying that the new engine is easier to ride and, therefore not so intimidating and broadening sales appeal.
Previous GSX-R1000s have always had strong engines but they also had fairly wild chassis characteristics. The new model has a lighter, stiffer chassis that moves engine weight forward and lengthens the swing-arm without lengthening the overall wheelbase. At the drag strip, this allowed the Suzuki to make blistering full-power take-offs without lifting the front wheel, meaning that more of the acceleration could be used without the electronics chiming in and cutting power to prevent front wheel lift.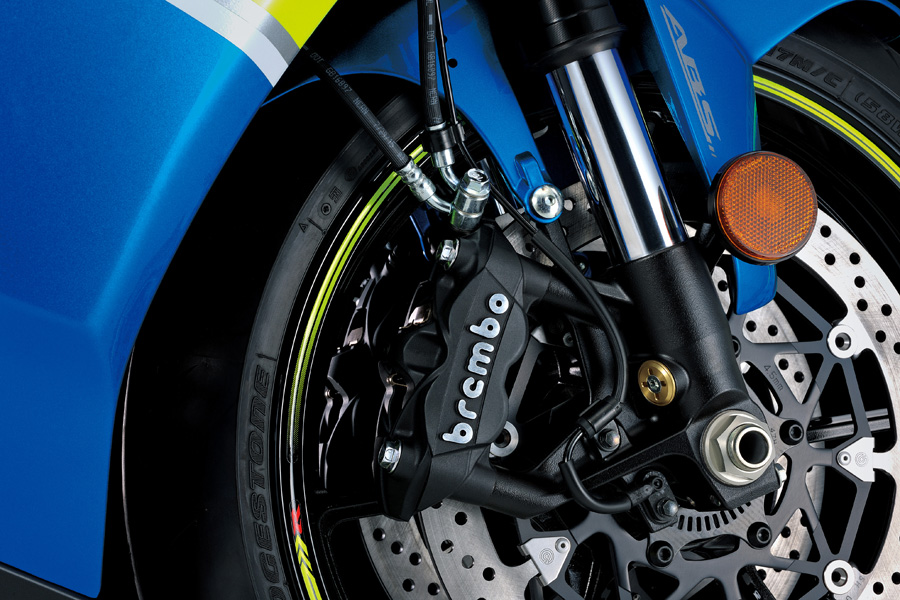 At the track, another distinguished motorcycling scribe attested to the sharper turn-in the new chassis permits when he repeatedly found himself turning in too quickly and nearly running off the track on the inside, so quickly did it turn compared to older models.
As mentioned at the beginning of this piece, a superbike is nothing these days without electronics and the Suzuki certainly has them. I could give a full description of the whole bag of tricks but, for now, I'll content myself with the following list. There are two models – standard and 'R' model. We tested the standard model.
32-bit dual processor ECM
Motion Track TCS (Traction Control System) has 10 intervention levels, or modes.
Inertial Measuring Unit (IMU)—measures pitch, roll, and yaw.
Suzuki Drive Mode Selector (S-DMS)—adapts throttle response to special conditions via three modes A, B, and C (B and C modes require more throttle grip rotation for a given torque).
Bi-directional quick-shift system (on GSX-R1000R)—employs ignition retard to unload the gearbox during upshifts and blips the throttle during downshifts.
Launch Control system (on GSX-R1000R)—rider can concentrate on clutch operation, reduces chance of wheelie, more consistent start.
Suzuki Easy Start System—once you push the start button, the starter cranks the engine until it fires, without having to keep the button held in
Low RPM Assist (LRA)— If engine revs drop during a start, this system makes snatching or stalling less likely. This is enabled through the ISC system (ISC = Idle Stepper Control), which supplies idle air to stabilize idle rpm.
Motion Track Brake System (on GSX-R1000R)—when the IMU detects rear-wheel lift, the ABS unit immediately adjusts front brake pressure to reduce rear-wheel lift. When the front brake is applied while the motorcycle is leaned over, the ABS unit immediately optimizes front brake pressure.
Full LCD multi-function instrument panel.
All-LED lighting.
Sensor suite; front-wheel speed, rear-wheel speed, crank position, gear position, throttle valve position, throttle grip position, IMU data stream.
From this list, you can see that the standard model is a little light on goodies – no quickshifter, for example, but it is still good enough to take the fight realistically to the opposition.
We'll do a full test in the near future but, for now, this new Suzuki GSX-R1000 has whet our appetites and proved that it has the right stuff to take the fight to the opposition. It's going to be an interesting year!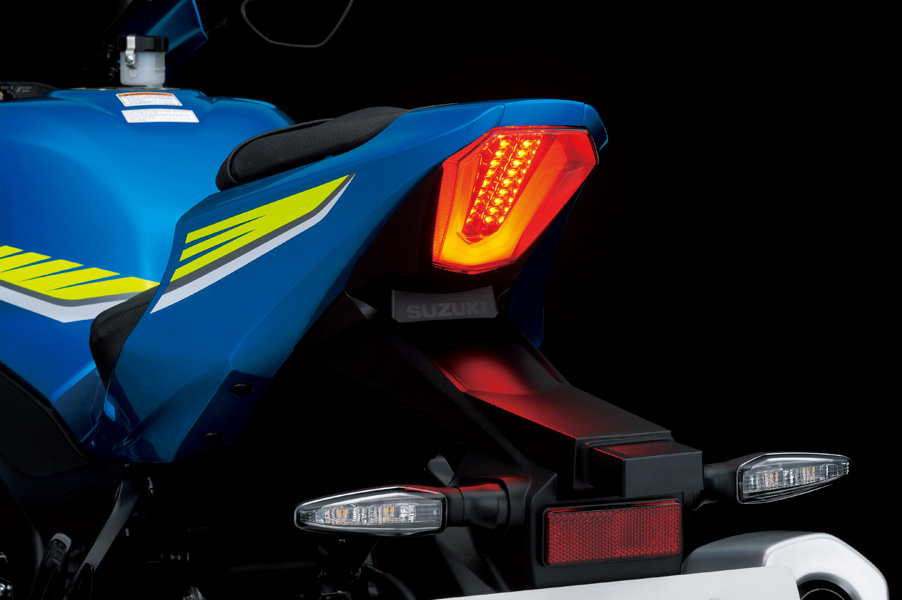 Oh, yes; price. Suzuki SA have told us that the GSX-R1000 should retail at R239,000.