I finally get it. I admit it. I was one of the naysayers but I totally get it now! You need 160 horsepower for your adventure bike!
Why? I hear you say. The answer to that is simple – if you package it in as competent a package as KTM's new 1290 Super Adventure R, it translates to pure, unadulterated, raw, old fashioned FUN.
KTM saw fit to introduce their new flagship R model in the wild and rugged Peruvian desert. To let a bunch of journalists loose in terrain not unlike a stage of the Dakar and probably more suited to testing their 450 Rally bike, was a massive vote of confidence in the new 1290. This confidence was totally justified. Study the photo's and I am sure that most will approve of the aggressive styling, accentuated by LED headlights that give the big Katoom an 'Angry bird' countenance. The radically styled headlight features cornering lights in the lower section for enhanced night vision.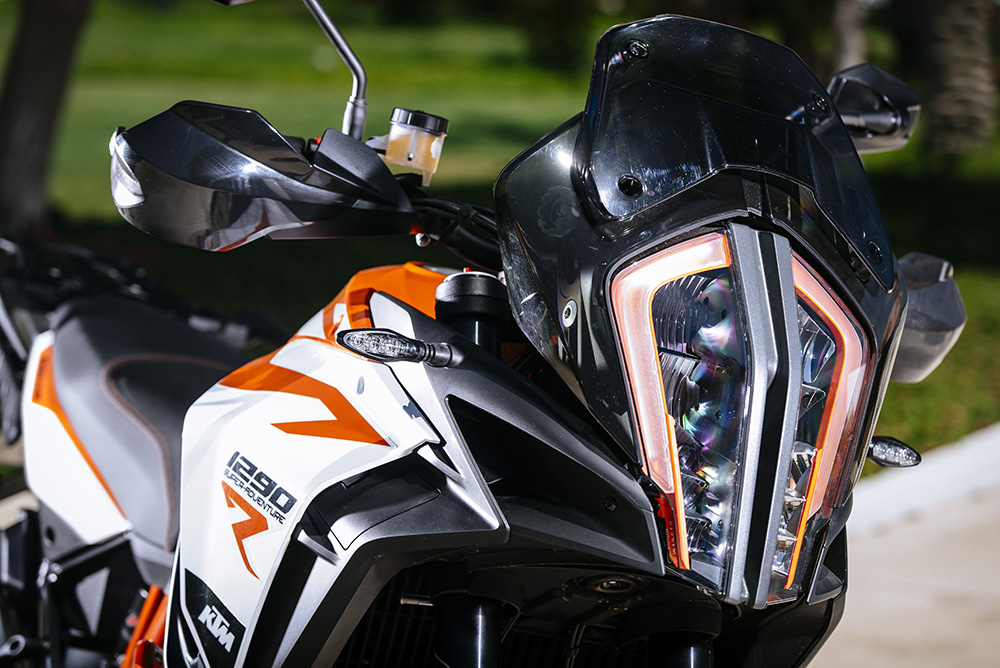 The Super Adventure R drips with other performance enhancing technologies. 18" and 21" strengthened back and front rims, run tubeless tyres (Continental TKC 80's) and hang from revised WP suspension with enhanced, adjustable damping and progressive springs. There is a generous 220 mm of travel at both ends.
At the heart of the beast is a 1301cc, 75 V-twin derived from the LC8 unit that powers the Super Duke R. In adventure R form, it pumps out 160 hp and 140Nm of torque. Significantly, 108 Nm is available at a mere 2500 rpm. Tamed by excellent engine management, the 1290 exhibits none of the low speed snatchiness of the 'old' 1190 R. There is huge compression in a 1301 V-twin, so it is no surprise that the R is equipped with a slipper clutch to eliminate rear wheel chatter when coming off the gas.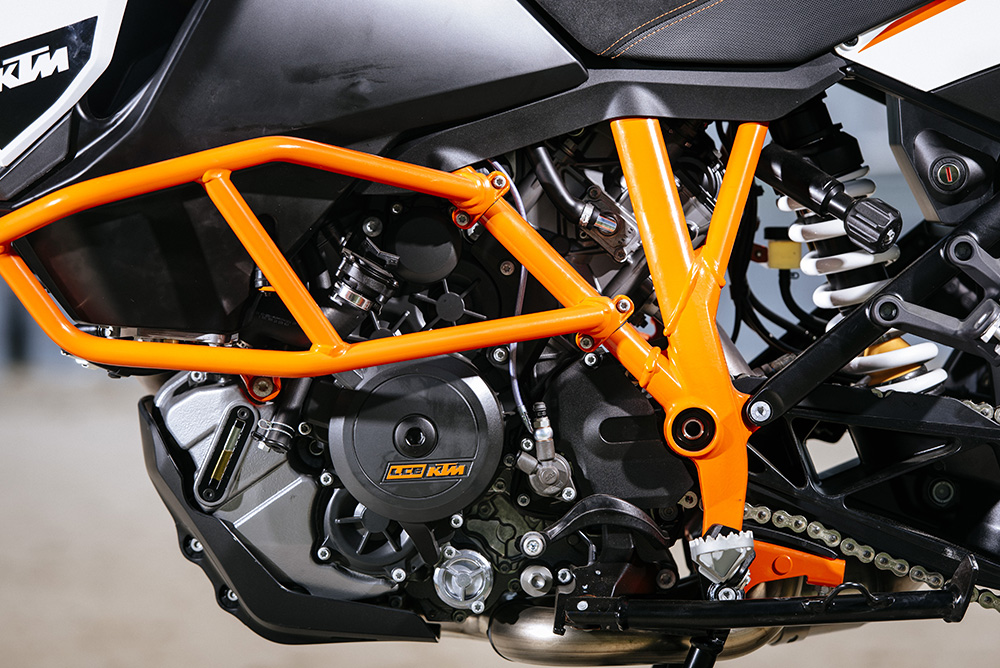 A typically slick KTM 6 speed transmission is further enhanced by a flawless quickshifter [Quickshifter on an Adventure bike? – Brilliant! – I'll explain later].
The electronics package is really what makes the concept and execution of this bike possible. Sport, Street, Rain and Off-road engine modes map the engine power for the particular application. Sport and Street, access full power with Rain and Off-road dropping down to 100 hp. Allied to this is combined ABS and Off-road ABS. Braking with the front only will apply brake force to the rear disc too. In Off-road mode, the rider can lock the back brake whilst keeping ABS function on the front brake. Traction control for Rain and Off-road helps to keep the abundant power and torque in check. Traction is tailored to complement the engine mode selected. In Off-road mode, enough wheelspin is allowed to effectively rear wheel steer, albeit in a controlled fashion. How does this all hang together when riding on loose dirt?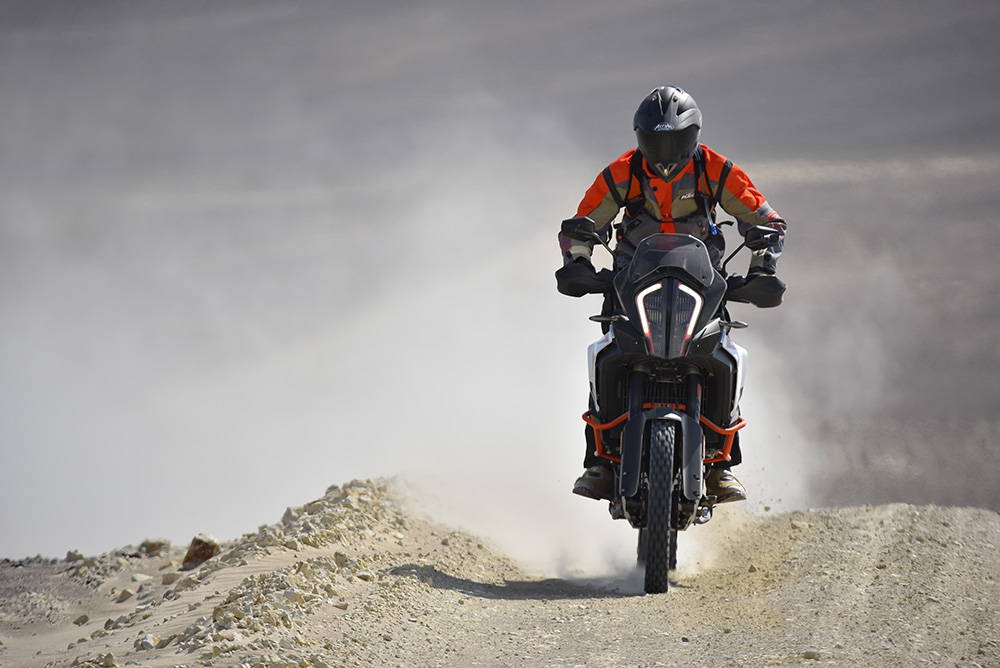 You are bombing down a gnarly trail approaching a 90' bend. The well damped and sprung suspension is keeping things under control. To scrub off speed you prod the gear lever down twice, the quickshifter autoblips and downshifts precisely and the slipper clutch keeps the back wheel under control. You dab the back brake, locking the back wheel momentarily, then weight the outside peg as you turn and get back on the gas. The back wheel spins up and the traction control holds it a foot out of line as you drift through the bend, shrieking like a banshee from adrenalin pumping pleasure! You convince yourself that all that happened, thanks to your amazing riding skills!
We rode at high speed on gravel highways; traversed gnarly trails and descended huge dunes with sick gradients and we even rode across the sloping face of dunes. In all honesty, I was brutally wrenched out of my adventure touring comfort zone. The KTM 1290 Super Adventure R, simply took it all in its stride. It is honestly designed and built to be the hardest and most competent off-road, travel enduro Adventure bike, on the planet. Truly, no other Adventure bike in standard trim, can match it for all round ability. Fit suitable rubber and it has the engine and chassis to bait sportbikes on mountain roads. Fit panniers, tank bag and other goodies from the power parts catalogue and traverse continents – at speed! When the road ends, you put on your big boy enduro pants and carry on. This bike ticks all the boxes and then some.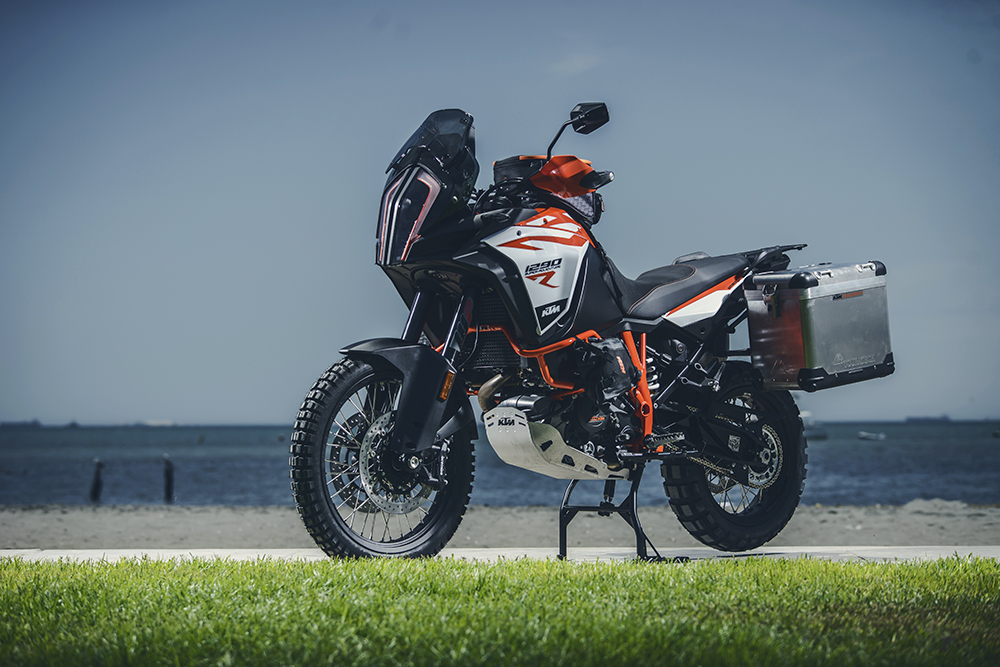 The TFT display is a huge improvement on that of the 1190R. Using bonded armour glass, it is easily read in even the brightest direct sunlight. Backlit switches on the left handlebar scroll through and select modes. Cruise control takes the pain out of open road riding. A one hand adjustable windshield allows screen height suitable for all types of riders and riding. A storage compartment for your smartphone even has a USB port to keep said phone charged.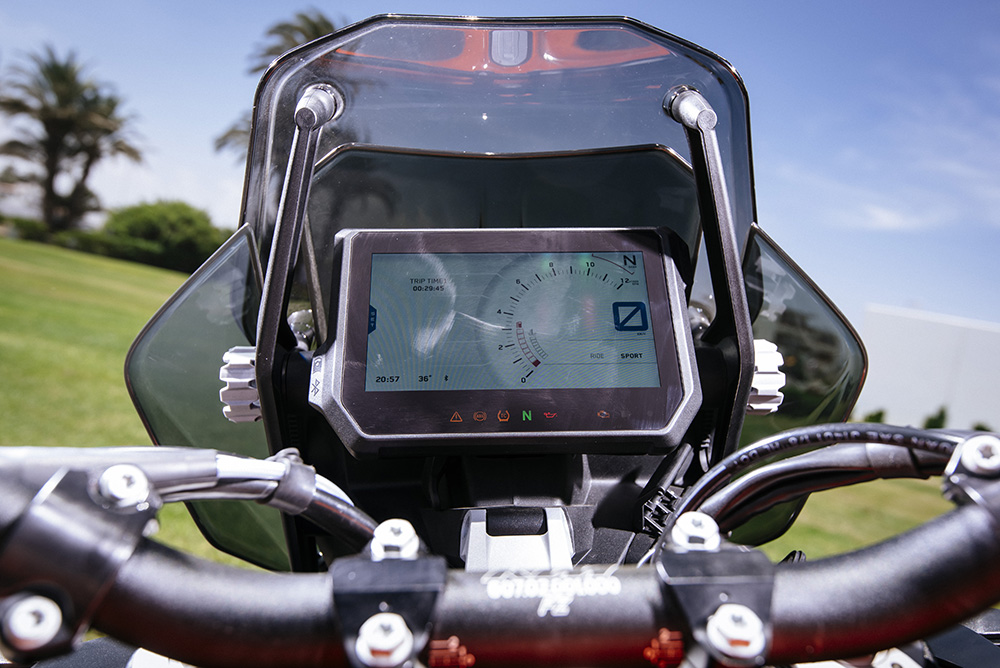 KTM have seen fit to equip the R with a keyless fob, which when safely in your pocket allows you to start the bike by prodding a 'race on' button on the right handlebar. The dash comes alive with a 'ready to race' logo after which you prod the starter button incorporated into the 'kill' switch to fire up the beast. The 'race on' button is integrated with the steering lock and fuel cap. [There is a special 'limp mode' procedure to still be able start the bike and open the fuel cap if the transponder battery is flat.]
Make no mistake, this is a mans bike! 890mm seat height; 250mm of ground clearance; 23 litre fuel tank and weighing in at just over 242 kg's fully fueled.
Having said that, we were privileged to have the Extreme Enduro Master, Chris Birch, lead the talented rider's group. Chris rides his 1290 R in street mode (160hp) with traction off. He slides wheelies and jumps the bike like a KTM 500 dirtbike. The skill he displayed was absolutely 'other worldly'. Chris is not a large man, yet by perfect weight placement, he rides the R with incredible ease. The limit of the KTM 1290 Super Adventure R is ultimately physics and the skill of its rider. It will be a poor workman who blames his tools!
I would like to thank Franziska Brandl and Riaan Neveling of KTM South Africa for the invitation to this launch event and KTM Austria for their awesome hospitality.