A limited number of the MT-10 'Touring Edition' and range topping 'SP', Yamaha roadsters, are available for sale at selected Yamaha dealers. These bikes, were bought by Yamaha SA, after the recent World launch that was held in Cape Town. With around 2000 km on the clock, they represent fantastic value for money for what is essentially a brand new, just run-in, bike.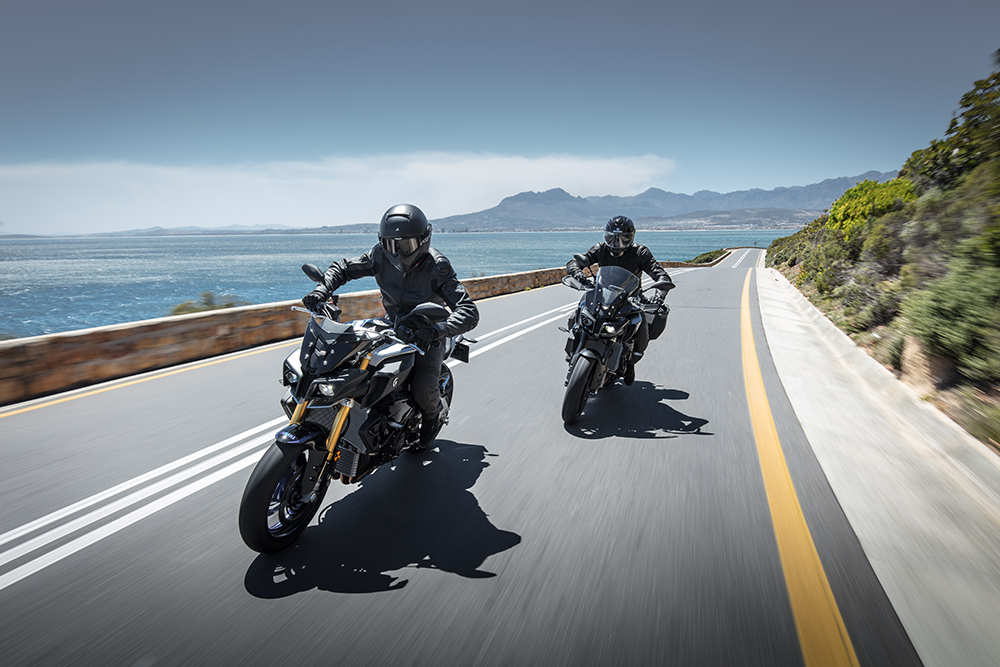 To assess their performance on the Highveld and their general road manners, ZA Bikers Online Editor, Simon Morton and I took a Tourer and a SP, for an early morning blast through the Magaliesburg – and what a blast it was!
MT 10 Touring Edition
The touring version of Yamaha's R1 Crossplane engined naked bike, is not totally naked. To fit into its touring role, it is equipped with a sporty looking windshield and a comfort seat. Hard shell fabric panniers also come as standard on the Tourer. They are easily detached using a key. Thank heavens Yamaha haven't resorted to unnecessary complication with so called 'keyless entry'. Fact is, there is still nothing better than a simple, reliable and inexpensive key to light your bikes fire!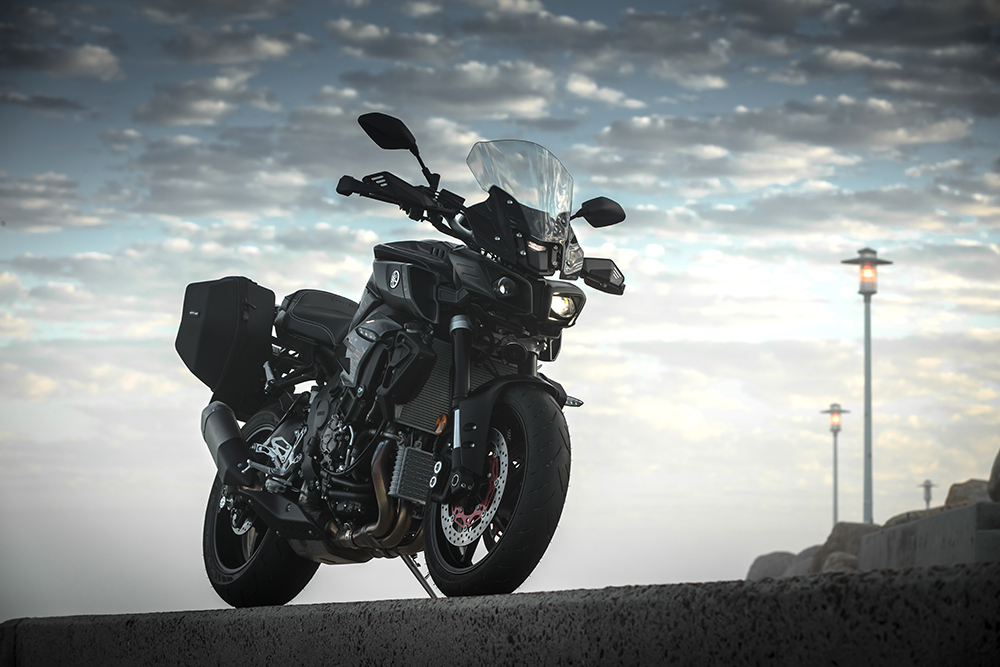 The MT-10 grumbles – not as in 'complains', but rather a mixture between a growl and a rumble! The in-line four is wonderfully smooth at all engine speeds. This soulful engine is quite simply, very smooth and has huge, accessible torquey shove – everywhere. Lofting the front wheel, especially in the No1 engine mode, is just a matter of whacking the throttle open. Fueling is perfect and uplifts are seamless, facilitated by an excellent quickshifter. Clutch action too, is beyond reproach.
On the road, the bike feels solid and completely planted. The manually adjustable suspension is supple over bumps and ripples, without upsetting the excellent chassis in any way. The MT-10 Touring Edition is a smooth, powerful, very fast, comfortable and exciting motorcycle.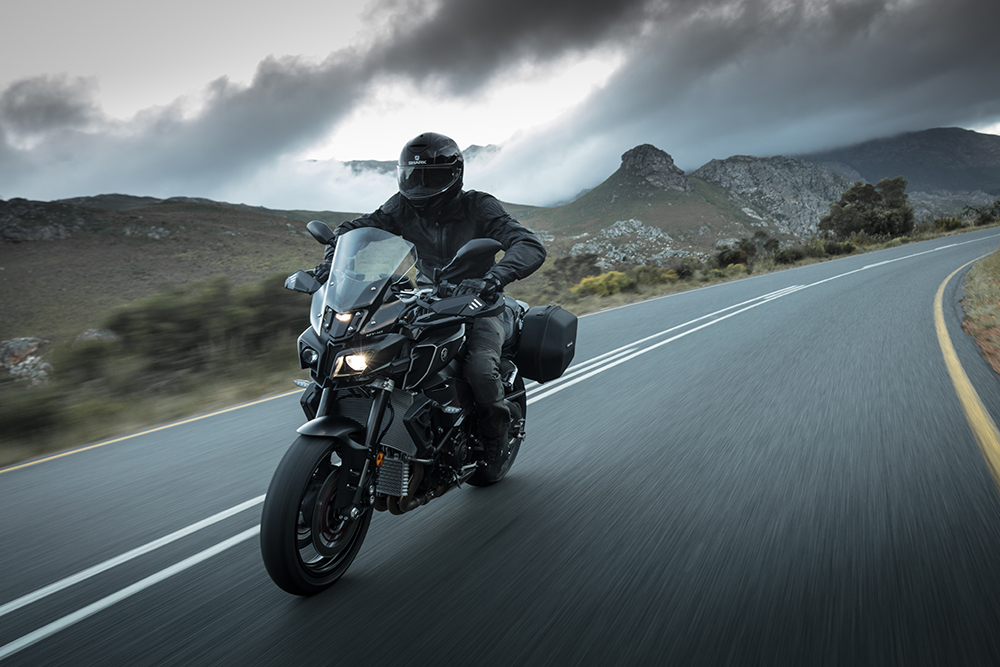 In addition, the Touring accoutrements make a really good motorcycle even more versatile and better. Typical of new-age sports motorcycle technology, the bike sports a choice of engine modes, level of traction control and ABS brakes. Cruise control gives the right hand a rest when required. The windshield takes all the wind-blast off your chest but leaves your head in the airstream. At a constant 135 kph, the onboard computer was indicating fuel consumption of low 20 km/L. Good luck to you if you have the self-control to cruise at such a sedate pace! Your speed is limited by road conditions and the rider, but never the bike. If you want to go faster, simply open up and enjoy an unrelenting rush of acceleration to a top end of around, 265 kph. The MT-10 Touring Edition will excite and satisfy all your sports touring requirements
MT10 SP
So, how is the SP different then? Well, for starters it is stripped down and naked. Come closer and you will note a different LCD dash and the yellow shock spring and gold fork legs on Öhlins electronic suspension – the same suspension that is fitted to the fabulous YZF-R1M.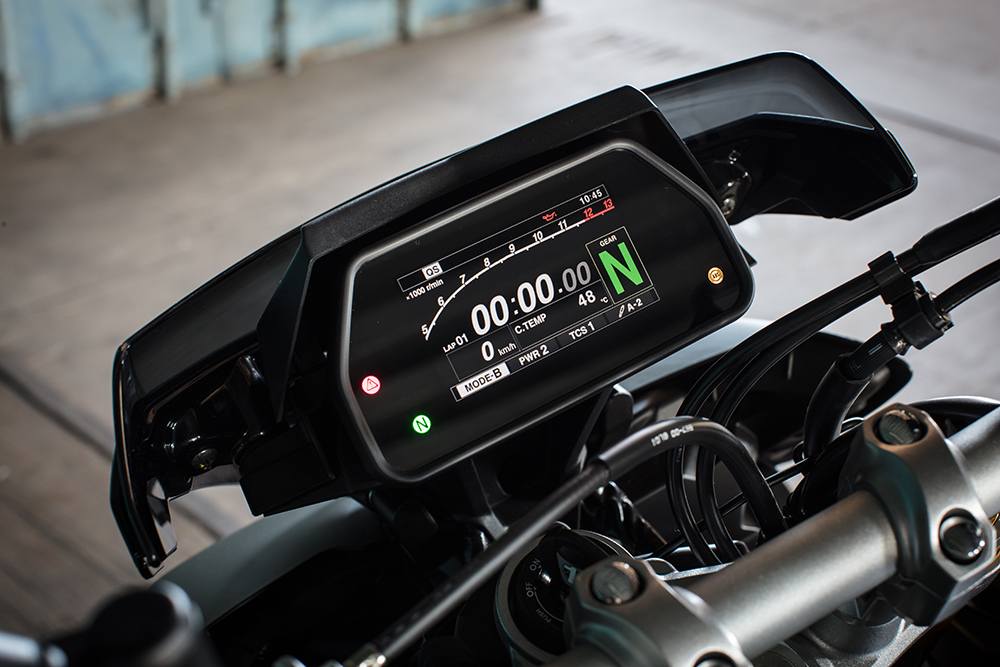 Engine performance is similar to that of the Touring Edition. We had a couple of roll-ons and the bikes run neck and neck. Strangely, they don't feel the same. The windblast makes the SP feel faster and the motor is somehow even smoother and sweeter. This is not just my impression but shared by Simon too. Every aspect of engine performance, as with the Tourer, is flawless. Oh Lordy! Let's talk about the suspension.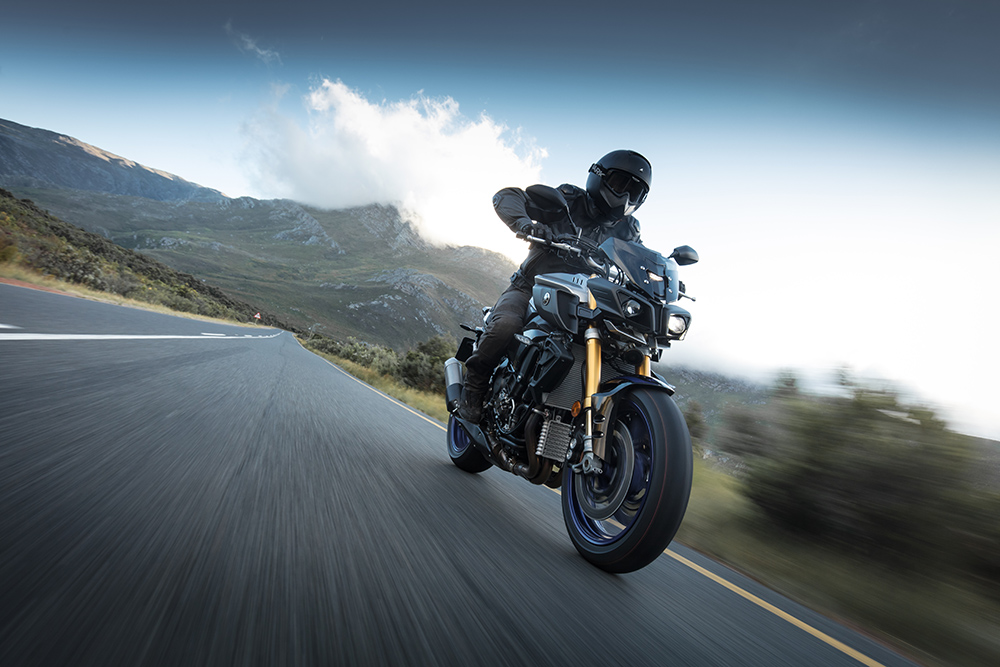 The Öhlins electronic suspension is quite simply the finest sports motorcycle suspension I have ever experienced – Bar None! Let me try and explain. It is different to other electronic suspensions in that it does not think for you and adjust preload and damping automatically, as you ride.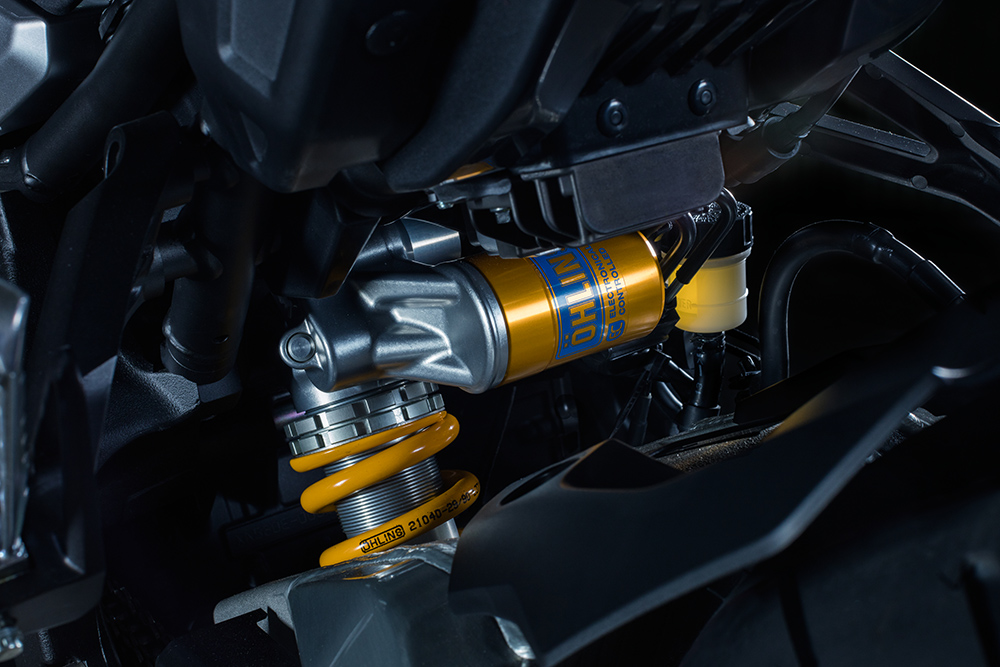 The Öhlins on the SP are adjusted electronically as opposed to being electronically self-adjusted. By entering a suspension menu you can select preset suspension damping levels or use a manual function, which displays 4 bar graphs representing front rebound and compression damping and the same on the rear shock. Here you can fine-tune the damping characteristics to the finest degree. This will determine the preload, i.e., how stiff the spring rate. It is thus manually adjusted electronically, by button, rather than with screwdriver and preload spanner.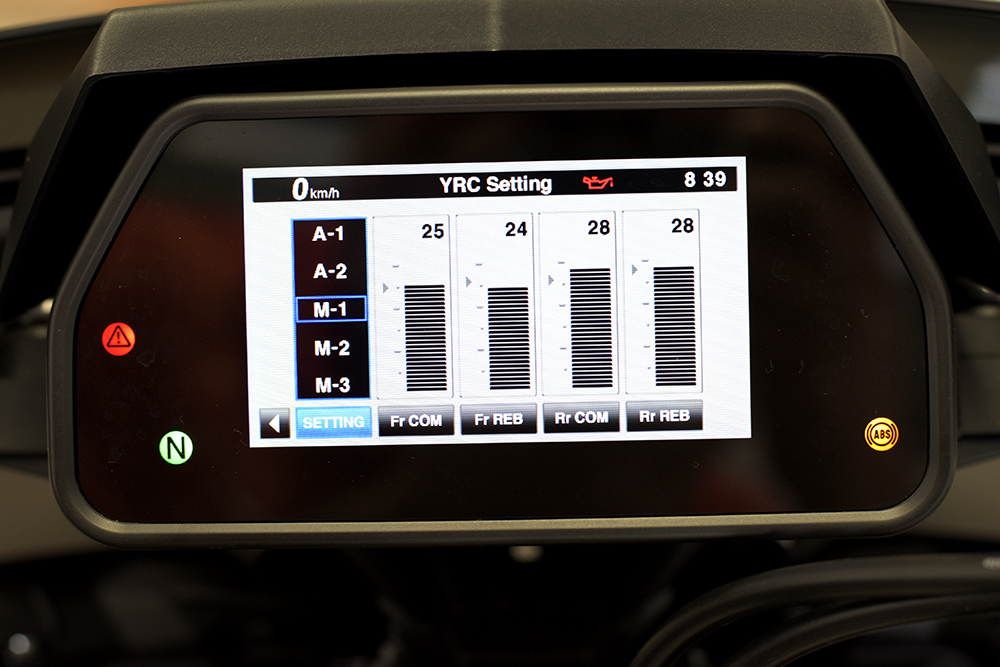 No automatic electronic shock that I have experienced gets it quite right. At times they are too hard, too soft or over or under damped. With the Yamaha SP, they are simply perfect. The suspension transforms an already good motorcycle into a different league. The bike feels lighter, steers easier and exhibits a composure, over all surfaces, that is really 'other Worldly'. Now here's the thing – combine the ergonomic comfort, the soulful engine and the best suspension available and you have a bike like no other.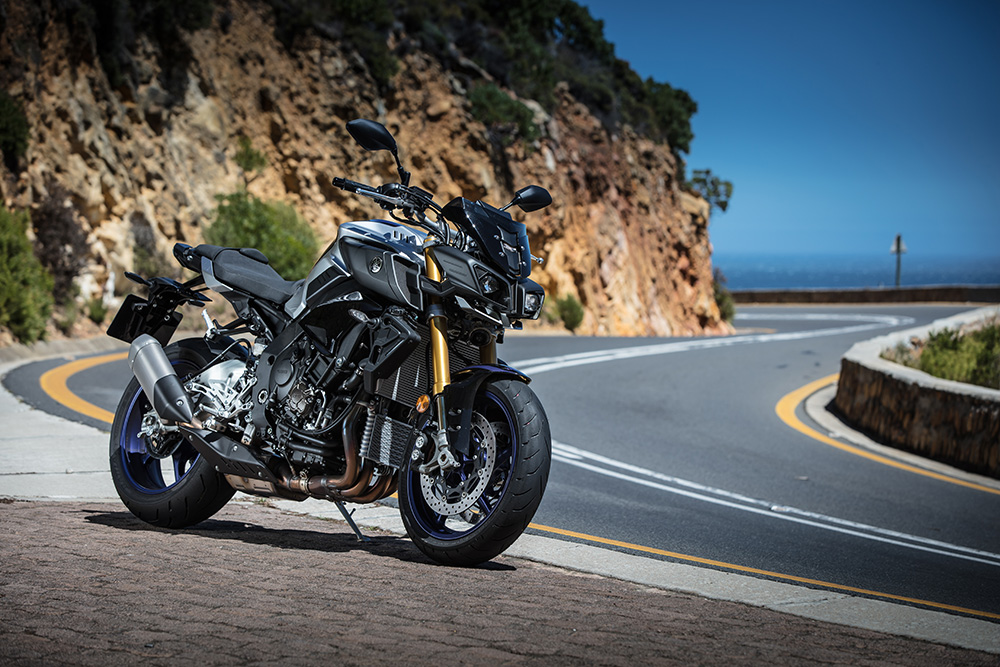 The Yamaha MT 10 SP is so good and makes the rider feel so good that, right at this moment, it is the sport bike I would choose to own above any other. I understand the benefits of a fully faired sport bike in attack mode but none of them will be as satisfying to ride daily. If you are a discerning rider with a bent for sport bikes and the means to acquire a SP – DO IT NOW! It will blow your mind!
Selling price for DEMO models (Limited Stock Available!!)
MT-10 Touring Edition = R 195 000
MT-10 SP                   = R 215 000
Contact your nearest Yamaha dealer for more information: www.yamaha-dealers.co.za