It would be accurate to say that, if you want an American-made cruiser, then you are going to have to shell out big bucks. Not only that, but you are hardly buying the latest in cutting-edge technology. And, what's more, they don't really do small(er) bikes very well.
Or do they?
Actually, yes they do. Well, one manufacturer does. All you have to do is to turn your attention to Indian and, right there is a perfectly-formed little jewel of a bike; the Scout. Introduced in 2014, the Scout is a thoroughly modern engine and chassis wearing classic but strangely modern clothing. It looks good, goes well and isn't too expensive.
Now, Indian has simplified things even further with the Scout Sixty. The 'Sixty' part refers to the engine capacity in cubic inches which translates to 999cc, 78bhp and 88Nm and that, in turn translates into something quite special.
Prevailing thought says that a bike that is a cheaper version of an existing bike can't be as good. Well, the Indian Sixty debunks that theory comprehensively. It's only lost 134cc, 22bhp and 7Nm to the bigger Scout but crucially, this hasn't unduly affected the performance. The Sixty still has a decent turn of speed. This isn't your typical low-down grunt V-twin; it actually likes to rev and, once up past 4,000rpm, it seems to gather up its skirts and kick for the horizon when many other American V-twins are running out of steam.
There is a sweet shifting 5-speed gearbox as opposed to the six gears in the Scout but what it feels like they have done is taken out 5th gear and left 1st, 2nd, 3rd, 4th, and 6th gears so there is a type of overdrive gearing feel. It certainly never feels over- or under-geared.
The seat is very low – 643mm – which makes it perfect for anyone aged 6 and up! I'm not the shortest rider but it didn't feel cramped or too low. Somehow Indian has managed to make a bike that is perfectly comfortable no matter the size and shape of the rider. Of course, this lack of height means there is a very low centre of gravity and this gives the Sixty its most endearing trait; fantastic, quick-steering, secure and fun handling.
As with any cruiser with arms/feet forward riding position, ultimate speed is limited by wind blast. But to concentrate on speed is to miss what this bike is all about. Keep it at 120km/h on the highway and it's in its element; relaxed, comfortable, smooth. Yes, it will go a lot faster but you don't need to. This may not be your typical cruiser, but it cruises just like one.
This bike is a lot more fun than any cruiser has a right to be. Unless you ride the two Scouts back-to-back, I guarantee there is no way you will notice the decrease in power or torque of the Sixty. In a way, the Sixty is the better bike of the two; it's cheaper, just as well made, just as much fun, looks just as good, has the same lengthy options list.
In fact, the Sixty is so good that it begs the question, 'why would you spend R20,000 more on the Scout?' Yes, the Sixty comes in at just under R150,000 and it is a lot of bike for the money. This could be the perfect entry into American motorcycling.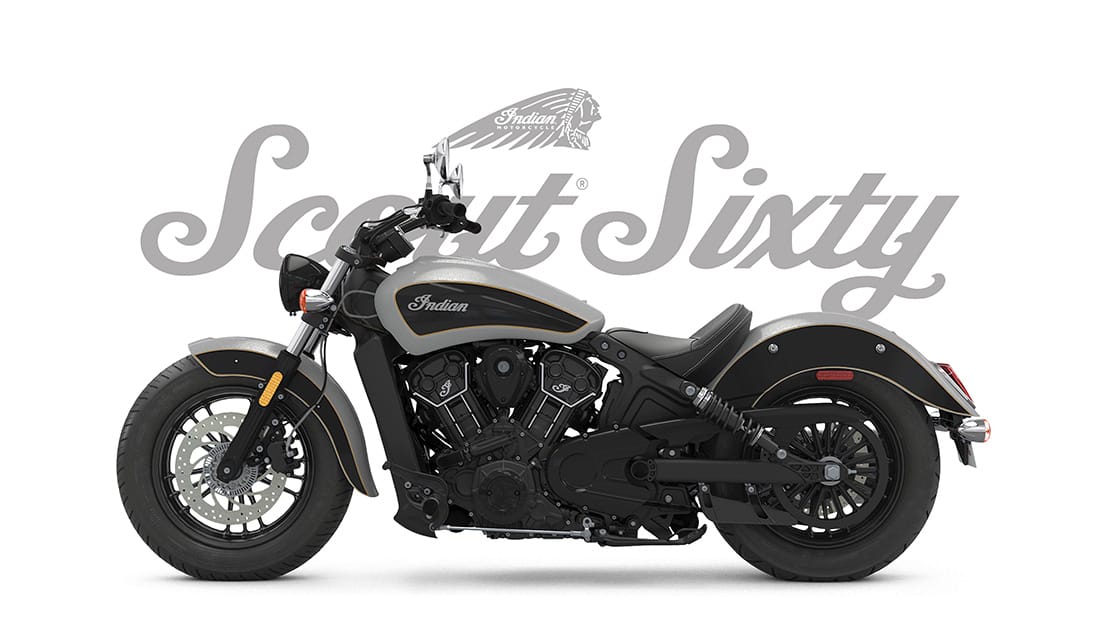 SPECIFICATIONS
ENGINE
Engine Type
Liquid Cooled V-Twin
Displacement
61 cu in
Electronic Fuel Injection System
Closed loop fuel injection / 60 mm bore
DRIVETRAIN
Primary Drive
Gear Drive Wet Clutch
Final Drive
2.357 : 1
PERFORMANCE
Horsepower
78 hp (58.2 kW)
Peak Torque
65 ft-lbs. (88.8 Nm)
Peak Torque RPM
5800 rpm
GEAR RATIO (OVERALL)
1st
10.782 : 1
2nd
7.328 : 1
3rd
5.841 : 1
4th
4.957 : 1
5th
4.034 : 1
SUSPENSION
Suspension: Front – Type/Travel
Telescopic Fork / 4.7 in (120 mm)
Suspension: Rear – Type/Travel
Dual Shocks / 3.0 in (76 mm)
CHASSIS
Brakes/Front
Single / 298 mm Rotor / 2 Piston Caliper
Brakes/Rear
Single /298 mm Rotor / 1 Piston Caliper
Wheels/Front
Cast 16 in x 3.5 in
Wheels/Rear
Cast 16 in x 3.5 in
Tires/Front
130/90-16 72H
Tires/Rear
150/80-16 71H
Exhaust
Split dual exhaust with crossover
DIMENSIONS
Wheelbase
61.5 in (1562 mm)
Seat Height
25.3 (643 mm)
Ground Clearance
5.3 in (135 mm)
Overall Height
47.5 in (1207 mm)
Overall Length
91.0 in (2311 mm)
Overall Width
34.6 in (880 mm)
Rake
29°
Lean Angle
31°
Trail
4.7 in (119.9 mm)
Fuel Capacity
3.3 gal (12.5 liters)
GVWR
988 lbs (449 kg)
Weight (Empty Tank / Full of Fuel)
534 lbs / 555 lbs (242 kg / 252 kg)
FEATURES
Color / Graphics
Thunder Black
ELECTRICAL
Gauges
Digital tachometer, odometer, trip meter, engine temp, and low fuel lamp