Sometimes a bike is so good at what it does that you wonder why the manufacturer bothers to try and improve it. Such a bike is the Kawasaki Z1000SX. It's been around for a good few years now and it has always been a fast, comfortable, competent and practical bike; a smooth and powerful engine, good chassis and brakes and typically brilliant build quality. It was simple, effective and almost a bit old-fashioned in its approach to the sports-touring category.
However, time marches on and, more specifically, electronics march on and manufacturers simply have to keep up with the Joneses if they're not to fall behind in sales. While there are many out there who decry the increasing dependence on sophisticated electronics, there is no denying that they have only added to the joy of riding motorcycles and that, in this enlightened age, safety is not something to be disregarded and if there is one area to which electronics have contributed, it is safety.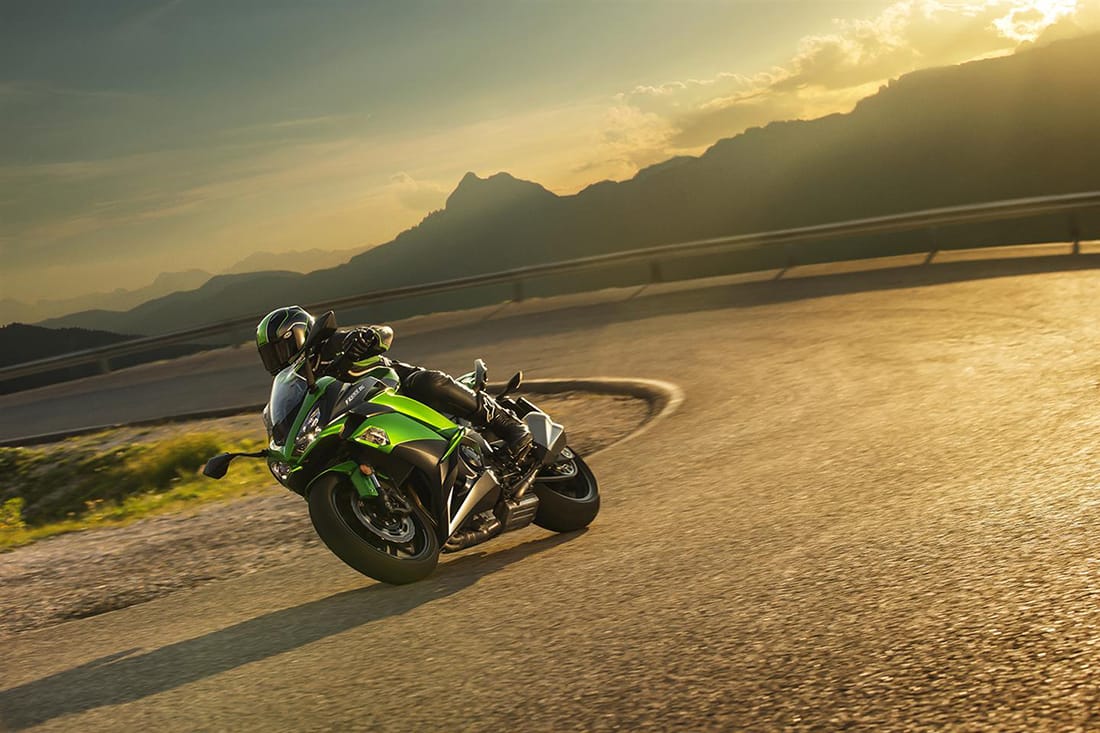 Now there is an updated Z1000SX and, for all of you fans of the previous generation who might wonder how the new can possibly be better than the old, rest assured that Kawasaki has made it so without losing anything that was great about the bike in the first place.
Stand the old version alongside the new one and the differences are small but noticeable. The previous generation was not a bad looking bike at all but the revisions for 2017 have brought it bang up to date. The face of the bike is more aggressive, the indicators flush, the headlight is LED, the pillion seat has been re-profiled, as has the pillion grab handle. There are new instruments, a new and slightly lower (by 5mm) seat and the fairing is wider to provide more wind protection. It's a whole host of detail changes that have made all the difference visually.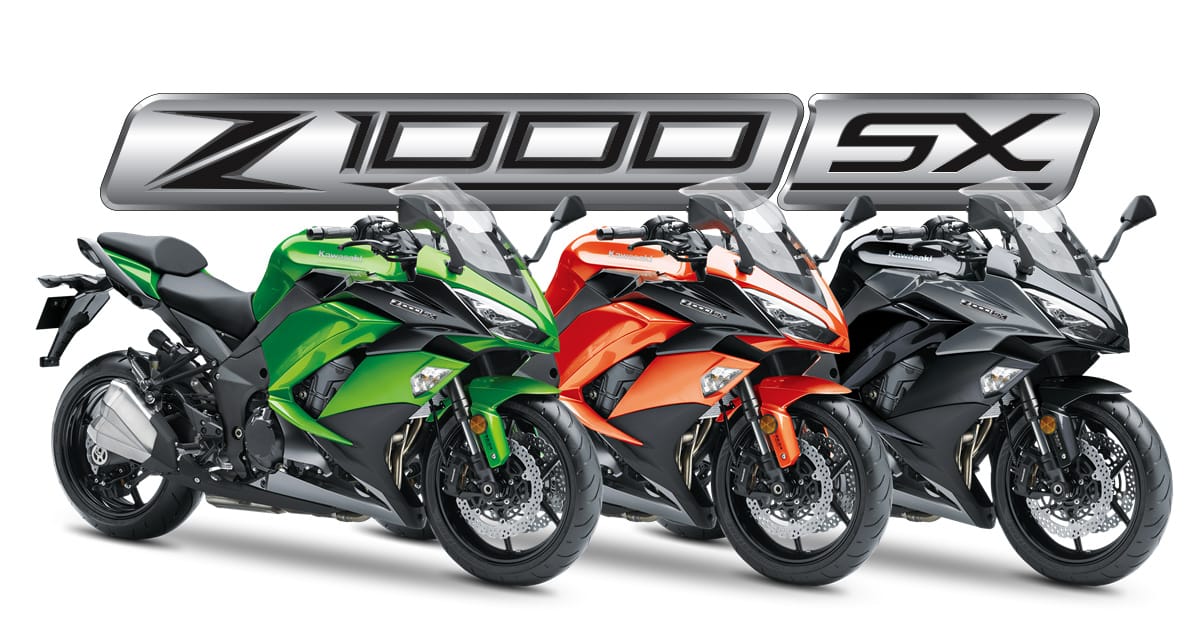 Thankfully, Kawasaki has left the engine well alone; how could you improve on it? It was always turbine smooth, powerful and bulletproof and it still is. There are no hiccups from the fuel injection and, in character it is more sports than tourer although brilliant in both guises. In keeping with the tradition of sports tourers, or Grand Tourers if you will, the available performance is deceptive and a weather-eye has to be kept on the speedo if fines are to be avoided.
Sometimes, Japanese inline-fours can be a bit characterless but, to be perfectly honest, the last thing you want for relaxed long days in the saddle is a screaming, highly-strung engine between your legs. The engine of the Z1000SX steers a cautious path between being smooth and quiet and arm-stretching performance when required; it's an engine that grows on you the more you ride it until you really can't imagine tackling a long journey without it.
With four kilos more weight, revised suspension and a slightly shorter wheelbase, there is nothing to choose between the old and the new when it comes to pointing the bike down the road. The Z1000SX behaves as it always did, wearing its weight well and feeling secure in every possible road condition.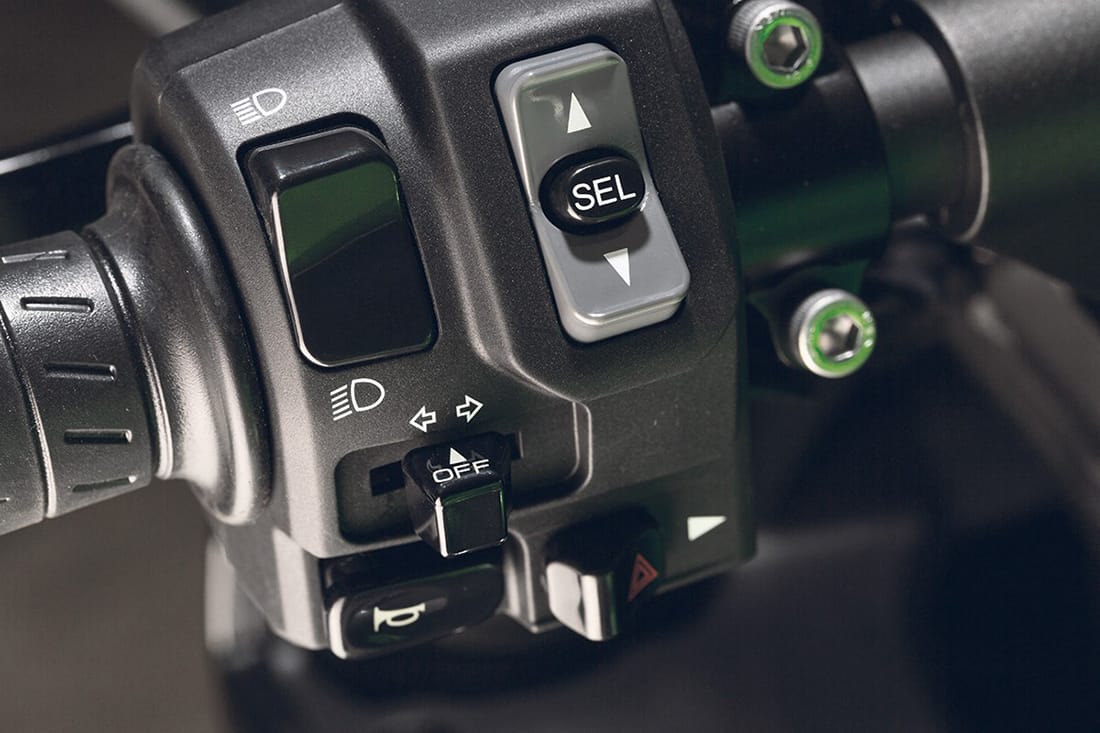 But we have to talk about the electronics at some point and it might as well be now. The previous model had traction control and ABS but the difference between then and now is night and day. For 2017 things get a lot more advanced and Kawasaki has added a six-axis IMU to provide cornering ABS and lean-sensitive traction control. In other words, the new bike does a lot of thinking for you which is where resistance to such rider-aids makes an appearance.
However, if having such systems make a long and tiring day – possibly in inclement weather conditions providing a nice greasy surface – that much safer, then who could argue against them? Especially if one factors in the safety of the passenger. And, really, does the possibility of impending doom really enhance your riding pleasure?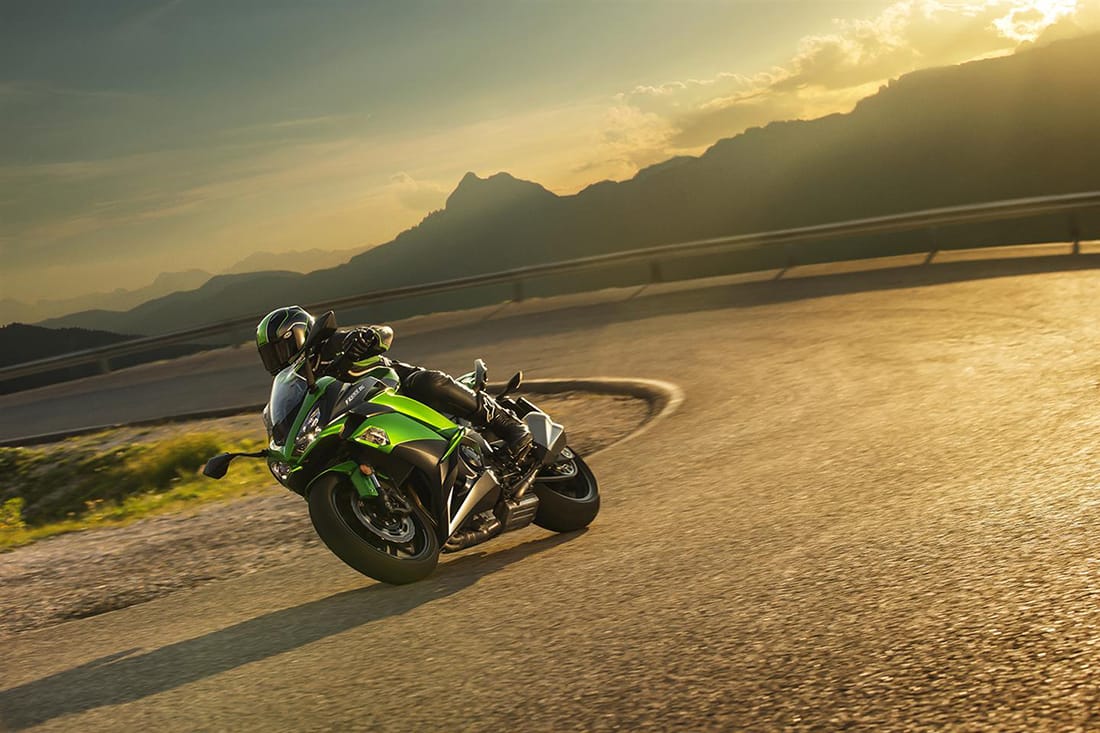 There are three levels of traction control, with 1 being the least intrusive and 3 being for slippery conditions. Why would you ever need level 3? Well, go back a paragraph or two and imagine that you are ten hours into a ride, it's getting dark and starting to rain. Why not let the bike take some of the strain?
So, the engine's a peach, the chassis is fantastic, the brakes are perfectly good without being spectacular, the headlight is flipping bright, the electronics are bang up-to-date, so what's not to like?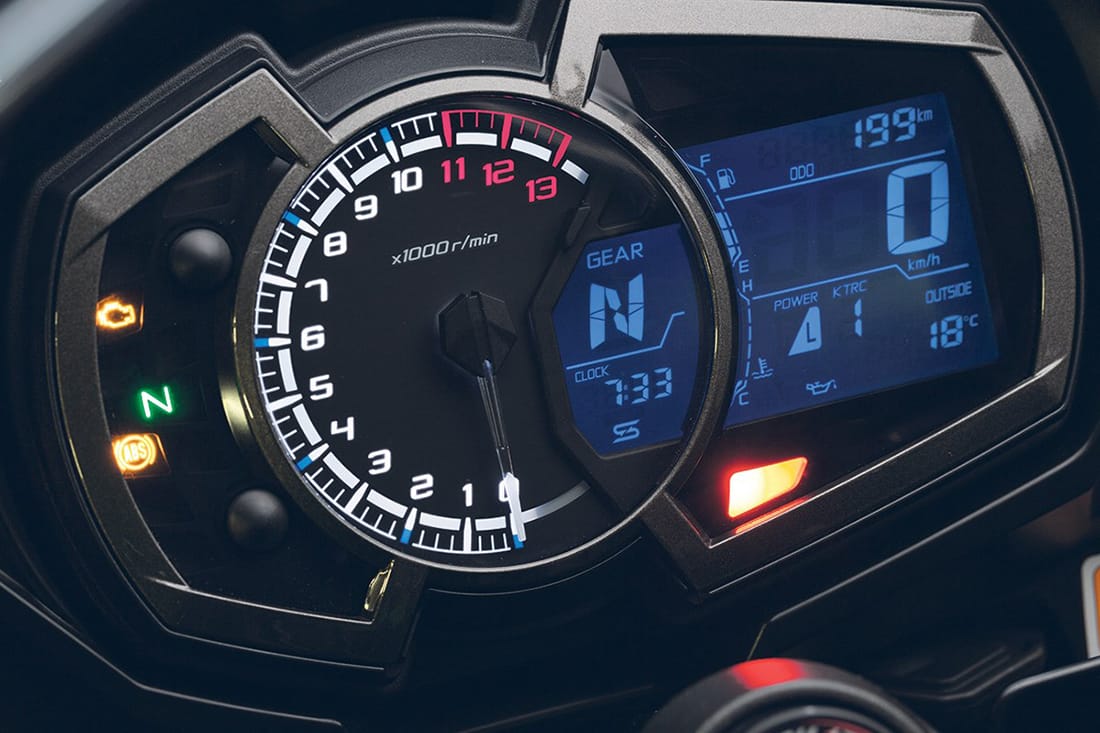 Well, in my opinion, three things. It's a touring bike, right? So, where's the cruise control? Where are the heated grips and seat? Small things that can make a huge difference. If you're going to move the goalposts with new electronics, then why not go the whole hog? Of course it all adds cost but when you see who you are playing against, then you have to use every trick to coax the customer into your dealership and away from another manufacturer's. Finally, I'm not massively convinced by the white digits on black face of the new dash; it looks very stylish but can be difficult to read with a quick glance.
But let's not get too bogged down in details; this is still a great bike; competent, fast, comfortable, nicely updated over the last model, while losing none of the essence that made the first generation of the bike so good. Kawasaki has been clever in leaving well enough alone and improving by degrees rather than make swingeing changes. That approach is sure to retain old fans and attract new ones.
SPECIFICATIONS
Engine
Engine Type

Liquid-cooled, 4-stroke In-Line Four
Displacement
1,043 cm³
Bore x Stroke
77 x 56 mm
Compression ratio
11.8:1
Valve System

DOHC, 16 valves
Fuel System
Fuel injection: Ø38 mm x 4 with oval sub-throttles
Starting System

Electric
Lubrication
Forced lubrication, wet sump
PERFORMANCE & Transmission

Maximum power
104.5 kW {142 PS} / 10,000 rpm
CO2 emission
159 g/km
Maximum torque
111 N•m {11.3 kgf•m} / 7,300 rpm
Transmission
6-speed
Final drive
Sealed chain
Primary Reduction Ratio
1.627 (83/51)
Gear Ratios 1st
2.600 (39/15)
Gear Ratios 2nd
1.950 (39/20)
Gear Ratios 3rd
1.600 (24/15)
Gear Ratios 4th
1.389 (25/18)
Gear Ratios 5th
1.238 (26/21)
Gear Ratios 6th
1.107 (31/28)
Clutch
Wet multi-disc, manual
Brakes & Suspension
Brakes, front

Dual semi-floating 300 mm petal discs. Caliper: Dual radial-mount, monobloc, opposed 4-piston
Brakes, rear
Single 250 mm petal disc. Caliper: Single-piston
Suspension, front
41 mm inverted fork with stepless compression and rebound damping and spring preload adjustability
Suspension, rear
Horizontal Back-link, gas-charged, with stepless rebound damping and remote spring preload adjustability
DETAILS
Frame Type
Twin-tube, aluminium
Trail
102 mm
Wheel travel front
120 mm
Wheel travel rear
144 mm
Tyre, front
120/70ZR17M/C (58W)
Tyre, rear
190/50ZR17M/C (73W)
L x W x H
2,100 x 790 x 1,185 (1,235 mm high position screen) mm
Wheelbase
1,440 mm
Ground clearance
130 mm
Fuel capacity
19 litres
Seat height
815 mm
Curb mass
235 kg
For more information visit: www.kawasaki.co.za