Why is it that some bikes gain all the headlines but some others fly below the radar? And why is it that sometimes the ones that fly under the radar are the better bike?
The Adventure bike market is teeming at the moment; they are the bike of the moment. Bikes such as BMW's GS or KTM's 1090s and 1290s are the heroes of the day, selling in huge numbers around the world. Every headline concerns them; every world-traveller is riding them.
But if you take the time to delve a little under the surface, there are bikes that are just as competent, if not more so, if only the world at large would care to glance in their direction. Oh, the motorcycling press knows which bikes they are but, despite being told, the buying public is strangely immune to their charms. It all comes down to peer pressure influencing the choice of bike one buys but when ever has that had anything to do with a true measure of ability of the bikes in question?
For example; are BMWs really that much better than anything else out there or is that simply a perception based on sheer numbers and column inches? If the rider has the talent, then any bike can be made to do anything that any other bike can do; the machine is simply the tool.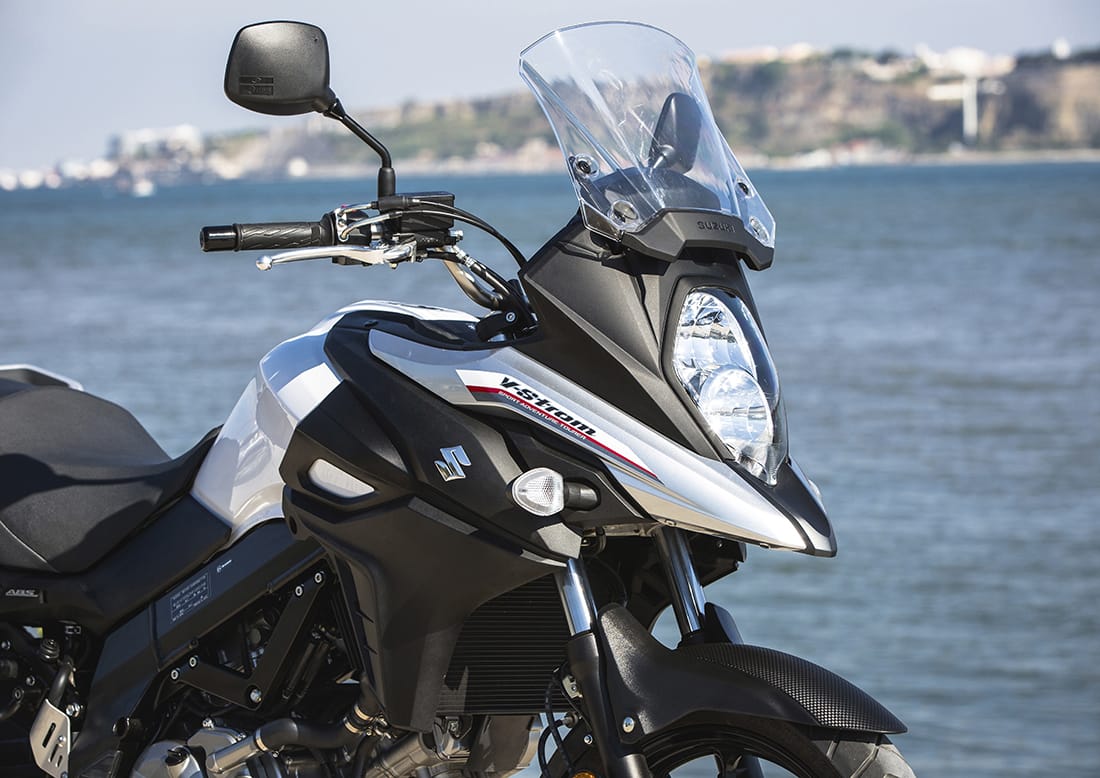 The Suzuki DL650 has been around for an age but it has been quietly racking up the plaudits over the years, especially in the US where the slightly hysterical cacophony over the litre-plus contenders is tastefully muted in an uncharacteristically un-American manner.
In September 2006, Cycle World magazine wrote "the DL650 may just be the most shockingly competent machine in the world today." In 2004, MotorcycleUSA.com said "it was hard to imagine another machine with a competitive versatility-per-dollar ratio." In Germany, the DL650 twice consecutively earned the title "Alpenkoenig" or King of the Alps, winning German Motorrad magazine's trans-alp multi-bike test in 2005 and 2006. In, 2004, at the bike's launch, a noted motorcycle journalist said that "taking everything into account – price, comfort, fuel range, general ability, you could argue it was the bike of the year."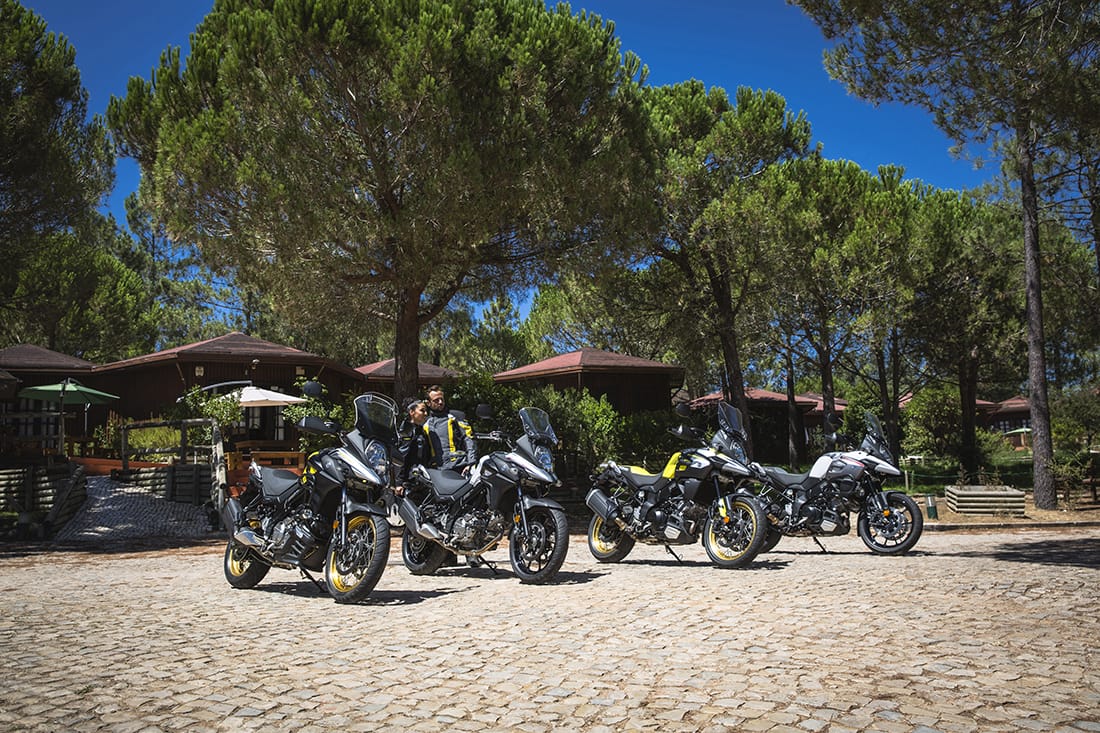 OK, all very fuzzy and warm but that was a long time ago; does the same ring true in 2017? The advances in adventure bike thinking have been fantastic and profound so the question here is really; has the DL650 kept up?
In truth, the DL650 was seen primarily by Suzuki as a road bike with adventure styling. With the advent of the DL650XT, the company has made a serious attempt at attacking the serious adventure market.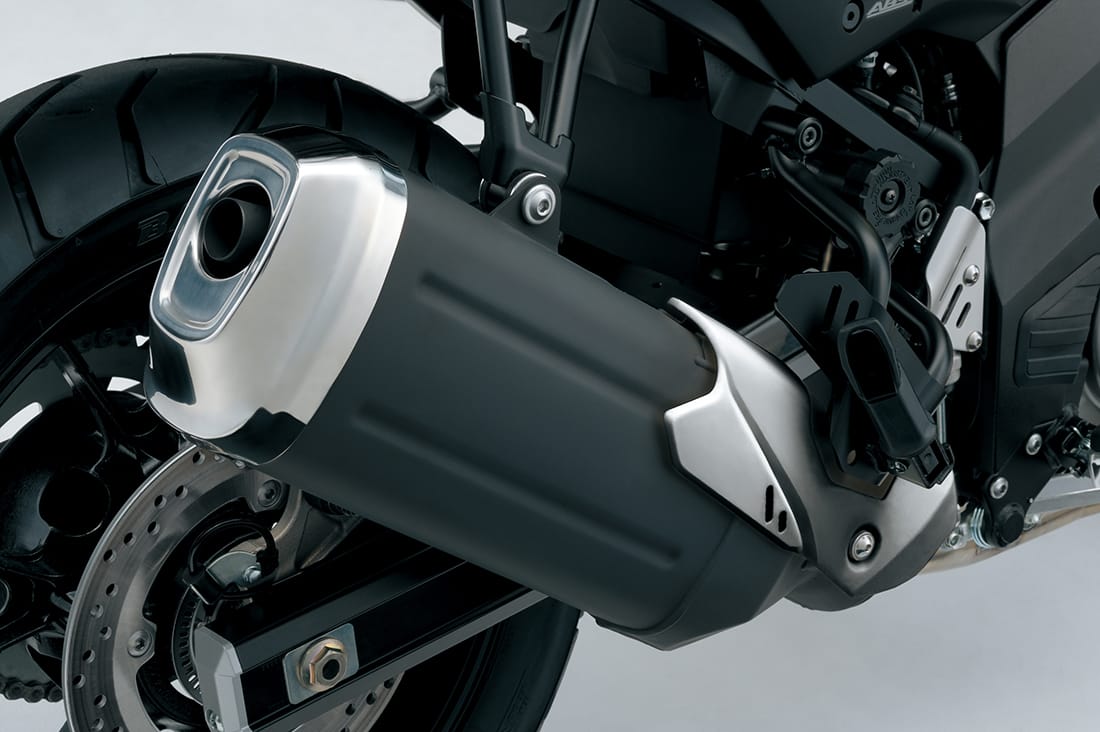 Changes over previous models are; new exhaust system, fuel injection and instruments as well as detail attention to the overall chassis. There are two models; the base and the XT, the former being road-orientated. The XT gets spoked wheels, hand guards and a lower engine cowl.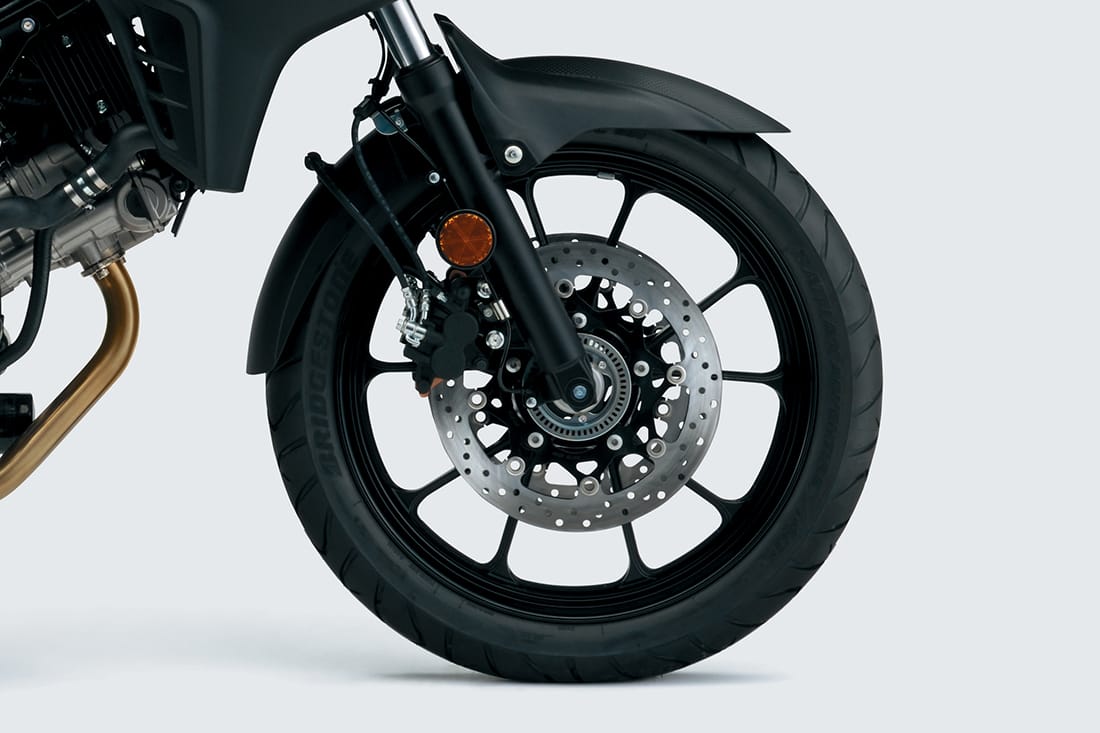 In looks, it harks back not to earlier versions of the V-Strom, but to the DRZ800 Dakar rally bike, which was as pukka an off-road bike as you could wish to ride. However, to imagine that the latest DL650 XT has drawn deeply from the talent cup of that bike would be to misunderstand the nature of the market for mid-range adventure bikes.
It has been estimated by Suzuki insiders that only 10 or 15 per cent of V-Stroms will venture anywhere off-road. What is more likely is that a higher proportion of owners want to go off-road, or want to look like they want to. With this in mind, is ultimate off-road ability really that important?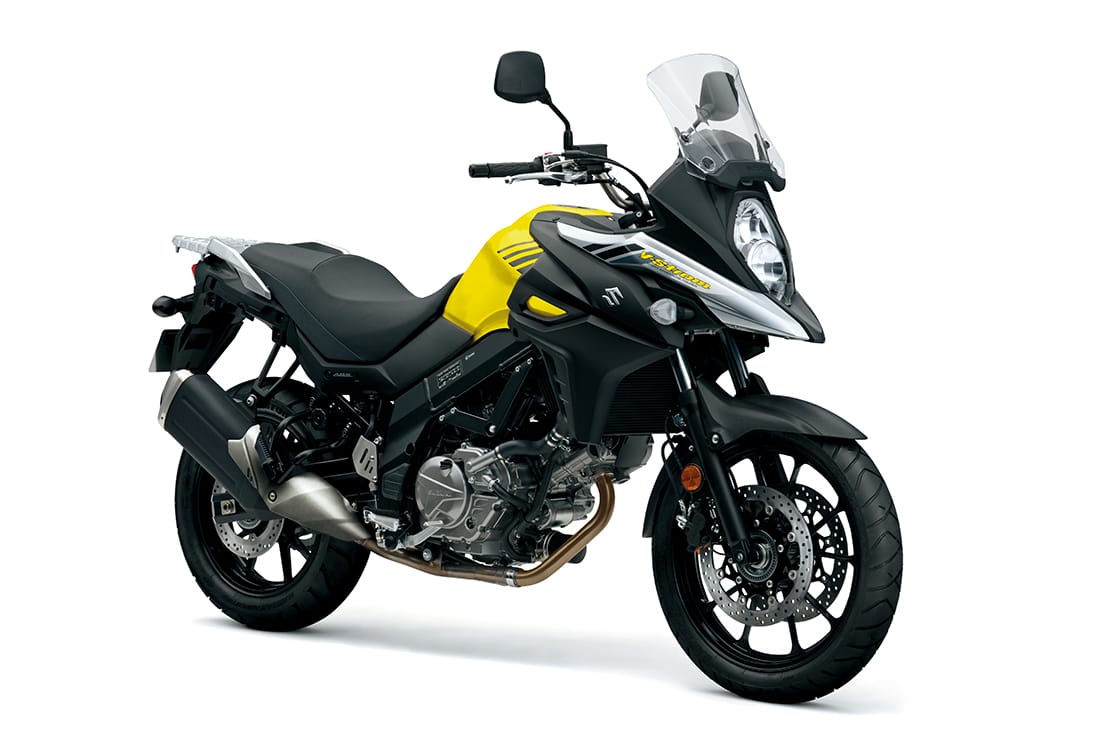 We'd have to say yes; the world will soon winkle out those bikes that are all mouth and no trousers so a measure of ability is important. Unfortunately for the Suzuki, it is playing in a hotly contested segment of the market where there are a good few bikes with a lot of ability. Not only that, but all the Suzuki's opposition in the 'middleweight' category, are all at least 800cc – think Triumph, BMW, Ducati and KTM – making the DL650s job even harder.
Detail changes have made the DL650 more user-friendly especially to those who are vertically challenged. A Slimmer fuel tank – still holding 20-litres – coupled with a re-profiled seat means getting your feet flat on the ground is possible, aiding rider confidence. If anything, this coupled with the footpeg position can make it feel a little cramped for taller riders.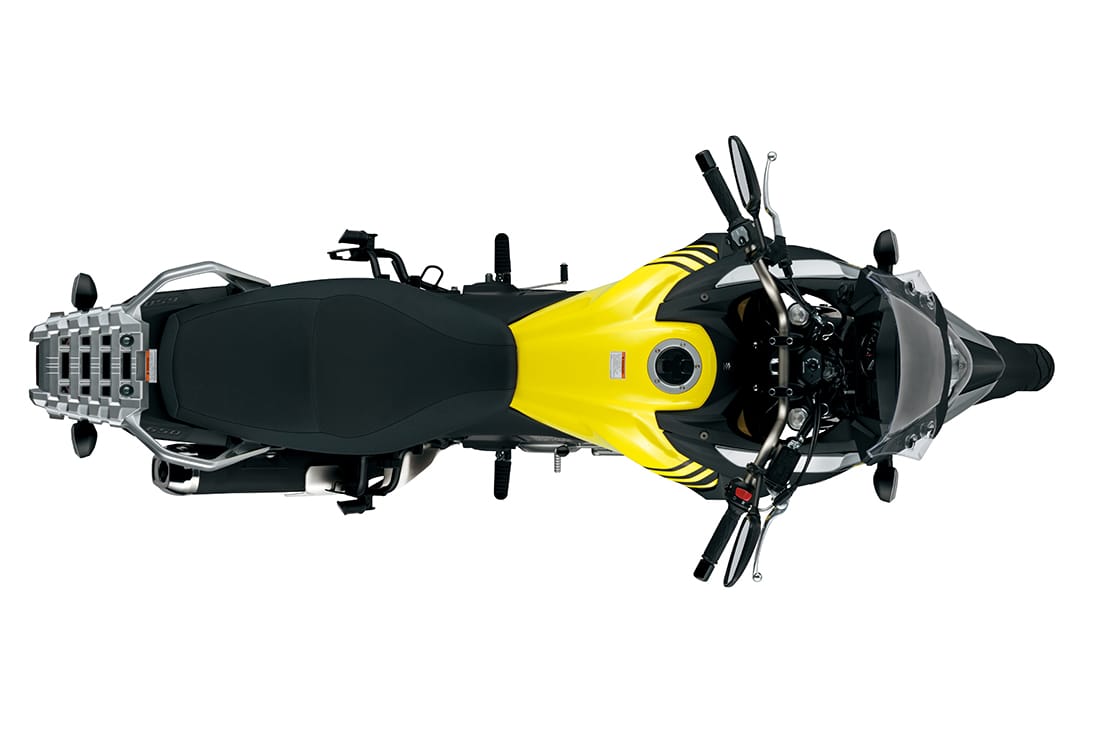 As standard, there is no cruise control or heated grips – no doubt omitted to keep costs down – but which, once experienced, are greatly missed on long journeys. The screen is adjustable but only with the use of an allen key and twenty minutes of your time. However, if I'm honest, I pretty much set the screen in one position and leave it there, no matter what bike I'm on and however easy it is to adjust.
So, the DL650 gives away engine capacity and therefore power as well as creature comforts to all its rivals. It's not painting a rosy picture.
Outwardly and according to the spec sheet, the engine is the same as the older models. However, whatever the figures might be (Suzuki are being very tight-lipped about power output) what is clear is that the engine has been re-worked to move the power lower down the rev range which, let's face it, is where most of us will ride it anyway. An adventure bike is never about top-end performance but low-down lugging power and it is this that the new engine does superbly.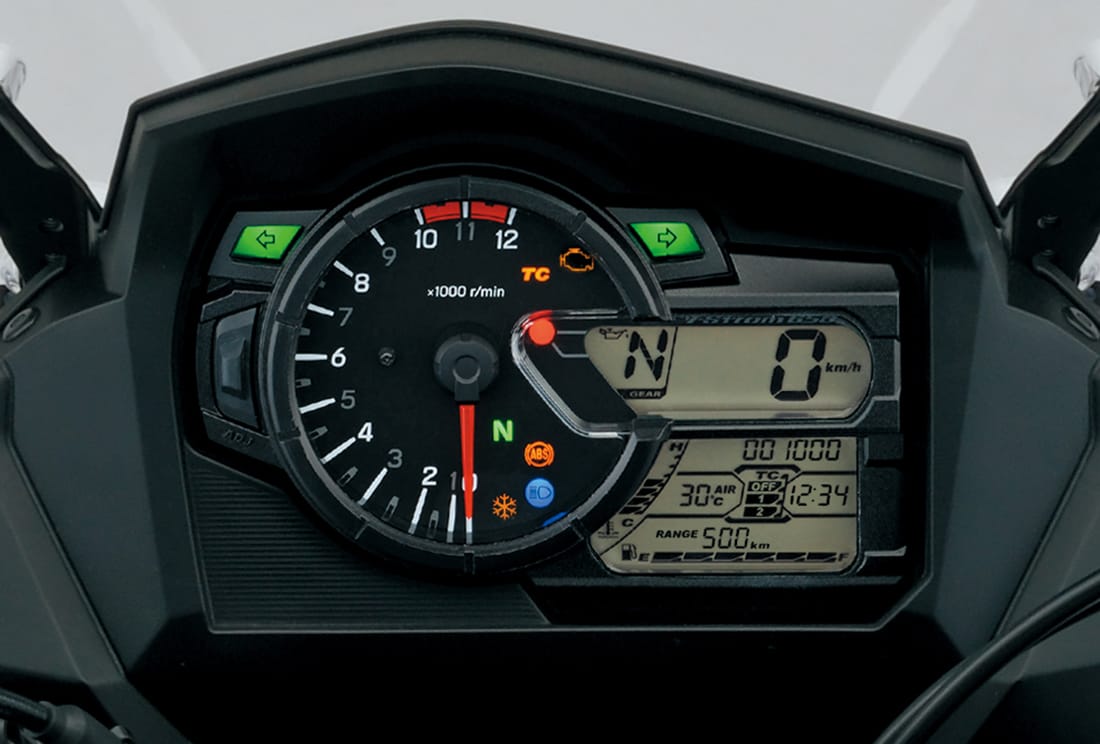 Electronics are there but not in profusion. ABS is standard, as is three-level traction control, including 'off'. This will stay off even if the ignition is turned off and then on again – a small point but this can be useful when off-road. There is low-RPM Assist, which prevents the bike stalling when the revs get too low, again a useful feature that will prevent potentially disastrous moments off-road.
But the crux of the matter is that this really is a go-anywhere machine; it's perfectly rugged enough to tackle whatever you can throw at it off-road while it is powerful and comfortable enough to make road-riding a pleasure. We are getting slightly obsessed with monstrous power outputs but, really, is all that power necessary? One good look at the DL650 V-Strom XT and you'd have to say no. This bike will cruise at the speed limit all day or exceed it by enough to lose you your licence. What more really do you need?
So, it's not the hottest property in adventure biking but most of the perception of what is hot is all based on what everyone else is riding and not what they should be riding. At R120,000, the DL650 V-Strom actually is what we should all be riding.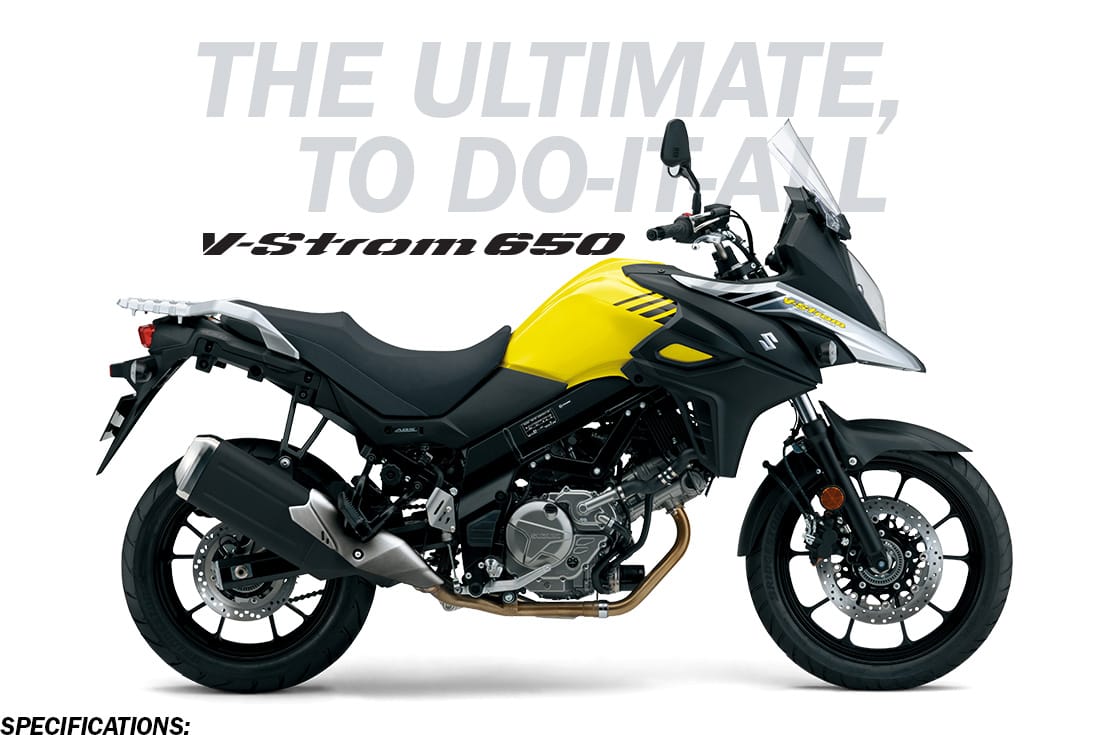 General Information
Model:
Suzuki V-Strom 650
Year:
2017
Category:
Super motard
Rating:
Do you know this bike?
. We miss 2 votes to show the rating.
Engine & Transmission
Displacement:
645.00 cm (39.36 cubic inches)
Engine type:
V2, four-stroke
Engine details:
90-degree V-Twin
Power:
69.00 HP (50.4 kW)) @ 8000RPM
Torque:
69.00 Nm (7.0 kgf-m or 50.9 ft.lbs) @ 6400 RPM
Top speed:
185.0 km/h (115.0 mph)
Compression:
11.2:1
Bore x stroke:
81.0 x 62.6 mm (3.2 x 2.5 inches)
Fuel system:
Injection
Fuel control:
Double Overhead Cams/Twin Cam (DOHC)
Ignition:
Electronic ignition
Lubrication system:
Wet sump
Cooling system:
Liquid
Gearbox:
6-speed
Transmission type,
final drive:
Chain
Driveline:
Chain, DID525V8, 118 links
Chassis, Suspension, Brakes & Wheels
Frame type:
Twin-spar aluminum-alloy frame
Front suspension:
Telescopic, coil spring, oil damped
Front wheel travel:
150 mm (5.9 inches)
Rear suspension:
Link type, coil spring, oil damped
Rear wheel travel:
160 mm (6.3 inches)
Front tyre:
110/80-19
Rear tyre:
150/70-17
Front brakes:
Double disc. Tokico 2-piston calipers
Front brakes diameter:
310 mm (12.2 inches)
Rear brakes:
Single disc. Nissin, 1-piston
Rear brakes diameter:
260 mm (10.2 inches)
Wheels:
Ten-spoke cast wheels. Bridgestone BATTLAX tyres.
Physical Measures & Capacities
Dry weight:
213.0 kg (469.6 pounds)
Power/weight ratio:
0.3239 HP/kg
Seat height:
830 mm (32.7 inches) If adjustable, lowest setting.
Overall length:
2,275 mm (89.6 inches)
Ground clearance:
175 mm (6.9 inches)
Wheelbase:
1,560 mm (61.4 inches)
Fuel capacity:
20.06 litres (5.30 gallons)
Other Specifications
Color options:
Black, white, yellow
Starter:
Electric
Factory warranty:
12 month unlimited mileage limited warranty.