Since 1985, the Suzuki GSX-R has been an icon to sport bike lovers. With several victories and titles in local championships as well as World Endurance and World SBK series, the emblem has made its own legend, of which access is now granted to teenagers. We've tested it, knee down, in Silverstone racetrack.
In a world ruled by social media, image and self-perception is crucial for teenagers. Those with a biking heart can now start their motorcyclist career straight with a GSX-R: a dream come true when you are sixteen or seventeen.
The GSX-R 125 comes in a MotoGP replica that suits the bike well, although it comes at a little extra cost from the standard white or black paintings. Both have black wheels and red decals. Slim and racy, the bodyworks belong to the GSX-R family, no doubt about that. The build quality is great and the sense of detail is quite impressive for a 125cc bike; it has the vented fairing or the 3D Suzuki logo on the side, just to mention a couple. The front LED headlight is also part of the bikes strong visual impact and identity.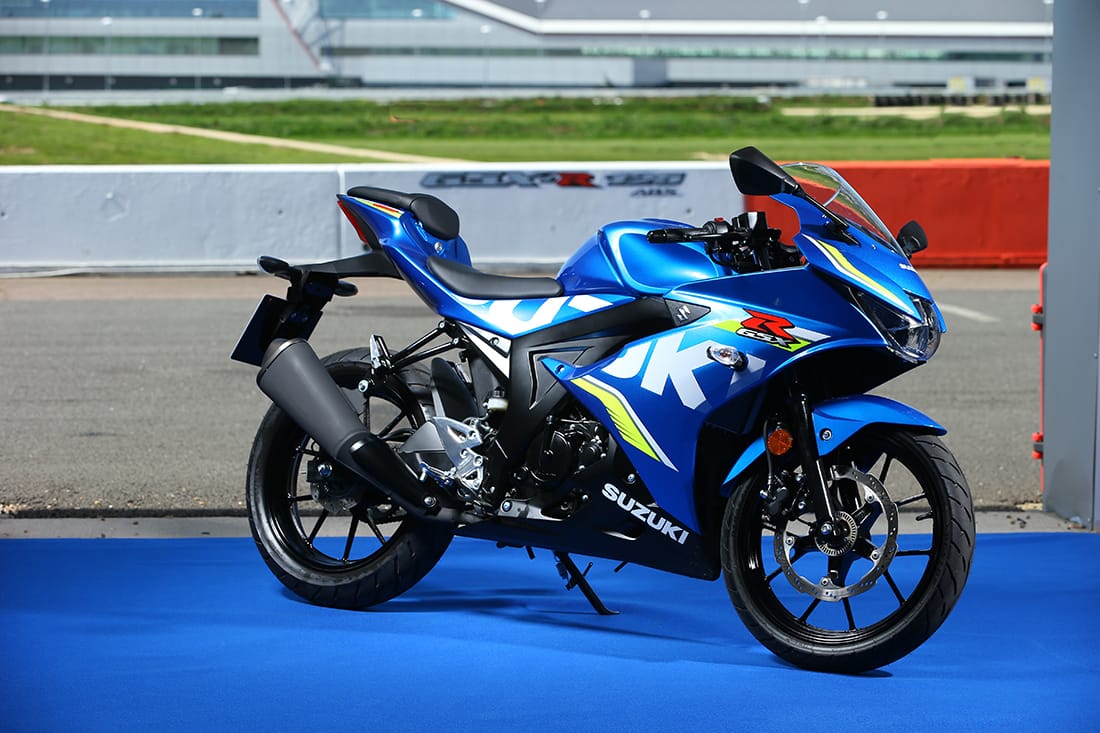 Suzuki also gave to the GSX-R 125 the kind of attention that is usually reserved for big capacity bikes. The instrument panel is fully digital and features nearly everything you would need: shift-light, gear position indicator, fuel gauge and fuel consumption, clock and oil change reminder (for track use, I would also like to have seen a water temperature indicator). Large and easy to read, that instrument panel is nearly similar to the one fitted on bigger sibling GSX-R 1000.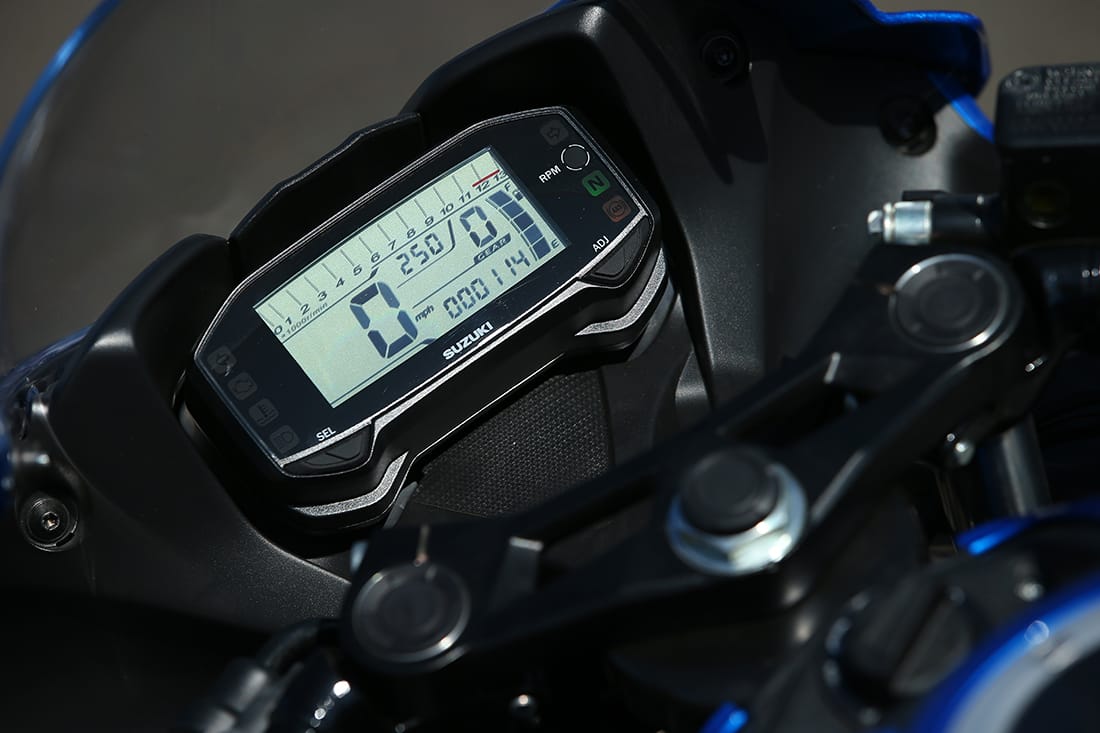 That's not all: like luxury BMW's and Harley-Davidson's, the GSX-R 125 has a keyless start. You just need to keep a remote device in your pocket and the bike can start. An easy start then, as the GSX-R is also fitted with the well-named Suzuki Easy Start System, with a one-push start button. The keyless feature is specific to the GSX-R 125 and is not fitted to the GSX-S 125. Suzuki launched this naked bike based on very similar technology at the same time (the two bikes are nearly the same, the naked has obviously no fairing and a 10 cm higher handlebar).
Powerful engine, classic chassis
For Suzuki, the 125 engine is new technology, and is very far away from the VanVan beach bike, Burgman scooters and some cheap commuters. The fact is 150 sport bikes are hugely popular in Asia (Thailand, Indonesia and other countries) where they sell like hot cakes. The 125 motor is very close to the 150, as Suzuki opted for the expensive concept of keeping the piston size (62 x 41,2 mm) the same and reduced the length of the crankshaft to get that 125 cm3. It stands out from its competitors, not on the power side, which is legally limited to 11 kW in many countries, but by its usability. The peak torque comes at 8000 rpm (11,50 Nm), the power at 10000 rpm, the redline at 11500 rpm and the rev limiter at 12000 rpm. For a 125 engine, the power band is huge. Well, nearly huge.
Don't be mistaken by the bikes lateral covers: they are actually made from plastic and hide a very classic tubular steel frame. We'll discover later if it's fortunate or not but the GSX-R 125 is a step backward compared to its competitors here: no upside-down front fork (the KTM RC 125, Aprilia RS 125 and Yamaha YZF-R 125 has one) and a very basic steel swing arm, while, once again, the GSX-R contenders are more sophisticated. However, with 11 kW, the balance and feelings are certainly as important as Moto2 chassis! With a kerb weight of 134 kilos, the GSX-R is the lightest of its class, with an average 8 kg over its competitors. The GSX-R 125 is also rather a small bike, tiny and narrow, and the average Springbok fullback will probably feel cramped on board.
So, time for the main question: is the GSX-R 125 a proper race bike?
Knee down in Silverstone!
Organised in Silverstone, UK, just a couple of days after a frantic MotoGP where we've seen a raging Andrea Dovizioso taking another victory, the press launch was great although being slightly paradox, as we rode the bike on a race track mainly built to bring teenagers to high school and college. Obviously, we did not ride on the Silverstone GP track (remember, we have 11 kW!), but in the infield Stowe track, a 1.73 kilometres track with a lot of fun, perfectly suited for the bike.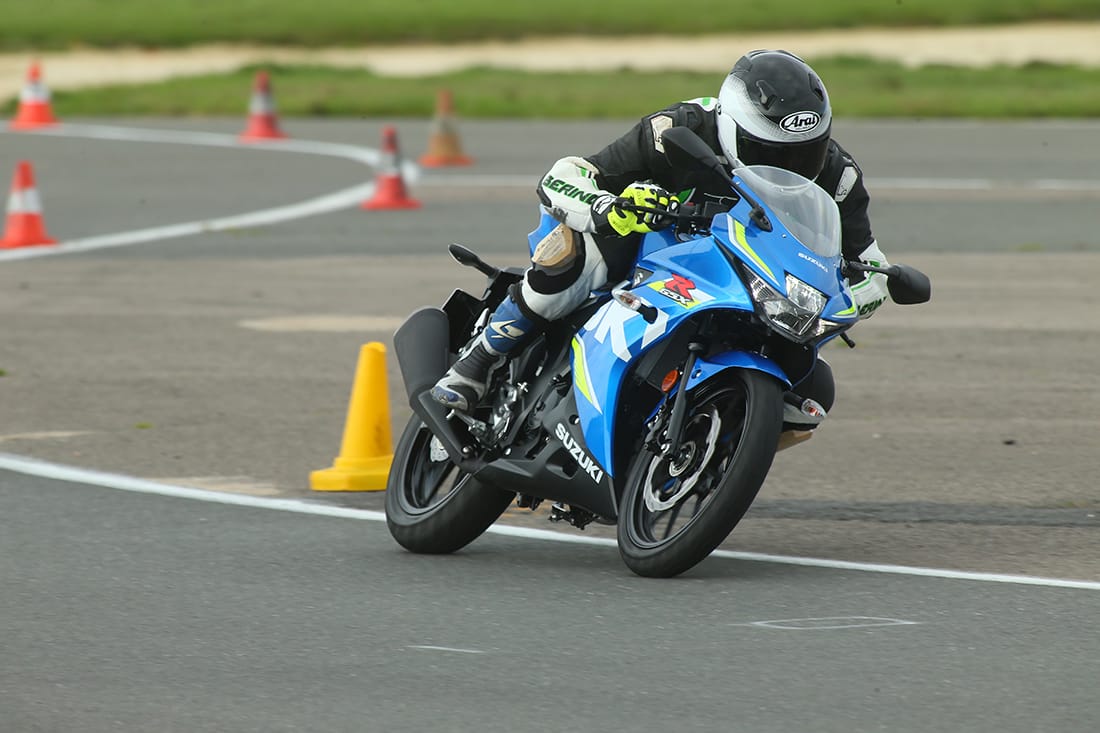 From that test, we've noticed two strong points and one more average:
First is the handling: the bike is extremely agile, very precise and, as we would expect, very easy to ride. The narrow front tyre (90/80 x 17) gives an incredible ability to reach the apex with minimal work on the bike (just look down, or push one toe on the foot-peg, or open the inside arm) and the GSX-R goes cornering like weight was just a concept. Thanks to a precise front end and decent brakes with an ABS sensor, the track test is a lot of fun and the small 125 4-stroke motor proves itself to be quite strong. As a matter of fact, it revs happily, does not vibrate a lot when approaching the rev-limiter and when exiting corners with the throttle wide open, you don't have the feeling that mosquitos are going to hit you from the back.
That 11 kW engine is the second good news of the day – it is exceptional.
Now for the average point: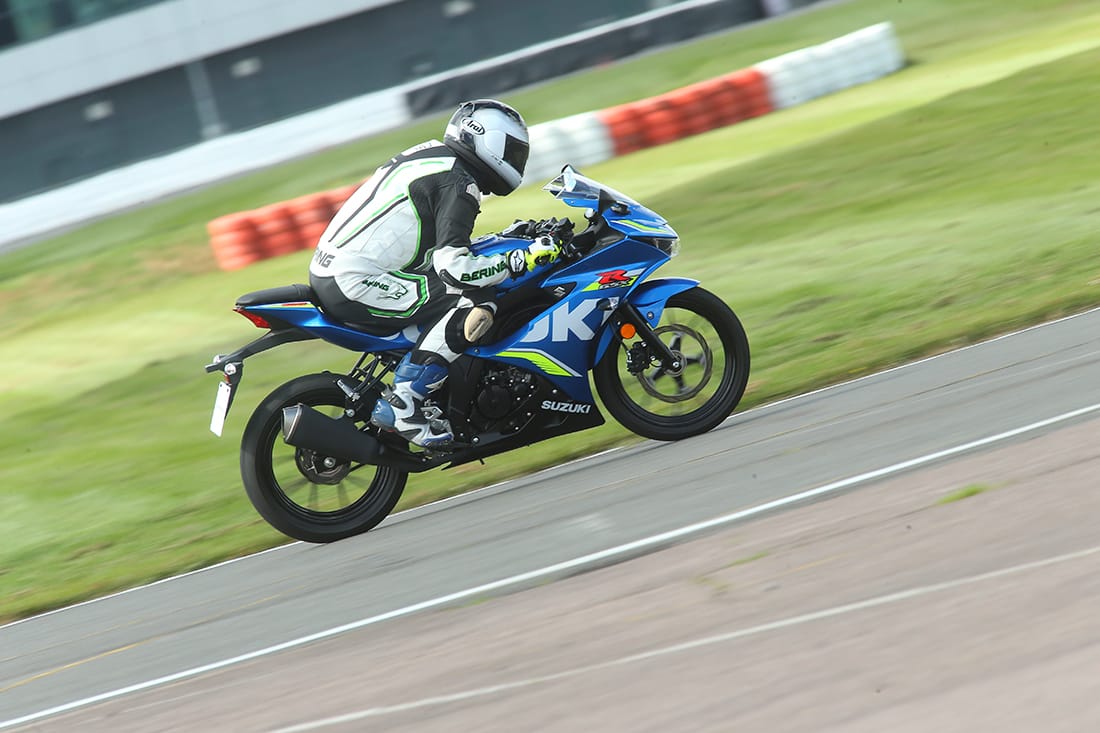 As the session goes on and you keep pushing and pushing, you start to wish for better tyres (the Dunlop D102 has average feedback and grip). In addition, you want a more solid front end, as on Stowe's bumpier section, the GSX-R 125 had a lot of movement and did not inspire much confidence. You name it: KTM, Aprilia and Yamaha have equipped their 125 cm3 sport bikes with an upside-down front fork. Nothing major but tyres are easy to change as well as front fork oil. Please note that these comments relate to track racing and are not a real issue, if you keep the bike on the open road, which after all, is Suzuki's intention.
We also had the chance to ride the sibling GSX-S 125 in the British countryside the following day and the small naked bike proved to be great fun and easy to ride. Once again, the engine proved to be a class leader, with a sensible torque from 6000 rpm. We recorded 4 litres /100 km on the race track while Suzuki claims 2,3 litres as official fuel consumption. With an eleven litres fuel tank, that makes a lot of cheap commuting. Teenagers crave to have a great image at low cost and I think this bike provides all out that!
Specifications
DIMENSIONS & WEIGHTS
Overall length
2000mm (78.7in)
Overall width
700mm (27.56in)
Overall height
1070mm (42.1in)
Wheelbase
1300mm (51.2in)
Ground clearance
155mm (6.1in)
Seat height
785mm (30.9in)
Kerb mass
134.0kg (295.42lbs)
Fuel capacity
11.0 litres (2.4UK gallons)
ENGINE SPECIFICATIONS
Engine capacity
124.4cc
Engine
4-stroke, 1-cylinder, liquid-cooled, DOHC
Bore
62.0mm x 41.2mm (2.4in x 1.6in)
Compression ratio
11.0 : 1
Lubrication
Wet sump
Ignition
Electronic ignition
Fuel system
Fuel injection
Transmission
6-speed, constant mesh
Drive
Chain
Starter
Electric
MPG*
122.82
CO2
54g/km
Power
11.0 kW @ 10000rpm (15PS)
Torque
11.50Nm @ 8000rpm (8.48lb.ft)†
CHASSIS SPECIFICATION
Front suspension
Telescopic, coil spring, oil damped
Rear suspension
Link type, coil spring, oil damped
Front brakes
Disc (Petal)
Rear brakes
Disc (Petal)
Front tyres
90/80-17M/C
Rear tyres
130/70-17M/C