The Orange Clan gathered from far and wide in the magnificent Champagne Valley Sports Resort, northern Drakensberg for a long weekend of awesome riding and general frivolity. The event kicked off with check in and dinner on Thursday the 31st of August. The Sports resort was resplendent in KTM livery and the excitement was palpable. The events area was laid out along the lines of a Dakar bivouac, and the registration area KTM banner bedecked and lined with over 160 goody bags. Hee Ha! Let the games begin!
After dinner we crowded into the events hall for briefing. Routes were rated green [300 odd k's], red [80 k's] and black [70k's], with riders expected to finish in roughly the same time. A KTM Adventure bike black or red route is typically the preserve of pukka dirt bikes, but these Katoom boys are another breed! I, however, try and avoid things that are almost certainly likely to end in tears so I chose the fast and flowing green routes that Adventure bikes are actually built for.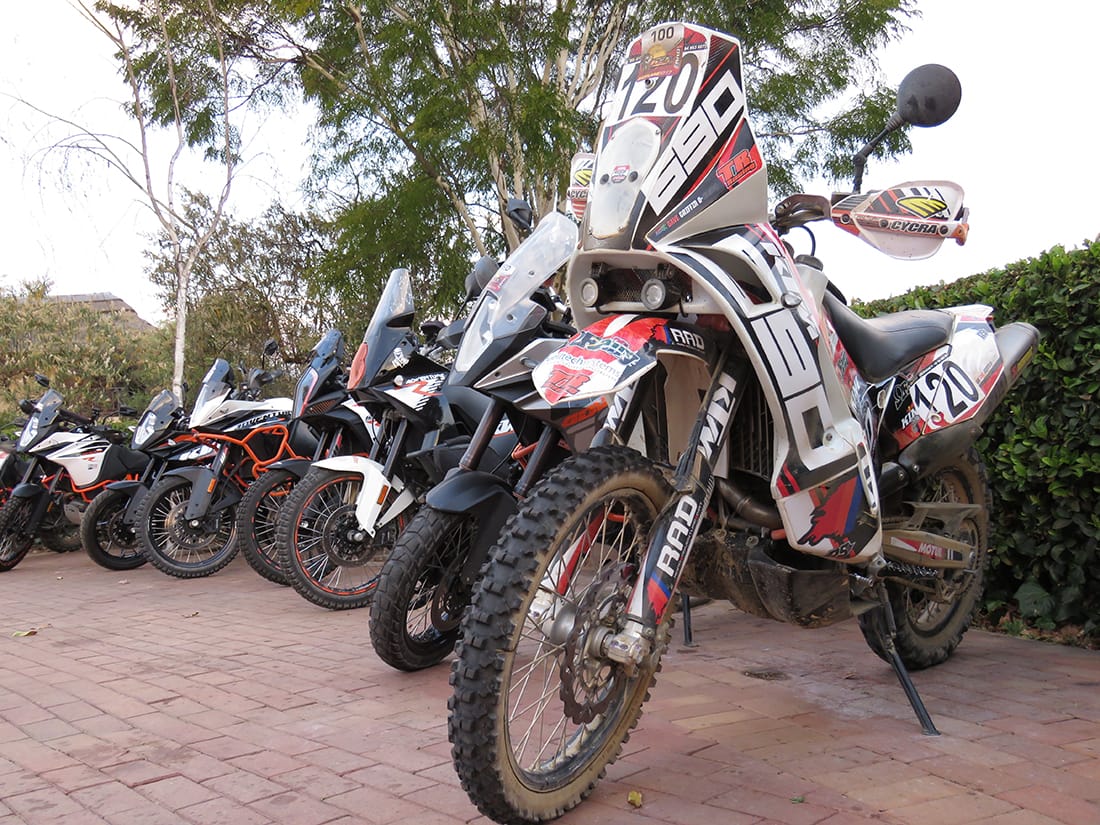 I rode to the event from Gauteng on a 1290 Adventure R. As we now know, the newly crowned Pirelli Bike of the Year for 2017. Magnificent it is too. Tearing, touring or smashing the dirt, it conquers all with consummate ease and ability. I rode this bike on the first days green route with off road mode engaged and all electronics off. Sure footed and well suspended, the 1290 R was a treat.
Enter Kevin Payne and his partner Margi. Riding two up on a Super Adventure 1290 T, they ride swift and smooth. Kevin, an ex 500cc national motocross competitor, showed all of the skills imbedded from years of top flight competition. They have ridden most of the countries proper adventure routes on the big KTM and communicate intuitively, whether seated or standing. I, together with Richard Carter from KTM Centurion , followed them in awe. We so enjoyed riding together that we agreed to ride together the next day too.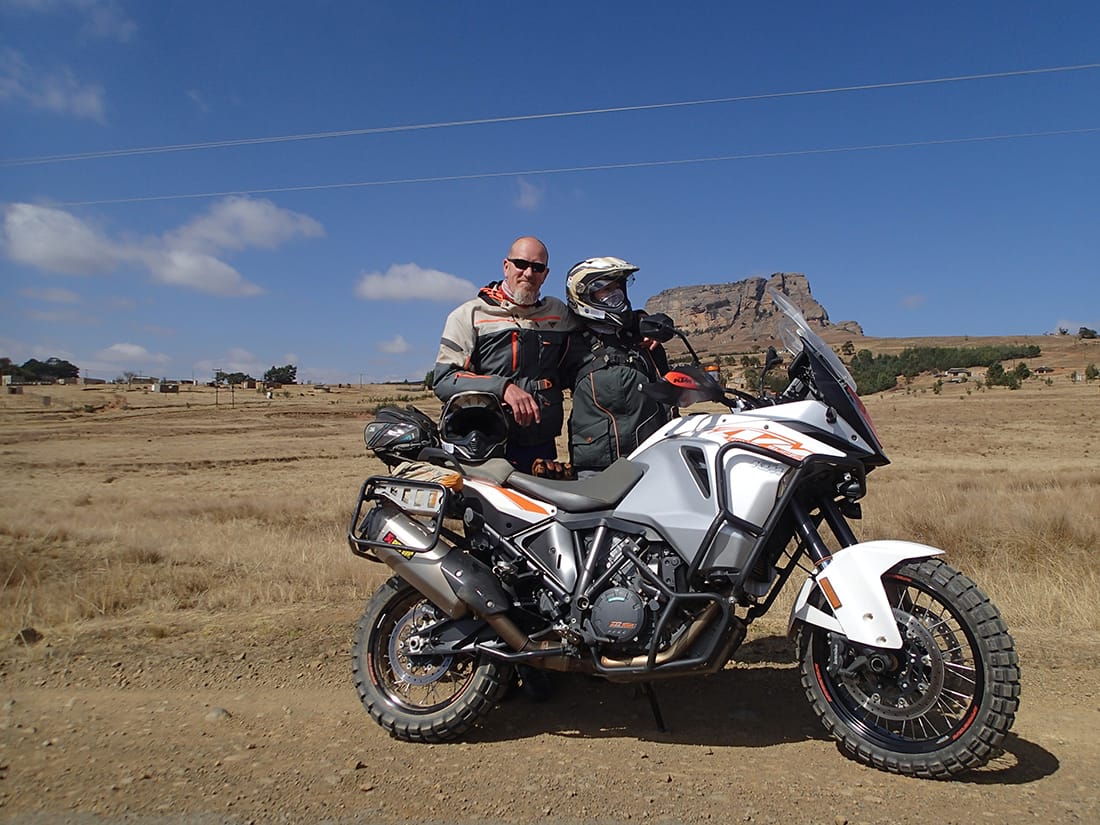 Joey Evans, the eminently likeable Dakar finisher also rode green with his wife Meredith riding pillion on an Adventure bike for the first time. Joey's book, telling the story of his epic Dakar journey will be released in the next month or so. Look out for it at KTM dealerships and popular bookstores. It is an absolute must read. "I can't" is simply not part of Joey's vocabulary. Joey booked Meredith into the spa the next day while he went out and smashed the red route on his 1090 R.
Day two saw me on a 1090 Adventure R. What an incredible bike! Street mode, which gives you full power accessed more softly, with all electronic aids off, is the way to go. 3rd gear for rear wheel steering and 4th for traction control as the bike then hooks up and gives you seamless drive. Smoother engine, lighter weight and sublime suspension copes with anything that you throw at it even better than the 1290 R. It never feels under powered. I'll definitely have one of these, thank you very much!
We got back to spectate the skills challenge. Set up on steeply sloped lawn by Hein and Dieter Engelbrecht, the father and son proper gentlemen from ADA, the skills course really tested the abilities of the riders. Rock garden, log hopping, turns on serious inclines and mud. It was all there. Riaan Neveling, the hugely talented National Sales Manager from KTM SA, set the benchmark time which put him in the final against the winner of a shootout between legends Alfie Cox and Darryl Curtiss. Alfie, the wily old fox, narrowly pipped Darryl at the post.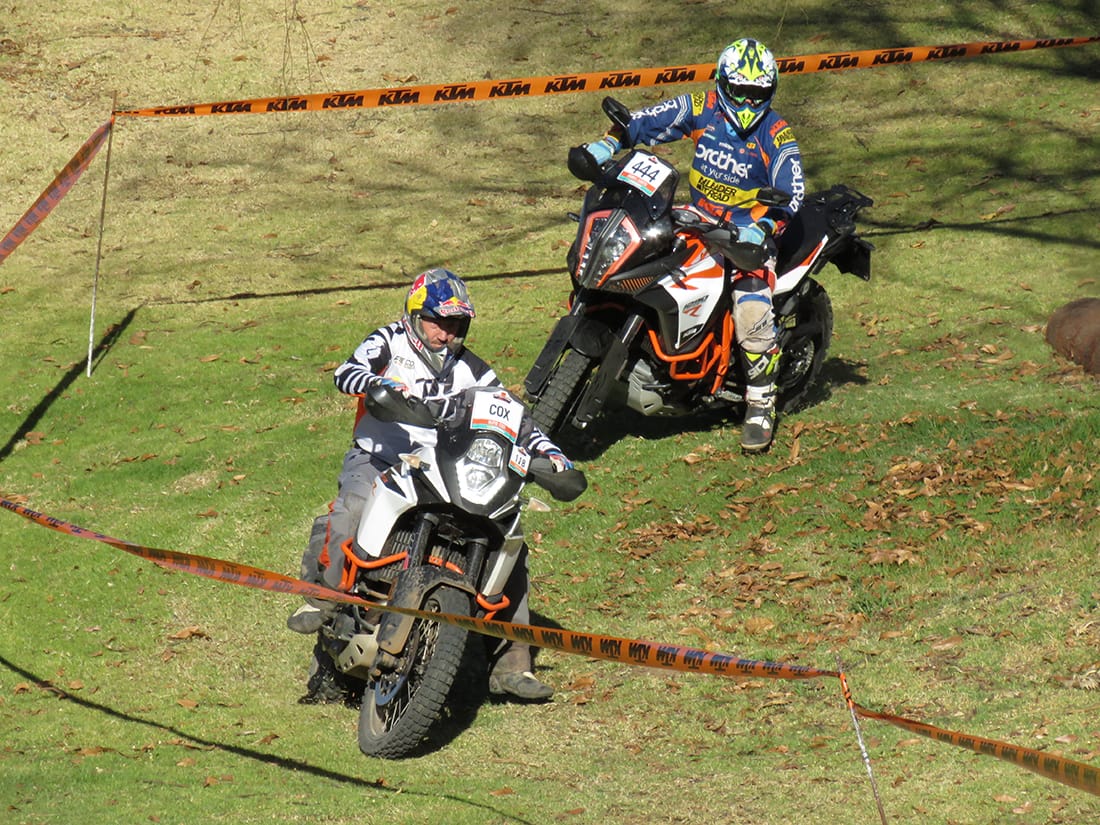 All looked over for Alfie when he capsized, only to have Riaan return the compliment. Up in a flash, Riaan had it in the bag only to lay the bike down in the mud. Alfie sneaked past to take the win. "We always put our Dealers first", was Riaans laughing retort.
In the evenings we were rocked by Ballyhoo while filling our faces with sumptuous fare. Lucky draws for awesome rider gear, charity auctions and lots of giveaways kept the fun flowing till late. Brilliant venue, brilliant food, brilliant riding and new friends made. What more could one ask for? A huge shout out to Franziska, Riaan and their team for an outstanding event. 160 weary but happy participants left for home on Sunday morning. Bring on 2018!
Note: Thanks to KTM SA for the privilege of attending this event and the use of your magnificent bikes. It is greatly appreciated!