My first motorcycle was very nearly a Ducati—the Monster 620 Dark. As a new motorcyclist, my reasons had little to do with performance. It looked cool, it was a Ducati and, most importantly, I could afford it.
Ducati have pulled this trick for years—keeping a 'baby' Monster on the books to attract new riders. But recently they've left that task up to the Scrambler, pushing the smallest Monster into liquid-cooled (read: pricier) territory with the 821.
Now there's a new baby Monster on the scene: the 2017 Ducati Monster 797. It's powered by the same air-cooled, 803cc L-twin as—you guessed it—the Scrambler. And, like the Scrambler's Icon model, it costs R129 000 in red, or R131 000 in black or white.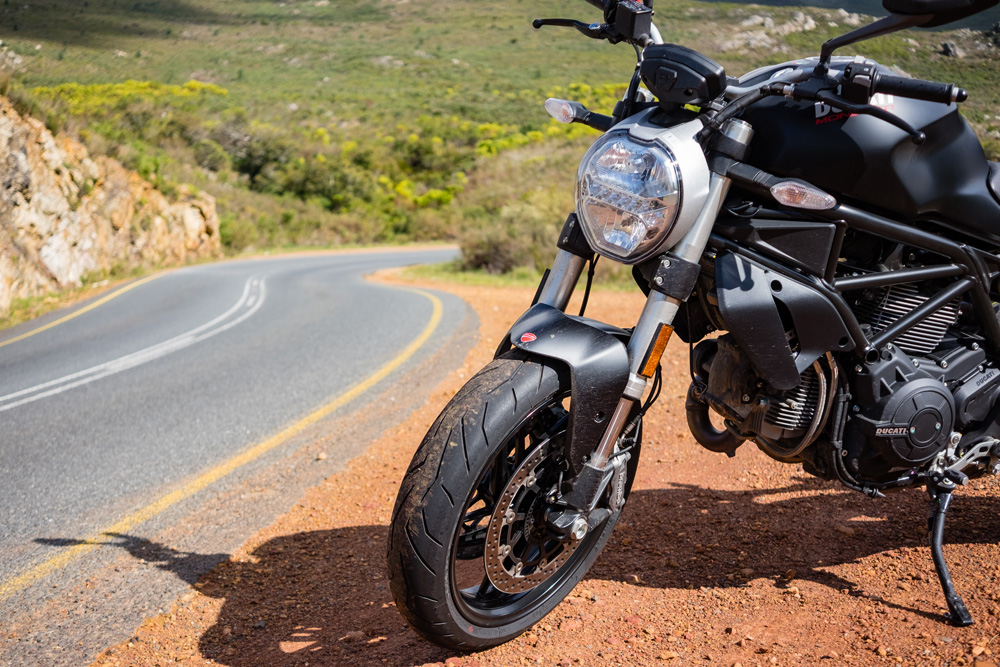 Granted, that's more than some Japanese bikes in its class, like Suzuki's new SV650 or Yamaha's MT-07. But it's twenty grand less than an 821—making it a very viable option for anyone that wants an Italian roadster, but can't quite stretch their budget.
Sure, the 821 is a significantly more powerful motorcycle, but does the 797 feel like it's short-changing you? After spending a few days with one, I can honestly say no.
For starters, it's a damn good looking machine. The Monster's strength has always been its basic, stripped-back vibe, and the 797 wears it well. The design is uncluttered and unfussy, just like a Monster should be. Shades of the original M900 are everywhere: from the trellis frame, to the contoured tank and classic humped seat.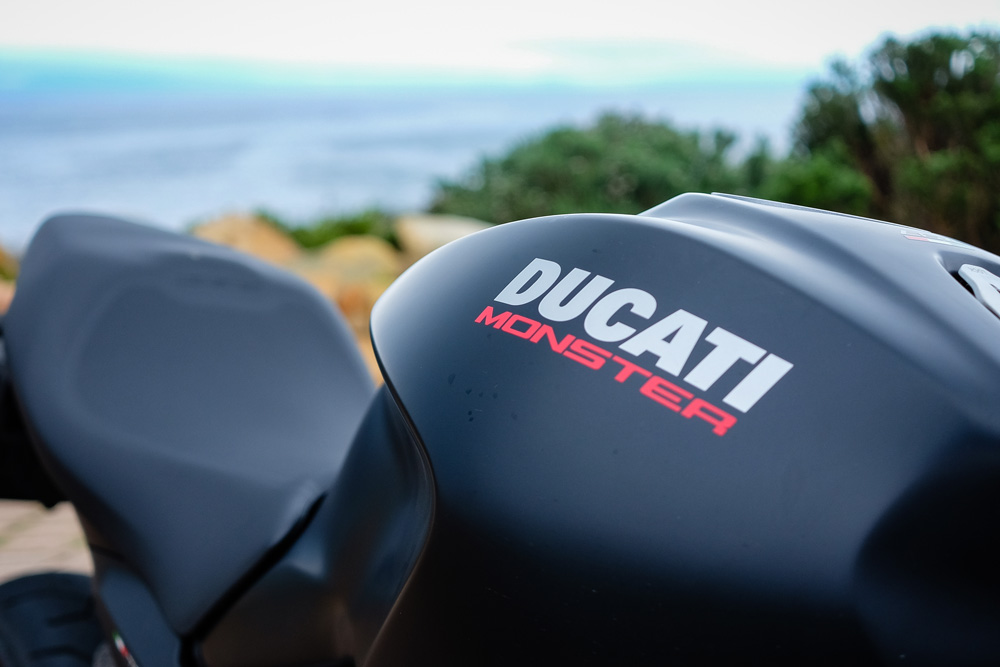 Ducati have paid attention to the details too: the logos are tasteful and discreet, there's a traditional tank clip up front, and even plastic bits like the fender and side panels have been executed well. Despite sporting a whopper of a catalytic convertor, the exhaust is tucked in low and tight, and the swing arm and wheels are classier than you'd expect.
Cast your eyes to the cockpit though, and you're quickly reminded that this is a budget Duc. Between the spindly 22mm bars, and levers and switches that feel like cheap imports, you get the impression that this is where the accountants stepped in. Even the mirrors are throwaway; their tear-drop shape is nice enough, but visibility is poor and they're difficult to adjust.
The dash puzzles me a bit too. Ducati did well on size, placement and visibility, and it feels premium with all the vital info easy to find. But for all of its size, there's no fuel gauge or gear position indicator, despite there being ample space for both.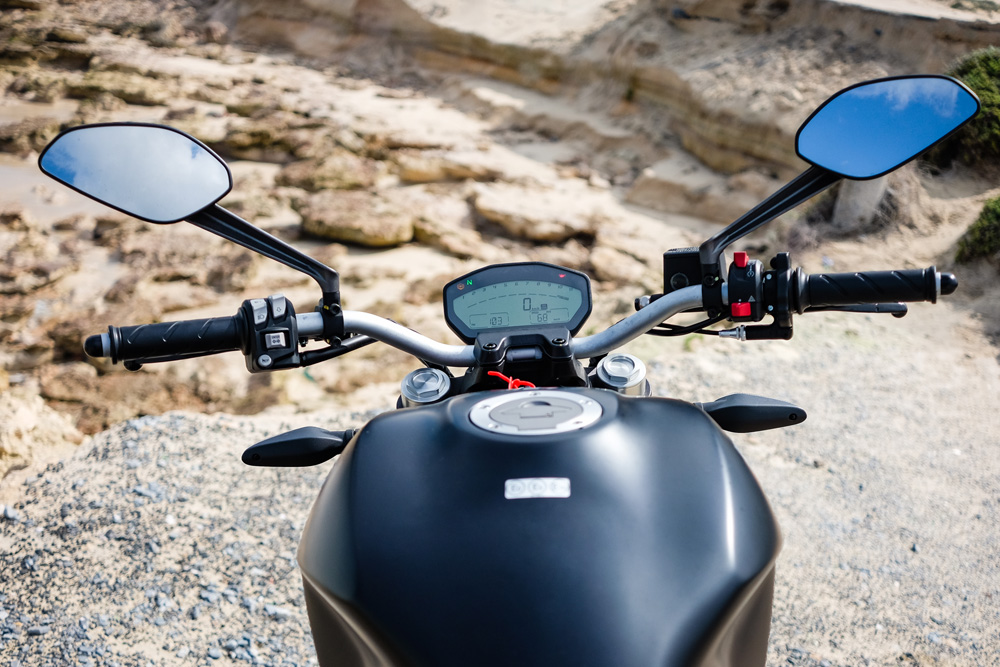 Those gripes don't take away from how starry-eyed I was each time I approached the 797. It has the same brawny stance that's made the Monster a true modern classic, and it looks just as good outside your local café as more expensive retro bikes, like the BMW R nineT. The matte black test unit I had is delightfully stealthy, but the red trellis frame on the red and white versions will appeal more to some riders.
Looks will only get you so far though, so I put the Monster 797 through its paces on the Cape's best roads. Most new motorcycles either blow me away or disappoint me straight out the gate, but the 797 felt, for lack of a better word, neutral.
On day one I couldn't figure out if I loved it or hated it. By day two, it dawned on me that, despite my lack of conviction, the Monster and I were getting along really well. And by the time I handed the keys back to Ducati Cape Town, I felt like I'd owned it for years.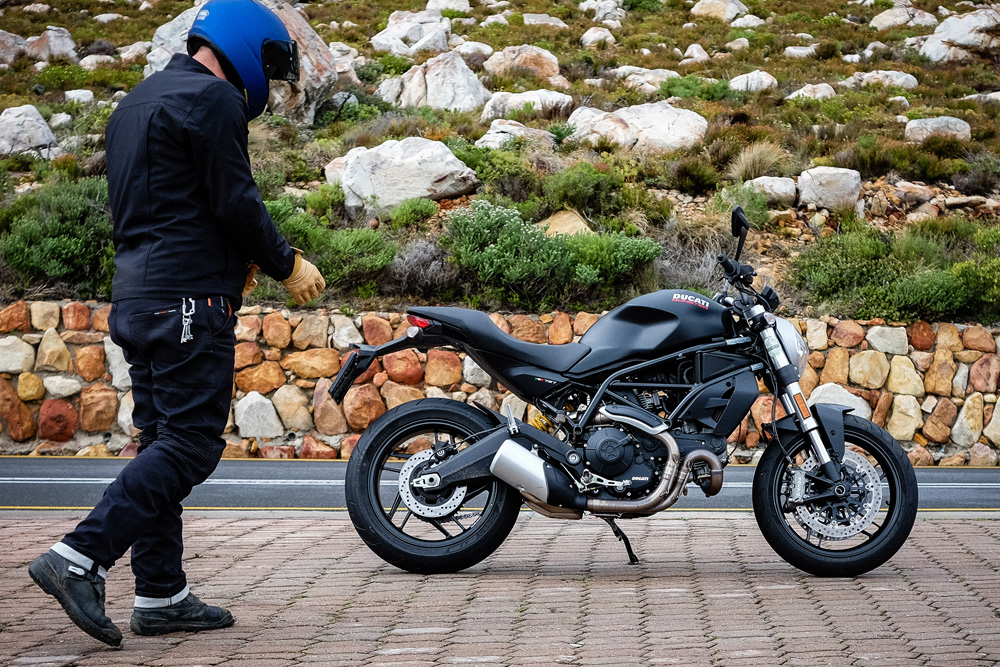 Does that mean it's gutless? Not at all. Ducati list power and torque at 73 hp and 67 Nm—more than enough to guarantee fun times. But those numbers are delivered at 8 250 rpm and 5 750 rpm respectively, so it's not going to surprise you off the mark. The throttle and fuelling are relatively smooth, making the power delivery predictable and, more importantly, controllable. (There is a small hiccup when rolling on the throttle, but not a big enough one to cause serious concern).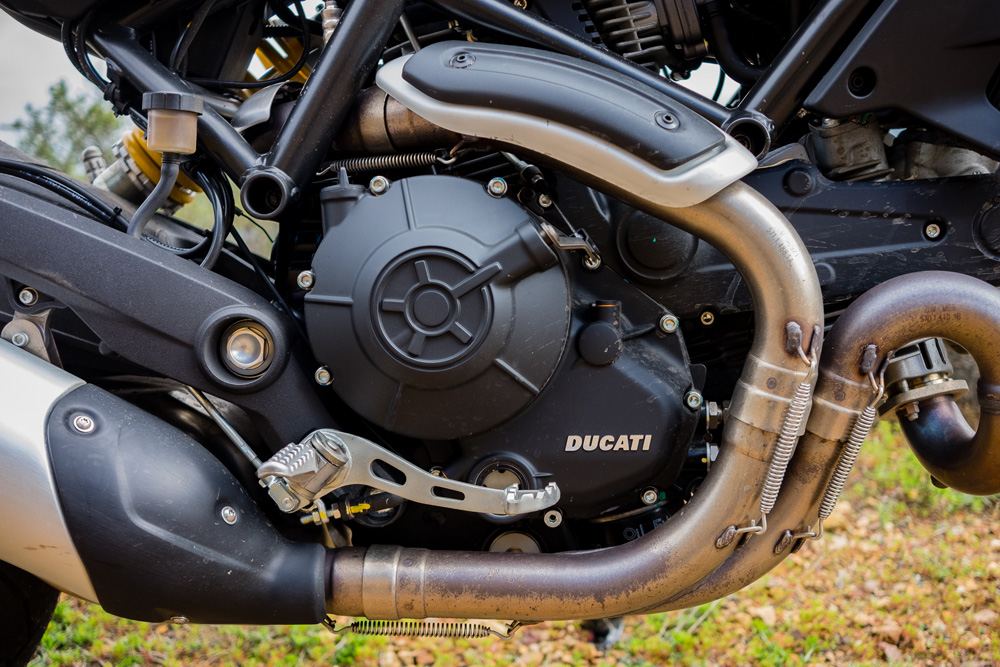 In fact, that neutral feel is the 797's best characteristic. It means that beginners won't be intimidated, and more experienced riders will be able to work the throttle to extract maximum enjoyment from it. In short, it's as responsive as you make it.
The clutch and six-speed box perform as well as to be expected, and though I did find the odd false neutral, I can't fault Ducati's gear ratios. The air-cooled motor (which is still Euro 4 compliant) is lively, with enough character to keep you smiling. It's let down a little by an overly muffled exhaust though, so if the Monster's on your short list, budget for an aftermarket can.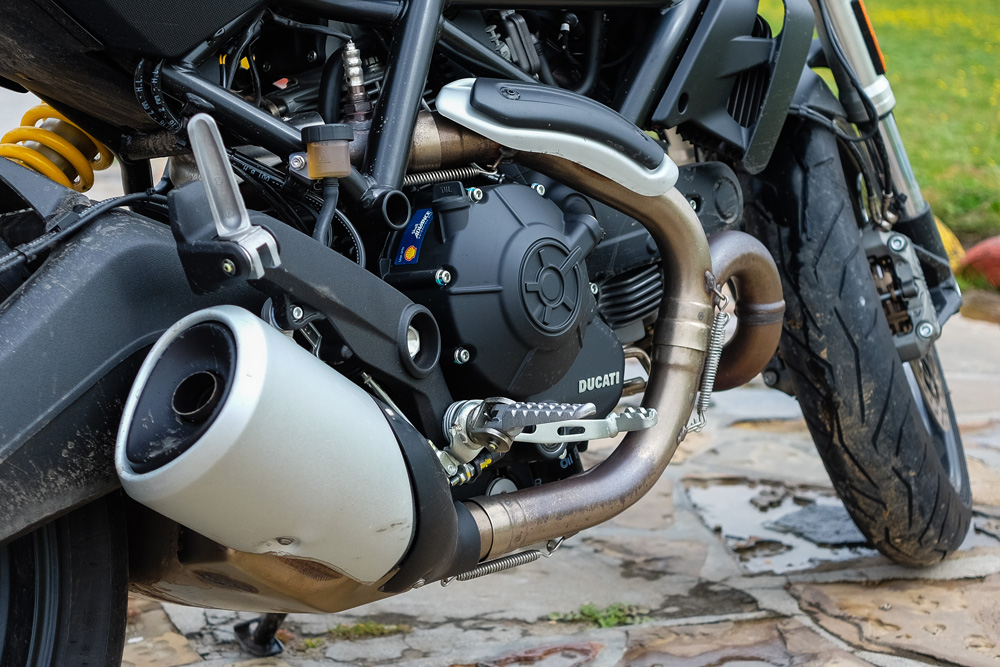 Never once did I feel like the Monster was lacking, and the harder I pushed it, the better it responded. The chassis deserves some kudos here: at 175 kg dry it's not quite a featherweight, but it's not porky either. More importantly, it's surprisingly responsive, and was more than happy to flick its way through some of my favourite passes.
The 43mm Kayaba upside-down forks and Sachs mono-shock are peachy on smooth roads, but take strain on less than ideal surfaces. There's no adjustment up front, but the rear shock's preload and rebound can be set. With twin 320 mm discs up front and Bosch ABS all round, the 797's brakes do a stellar job of keeping you in check, but they can be a little snatchy.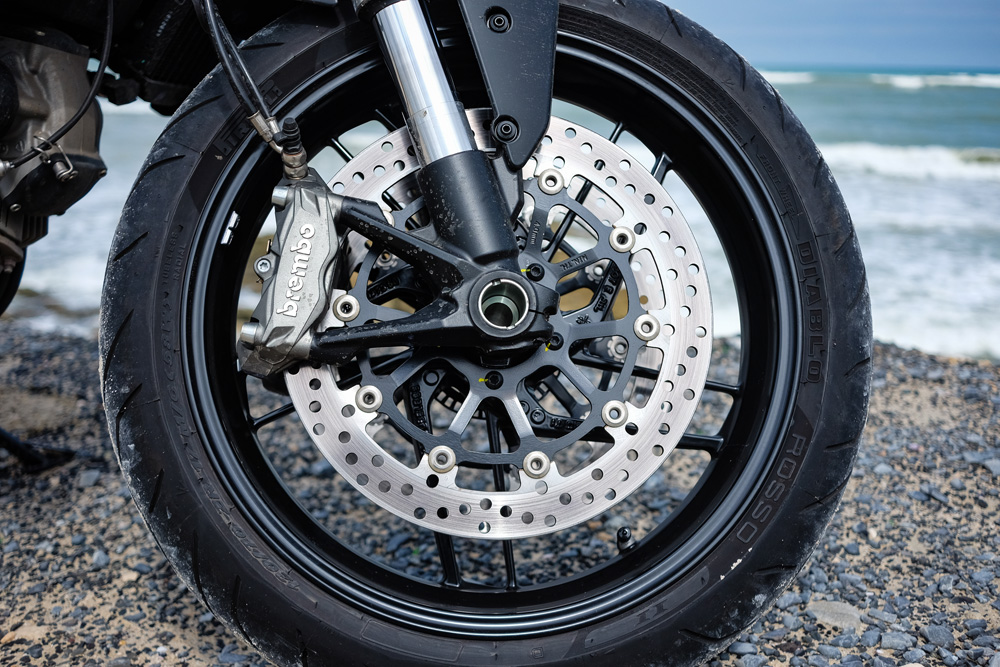 At a hair over 1.8 metres tall I was worried that the little Monster would be too small, but Ducati have nailed the ergonomics. Make no mistake, it's a compact bike—but the relationship between the pegs, handlebars and seat is bang-on, which makes it that much easier to throw the bike around on the road. The seat is surprisingly comfortable, and I managed about 200 km in the saddle before my rear started complaining—more than enough for a roadster.
I was impressed by the Monster's versatility too. It's a cracking daily runner, and shines in tight city riding thanks to its narrow profile and ability to point-and-squirt its way out of trouble. And like a true weekend warrior, it comes alive when let loose on faster, curvier roads.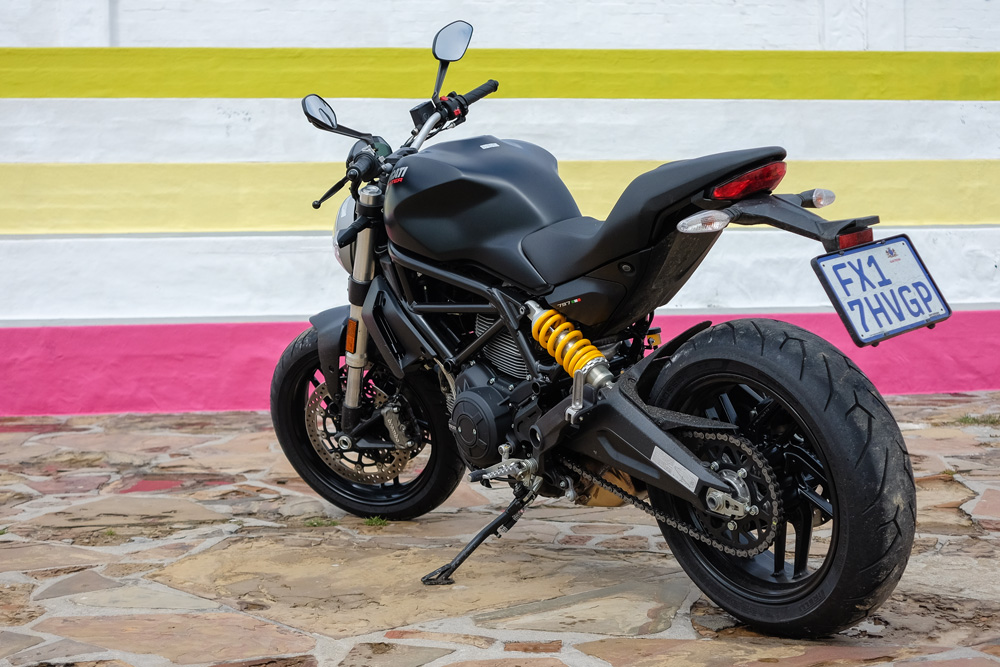 Admittedly, advanced riders might pine for more power or better suspension. But for beginners and intermediate riders, the Monster 797 is an approachable and easy-going roadster that'll hone your skills. It's the sort of bike you'll buy with an eye to upgrading later, but end up hanging onto for a lot longer than planned.
Plus, you know, it's a Monster. And Monsters are cool.