Out of all the bikes I have ridden this year, the one that surprised me the most was the 2017 Yamaha T-Max. Why you might ask? Well, let me explain. In 'T' mode the T-Max bike delivers gentle power, which is ideal for the urban sprawl. However, when switching to 'S' mode, the T-Max changes into a totally different beast! I learnt this whilst in Cape Town earlier in the year at the 2017, T-Max launch. Riding the coastal roads around Cape Town in 'S' mode, the T-Max changed from a tame, 'Urban' scooter to a thrilling 'Hyper-Scooter' – all with just 1 push of a button; the T-Max is just insane!
So, when Yamaha told me that they were introducing a smaller version of the T-Max, called the X-Max 300, I was extremely keen to get my hands on one to see if the smaller sibling could be as equally surprising.
So, here's what I think of the X-Max:
The X-Max 300 is a thing of beauty! In my opinion Yamaha is making the nicest range of scooters in the market today – bar none! (no wonder they are the #1 selling scooter brand in Europe).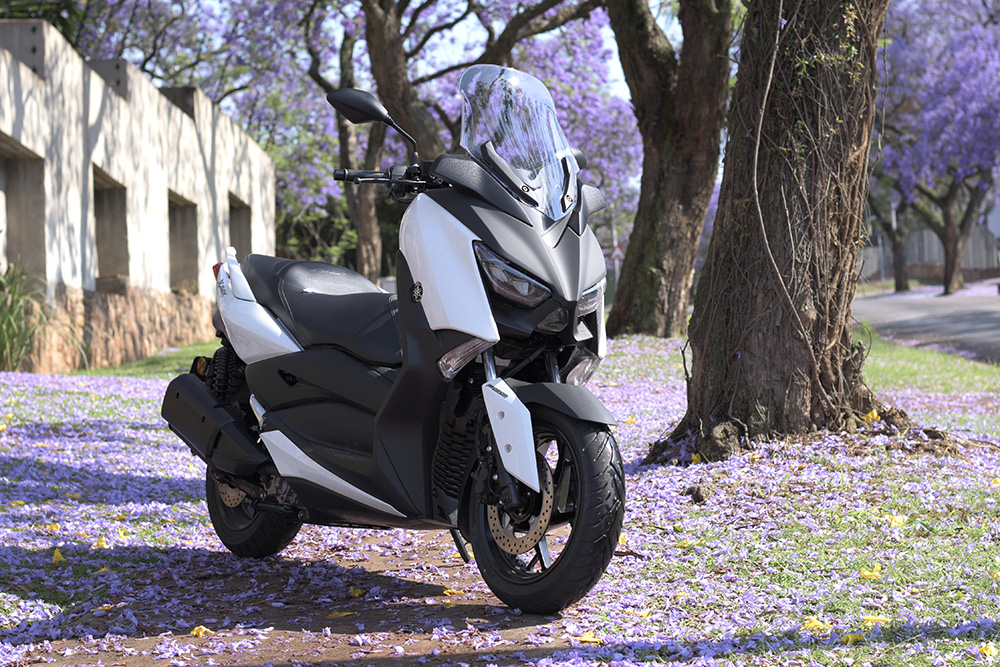 What immediately got my attention was the build quality of the X-Max 300. I had dropped off the new 2017 Tracer 700, which costs around twice the price of the X-Max and right away when climbing aboard the X-Max 300, I could feel the same build quality and that no short-cuts had been made by Yamaha in making this entry level commuter.
The instrument panel features an analogue speedometer and tachometer and in between is a fairly comprehensive LED panel with fuel gauge, temperature read out and a host of scroll through functions including; trip counter, air temp, odometer, fuel consumption and time; simple but all you really need.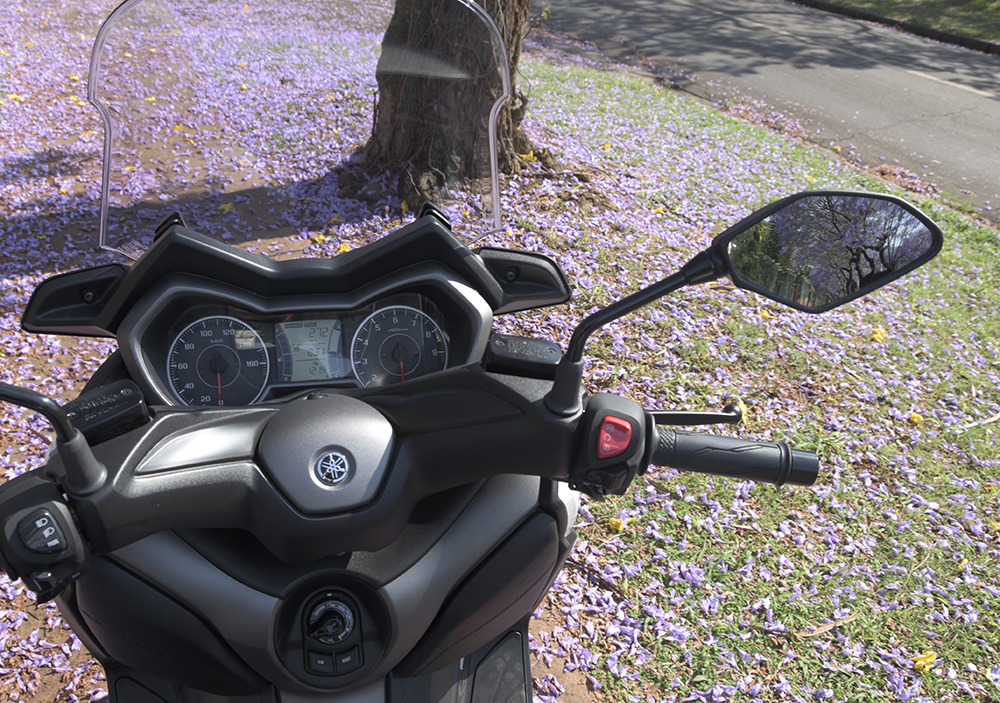 The headlights and taillights are both LED and have been derived from the same DNA as the top of the range T-Max; they have a distinguished, high-tech look, which I really like.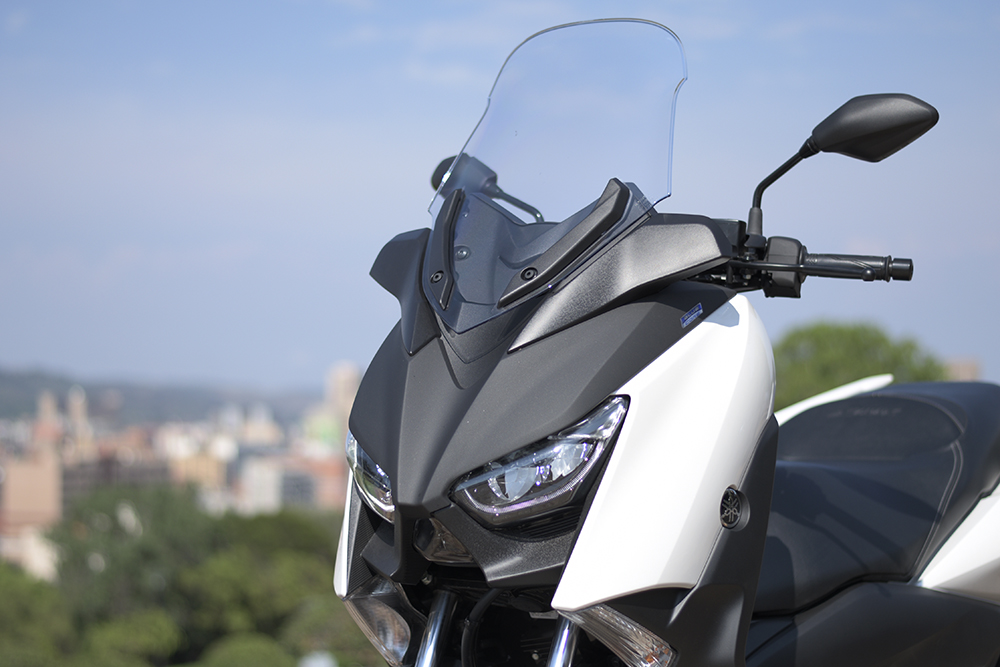 Other stand-out features include; a 'Smart Key', keyless ignition system and a 12V outlet so you can charge your cell phone whilst on the go.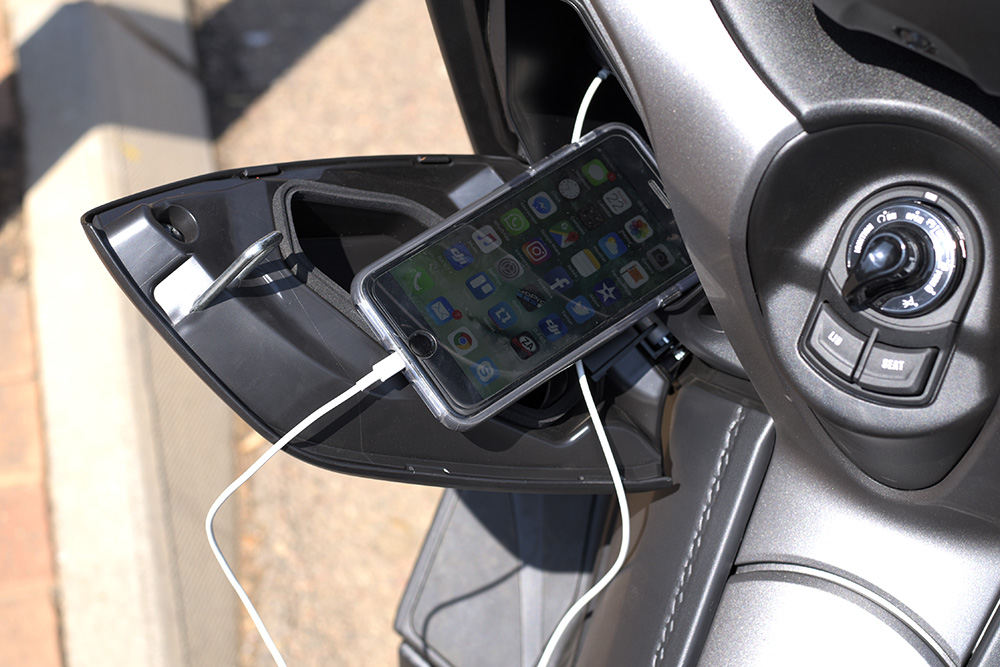 The X-Max 300 comes with a powerful and efficient new 300cc, 4-stroke, liquid-cooled SOHC 4-valve engine. Power is just under 28 bhp at 7250 rpm with torque clocking in at 29 Nm at 5750rpm. In and around town the X-Max is such a blast to ride. It's light-weight and nimble and this makes cutting through the traffic very easy.
What impressed me the most was whilst riding back from Johannesburg to Pretoria on the highway. The X-Max cruised easily at 120 kph at a mere 6500 rpm and did not feel in any way, that it was working hard, which, compared to other similar cc'd bikes that I have tested recently, is very impressive. Incidentally, at 7500 rpm, the X-Max 300 cruises at 140kph. For a 300cc scooter this is brilliant and amazing; I don't know how Yamaha have got this right, but they have. Oh yeah, and the fuel consumption read out shows an average of 28 km/L – which is great!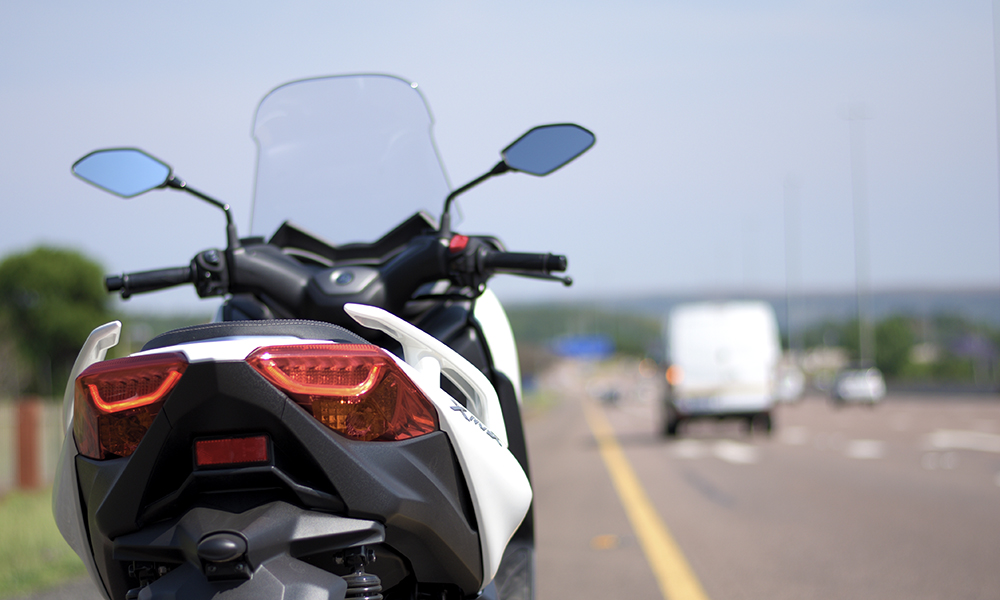 The X-Max 300 is also very comfortable. It has a couple of feet position options, the first giving you a more sit up and beg position and the other a laid-back cruising style. Both screen and handlebar positions are adjustable, the screen can be moved up and down by 50mm and the bars can be moved closer by 20mm. I did not need to make any adjustments to the demo model as the set-up was perfect for me. However, taller riders should check this out before buying, as I feel they might feel crammed-in on the X-Max 300.
The X-Max 300 is fitted with motorcycle style telescopic forks at the front and 5 way adjustable shocks at the rear (riders can tweak the set up to their own preferences). With a 15-inch front wheel and 14-inch rear, the X-Max 300 has great stability and has the ride feel of a motorcycle. Traction Control System (TCS) comes standard with the X-Max 300, which again, underlines Yamaha's commitment to quality. I rode in some wet conditions during the test and I must say, this X-Max 300 gave me tons of confidence.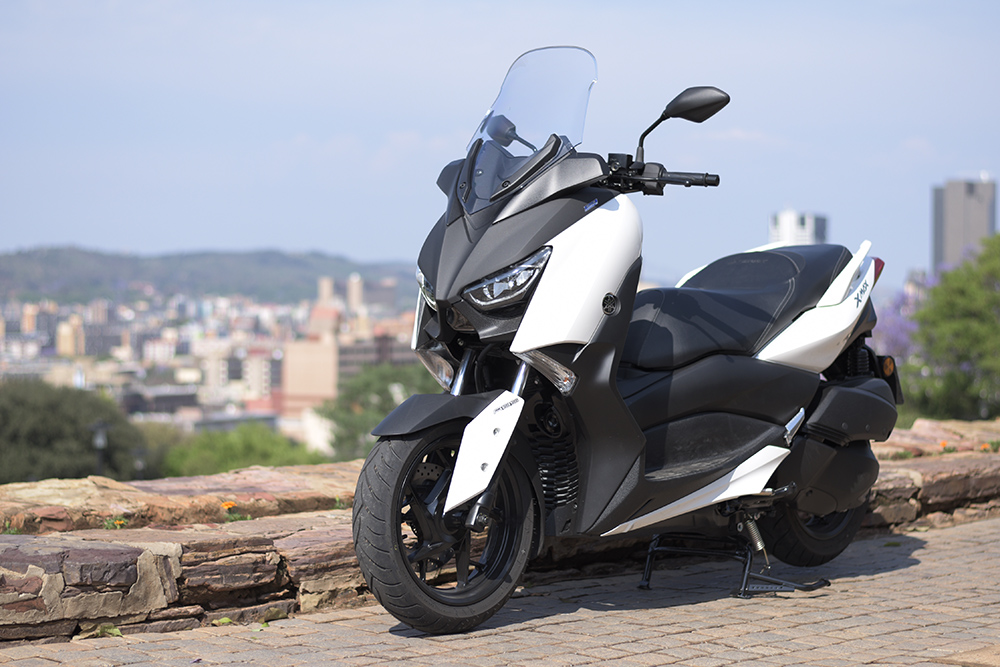 Braking power is supplied by a 267mm front disc and 240mm rear disc, and ABS is fitted standard. Being critical, the front brake could do with a bit more power, but it's certainly not bad. When using both brakes together, as they should be used, then braking is much better and I can say, they feel nicely balanced.
A massive benefit with the X-Max 300 is the packing space. I stopped off at Woollies on route and was able to pack my camera bag, shopping bags and helmet (Yamaha claim that you can actually fit two full face helmets under the seat) – nice!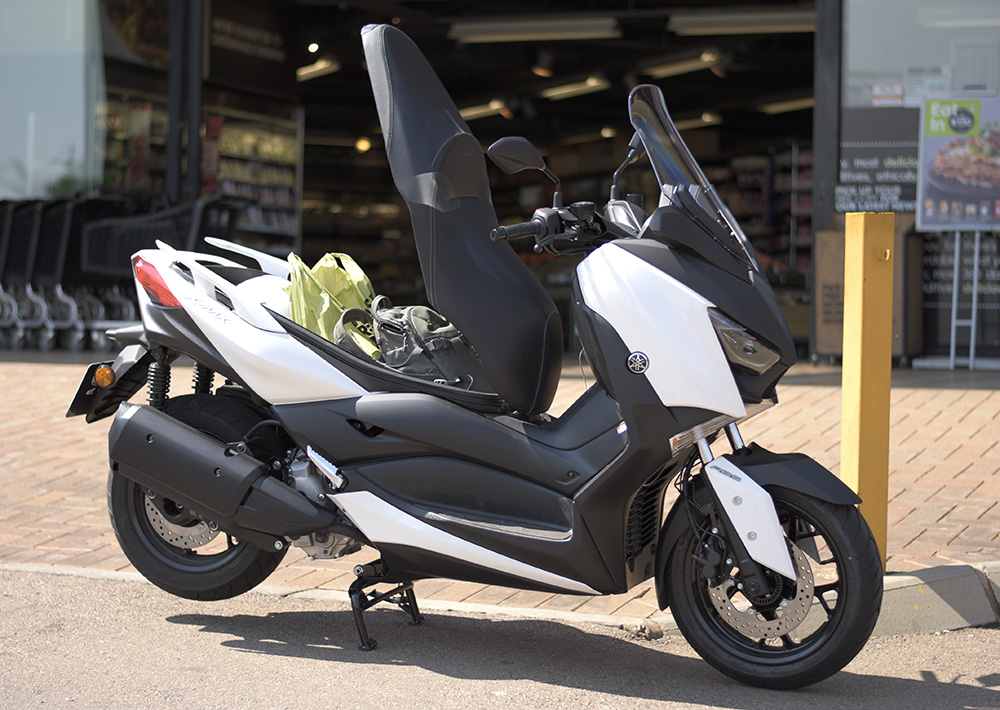 The price tag for a Yamaha X-Max 300 is R69, 960, which is great value for money!
As I mentioned at the start of this review, I was keen to see if the X-Max 300 had hidden surprises. Well I am happy to conclude that it did. Not in an 'Emotional' way, like the T-Max but in a 'Rational' and practical way. Let me summarize the X-Max 300 for you; quality, fuel efficient, comfortable, stylish, fun, great for highway use, and with decent packing space, making the Yamaha X-Max 300 perfect as a daily commuter!
Specifications
| | |
| --- | --- |
| Engine | X-MAX 300 |
| Engine type | Single cylinder, liquid-cooled, 4-stroke, SOHC, 4-valves |
| Displacement | 292cc |
| Bore x stroke | 70.0 mm x 75.9 mm |
| Compression ratio | 10.9 : 1 |
| Maximum power | 20.6 kW @ 7,250 rpm |
| Maximum Torque | 29.0 Nm @ 5,750 rpm |
| Lubrication system | Wet sump |
| Fuel system | Fuel Injection |
| Ignition system | TCI |
| Starter system | Electric |
| Transmission system | V-Belt Automatic |
| Fuel consumption | N/A |
| CO2 emission | N/A |
| Chassis | X-MAX 300 |
| Front suspension system | Telescopic fork |
| Front travel | 110 mm |
| Rear suspension system | Unit Swing |
| Rear Travel | 79 mm |
| Front brake | Hydraulic single disc, Ø 267 mm |
| Rear brake | Hydraulic single disc, Ø 245 mm (ABS) |
| Front tyre | 120/70-15 |
| Rear tyre | 140/70-14 |
| Dimensions | X-MAX 300 |
| Overall length | 2,185 mm |
| Overall width | 775 mm |
| Overall height | 1,415 mm (adjustable screen 1,465mm) |
| Seat height | 795 mm |
| Wheelbase | 1,540 mm |
| Minimum ground clearance | 135 mm |
| Wet Weight | 179 kg |
| Fuel tank capacity | 13 litres |
Find your local Yamaha dealer: www.yamaha-dealers.co.za
Yamaha XMax
For more information on the bike that we tested in this article, click on the link below…