I find myself traversing dense traffic on the N1 South as I head towards Johannesburg. Fast approaching the Buccleuch interchange I have to make a swift decision; Western or Eastern Bypass?? East, it is, as I carefully lean left, feeling my way through the long decreasing radius corner aboard the Black Indian Chieftain that I am fortunate enough to pilot for the next few days.
This Black Beauty is a 1811cc Bagger type, Luxury Cruiser. Born and bred in the USA, the 49 degree V-Twin is huge fun. A maximum torque output of 162 Nm at 3000 rpm provides effortless riding pleasure, as can be imagined.
At 389 kg (wet weight), you can be forgiven for thinking the Chieftain is hard work, but surprisingly, she handles the congestion better than anticipated. Of course, there is a higher calling to this work of art as the wide-open spaces beckons. Beat by beat, the engine propels me into the freedom zone of the open road as we leave the metal cages and blue city smoke behind. The green, rolling hills of KwaZulu-Natal, will be our ultimate destination for a true test of virtues.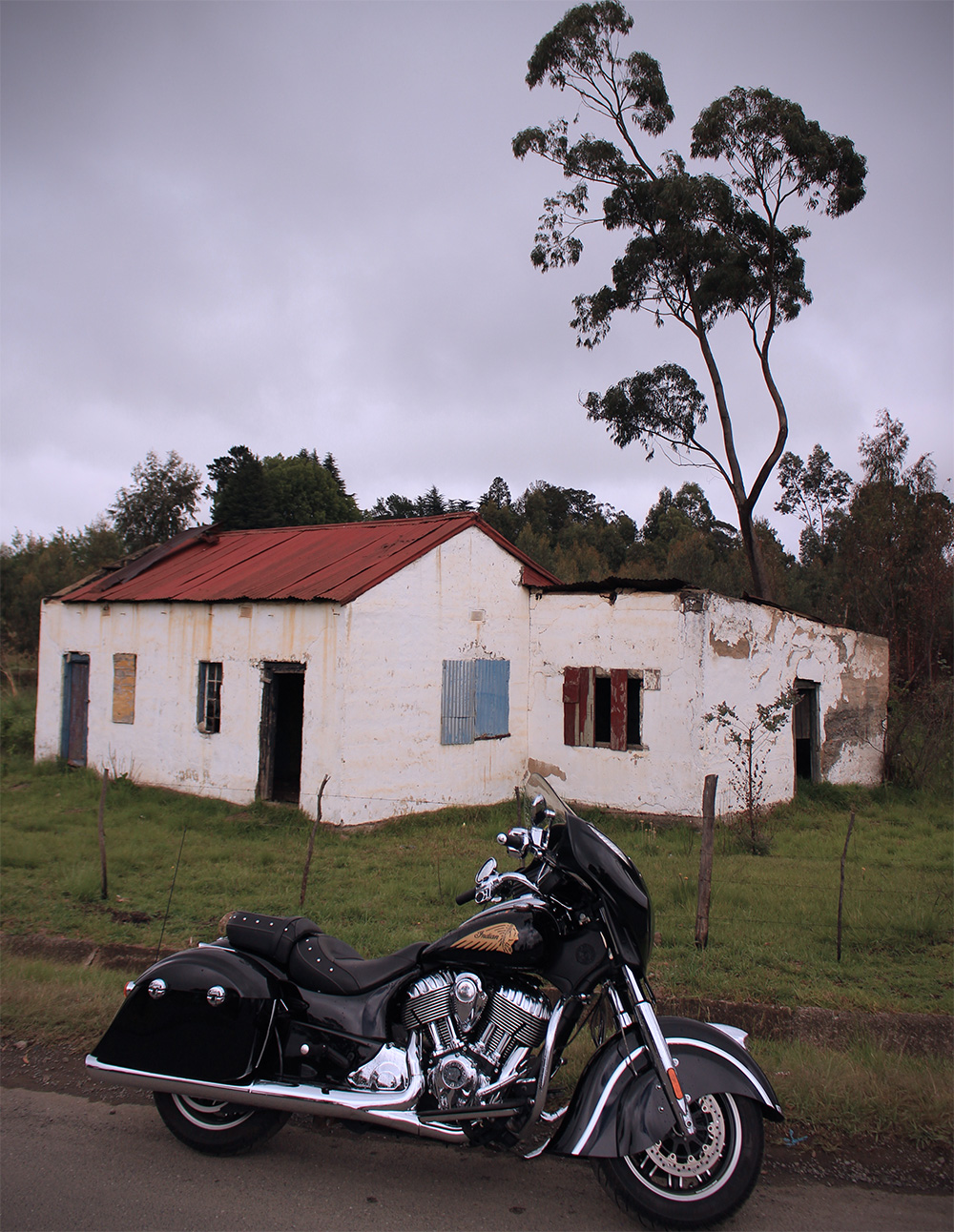 I am one of the most fortunate people I know. I have a long list of very diverse riding and racing experience to my credit and I often find myself aboard a two-wheeler of some sort.
On our way, we approach the railway town of Van Reenen. This forgotten gem bears the same name as the very well-known and heavily travelled Van Reenen's Pass that splits the town in two. You might not know this, but Van Reenen has a rich and interesting history and once upon a time, this was a bustling little town, as the railway system formed the heart for travelling in South Africa.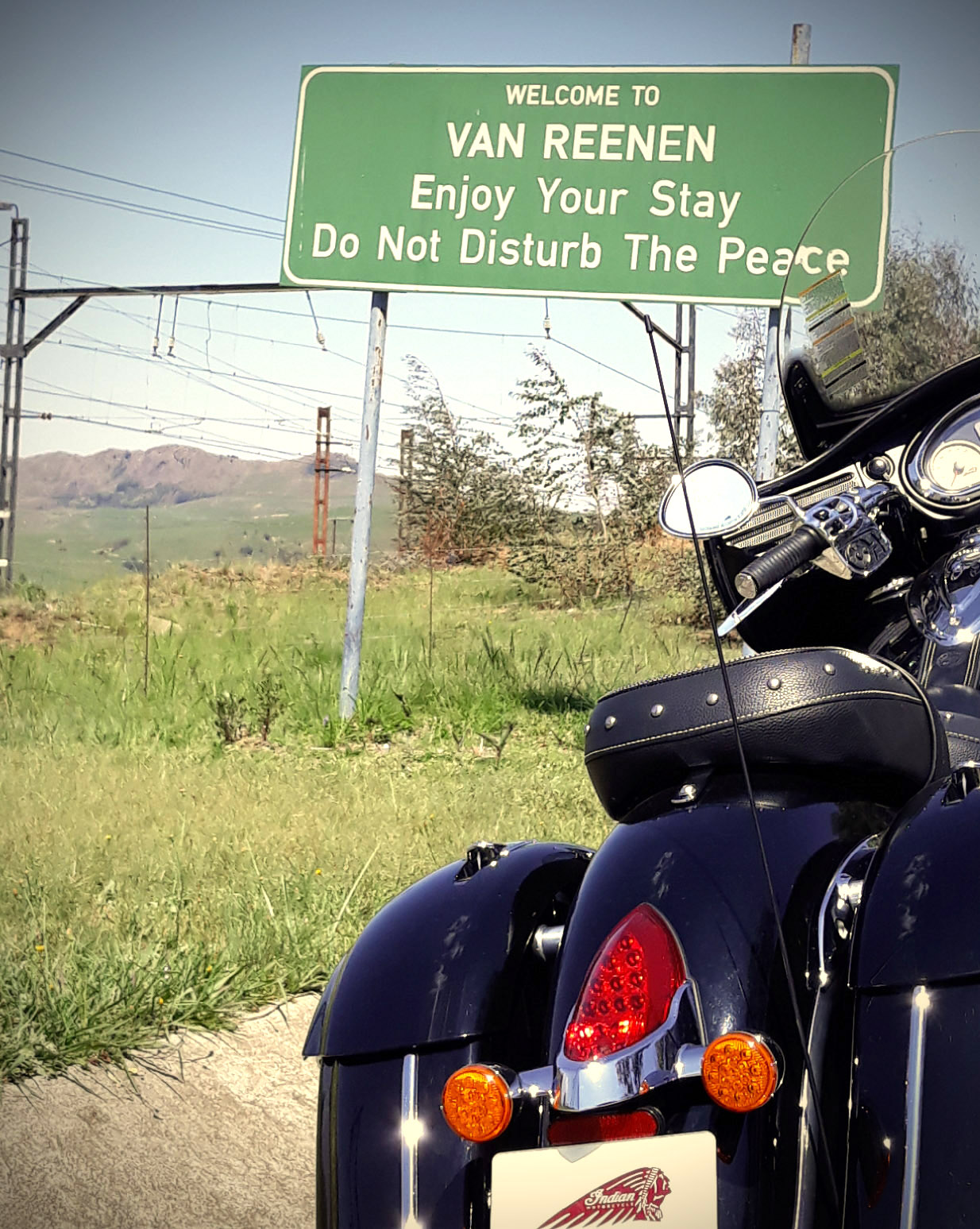 A friend recommended the Green Lantern Inn, so we decide to go and investigate. Very little prepares you for what you are about to experience when you stand outside, gazing at the unassuming old building.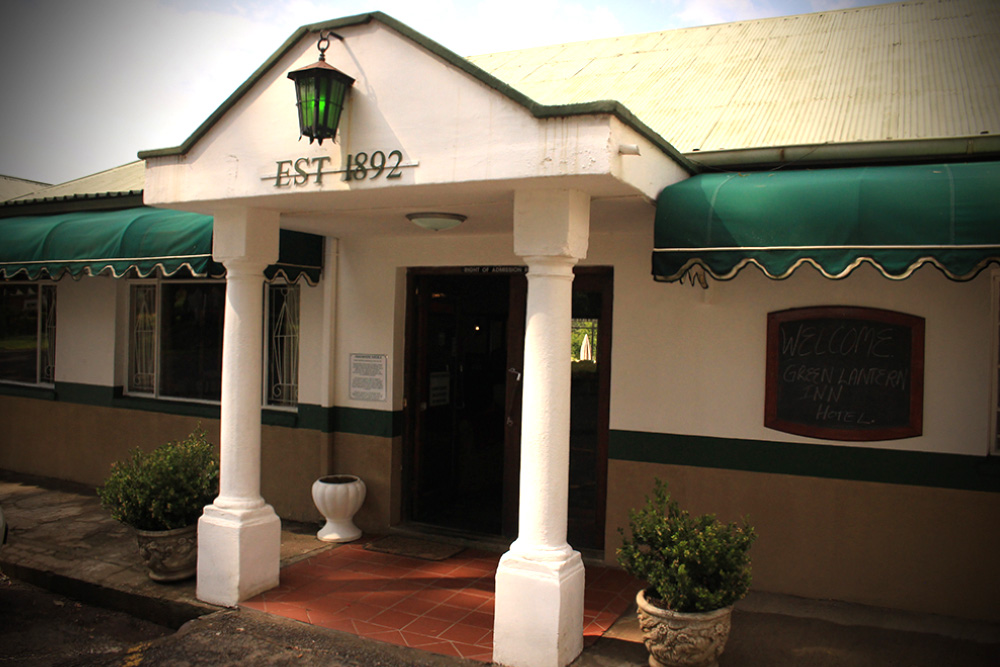 Stepping through the front door is like stepping back in time. Early 20th century artifacts and furniture don the floors and walls of this charming Inn. The locals are friendly and the en-suite bar becomes very popular after the sun goes down.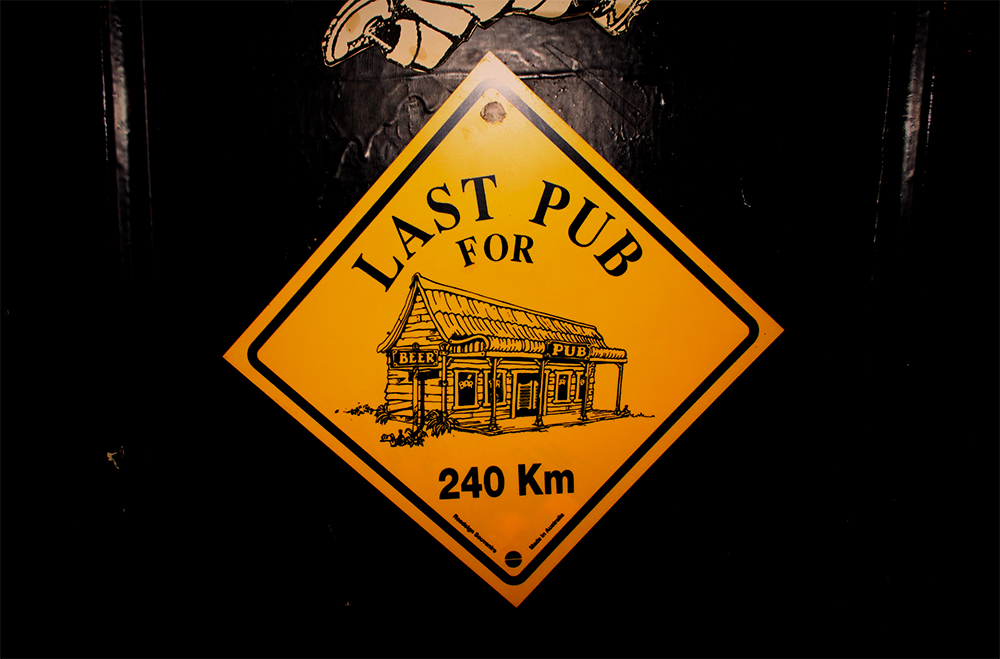 A number of comfortable lounges invites you to stay for as long as you want and a delicious meal, enjoyed in the company of new friends, always rewards my travels. This is truly an experience.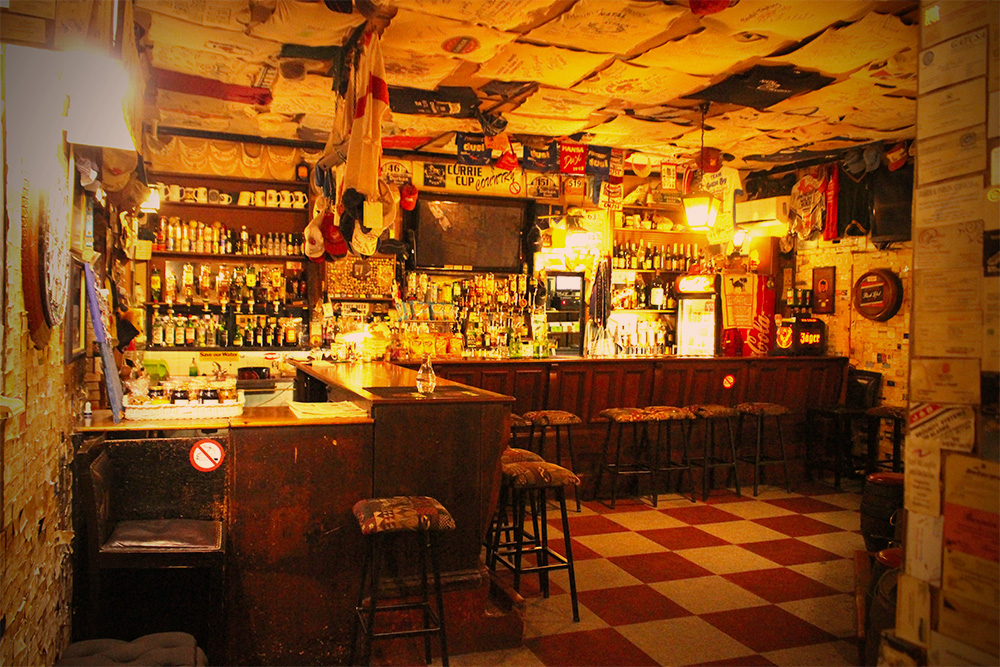 Awoken the following morning by the sound of rain on the tin roof, I smile and realized that another eventful, satisfying day is at hand. How glorious to greet my new friends and head off into the fresh, early morning mist and overcast skies. Typical of South Africa, I travel for only about 50 kilometers before the morning sun beats the clouds and points the way towards Howick, Boston, and then the famous winding undulating road to Bulwer, Underberg, and then ultimately Himeville, my final stop. I laugh in my helmet, as I enjoy the smooth, neutral handling of this fine motorcycle. I find myself humming an eighties tune, as I pen my thoughts to paper. I gaze at the Chieftain, gracefully parked under a massive, age old oak tree. So many emotions, such a unique experience, timeless character and artful in appearance.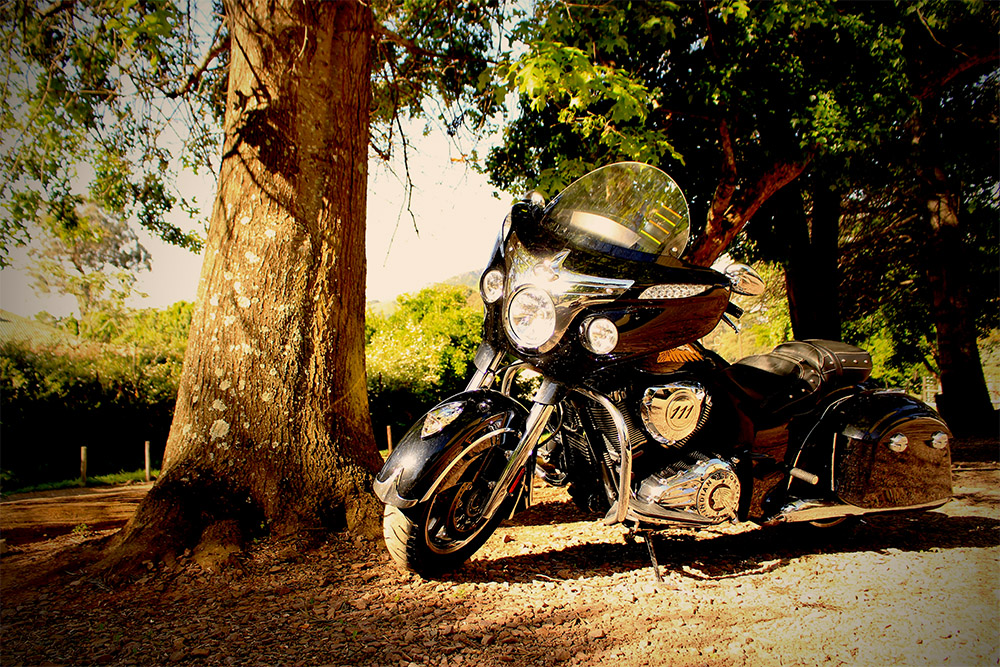 The Chieftain is every bit as competent as others in its class. I cannot help but think back to the passion of the sales staff, when fetching her from the local importer. They truly believe that their products will put a smile on your face (which it did).
The brakes work really well. As we bear down on corners and slower moving traffic, the rear brakes work especially good, aided by lots of weight to help find traction. The front brake lever, travels a bit far before it bites but a small adjustment in riding technique quickly counters this concern.
Next stop is the Mountain Park Hotel in Bulwer. Recommended by Lee-Anne from the Green Lantern Inn, I was pleased to make this my next overnight stop. Built during the Second World War by Italian prisoners of war, the Mountain Park Hotel is certainly worth a visit. Now under new management, this hotel is undergoing some refurbishment. It seemed ironic to me that the timeless character of this ghostly place seemed to match the timeless character to be found in the Chieftain and I am not alone in thinking this – the attention she garnered from onlookers was inspiring!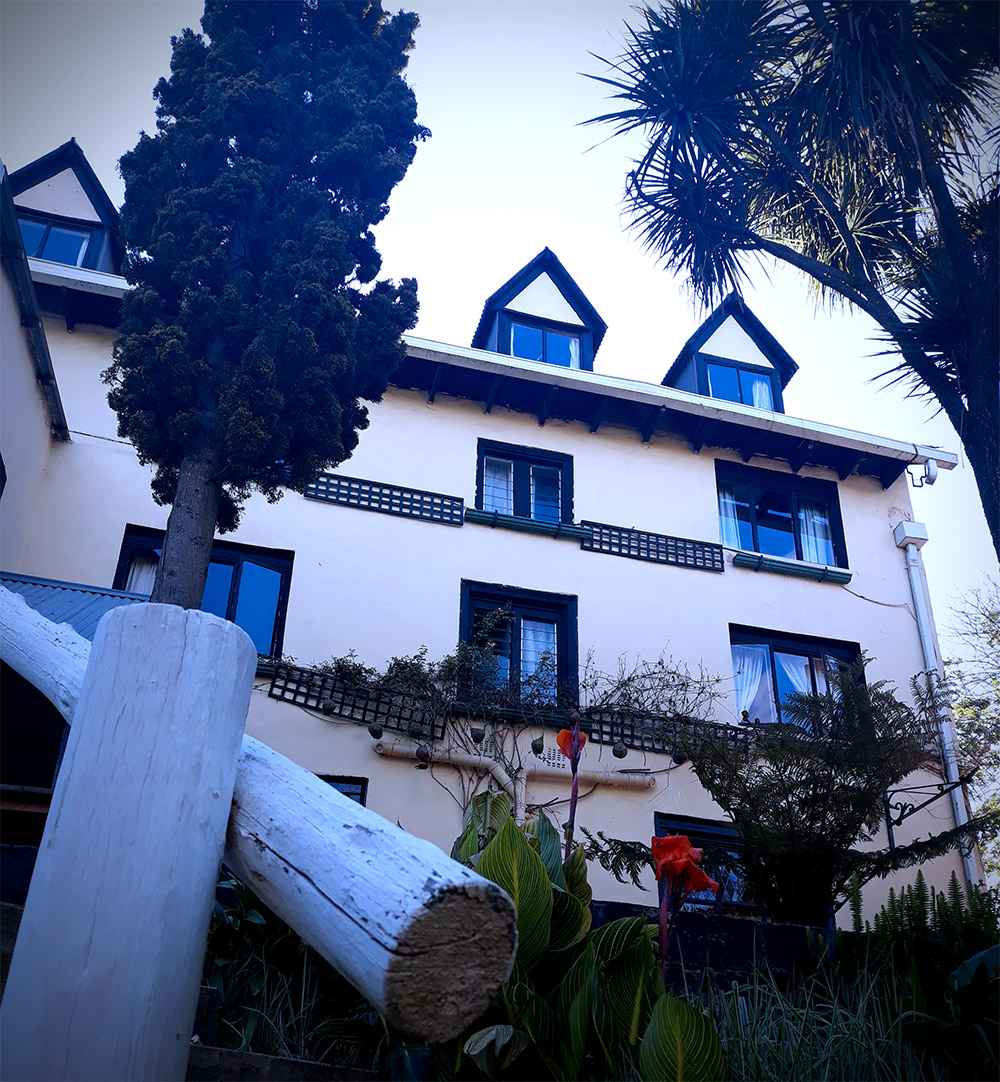 Purring along on the back roads at 3000 rpm, I'm seeing about 135km/h on the speedo. The torque of this big motor makes travelling at these speeds effortless! Her stability gets tested in some windy conditions, but there seems to be very little that upsets her handling – which is a welcome reassurance.
People buy and ride motorcycles for a number of reasons, this motorcycle was designed and formed to awake the deeper virtues of appreciation and inner peace – she's a mobile work of art!  But can art be functional? The answer is yes, and here's why – well, because of the way this graceful lady rolls into a corner, because of the way the engine purrs effortlessly on the freeway, and because of her awesome stability.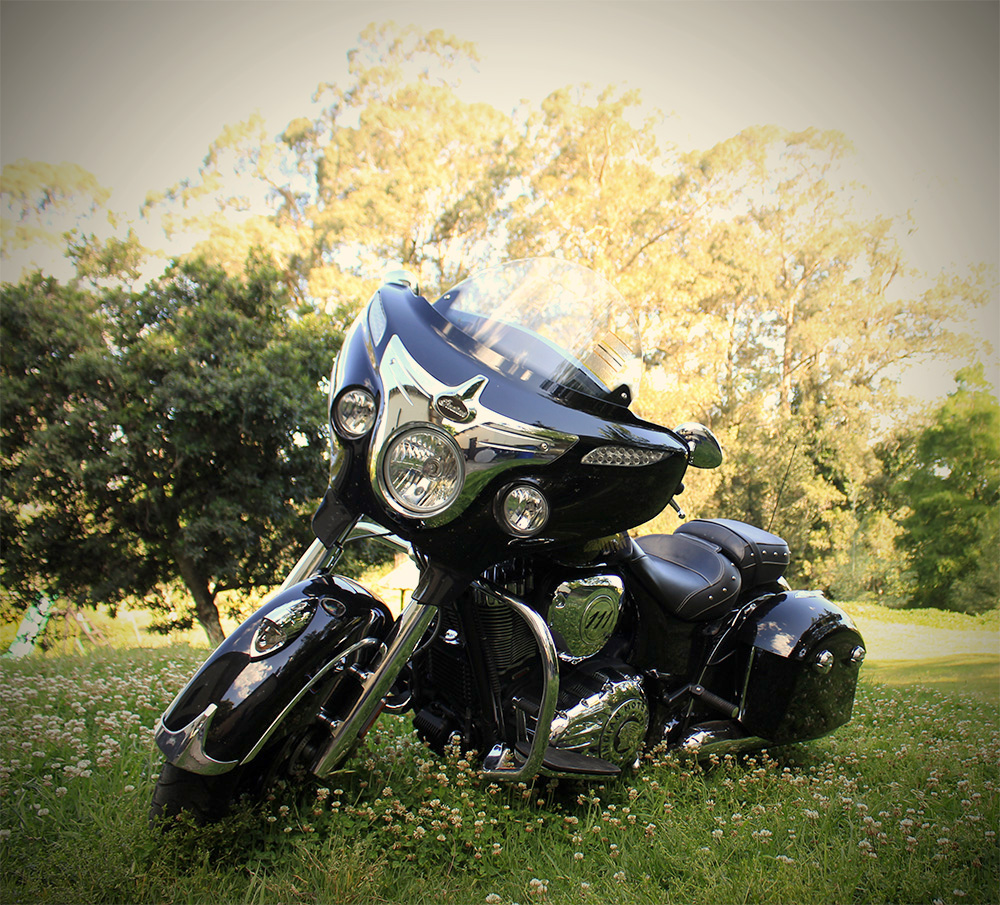 The last part of my journey brings me back to the life and sounds of the big city, my mind awakens to all the activity around me. In the midst of this, there is the gift of yet another quiet moment, this gives me just time enough to contemplate once more why we ride. In my arsenal of ten ideal motorcycles, there just may be a new addition, it could very well be an 'Indian Chief' guarding over the rest of my collection…… only time will tell.