The birth of Harley-Davidson's new Softail platform meant the death of the beloved Dyna. But the Motor Co. wasn't about to ditch some of their most popular motorcycles—so they absorbed the best Dyna models into the new range.
That brought the new Softail line up to eight models; then nine, when H-D released the new Sport Glide. Can nine bikes sharing the same chassis and motor retain some individualism, or does each one just feel like a rehash of the same theme?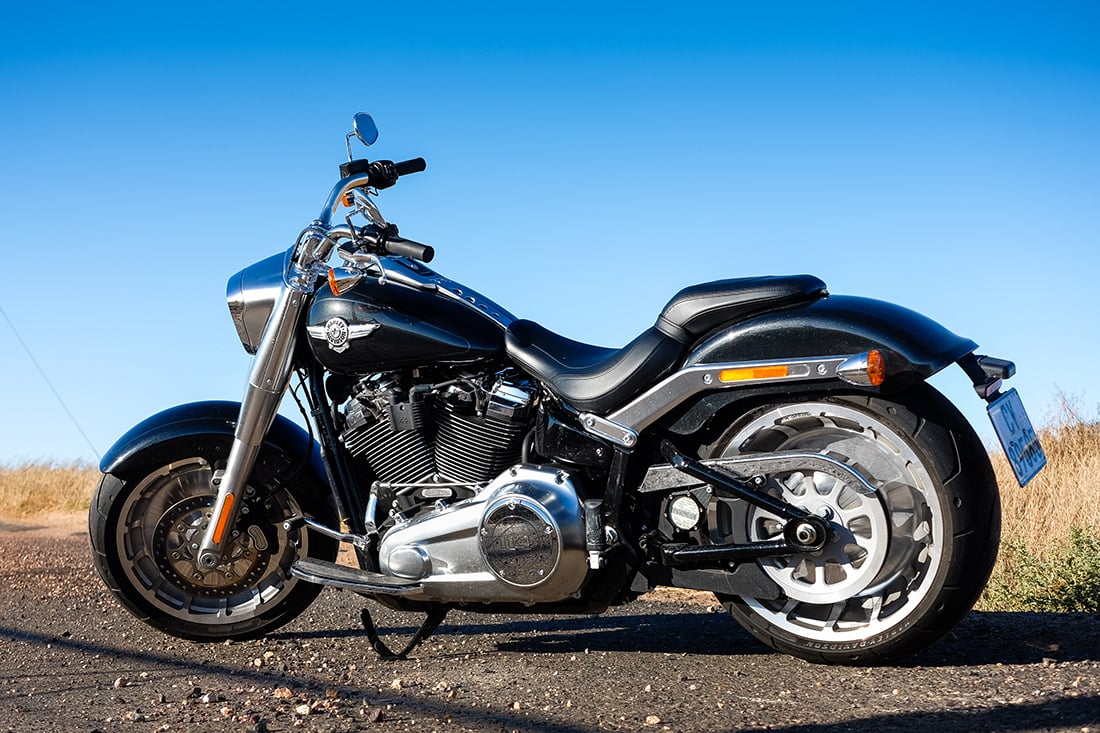 To find out, I've been working my way through the range. At the European Softail launch, I squeezed in saddle time on the Fat Bob, Street Bob, Breakout and Heritage Classic. Back on home soil, I grabbed the keys to this guy—the 2018 Harley-Davidson Softail Fat Boy.
Full disclosure: I really like Harleys, mostly because of their torque-y, vibe-y v-twin power plant. But I lean towards Harleys that are blacked-out and edgy—and far away from chromed-out cruisers with that traditional American cruiser silhouette.
The Fat Boy is one of the latter, with a look that's so iconic, that when I brought it home my 8-year-old son immediately asked, "is that a Harley-Davidson?" While that would normally turn me off, I actually really liked the Fat Boy's vibe.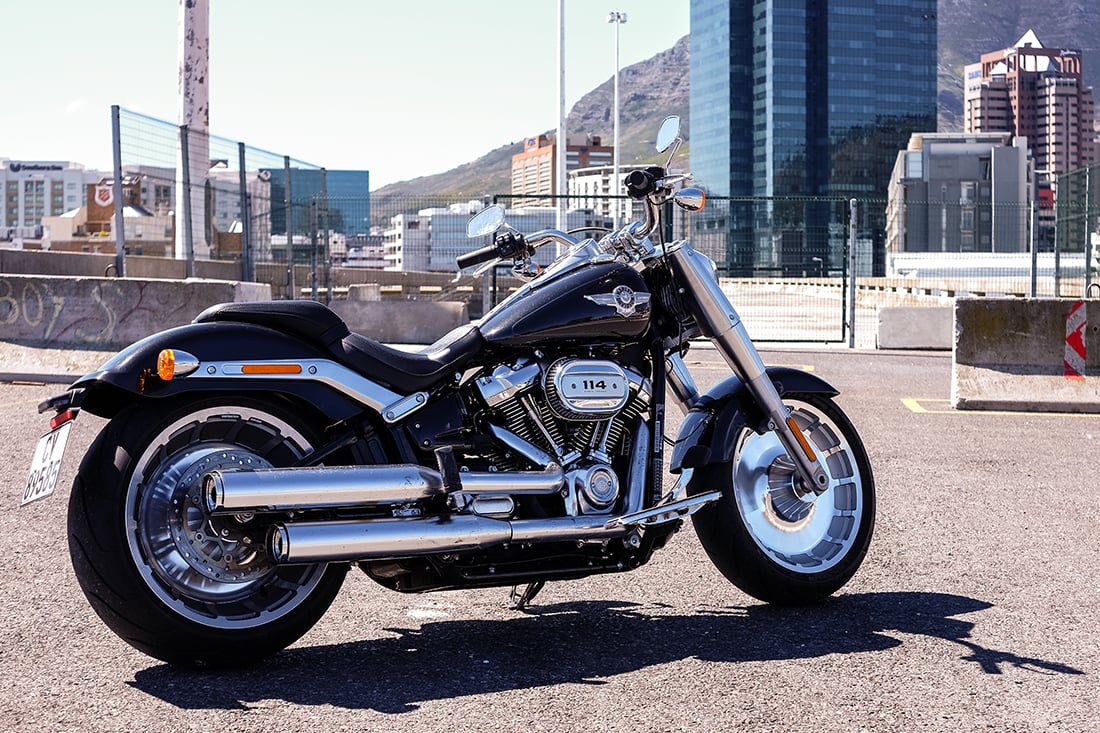 That's because Harley have put a new-school spin on an old-school look. Yes, there's a fair helping of chrome, but a lot of it is 'satin chrome'—a brushed finish that's gorgeous to both the eye and the touch. That's complemented by an assortment of polished metal, and yes, some blacked-out, parts.
A couple of design features hog the spotlight—like that retro-futuristic front end. Up top, a squared-off nacelle wraps around the fully LED-equipped headlight, with a set of fork covers keeping things burly lower down. Both the nacelle and the light itself are absolutely gorgeous, giving the Fat Boy a progressive look while still feeling classic.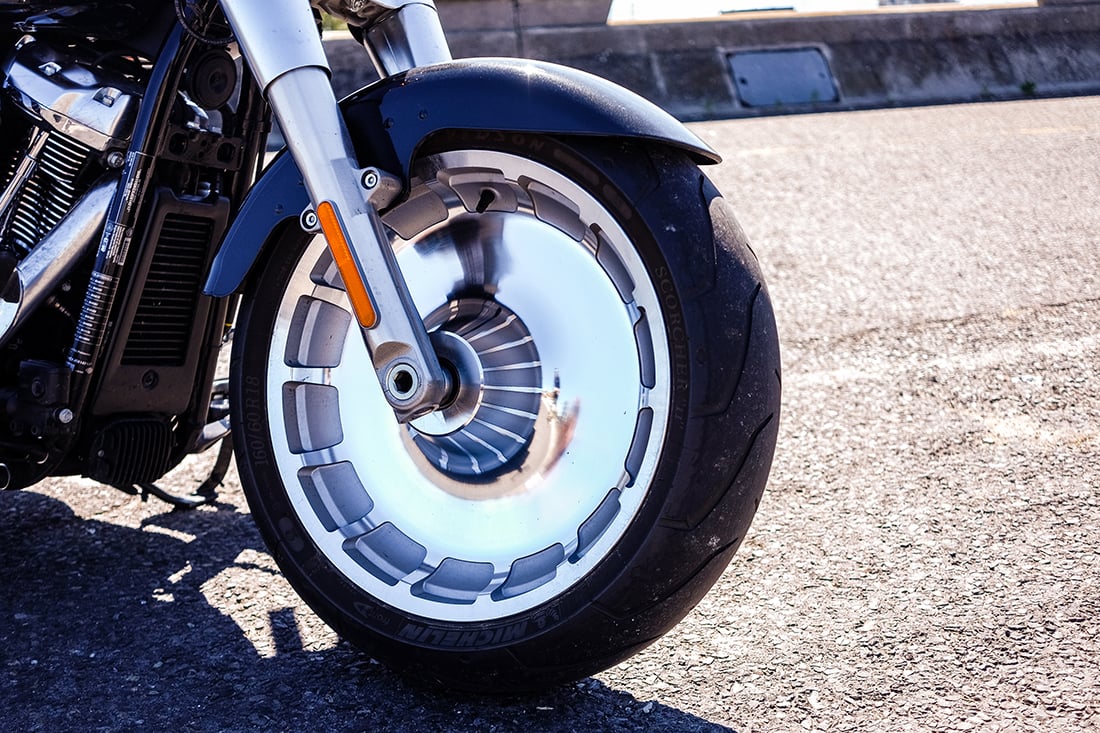 The other big visual hit comes from those gigantic, machined aluminium 'Lakester' wheels. The wheels measure 18", with a 240 out back and a whopping 160 up front—the largest front wheel Harley's ever put on a stock bike. Harley calls it a 'steamroller stance,' and there's no denying that the Fat Boy has serious presence. Even the broad fenders look great—especially out back where the rear light is integrated into the indicators, leaving the tail smooth.
But there's a down side to the Fat Boy's steamroller design: it doesn't love corners. Sure, no-one really buys a cruiser to carve canyons. But even within the Softail range there are bikes that are actually fun to corner on—like the Fat Bob and Street Bob. They're a testament to how hard Harley-Davidson worked on the new platform. The new chassis is lighter and stiffer than both the Softail and Dyna models it replaces, and on most new Softails that translates to a livelier ride.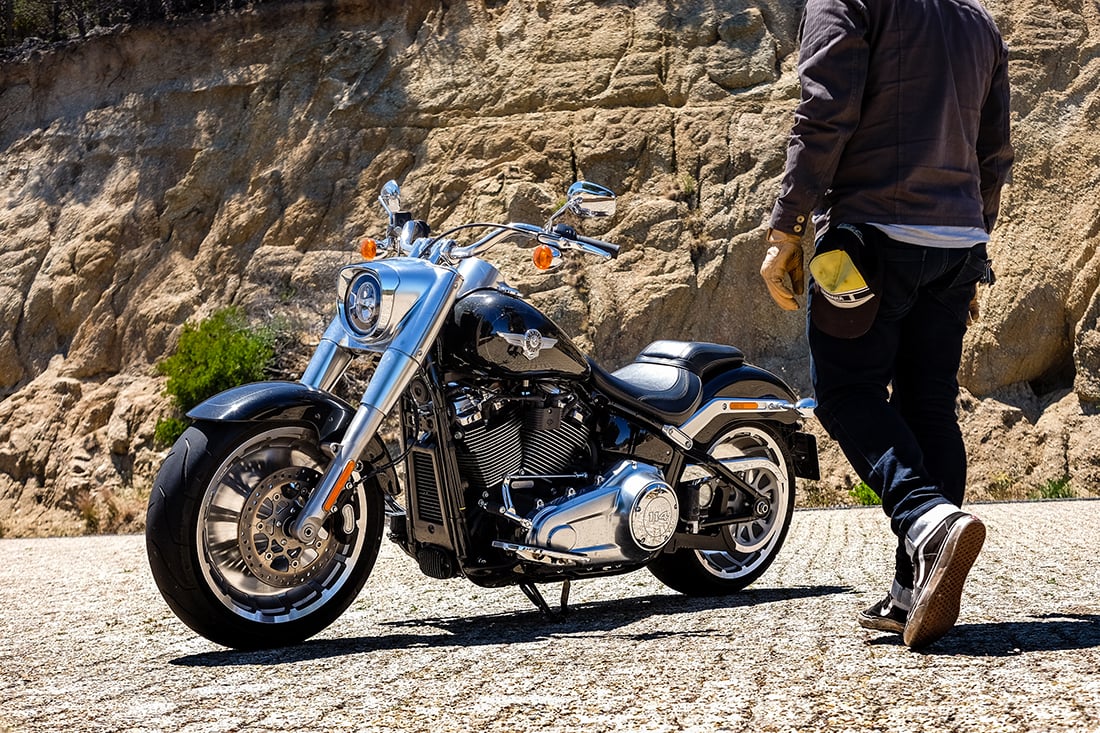 But on the Fat Boy, that improved handling is held back by those steamroller wheels. It's not that it won't turn, it's just that it needs a little encouragement (and a lot of body English) to do so at any sort of pace. And at 304kg dry, it's also one of the heaviest of the new models, making slower manoeuvres just as much of a chore.
The suspension and brakes perform admirably, but a second brake disc up front wouldn't go amiss. I'm assuming Harley excluded it to show off the design of the wheel, but the front end has a tendency to twitch under braking—which is unnerving if you're grabbing a handful. I'm no engineer, but I'm sure a second disc would help spread the load and balance things out.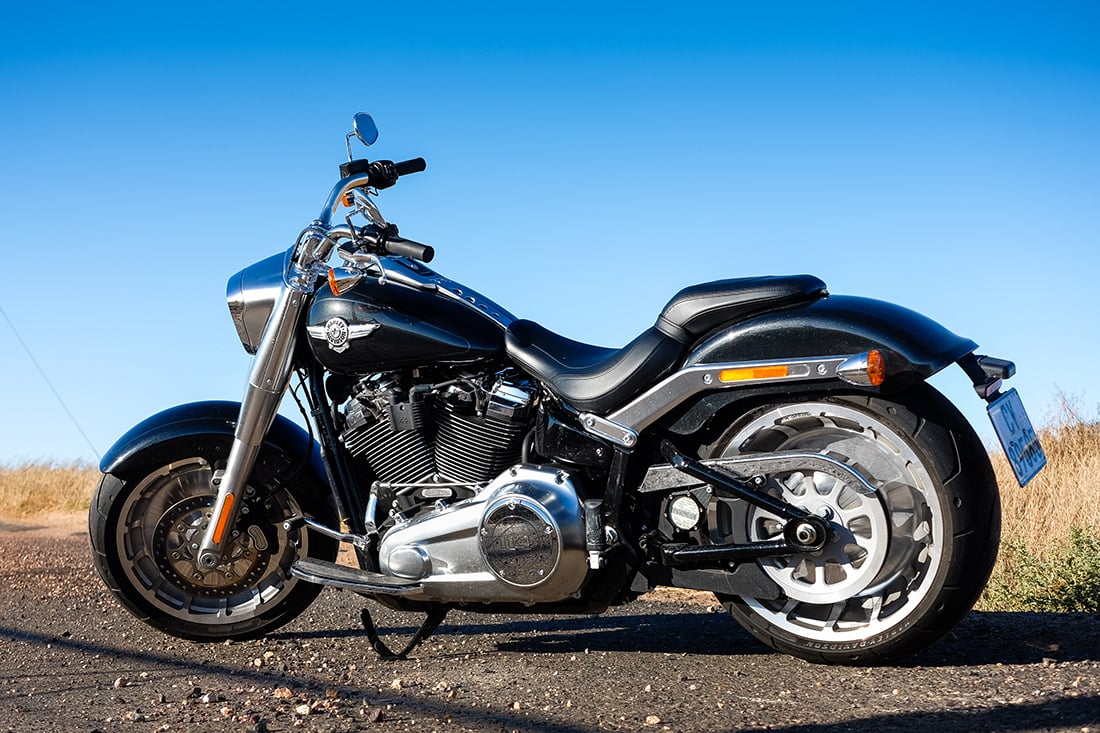 Those gripes aside, the Fat Boy does do one thing extremely well: cruise. The seat is wide, plush and deep, so you sink into the bike as you hop on. The bars rise up and back to meet you, and the forward-mounted floorboards put your legs in just the right spot for relaxed, all-day riding. There's no wind protection though, since a windshield would kill the Fat Boy's vibe. So at high speeds that comfy rider position works against you—catching your body like a parachute and trying to lift you off the bike.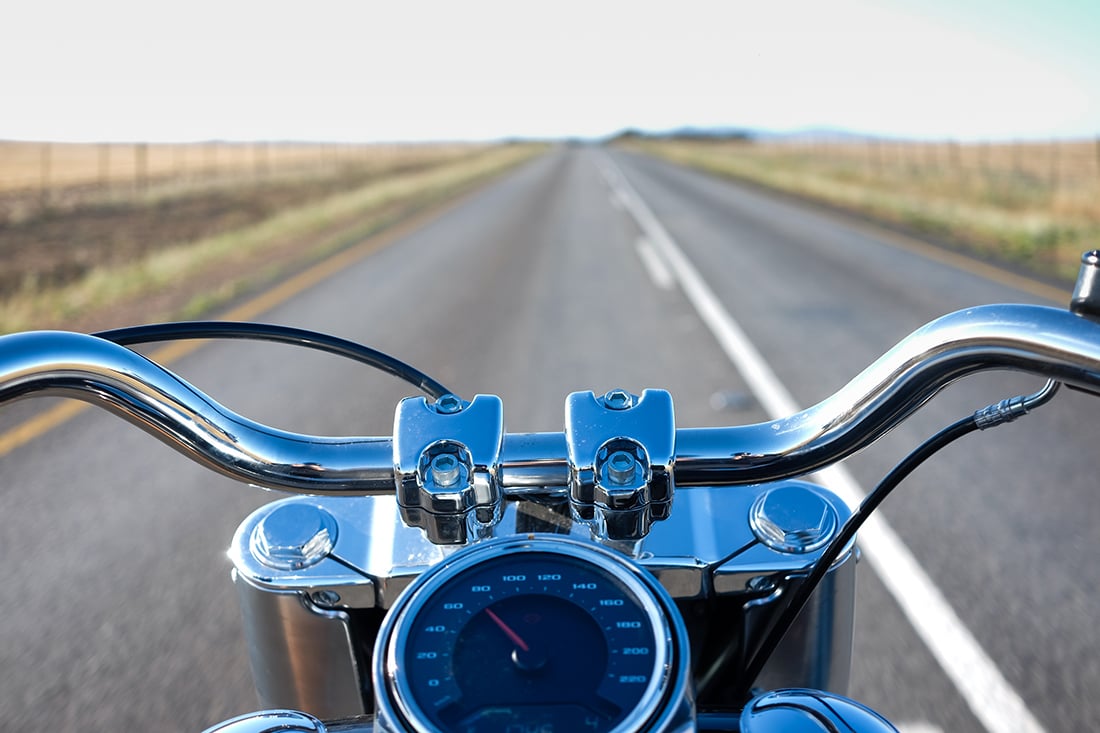 The cockpit is refreshingly neat, with all of the wiring—and the new Softail ride-by-wire throttle—hidden inside the bars. You'll find the speedo down on the tank, and while I'm not usually a fan of looking down for info, I can't imagine it any way. It's also a really well-designed unit, combining an analogue speed readout with a digital display that includes fuel level, gear position and all the regular info. Nice details abound—like the drilled tank 'strap' and the chunky bar clamps.
The Fat Boy isn't short on grunt either. Like all the other new Softails, it's powered by Harley-Davidson's Milwaukee Eight motor. I've sampled the Milwaukee Eight in various models and really dig it. I love how it looks, for starters, but I also like how punchy it is. With dual counter balancers under the hood it runs surprisingly smooth, but there's still enough vibration in the mix to remind you what you're riding. A little more bark from the shotgun exhausts would be nice, but then you wouldn't have any reason to buy those Screamin' Eagle cans, right?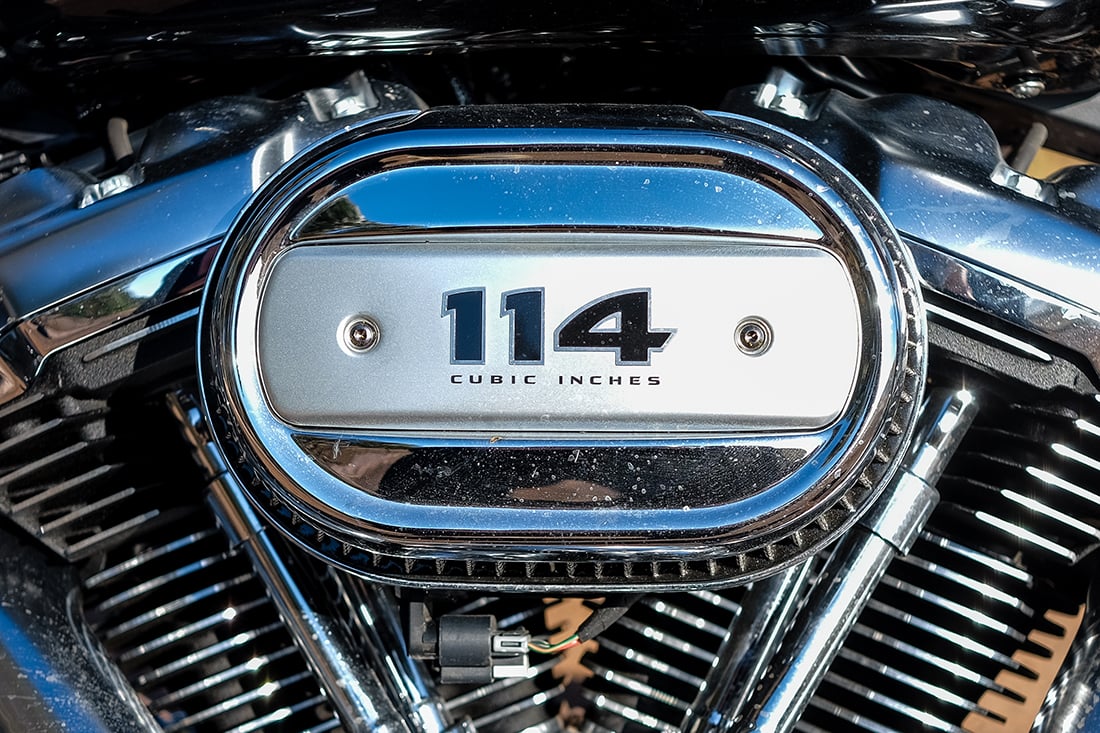 You can get the Fat Boy in either a 107 (1 745cc) or a 114 (1 868cc). My test unit was a 114, and pulled like a freight train with 155Nm of torque on hand. Kudos to H-D for improving the rest of the performance package too; like the fuelling, which is much smoother than before. The new torque-assist clutch is a treat, and won't leave you with a tired left hand. Each gear still responds with a solid click as you move through the box, but I can't fault the feel (and I can actually find neutral, unlike on previous models).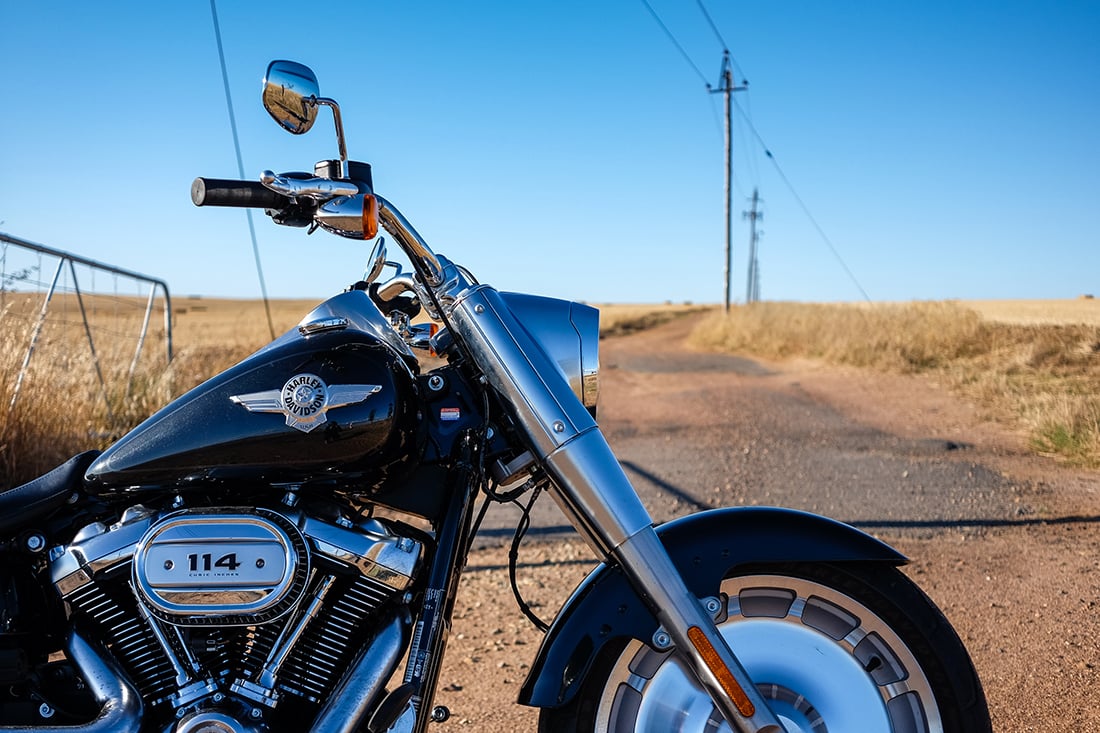 Harley-Davidson's design philosophy is "form follows function, but both report to emotion." On the Fat Boy, that emotion refers to the classic Harley aesthetic that it evokes. I lost track of how many thumbs up, approving nods and 'nice bikes' I got during my time with it.
So while it wouldn't be my first pick, I can see it the Fat Boy hitting the sweet spot for many riders. Which just proves how versatile the new Softail platform really is.
Images by Wesley Reyneke