On the edge of Woodstock, just before you cross over into Cape Town's CBD, lies Barron Street. On the cusp of full-blown gentrification—but not quite all the way there yet—it's home to such diverse businesses as a print shop, a bus depot and a swanky pet day-care. It's also where you'll find Cape Town's first community DIY motorcycle workshop: the Woodstock Moto Co.
Woodstock Moto Co. founder Devin Paisley has a simple mantra: 'Motorcycles for Everyone.' He's set the WMC up as an inclusive space where riders and non-riders can congregate around the love of motorcycles. Day-to-day, the WMC is a place to wrench on your own machine (with help from others), grab a coffee and a toastie, and make new friends.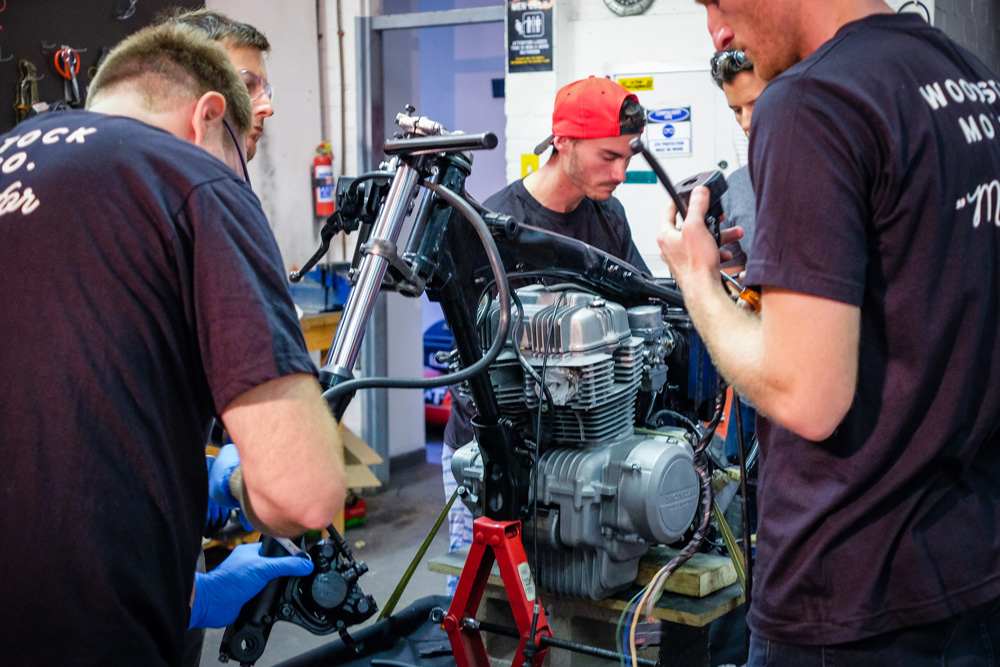 But for one afternoon in early December, their activities spill out of their front door, as half of Barron Street is shut down for the annual Garage Built Show. A massive moto-themed street party—the only one of its kind in Cape Town—the Garage Built Show is an amplification of what the WMC is all about.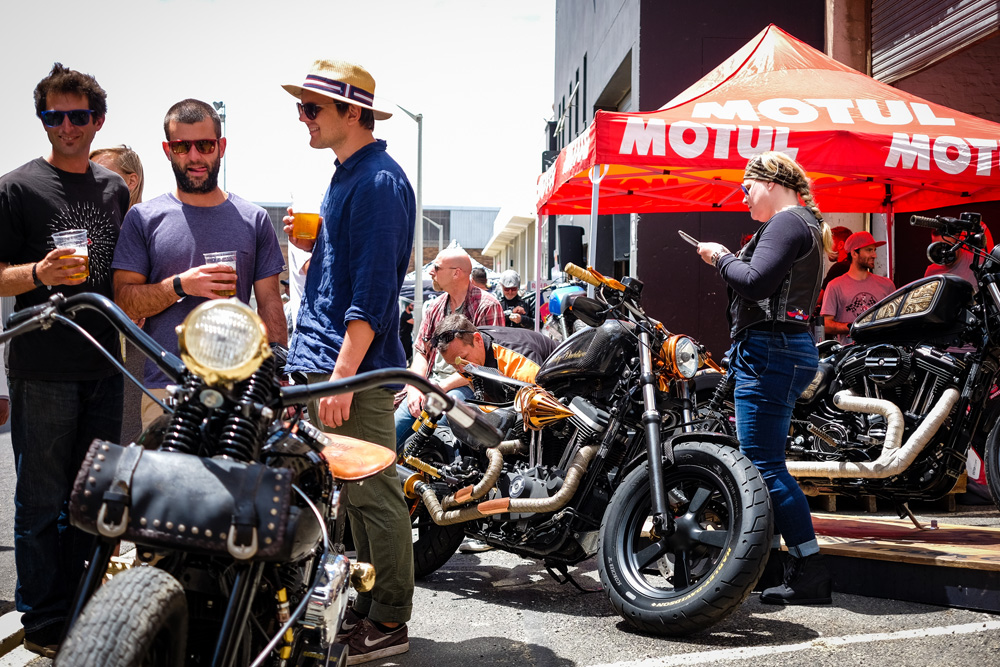 I get roped in each year to curate the custom bike exhibition—one of the core features of the show. So I get a unique look at what goes on behind the scenes too. In the days leading up to the event, the WMC crew is tasked with pulling off a small miracle; transforming their warehouse-style workshop into a festival-friendly space.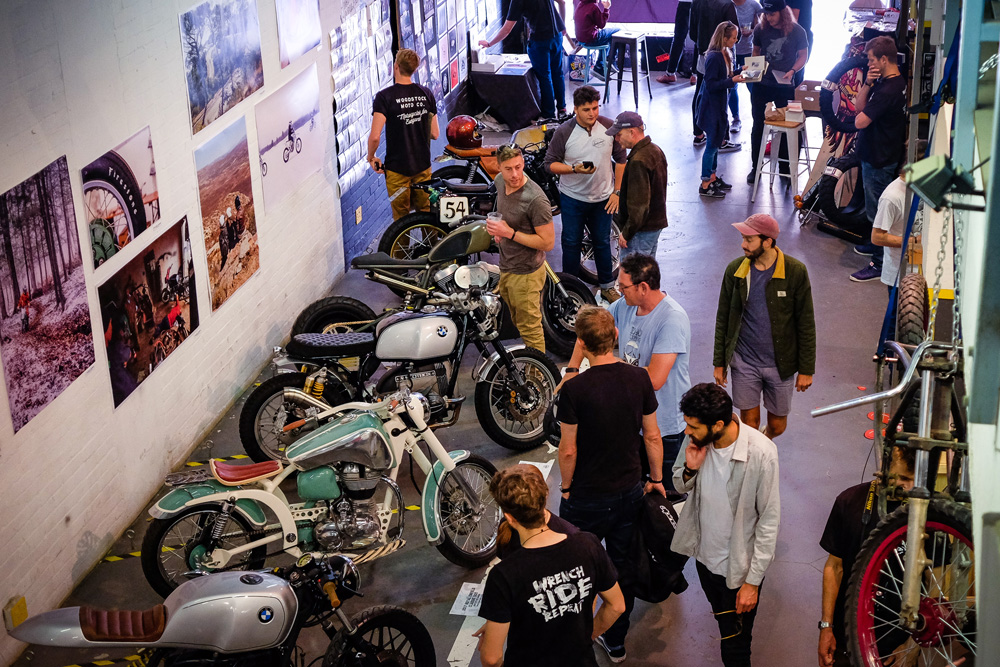 This year—the show's fourth—eleven unique custom motorcycles dominated the WMC's main floor. There were bikes from pro and garage builders, spanning multiple styles, marques and ages. Highlights included a brand new Royal Enfield with heaps of hand-shaped bodywork, a burly Harley-Davidson Sportster, and an 80s-model Suzuki GS450 that was built entirely at the WMC by one of its members.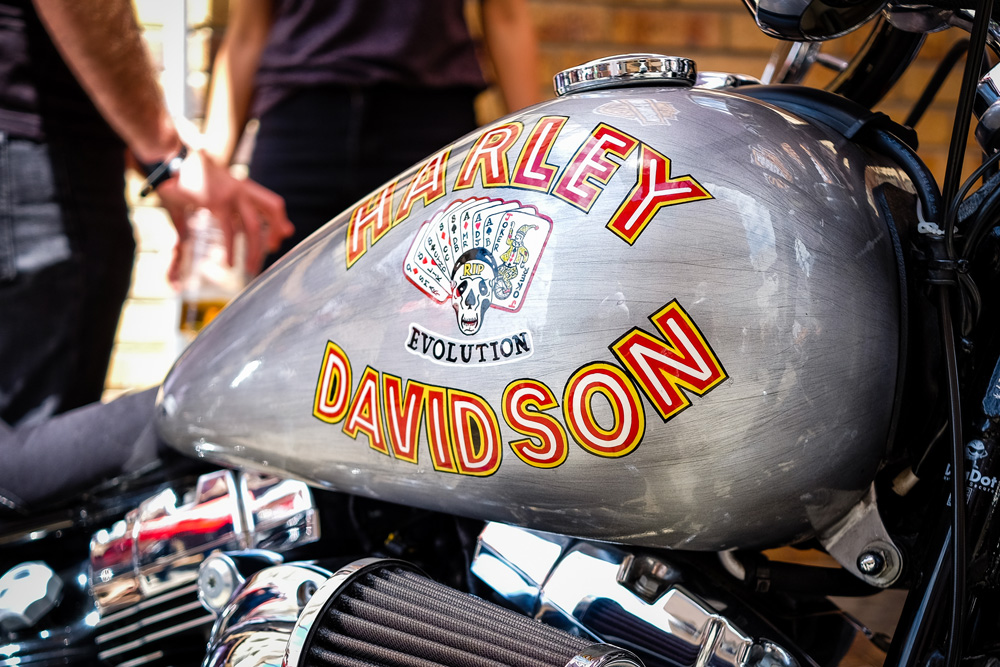 Alongside the bikes, photography and illustrations from multiple photographers and artists lined the wall. WMC resident Greasers Garage and Cape Bike Tyre were on hand to show off their wares to the public, with the latter hosting a tyre changing contest. And in one corner, WMC members completed a live custom bike build in front of scores of curious eyes.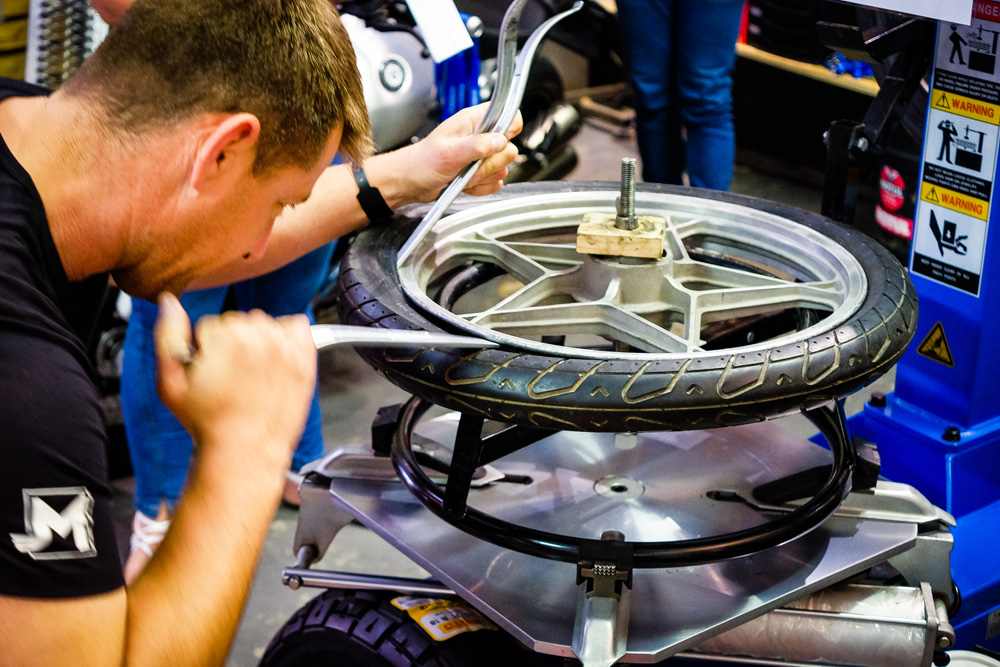 Outside, headline show sponsor Motul had their full range of products on display. They also ran demos throughout the day, treating a Honda CX500 café racer to various cleans and polishes. Fellow sponsors Harley-Davidson Cape Town brought down some of their latest models, and hosted a special custom Harley parking area. Also on hand were Deus Africa, Journeymen and local bicycle company Rook Cycles, who held a track stand contest throughout the day.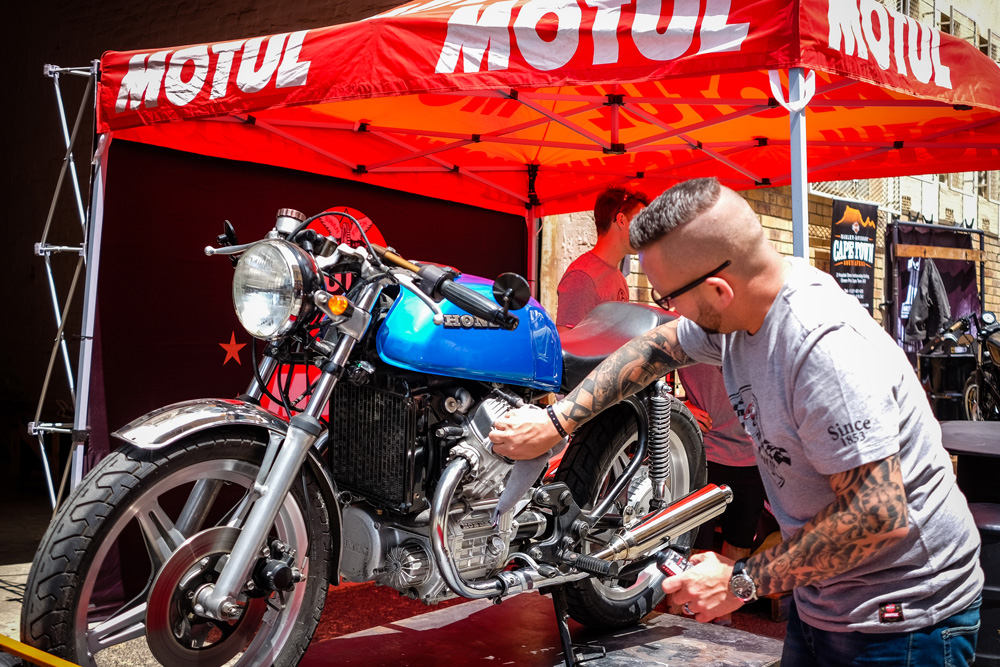 Visitors were fed tasty pork neck and chicken burgers by Tailgate Foods, and hot dogs from Baguette Sandwiches. Tribe Coffee handled caffeine-related refreshments, Red Bull ran a fully licensed bar, and Striped Horse kept the liquid gold flowing.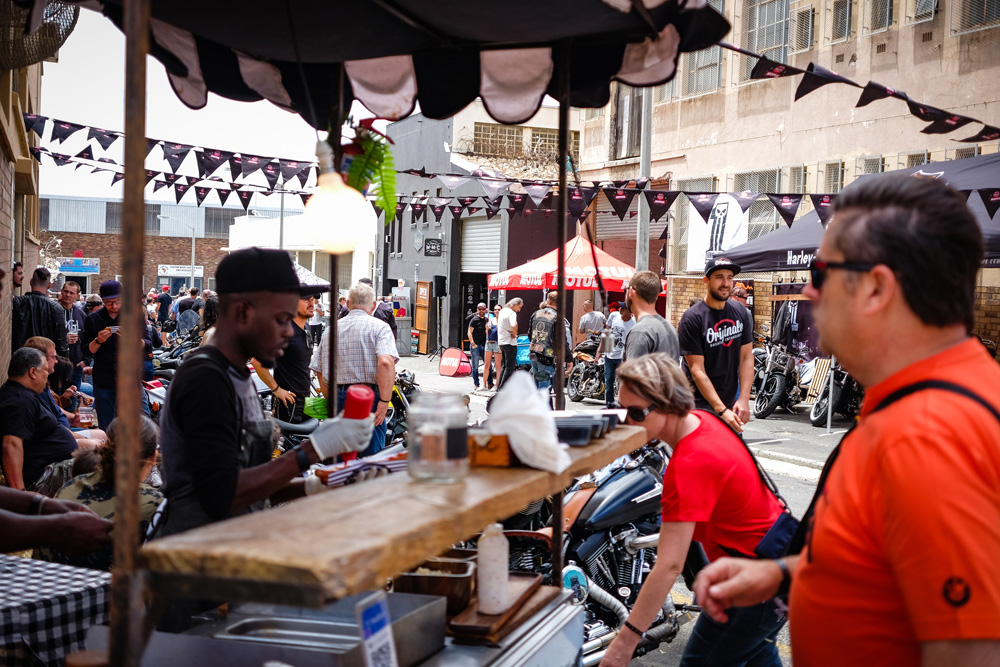 Local vinyl ninjas Roastin' Records kept heads bobbing all day long with their eclectic choice in tunes—ranging from blues and classic rock, to hip-hop.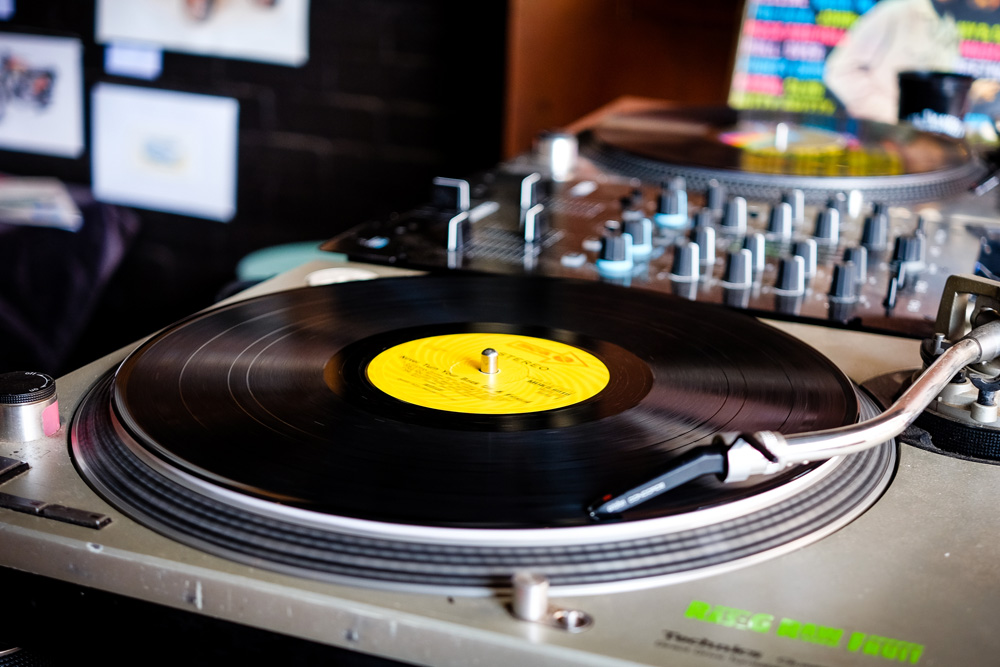 While the main custom display was happening inside the WMC's building, the street outside showed equal creativity with designated parking for anyone arriving on a custom motorcycle. Eyes shifted and necks bent as bikes rolled in one-by-one, filtering their way through the crowd.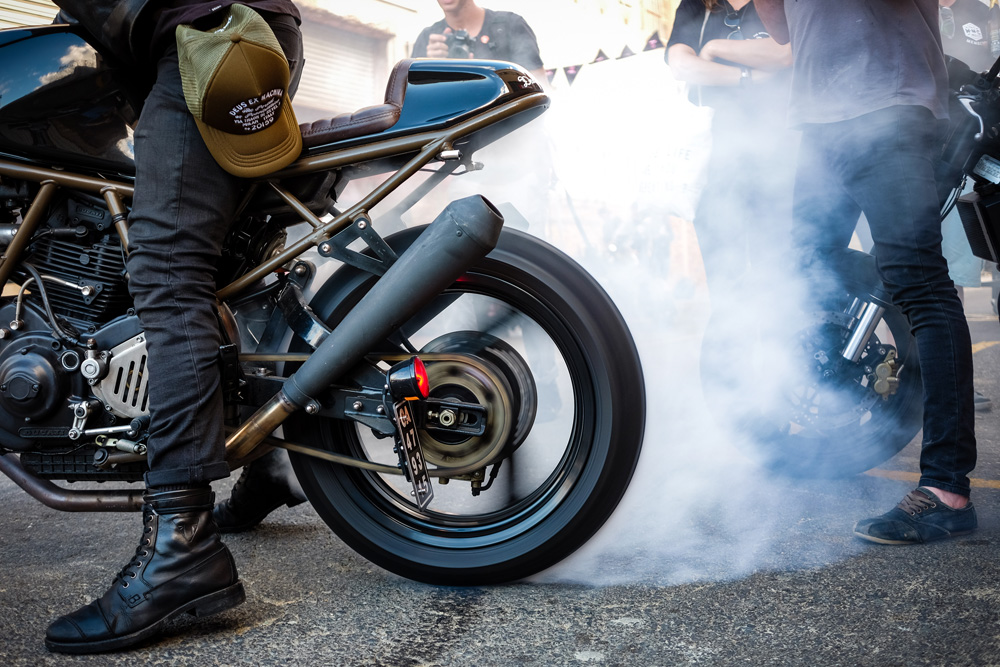 Judging at the Garage Built Show is a casual affair each year, with a panel of judges each picking their favourite motorcycle, and the people picking a 'People's Choice' winner for the day. Motul picked Stoos Customs' off-the-wall Harley-Davidson Sportster as their winner, while I (Rather be Riding) opted for Johnston Moto's awe-inspiring Paris-Dakar style BMW R80G/S. Greasers Garage gave Barry Ashmole (The Garage) the nod for his Enfield, finished mere hours before the show. Ian Ketterer at BlackSilver Customs bagged an honourable mention, for his 81 BMW R100RT.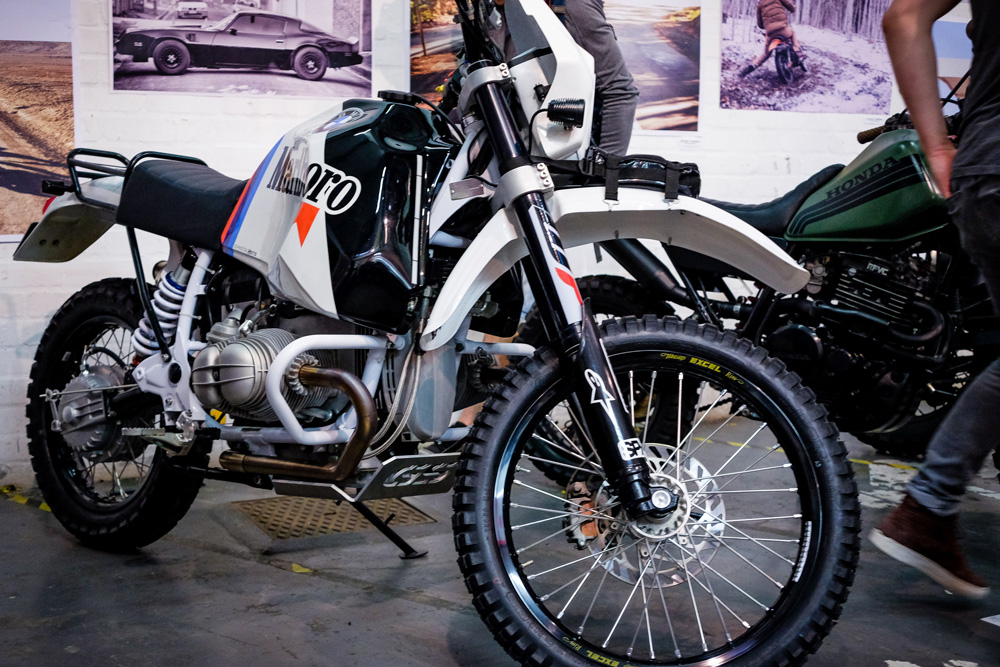 Outside, Harley-Davidson picked their favourite bike from their own parking lot—a beautifully maintained 1942 Flathead. Devin was tasked with choosing his favourite custom bike from the parking lot as the official Woodstock Moto Co. pick, and settled on a slick Honda CB café racer that nearly didn't make it there on the day. As for the people, they voted via Facebook, crowing Leo van Staden the winner with his classy 1975 Honda CB400F Supersport café racer.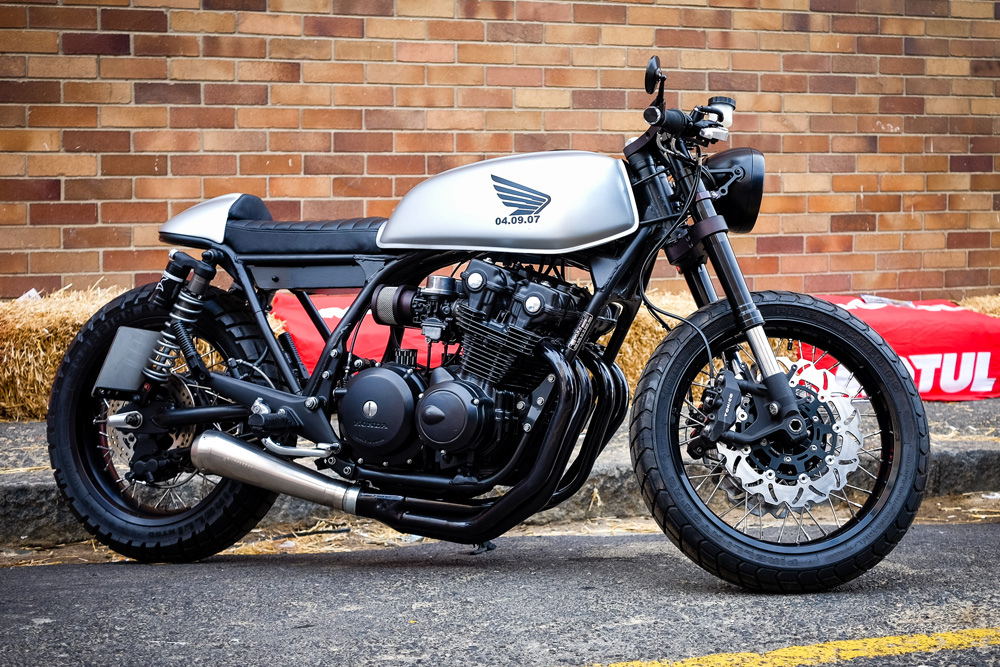 Leo walked away with a brand new Bell Helmet for his efforts. The full pool of prizes for winners included goodies from Motul, Harley-Davidson, WMC, Timber City, Deus and Dirasi. But for the winners, it was less about the prizes, and more about the kudos for the hard graft they'd put in.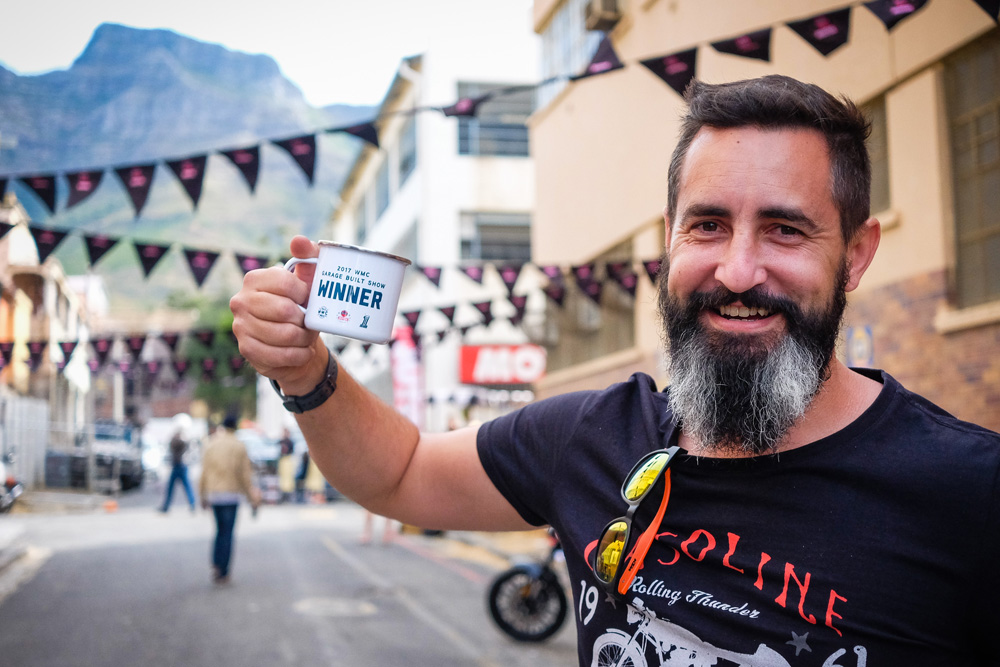 And they weren't the only ones smiling. Just about everyone wandering around the show looked like they were having a good time—whether they came there by motorcycle or not. That easy-going, inclusive vibe is what makes the Garage Built Show an excellent way to spend a Saturday afternoon.
For more information about Woodstock Moto Co. visit: www.woodstockmoto.co