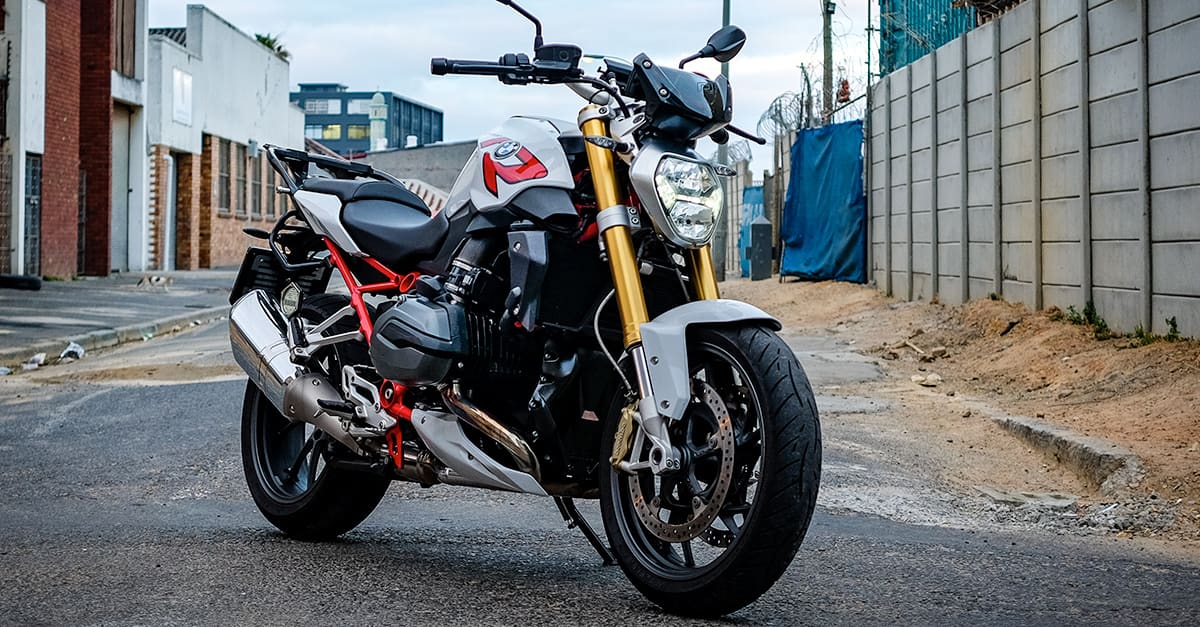 Any conversation about modern BMW boxers is going to be dominated by the R 1200 GS. It makes sense: the GS is BMW's best selling model, especially in the primo dual-sport market that is South Africa.
But there are a couple of boxers hiding in the shadows of the mighty GS that also deserve the spotlight, like the mind-numbingly good BMW R 1200 R.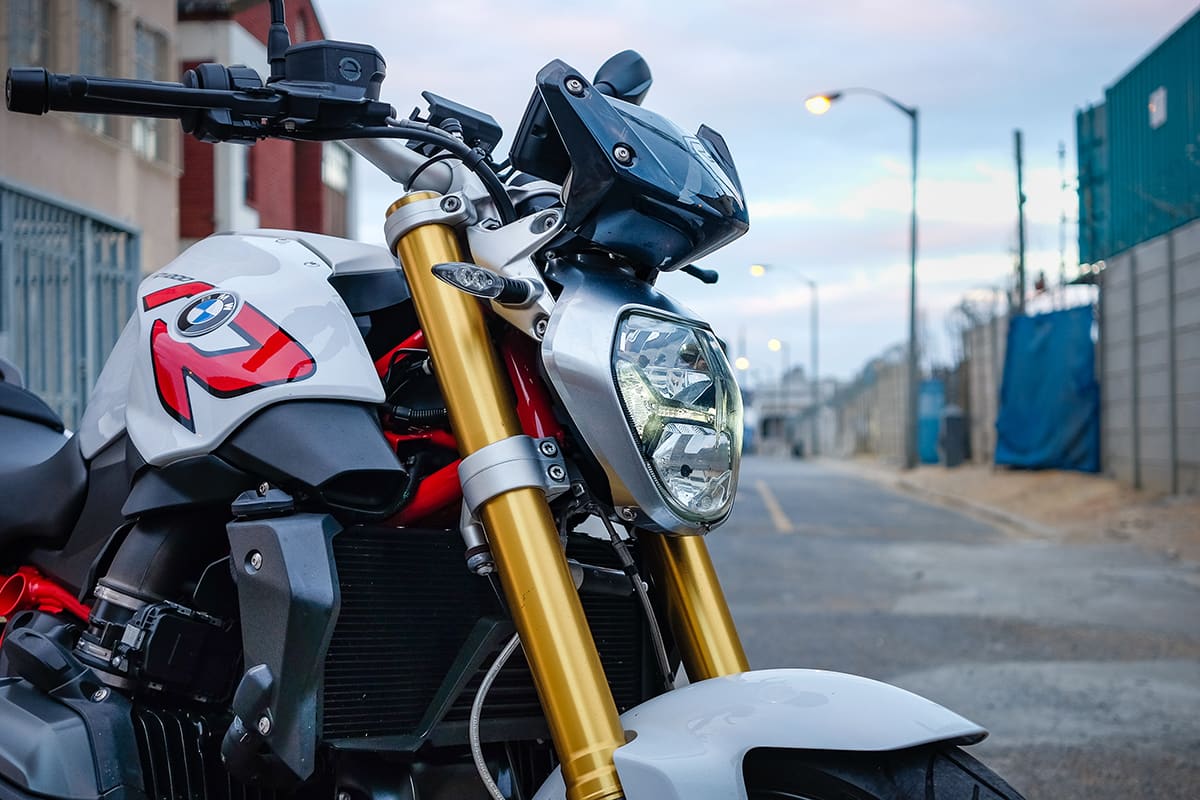 Don't get me wrong – I love the GS. It's powerful, comfortable all day and can take to the dirt when it needs to. But if that last criteria isn't a deal breaker for you, the R 1200 R is, in some ways, a better motorcycle.
It's powered by the same 1 170cc, liquid-cooled flat twin, good for 125 hp at 7 750 rpm and 125 Nm of torque at 6 500 rpm. You also get a buttery smooth hydraulic clutch and six speed box, ride-by-wire throttle with four rider modes (Rain, Road, Dynamic and User), electronic suspension adjustment (ESA), traction control and switchable ABS.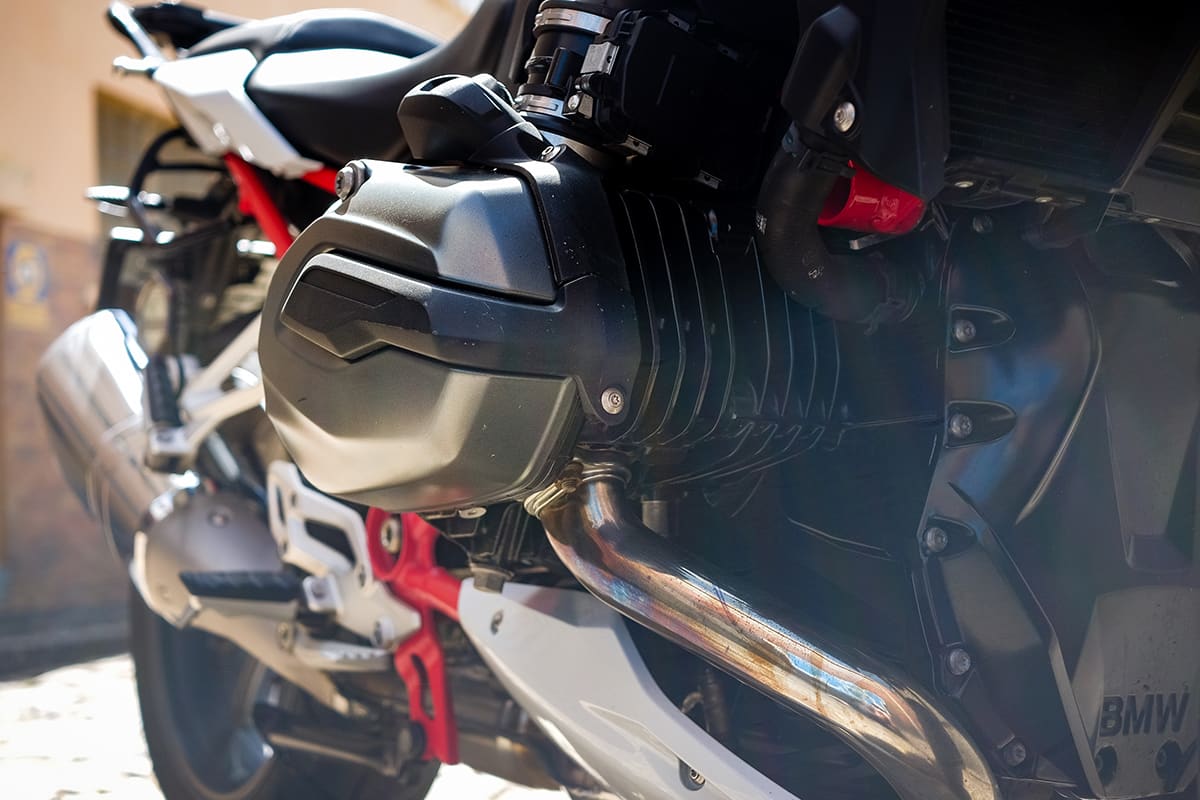 But unlike its dirtier big brother, the R is a pure roadster-and a damn fine looking one at that. The older air-and-oil cooled R 1200 R (and its predecessor, the R 1150 R) had an aesthetic that was more functional than emotive. But the new generation R is muscular and aggressive, sharing DNA with the jaw-dropping Roadster Concept that preceded its launch.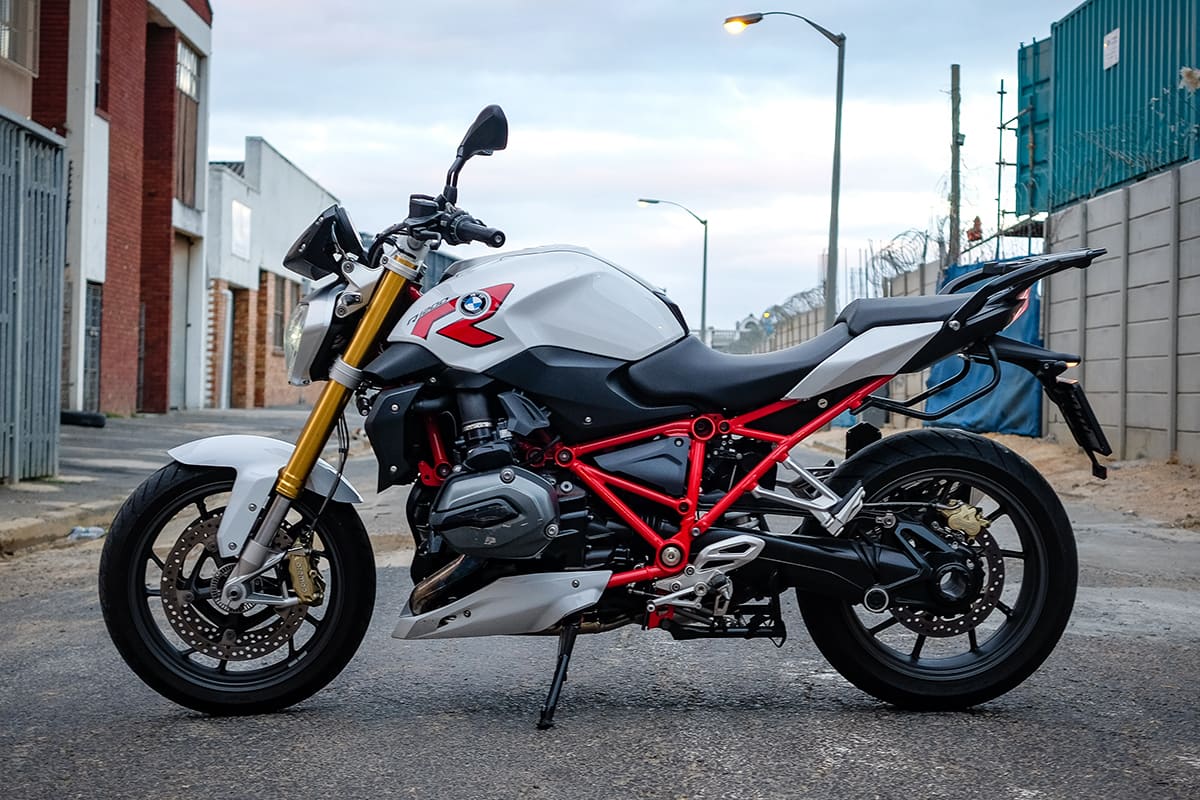 I'm riding a 2016 model in these shots, but not much has changed in the last couple of years other than graphics. And not much needs to either-the style, tech and performance in the R 1200 R are still very much contemporary. Details like the exposed tubular steel frame, razor-sharp tail section and belly pan, and the diamond-shaped headlight are all signs that the R came to party. The only bit I don't like is the exhaust; it's a chunky, chromed eyesore on a bike that deserves better.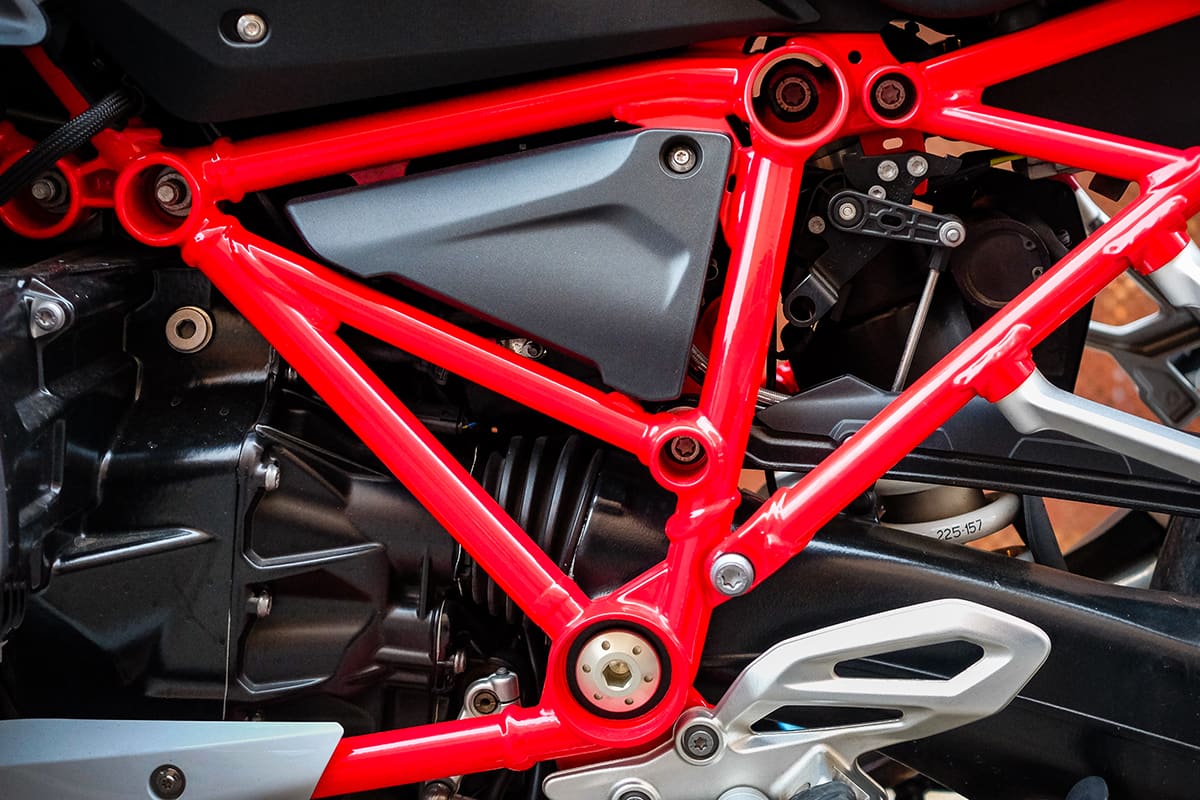 BMW did well with the roadster's ergonomics too. It's compact and low, with a manageable seat height and a narrow profile. The riser bars, seat and pegs are right where you want them for maximum control and comfort. The dash is big and clear, with an analogue speedo on the left and more digital info that I can list on the right.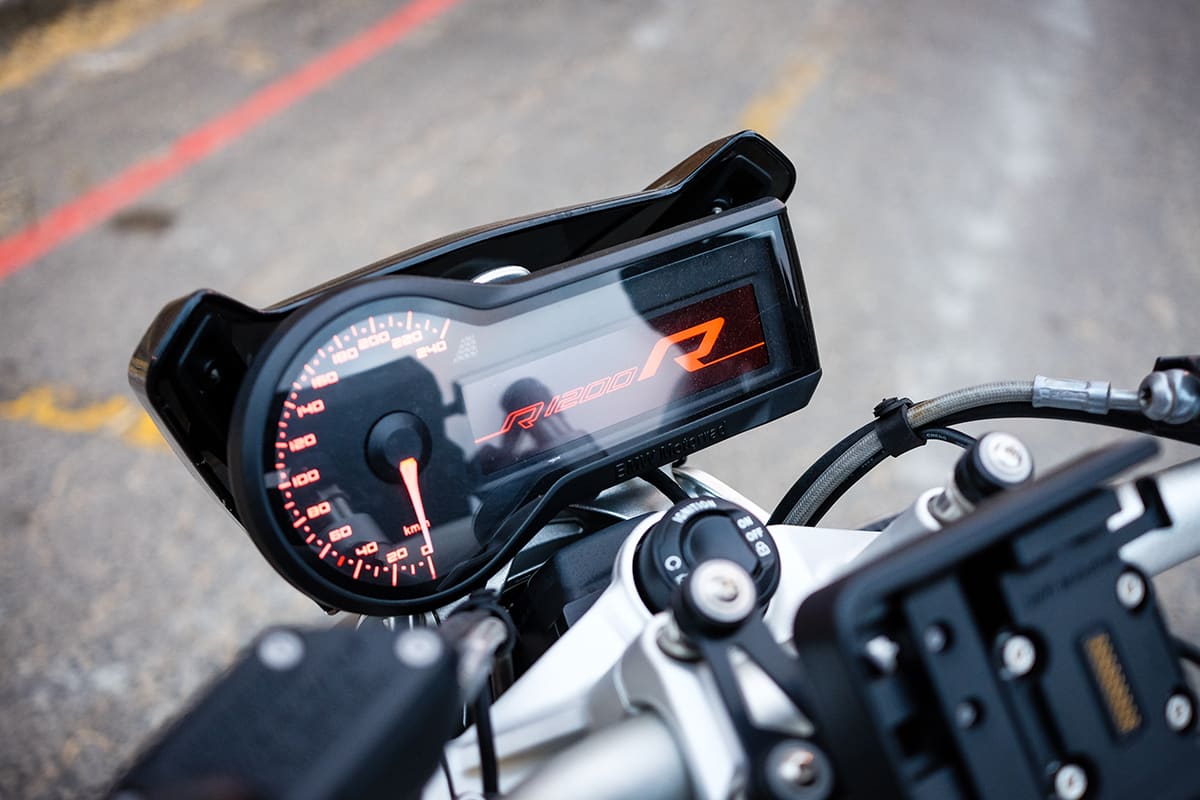 On the bars you'll find BMW's typical switch layout, which is easy enough to operate despite the bevy of functions available. (You even get a dial on the left side that allows you to control BMW's Navigator GPS, should you fit it.) What you want find is a keyed ignition-the BMW R 1200 R works with a keyless fob, and switches on via a chunky ignition button just in front of the bars.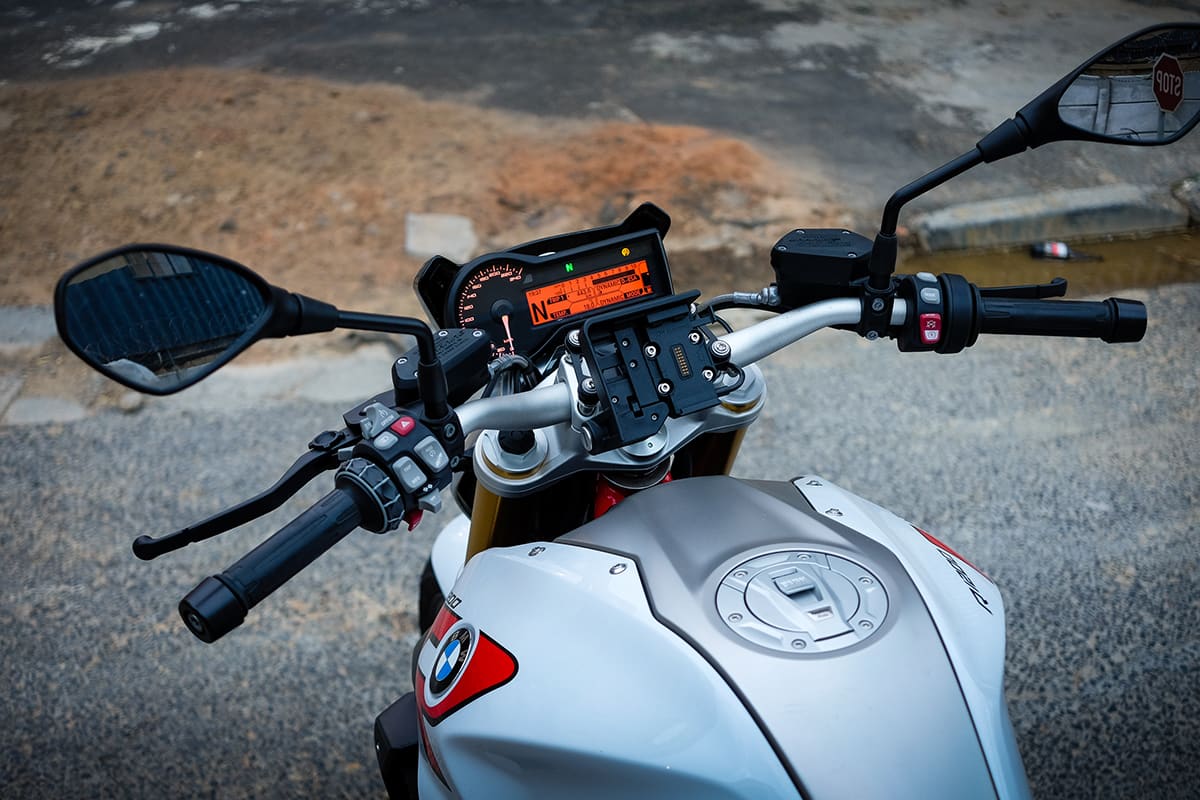 There's another big change up front: BMW have ditched their traditional Telever front suspension, equipping the R with a beefy set of 45mm upside-down forks instead. Power is still delivered by BMW's gorgeous Paralever single-sided swing arm. The R rolls on a pair of handsome alloy wheels (17×3.50 at the front and 17×5.50 at the back), with Brembo braking all round and twin 320mm discs up front.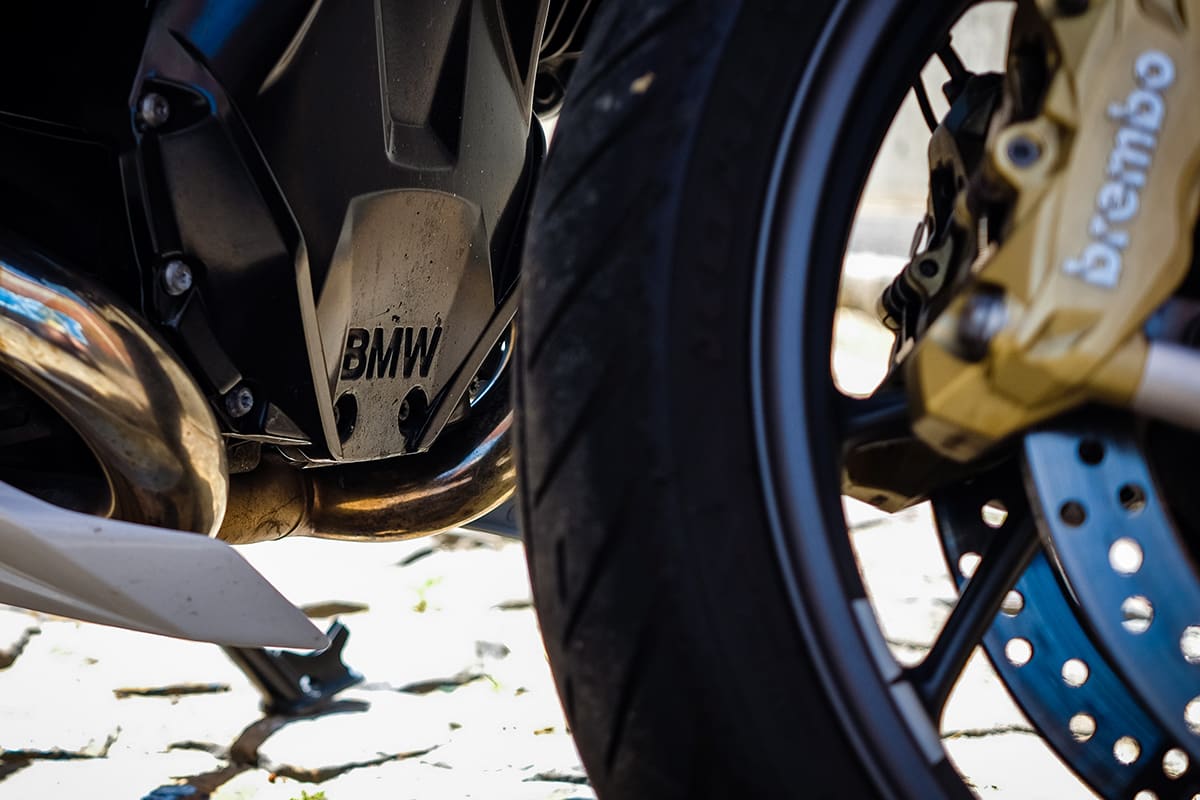 So does it ride as good as it looks? Oh yes-there's hardly a nit to pick with the R 1200 R's engine package. Just like every other 'LC' boxer in the line-up, the fuelling is smooth, the throttle is predictable, and flicking through gears is effortless. The R loves to be revved, and the sound and feeling of that big twin spooling up as you breeze through the rev range is half the fun of riding it.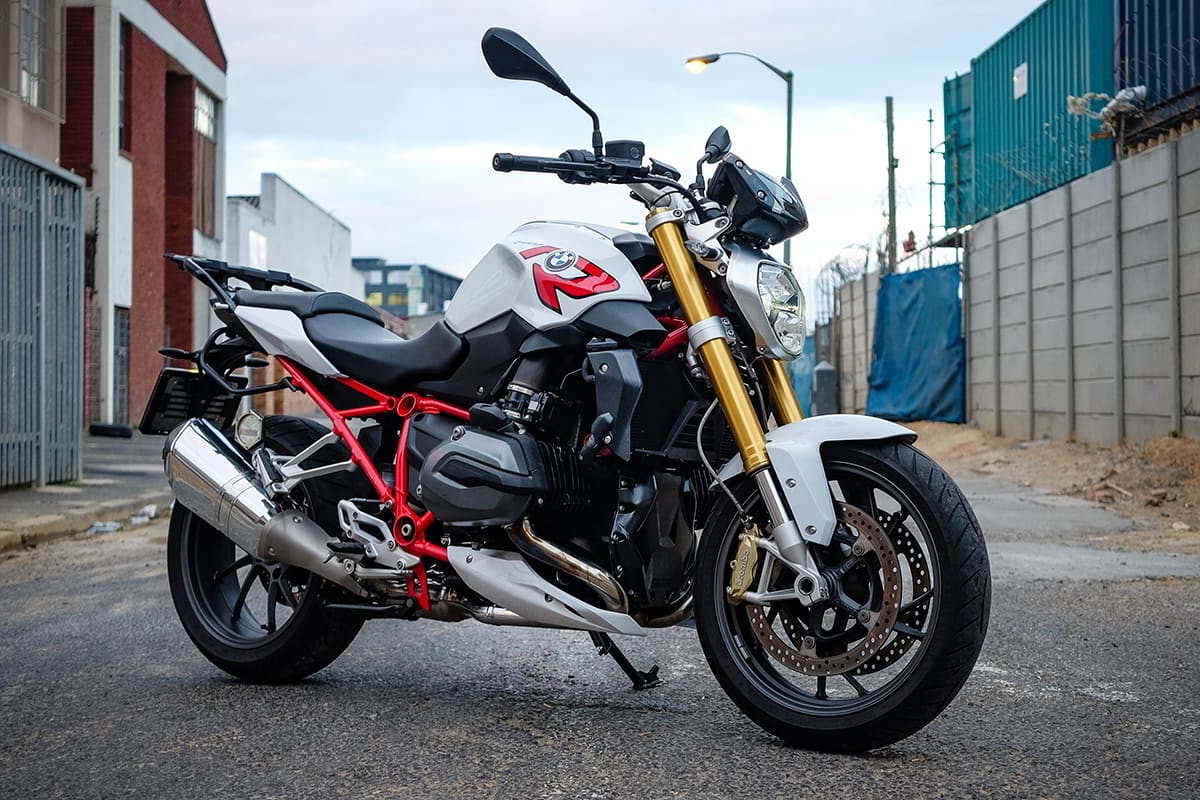 In the city the R is quick off the mark, and manageable enough to hustle from robot to robot, thanks to its light clutch. This is where the various electronic aids come in handy: I found myself with both the engine map and ESA in 'Road' mode while puttering around town or negotiating traffic. It put the 1200 into a better mannered mood, without killing off any of the motor's liveliness. Rain mode was a bit more passive, and though I didn't hit any actual rain I reckon it's a shoo-in for wet roads, or even for beginner riders.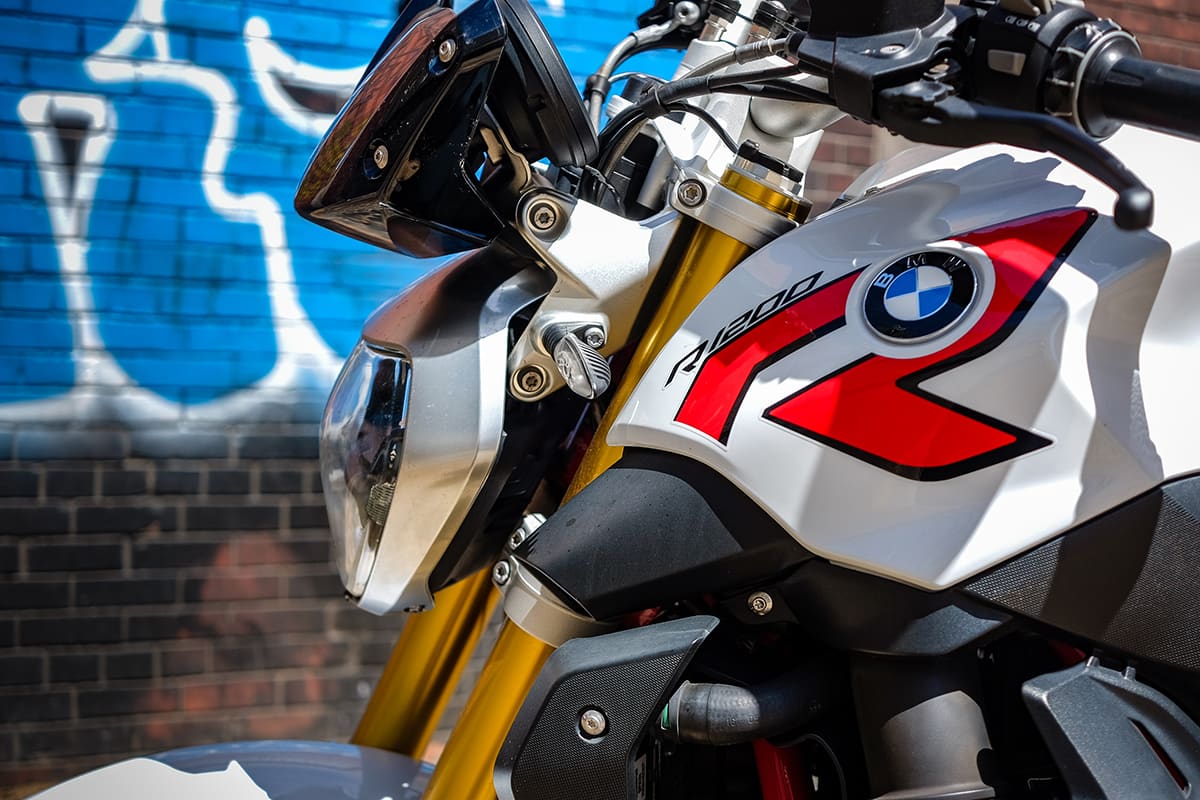 Out in the countryside though, I quickly switched everything over to 'Dynamic' and let loose. Cape Town and its surrounds are a fantastic test environment for motorcycles, and the R 1200 R blew my mind on every one of my favourite roads. I could flick it through corners all day without it ever getting bent out of shape, then eat miles quickly to get to the next mountain pass.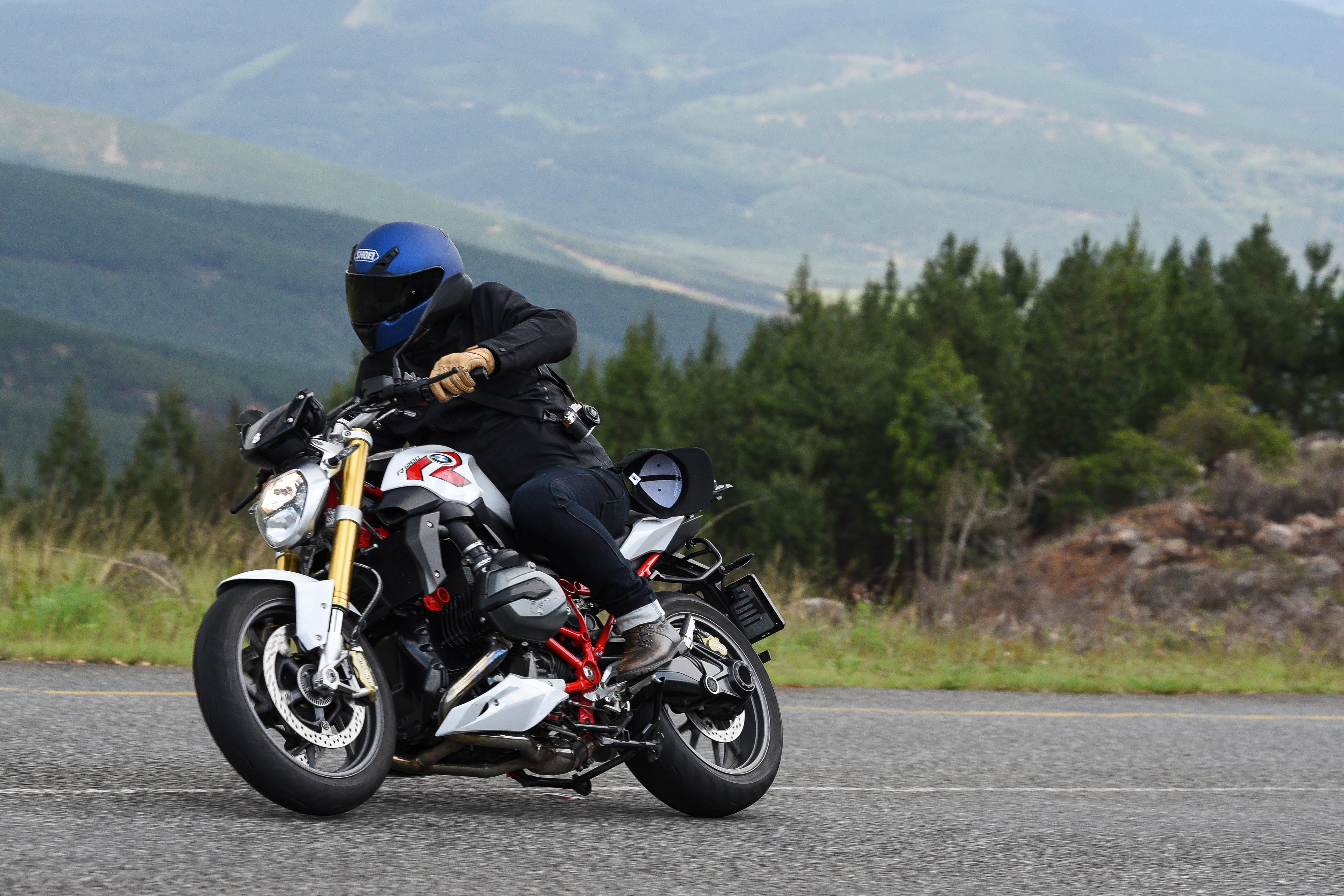 The twin Brembo anchors up front would shave off speed without fuss, and the ABS was effective without being intrusive. Plus the boxer motor's ability to pull hard from anywhere in the rev range came in handy a few times.
Sure, there are roadsters out there that make more power-but the 125 horses and Newtons on offer are more than enough to satisfy most riders. And even though the liquid-cooled power plant is way smoother than the air-and-oil version in the BMW R nineT, the motor still gives off a little bit of that signature boxer buzz.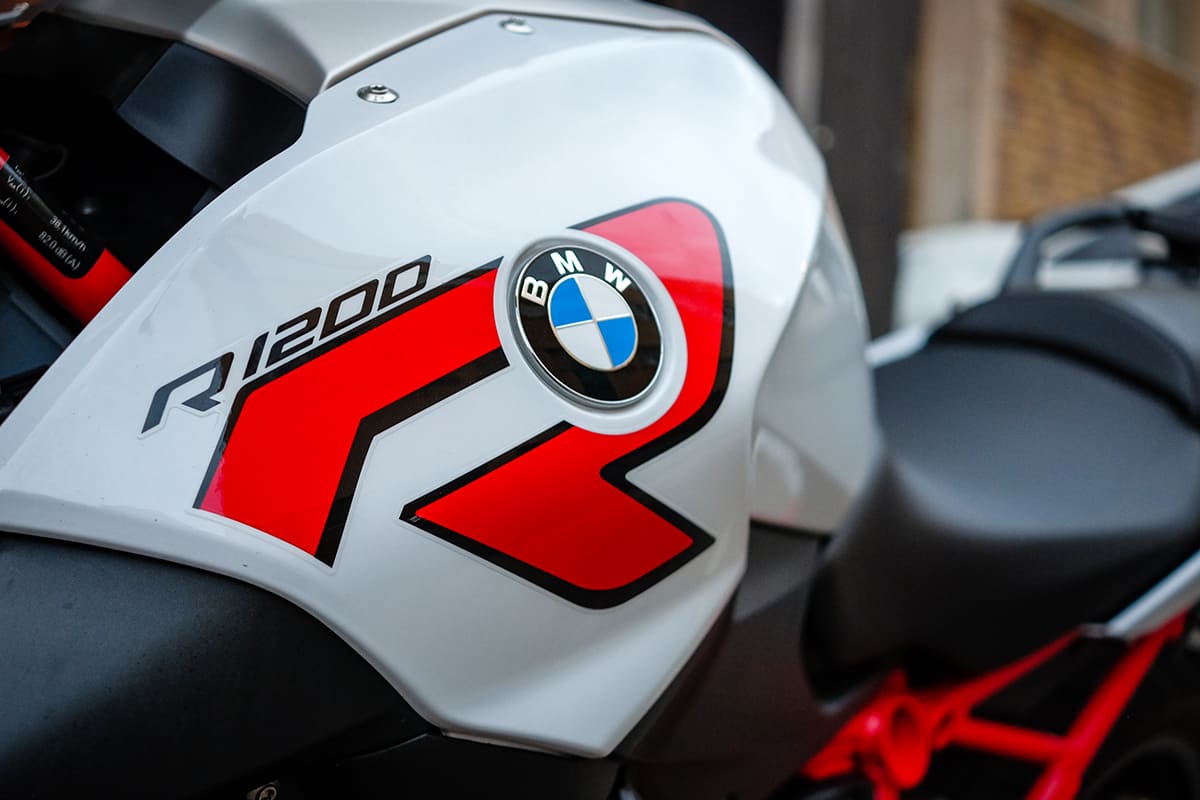 So while the R 1200 R is an extremely refined motorcycle with a rider aids package that's bursting at the seems, it's far from being sterile or boring. What it is, is versatile: if you're a novice, you can put it in one of the gentler ride modes and hone your skills; if you're experienced, it'll reward you without making you work too hard.
It's also more comfortable than you'd expect a roadster to be, making it good for extended days in the saddle. BMW Motorrad South Africa have cottoned on to this, so the R 1200 R comes equipped from the dealer with a luggage rack and pannier brackets fitted. (My test unit also had the optional BMW Navigator mount installed.) While I can appreciate the added practicality, these chunky touring accessories would come off with in moments of the R rolling into my garage.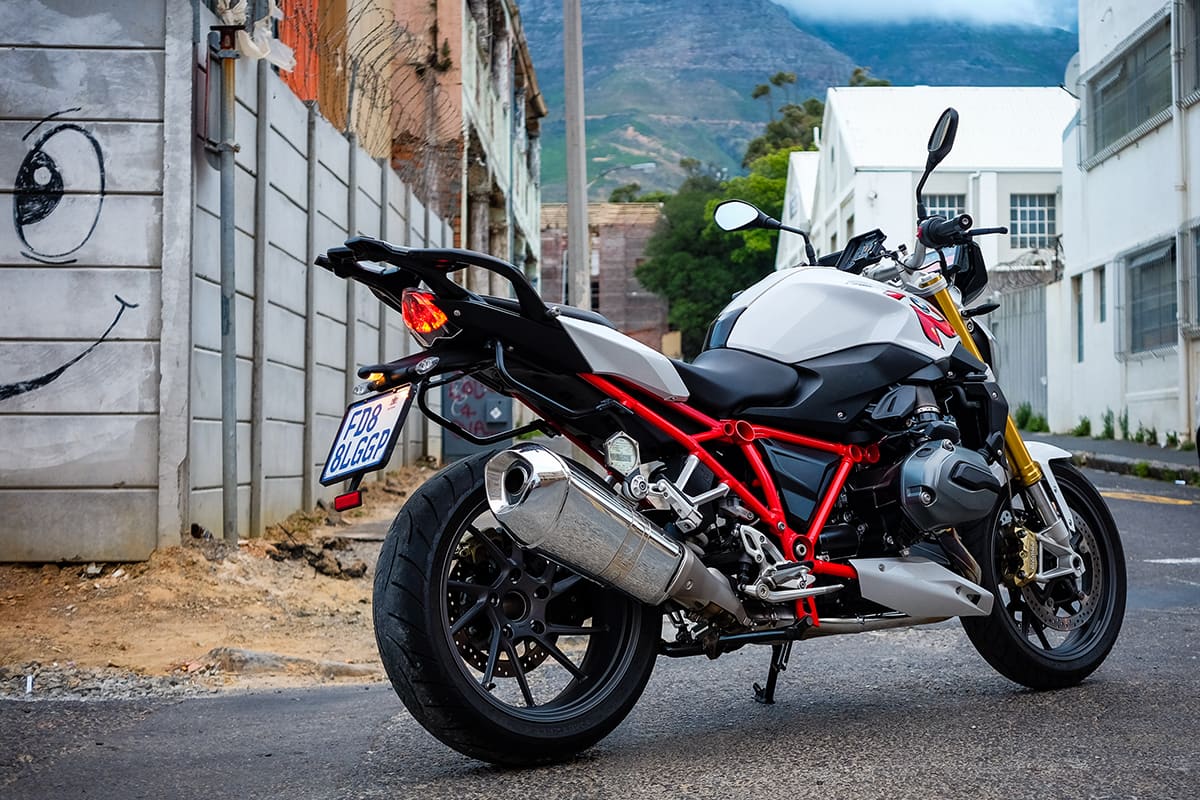 I'm confident that it'd do just fine as an occasional tourer, but I want it for what it is: a gnarly roadster for tearing up the city in the week, and the mountains on the weekend. And if my wife ever let me near our bank account, I'd be in serious danger of actually buying one.
Images by Wesley Reyneke