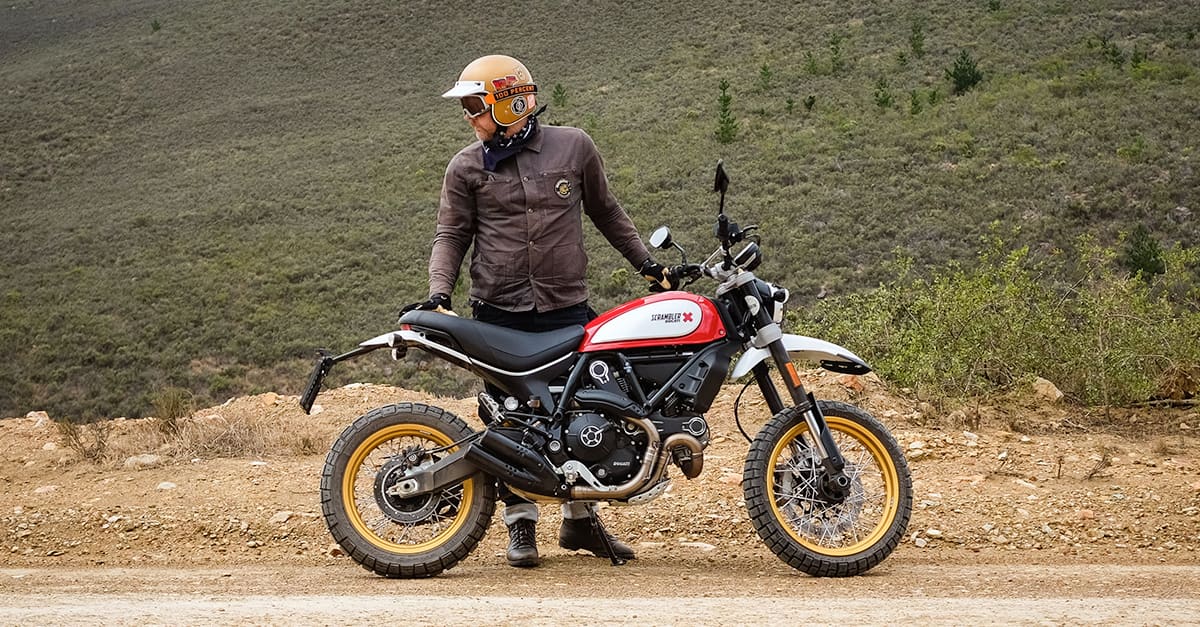 Neo-retro scramblers are all about style, right? Sure, most of them look like they rolled straight out of On Any Sunday, but aren't they better suited to hopping cafés than ripping farm roads?
The Scrambler Ducati Desert Sled vehemently disagrees. Not only is it arguably the best looking OEM 'scrambler' currently out, but it's actually a great all-round motorcycle. That's because while most of the 803 cc models in the Scrambler Ducati range are variations on the base model Icon, the Desert Sled is a bonafide upgrade.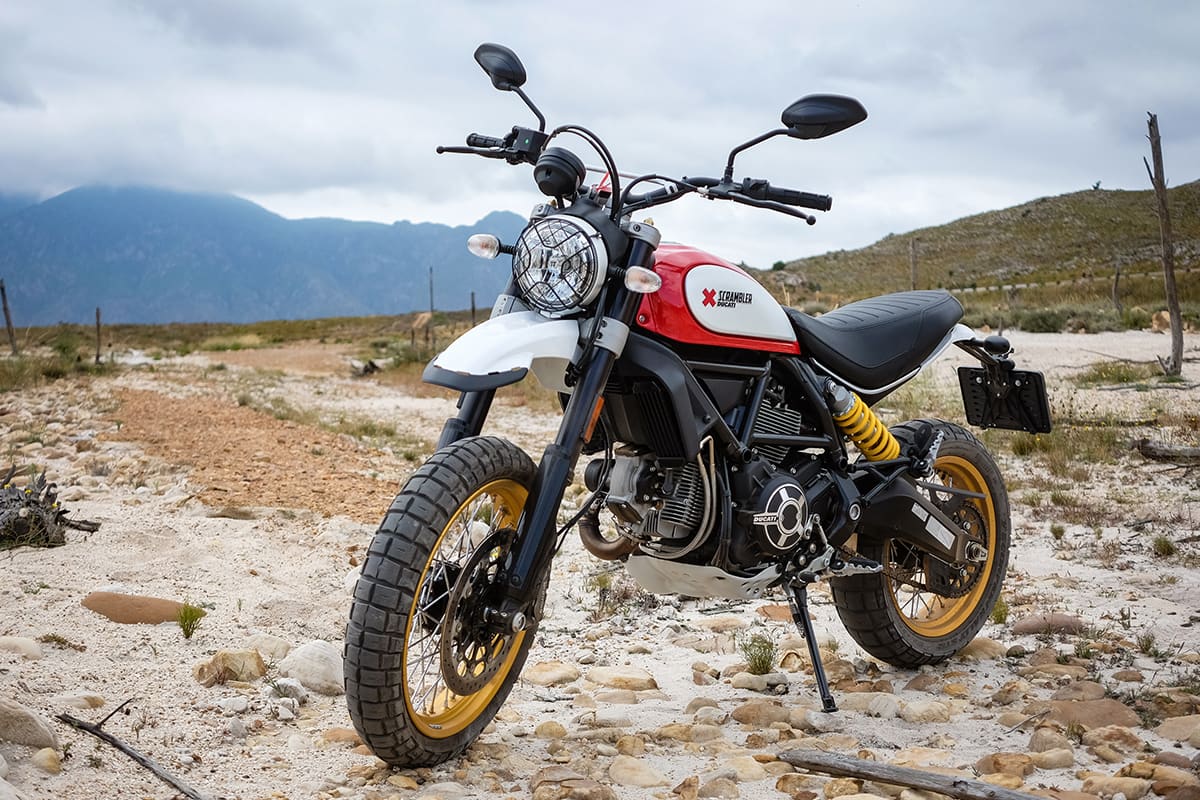 The motor's gone untouched, so the Desert Sled runs with the same 803 cc, air cooled Desmodromic L-twin power plant as the Icon-good for a claimed 73 hp of power and 67 Nm of torque. You get the same six speed box, wet plate clutch and fuel injection too, and the whole thing is Euro 4 compliant.
But it's when you take a look at the rolling chassis that you start to notice the differences. The front wheel sees a bump from the 18″ unit on the Icon, to a more off-road worthy 19″. There's still a 17″ hoop at the rear, but it's narrower than before. Both wheels are spoked, and are wrapped in Pirelli Scorpion Rally STR rubber, for more grip in the loose stuff.
Then there's the actual frame, which has extra bracing to stop the Desert Sled from rattling to bits on rougher terrain. And the suspension's had a boost too: the upside down front forks have been upgraded from 41 mm to 46 mm units, with 200 mm of travel (50 mm more than the Icon), and compression and rebound adjustment. The remote reservoir Kayaba rear shock is adjustable for preload and rebound, with the same travel as the front end. It's hooked up to an aluminium swing arm too.
Unfortunately all these upgrades have resulted in a weight penalty, with the Sled coming in at 207 kg wet. But there's an up side: with a tougher frame, a bigger front hoop and better suspension, the Desert Sled comes across as a legitimate retro dual-sport. It looks the part too, with a high enduro-style front fender, a stone guard on the headlight, lower fork protectors and a bash plate as standard. But does it play the part?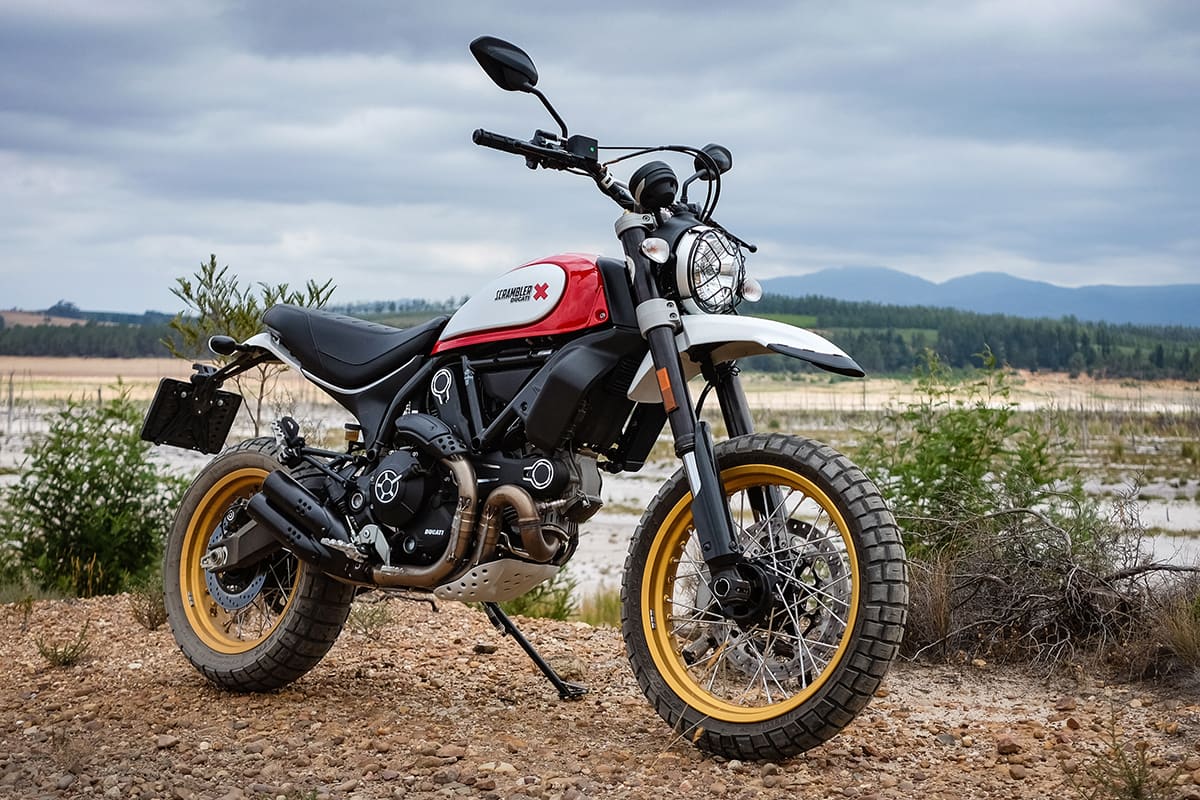 During my time with the Desert Sled I made sure to treat it like I would any dual-sport bike-in other words, I rode it wherever I could. So I racked up miles in the city, on the highway, through some twisty mountain passes and on a few unpaved backroads.
Straight out the gate, this Scrambler's ergonomics feel spot on. The seat stands tall at 860 mm, and the fuel tank's pretty flat on top-so you sit on the bike rather than in it. A set of wide cross-braced bars put your arms in a perfect position for control and comfort, and the serrated pegs have removable rubber inserts, if you need the extra bite. I'm a tall dude, and would have liked the pegs a little lower for more legroom-but considering my right heel was already getting cosy with the exhaust, I don't think that's viable. According to the fine folks at Ducati Cape Town, you get a beefier set of enduro pegs in the box too, which is a nice touch.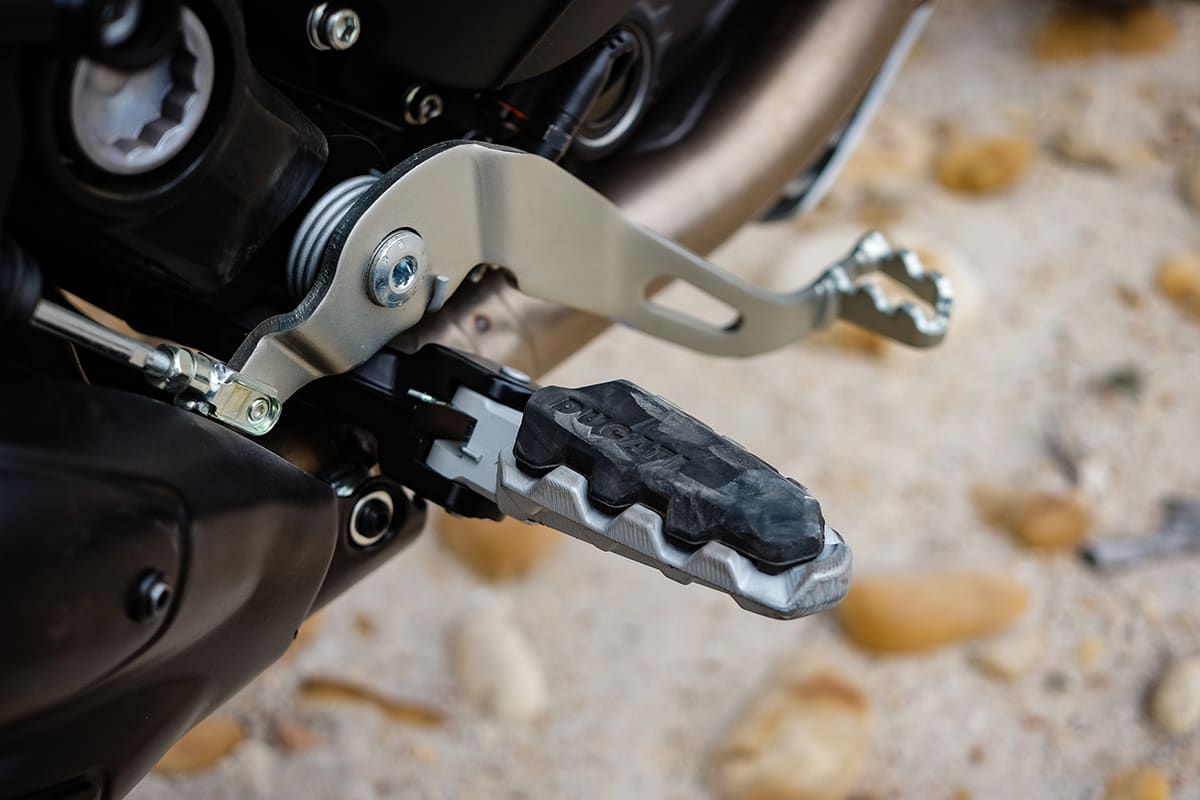 The riding position is equally great when you get up out of the saddle. Never once did I pine for handlebar risers, or feel like I was standing too far back or forward. Ducati styled the 13.5 l tank after the Ducati Scrambler of the 60s, and as a happy side effect it's extremely slim between your knees. That makes it much easier to move the bike around under you when you head into the dirt, whether you're sitting or standing. It makes the bike feel nimble too, despite its listed curb weight-so scooting around town and darting through traffic is a breeze.
The motor's punchiness also adds to the experience. There's enough power and torque on hand to keep you entertained, and the way the Desert Sled launches off the mark and gets up to speed will surprise you. The air-cooled L-twin gives off a healthy rumble for an old-school feel, but the Sled's begging for a better silencer. While the twin cans might look like the Termignoni units found on some other Scrambler models, they're sadly not. And those engine vibes get a bit much on really long rides, with the MX-style grips doing little to prevent numb fingers.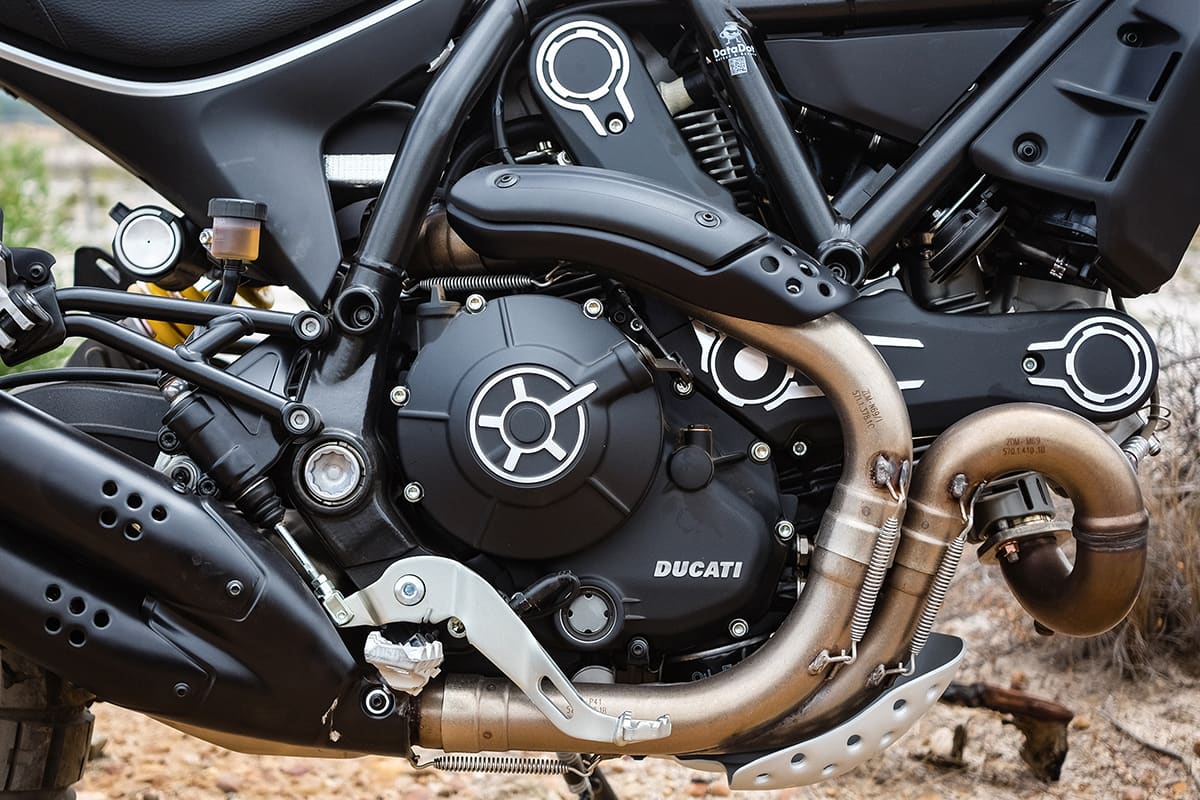 When Ducati first released the Scrambler Icon, many lamented the throttle's snatchiness, but it's been vastly improved now. It's still a little rough around the edges, but overall it's predictable and usable. I was especially chuffed with how well I could modulate the gas while crawling over tricky terrain. And by how forgiving the transmission and motor were, when I found myself in the wrong gear. Cycling through the Sled's six gears is a cinch, with a clutch that's light enough not to tucker you out.
Out of the city and onto some of the Cape's best mountain passes, I found that the Desert Sled didn't rail corners quite as well as the Icon does. But that's understandable-it has slacker suspension, a bigger front wheel and more dirt-biased rubber. And it still has plenty composure for spirited jaunts through the curves, made all the more fun by the extra leverage from those enduro-style bars. That bench seat is also more comfortable than it looks, and it'll take longer than you think for your butt to start complaining.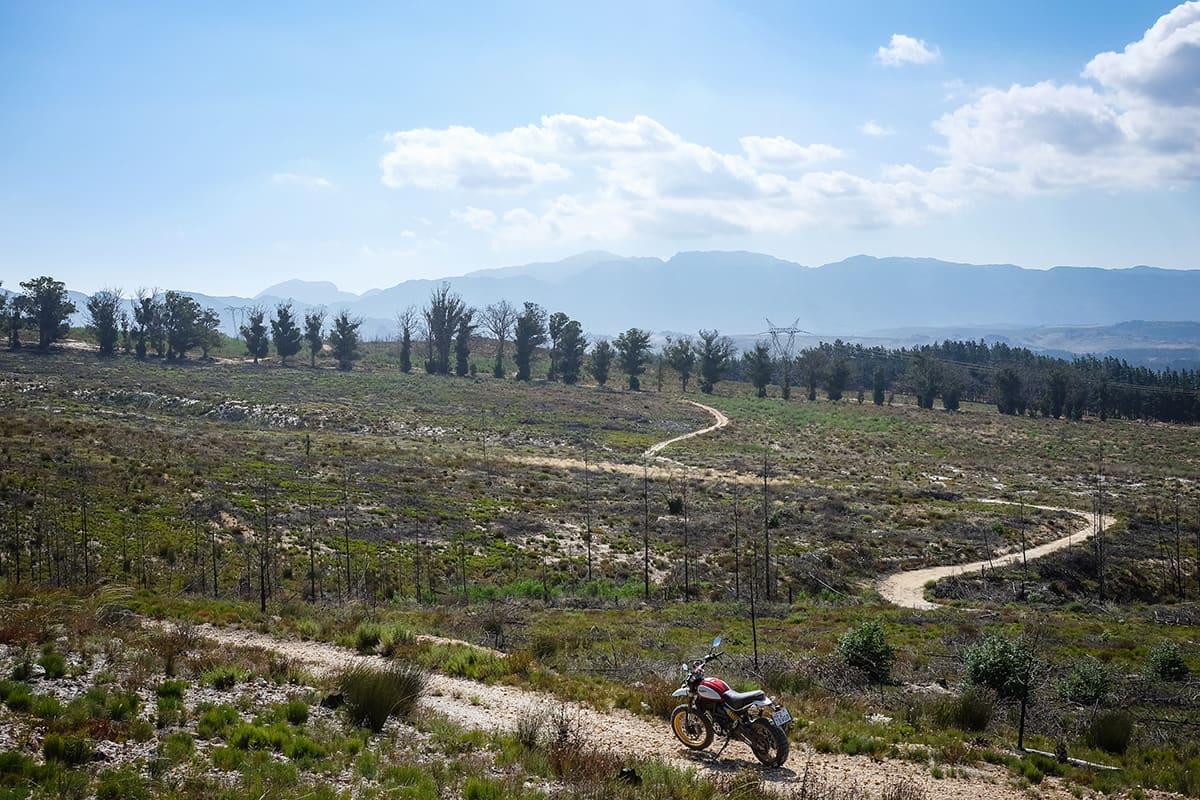 But it's when you hit the dirt that the Desert Sled becomes a revelation. It's not that it's an exceptional dirt bike, it's just that you don't expect it to be that compliant. On most gravel roads it tracks smoothly and predictably. When the surface gets looser, you can feel the bike start to squirm and weave a bit-but it's still manageable. And the fact that you can adjust the suspension is great-it lets you fine tune the Desert Sled to your body weight, riding style and preferred road surface.
It's only when you get into sand and loose, rocky surfaces that it really becomes a handful. Especially in deep sand, where I found that the front wheel got sucked down quick, and I really needed to manhandle the Scrambler towards where I wanted it to go. That's largely down the Ducati's weight, but I reckon I would have done better had I dropped the tyre pressure a bit-or if the Sled had more aggressive rubber fitted. The fact is, given enough encouragement, it did go where I wanted it to, and I ended up exploring gnarlier trails than I planned.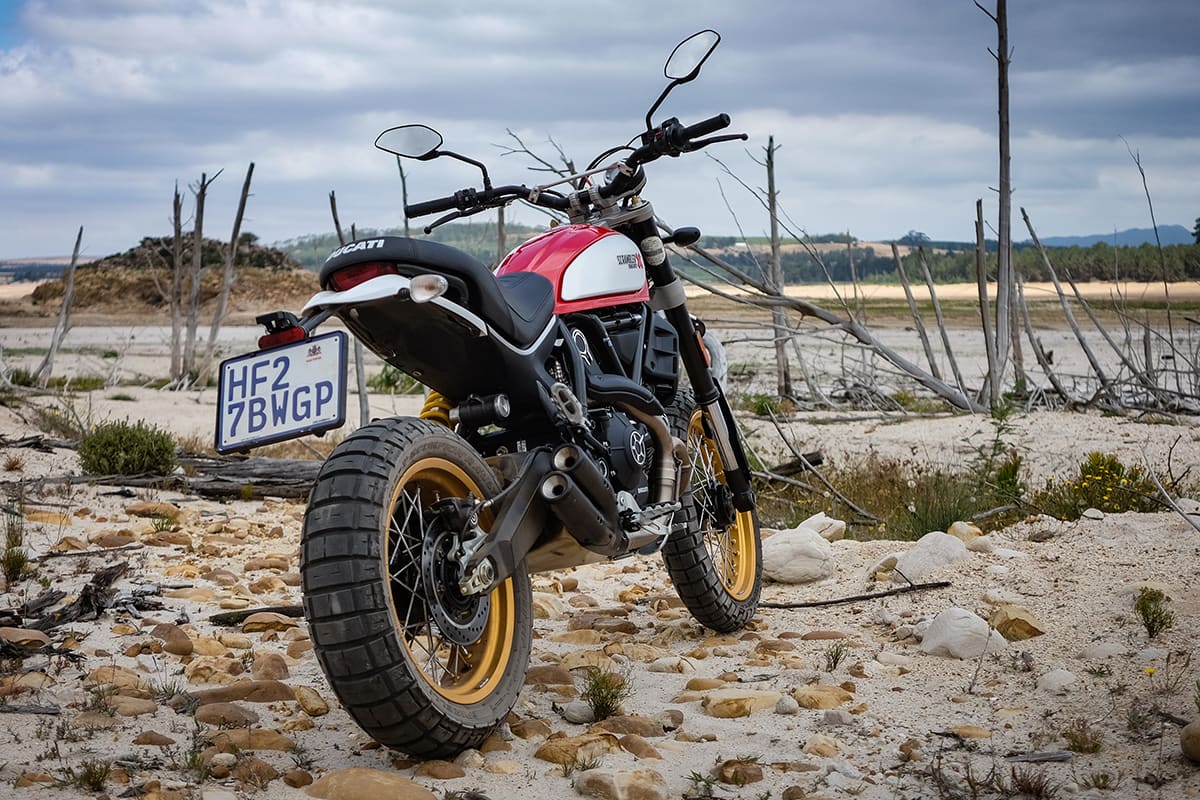 What's more, it's put together well enough that it didn't feel like it was shaking apart from the abuse. The only thing that had me nervous was the prospect of dropping it-at R171 000 in red, or R175 000 in white or black, it's not a bike you really want to knock around. Dings are sure to be costly-unless you're happy to file them under 'adds character.'
Still, if you're willing to spend the money, the pay-off is a lively, nimble and fun all-rounder that's guaranteed to keep you smiling. And if you've still got change left, Ducati have a number of tasty bolt-ons at the ready-including crash protection, luggage and a couple of high-mounted exhaust options.
But even in stock form, the Scrambler Ducati Desert Sled is a good-looking bike that I could ride every day…everywhere.